@armero Sanitorium and ARMERO SIM-bond tokens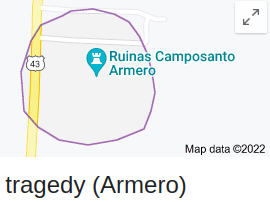 So yes there was a tragedy, but that doesn't mean we have to be sad, but it does mean we should be respectful. Whatever we build here should be honest and helpful, respectful and hardworking - this it Holy Ground need I remind you.
Send a Sick Citizen get an ARMERO token!
Yes, yes, we've heard about that already. What does it do?
@armero continues to grow, and give out tokens to those who help it do so. In a very real sense, the Sick citizens and those cards that make Sick Citizens possible to maintain, are backing all these tokens.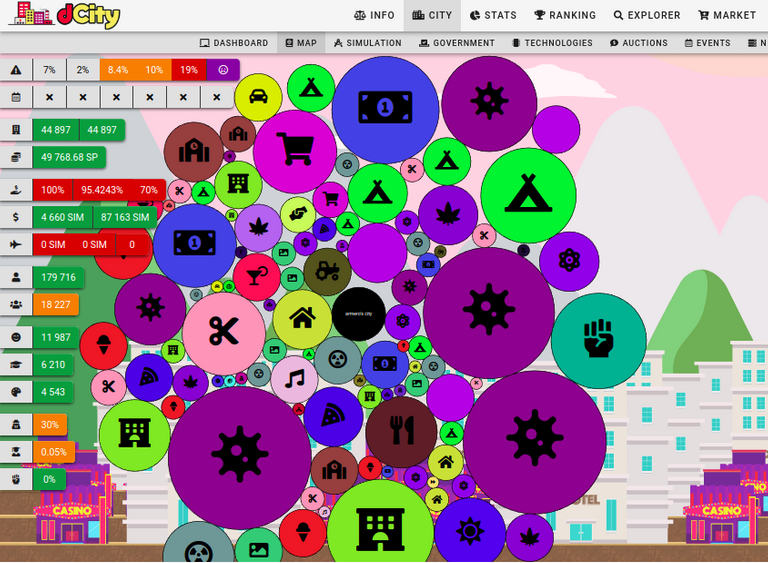 And as it grows, so does it's income. And like any good government sponsored scheme, it out-competes its adversaries in a highly regulated world. Under the current conditions, @armero is currently ranked #1 in the INCOME stat: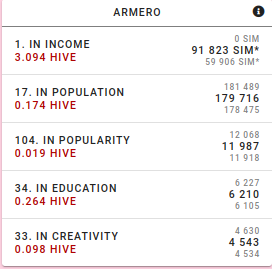 So we are already earning right now about 3.5 HIVE per day, which is enough for the ARMERO project to start thinking about divs. Let's talk more about how divs will work by going into our SIM income.
We could just sell our SIM income each day for divs, but I think there is a better way, and this is what will turn ARMERO into a strengthening SIM-bond and not just a group city scheme. We will sell half of the SIM that we earn to match our SIM each day (or each day that I am able to check) into the SIM:SWAP.HIVE Liquidity Pool. Here is our balance so far.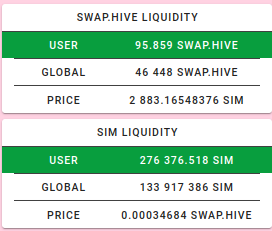 So apart from being backed by the dCity tokens that make up the city, ARMERO will also be developing a growing backing of 1/2 SIM and 1/2 SWAP.HIVE in the SIM:SWAP.HIVE LP. This pays out in 3 ways:
SIM - this SIM will enter the loop and go into the LP as well.
BXT - we can stake these for even more HIVE drips or sell them for SWAP.HIVE - this will depend on their market price.
HIVE - From SIM holding rewards, HIVE will drip into our wallet each day, it has already started: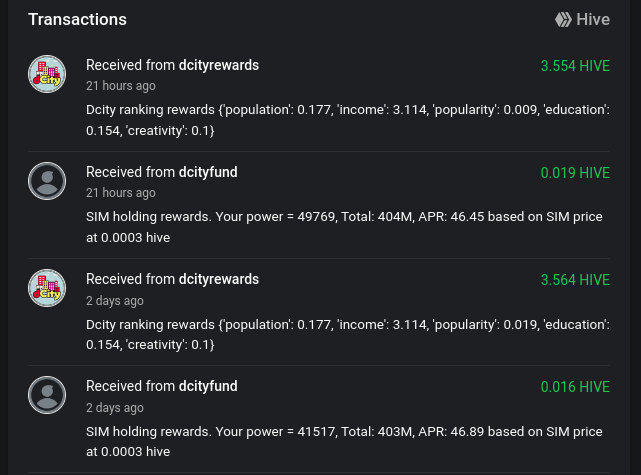 If you do the math, the SIM:SWAP.HIVE pool pays out about 62% apr, and I think it is a very good pool to go into long term to get the properties of a SIM-bond. This should help strengthen the game and its market, and will give the ARMERO community a growing governance base from which to pressure presidents into using the levers in ways that benefit the citizen loop, our Sanitorium city, and the SIM-bond.
And it pays to be redundant: the price of ARMERO will depend on the price of SIM, and our operation should help stabilize the price of SIM over the long term. ARMERO holders will be collecting the HIVE divs and be able to trade the token on the market based on perceived value.
HIVE dividends
Now that the automation is live and performing, sending 1 ARMERO token per sick citizen that anyone sends to @armero, we can begin our dividend automation development phase. It was extremely important to let anyone who wanted to participate, so plays can feel free to experiment on their citizens and try for a super soldier, while having a high value place to send their Sick Citizens knowing they will be well taken care of.
We have teamed up with the team at INCOME Synergy Fund (me and @thecrazygm) and soon the Sanitorium will even begin automagically sending you checks for your Sick Citizens, based on the level of governmental support and based on the overall management strategy listed above.
Our new automation is a bit trickier. We will send divs only when we have 0.001 HIVE per ARMERO token to sell. Last I checked there were 47,602 ARMERO tokens outstanding, and that is growing every day. But using that number, we would need 47.602 HIVE to make an effective round of divs for the ARMERO token holders down to those who hold only 1.
We already have over 30 HIVE there, so the first div is coming soon.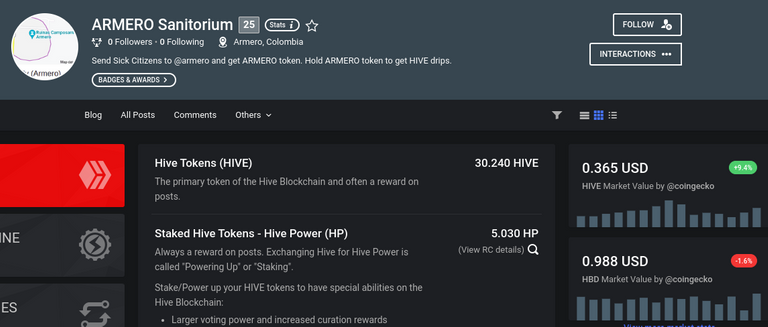 The nature of this SIM-bond on-top-of a city is that its value will grow over time, as it socks away SIM and HIVE into the LP, it will get stronger. This should hedge the downside pressure on the SIM price relative to HIVE, and should SIM price rise, well we are going to be looking really good.
To start we are looking at about 0.002 HIVE per ARMERO token per month. But that should slowly increase, to three, four, five hivetoshis per month. It should be a fun project, we invite you along for the ride.
Can I exchange other tokens for ARMERO besides Sick Citizens?
Not right now, but keep a look out, @armero may place bids for certain cards in ARMERO token. We will likely be announcing more information about this in the future, for now the only way to get ARMERO token is sending Sick Citizen to @armero or by using the market.
Speaking of the market, LABFUND holders will be receiving an airdrop of ARMERO tokens very shortly. @ecoinstats Synergy Fund has agreed to put in a buywall at 0.2 HIVE per ARMERO token. There will be 20,000 ARMERO tokens going out, consider listing your buys on the market above 0.2 and they have a good chance of getting filled, depending on how many people wish to sell right away and lock in their HIVE profits.
We are getting almost (almost) 2 SIM per day per ARMERO token. I think the token is worth at least 730 SIM, which would be 0.255 HIVE at current prices of 0.00035 HIVE per SIM. Make your calculations and get involved if you would like, every one is invited to play in this tokenized economy game!
Freedom and Friendship
---
---