BXT is killing it! New model of rewards distribution
So you have by now heard of BeeSwap and its new defi token BXT, which is paying out now...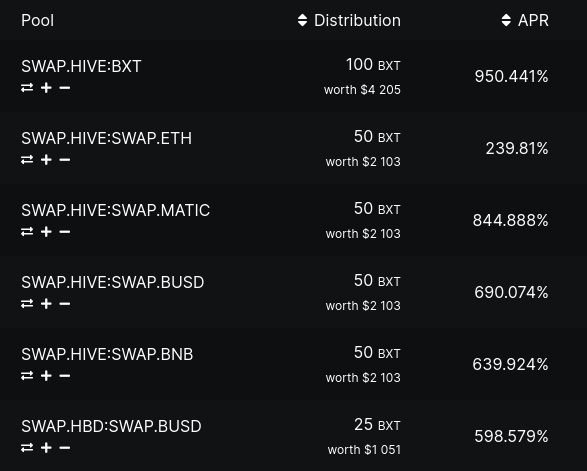 We are almost half way through the first week, and the APRs have come down quite a bit now, mostly from increased liquidity being provided in the pools. This is a good thing, and hopefully will spur more arbitrage for the platform as a whole.
LONG LIVE HIVE
The BUSD:HBD stable pool has almost 80,000 dollars in it! This pool should be getting rewards from the HIVE DAO - this is one of the most important pools (layer two tools) we have to help keep HBD stable, in my opinion, as well as encouraging increasing the use of HIVE to arbitrage with other markets.

So the payouts are coming, but I noticed something interesting.....they are not daily but multiple times a day. What's going on here??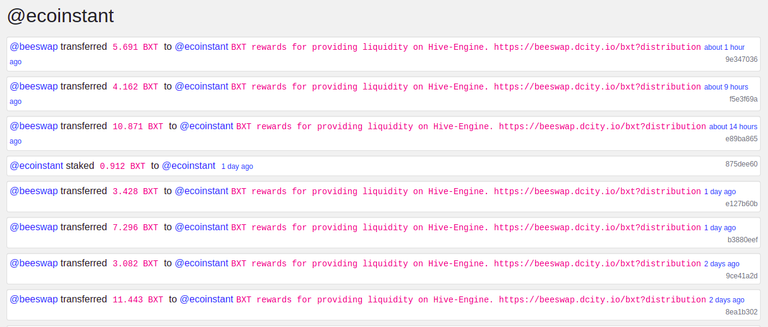 I went to the discord to confirm this, and indeed, the payout times are.....RANDOM!
After some number of hours (h) the BXT gets paid out fractionally of time (h/24) since the last payout. This means there can be no 'gaming the system', like some other reward mechanisms, because any would be abusers will not know when the next payouts will be.... you can't just park your liquidity for a few minutes at the daily snapshot time because...
There is no daily snapshot time!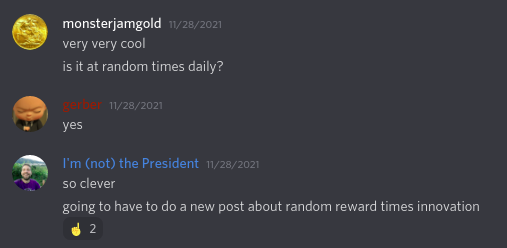 I feel extra good about knowing that all the liquidity getting paid in this pool is actually liquidity that exists continually and can help arbitragers arb more, because in the end this means more fees for BEESWAP and BXT stakers, making the BXT worth more!
This also means that you can add liquidity whenever you want without having to fear missing a day.
But, you might ask, HIVE's pumping so price go down? Not necessarily! The BXT value is based on the fees it pays and will pay in the future, which are HIVE! So analysis of BXT price really doesn't matter what the price of HIVE is in USD - arb is arb!
BeeSwap continues to innovate
Gerber and Scriptioner have thought this one through very well, I am happy to be a part of it, add liquidity where I can and use the service. I have no extra or inside information on what might come next, but I know that this program is actually working to drive value to the BXT token, and that makes me feel good about supporting and participating.
Freedom and Friendship
---
---