dCity - who's got the power? Election season
dCity governance is just another thing that marks dCity as the most advanced token game in the world - and one of the oldest nft games in existence. Over continuous 15 day election cycles, we have mapped out some of the pros and cons with coin voting - the realities therein are interesting and logical, but not necessarily obvious for those who are new to the concept.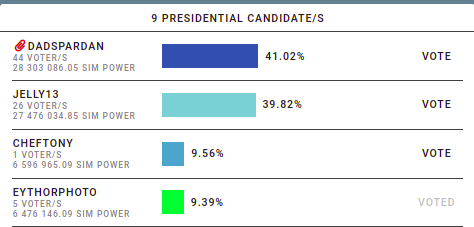 Currently we are in the midst of an election. @dadspardan's 17th attempt at getting elected, what we know about him is that he is a Dad, which means he has a child or more than one. We can see that in his videos, check this out, not sure if the kids want their dad to win or lose, but they don't have any coins or even a wallet so it doesn't matter.
Daddy promises to eliminate all taxes (that he can control), which would be a big change for the game, at least for 2 weeks.
@jelly13, on the other hand, has enough SIM power to keep himself in the running, he is quieter and more mysterious than Daddy, and has won a number of times in the past. His tax plan appears to be to run on maximum WAR and leave us to our tax rebates. This keeps the SIM printing relatively low, and also keeps the citizen printing at its lowest point.
Here is my simplified breakdown on the two candidates: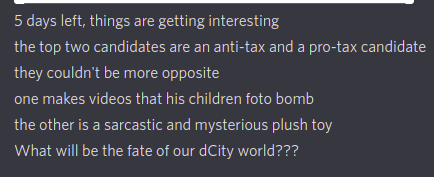 And this leads us back to coin voting. Jelly still has an account he hasn't used yet, about 7 million SIM Power. @cheftony is waiting on the sidelines voting for himself, as are @summertooth and @ecoinstant sitting on @eythorphoto waiting to see what may happen.
I suspect that as we get closer to 'last minute', there will be moves being made.
We also have @d-pend, who even in regular times is reluctant to use his voting power and decide for the populace. But currently I have it under good authority that he is on a pilgrammage in Spain, and won't be back until August.
But there are more SIMmillionaires than ever - will they vote in this election?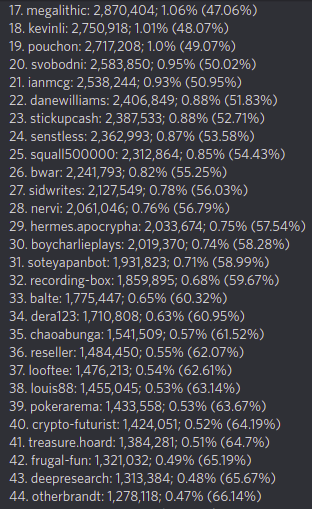 Time will tell I suppose, here is a few things about coin voting:
It doesn't matter how many accounts vote for someone.
This might even seem unfair at first, but I assure you it is the fairest thing possible. I personally run 60 cities with 60 accounts, and could easily bring 100 more to bear on this problem before even trying to get an unfair advantage.
What does matter is the amount of coins that they have. This is 'skin in the game' voting. If you want a bigger vote, get more SIM. It's just the way it is.
The theory is this, the more money you have invested in the game, the more likely it is that your opinion on the long term outcome of your decisions will be positive. I guess this might be true, although money doesn't necessarily bring understanding, it certainly does mean that you will probably take the decision more seriously.
Most people don't vote
This is not only true of coin voting, this is true of all voting. Small voting blocks can have a big, outsized effect since many people or even most people do not use their vote. This even happens in national elections around the world. Who knows what solutions can be proposed for this?
SIM printing strategies - do we know anything?
The two top candidates have exact opposite strategies for SIM printing. One wants to print the maximum amount. The other is printing, not the minimum amount but quite a bit less.
What are the results? What does it matter?
I would argue that it matters a lot, even if the game will continue either way. The price of cards balances out to a certain SIM level so the price of SIM is deterinate of the price of the assets.
Some people say that if we print more SIM, then people will invest more and the price will even go up. This is not a very convincing argument to me, as that period has likely passed, everyone knows that 100% taxes can come and eventually will, so its unlikely that lower taxes will make them forget that.
There is a 400 Million SIM sink being worked on right now, the BAGS OF SIM. There are a number of interesting mechanics being developed for this important combine card: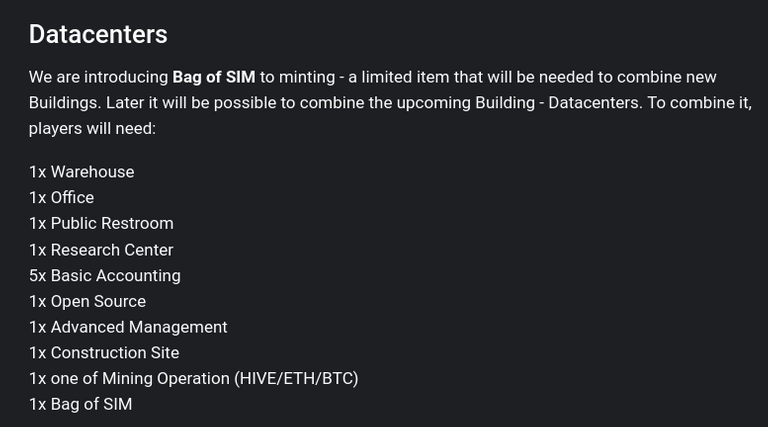 400 Million SIM sink represents about a year's worth of inflation at current printing rates. It could be as little as 10 days of inflation in a full on printing world. I don't think we can go backwards to an earlier version of the game, we just have to move forwards and play the game that exists now.
Luckily, with citizen mining, tech printing, entry production, events, ranking rewards and job training (did I miss anything), there is a lot to do besides waiting for SIM INCOME printing.
Give me your feedback!
Freedom and Friendship
---
---