ECOBANK token model
So we are fresh off a meeting of the ECO development Bank SAS here in Colombia. I am feeling ever more confident in our steps forward with our land backed token project. The ECO development bank SAS 'management team' will run the FinTech/Legal model behind the company which makes this all possible.
Keep up to date with all relevant information on the dedicated feed.
Today I would like to put forward a more exact model of what we are planning to do - all numbers are still up for revision but expect the final version to look a lot like this.
Build an ECOLOGICAL Resort Hotel with us!
The construction of a resort/hotel will yield opportunities to produce cash flow due to good tourism placement and increasing local demand. We are tokenizing 'shares' in this enterprise and are offering to you the opportunity to get in on the ground floor. This token is a security, we expect to do everything possible to make it a profitable one. If you buy our token we assume it is legal and appropriate for you to do so for you in your own place of existence.
ECOBANK token
Platform: Hive-Engine
Initial emission: 250,000
Presale value: $1.10
Minimum sold in Presale to launch: 45,000
Maximum available in Presale: 125,000 (50%)
Accepted currencies during presale: USDC, LTC, HIVE, HBD
Token holders will be divided into two groups.
Full Members
These members have more than 100 tokens and have submitted a copy of their passport in private to @ecoinstant. These investors will receive full benefits and at a certain level may become eligible for complete residency in Colombia on an Investor Visa.
Anonymous Members
These members are identified only by their HIVE account, and will be represented in legal matters by a local representative to be nominated in the future. These members will nonetheless share in all dividend payments from hotel/resort profits. Anonymous members can become full members at any time through a manual process contacting @ecoinstant.
Governance
20% of the profits of each year managing the resort/hotel will be retained in a reinvestment fund. Of the 80% remaining, token holders will decide (through a digital voting mechanism of my choice) what percentage of the profits should be distributed in liquid dividend payment or reserved for reinvestment.
Token holders will also be called to vote on proposals put up by the management team (or proposed to the management team, but at the discretion of the management team) about possible reinvestment projects.
LAND?
I purchased 5 hectares, or 12.5 acres to put into this project, but in the process of mapping it out and exploring the area, the seller decided he liked the idea of the project so much that he would put in 5 hectares as well. The area has some special characteristics that we believe will add value as a resort attraction that includes building out an 'ecological walking path'. The destination will also serve as an information point to all further tourist options into the mountains, as we are situated at the main eastern entrance to the Ruiz Mountain.
We have made some maps, and are looking at the white area shown in this image: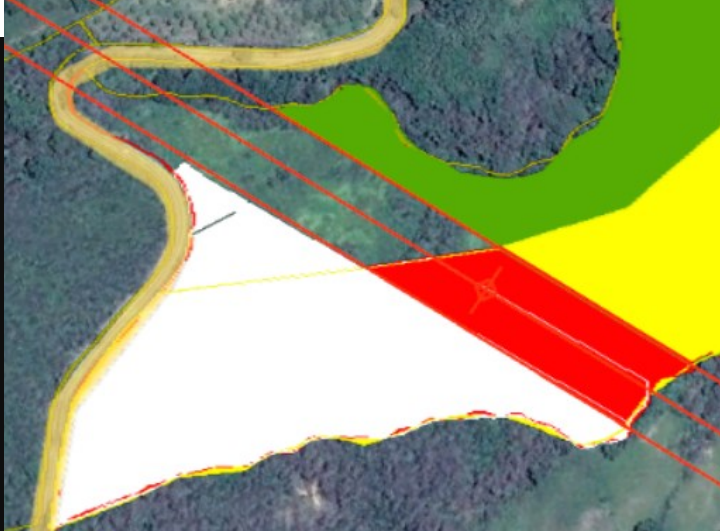 The yellowish curve is the main road, red a transmission line, and green and yellow the rest of the cow pastures.
The land will be put up to the project for tokens as well, in the following manner:
10 hectares of land at $11,800 = 10,727 tokens per hectare.
Token Distribution
So we can now finalize token distribution as follows:
Land (25 acres/10 hectares): 107,270 ECOBANK tokens
Architect: 4800 ECOBANK tokens
Management - Legal: 3000 ECOBANK tokens
Management - Administration: 3000 ECOBANK tokens
Management - Technical: 3000 ECOBANK tokens
Licensing and Permits - 2700 ECOBANK tokens
Planning Fees - 1230 ECOBANK tokens
Presale 125,000
Total - 250,000
Presale Date: January 15th
The Presale will be a private sale, conducted by me, @ecoinstant. The funds will be converted to Colombian Pesos and made available for the immediate construction of at least 7 modules, more information to come on that including designs and revisions.
Additional Token benefits
The additional benefits granted by VIP status, from the price of beer to the price of a room or other tourist services, cannot be stipulated at this point, but it should be noted that it is our every intention to consider from the very beginning being able to offer the very best treatment for our members to come and utilize the resort they are investing in.
This may include additional project sub-tokens and/or airdrops.
Any Questions? Please ask!
---
---