I paid 0.82 HIVE for CHAOS packs - let me show you how I did it
So I know the market is down, but I keep grinding my system because it works. I just completed a medium term trade I was involved in called XCHAOS - this is a @gerber @nealmcspadden production, I first posted about it two months ago.
Also check the posts on @chaos.air account. It was all documented.
So when bulk pricing was announced, I made my move.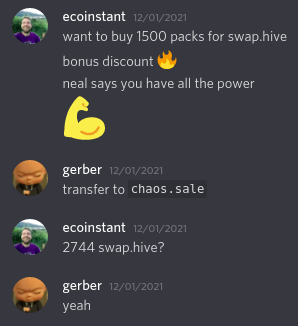 Hive was still riding high at the time, I had a feeling that it would be much lower by the time of the general sale and BOY HOWDY was I right!
This might turn out to be one of my greatest completed circles, because with the help of my handy dandy calculator, this derivative product helped me get my hands on 1500 CHAOS packs at a price of just 1.82 HIVE per.
But that's not all.

That's right, I also still have the XCHAOS derivative. This can be traded on the market freely and have the value of the daily DEC airdrop from the Splinterlands Airdrop cards from all the packs we bought together.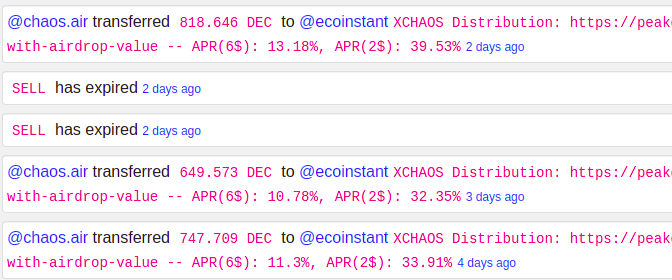 Of course I didn't pay $2 but just 50c in the bulk sale, so this APR number really is 4x for me. And that's why they have a market value.
As shown above, I unloaded 100 of the XCHAOS for 1 HIVE each, giving my total purchase cost of those CHAOS at just 0.82 HIVE, which at current market price for HIVE is like 60 cents!
Plus its even better, as I've been getting daily DEC this whole time.
This was an incredible trade, and I am happy I pulled it off as a hedge. Thinking about it now of course I wish I would have bought a lot more, but I am careful with my position sizing, as this was already a $6750 usd trade.
Also in the middle of the trade the liquidity is locked up. I have developed a lot more discipline over the years, but it can be hard for many of us and even impossible to have money tied up. You have to sit the whole trade through.

Even now, I don't plan on selling or opening all of the CHAOS packs. I will wait another year until the CHAOS sale sells out and unopened pack prices pump, and hopefully during a time when HIVE price is down.
Reminder, when HIVE price goes down, many tokens go up in price
Its surely not rocket science, but I feel a lot smarter this time around the block than the last one. Sell high, buy low. In the case of Hive and things priced in HIVE, we have an extra point of leverage in the middle, that is the price of HIVE in USD.
There is more than one way to make this trade happen, try to get involved with tokens that have active development person or teams. Get involved with tokens that you consider trust worthy - maybe token picking is a skill you can learn over time.
In a trustless world, we need trust more than ever, and much of the buidlers in crypto know that their reputations are valuable - they gain more by building than by pulling the rug out from under investors.
Only time will tell if we go up or down from here, but I have started dipping my toes back into HIVE at this price: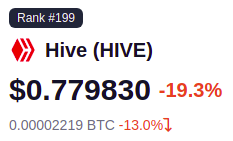 Good luck out there!
Freedom and Friendship
---
---