LABFUND airdrop complete - 2 ARMERO SIM-bond tokens per each!
That's right, LABFUND just keeps paying out - after a successful 0.28 distributed to each token, we now have 2 ARMERO tokens distributed just now earlier today. Let's first talk about ARMERO tokens and then the future of the LABFUND project.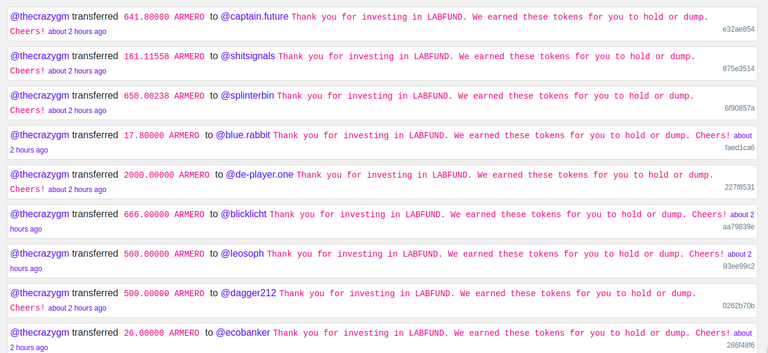 So ARMERO token is something that I have been posting about as well, you can get some by sending Sick Citizens to @armero within the game of dCity. Its a tokenized share of a group dCity, as well as the LP holdings of the account which grow over time.
Because of the way it is structured, designed to put all of its income first into another instrument (SIM:SWAP.HIVE LP) and payout from there, ARMERO token will likely have a lower APR in its first year, along with a currency risk based on the SIM:SWAP.HIVE ratio, although one which it will over time grow to help stabilize more and more.
Its hard to know exactly what an ARMERO token is worth, but we can say some things about it:
Estimated Production
Based on the presidential levers of Sick Citizen support (1/2/3), our city can generate 0.63/1.26/1.9 SIM per day per ARMERO token. While I have been president for the last 10 days, the setting has been at 3, and we produce an equivalent in SIM for each ARMERO token of 1.9 - or 693,5 SIM per year.
At 0.00035 HIVE per SIM, if we value the token at 1x yearly revenue, this would be 0.242 HIVE. But even if this is what the city made over the year (unlikely since there will be other presidents and other settings activated), that is not what ARMERO token will pay out. It will put all that money into the SIM:SWAP.HIVE LP - effectively growing the backing of the ARMERO token - and paying out HIVE.
ARMERO is ready to give out its first dividend in HIVE of 0.001 HIVE per token - the Hivetoshi. This is the minimum dividend possible since some people have very few ARMERO tokens. This HIVE has been solely accumulated through ranking rewards from the account, while all the SIM income has been put into the LP.
Who's buying ARMERO token?
With the relative stability of the SIM price lately, I felt confident enough to put a bid in for the INCOME Synergy Fund at 0.2 HIVE per ARMERO token. This is about ~80% of a possible 'full' fair value, and I think is a good offer relative to the risk the product faces.
LABFUND holders who got the ARMERO drop are free to hold ARMERO for HIVE divs or sell ARMERO now to lock in profits. Its up to you.
But consider dumping.
After fudging my numbers with the 0.28 HIVE 'rebate', this 0.4 HIVE per token represents 55% return on the 0.72 HIVE per LABFUND of equity left in the token. I will do the accounting with the 0.2, and consider it as such - this will be the 'official APR numbers' for this project and its representative of DUMPING ARMERO NOW.
Having now returned 0.68, we are ever closer to our attempt at being the fastest HIVE token to 100% ROI.
Future of the LabFund
Already we have 350 more Armero tokens, we are still in the game and I think that LABFUND can come to represent shares in the city (@superlab) just like ARMERO represents shares in @armero. But I will not be putting anything into the LP, I will be working with the city to 'cash out' where we can and see how good our numbers can look after we ROI.
I don't have a good handle right now on what LABFUND token should be worth on the market. Its definitely not worth 5 HIVE, after paying out 0.68 HIVE per token I wonder if its worth 1 HIVE.....

Well, according to dCity value estimator, our city is worth over 52 million SIM, or more than 18,000 HIVE - meaning the theoretical value of LABFUND could still be 1.8 HIVE each even after shedding most of its ARMERO and rebating what it didn't use.
Consider this. The market is for exactly that, people to come to terms with the price of things. I will announce at least 2 days ahead of time any future dividend payments, of which I do plan on having something for you in December.
Lots of Love to you Hive Gamers, Tokeneers and Hangers-on!
Freedom and Friendship
---
---