Midterm Presidential Thoughts and LABFUND airdrop snapshot announcement
Hello again its your president @ecoinstant! I continue to enjoy the new updates in dCity, and we continue to play across time along with hundreds of players on the markets, and the leaderboards.
I am bullish about dCity during this bear market, so I will show this very bullish looking chart!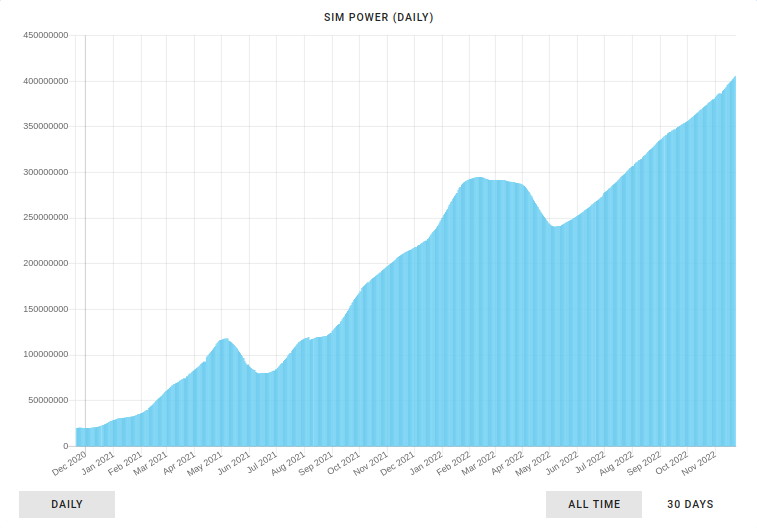 This is the total SIM Power each day, which itself is a 30 day average of SIM balance of each user. As such its a lagging indicator, it takes a lot of effort to turn it around and go negative, and we have seen two periods in recent history where leadership has summoned enough courage to restrict SIM to such an extent to shrink the amount of SIM Power.
Now we don't actually want the SIM Power economy to contract. But we don't want it to expand so much that it pushes the price way down relative to HIVE. We have to, much like the central banks of the real world, manage the SIM inflation.
I think we have a great opportunity right now that experiments are going on. I don't necessarily think that we should aim to create another big crater on the map, but I do think we should carefully consider how much SIM it is appropriate to be printing.
Recent war on Inflation
For a few days I have turned up the War Tax to 8%, I did notice that the War Lobby has not increased, I suspect that the War Lobby really has other interests, so maybe they only need two or three days of War to make them happy. Today we head into the second day on the War on Inflation, I think we will do three days and then cut it back down to continue to promote our citizen mining. Stay tuned to the results.
I have also turned off the police tax, you can use these three days to check yourself against these conditions again, make any necessary adjustments. I like police tax so will probably bring it back for the period to end my first term here as your president. And it seems possible I might take another term.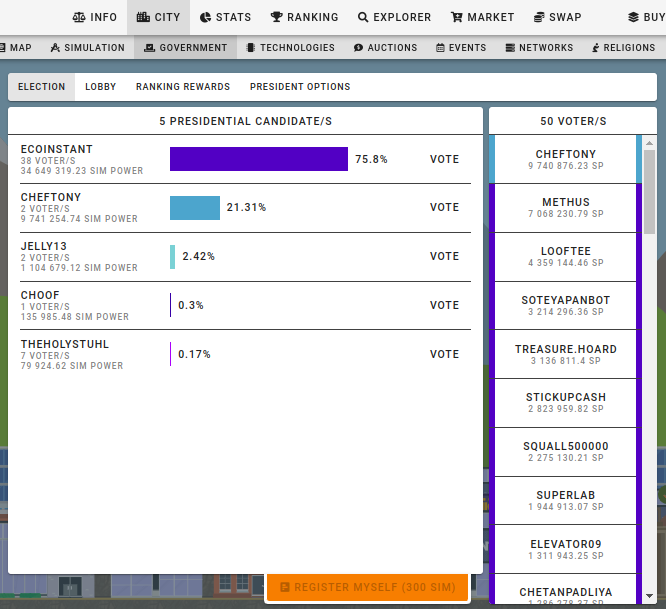 I see @cheftony positioning himself as opposition, I would love to hear from him again about what platform he would be supporting, especially with regards to the new 'Presidential Options' that we have on the table.
These options effect very much the Income Ranking battlefield.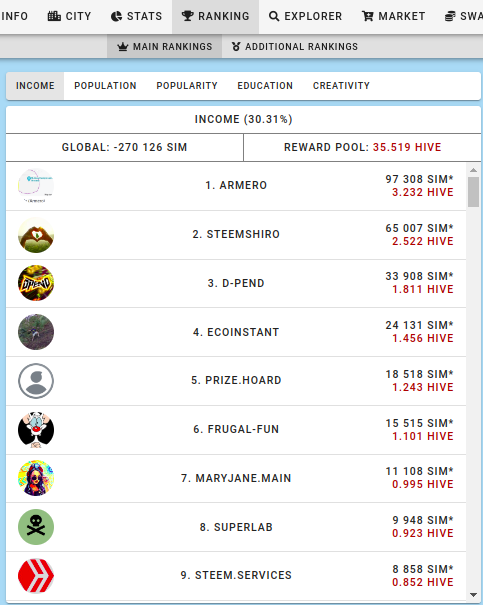 The dominance of Tab Rebates at net tax levels approaching and surpassing 100% means that the INCOME leaderboard can completely rearrange itself based on the tax level.
Currently, our @armero Sanitorium project is ranked number one, and all of that SIM income is being pushed into the LP to grow the SIM-bond aspect of the project. We have built up @armero to be a top city (under certain conditions) and we will reap the benefits. I opened up @armero to everyone because I knew that this idea could grow much bigger than I could do on my own, and I liked the idea of growing something together, using tokens.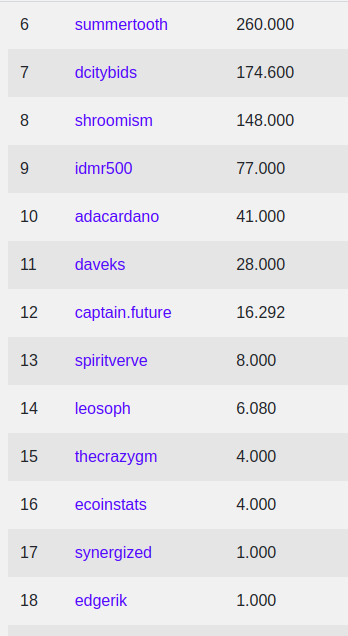 A number of smaller cities have participated, mostly by sending Sick Citizens to @armero - our automation is now battle tested and set to batch deliver ARMERO tokens to players ever 20 minutes.
@superlab has 20,000 ARMERO tokens!
We are announcing our airdrop, the snapshot will be taken in two days, this wednesday. In the meantime, we have now seen some movement in the market, this is a good thing to see even if it means someone is selling, it also means someone is buying! This is the purpose of markets.
So you are all warned - remove your LABFUND tokens from the market by wednesday to make sure your balances are reflected in the snapshot and subsequent airdrop of ARMERO tokens.
@ecoinstats has been putting up a buy wall for ARMERO tokens at 0.2 swap.hive each. This is our INCOME Synergy Fund, and we wouldn't mind getting some SIM-bonds into the fund, but is has to be at the right price. We are comfortable offering 0.2 each.
I think they are worth 730 SIM, which is basically 1x the yearly revenue per share. At current prices that 0.245 HIVE per ARMERO token.
Place bids for ARMERO tokens (like at an auction)
Starting right now you can go here or to the hive-engine dex of your choosing to place your bids on ARMERO token befor the LABFUND holders get a chance to dump. We don't know how many will dump, but if even 1/4 of them do, that's 5000 ARMERO tokens coming onto the market. Make a bid if you are interested.

Why would LABFUND holders want to sell their ARMERO tokens at a discount?
I am actually recommending to LABFUND holders that they consider selling their ARMERO tokens to lock-in these profits. The entire LABFUND project also depends on the SIM price, so being able to lock-in HIVE profits for ARMERO tokens now without affecting the SIM price is a smart way to hedge at least some of their investment back into HIVE.
Not all holders will sell all of the ARMERO token they get for a drop. If the holders have no other exposure to dCity, they may relish this 'spin-off' token and its addition to their balance sheet.
ARMERO token first divs
Before airdropping onto LABFUND holders, we will be testing the divs for the ARMERO project and try coming out with a post that more completely tells about its value-proposition. The government is giving @armero money for taking care of Sick Citizens, and its almost time we send our users their checks in the mail.
@armero's position in the LP keeps growing and currently represents 0.373% of the liquidity in the pool.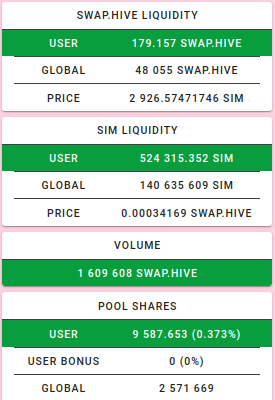 This will continue to grow, we will continue to grow, leave all your comments down below, list your bids for ARMERO tokens if you want to hold SIM-bond exposure on your balance sheet, and keep playing along!
Freedom and Friendship
---
---