@RHYMEBOT IS LIVE, @RHYMEBOT IS IN BETA....
GIVE ME THE THIRD LINE OF THE POEM IN THE TITLE AND WIN A VOTE FROM THE MOST LOYAL @RHYMEBOT!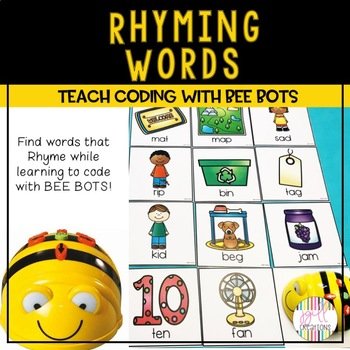 This is the source! @rhymebot needs a better picture.
---
Here's the story all about how I used Block Magic and @rhymebot is here now.
The power of the blocks is deep.as the sea,
I have harnessed its rhymes for energy.
@rhymebot is looking for game masters to follow...
Only to be triggered on rhyming comments, not hollow.
---
I proposed to curators, help me wield the bot
because control it all day is one thing I cannot
do, I'm busy, I have adventures to complete
So for that I am looking for a team completely neat!
A revered responded, I believe his name was Rum
He would become a curator before we were done: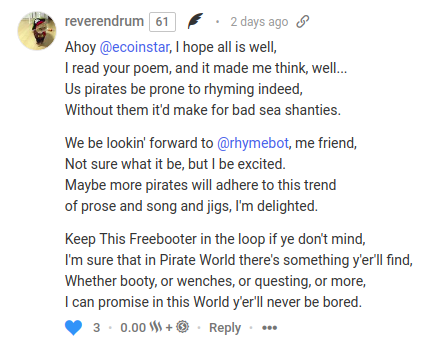 It's live, it's true, it's real, it's time - Having fun online is nary a crime!
@rhymebot is live, and it now follows you,
He is an automated ally, programmed to be true.
I ask then that the responsibility rest on you Reverend.
Any abuse and the alliance shall at my discretion end.
Its purpose is comments, not sure if posts would yet work...
the truth is, its beta, and its possible it might bork
sometimes, but visible the results should be
Rhymebot will vote on the comment above, heirarchically.
It has 1000 BATTLE and near 6k CCC
that's creative coin, use the tag appropriately.
I asked them once if creativity had a definition:
the curators decide, was their proposition
So work this block magic against any pirate foes,
writing creatively remedies a cornocopia of woes.
After beta testing we will search for delegation by tribes.
and pay curation rewards full of rhyme-y curation vibes.
---
So there is quite a bit of work left for me to do
We need an image, more curators and a response comment too
Delegators, trail-blazers, auto distribution of the divs...
My to-do list is long, but for now: @RHYMEBOT LIVES!
---
---