Ajustado primer encuentro de Semis de la Champions League terminando en igualdad aguardando al partido de vuelta en tierras inglesas (ESP-ENG)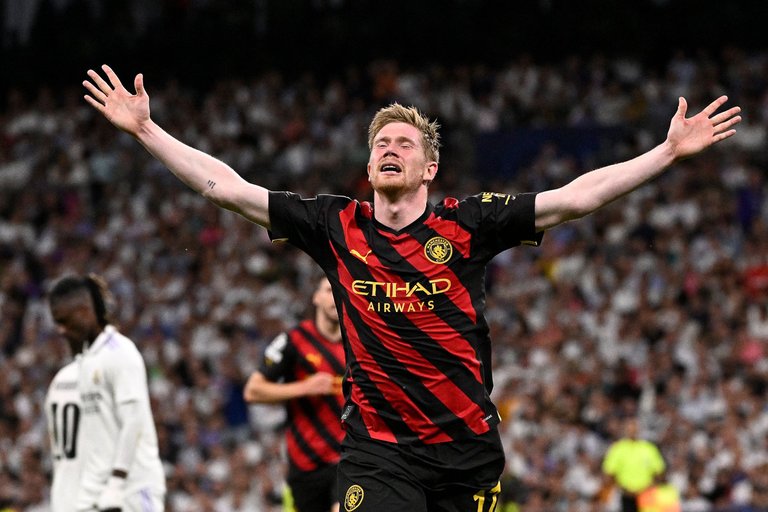 Gente de Hive y comunidad!!!, bienvenidos una vez mas a este mi pequeño rincón de futbol donde podrán deleitarse de comentarios, análisis y demás temas a destacar de una manera sencilla e incluso entretenida al no sentirse envuelta en un completo tecnicismo que solo limitaría al publico que quiera enterarse de lo ocurrido en el mundo del futbol. En el día de hoy tengo que abordar uno de esos temas que tanto disfruto y es por los grandes espectáculos que el futbol nos ofrece, escenarios impresionantes grandes encuentros, contrincantes en la cancha que parecen fuera de este mundo, muchos adjetivos positivos que podría seguir usando para describir lo que se vivió el día de ayer en el arranque de las Semifinales de la UEFA Champions League del partido de ida entre nada mas y nada menos el Real Madrid-Manchester City, un encuentro muy esperado por todo los fanáticos del futbol debido a todo lo que este enfrentamiento significa, dos estilos, dos DT con diferentes planteamientos, cada uno de estos dirigiendo a jugadores con cualidades que potencian su superioridad tanto en competiciones locales como internaciones en este caso, Pep Guardiola y la casa blanca se verían nuevamente las caras en la Champions League, teniendo en mente el amargo recuerdo muy fresco de lo que fue la edición pasada donde la serie se la quedarían los merengues luego de una gran hazaña, remontando el trabajo impecable y de gran asociación en la cancha de los Citizens, algo nada raro en los clubes dirigidos por el experimentado Guardiola.
People of Hive and community!!!, welcome once again to my little soccer corner where you can enjoy comments, analysis and other topics to highlight in a simple and even entertaining way by not feeling involved in a complete technicality that would only limit the public who wants to learn about what happened in the world of soccer. Today I have to address one of those topics that I enjoy so much and it is because of the great spectacles that soccer offers us, impressive scenarios, great matches, opponents on the field that seem out of this world, many positive adjectives that I could continue to use to describe what happened yesterday at the start of the UEFA Champions League Semifinals in the first leg between nothing more and nothing less than Real Madrid-Manchester City, a highly anticipated match for all soccer fans because of everything that this confrontation means, two styles, two DT with different approaches, each one of them managing players with qualities that enhance their superiority both in local and international competitions, in this case, Pep Guardiola and the white house would meet again in the Champions League, having in mind the bitter memory of what was very fresh last edition where the series would remain the Merengues after a great feat, overcoming the impeccable work and great partnership on the field of the Citizens, something not uncommon in the clubs led by the experienced Guardiola.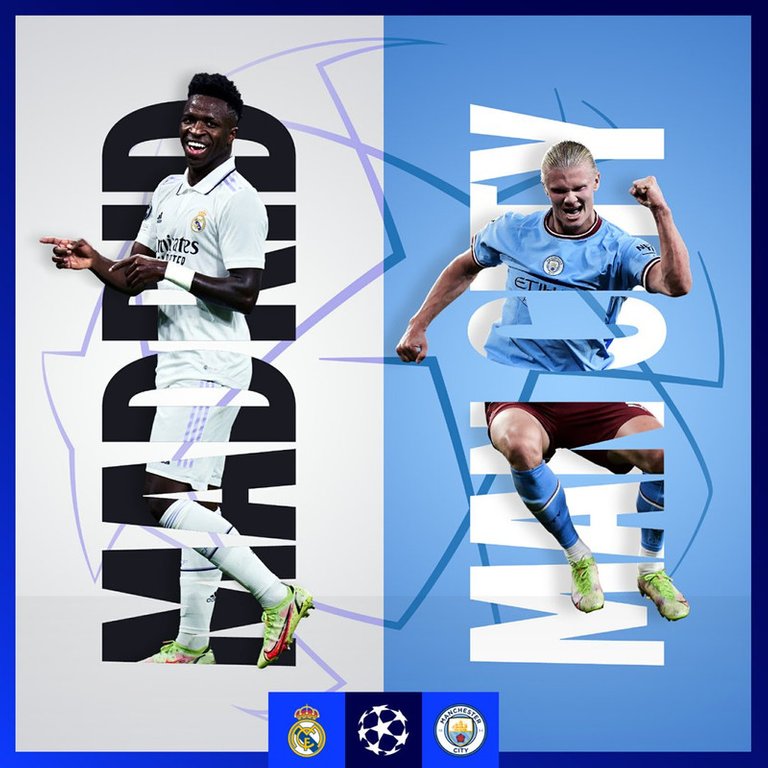 El partido se comenzaba a jugar incluso desde antes de la fecha, todos formulando y creando los posibles escenarios que se podían dar, algunos apostando por un dominio del club ingles y llevándose la ventaja en esta primera vuelta, por otro lado el grupo que piensa que no todo se trata de una rígida organización y amplio dominio del balón, sino mas bien la efectividad y de saber aprovechar los momentos cuando se esta frente al arco. En definitiva muy interesante de ver y por supuesto de traer a la mesa para debatir todo lo ocurrido.
The match started to be played even before the matchday, everyone formulating and creating the possible scenarios that could happen, some betting on the dominance of the English club and taking the lead in this first round, on the other hand the group that thinks that not everything is about a rigid organization and wide domain of the ball, but rather the effectiveness and knowing how to take advantage of the moments when you are in front of the goal. In short, very interesting to watch and of course to bring to the table to discuss everything that happened.
---
Dejando atrás tantas historias del que podría ser y abrumados de tantos números de estadísticas, era el momento definitivo, los protagonistas ya estaban en la cancha en espera del silbato inicial del arbitro que permitiera darle apertura a esta historia.
Leaving behind so many stories of what could have been and overwhelmed by so many statistical numbers, it was the definitive moment, the protagonists were already on the field waiting for the referee's whistle to open this story.
Los de Ancelotti no presentaban ningún cambio fuera de lo esperado, luego de su apartada mirada de la liga local la Liga Santander, era obvia su actitud de reservar piezas claves para lo que fue la final de la Copa del Rey y este encuentro ante el City, estarían presentes todos los titulares a excepción de dos comenzando por la línea defensiva con la presencia de Antonio Rüdiger quien entraría en los planes de Ancelotti debido a la ausencia de Militao por sanción, bien es cierto que el Alemán mas allá de su juego físico no suele ser muy técnico a la hora de salir jugando desde propio campo, su dominio de balón suele ser muy tosco y muchas veces da la sensación de estar cerca a equivocarse, sin embargo esta cualidad del defensa merengue le vendría de gran conveniencia al equipo y esto Ancelotti ya lo tenia premeditado, ya que su tarea asignada seria convertirse en la sombra de jugador del moemnto tanto en Premier como en la propia Champions League siendo actual pichichi con 12 goles, el Noruego Erling Haaland. Mas sin embargo no estaría del todo solo ya que su compañero de área Alaba también ofrecería relevo en tan ardua tarea, esta estrategia del DT Italiano tiene mucho que comentarse ya que dictaría en cierto modo en como culmino el resultado final.
Ancelotti's team did not present any changes out of the expected, after his look away from the local league, the Santander League, it was obvious his attitude to reserve key pieces for what was the final of the Copa del Rey and this match against City, all the starters would be present except for two starting with the defensive line with the presence of Antonio Rüdiger who would enter in Ancelotti's plans due to the absence of Militao by suspension, It is true that the German beyond his physical game is not usually very technical when it comes to playing from his own field, his ball control is usually very rough and often gives the feeling of being close to being wrong, however this quality of the merengue defender would be of great convenience to the team and this Ancelotti already had it premeditated, since his assigned task would be to become the shadow player of the moment both in Premier and in the Champions League itself being the current top scorer with 12 goals, the Norwegian Erling Haaland. However, he would not be entirely alone as his teammate Alaba would also offer relief in such an arduous task, this strategy of the Italian DT has much to comment on as it would dictate to some extent how the final result would culminate.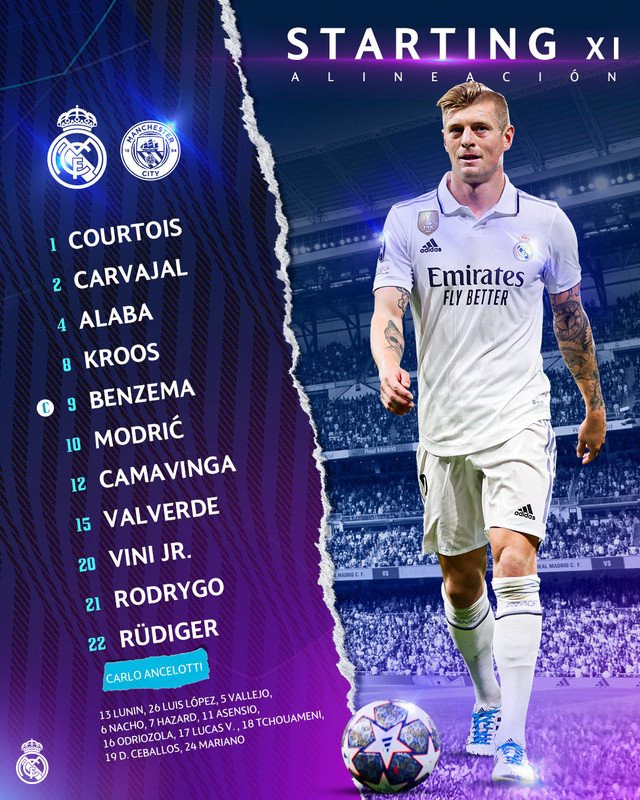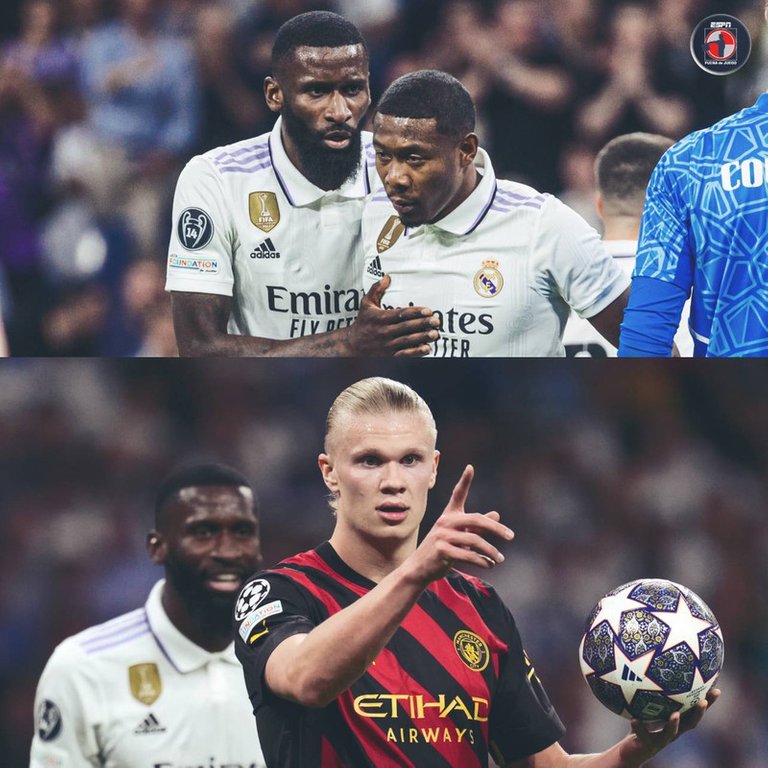 En líneas mas adelantadas tenemos el medio campo merengue con Kroos como central y eje del equipo, respaldado por Valverde y por ultimo y otro de los que a mi parecer destacados Luka Modrić quien no deja de sorprender siendo un veterano, el Croata aporto mucho a los avances en ofensiva del Madrid y gran parte del gol merengue tuvo mucho que ver con el 10.
In more advanced lines we have the merengue midfield with Kroos as central and axis of the team, supported by Valverde and finally and another of those who in my opinion highlighted Luka Modrić who never ceases to surprise being a veteran, the Croatian contributed much to the offensive advances of Madrid and much of the merengue goal had much to do with the 10.
El Real Madrid se colocaba desde los papeles con intención de ir al ataque, solo quedaría esperar en como se desarrollaría esto en la practica.
Real Madrid was positioned from the papers with the intention of going on the attack, it only remained to wait and see how this would develop in practice.
EL DT del City también reservaría sus piezas claves para esta cita, a diferencia del club blanco, el City sigue en carrera por la liga inglesa, por lo cual el dosificar jugadores seria mas complicado, uno de los ajustes de Pep seria el de Walker por lesión de Aké, el futbolista británico al igual que Rüdiger tendría que desempeñar su mejor versión para intentar frenar a Vinicius Jr.
City's DT would also reserve his key players for this match, unlike the white club, City is still in the race for the English league, so dosing players would be more complicated, one of Pep's adjustments would be that of Walker due to Aké's injury, the British player as well as Rüdiger would have to play his best version to try to stop Vinicius Jr.
---
Apenas iniciada la primera parte se comenzarían a ver lo ya comentado recientemente, los enfrentamientos se comenzaban a dar, pero con resultados diferentes, los primeros 25 minutos aproximadamente el City haría su juego acostumbrado de presionar alto y a través de buenas asociaciones lograr acercarse al arco defendido por el Belga Courtois quien despejaría el primer remate del partido proveniente de su compatriota De Bruyne. El Madrid aguardaba un poco mas retrasado resistiendo los primeros minuto del City que 7 minutos después de esa primera acción tendría un par mas con Haaland, una rematando un poco mordido y otra de cabeza las cuales respondía bien el arquero merengue que en las primeras jugadas donde se le exigió siempre estuvo bien posicionado.
As soon as the first half started, we would start to see what we have been talking about recently, the clashes were starting to happen, but with different results, the first 25 minutes or so City would play their usual game of pressing high and through good associations managed to get close to the goal defended by the Belgian Courtois who would clear the first shot of the match from his compatriot De Bruyne. Madrid waited a little further back, resisting City's first minutes, and 7 minutes after that first action they would have a couple more with Haaland, one with a biting shot and another with a header, both of which were answered well by the goalkeeper, who was always well positioned in the first plays where he was required.
El City comenzaba hacer suyo el juego sumando ocasiones que en cualquier momento podrían hacer mover el marcador, no obstante un error que muchos suelen cometer es que en situaciones como estas donde el rival suele ser superior en posesión ya es suficiente para hacer olvidar la presencia del Madrid y es que lo sorprendente del club blanco es que sin tener el balón por tanto tiempo logra sacar una sola jugada que puede ser mortal, esto ocurriría transcurridos los 25 minutos antes mencionados, aquí se vería un pequeño cambio en el desarrollo del juego de los merengues con una escapada del lado izquierdo del Madrid con Vinicius que lograba llegar a líneas finales aprovechando un error en salida del City, sacando un centro para su acostumbrado socio Benzema que por poco se encuentra con dicha asistencia de no ser interceptado antes por Rúben Dias, esta seria una de las primeras que tendría el Madrid en el partido.
City began to make the game their own, adding chances that at any moment could move the scoreboard, however, a mistake that many usually make is that in situations like these where the opponent is usually superior in possession is enough to make Madrid forget the presence of Madrid and the surprising thing about the white club is that without having the ball for so long they manage to get a single move that can be deadly, This would happen after the 25 minutes mentioned above, here we would see a small change in the development of the game of the Merengues with a breakaway on the left side of Madrid with Vinicius who managed to reach the end lines taking advantage of an error in the output of the City, taking a cross for his usual partner Benzema who almost found this assistance if not intercepted before by Rúben Dias, this would be one of the first that Madrid would have in the match.
---
Luego de los primeros minutos del Madrid estudiando al City, ajustaría sus líneas y marcajes en la cancha para conseguir mayor fluidez en salida y por ende en ataque, se comenzaban a ver llegadas de los dirigidos por Ancelotti y esto comenzaba a molestarle a Pep ya que suponía lo que podría pasar si el Madrid se sentía cómodo en cancha y mas estando de local. Uno de los primeros movimientos en la estrategia del club español seria el acercamiento de Modrić a la banda izquierda apoyando no tanto la ofensiva sino la construcciones de la misma, en muchas ocasiones se juntaban Camavinga, Modrić y Vinicius, esto ayudo a fortalecer el juego por ese carril, prueba de esto seria la jugada en el minuto 36 donde en campo propio entre Camavinga y Modrić armarían una pared que rompería por absoluto las marcas que ejecutaba el City en esa zona, dejando como resultado una carrera en solitario del joven Frances soltando el balón a Vinicius que solo necesito adentrarse al centro del área y de larga distancia sacando un fuerte remate clavándola en el ángulo dejando sin nada que hacer a Ederson, poniéndose adelante en el marcador 1-0 dejando en evidencia que la efectividad suele ser mejor que largos lapsos de dominio del balón, con solo un remate al arco el Madrid lograba tomar la delantera de partido.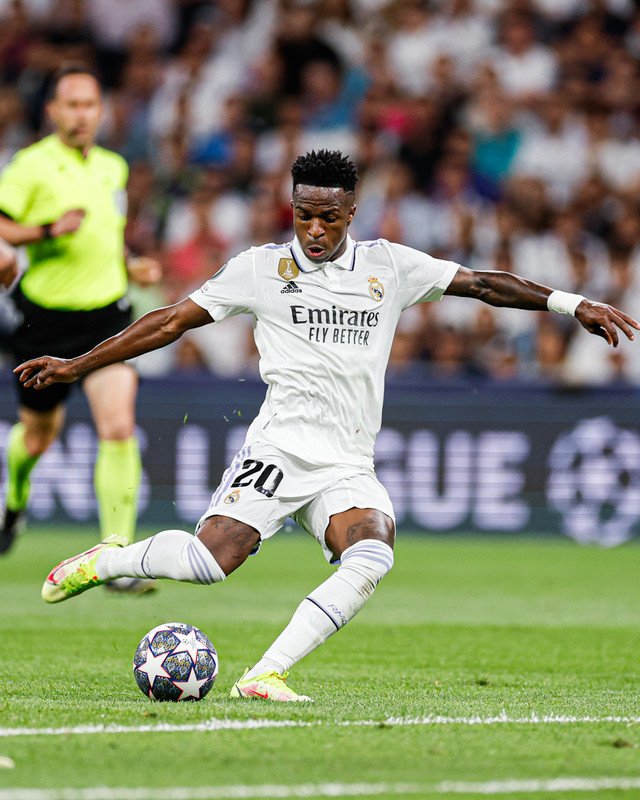 After the first few minutes of Madrid studying City, they would adjust their lines and marking on the field to achieve greater fluidity in output and therefore in attack, they began to see arrivals of the team led by Ancelotti and this began to bother Pep as he assumed what could happen if Madrid felt comfortable on the field and more so being at home. One of the first moves in the strategy of the Spanish club would be the approach of Modrić to the left flank supporting not so much the offense but the construction of it, on many occasions Camavinga, Modrić and Vinicius joined together, this helped to strengthen the game on that lane, proof of this would be the play in the 36th minute where in their own field between Camavinga and Modrić would put together a wall that would break by absolute the marks that City executed in that area, The result was a solo run by the young Frances releasing the ball to Vinicius who only needed to get into the center of the area and from long distance shot a strong shot into the corner leaving Ederson with nothing to do, putting Madrid ahead on the scoreboard 1-0 showing that effectiveness is usually better than long periods of ball control, with only one shot on goal Madrid managed to take the lead of the match.
---
A partir de este tanto el City se vería mermado en comparación al arranque del partido, le permitirían recobrar espacios al Madrid que comenzaban a sumar ocasiones en mi opinión desaprovechadas, en ese cuarto de hora el Madrid pudo colocarse 2-0 ya que se encontraba en estado de aumento anímico que los convierte en imparables. Así cerraría un primer tiempo con buen resultado pero conto en comparación a todo lo ocurrido.
From this goal City would be diminished in comparison to the start of the match, they would allow Madrid to regain space and they began to add chances that in my opinion were wasted, in that quarter of an hour Madrid could have taken a 2-0 lead as they were in a state of increased morale that makes them unstoppable. This was the end of a first half with a good result but it was not enough in comparison to everything that had happened.
---
Sin modificaciones algunas vuelven al campo los jugadores con mejor cara los merengues quienes buscarían aumentar aun mas su ventaja pensando en la vuelta fuera de casa. El City continuaría aturdido luego de ese primer tanto, cambiando papeles con los merengues ya que los dirigidos por Ancelotti demostrarían un futbol de mucha conexión con pases cortos, de primera y seguros, pero sin hacer daño, un Benzema que no suele perdonar se le complicaba ese ultimo tramo que le negaba su gol.
Without any changes, the players returned to the field with the Merengues looking to increase their advantage even more, thinking about the second leg away from home. City would continue to be stunned after that first goal, changing roles with the Merengues as the team led by Ancelotti would show a soccer with a lot of connection with short passes, first and safe, but without doing damage, a Benzema who usually does not forgive was complicated that last stretch that denied him his goal.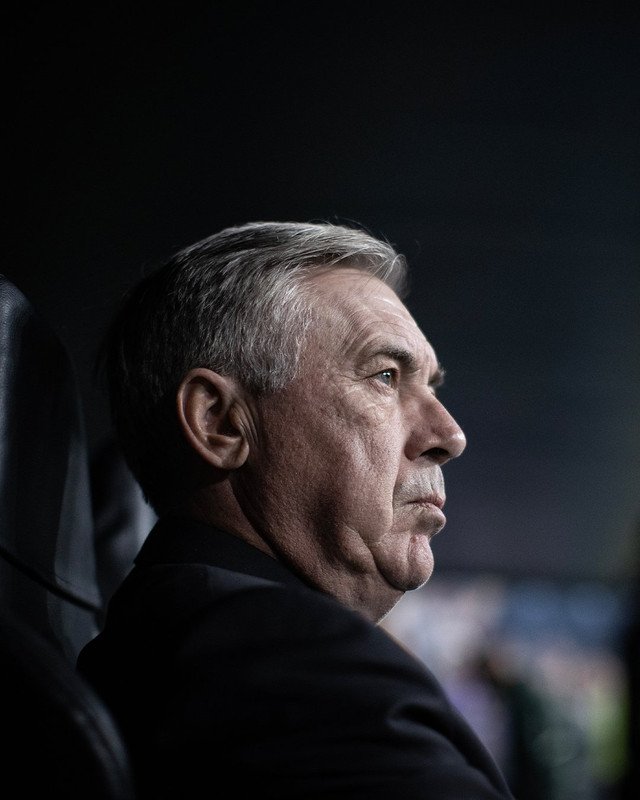 ---
Un segundo tiempo con un City un tanto inestable dejaba sensaciones de un posible 2-0 cercano para el Madrid, los de Ancelotti se crecían a medida que pasaban los minutos, con buenas recuperaciones de balón, buenos marcajes en las ultimas líneas manteniendo a raya a Haaland quien no tendría mucho el balón salvo una ocasión de remate en el minuto 55' interceptado por una de sus sombras Alaba. El Madrid mantenía a raya al conjunto ingles luego de mostrar una actitud conservadora los primeros minutos del partido, pero esto es futbol y lo que representa a este deporte es que es incierto y rompe cualquier tipo de pronósticos mas allá de lo que se vea dentro del campo y destaco este pensamiento sobre el futbol debido a que en el mejor momento del Madrid y el peor del City llegaría el empate.
A second half with a somewhat unstable City left sensations of a possible 2-0 for Madrid, Ancelotti's team grew as the minutes passed, with good ball recoveries, good marking in the last lines keeping Haaland at bay, who would not have much of the ball except for a chance in the 55th minute intercepted by one of his shadows Alaba. Madrid kept the English team at bay after showing a conservative attitude in the first minutes of the match, but this is soccer and what represents this sport is that it is uncertain and breaks any kind of predictions beyond what is seen on the field and I highlight this thought about soccer because in Madrid's best moment and City's worst, the equalizer would come.
El Madrid había realizado hasta el moemnto buenas salidas desde campo propio, pases muy seguros, evitando pelotazos al vacío para evitar que el rival la tuviera en su poder, pero dentro de las posibilidades se haría presente un despeje del antes alabado joven Frances Camavinga que rompería la regla de hora de los defensores "no despejar el balón al centro de propia área" ampliando un poco mas el significado de esta frase se refiere a que al servir el balón al centro de área propia este podría encontrarse con algún jugador rival y complicar al equipo al quedar vulnerable la defensa. El adaptado lateral izquierdo presionado por De Bruyne se desharía del balón tal y como lo explicaba recién, dicho despeje era interceptado por Rodrigo que junto con Grealish y Gündoğan mantendrían vivo el balón para finalmente servirle un pase a De Bruyne que decidiría probar desde fuera del área, consiguiendo por primera vez a Courtois alejado de la dirección del balón, el esférico entraría pegado al poste del arco concretándose así el empate, el Madrid perdería su valiosa ventaja justo en su mejor momento del partido.
Madrid had so far made good starts from their own half, very safe passes, avoiding empty balls to prevent the opponent from having it in their possession, but within the possibilities would be present a clearance of the previously praised young Frances Camavinga that would break the hour rule of the defenders "not to clear the ball to the center of own area" expanding a little more the meaning of this phrase refers to that when serving the ball to the center of own area this could meet with an opponent player and complicate the team by leaving the defense vulnerable. The adapted left back pressured by De Bruyne would get rid of the ball as I just explained, the clearance was intercepted by Rodrigo who along with Grealish and Gündoğan would keep the ball alive to finally serve a pass to De Bruyne who would decide to try from outside the area, getting for the first time Courtois away from the direction of the ball, the ball would enter the goal post and the tie would be concretized, Madrid would lose its valuable advantage just at its best moment of the match.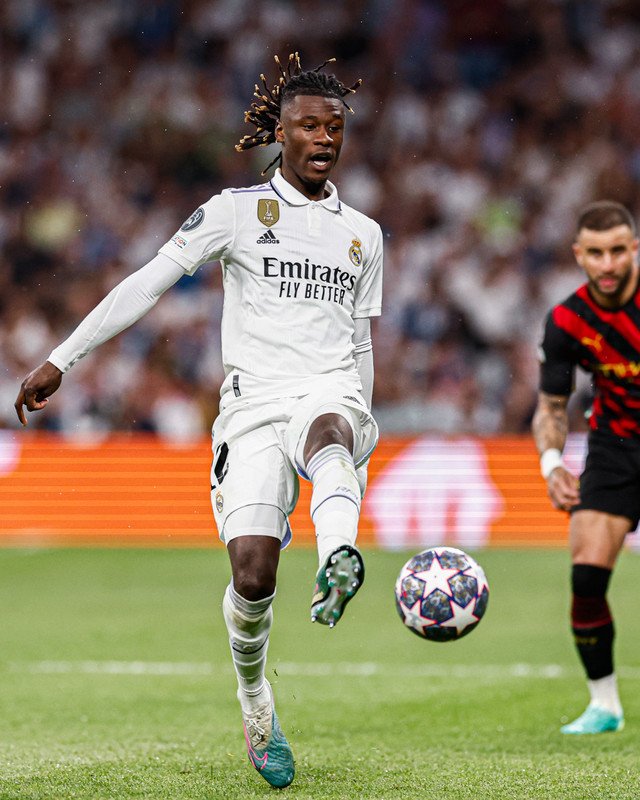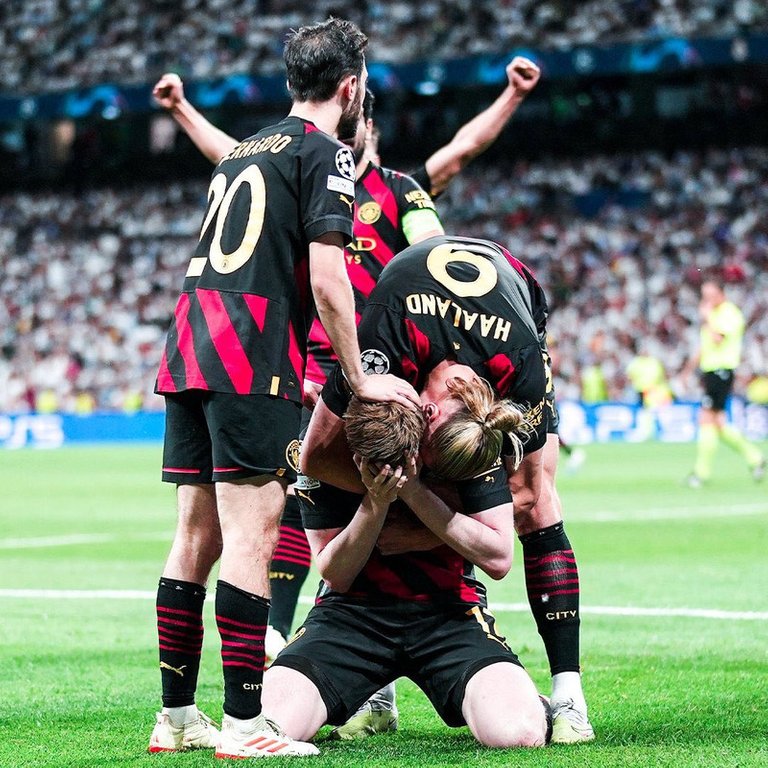 ---
Esto no restaba intensidad al partido por parte del Madrid, a pesar del empate los de Ancelotti continuarían buscando recuperar la ventaja con un remate de cabeza de Benzema quien seguía sin tener suerte frente al arco, ante un City que apostaría a la resistencia esperando el momento justo de algún contragolpe, Guardiola no movería el banco a diferencia de Ancelotti que cambiaba de panorama retirando del campo a Rodrigo de muy buen segundo tiempo y a Kroos, en su lugar Asencio y Tchouameni, por ultimo la salida del campo de Modrić permitiéndole el ingreso a Nacho, el estratega Italiano pensando en adelantar líneas a Camavinga para que apoye en el ataque y dejar al defensor Español cubrir ese espacio.
Despite the equalizer, Ancelotti's team continued looking to regain the lead with a header by Benzema, who was still unlucky in front of goal, against a City team that was betting on resistance waiting for the right moment for a counterattack, Guardiola did not move the bench, unlike Ancelotti, who changed the panorama by withdrawing Rodrigo, who had a very good second half, and Kroos, replacing him with Asencio and Tchouameni, and finally the departure of Modrić, allowing Nacho to enter the field, the Italian strategist thinking of moving Camavinga forward to support the attack and leaving the Spanish defender to cover that space.
---
Esta segunda mitad tendría poco mas salvo un remate de larga distancia de Tchouameni con similitud al disparo del centrocampista del City, a diferencia de que Ederson lograría sacar fuera dicho remate. El Madrid culminaría un frustrante segundo tiempo dejando las cosas 1-1 pudiendo llevarse la victoria y ventaja para afrontar la vuelta en tierras del City.
This second half would have little else except for a long-range shot from Tchouameni with similarity to the City midfielder's shot, except that Ederson managed to keep the shot out. Madrid would end a frustrating second half with a 1-1 draw and a chance to take the win and the lead into the return leg at City's home ground.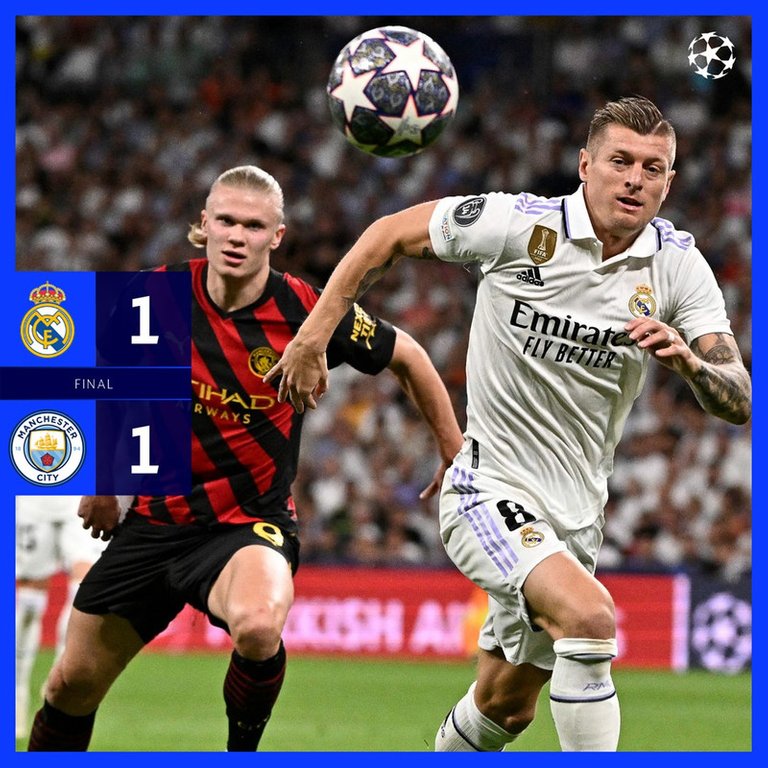 El conjunto blanco se suele crecer en momentos adversos, antes de este partido no era el favorito en absoluto, mas allá de apostar por la mística y siempre esperar algo de la casa blanca, no existían mas criterios por parte del publico para confiar en el conjunto dirigido por Ancelotti, pero una vez mas se demuestra que este lugar de semifinalista no es regalado y si quedaban dudas de las temporada pasada pues hoy se encuentran empatando la serie en esta ida de semifinales ante uno de los mas fuertes de Europa los cuales les pasaron por encima al Bayern de Múnich y que lograron recuperar su liga ante un sorpresivo Arsenal que venia haciendo las cosas bien.
The white team usually grows in adverse moments, before this match it was not the favorite at all, beyond betting on the mystique and always expect something from the white house, there were no more criteria by the public to trust the team led by Ancelotti, But once again it is shown that this semifinalist place is not a gift and if there were any doubts from last season, today they are tying the series in this first leg of the semifinals against one of the strongest teams in Europe, which overcame Bayern Munich and managed to regain their league against a surprising Arsenal that had been doing well.
La llave queda completamente abierta y la semana que viene se encargara de entregarnos al finalista de esta edición de la Champions League, encuentro que no te puedes perder al igual que el del día de hoy donde se enfrentan dos clubes Italianos (Milán-Inter) que buscan renombrar esta competición y dejar su sello como grandes de Europa. Una Champions League totalmente llamativa a la cual estaré muy pegado para no perder detalle y poder compartirlos con ustedes en una próxima oportunidad, solo me queda desearles feliz semana y productivo miércoles.
The key is completely open and next week will be responsible for giving us the finalist of this edition of the Champions League, a match that you can not miss as well as today's match where two Italian clubs (Milan-Inter) that seek to rename this competition and leave their mark as great in Europe face each other. A totally striking Champions League to which I will be very glued to not lose detail and to be able to share with you in a next opportunity, it only remains for me to wish you a happy week and productive Wednesday.
---

---
Fuentes de las imágenes
Image sources
---
Imag 1-Imag 2-Imag 3 -Imag 4-Imag 5-Imag 6-Imag 7-Imag 8-Imag 9
---
El texto es completamente de mi autoría
La traducción fue realizada con traductor: DeepL
El gif se realizo con el programa PhotoScape
The text is entirely my own
The translation was done with translator: DeepL
The gif was made with the PhotoScape program
---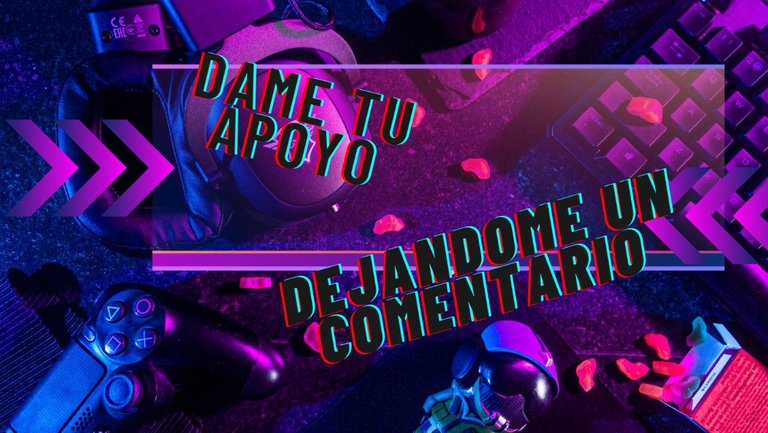 ---
---