Physical Attraction

While Trump's base is doubling down on ridiculous conspiracy theories, choosing superstition over science in a desire to protect their way of life. On the left, intersectional identity is thriving, and communities have emerged to fight depression in these times of social isolation.
Queer Men's Yoga is such a community which was spearheaded by the handsome Peter Dewitt. His sheer wit has carried us through much of 2020 as you can see in this picture taken exactly one year ago. We love a little naughty joke as we are grinding against the floor in our Cobra Asana because we are comfortable with our sexuality and let's face it, we have an amazing sense of humour!
I had a few one-on-one moments with our fearless instructor who had the foresight of offering naked yoga sessions which has proved to be a truly profound way to connect. He did acknowledge the erotic aspect of this format, stating that it was secondary to the journey of spiritual growth and physical fitness. One of the reasons fitness emerged in such a big way in the Jane Fonda era is because it embraced a certain level of sexyness and the tradition continues with this beautiful group of men.
I remember steamy moments where I could see men be aroused on screen but this fantasy always fell in the backdrop where our dedication as a group was the main thread of our journey. Mindfulness, mantras and eastern pearls of wisdom interspersed between the sessions had all of our chakras open to the world, being truly vulnerable in a sense.
It's a funny thing how video conferencing tweaks the notion of space-time, especially when the whole group is focussed on the same activity.
A hard man is good to find, especially as Covid has felt like déja vu in a community deeply coping with the trauma of a previous pandemic. This is not the first time that we have learned to fear physical proximity. This is why however fleeting moments of physical attraction have been, they have filled an essential role for me, of admiring the male form in a holistic way.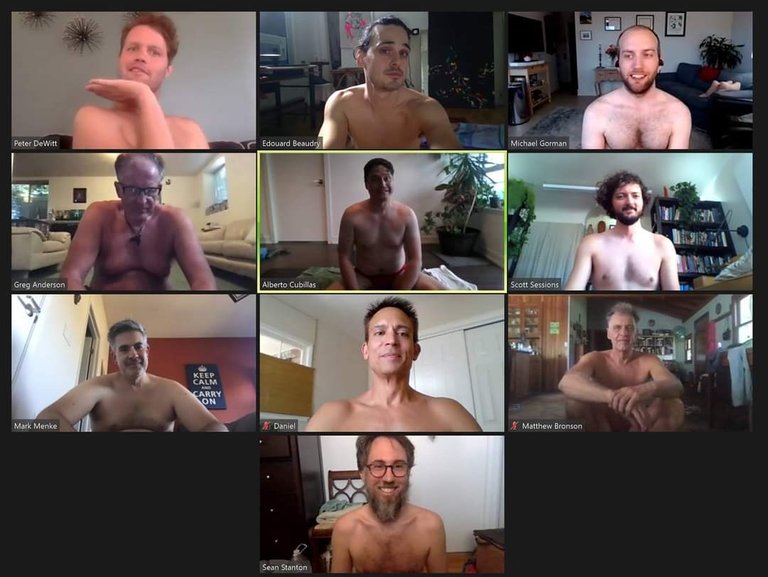 I really love these men, they mean a lot to me, I almost feel nostalgic that I don't have time to see them as much anymore.
Yoga is a great example of a dynamic meditation. As a fitness instructor, it is a practice that has allowed me to retain a considerable amount of muscle tone and cardiovascular health at a point where my career was put on hold. I am thankful for this circle of men, and I am glad that Peter is coming out of what seems to be a long slumber. I really appreciate how vulnerable he was in telling the community that he needed time. The online group that he created on a social media that shall not be named is thriving and I am currently doing classes with Sunray although I can only make it once a month.
I also picked up a student of my one for some amazing nude gymnastics, it's a fun gig and a story for another time!
We need to heal, times are tough
Every once in a while, you need a friend
someone can be there for you
A shoulder for you to lean on
Fear not my friend
It's a new day
Do you consider yourself queer or curious? Or maybe you're just an ally! Join Queer Artists now!




---
---