[ES] [EN] HAZ ESTA RUTINA SI TIENES MALA POSTURA / DO THIS ROUTINE IF YOU HAVE BAD POSTURE
---
Cómo están amigos de Hive. Hoy les traigo una rutina para mejorar la postura, ya que hoy en día es común tener los hombros y cuello adelantados por el uso constante del pc o el celular ya que es muy normal durar horas usando estos dispositivos ya sea por ocio, trabajo o estudio, pero no hacemos algo con respecto a mejorar la mala postura que nos causan estos hábitos. Así que hoy te daré unos tips y ejercicios que puedes hacer para corregir esto.
How are you friends of Hive. Today I bring you a routine to improve posture, because today it is common to have shoulders and neck forward by the constant use of the pc or cell phone as it is very normal to last hours using these devices either for leisure, work or study, but we do not do anything about improving the bad posture that cause us these habits. So today I will give you some tips and exercises you can do to correct this.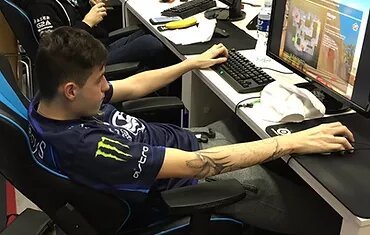 Empecemos con lo básico, debemos mentalizarnos que debemos ser consciente de nuestra postura al inicio, porque nada servirá mejorar nuestra movilidad y fortalecer nuestros músculos y sigamos poniéndonos de manera intencional con mala postura a la hora de usar los dispositivos electrónicos.
Let's start with the basics, we must be aware that we must be conscious of our posture at the beginning, because it will be useless to improve our mobility and strengthen our muscles and continue to intentionally put ourselves with bad posture when using electronic devices.
Para empezar a agarrar consciencia sobre nuestra postura debemos tener recordatorios, para esto podemos programar una alarma cada cierto tiempo para que nos avise que debemos acomodar nuestra postura o también podemos poner pequeñas notas al lado de nuestra pc o habitación para que nos recuerde que debemos tener buena postura.
To begin to become aware of our posture we must have reminders, for this we can set an alarm every so often to warn us that we must adjust our posture or we can put small notes next to our pc or room to remind us that we must have good posture.
Ejercicio 1 / Exercise 1
Para realizar este ejercicio tendremos que tumbarnos en el suelo de la manera en que nuestro pecho y pelvis toquen el suelo en todo momento, nuestra espalda debe quedar recta por eso debemos buscar que nuestra pelvis toque el suelo para evitar un arqueo en la parte baja de nuestra espalda, lo brazos deben ir por encima de la cabeza, luego de eso elevamos los brazos del suelo y buscamos tocar nuestra espalda baja pero mientras llevamos los brazos a la parte baja de nuestra espalda, debemos mantenerlos lo más rectos posible.
To perform this exercise we will have to lie on the floor so that our chest and pelvis touch the floor at all times, our back should be straight so we must seek that our pelvis touches the floor to avoid an arch in the lower part of our back, the arms should go above the head, after that we raise our arms off the floor and seek to touch our lower back but while we bring the arms to the lower part of our back, we must keep them as straight as possible.
Vamos a realizar unas 4 rondas de 10-20 repeticiones cada una y descansamos entre ronda unos 2 o 1 minuto.
We will perform about 4 rounds of 10-20 repetitions each and rest between rounds for about 2 to 1 minute.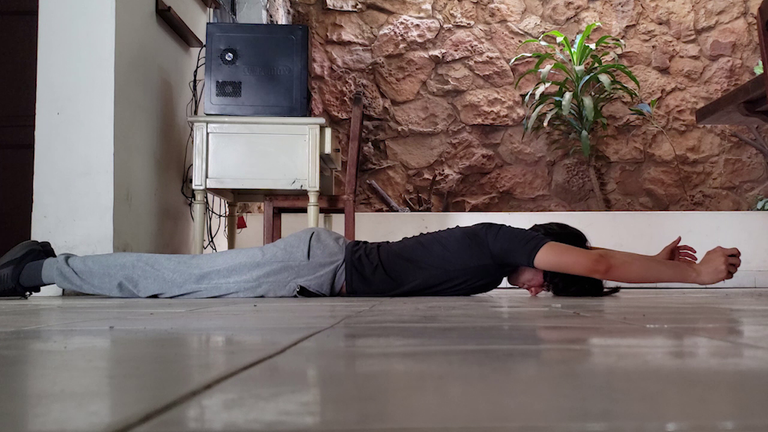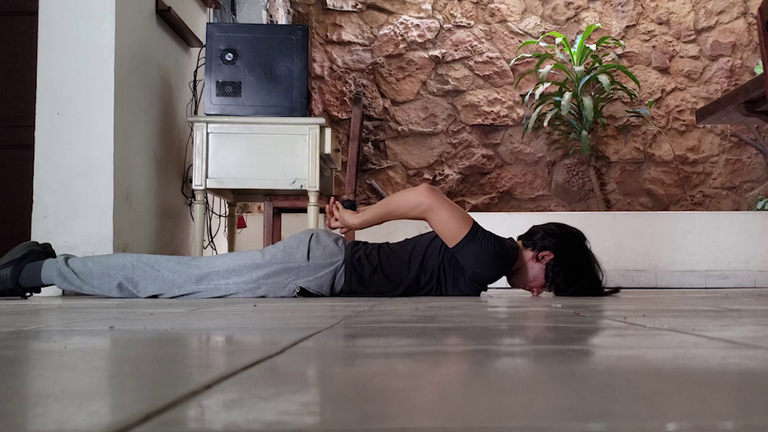 Ejercicio 2 / Exercise 2
En este ejercicio nos vamos a colgar de algo, si es una barra mucho mejor, pero podemos hacerlo en una puerta, pero asegurándonos de que pueda aguantar nuestro peso, podemos dejar nuestras piernas en el suelo de manera relajada para que se nos haga mucho más fácil.
In this exercise we are going to hang on something, if it is a bar much better, but we can do it on a door, but making sure that it can support our weight, we can leave our legs on the floor in a relaxed way to make it much easier.
Cuando nos empecemos a colgar debemos dejar que nuestros hombros suban hasta nuestras orejas y debemos mantener la espalda recta en todo momento.
When we start to hang we should let our shoulders go up to our ears and we should keep our back straight at all times.
Haremos unas 4 rondas de 20-50 segundos, descansando entre ronda unos 2 o 1 minuto, recuerda que la idea es sentir una intensidad leve.
We will do about 4 rounds of 20-50 seconds, resting between rounds about 2 to 1 minute, remember that the idea is to feel a light intensity.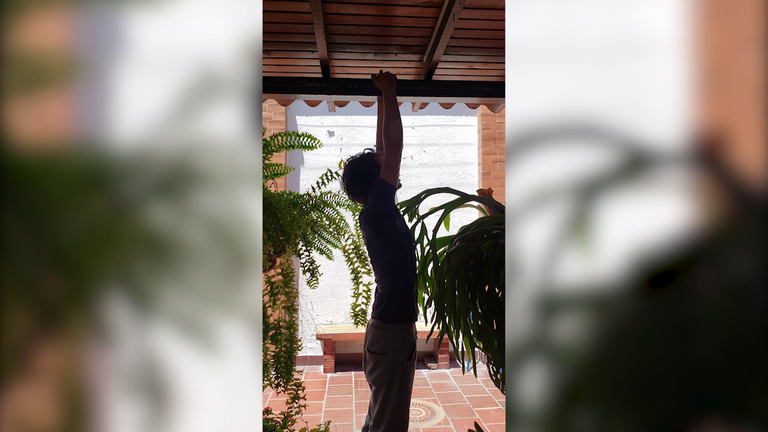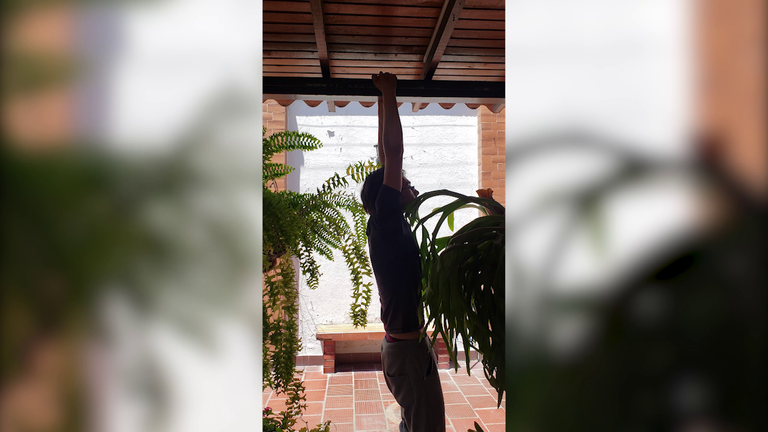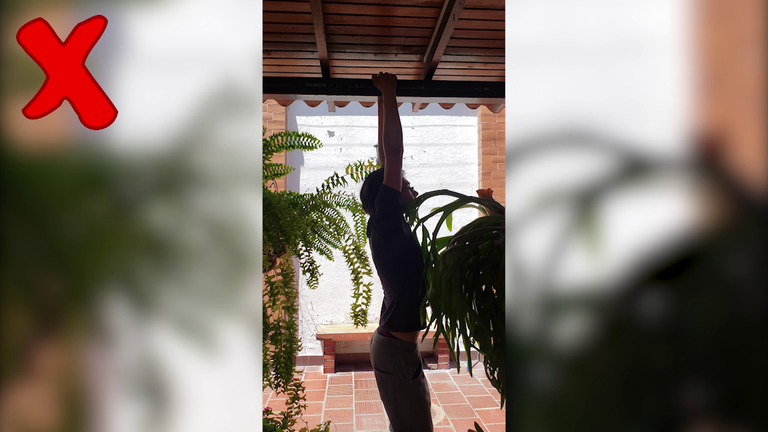 Ejercicio 3 / Exercise 3
Debemos apoyar toda nuestra espalda y cabeza en una pared y debemos elevar los brazos, pero siempre manteniendo nuestra espalda y cabeza pegada a la pared, sube los brazos hasta donde puedas ya que es normal que cuando empieces a subir los brazos y tu espalda quieran separarse de la pared y luego que lo hayas subido los bajas y así contaría 1 repetición y así lo harás por unas 3 rondas de 10 repeticiones, si puedes hacer más hazlas y si no, haz menos.
We must support all our back and head on a wall and we must raise our arms, but always keeping our back and head against the wall, raise your arms as far as you can because it is normal that when you start to raise your arms and your back want to separate from the wall and after you have raised them lower them and so would count 1 repetition and so you will do it for about 3 rounds of 10 repetitions, if you can do more do them and if not, do less.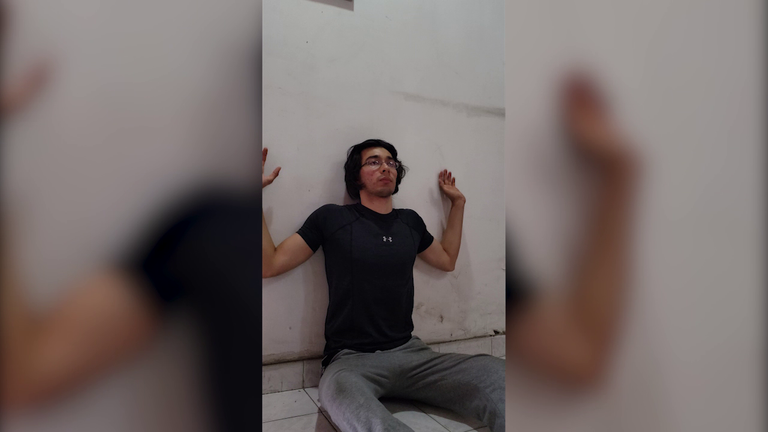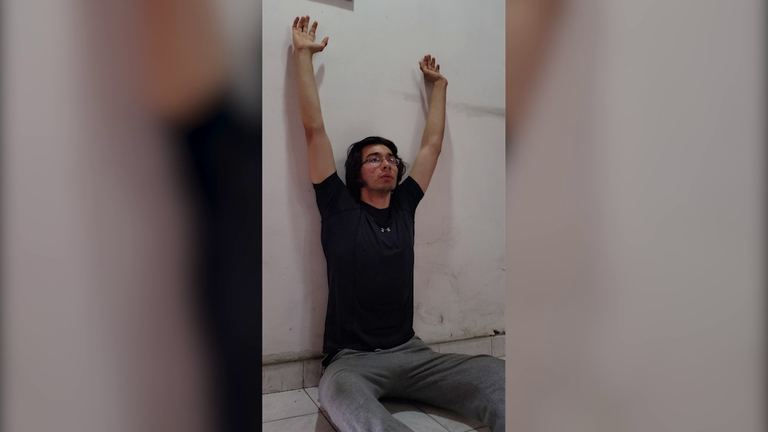 Ejercicio 4 / Exercise 4
Para realizar este ejercicio tendremos que tumbarnos al suelo de nuevo, vamos a sacar nuestro pecho y vamos a llevar nuestros hombros hacia atrás luego vamos a flexionar nuestras rodillas y vamos a elevar nuestra pelvis y vamos a aguantar la postura.
To perform this exercise we will have to lie down on the floor again, we will take out our chest and we will take our shoulders backwards then we will bend our knees and we will raise our pelvis and we will hold the posture.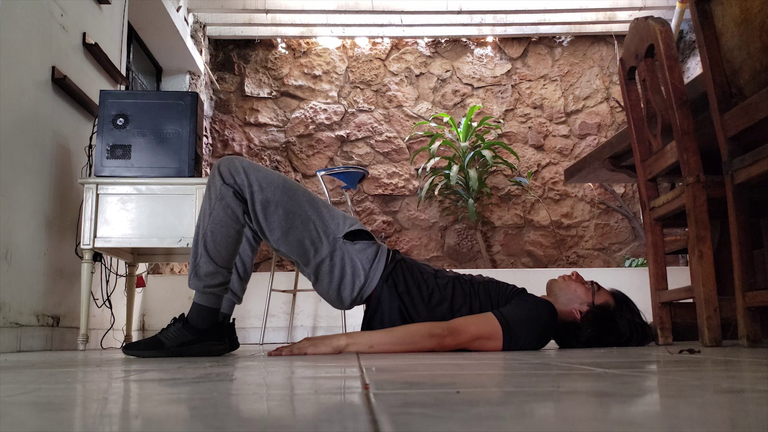 Si la postura es muy fácil pasamos a la siguiente progresión. Simplemente vamos a estirar nuestros brazos y siempre buscamos llevar nuestros hombros hacia atrás y aguantamos.
If the posture is too easy we move on to the next progression. We are simply going to stretch our arms and always look to bring our shoulders back and hold.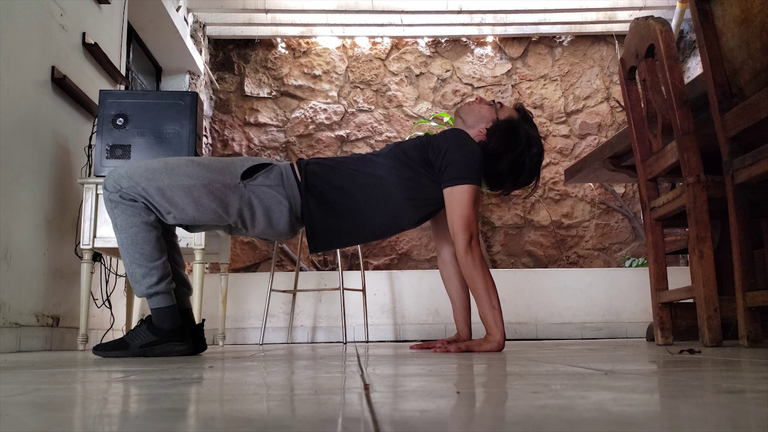 La siguiente progresión sería mantener nuestros brazos iguales, pero nos centraremos en estirar nuestras rodillas y aguantamos.
The next progression would be to keep our arms equal, but we will focus on stretching our knees and hold.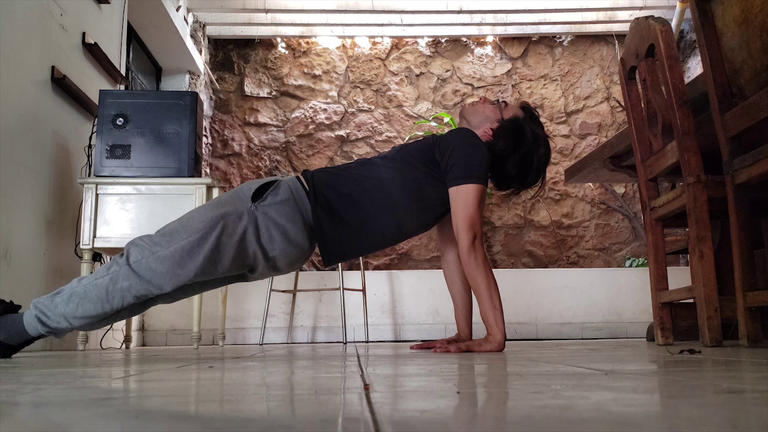 Haremos unas 3 rondas de 10 repeticiones descansado 1 o 2 minutos, recuerda que si puedes hacer más hazlo.
We will do about 3 rounds of 10 repetitions resting 1 or 2 minutes, remember if you can do more do it.
Y bueno esto fue todo, espero les ayude esta rutina me despido.
El video fue grabado con mi Samsung s9 por mi mismo con un trípode y el texto en inglés fue creado con deepL.
---
▶️ 3Speak
---
---