[ESP-ENG] Caracolitos de chocolate para Navidad 👉 Cocina creativa / Chocolate snail shells - Bread for Christmas 👉 Creative cooking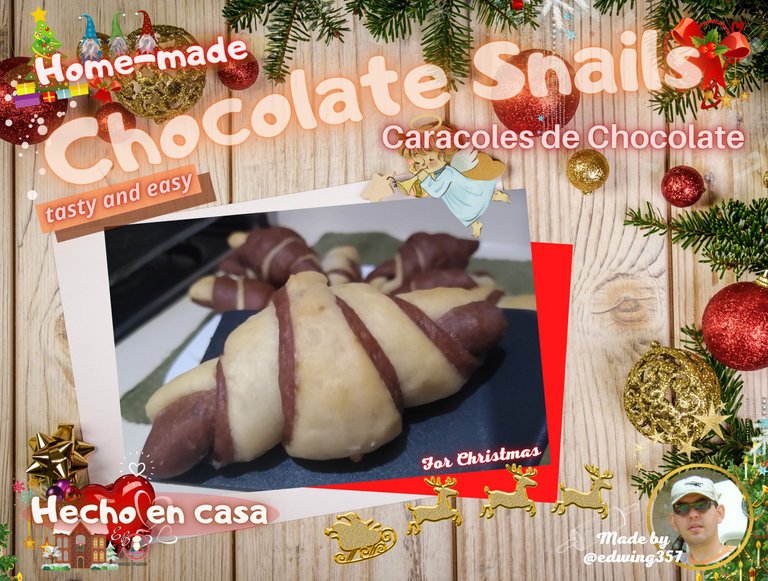 ---

---
Panecillos de chocolate para navidad
Chocolate Christmas rolls
---
Spanish

---
Saludos mi hivers, no crean que me había ido de parranda 😆
---
Pero... el mes decembrino va de la carrera, así que no lo dejen pasar sin disfrutar cosas ricas
---
Por eso les tengo algo sencillo y delicioso, unos panecillos de chocolate en forma de caracolitos, para las meriendas navideñas 🎅
---
Sólo unos pocos ingredientes y listo! La técnica es muy fácil, sígueme y te cuento como es.
---
Para esta receta vamos a preparar dos porciones de masa, una de chocolate y otra natural, más abajo te indico el paso a paso
---
Preparados? entonces vamos a poner manos a la obra 👨‍🍳
English

---
Greetings my hivers, don't think I had gone on a spree 😆.
---
But... the month of December is on the run, so don't let it go by without enjoying delicious things.
---
That's why I have something simple and delicious for you, some chocolate muffins in the shape of little snails, for Christmas snacks 🎅
---
Just a few ingredients and you're done! The technique is very easy, follow me and I'll tell you how it is.
---
For this recipe we are going to prepare two portions of dough, one chocolate and the other natural, below is the step-by-step instructions.
---
Ready? then let's get down to work 👨‍🍳
---

---
Qué necesitamos? - What do we need?
---
---
Harina de trigo
Azúcar
Cacao en polvo
Levadura instantánea
Sal fina
Aceite vegetal y agua
Wheat flour
Sugar
Cocoa powder
Instant yeast
Fine salt
Vegetable oil and water
---

---
Cómo lo hacemos? - How do we do it?
---
Primero vamos a elaborar la masa de chocolate así: Colocamos en un recipiente, 250 gramos de harina de trigo, 50 gramos de azúcar blanca, tres cucharadas de cacao en polvo y mezclamos en seco
First we are going to elaborate the chocolate dough as follows: We place in a bowl, 250 grams of wheat flour, 50 grams of white sugar, three tablespoons of cocoa powder and mix dry.
---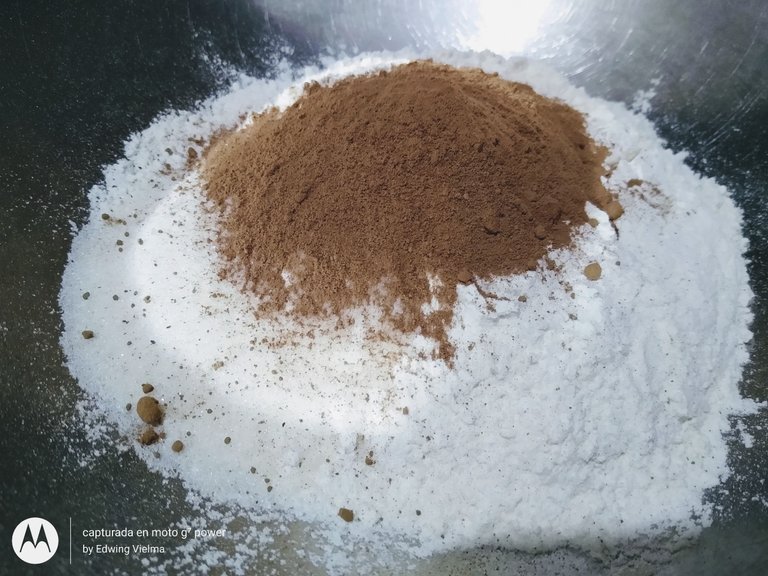 ---

---
Luego ponemos 1/2 cucharada de levadura instantánea, mezclamos hacemos un espacio en el centro y pones dos cucharadas de aceite vegetal y 1/4 de cucharadita de sal fina
Then put 1/2 tablespoon of instant yeast, mix, make a space in the center and put two tablespoons of vegetable oil and 1/4 teaspoon of fine salt.
---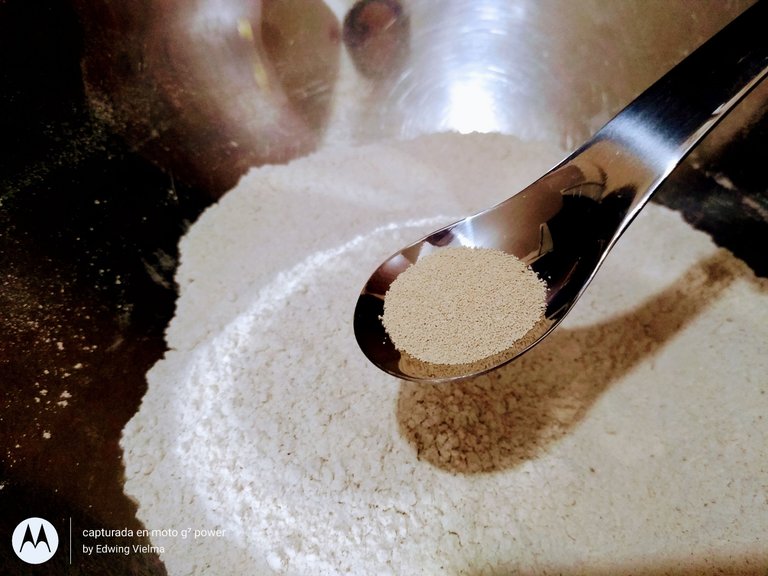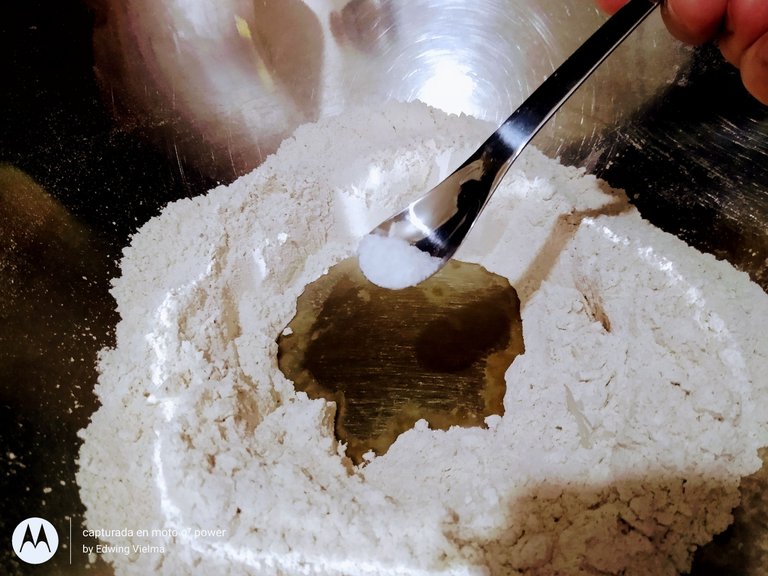 ---

---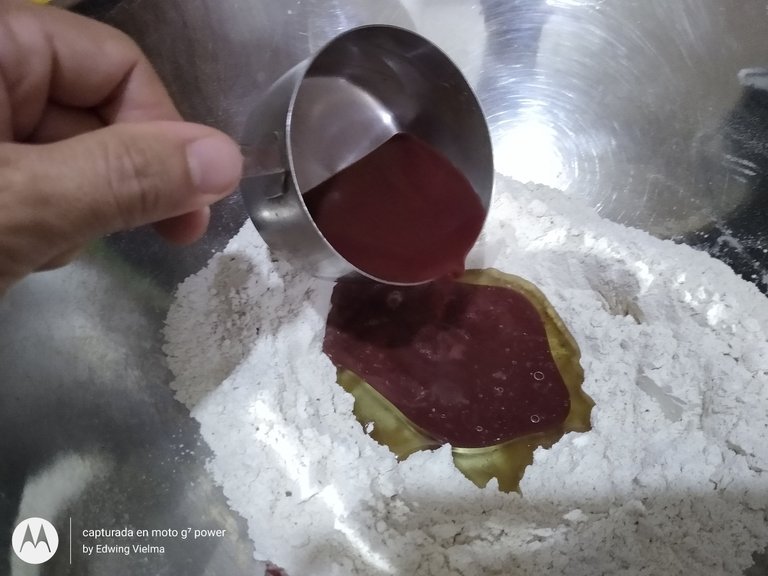 Seguimos ahora con 1/2 taza de agua que le agregaremos una cucharada de cacao en polvo también y eso es todo 😉
We continue now with 1/2 cup of water that we will add a spoonful of cocoa powder as well and that's it 😉
---

---
Amasamos bien por unos 5 minutos y estará lista la primera masa, más sencilla imposible 🙂
Knead well for about 5 minutes and the first dough will be ready, it couldn't be easier 🙂
---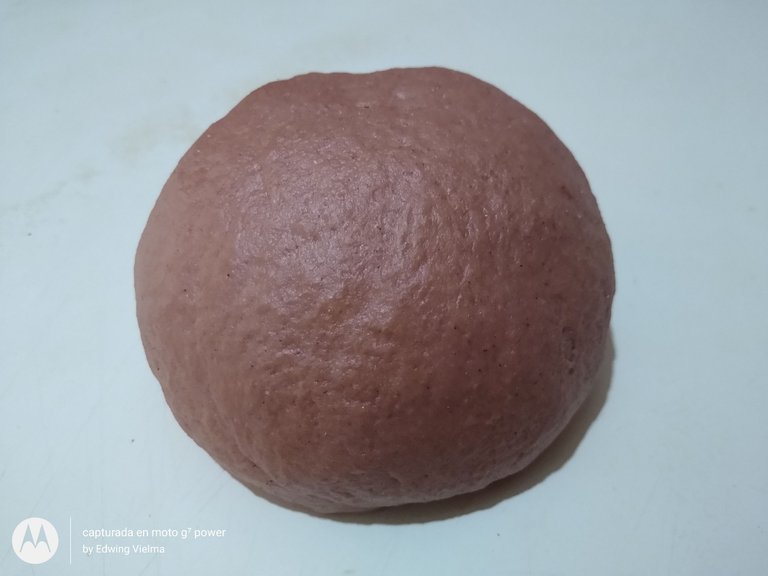 ---

---
Ahora vamos con la segunda masa, mucho más sencilla, solo requieres de 250 gramos de harina de trigo, dos cucharadas de azúcar,1/2 cucharada de levadura instantánea, dos cucharadas de aceite vegetal, media cucharadita de sal fina y un toque de vainilla
Now let's go with the second dough, much simpler, you only need 250 grams of wheat flour, two tablespoons of sugar, 1/2 tablespoon of instant yeast, two tablespoons of vegetable oil, half a teaspoon of fine salt and a touch of vanilla.
---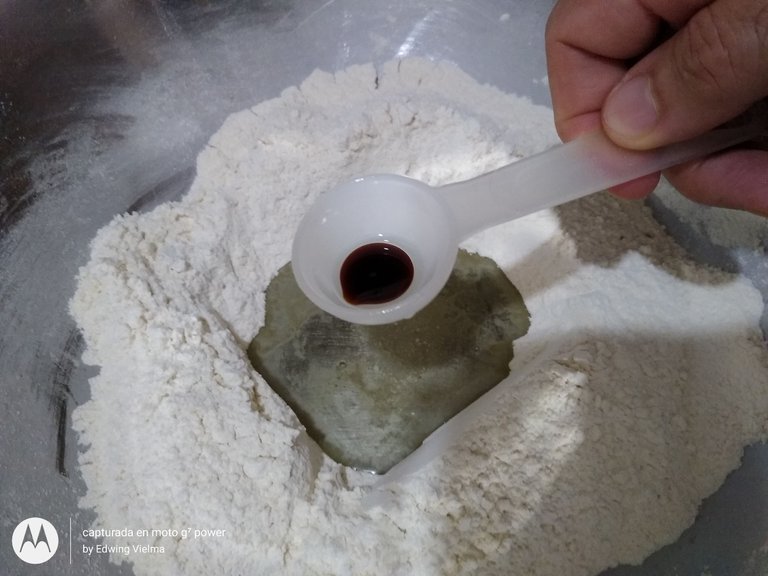 ---

---
Ahora agregamos 1/2 taza de agua y amasamos igual por espacio de unos 5 minutos hasta tener una masa suave
Now add 1/2 cup of water and knead for about 5 minutes until the dough is smooth.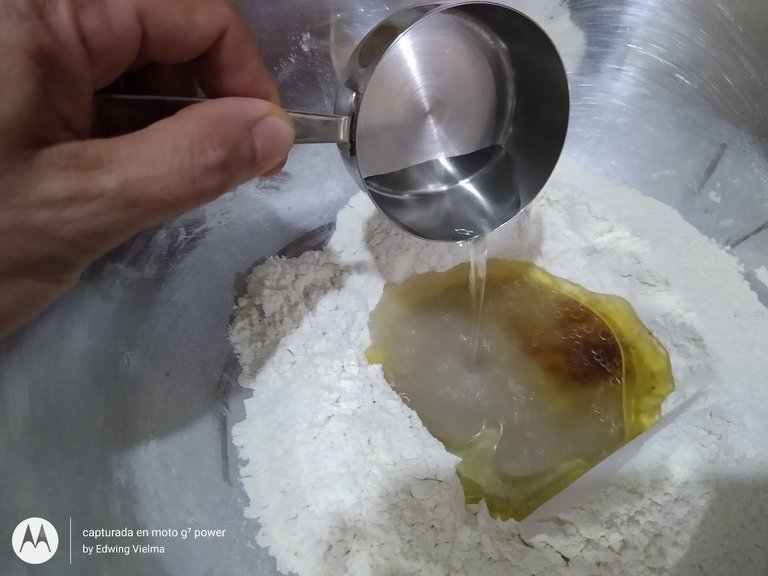 ---

---
Esta masa pesará un poco menos que la primera, al no tener los gramos que aporta el chocolate, pero ambas les alcanza para 16 panes de buen tamaño, para una rica merienda navideña
This dough will weigh a little less than the first one, since it does not have the grams of chocolate, but both are enough for 16 good-sized loaves for a tasty Christmas snack.
---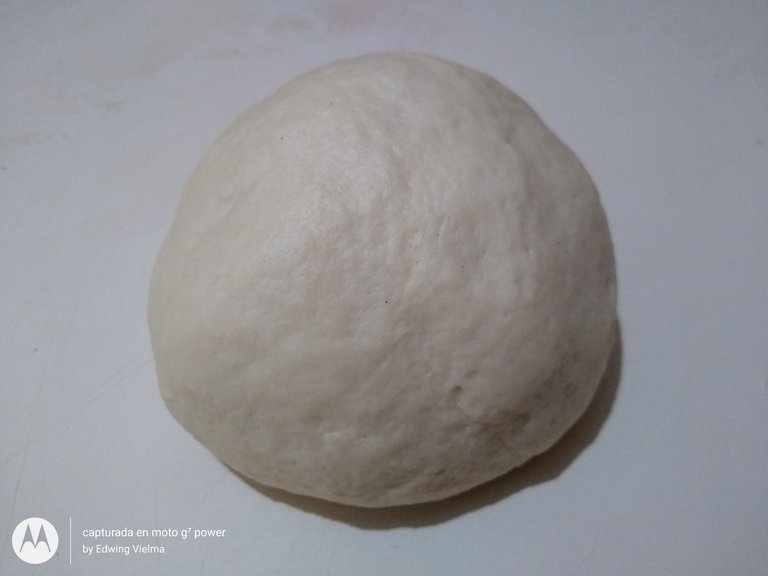 ---

---
Las dejamos reposar por media hora, cubiertas con un plástico para luego trabajarlas y realizar los ricos panecillos
Let them rest for half an hour, covered with plastic wrap, and then work them to make the delicious bread rolls.
---

---
Luego del reposo dividimos la masa de chocolate en dos y aplanamos una porción con nuestro rodillo de cocina
After resting, we divide the chocolate dough in two and flatten one portion with our rolling pin.
---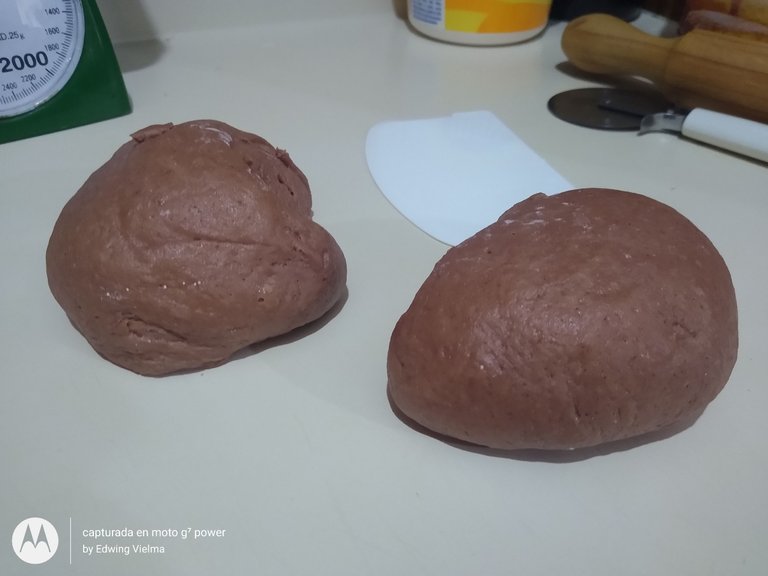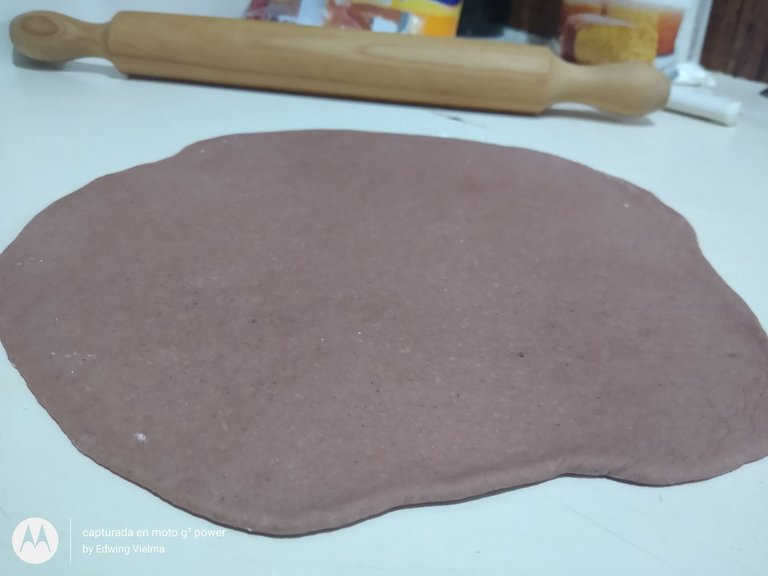 ---

---
Hacemos lo mismo con la masa blanca y aplanamos una porción al lado de la de chocolate
We do the same with the white dough and flatten a portion next to the chocolate dough.
---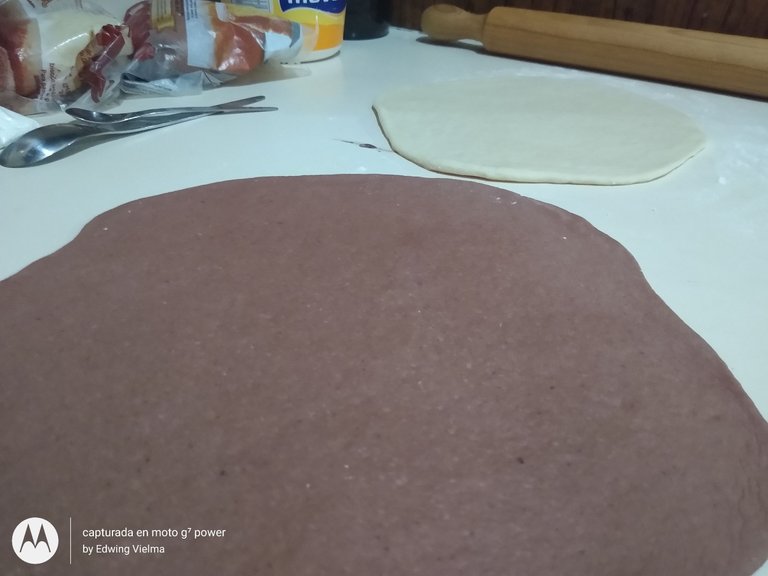 ---

---
Ahora colocamos la masa blanca sobre la de chocolate y con ayuda del rodillo vamos aplanando hasta cubrir la masa inferior con la de arriba
Now we place the white dough on top of the chocolate dough and with the help of the rolling pin we flatten it until we cover the bottom dough with the top one.
---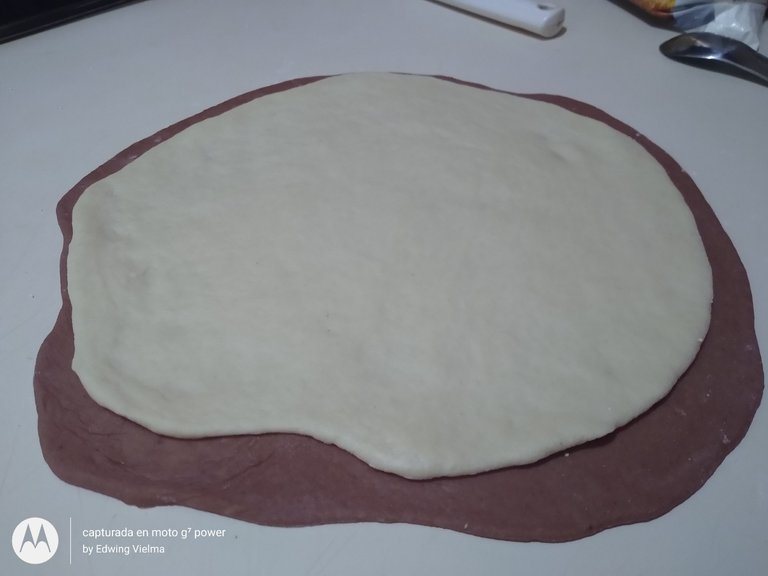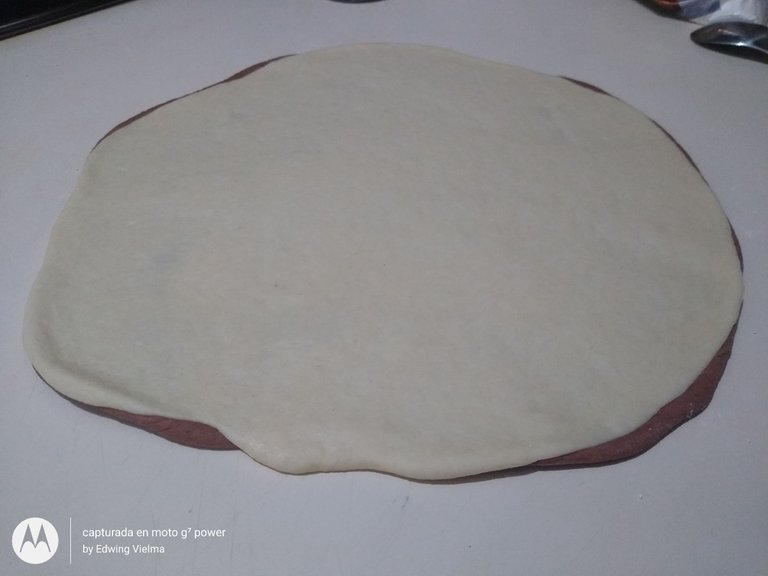 ---

---
Luego la cortamos como una pizza y ponemos una cucharadita de crema de avellanas y un par de pasas, claro el relleno es opcional pero le va muy bien jajaja
Then we cut it like a pizza and put a teaspoon of hazelnut cream and a couple of raisins, of course the filling is optional but it goes very well hahahaha
---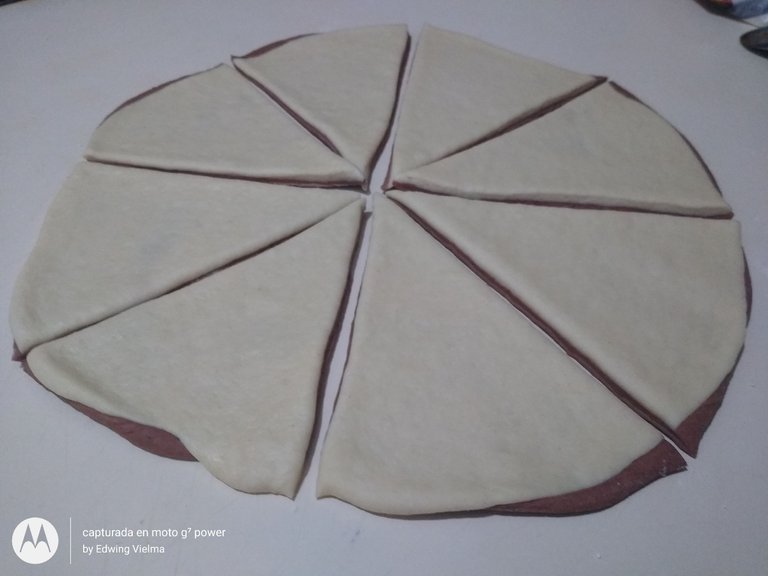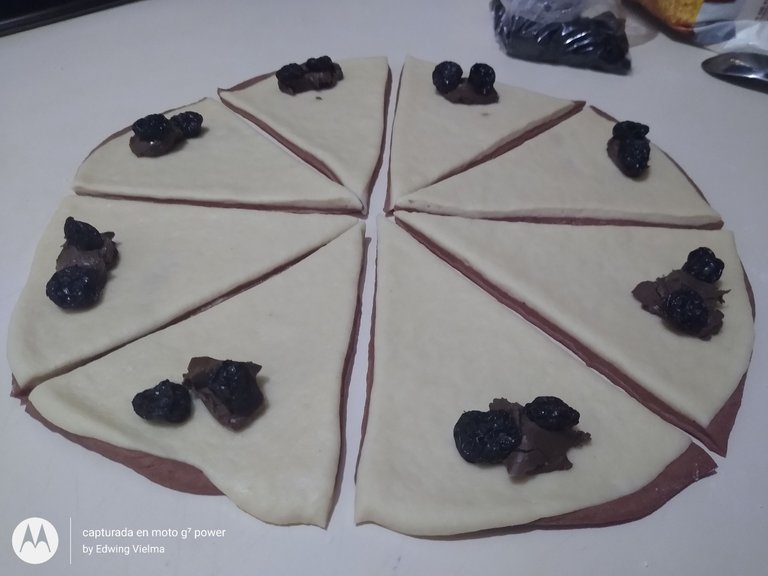 ---

---
En este punto solo enrollamos cada triángulo poco a poco y listo!
At this point we just roll each triangle little by little and that's it!
---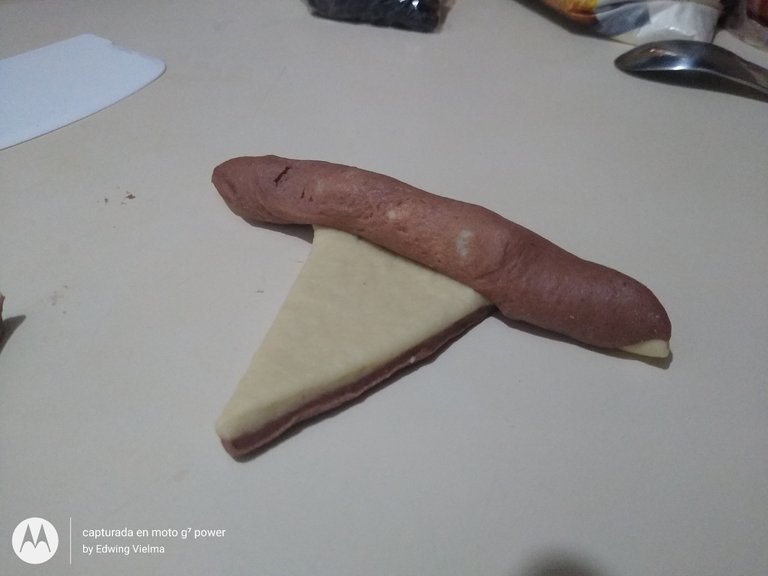 ---

---
Seguidamente vas colocando cada rollito en una bandeja engrasada, con la última vuelta del panecillo hacia abajo
Then place each roll on a greased tray, with the last turn of the roll facing downwards.
---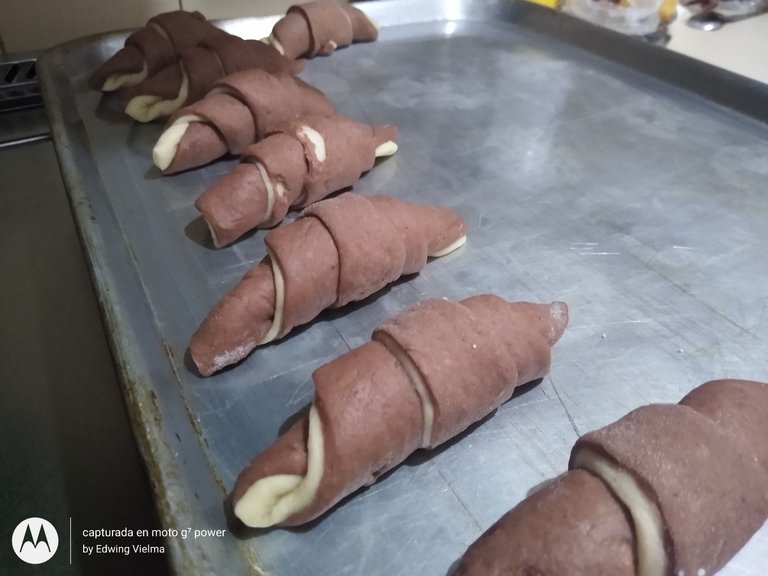 ---

---
Ahora repetimos el proceso con las masas a la inversa , colocando la de chocolate sobre la masa blanca y aplanando hasta cubrir la masa inferior con la de arriba
Now we repeat the process with the doughs in reverse, placing the chocolate dough on top of the white dough and flattening it until the bottom dough is covered with the top dough.
---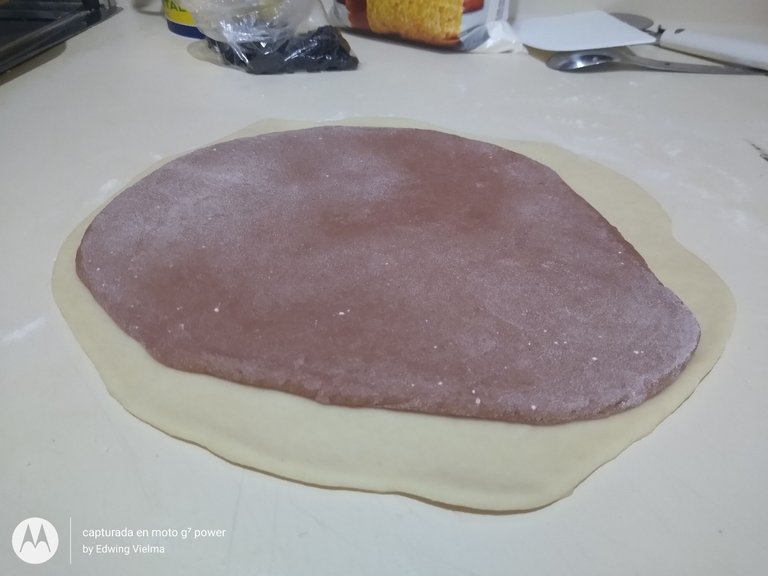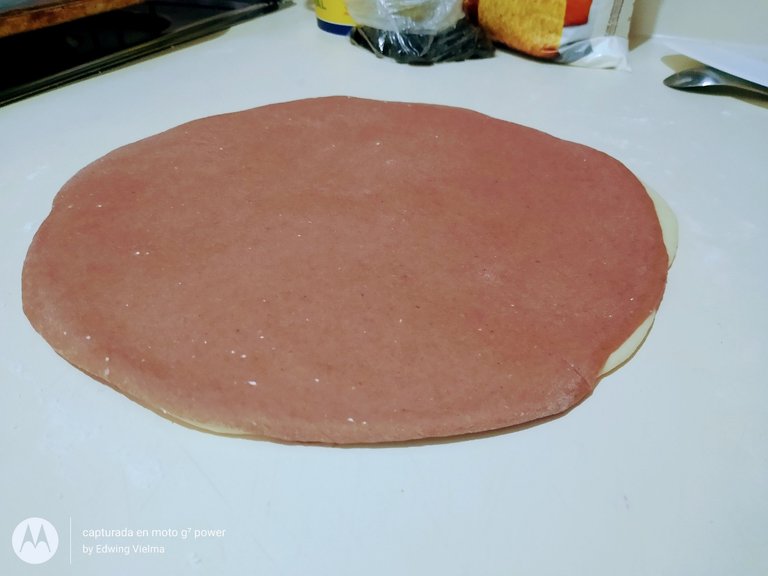 ---

---
El resto del proceso es igual, cortamos la masa, colocamos el relleno y enrollamos cada triángulo
The rest of the process is the same, cut the dough, place the filling and roll each triangle.
---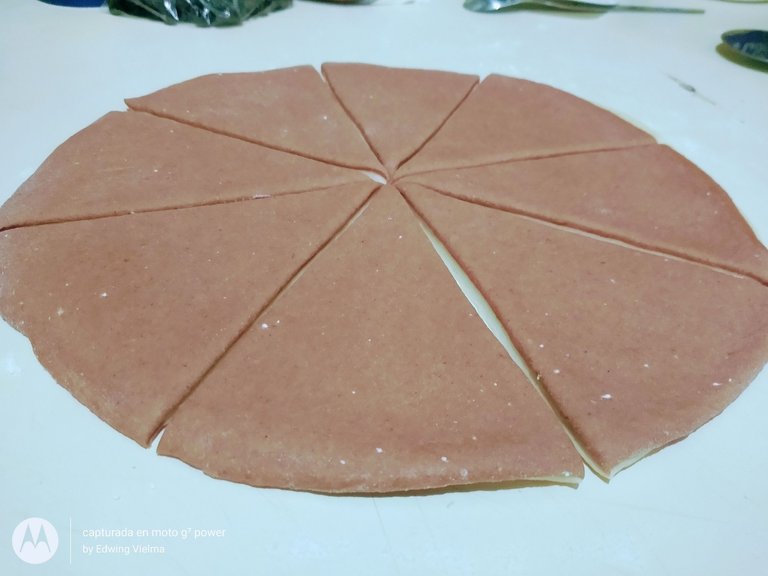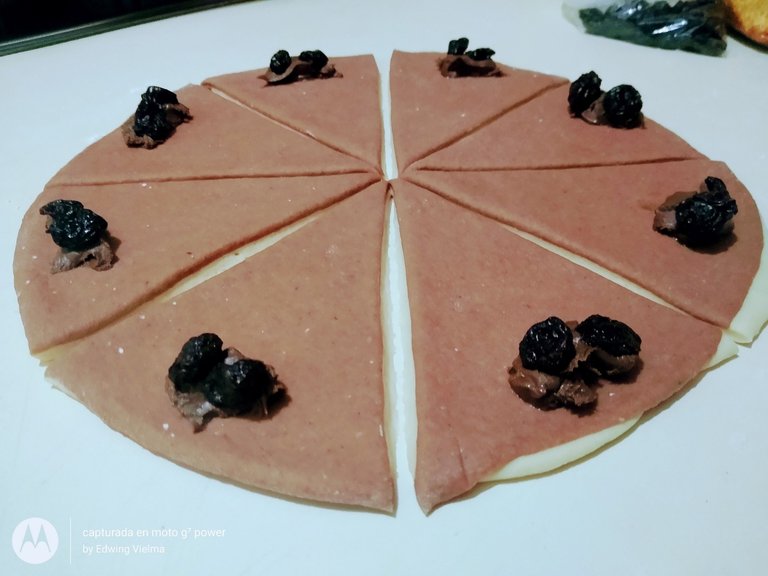 ---

---
Al terminar de formar los panecillos los dejamos reposar hasta doblar su tamaño, siempre tapados con un plástico o paño húmedo
When finished forming the rolls, let them rest until they double in size, always covered with plastic wrap or a damp cloth.
---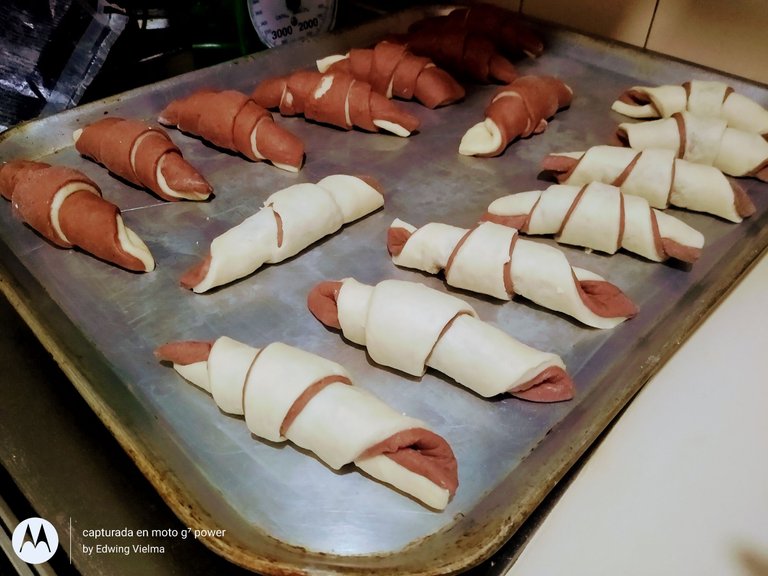 ---

---
Cuando ya doblen su tamaño los llevamos al horno a 220 grados Celsius por unos 15 minutos apróximadamente
When they have doubled in size, bake them in the oven at 220 degrees Celsius for approximately 15 minutes.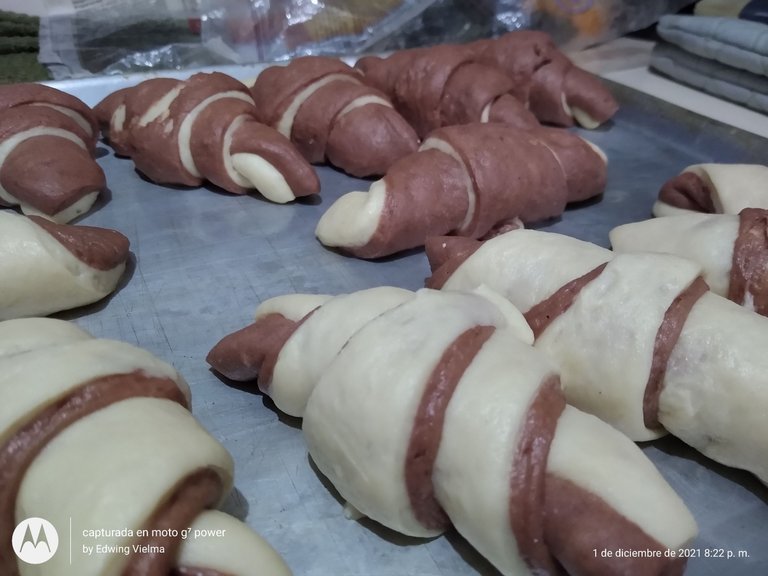 ---

---
Y así quedan nuestros caracolitos de chocolate luego de salir del horno, tu decides como te los comes 😋
And this is how our chocolate snails look like after coming out of the oven, you decide how you eat them 😋.
---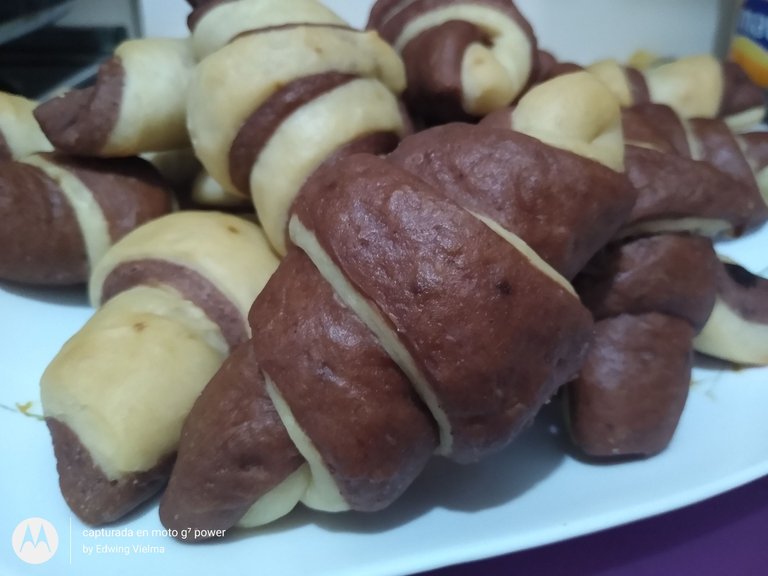 ---

---
Los puedes acompañar con un vaso de leche fría o una taza de chocolate caliente, pero como sea que los comas no dejarás ni uno solo jajaja
You can accompany them with a glass of cold milk or a cup of hot chocolate, but however you eat them, you won't leave a single one behind hahaha.
---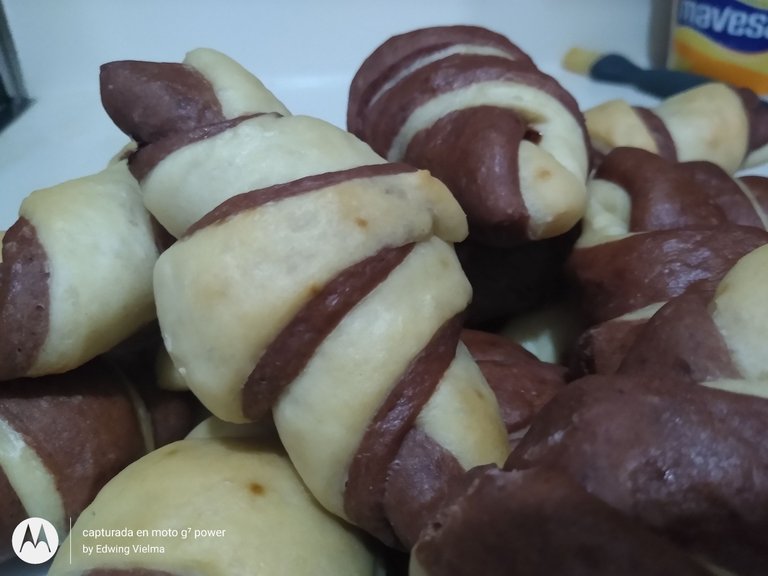 ---

---
Así se ven por dentro, con el relleno de crema de chocolate y avellanas 🤤
This is how they look inside, with the chocolate and hazelnut cream filling 🤤.
---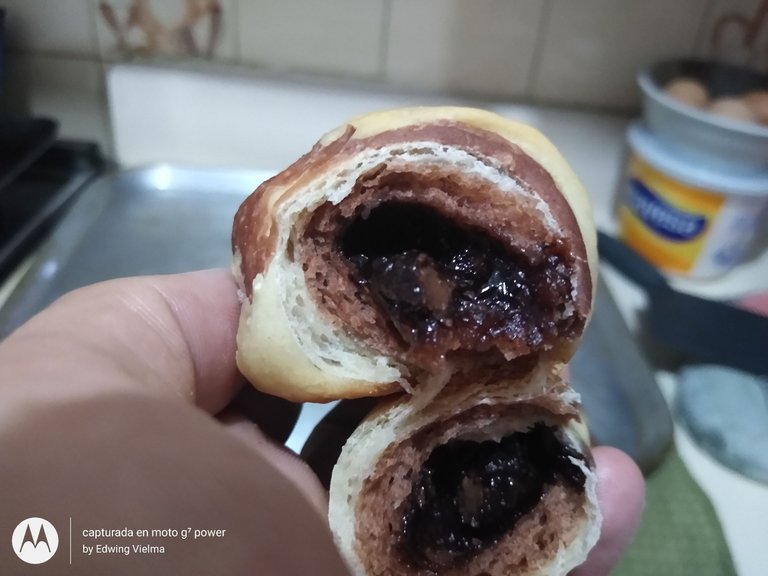 ---

---
Si te gusto la receta de hoy, te espero en las próximas publicaciones de mi cocina creativa, para dar rienda a la imaginación
If you liked today's recipe, I'll be waiting for you in the next publications of my creative cooking, to give free rein to your imagination.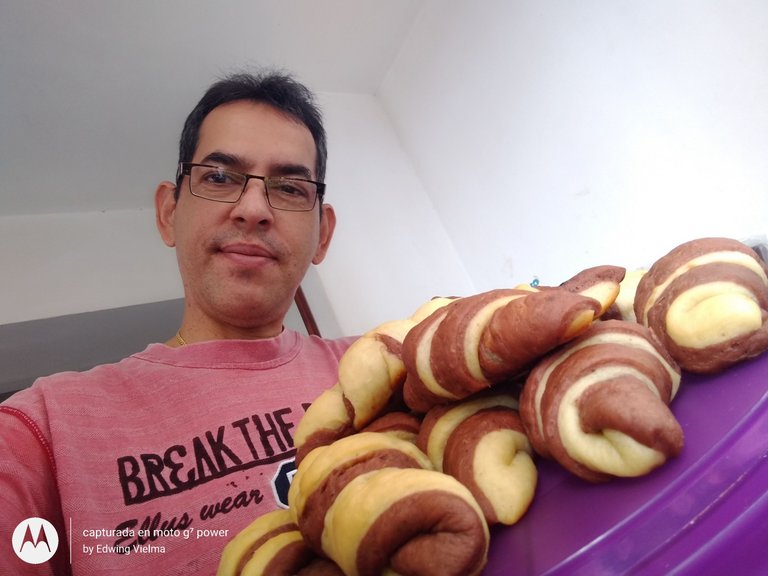 ---

---
Todas las imágenes y textos son de mi autoria. Los separadores y banner personal los realice con Canvas. Fotos : Cámara motoG7 power y un trípode fotográfico
Tradución realizada con https://www.deepl.com/es/translator
---
All images and texts are my own. The separators and personal banner were made with Canvas. Photos : motoG7 power camera and a photo tripod
Translation made with https://www.deepl.com/es/translator
---

---

---
Te invito a dejar tus comentarios o recomendaciones por cualquiera de mis otras redes o simplemente aquí, todos son bien recibidos
I invite you to leave your comments or recommendations through any of my other networks or simply here, all are welcome.
---

---
👨‍🍳
---
---