[ESP-ENG] Eclipses de choco maní (galletas) 👉 con el estilo de cocina creativa 👨‍🍳 / Choco peanut eclipses (cookies) 👉 with creative cooking style 👨‍🍳
---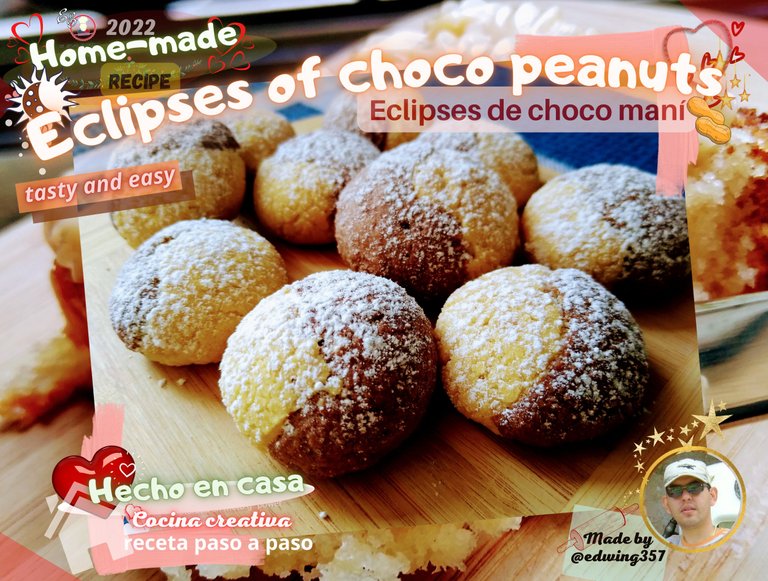 ---

---
Galletas de choco maní 3
Choco-peanut cookies 3
---
Spanish 🇻🇪
---

---
Hola mis hivers y amantes de la comida, es un gusto estar nuevamente con todos en este día 🙏
---
Para esta edición les tengo, una versión nueva de galletas, de chocolate y maní 😋
---
Esta será la tercera receta con estos dos maravillosos ingredientes, que muchos aman 🙃
---
Las bautice como eclipses de choco maní por los dos tonos en la galleta, que asemejan una luna entrando en fase 🌓
---
Si te gusta el maní o el chocolate, esta receta es para ti jajaja
---
Verás lo fácil y entretenida que es, que hasta los más pequeños de la casa ayudaran
---
¿Comenzamos? si... entonces ¡manos a la obra!
English 🇺🇸
---

---
Hello my hivers and food lovers, it's nice to be with everyone again on this day 🙏
---
For this edition I have for you, a new version of cookies, chocolate peanut 😋
---
This will be the third recipe with these two wonderful ingredients, that many love 🙃
---
I named them choco peanut eclipses because of the two shades in the cookie, which resemble a moon going into phase 🌓
---
If you like peanuts or chocolate, this recipe is for you hahaha.
---
You'll see how easy and entertaining it is, that even the little ones in the house will help.
---
Shall we start? yes... then let's get started!
---

---
¿Qué necesitamos? - What do we need?
---
Para las galletas:
1/2 kilo de masa de chocolate
1/2 kilo de masa de maní
Decoración Opcional:
1 cucharada de azúcar glass
lluvia de chocolate
lluvia de colores
Brillo gel sabor caramelo
For the cookies:
1/2 kilo of chocolate dough
1/2 kilo of peanut dough
Optional Decoration:
1 tablespoon of powdered sugar
chocolate rain
rain of colors
Caramel-flavored gel gloss
---

---
¿Cómo lo hacemos? - How do we do it?
---
Comenzamos con la elaboración de la primera masa, para la que requerimos los siguientes ingredientes:
We begin with the preparation of the first dough, for which we require the following ingredients:
---
Para la masa de chocolate:
250 gramos de harina de trigo leudante
1 cucharada de crema de avellanas
60 gramos de azúcar blanca
2 cucharadas de cacao en polvo
1 pizca de nuez moscada
2 cucharadas de aceite de girasol
1/2 chucharadita de vainilla
1 huevo talla (M)
1/2 cucharadita de sal
4 cucharadas de agua fría
For the chocolate dough:
250 grams of leavened wheat flour
1 tablespoon hazelnut cream
60 grams of white sugar
2 tablespoons cocoa powder
1 pinch of nutmeg
2 tablespoons sunflower oil
1/2 teaspoon vanilla
1 egg size (M)
1/2 teaspoon salt
4 tablespoons of cold water
---

---
Colocamos en el bowl, la harina, el cacao, la crema de avellanas, el azúcar, la nuez moscada y mezclamos un poco, para adicionar luego el huevo, la vainilla, el aceite y la sal fina, comenzamos amasar y colocando el agua por cucharadas hasta tener lista la primera masa
Place in the bowl the flour, cocoa, hazelnut cream, sugar, nutmeg and mix a little, then add the egg, vanilla, oil and fine salt, start kneading and adding the water by spoonfuls until the first dough is ready.
---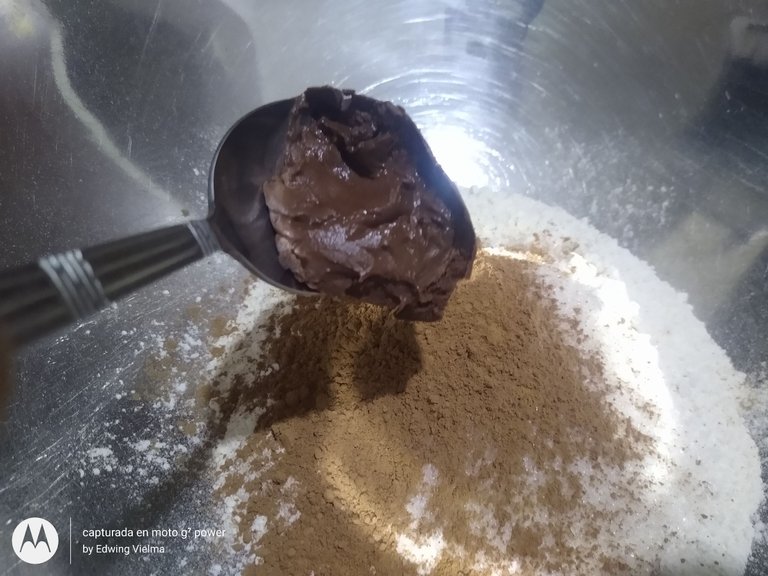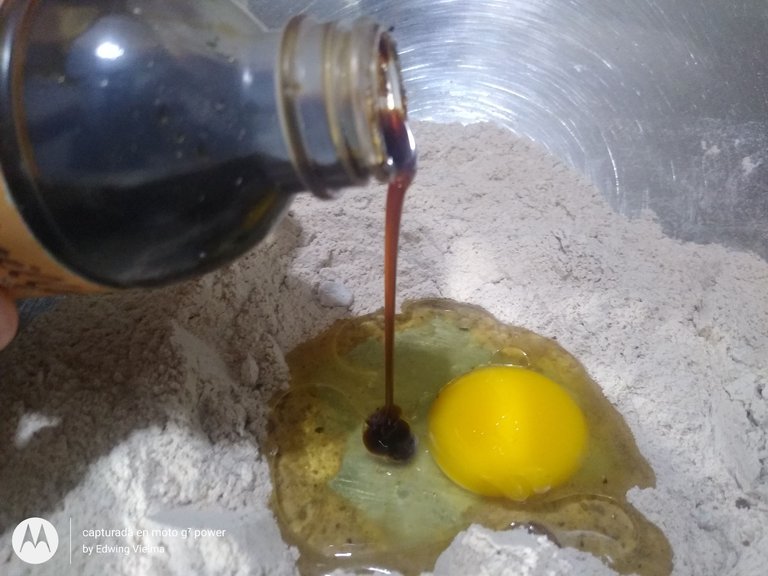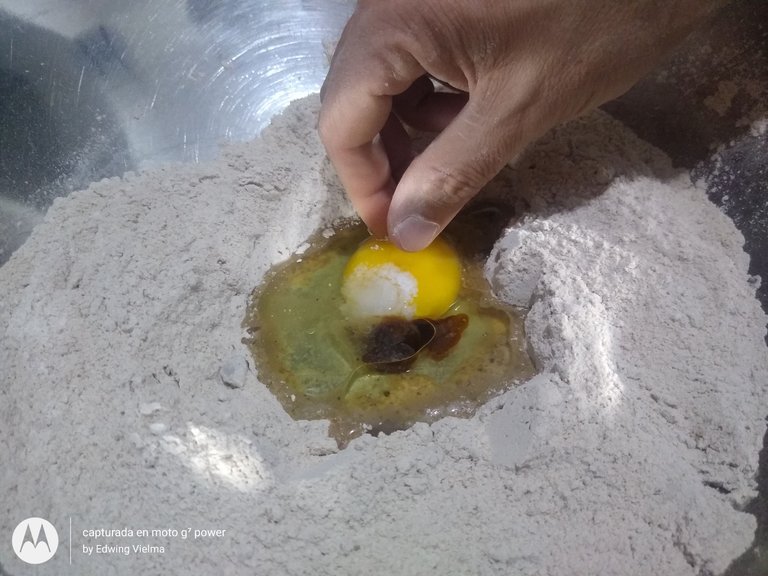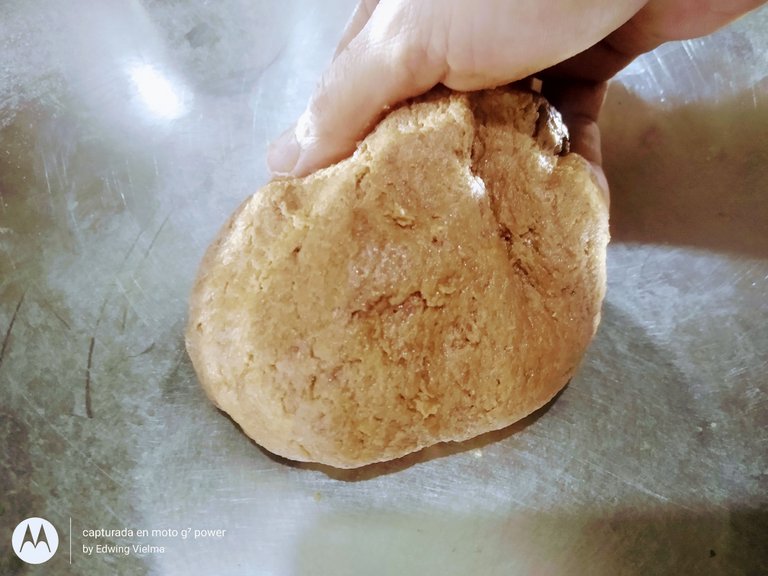 ---

---
Ahora vamos con la segunda masa, para la que vamor a requerir los siguientes ingredientes:
Now let's go with the second dough, for which we are going to require the following ingredients:
---
250 gramos de harina de trigo leudante
2 cucharadas de crema de maní
1 pizca de nuez moscada
60 gramos de azúcar blanca
1 huevo talla (M)
1/4 de cucharadita de sal fina
2 cucharadas de aceite de girasol
colorante amarillo (opcional)
4 cucharadas de agua fría
250 grams of leavening wheat flour
2 tablespoons of peanut butter
1 pinch of nutmeg
60 grams of white sugar
1 egg size (M)
1/4 teaspoon fine salt
2 tablespoons sunflower oil
yellow coloring (optional)
4 tablespoons cold water
---

---
Igual que la masa anterior colocamos los ingredientes en el mismo orden, la diferencia será, la crema de maní y el colorante que es opcional, al mezclar todo lo último que vamos a poner es el agua por cucharadas hasta obtener una masa prolija
The same as the previous dough we place the ingredients in the same order, the difference will be the peanut cream and the coloring which is optional, when mixing everything the last thing we are going to put is the water by spoonfuls until we obtain a neat dough.
---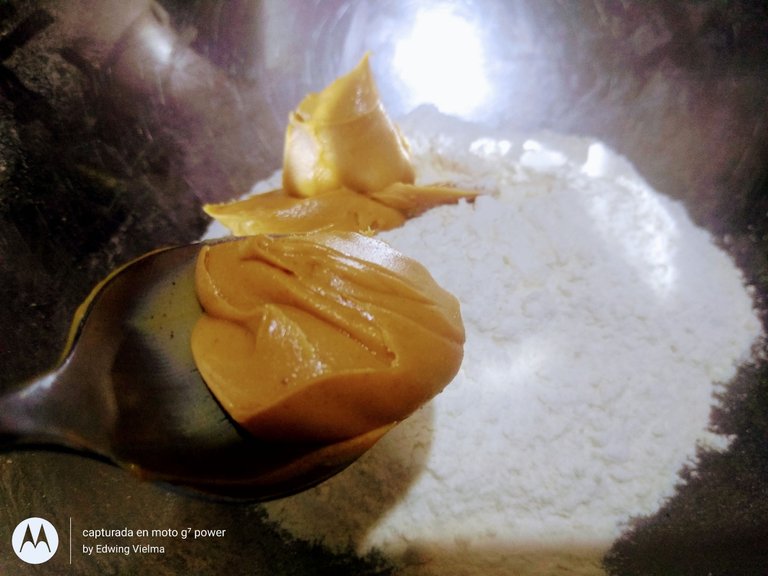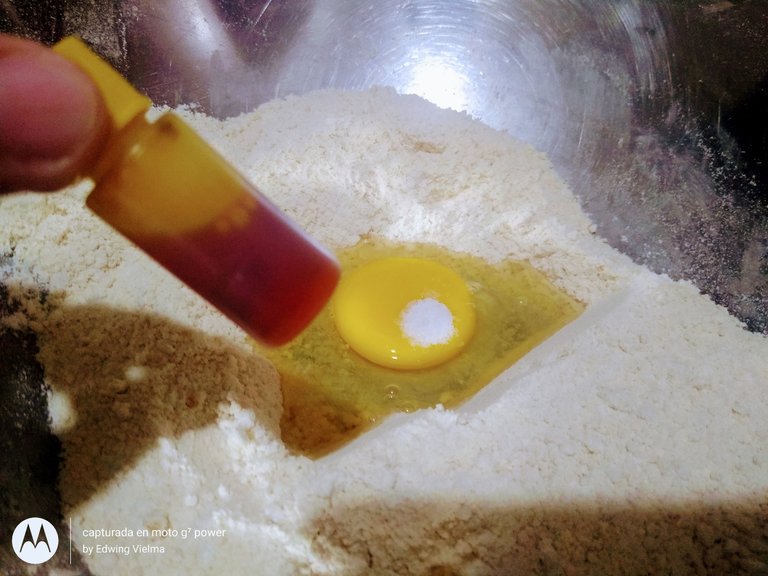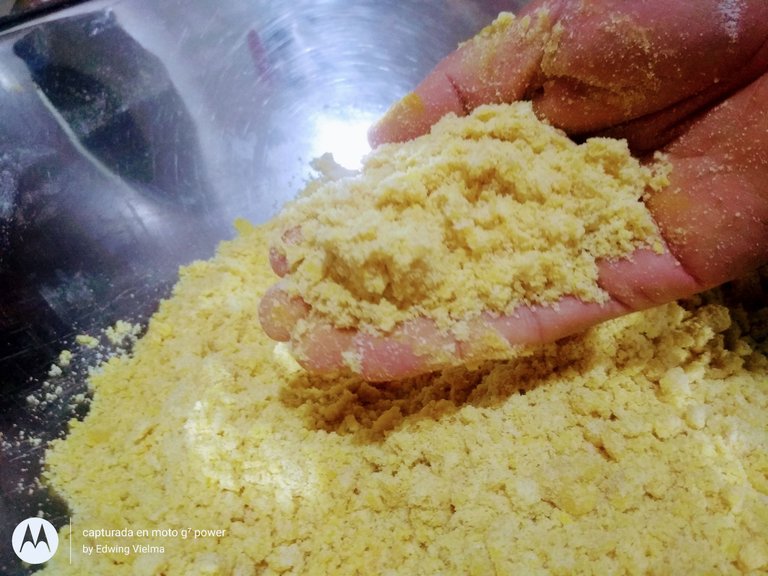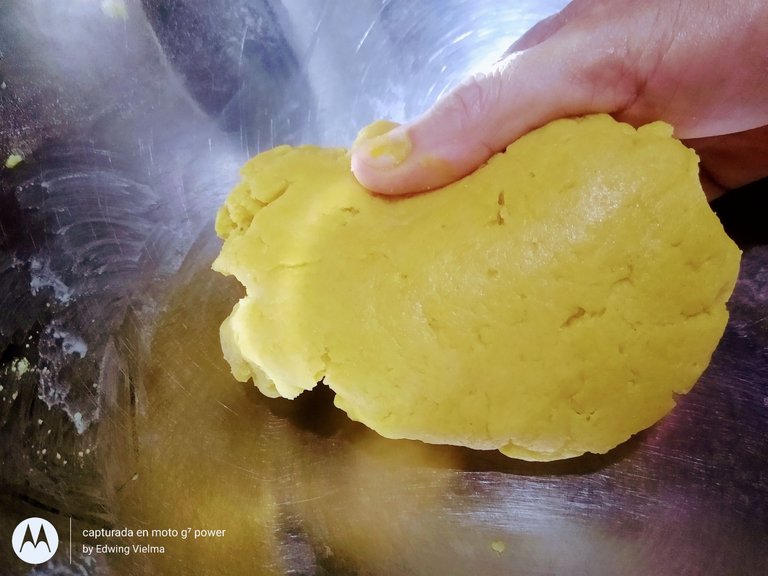 ---

---
Cada una de las masas tienen un peso aproximado de 500 gramos, que rinden para mas de 70 porciones, de cada sabor 😁
Each of the doughs weighs approximately 500 grams, which yields more than 70 servings of each flavor 😁.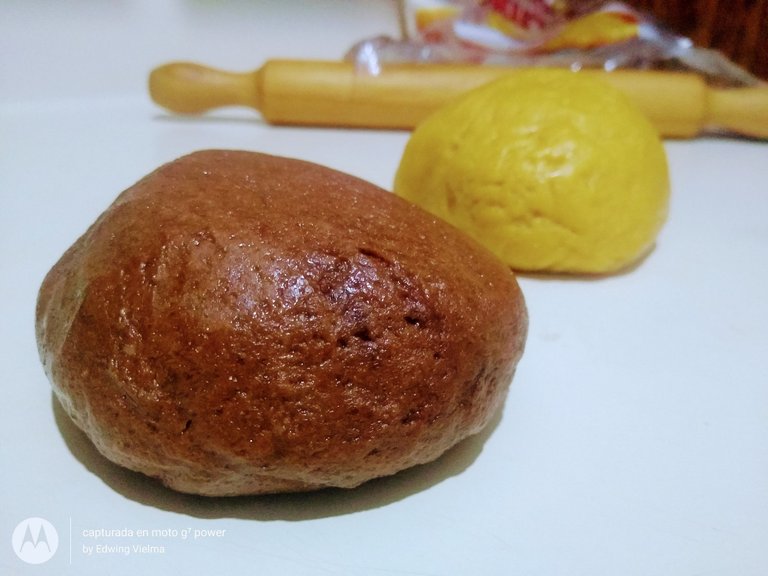 ---

---
Ahora nos divertimos haciendo muchas peloticas, en compañia de nuestros niños 😊 aquí pueden ver como esta feliz y muestra su primera bolita, que será una rica galleta en unos minutos
Now we have fun making lots of pellets, in the company of our children 😊 here you can see how he is happy and shows his first ball, which will be a delicious cookie in a few minutes.
---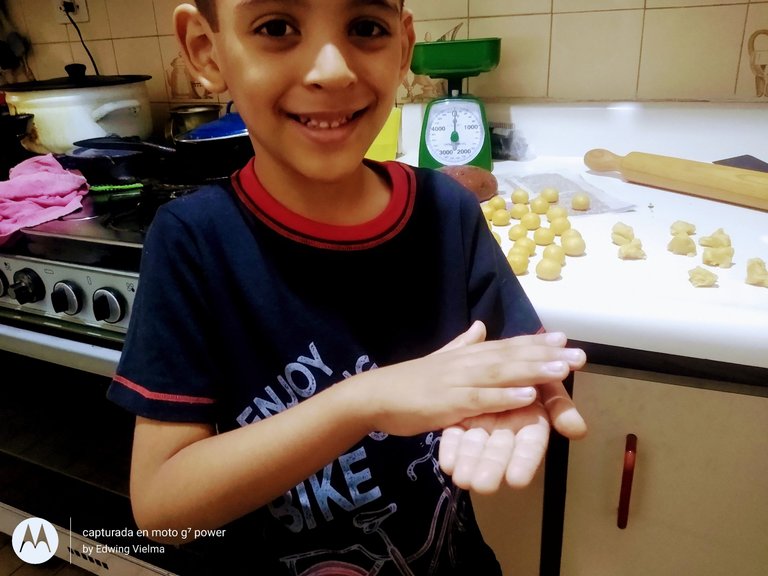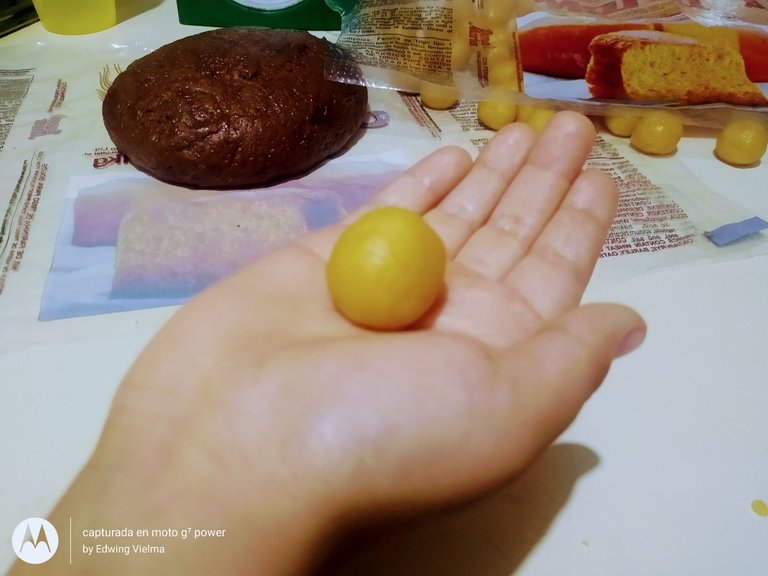 ---

---
Trabajando en equipo podemos hacer todo mucho más rápido, porque son más de 70 bolitas de cada sabor de masa 🤣
Working as a team we can do everything much faster, because there are more than 70 balls of each dough flavor 🤣.
---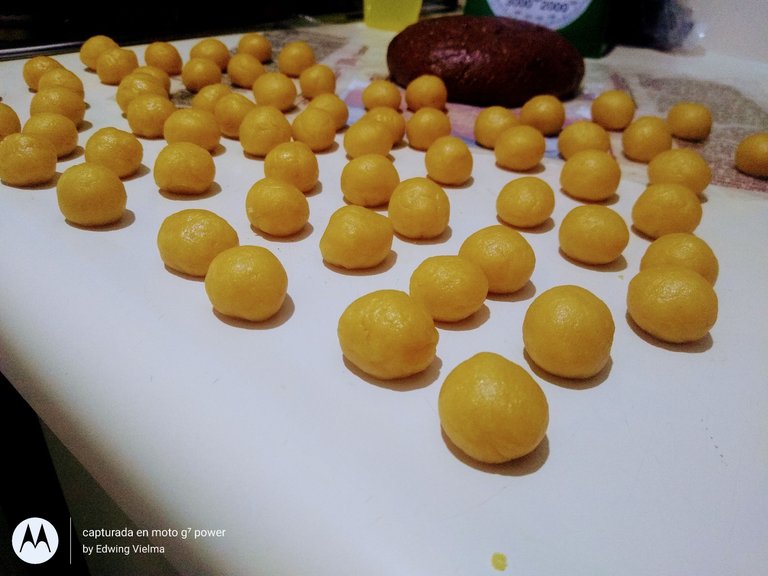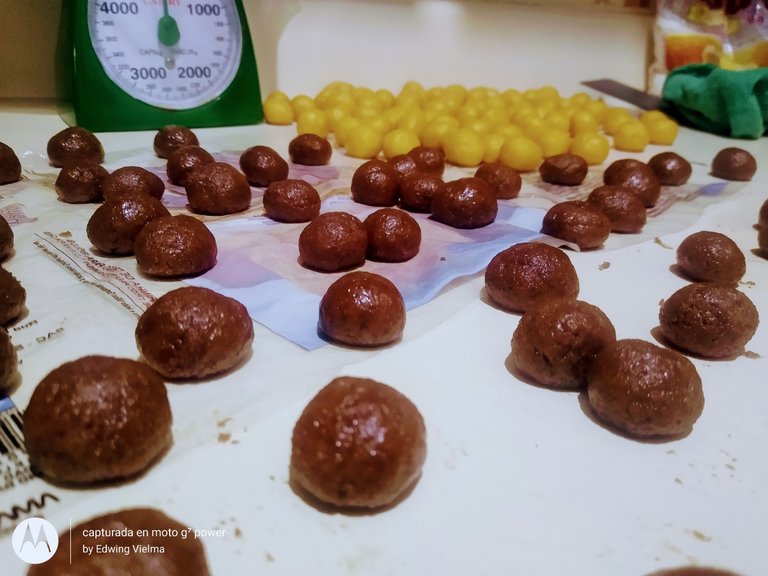 ---

---
Que hacemos luego de tener tantas peloticas jajaja, fácil la unimos como la imagen inferior 😜
What do we do after having so many balls hahaha, easy we join it like the image below 😜.
---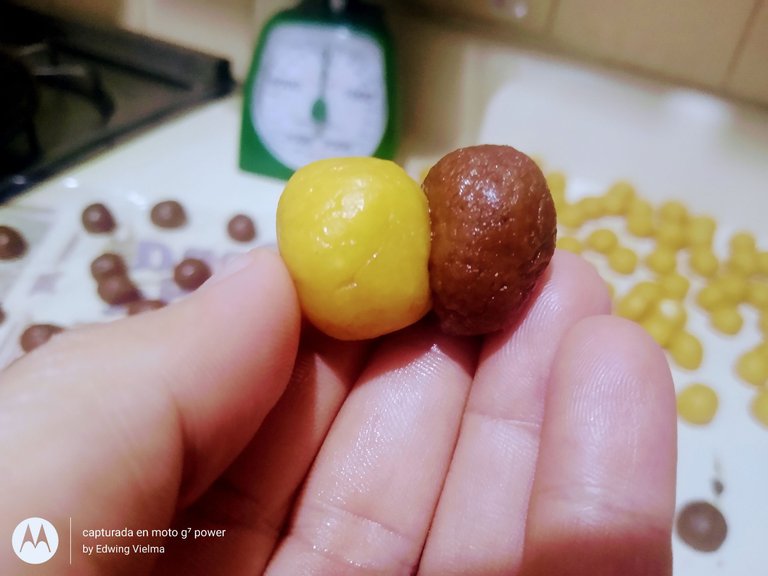 ---

---
Luego con ambas manos les damos forma, girandolas hasta tener una sola masita de dos colores
Then with both hands we shape them, turning them until we have a single dough of two colors.
---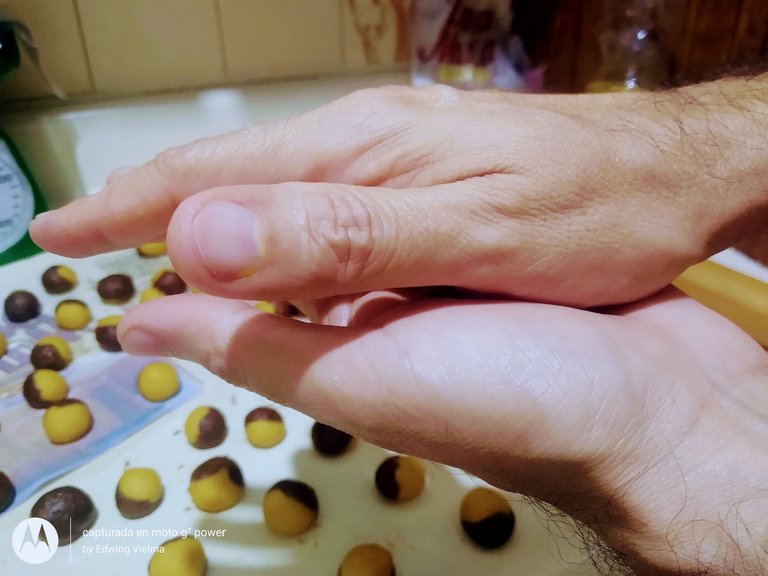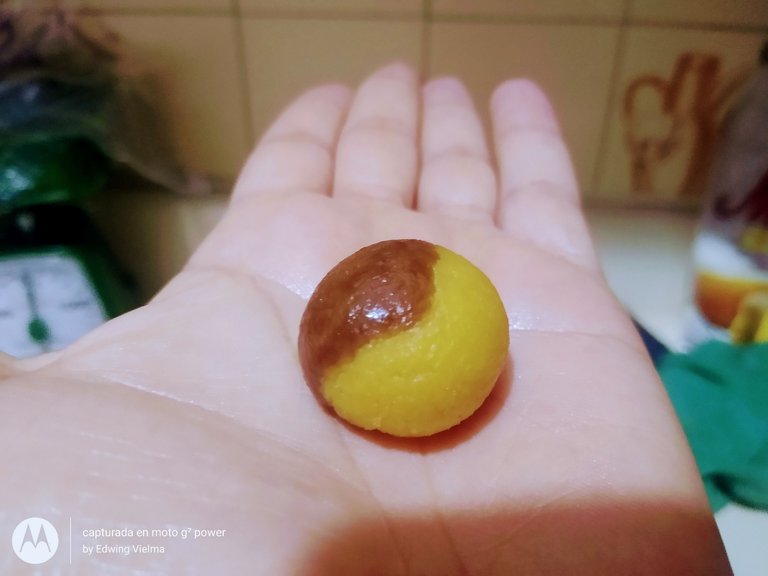 ---

---
Se que parece mucho trabajo, pero es super rápido y entretenido, solo deben tapar las porciones que estan listas para que no se resequen, mientras vamos formando el resto de las masitas
I know it seems like a lot of work, but it's super fast and fun, just cover the portions that are ready so they don't dry out, while we are forming the rest of the dough.
---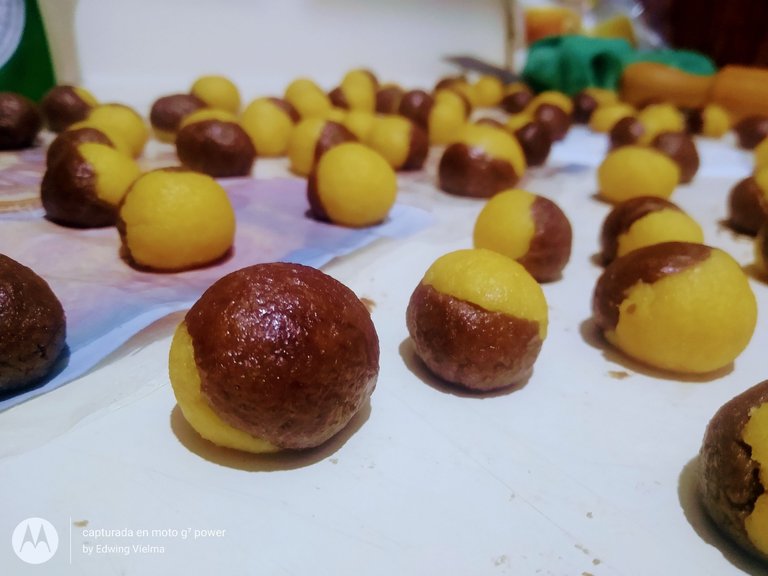 ---

---
Ahora ponemos la masita sobre la palma de la mano y la presionamos con un dedo
Now put the dough on the palm of your hand and press it with your finger.
---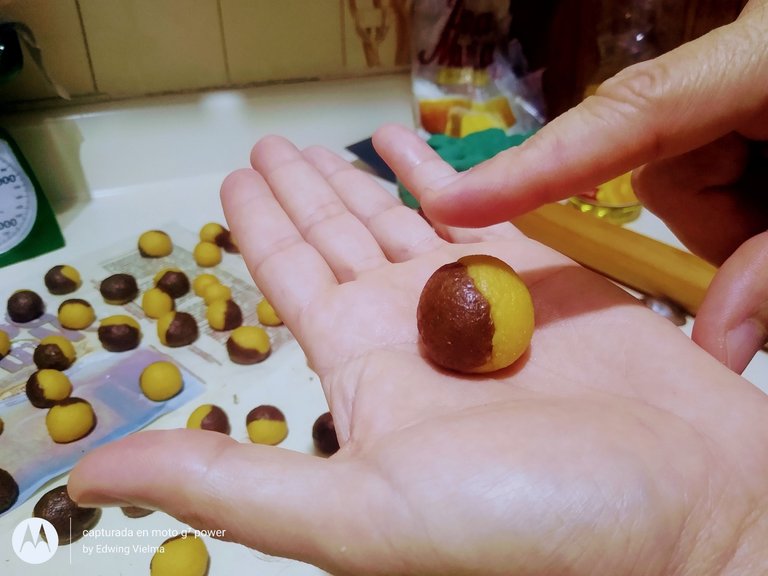 ---

---
Así de fácil es, repetimos el proceso 75 veces más jajaja 🤣😂 hasta terminar todos los eclipses de choco maní
That's how easy it is, we repeat the process 75 more times hahaha 🤣😂 until we finish all the choco peanut eclipses.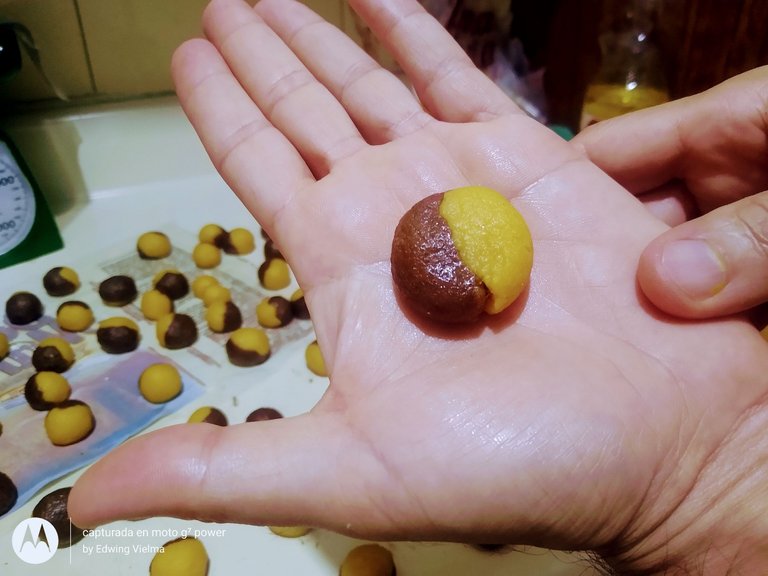 ---

---
Las colocamos en una bandeja engrasada con manteca vegetal y llevamos al horno a 220 grados celsius por 12 a 17 minutos
Place them in a greased tray with vegetable shortening and bake at 220 degrees Celsius for 12 to 17 minutes.
---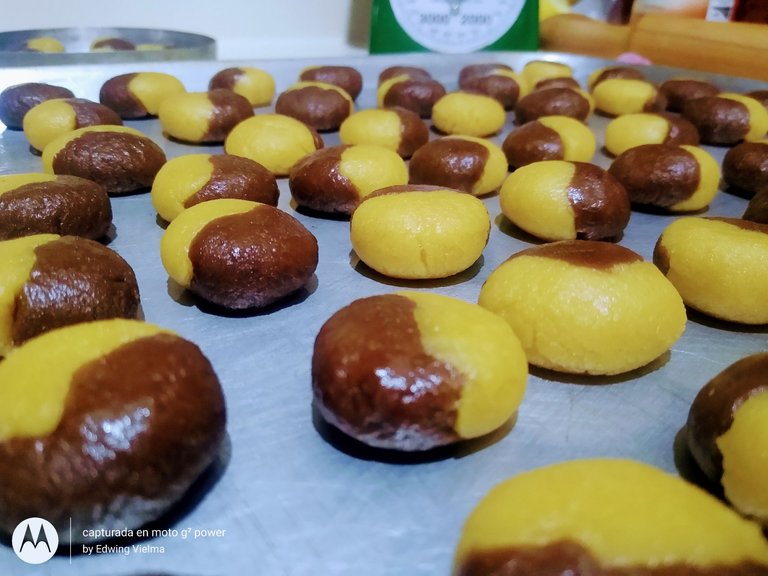 ---

---
¡Y estan listos nuestros eclipses de choco maní!
And our choco peanut eclipses are ready!
---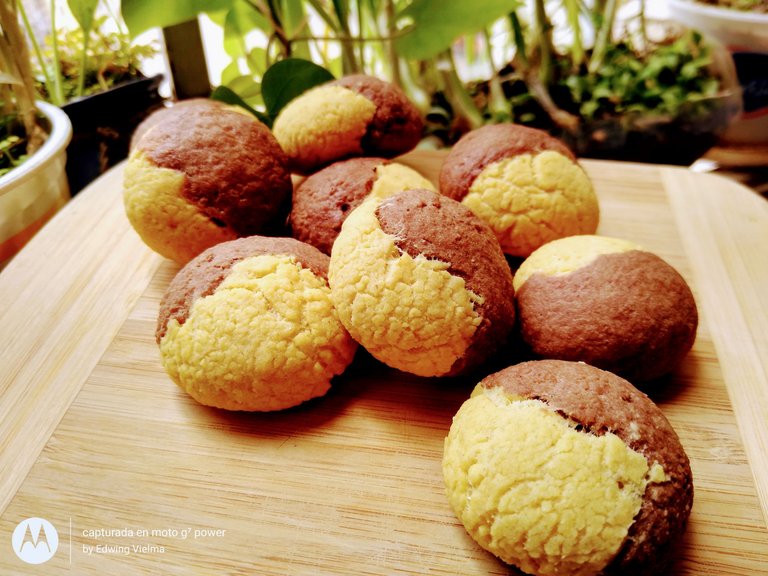 ---

---
Podemos usar azúcar glass como decoración
You can use powdered sugar as decoration
---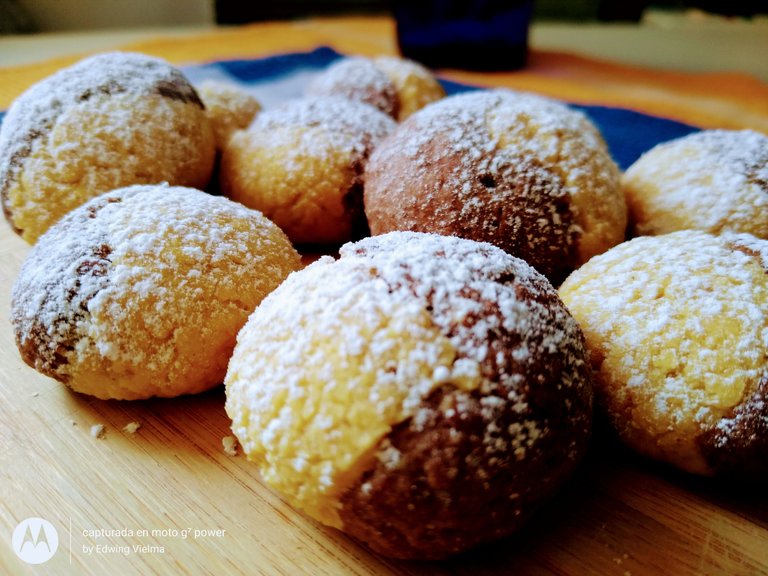 ---

---
Otra opción es barnizar con brillo gel y le ponemos, lluvia de colores o de chocolate 😉
Another option is to varnish with gel gloss and put on it, rain of colors or chocolate 😉
---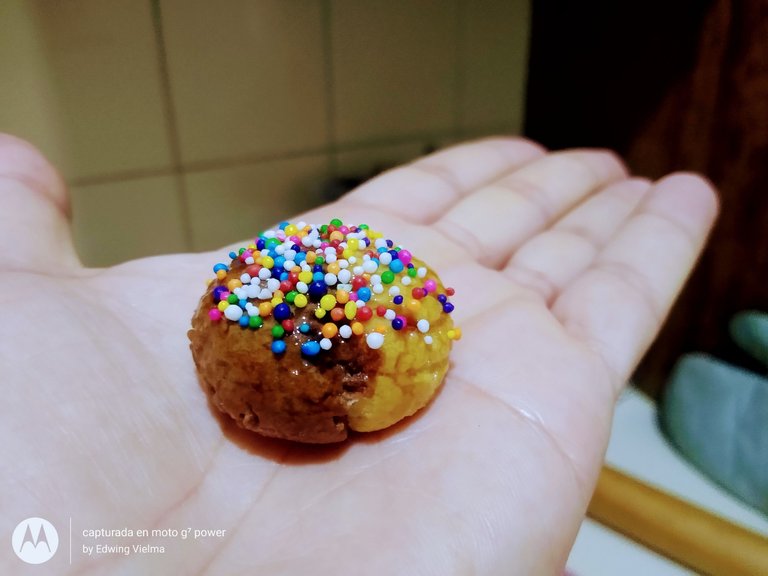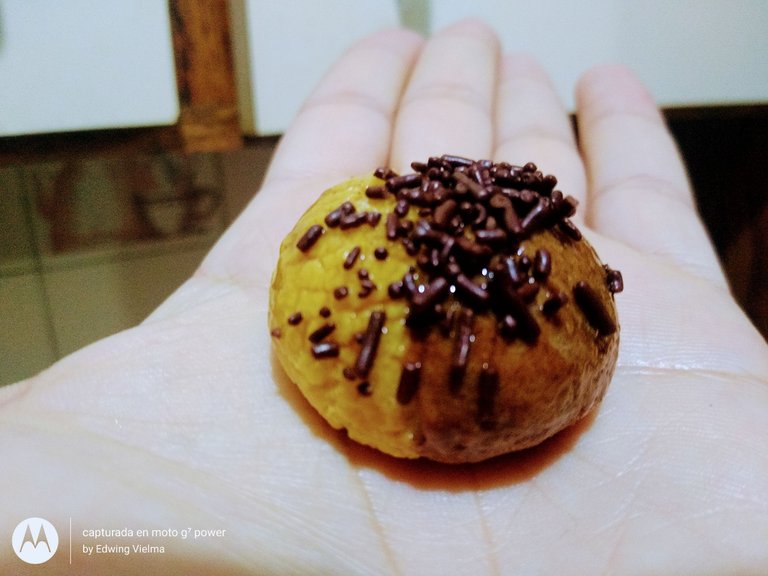 ---

---
Tú decides cómo te las comerás 🤤
You decide how you will eat them 🤤
---
---

---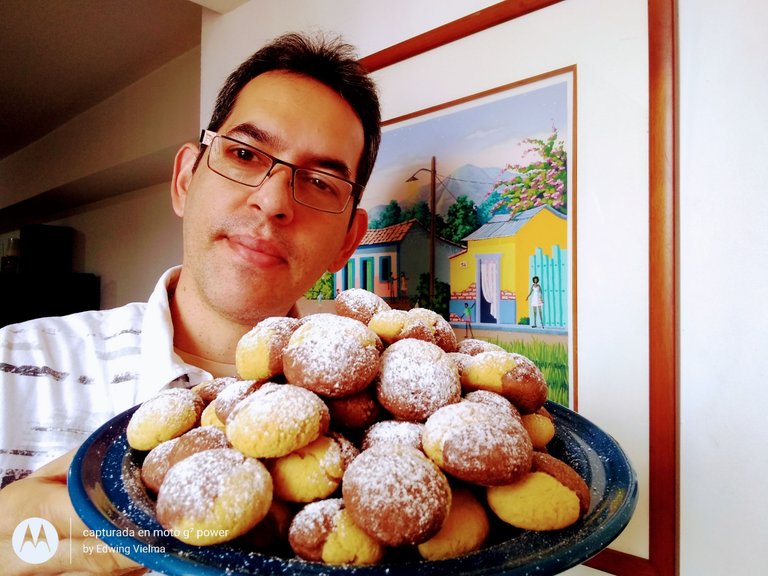 Animate hacerlas con tus niños, ellos te lo agradeceran siempre... no por tener la merienda, si no por compartir contigo con amor 💞
Be encouraged to make them with your children, they will always thank you... not for having the snack, but for sharing it with you with love 💞
---

---
¿Dime si estos eclipses de choco maní no te invitan a comerlos?
Tell me if these choco peanut eclipses don't invite you to eat them?
---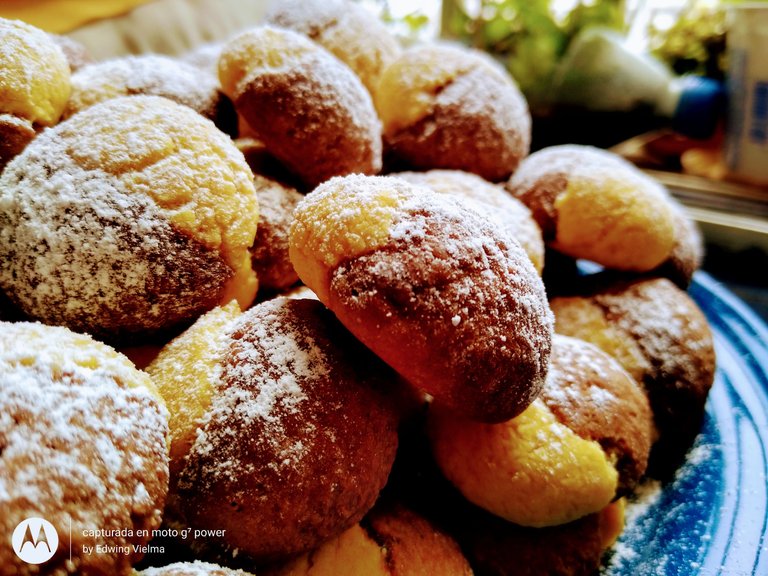 ---

---
La sonrisa lo dice todo, no hacen faltas palabras, no hacen falta cosquillas, solo estar con tus pequeños y darles un abrazo de amor es la mejor merienda para los corazones... gracias hijito, te amo 😌
The smile says it all, no words are needed, no tickling is needed, just being with your little ones and giving them a hug of love is the best snack for the hearts... thank you little son, I love you 😌.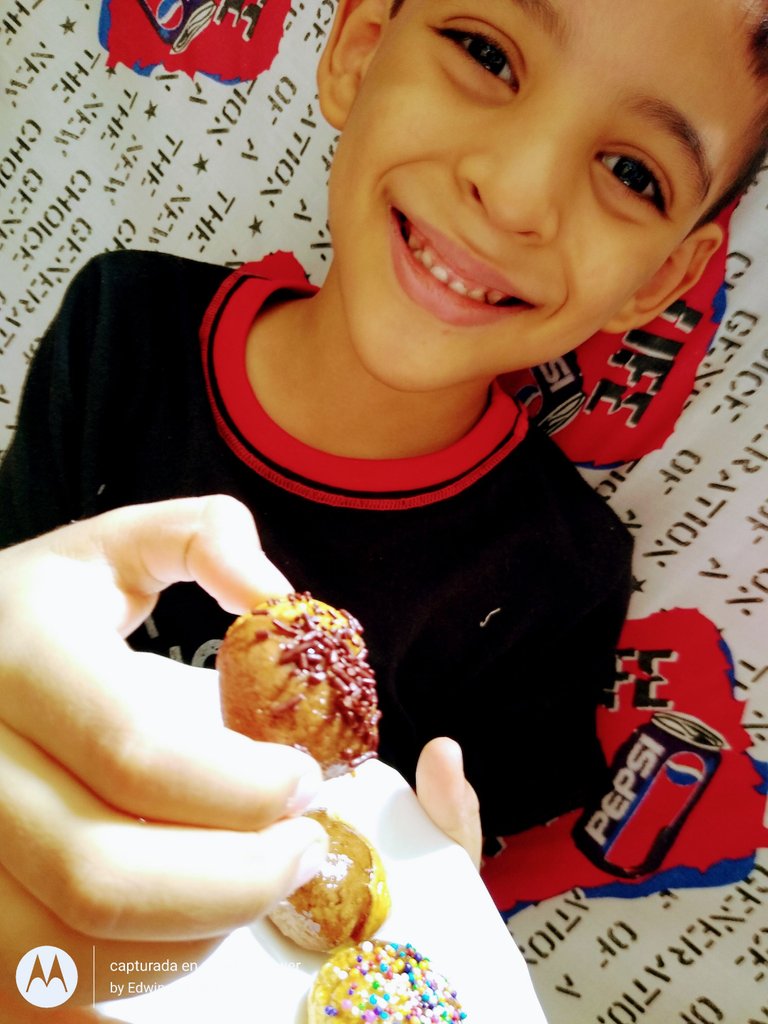 ---

---
Todas las imágenes y textos son de mi autoria. Los separadores y banner personal los realice con Canvas. Fotos : Cámara motoG7 power y un trípode fotográfico
Tradución realizada con https://www.deepl.com/es/translator
---
All images and texts are my own. The separators and personal banner were made with Canvas. Photos : motoG7 power camera and a photo tripod
Translation made with https://www.deepl.com/es/translator
---

---

---
Muchas gracias por llegar hasta aquí y ser parte de mis lectores, los invito a dejar sus comentarios que serán bien recibidos siempre, con el mismo amor y cariño que les comparto mis recetas 😊
Thank you very much for coming here and being part of my readers, I invite you to leave your comments that will always be well received, with the same love and affection that I share my recipes 😊.
---

---
Cocina creativa
2022 👨‍🍳
---
---