[ESP-ENG] Hamburguesas Deluxe (receta/pan) 👉 Al estilo de cocina creativa 👨‍🍳 | Deluxe Burgers (recipe/bread) 👉 Creative Cooking Style 👨‍🍳
---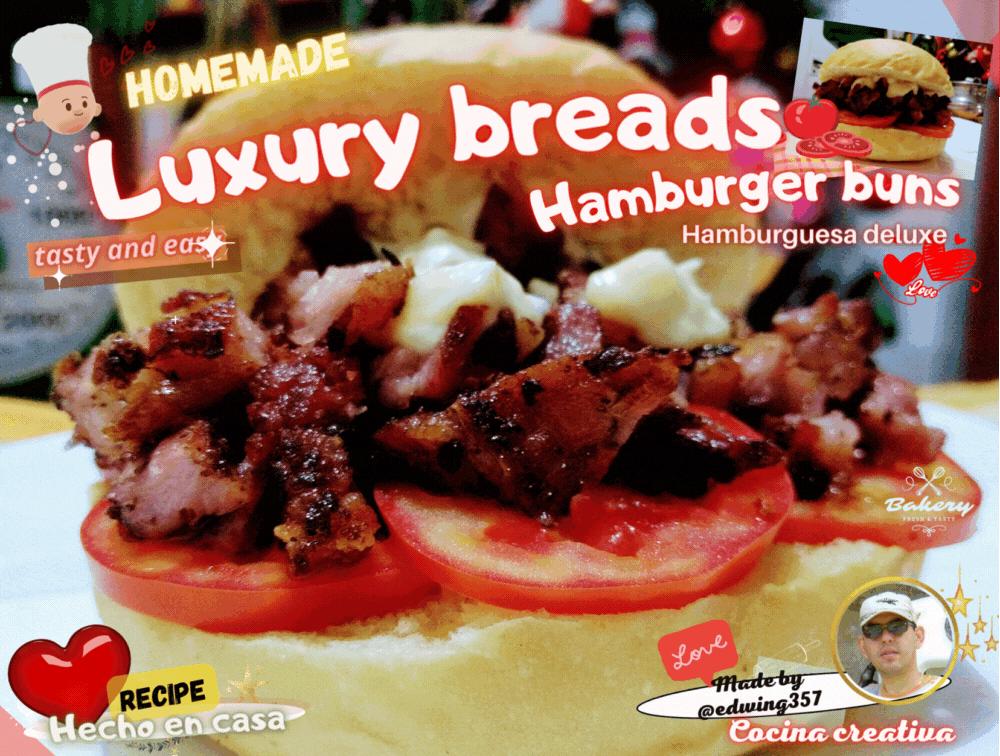 ---

---
Panes para hamburguesas
Deluxe breads
---
Spanish 🇻🇪
---

---
Hola mis amantes de la cocina , como siempre es un gusto poder compartir con todos uds 😊
---
Para este día les traigo unos panes de lujo, suaves y deliciosos para hacer tus hamburguesas en casa
---
La receta es muy sencilla y el resultado final es excepcional
---
Saben que amo la panificación y siempre les comparto variedad de panes, así que hoy vengo con estas delicias que no podrás dejar pasar
---
El relleno es también sencillo de realizar verás como el sabor se derrite en tu paladar al momento del primer bocado 😋
---
Si ya están listos para la aventura culinaria de hoy, entonces vamos a poner ¡manos a la obra!
English 🇺🇸
---

---
Hello my cooking lovers, as always it is a pleasure to share with you 😊
---
For this day I bring you some luxury buns, soft and delicious to make your burgers at home.
---
The recipe is very simple and the end result is exceptional.
---
You know I love baking and I always share with you a variety of breads, so today I come with these delicacies that you will not be able to pass up.
---
The filling is also simple to make and you will see how the flavor melts on your palate at the moment of the first bite 😋
---
If you are ready for today's culinary adventure, then let's get to work!
---

---
¿Qué necesitamos? - What do we need?
---
Para la masa:
350 gramos de harina todo uso
80 gramos de azúcar blanca
1/2 cucharada de levadura
1/4 cucharadita de pimienta negra
1/4 cucharadita de sal fina
02 cucharadas de aceite vegetal
80 gramos de margarina (pomada)
150 gramos de agua
Para el relleno:
Tiras de cerdo (500 gramos)
Sal gruesa
Orégano
Pimienta negra
Ajo en polvo
Salsa de soja
Aceite de oliva
Tomate fresco
Mayonesa gourmet de (cocina creativa)
For the dough:
350 grams of all-purpose flour
80 grams of white sugar
1/2 tablespoon of yeast
1/4 teaspoon black pepper
1/4 teaspoon fine salt
02 tablespoons vegetable oil
80 grams of margarine (ointment)
150 grams of water
For the stuffing:
Pork strips (500 grams)
Coarse salt
Oregano
Black pepper
Garlic powder
Soy sauce
Olive oil
Fresh tomato
Gourmet mayonnaise (creative cuisine)
---

---
¿Cómo lo hacemos? - How do we do it?
---
Lo primero que vamos hacer es preparar el relleno y dejarlo marinar de un día para otro (24 horas) mientras más tiempo lo dejes mejor será el sabor 🍔
The first thing we are going to do is to prepare the stuffing and let it marinate overnight (24 hours) the longer you let it marinate the better the flavor 🍔.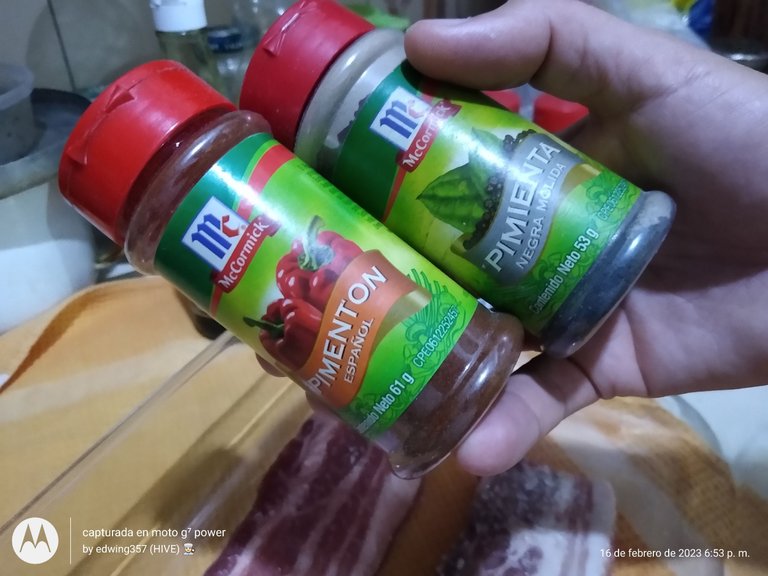 ---

---
Solo debemos sazonar las tiras de cerdo por ambos lados, con la sal gruesa, el orégano, la pimienta molida, el ajo en polvo, el aceite de oliva y si es de tu agrado un poco de pimentón en polvo, después lo guardamos hasta el día siguiente 😉
We only need to season the pork strips on both sides, with coarse salt, oregano, ground pepper, garlic powder, olive oil and if you like a little paprika powder, then keep it until the next day 😉.
---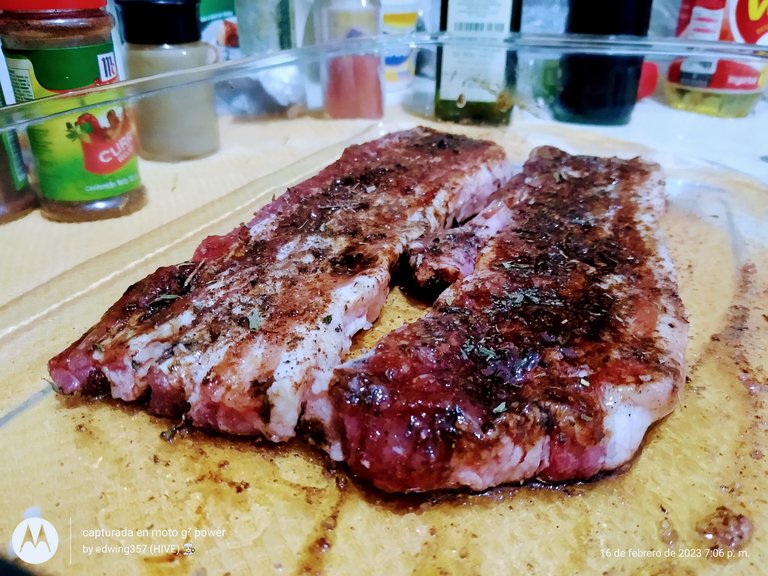 ---

---
Ahora vamos con nuestro pan de lujo, tomamos un recipiente de amasar y comenzamos colocando los ingredientes en las cantidades indicadas
Now let's go with our luxury bread, we take a kneading bowl and start by placing the ingredients in the indicated quantities.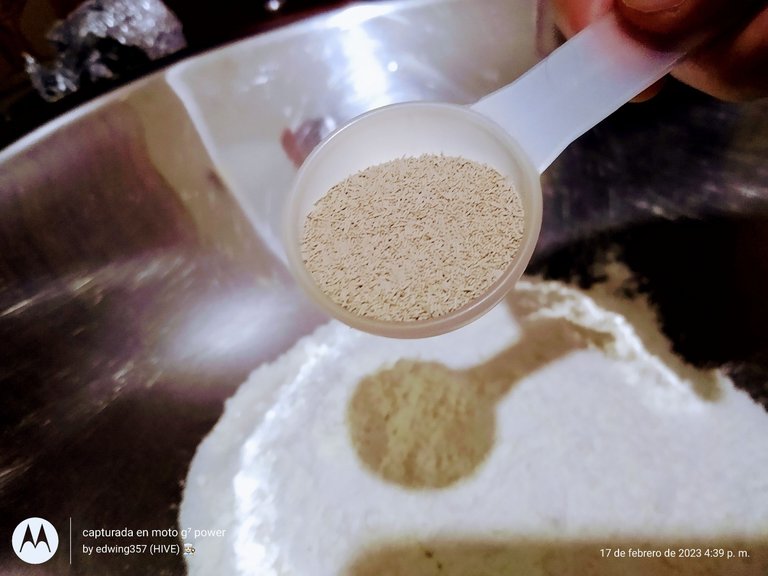 ---

---
La harina de trigo, el azúcar blanca, la levadura instantánea para masa dulce, la pimienta negra y la sal fina, mezclamos un poco para luego ir al siguiente paso
Wheat flour, white sugar, instant yeast for sweet dough, black pepper and fine salt, mix a little and then go to the next step.
---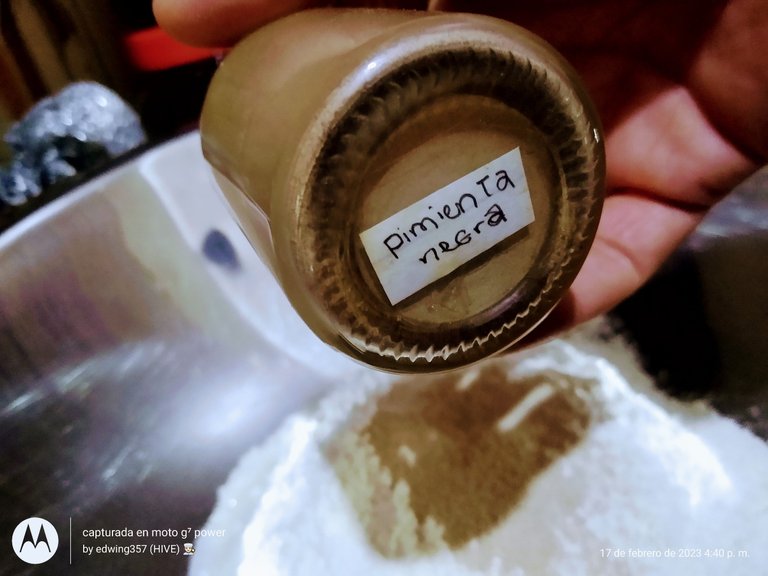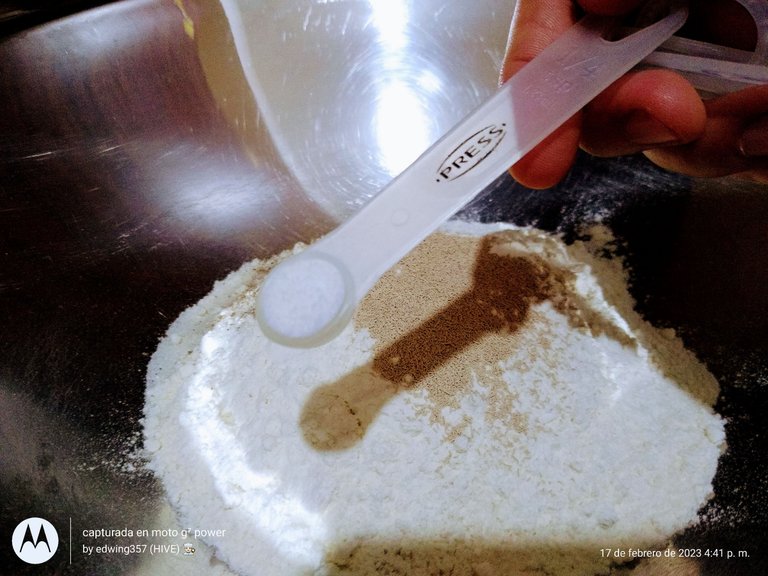 ---

---
Lo siguiente es agregar el aceite vegetal, la margarina pomada y los 150 gramos de agua a temperatura ambiente y comenzar a integrar todo con la mano
The next step is to add the vegetable oil, the margarine and the 150 grams of water at room temperature and start integrating everything by hand.
---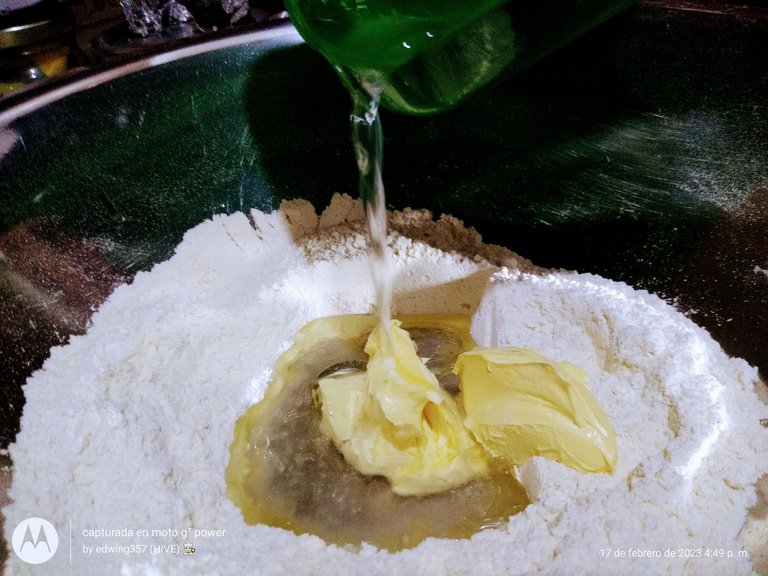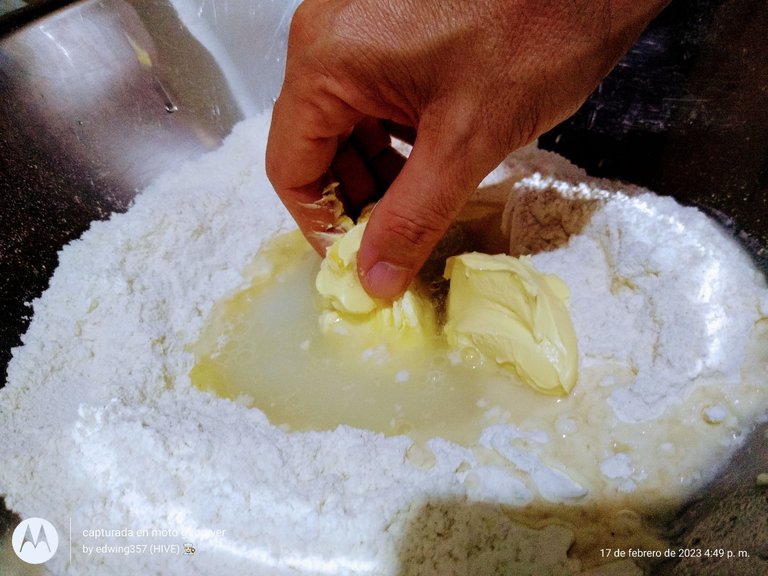 ---

---
En unos 4 a 5 minutos ya los ingredientes estarán integrados y pasamos al mesón de trabajo donde le daremos amor por otros 3 minutos más para dejarla reposar por espacio de 12 minutos máximo
In about 4 to 5 minutes, the ingredients will be integrated and we move to the work table where we will give it love for another 3 minutes more to let it rest for a maximum of 12 minutes.
---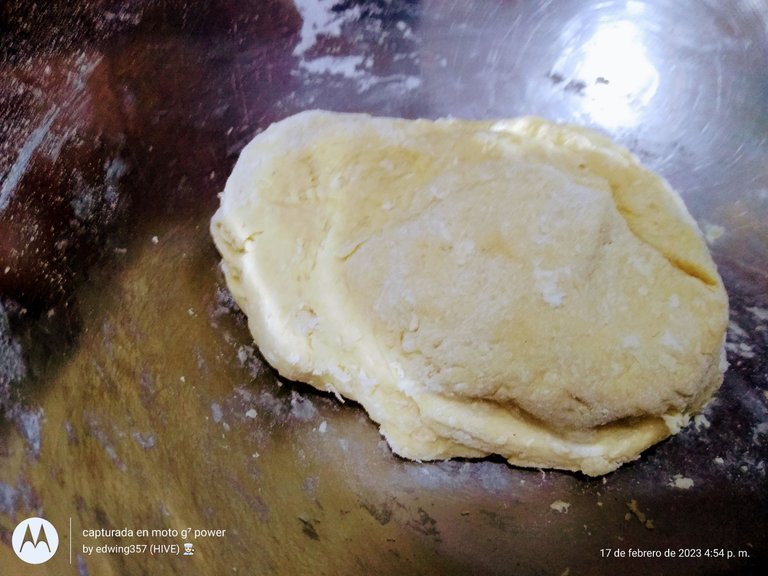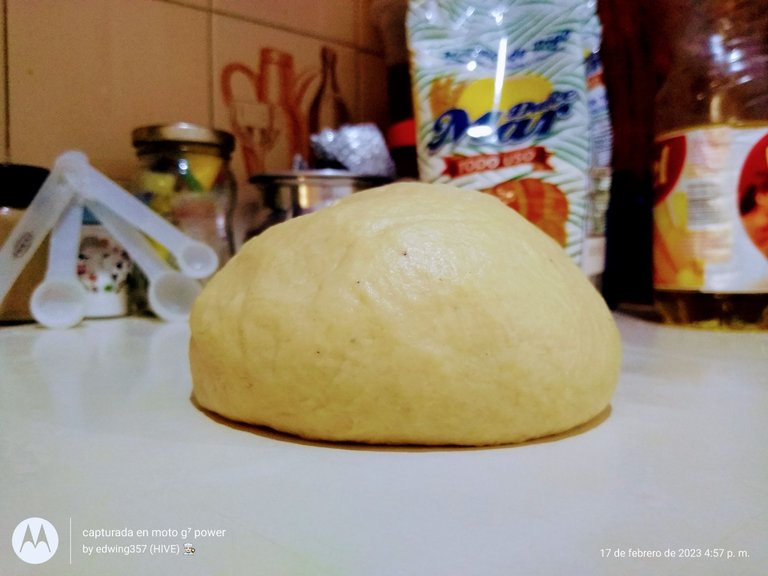 ---

---
Transcurrido el tiempo de reposo de los 12 minutos vamos a dividir la masa en 4 porciones de 190 gramos aprox cada una
After the 12 minutes resting time has elapsed, we will divide the dough into 4 portions of approximately 190 grams each.
---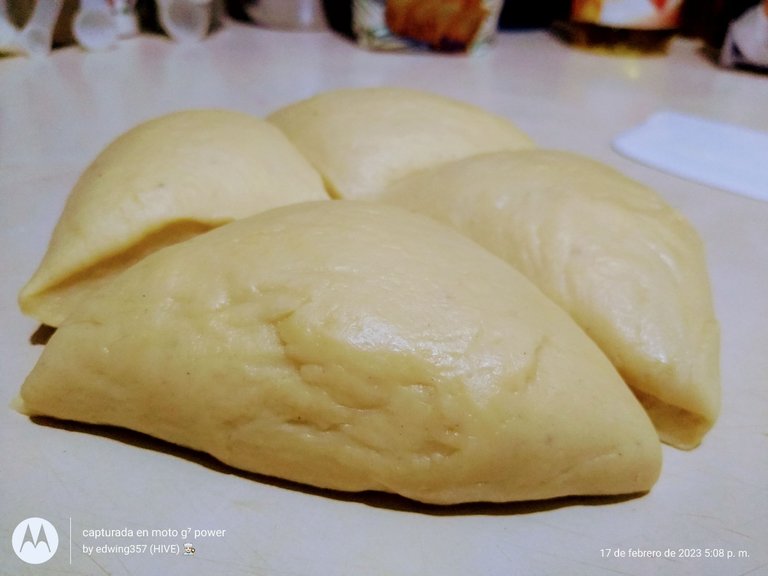 ---

---
Luego sin maltratar la masa llevamos los extremos al centro de la misma y boleamos cada porción muy suavemente hasta formar estas bellezas
Then, without mistreating the dough, we bring the ends to the center of the dough and gently roll each portion to form these beauties.
---
---

---
Ahora simplemente las colocamos en una bandeja engrasada y enharinada, las cubrimos con un plástico y las dejamos descansar hasta doblar su volumen
Now we simply place them in a greased and floured tray, cover them with plastic wrap and let them rest until they double their volume.
---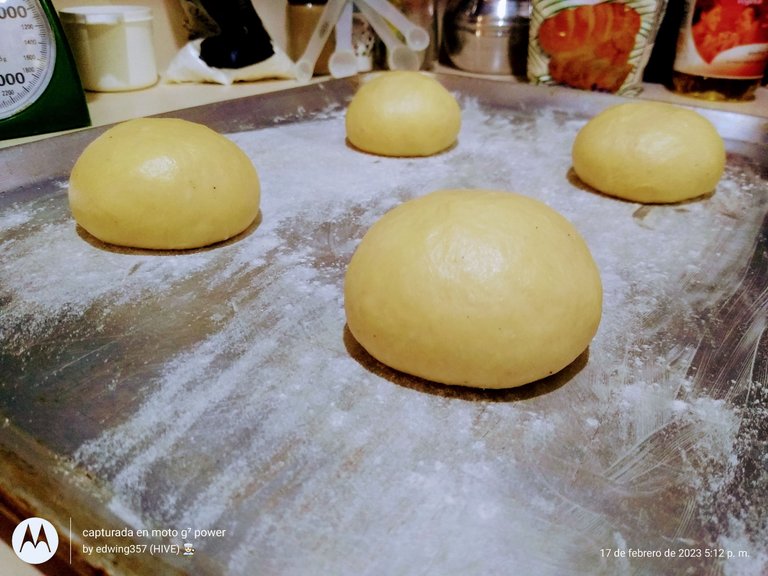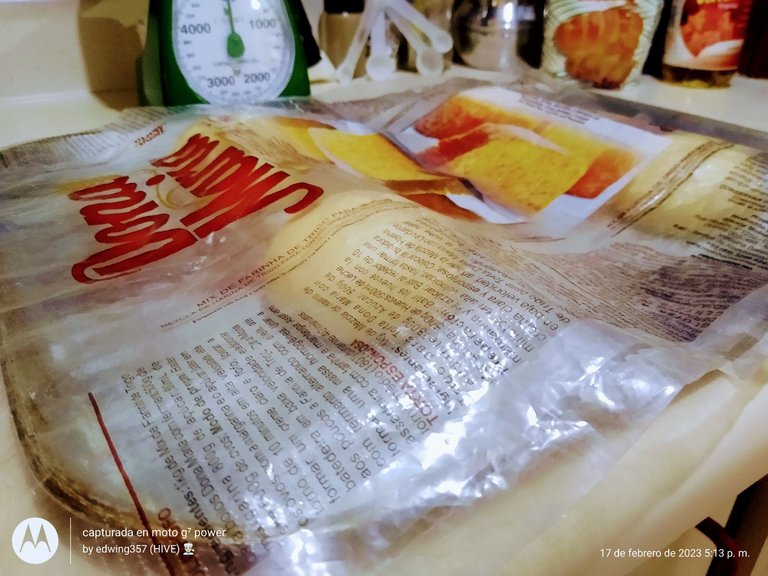 ---

---
Ya transcurrido un tiempo aproximado de dos horas de leudado, los llevamos al horno a 250 grados Celsius por unos 15 minutos hasta verlos dorar un poco
After approximately two hours of leavening time, we take them to the oven at 250 degrees Celsius for about 15 minutes until they are a little golden brown.
---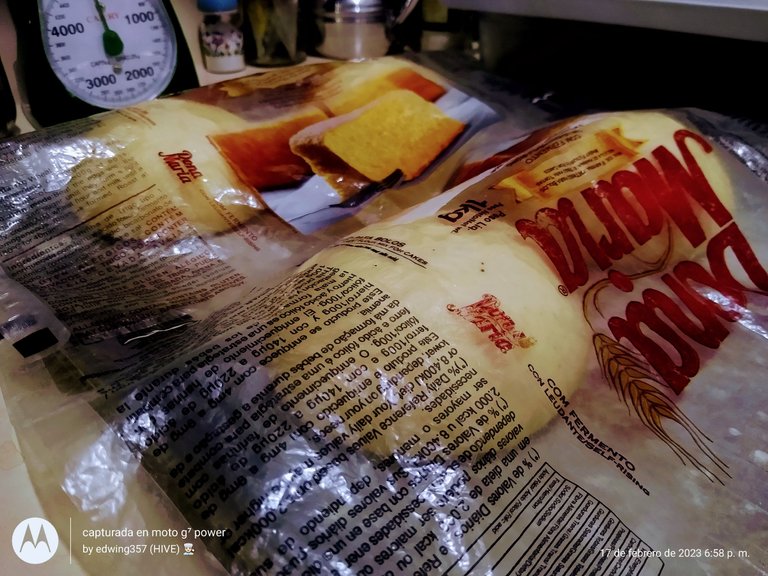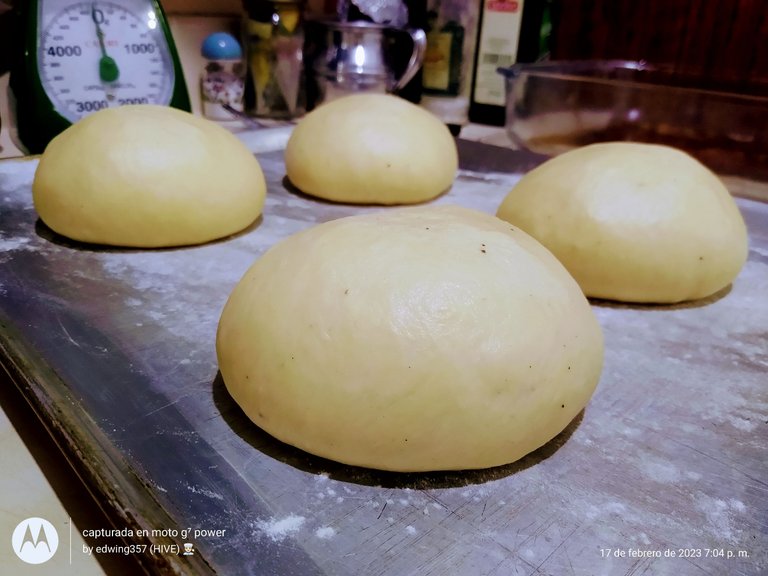 ---

---
Al sacarlos del horno no debes tocarlos porque son muy suaves y los puedes deformar si los agarras, solo los dejas reposar unos minutos para sacarlos de la bandeja
When removing them from the oven do not touch them because they are very soft and you can deform them if you grab them, just let them rest for a few minutes to remove them from the tray.
---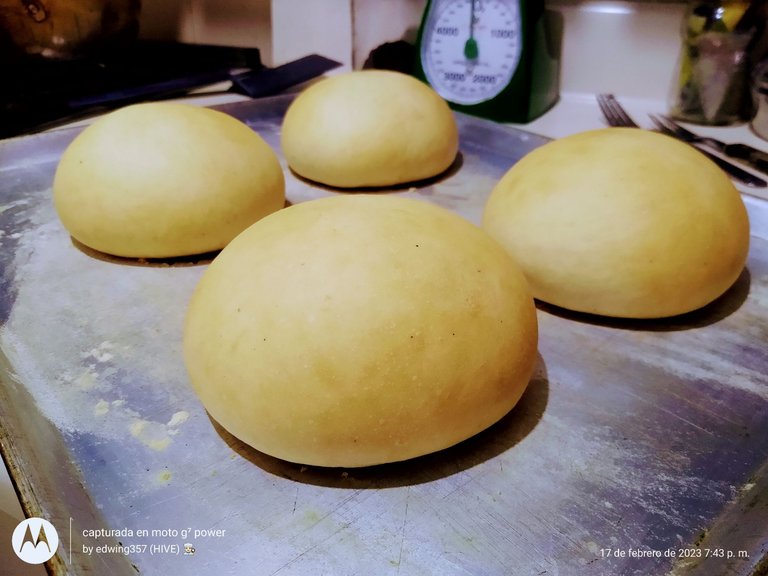 ---

---
Dime si no son una belleza
Tell me if they are not a beauty
---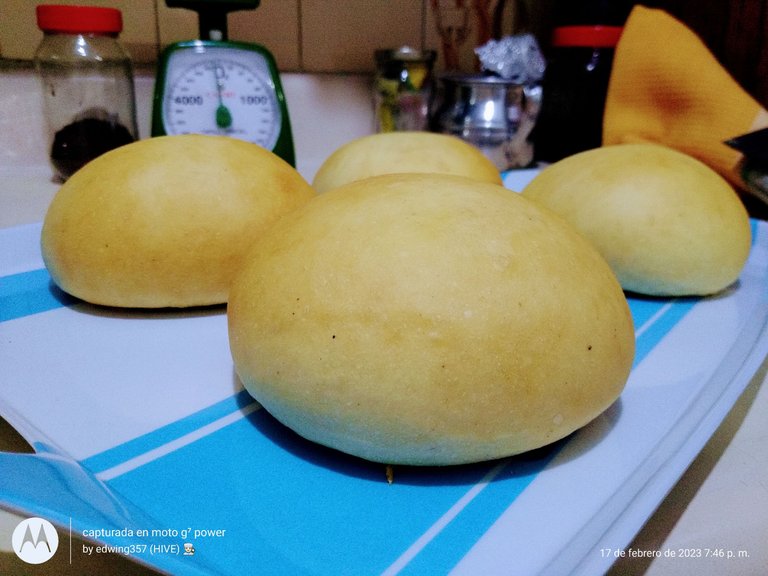 ---

---
Ahora llevamos al horno nuestras tiras de cerdo y las cocinamos por media hora a 220 grados y luego subimos a 250 grados y cocinamos 15 minutos más por cada lado
Now we put our pork strips in the oven and cook them for half an hour at 220 degrees and then we increase the temperature to 250 degrees and cook them for 15 minutes more on each side.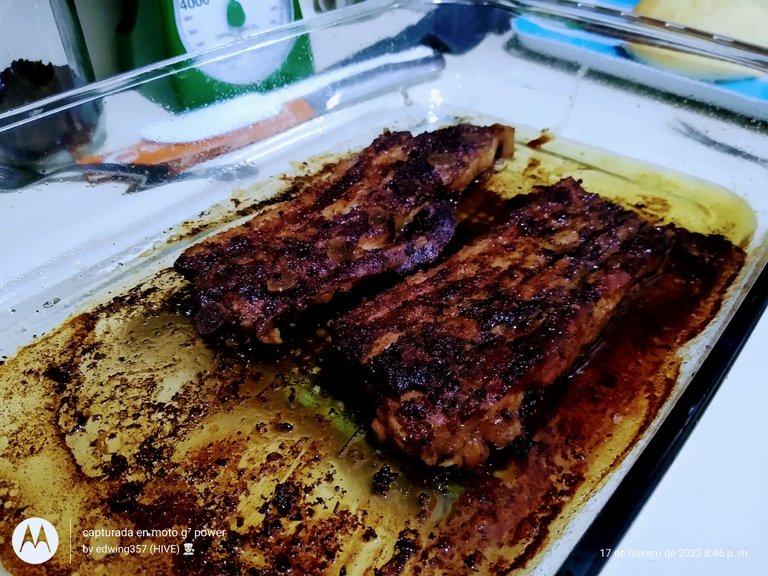 ---

---
Ya te lo estás saboreando cierto 🤤
You're already tasting it right 🤤
---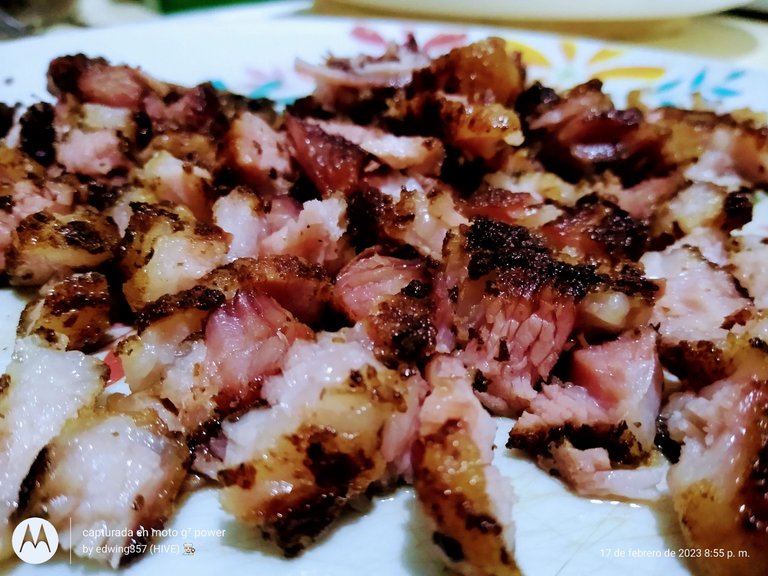 ---

---
Ahora es momento de cortar nuestros panes
Now it's time to cut our bread
---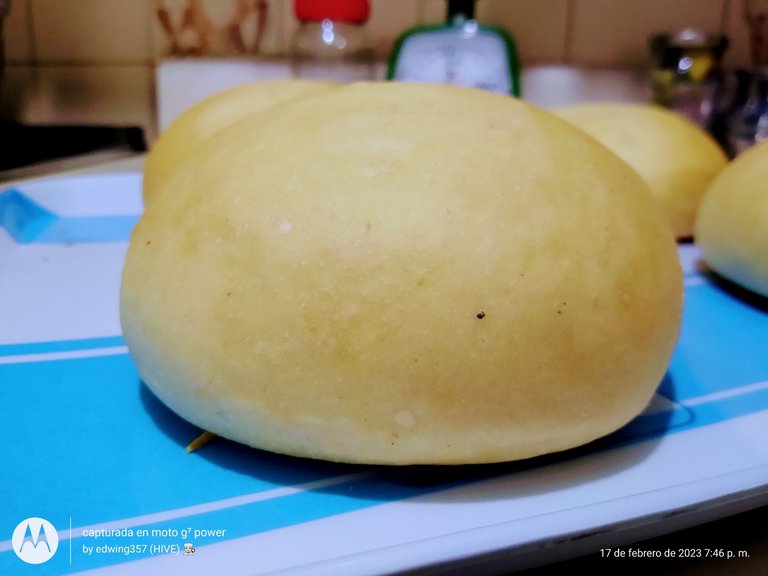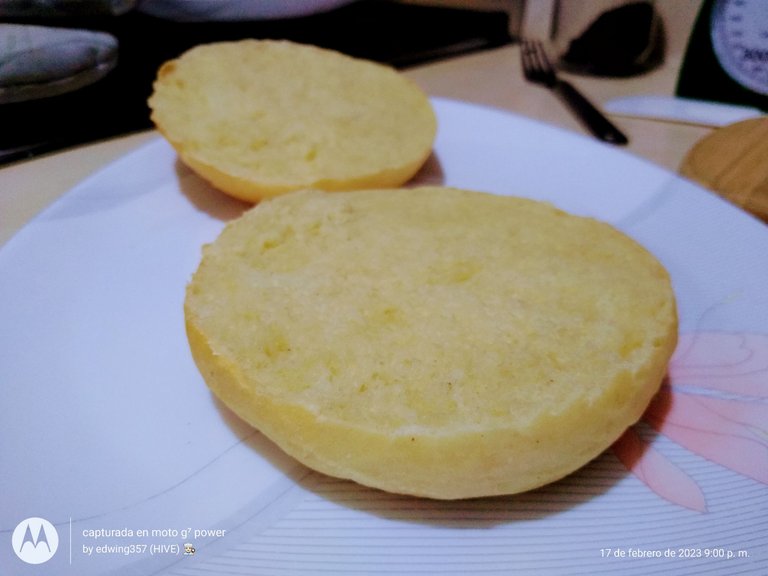 ---

---
Lo primero en colocar son los tomates
The first thing to place are the tomatoes
---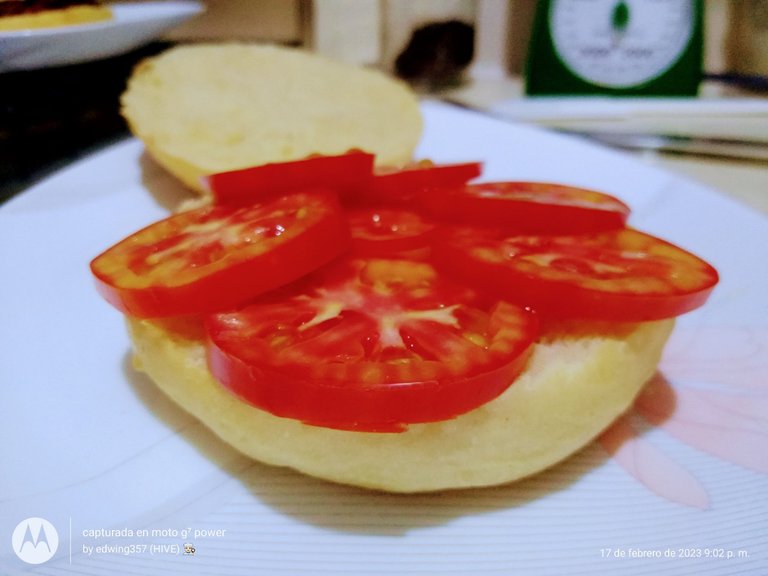 ---

---
Luego seguimos con el cerdo picado sobre la cama de tomates frescos a la cual le podemos adicionar un puntito de sal fina si es de tu agrado
Then we continue with the chopped pork on the bed of fresh tomatoes to which we can add a pinch of fine salt if you like.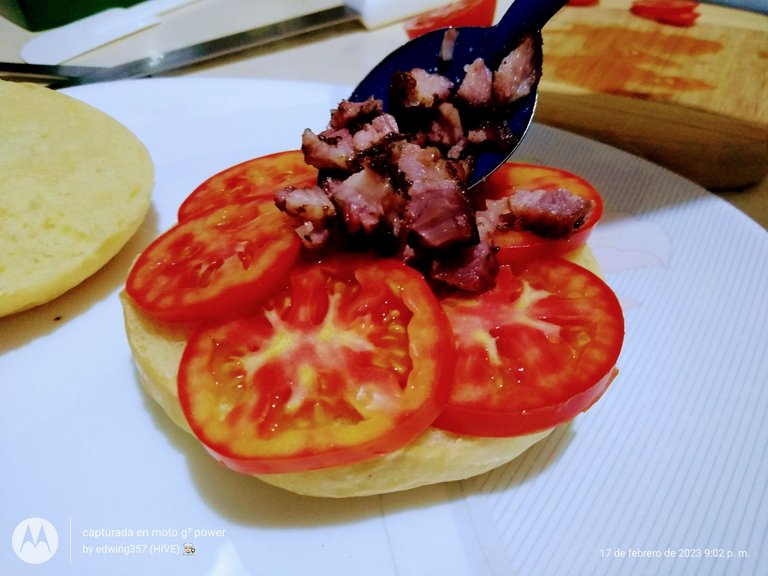 ---

---
Se te hace agua la boca...
Your mouth is watering...
---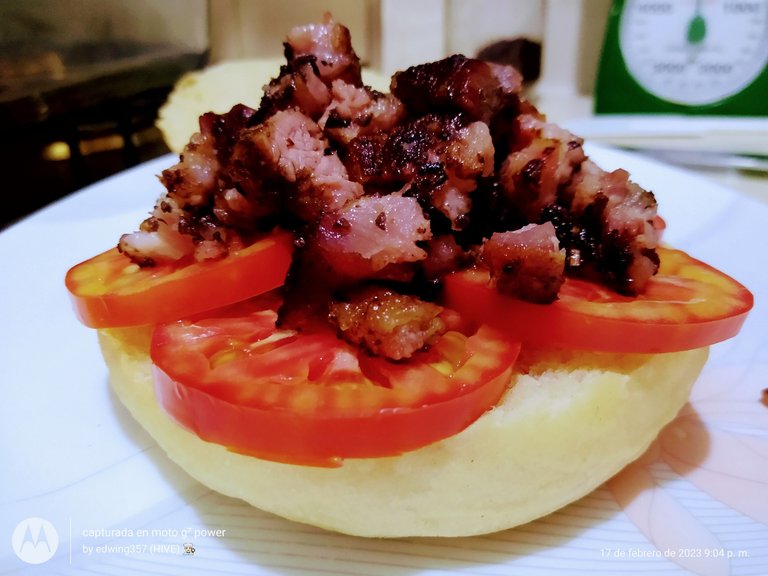 ---

---
Ahora colocamos dos cucharadas de Mayonesa gourmet
Now add two tablespoons of Gourmet mayonnaise
---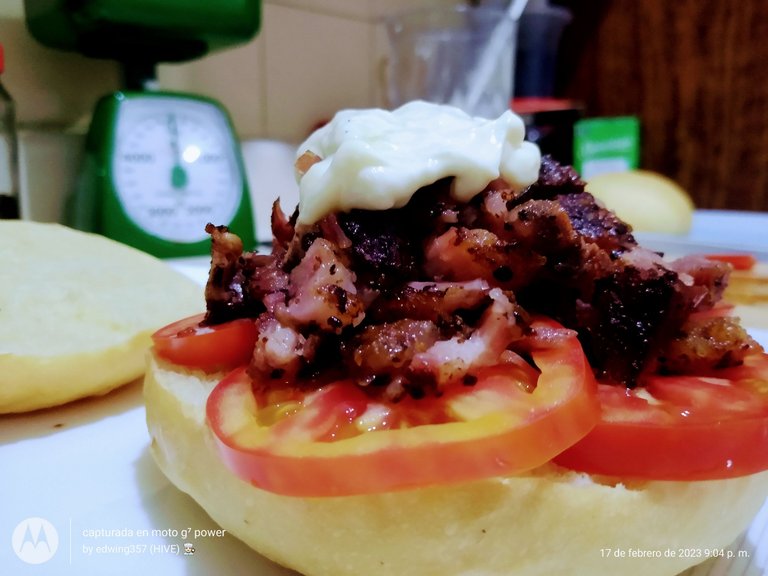 ---

---
¡No necesitarás nada más!
You won't need anything else!
---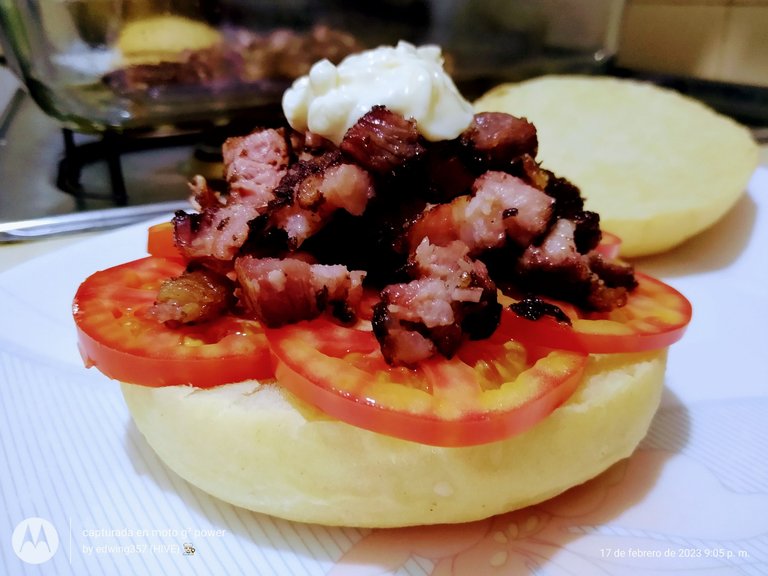 ---

---
¡Listo nuestro pan Deluxe!
Our Deluxe bread is ready!
---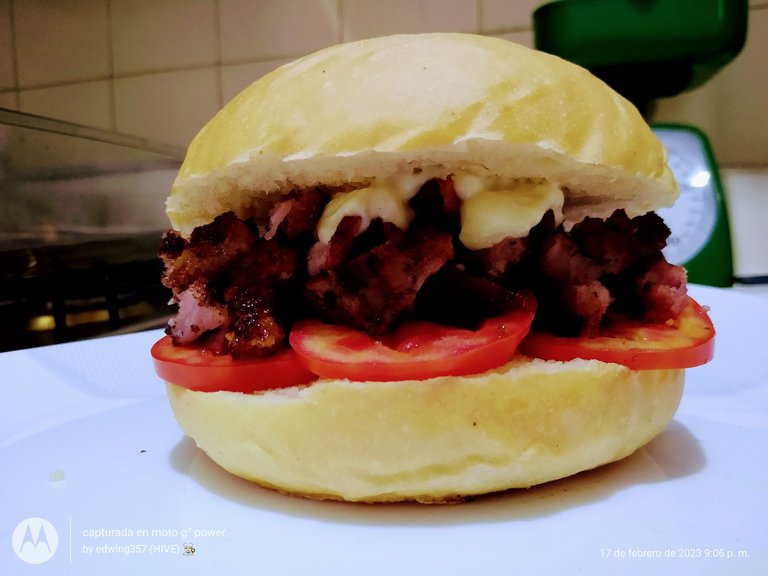 ---

---
Cuando lo pruebes quedarás enamorado de la suavidad y el sabor de nuestro pan de hoy, lleva el sello de garantía de Creative Cuisine
When you try it, you will fall in love with the softness and flavor of our bread today, bearing the Creative Cuisine seal of approval.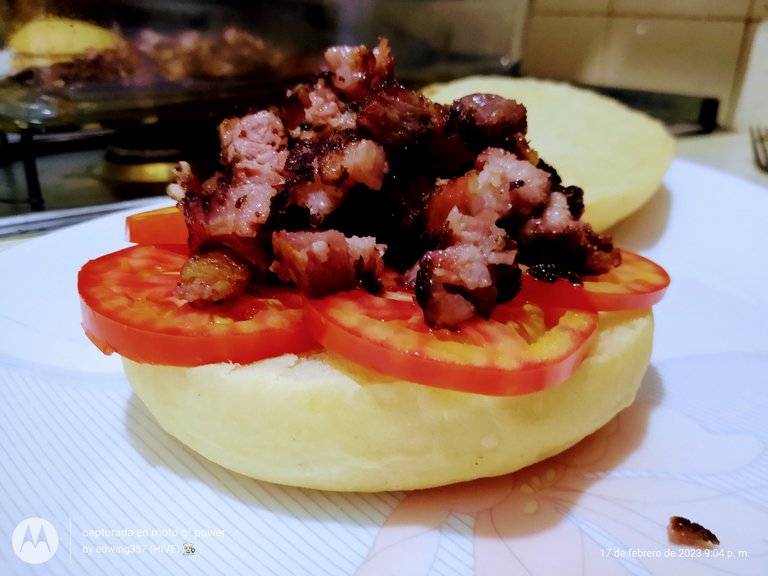 ---

---
Más de 2/4 de libra de puro sabor
Over 2/4 lb. of pure flavor
---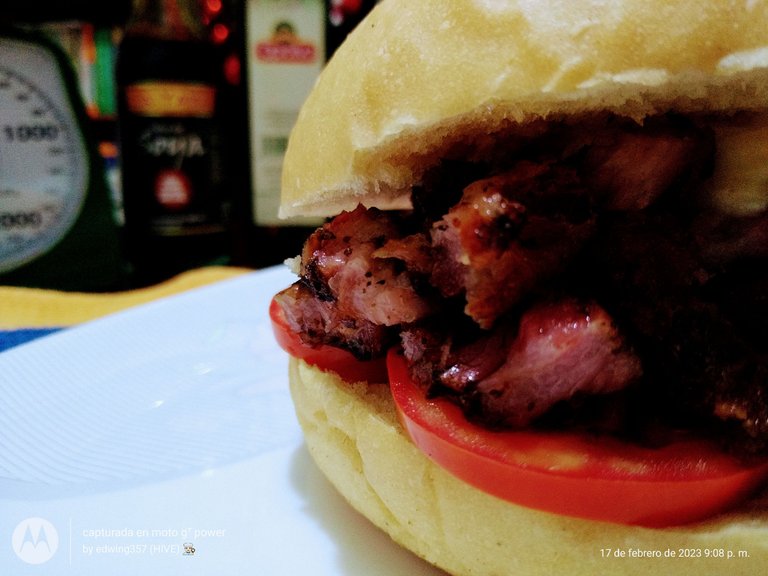 ---

---
¡Súper deliciosa!
Super delicious!
---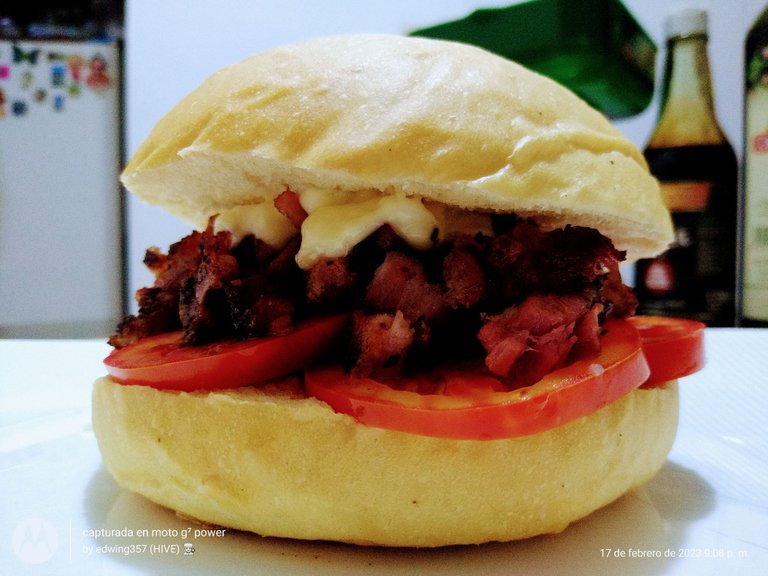 ---

---
¡Te atreverás a comerla toda?
Dare you dare to eat it all?
---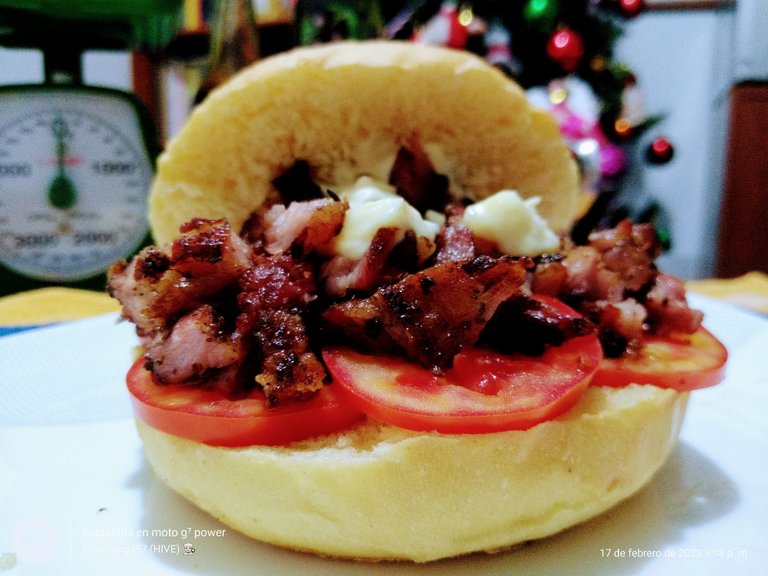 ---

---
Yo puedo comer dos 😜
I can eat two 😜
---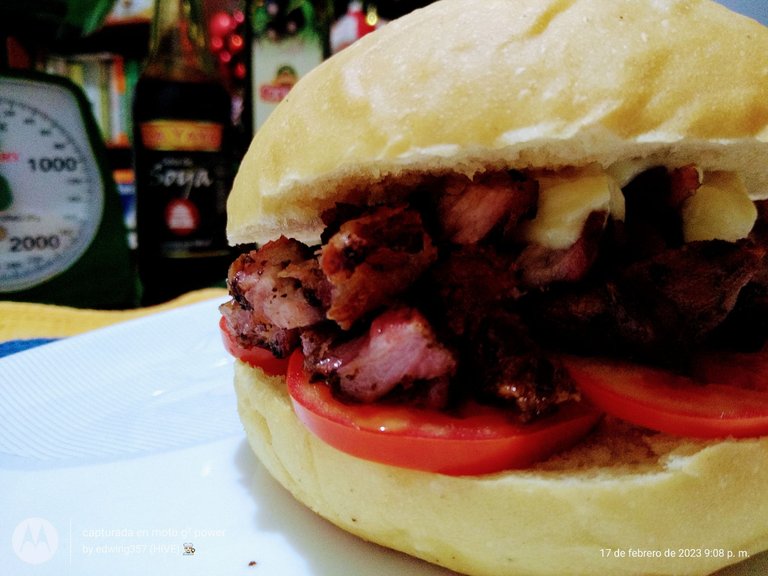 ---

---
El catador principal
The lead taster
---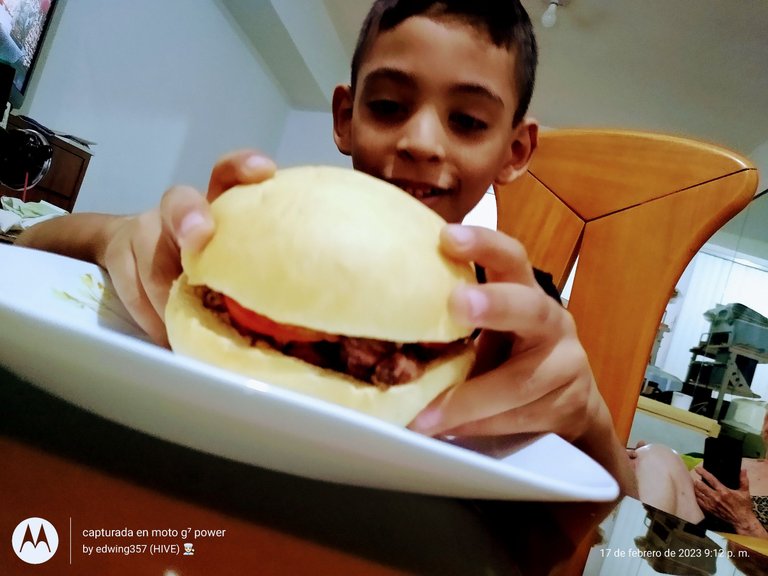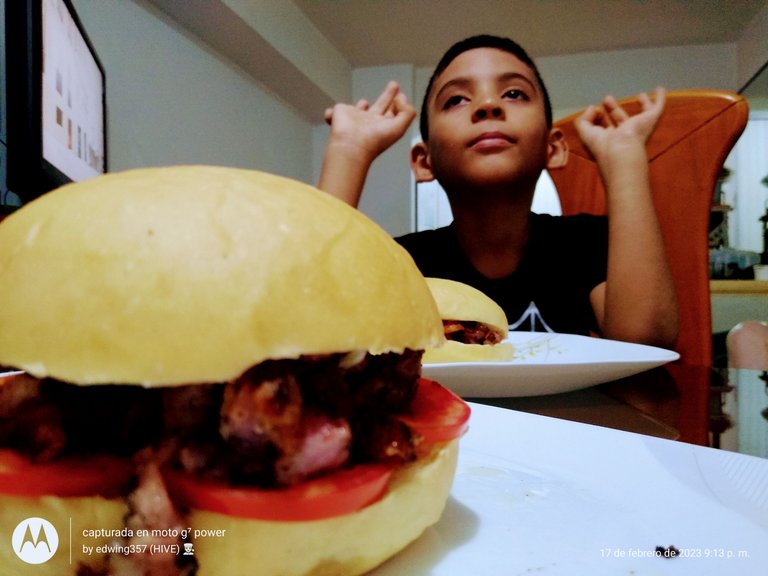 ---
"100 puntos papi / "100 points daddy""
---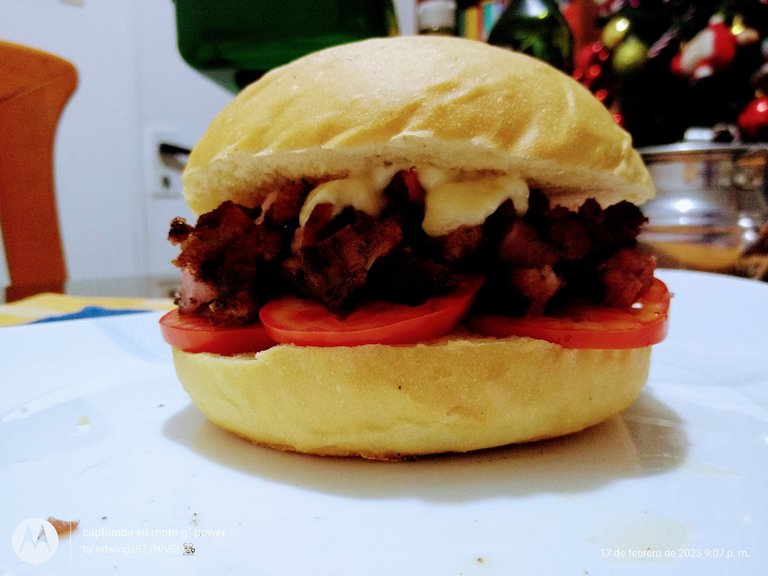 ---

---
Todas las imágenes y textos son de mi autoria. Los separadores y banner personal los realice con Canvas. Fotos : Cámara motoG7 power
Tradución realizada con https://www.deepl.com/es/translator
---
All images and texts are my own. The separators and personal banner were made with Canvas. Photos : motoG7 power camera
Translation made with https://www.deepl.com/es/translator
---

---

---
Muchas gracias por ser parte de los lectores de cocina creativa y sazón con amor, si te gusto la receta de hoy los invito a dejar sus comentarios o sugerencias, todos son siempre bien recibidos
Thank you very much for being part of the readers of cocina creativa y sazón con amor, if you liked today's recipe I invite you to leave your comments or suggestions, all are always welcome.
---

---
2023 👨‍🍳
---
---