[ESP-ENG] Mini lunch de salchi queso 🧀 Solo por cocina creativa 👨‍🍳 / Mini lunch of salchi cheese 🧀 Only by creative cuisine 👨‍🍳
---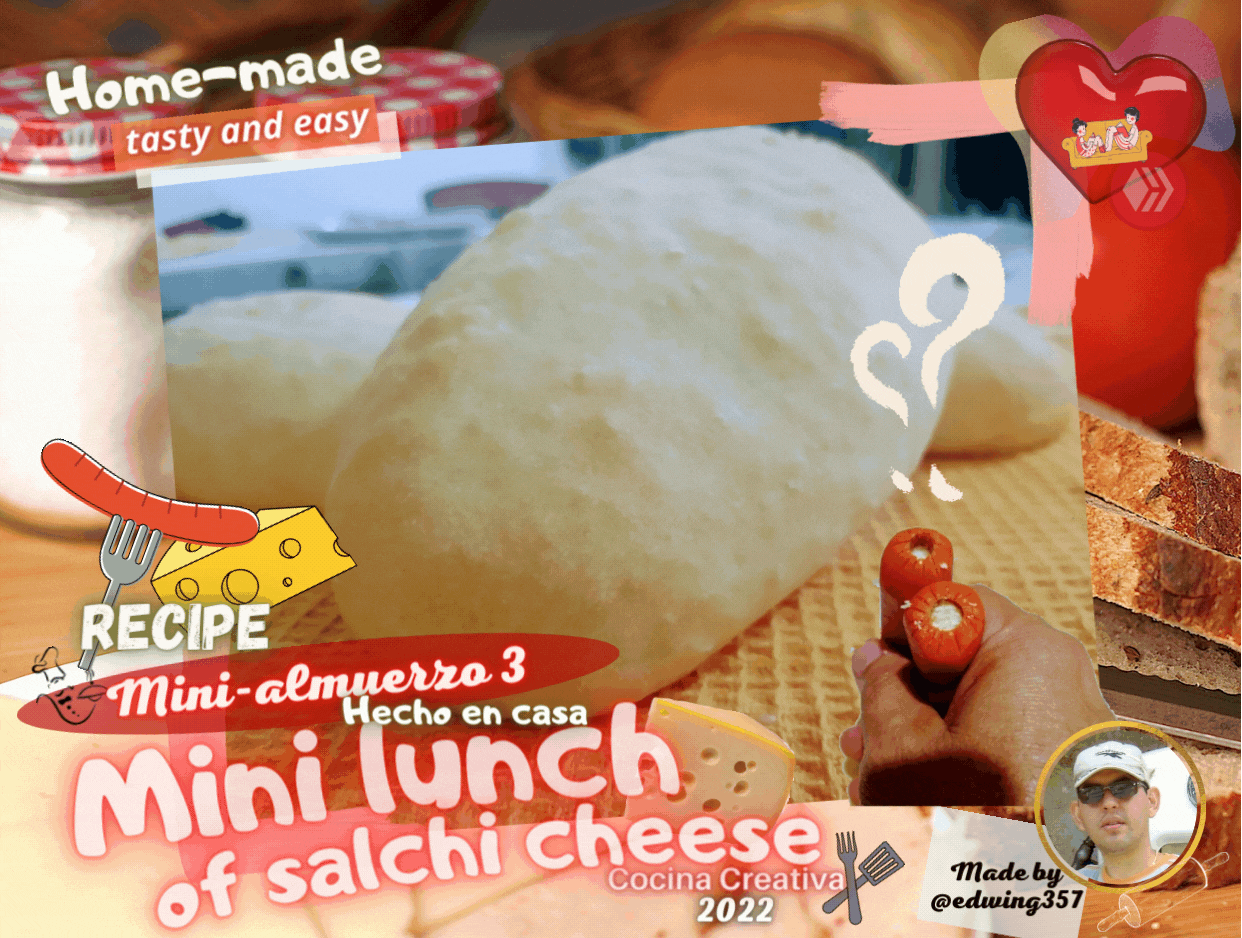 ---

---
Mini lunch de salchi queso
Mini lunch of salchi cheese
---
Spanish 🇻🇪
---

---
Hola amigos! gusto en saludarlos nuevamente 😊
---
Hoy les tengo, se puede decir que dos recetas en una 🤔
---
Les enseñare como convertir una salchicha normal en una salchi-queso
---
Para luego elaborar unos ricos y suaves panes para las meriendas rápidas de los niños
---
Si estas listo para esta tercera edición de mini lunch... pongamos entonces ¡manos a la obra!
English 🇺🇸
---

---
Hello friends! nice to greet you again 😊
---
Today I have for you, you could say two recipes in one 🤔
---
I will show you how to turn a regular sausage into a sausage-cheese.
---
To then make some tasty and soft breads for quick snacks for the kids.
---
If you are ready for this third edition of mini lunch... let's get to work!
---

---
¿Qué necesitamos? - What do we need?
---
Para la masa:
420 gramos de harina de trigo leudante
02 cucharadas de azúcar blanca
1/2 cucharada de levadura instantánea
250 mililitros de agua a temperatura ambiente
1/2 cucharadita de sal fina
1/2 cucharada de margarina
Para el relleno:
Salchichas rellenas de queso blanco
margarina
For the dough:
420 grams of leavening wheat flour
02 tablespoons of white sugar
1/2 tablespoon of instant yeast
250 milliliters of water at room temperature
1/2 teaspoon fine salt
1/2 tablespoon margarine
For the filling:
Sausages stuffed with white cheese
margarine
---

---
¿Cómo lo hacemos? - How do we do it?
---
Lo primero que haremos es preparar las salchichas, rellanándolas con queso blanco o el de su preferencia, utilizando un pitillo plástico 😉
The first thing we will do is prepare the sausages, stuffing them with white cheese or the cheese of your choice, using a plastic straw 😉.
---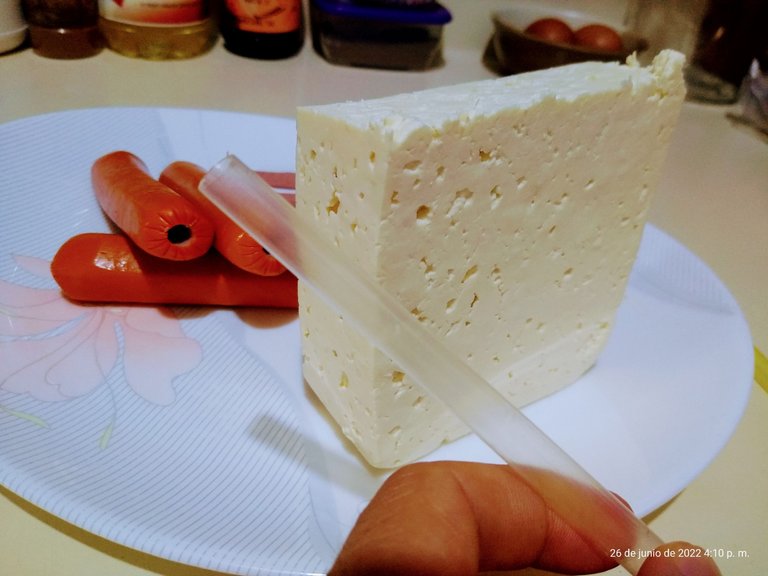 ---

---
Simplemete perforamos la salchichas con el pitillo y sacamos el centro de las mismas, como en las imagenes inferiores
We simply pierce the sausages with the straw and take out the center of the sausages, as in the images below.
---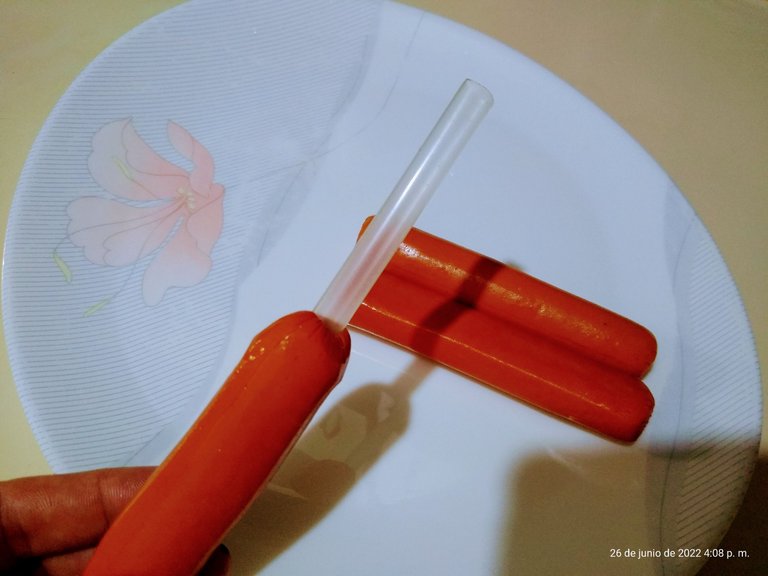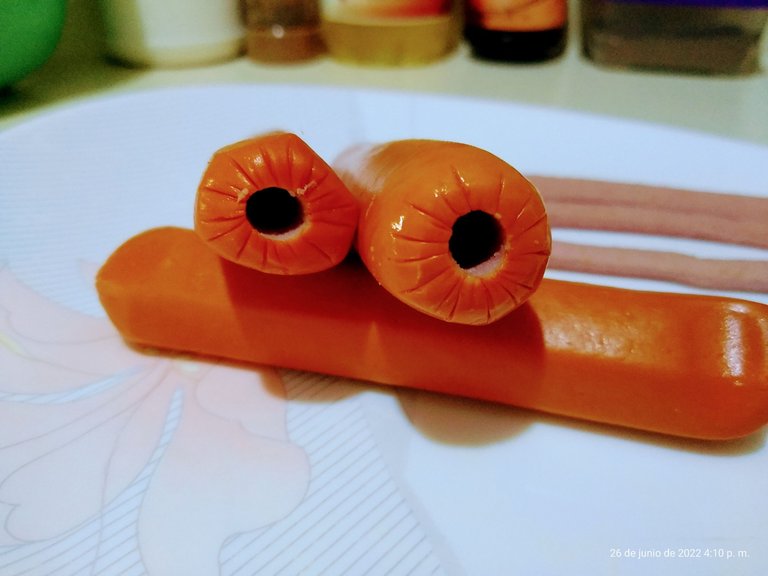 ---

---
Luego con el mismo pitillo solamente rellenamos el centro de las salchichas, inyectando el queso dentro de ellas 😁
Then with the same straw we only fill the center of the sausages, injecting the cheese inside them 😁.
---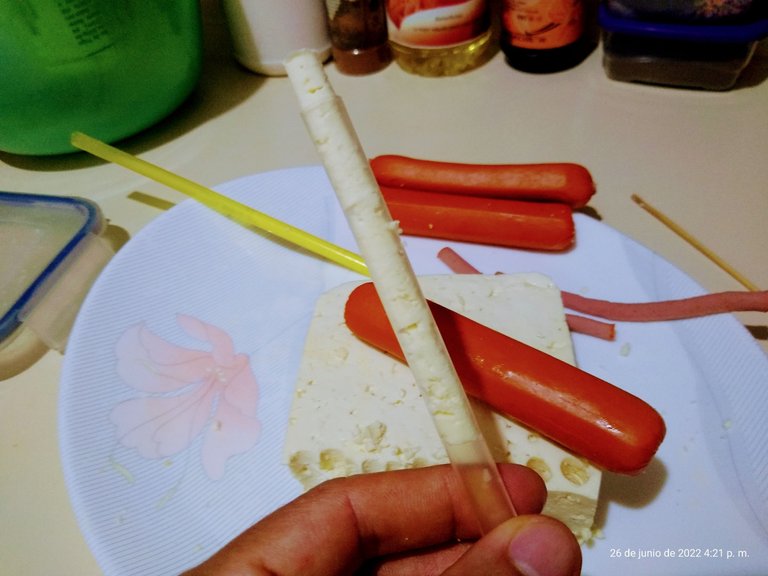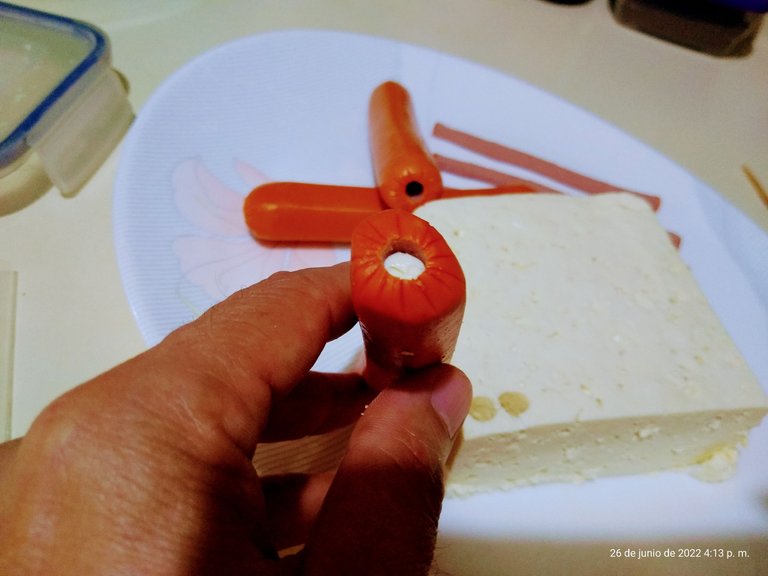 ---

---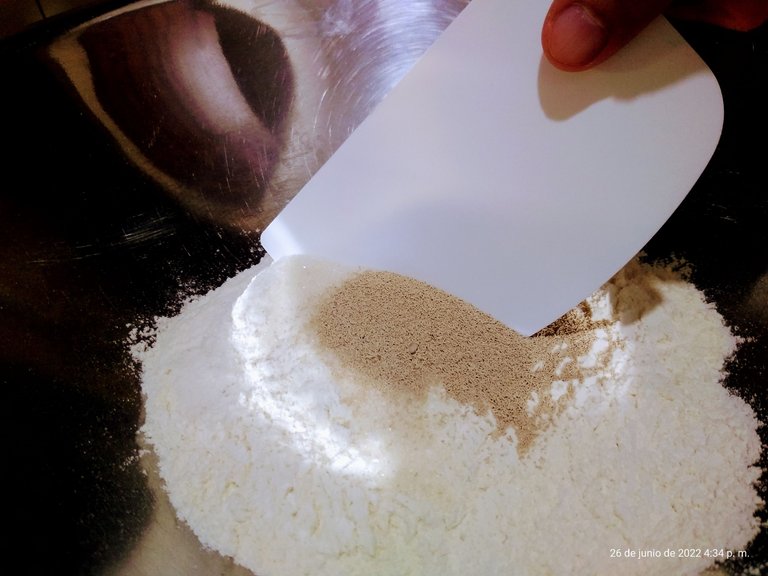 Ahora vamos con la masa: en un recipiente colocamos la harina, el azúcar y la levadura, luego mezclamos un poco para integrarlos bien
Now let's start with the dough: in a bowl place the flour, sugar and yeast, then mix a little to integrate them well.
---

---
Después añadimos el aceite y la sal fina - Then add the oil and fine salt
---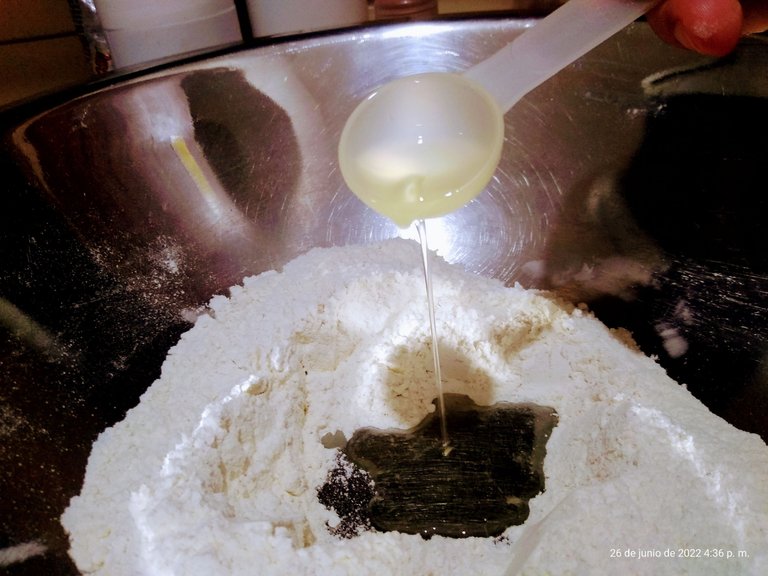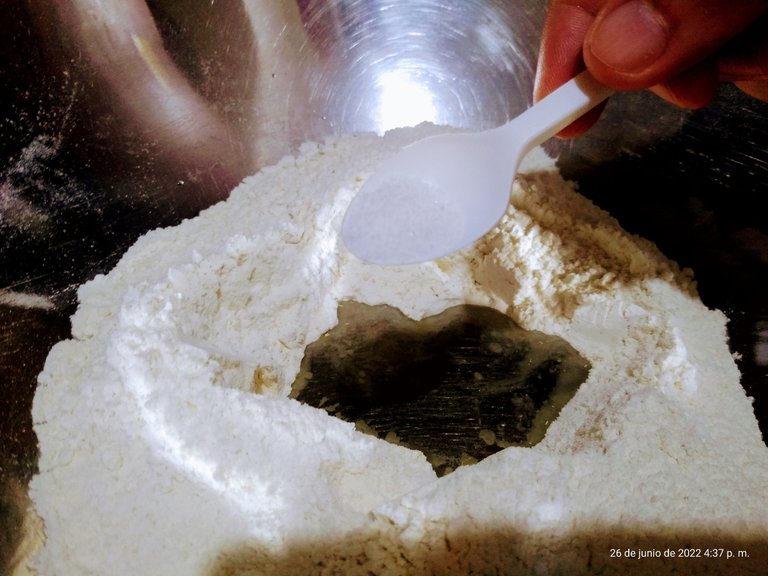 ---

---
Luego agregamos el agua y la margarina, comenzamos el proceso de integración, hasta formar una masa suave
Then add the water and margarine, and start the integration process until a smooth dough is formed.
---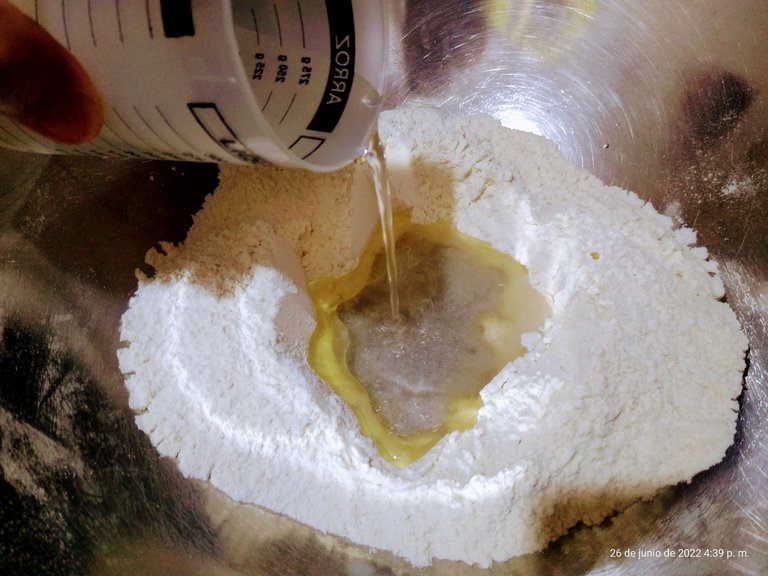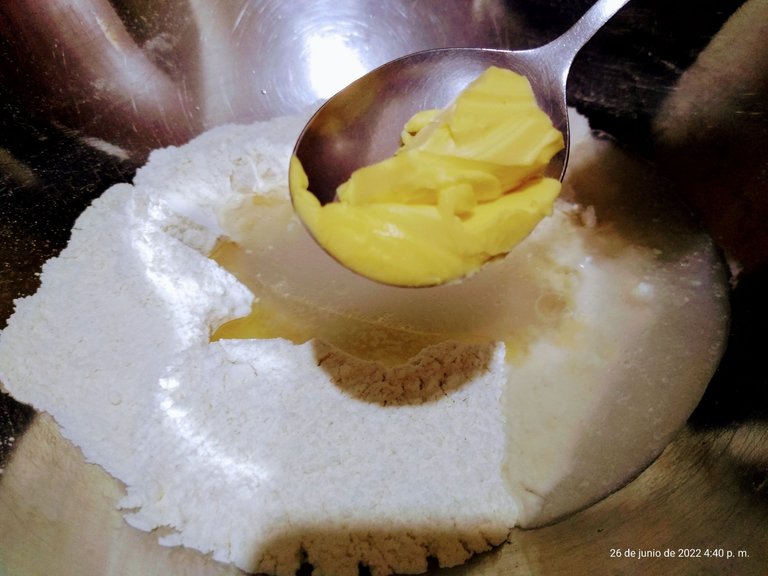 ---

---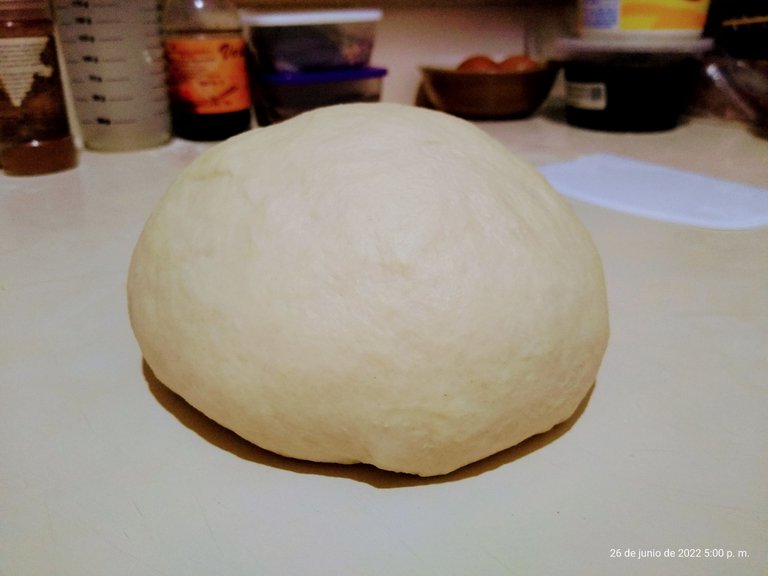 Esta masa es de alta hidratación así que podemos espolvorear algo de harina al mesón cuando la tabajemos. Ya lista solo le damos 20 minutos de reposo
This dough is highly hydrated so we can sprinkle some flour on the counter when we work it. Once ready, we only give it 20 minutes of rest.
---

---
Luego aplanamos con rodillo y dividimos en tres partes, untamos margarina sobre la misma y colocamos la salchicha como en la imagen inferior derecha
Then flatten with a rolling pin and divide into three parts, spread margarine on it and place the sausage as in the image below right.
---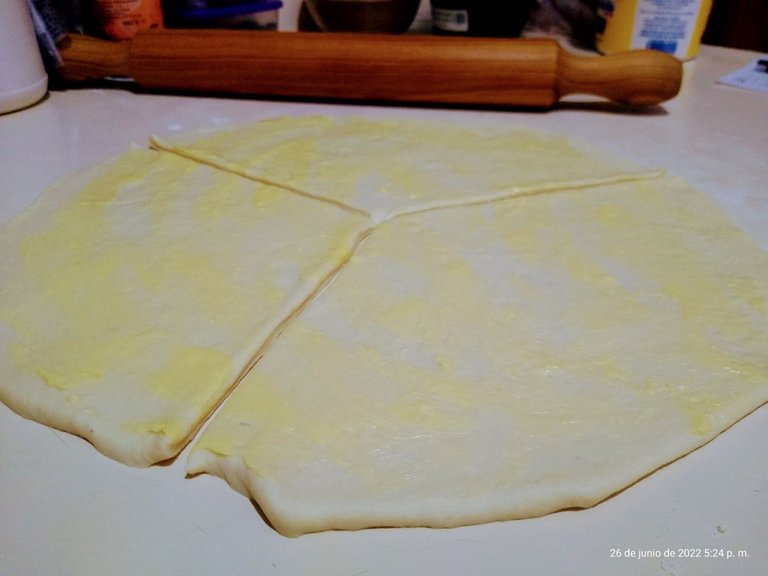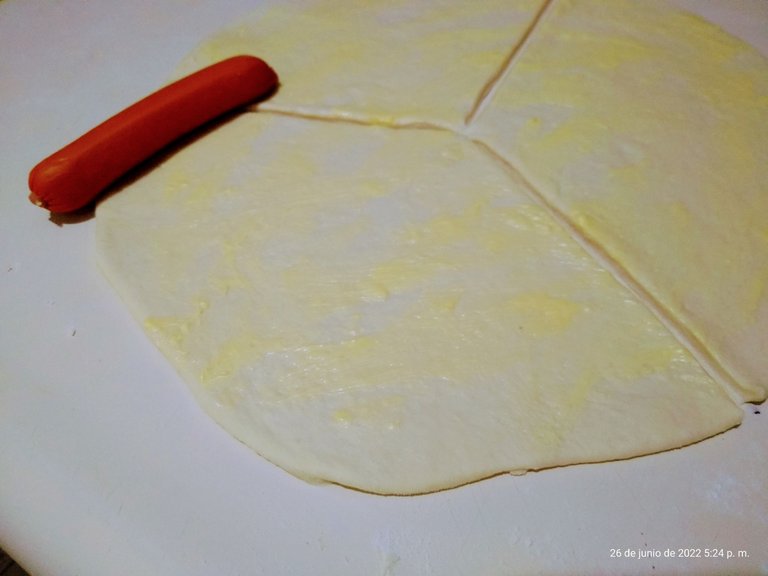 ---

---
Ahora simplemente enrollamos de manera suave, hasta cubrirla y obtener un pequeño cilindro que será nuestro delicioso mini lunch
Now we simply roll it smoothly, until it is covered and we obtain a small cylinder that will be our delicious mini lunch.
---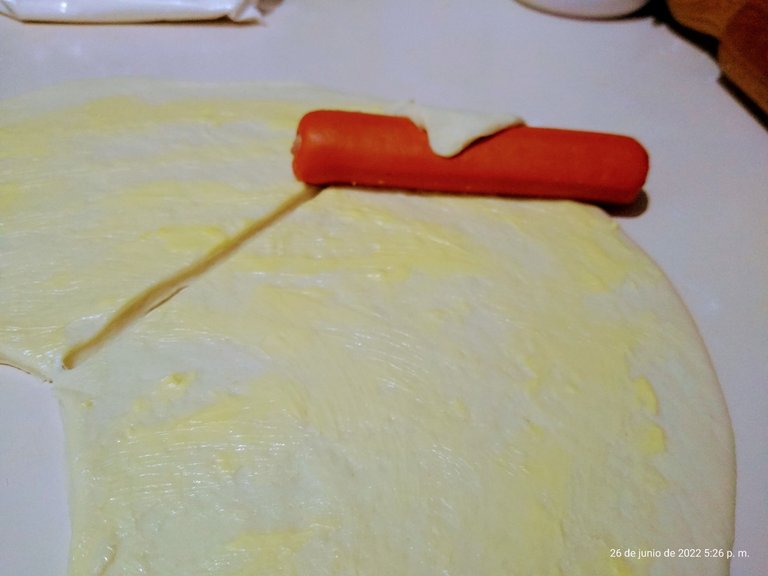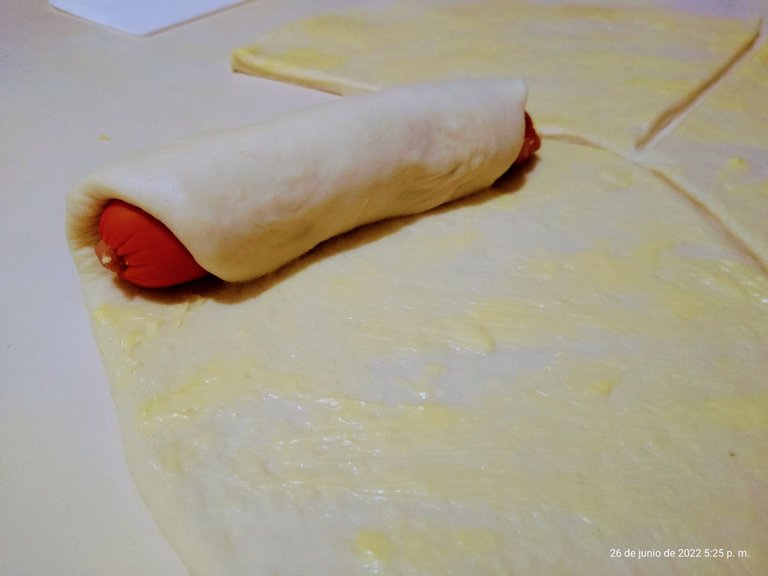 ---

---
Recuerden empujar los extremos hacia dentro, asi evitamos que el relleno salga por los lados
Remember to push the ends inward to prevent the filling from coming out of the sides.
---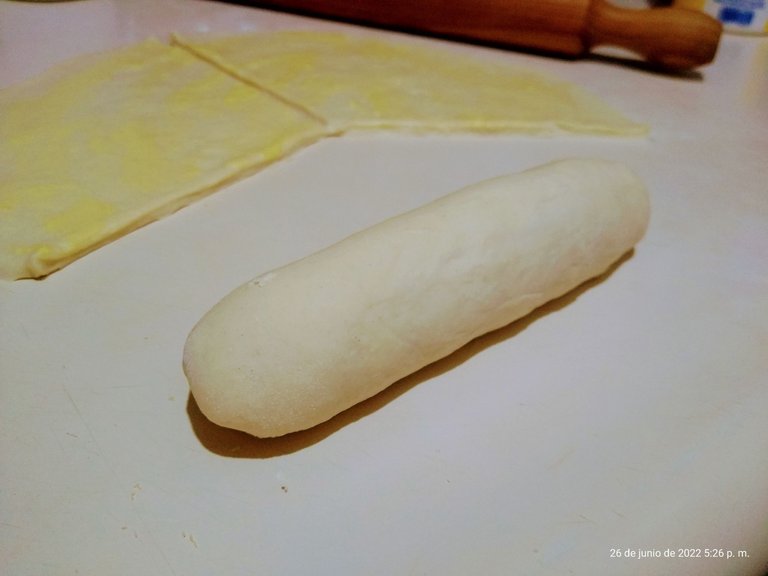 ---

---
Los colocamos en una bandeja engrasada con manteca vegetal, bien separados para que puedan crecer libremente
Place them in a greased tray with vegetable shortening, well separated so that they can grow freely.
---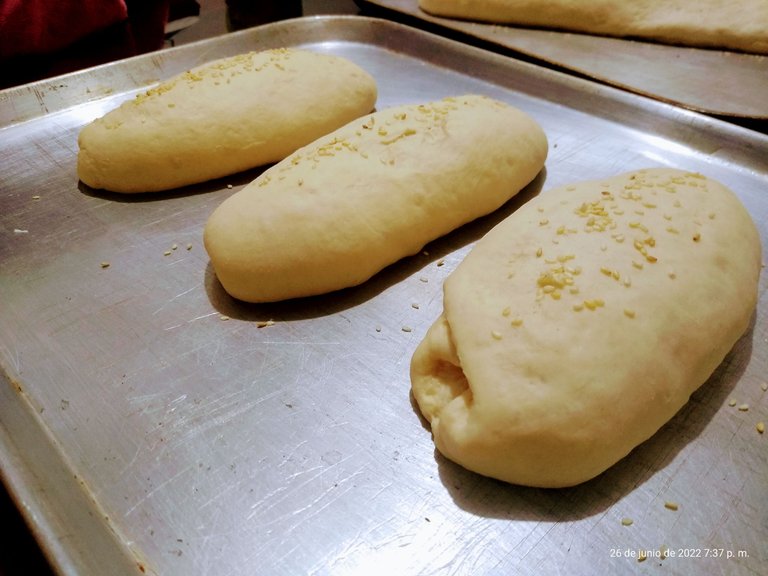 Y al doblar su tamaño los llevamos al horno a 220 grados celsius por 15 a 17 minutos aproximadamente y listo! solo nos sentamos a comer 😋
When they double in size, we put them in the oven at 220 degrees Celsius for approximately 15 to 17 minutes and that's it! we just sit down to eat 😋
---

---
Listo nuestro super suave y delicioso mini lunch
Ready our super soft and delicious mini lunch
---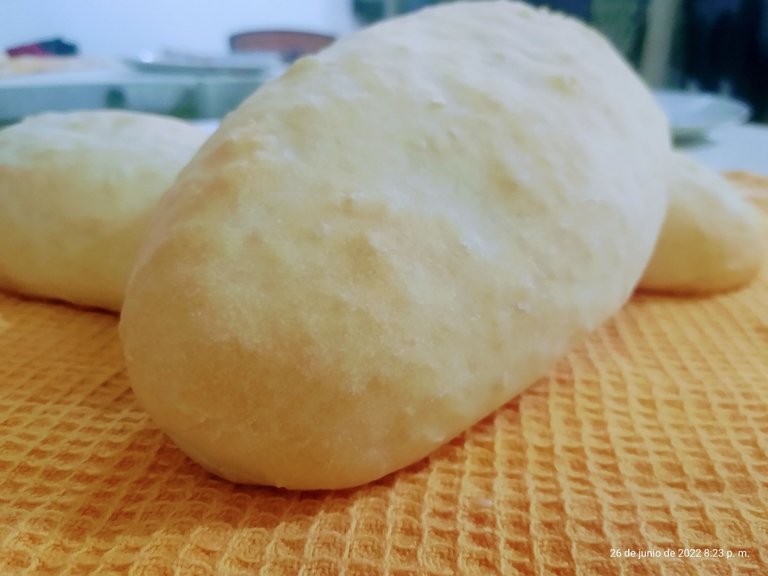 ---

---
¡Mira esta delicia! 🤤
Look at this delight! 🤤
---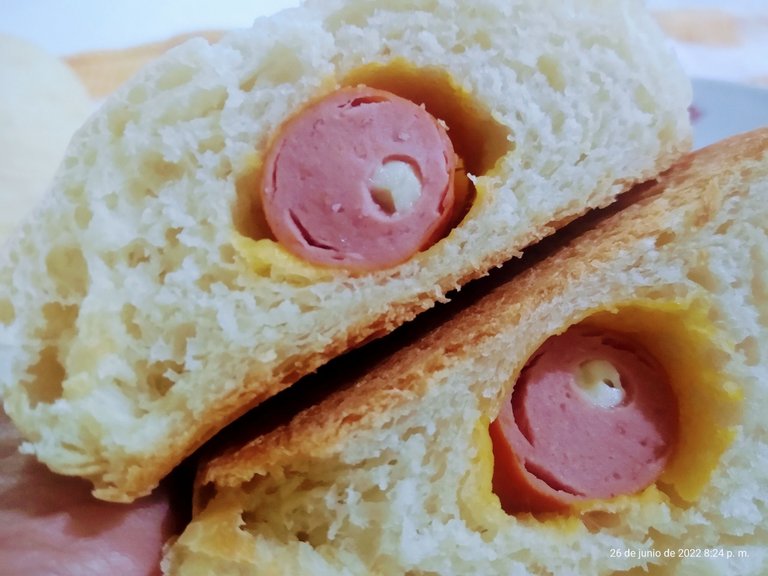 ---

---
¿Cuántos te comerás esta vez?
How many will you eat this time?
---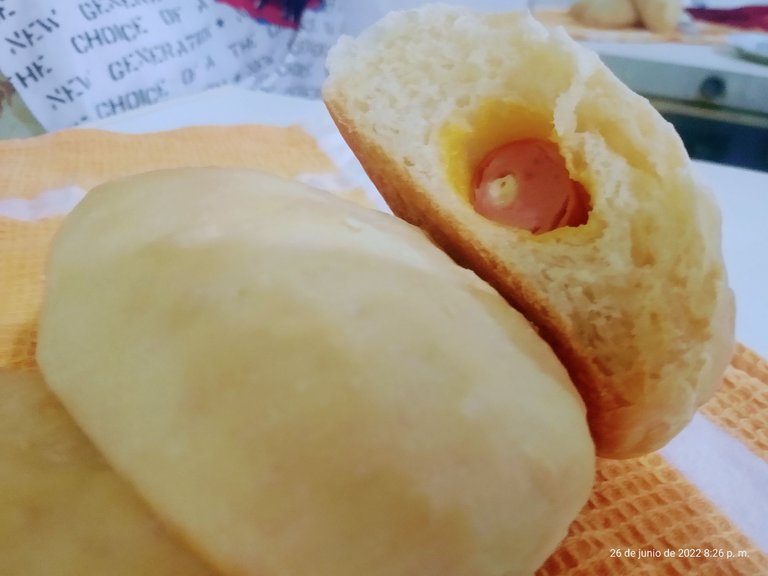 ---

---
Para mí tengo uno edición especial 😁
For me I have a special edition one 😁
---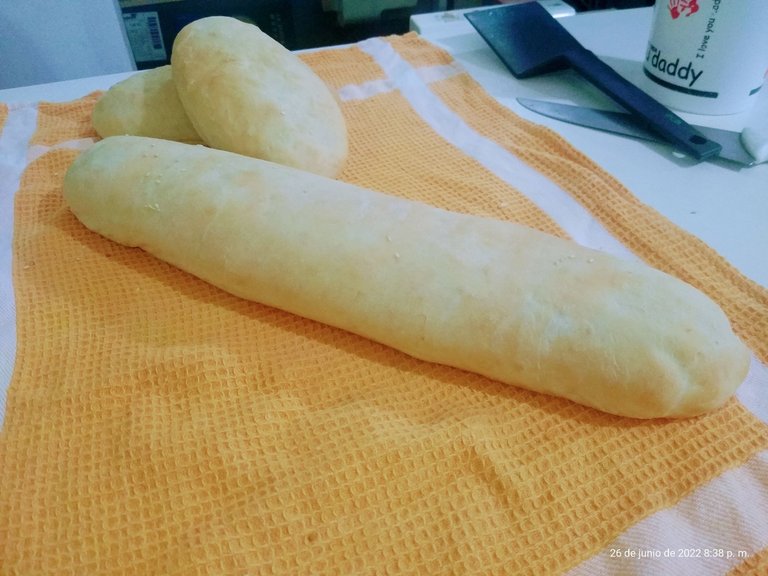 ---

---
Aquí les comparto las versiones anteriores por si no las viste 😉
Here are the previous versions in case you missed them 😉
---
Mini lunch I
---

---
Todas las imágenes y textos son de mi autoria. Los separadores y banner personal los realice con Canvas. Fotos : Cámara motoG7 power
Tradución realizada con https://www.deepl.com/es/translator
---
All images and texts are my own. The separators and personal banner were made with Canvas. Photos : motoG7 power camera
Translation made with https://www.deepl.com/es/translator
---

---

---
Muchas gracias por ser parte de los lectores de cocina creativa y sazón con amor, si te gusto la receta de hoy los invito a dejar sus comentarios o sugerencias, todos son siempre bien recibidos
Thank you very much for being part of the readers of cocina creativa y sazón con amor, if you liked today's recipe I invite you to leave your comments or suggestions, all are always welcome.
---

---
2022👨‍🍳
---
---