[ESP-ENG] Pan navideño 👉 Cocina creativa 🎄 / Christmas bread 👉 Creative Cooking 🎄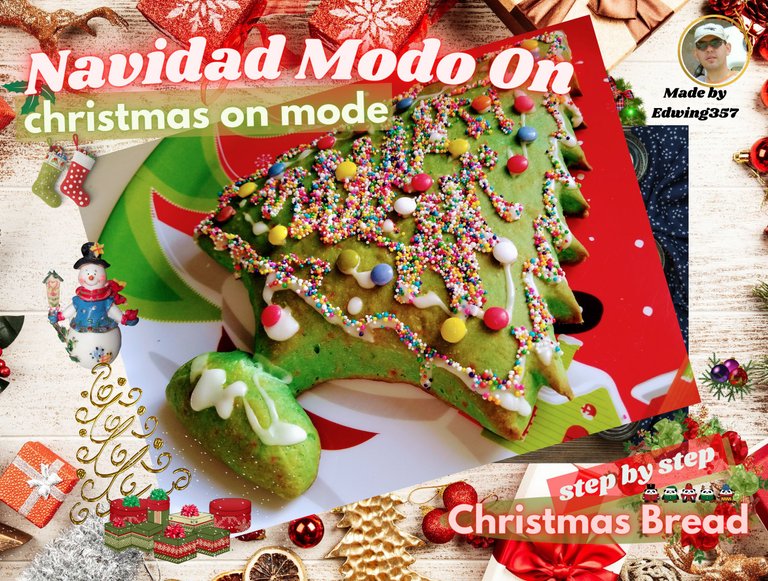 ---

---
Pan de arbolito
Christmas Tree
---
Spanish

---
Hola mis hivers, por aquí vengo de nuevo en modo navideño
---
Luego de hacer unas pruebas y comerme los resultados 🤣 les comparto algo fácil y rápido, que les encantará a sus niños
---
Es un pan en forma de arbolito, que no solo adornará sus mesas en estas navidades, también será la merienda perfecta 😋
---
Nada complicado, pocos ingredientes y lo mejor, te lo puedes comer jajaja
---
Están listos? si... entonces manos a la obra!
English

---
Hello my hivers, here I come again in Christmas mode.
---
After doing some tests and eating the results 🤣 I share with you something easy and fast, that your kids will love
---
It's a tree-shaped bread, which will not only decorate your tables this Christmas, but it will also be the perfect snack 😋
---
Nothing complicated, few ingredients and the best part, you can eat it hahaha.
---
Are you ready? yes... then let's get to work!
---

---
Qué necesitas? - What do you need?
---
Una porción de masa básica semi dulce
Colorante de reposteria (verde)
Dandies (dulces de colores)
Lluvia de colores

---
Masa Básica de hoy:
Medio kilo de harina de trigo
80 gramos de azúcar blanca
1/4 de cucharadita de anís dulce
Una pizca de canela y clavito molido
5 gramos de levadura
1/4 de taza de aceite de girasol o canola
un toque de vainilla
1/4 de cucharadita de sal fina
250 mililitros de agua
A portion of basic semi-sweet dough
Pastry coloring (green)
Dandies (colored candies)
Rain of colors

---
Today's basic dough:
Half a kilo of wheat flour
80 grams of white sugar
1/4 teaspoon sweet aniseed
A pinch of cinnamon and ground cloves
5 grams of yeast
1/4 cup of sunflower or canola oil
a touch of vanilla
1/4 teaspoon fine salt
250 milliliters of water
---

---
Cómo lo hacemos? - How do we do it?
---
Comenzamos por preparar la masa, colocando los ingredientes secos en nuestro recipiente de amasar
We begin by preparing the dough, placing the dry ingredients in our kneading bowl.
---

---
Harina, azúcar, anís, canela, clavitos y levadura, revolvemos un poco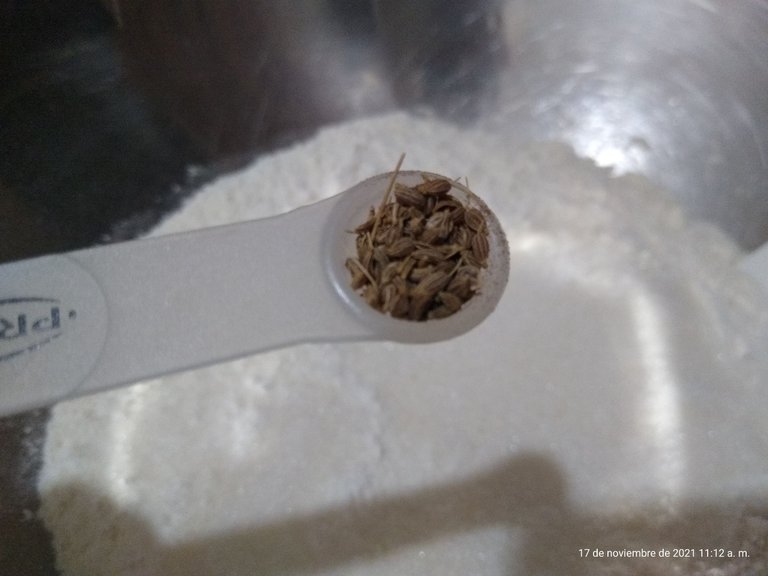 Flour, sugar, aniseed, cinnamon, cloves and yeast, stir a little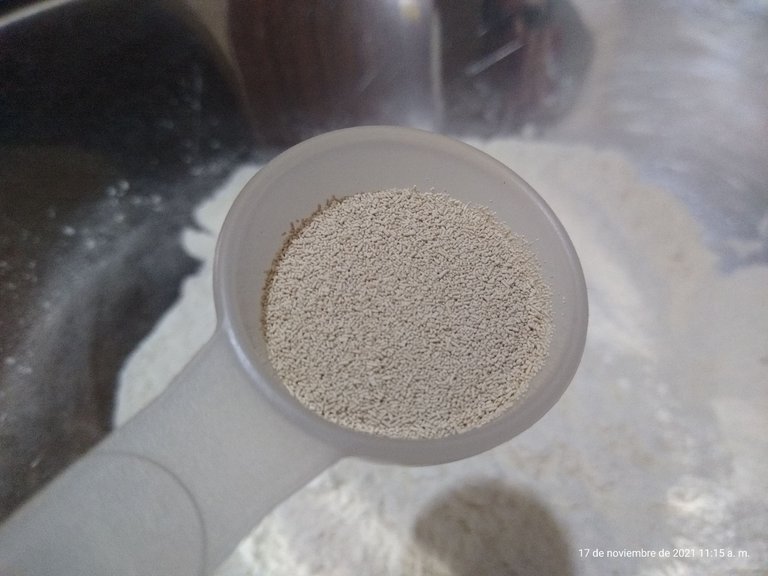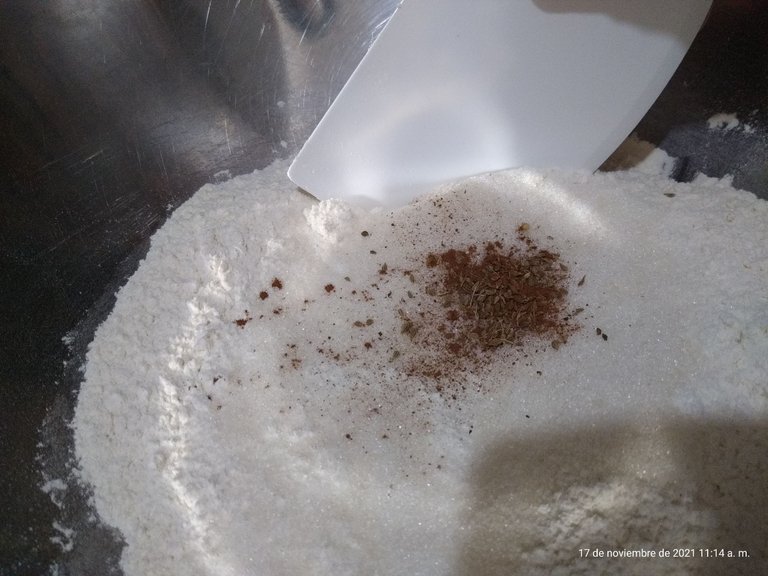 ---

---
Luego de revolver los ingredientes secos, agregamos los líquidos y la sal fina justo con ellos
After stirring the dry ingredients, add the liquids and the fine salt right along with them.
---

---
Aceite, vainilla, la sal fina, colorante y el agua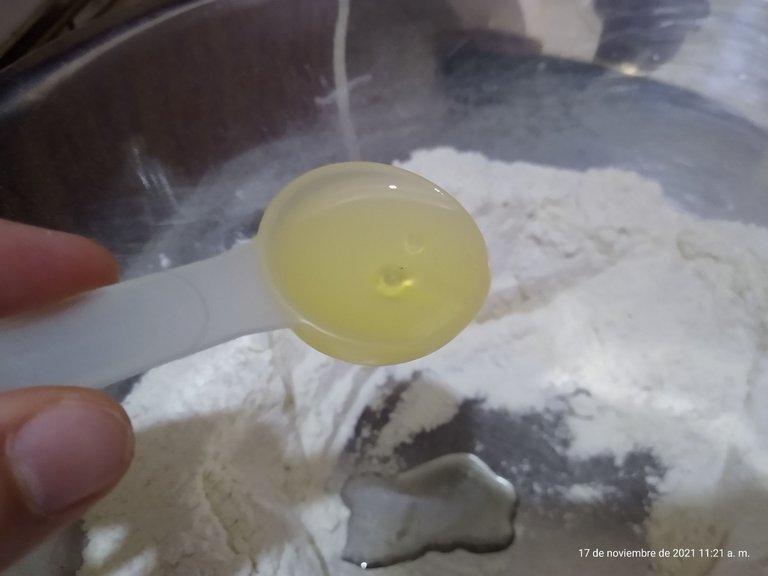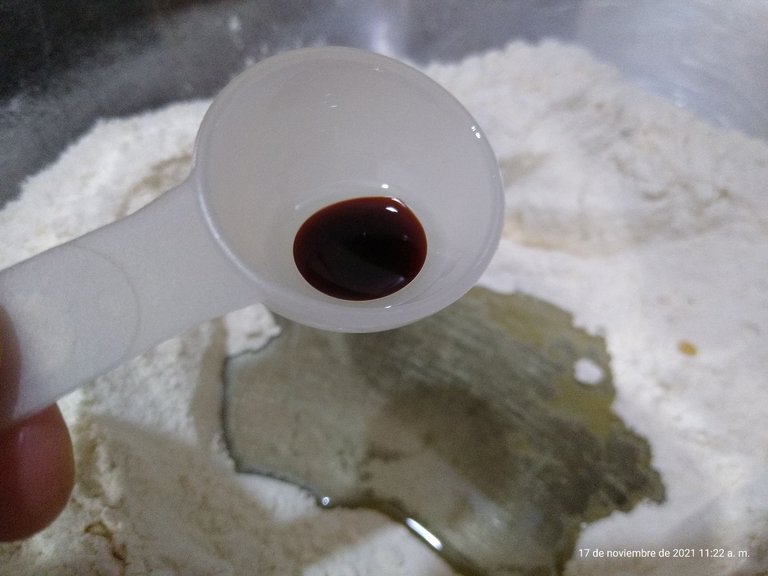 oil, vanilla, fine salt, food coloring and water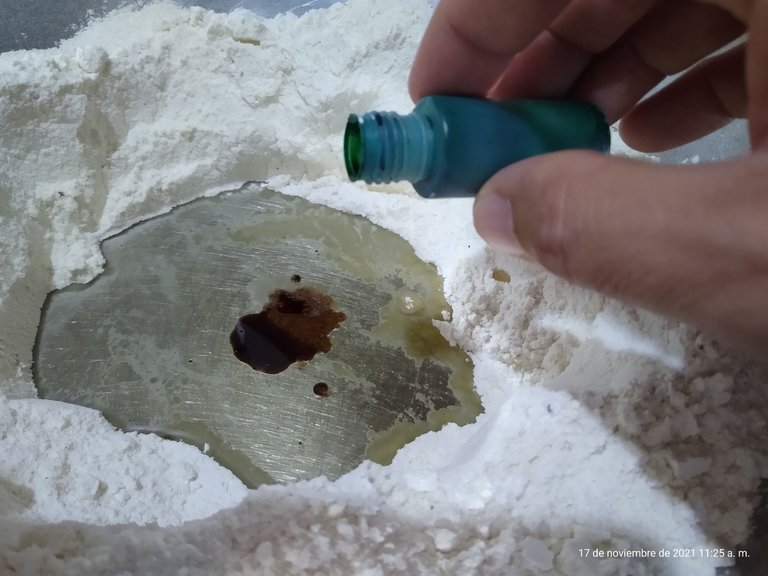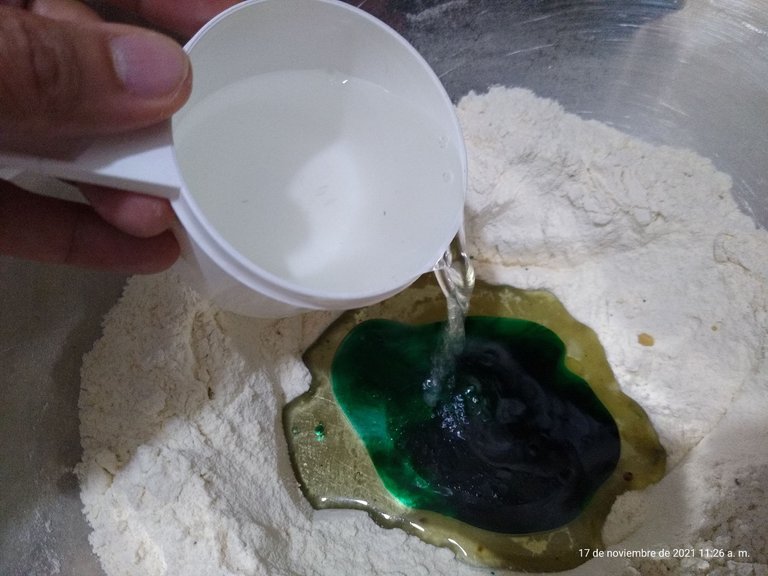 ---

---
Volcamos la harina poco a poco sobre el líquido y comenzamos a amasar
Pour the flour little by little over the liquid and start kneading.
---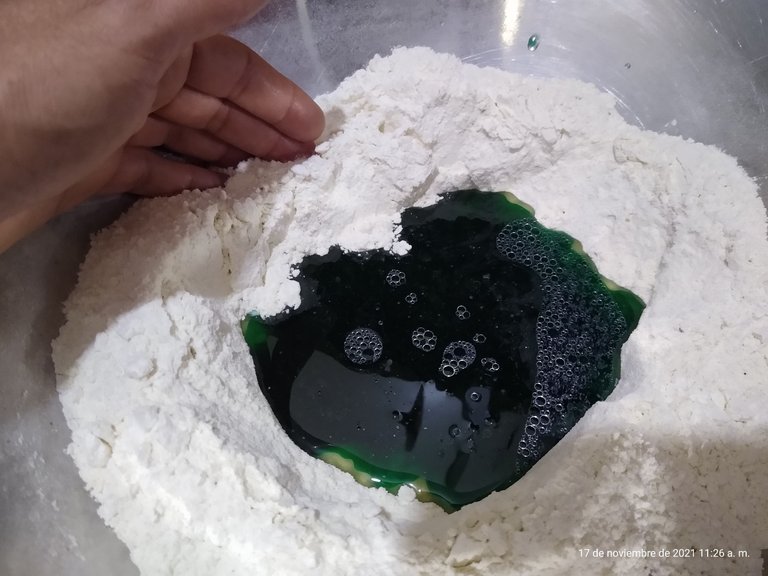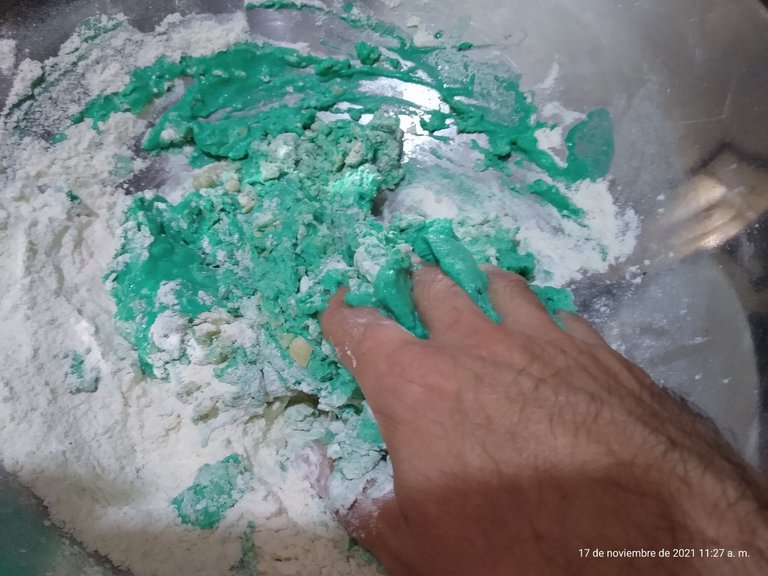 ---

---
Luego de amasar por unos 5 minutos aproximadamente, la dejamos reposar 20 minutos, tapada para que no se reseque
After kneading for approximately 5 minutes, we let it rest for 20 minutes, covered so that it does not dry out.
---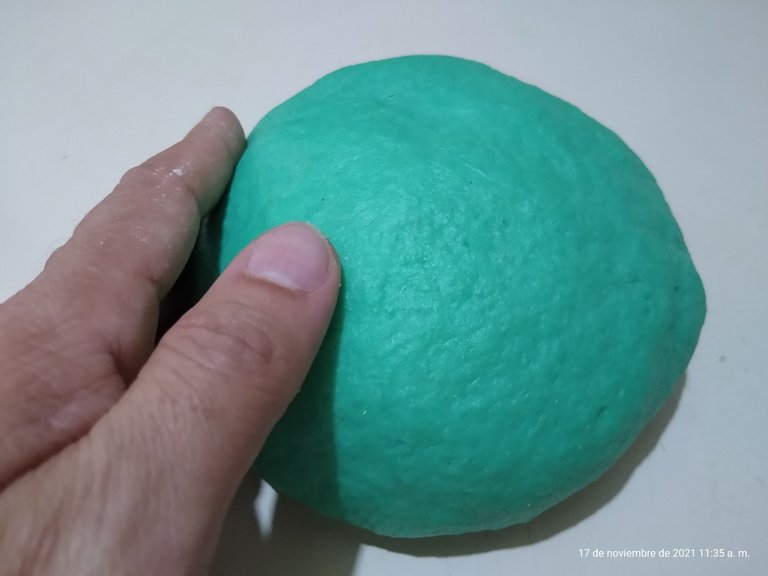 ---

---
Mientras la masa reposa elaboramos una plantilla en forma de arbolito que será nuestra guía para hacer el pan
While the dough is resting, we make a template in the shape of a tree that will be our guide to make the bread
---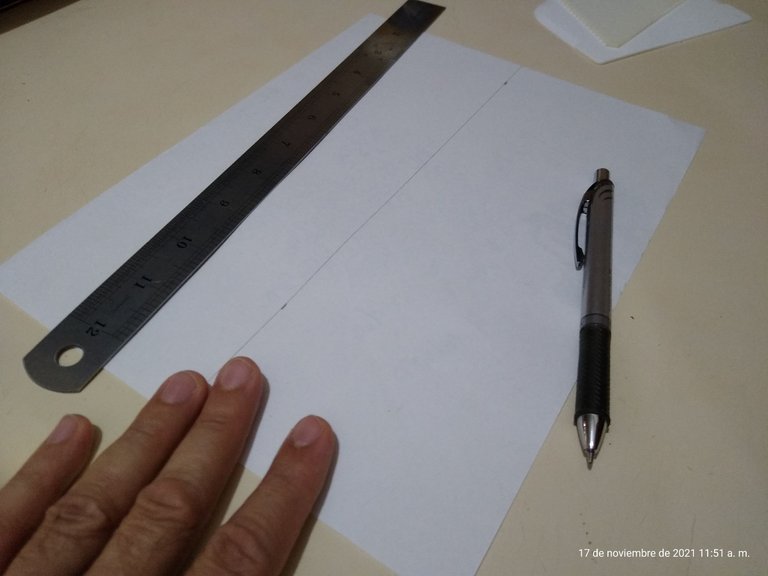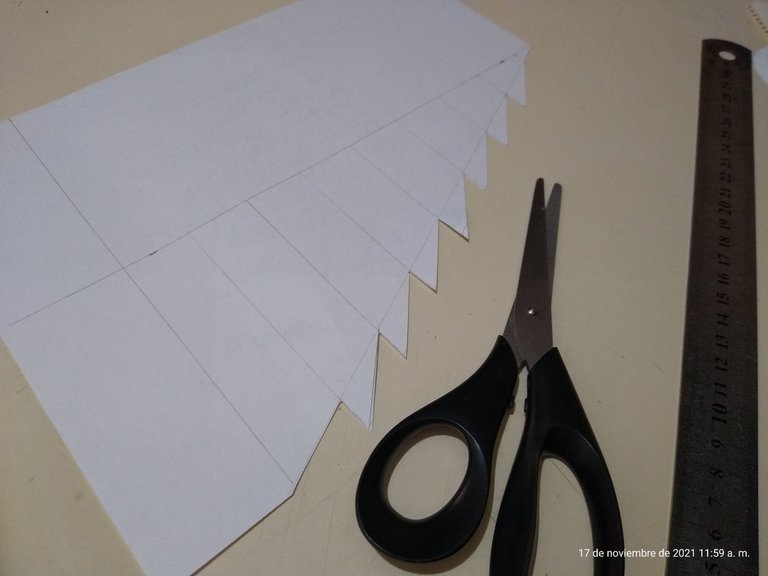 ---

---
Aplanamos la mitad de la masa sobre un papel encerado y medimos con la plantilla para comprobar si el tamaño es el adecuado
Flatten half of the dough on waxed paper and measure with the template to check if the dough is the right size.
---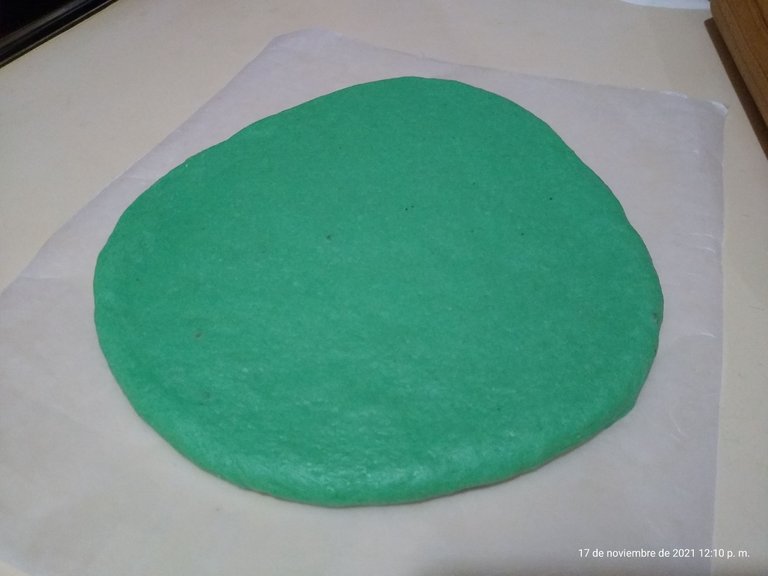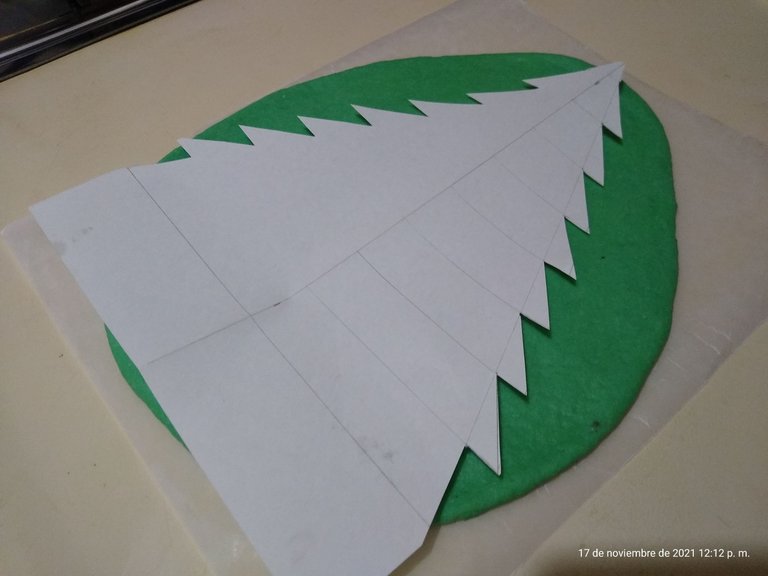 ---

---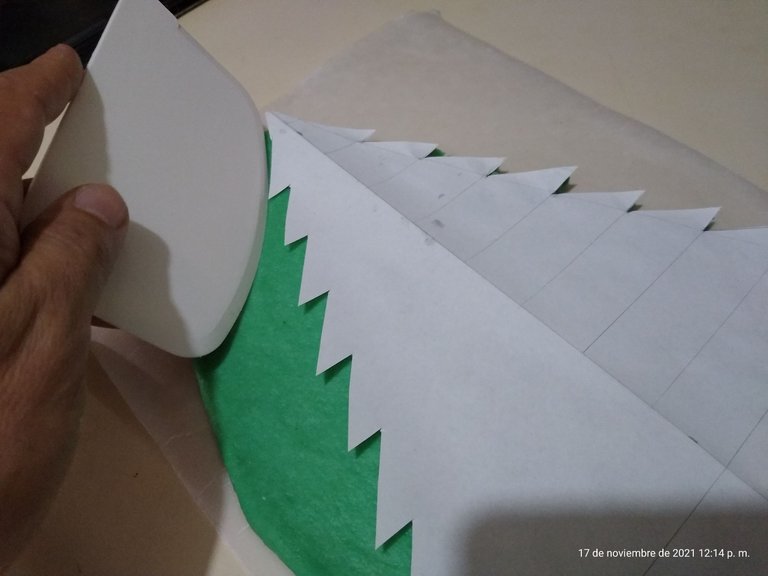 Luego simplemente cortamos la masa usando la plantilla de guía, mas fácil imposible 😁
Then we simply cut the dough using the template as a guide, it couldn't be easier 😁.
---

---
Trasladamos a una bandeja engrasada con manteca vegetal y tapamos con una hoja plástica, hasta doblar su volumen
Transfer to a greased tray with vegetable shortening and cover with a plastic sheet until doubled in volume.
---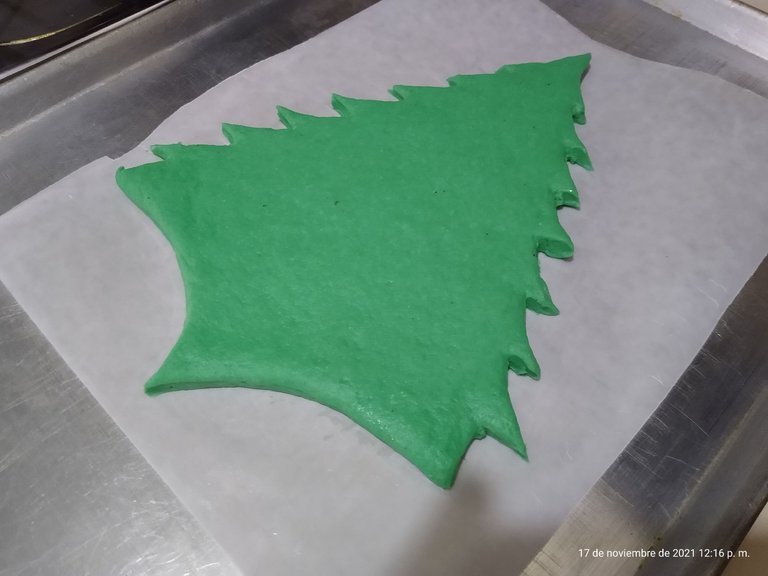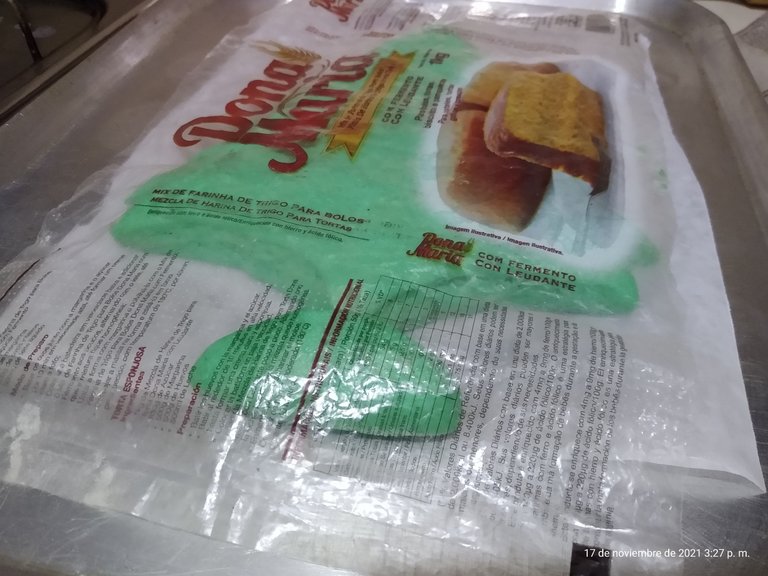 ---

---
Cumplido el tiempo de leudado, llevamos al horno a 220 grados Celsius, no más de 15 minutos, así que no descuiden su pan 😉
Once the leavening time is over, we put the bread in the oven at 220 degrees Celsius, no more than 15 minutes, so do not neglect your bread 😉.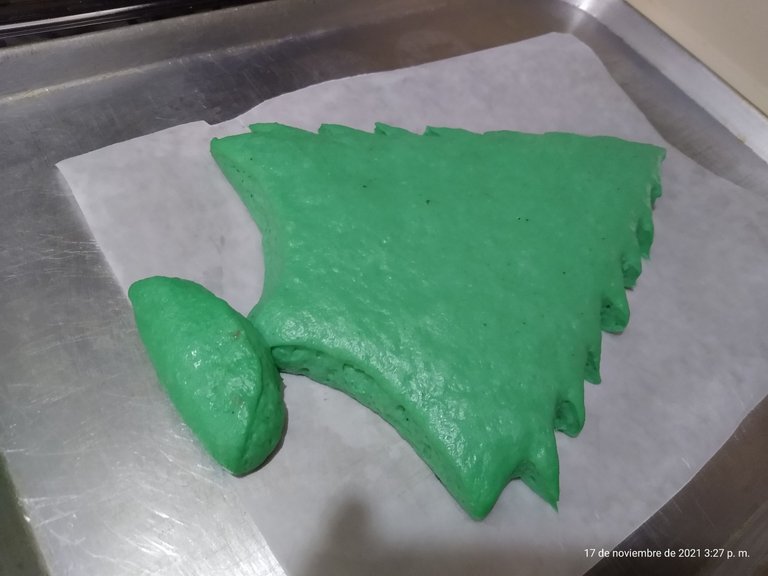 ---

---
Ya listo el pan, lo dejamos reposar y comenzamos a decorar con un poco imaginación jajaja, yo use un poco glass para bordear la figura
Once the bread is ready, let it rest and begin to decorate with a little imagination hahaha, I used a little glass to border the figure.
---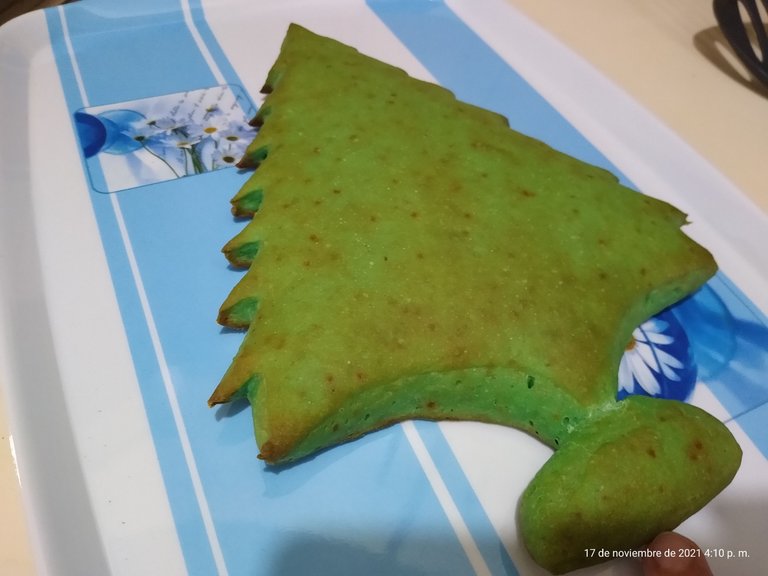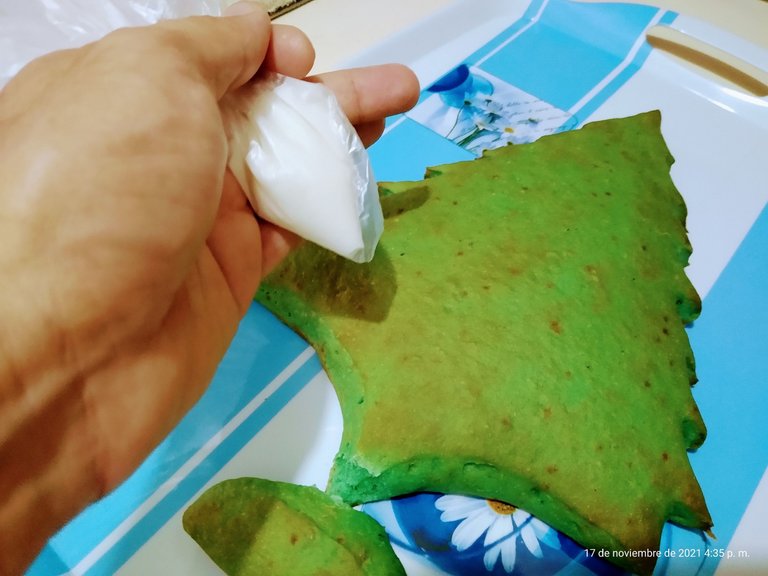 ---

---
Ahora tomas la lluvia de colores y la derramas sobre el pan antes de que seque el delinaedo de glass, para que las pepitas se peguen 😁
Now take the colored rain and pour it over the bread before the glass glaze dries, so that the nuggets stick 😁.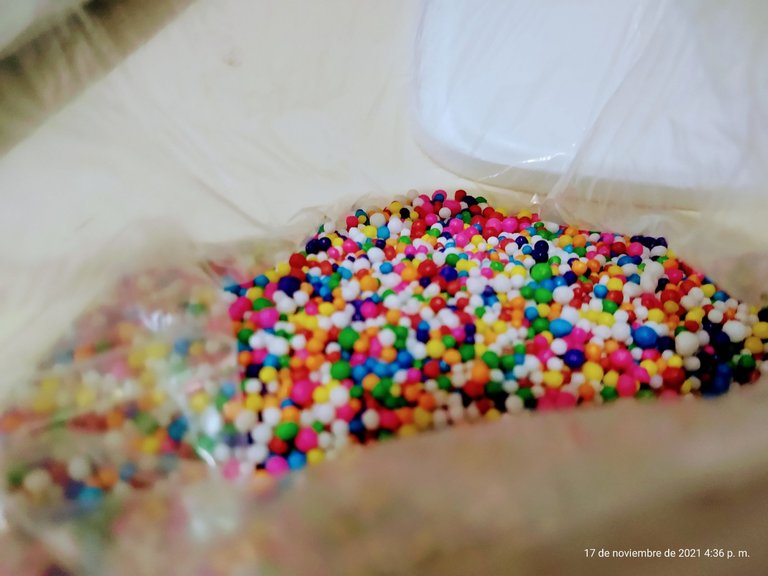 ---

---
Parece un desastre jajaja 🤣 pero no es así , deja caer de lado y solo quedarán las que se pegaron del pan, luego terminas con otros dulcitos de color y listo!
It looks like a disaster hahaha 🤣 but it's not like that , let it fall sideways and only the ones that stuck from the bread will remain, then you finish with other colored candies and that's it!
---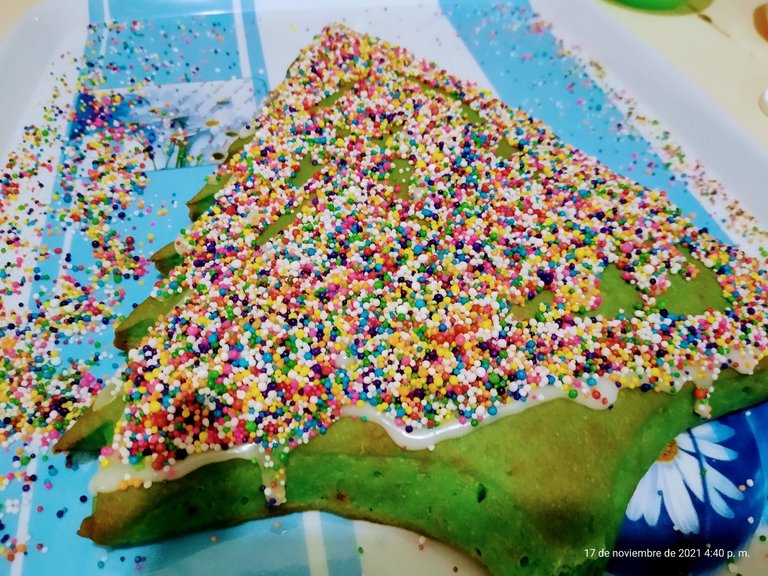 ---

---
Con pocos ingredientes, tienes tu pan para la merienda de navidad, fácil y delicioso 🎅
With just a few ingredients, you have your bread for Christmas snack, easy and delicious 🎅.
---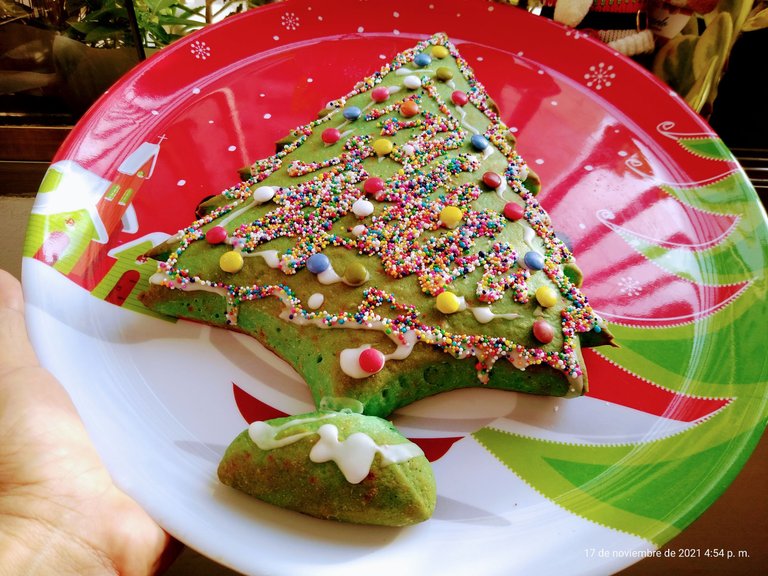 ---

---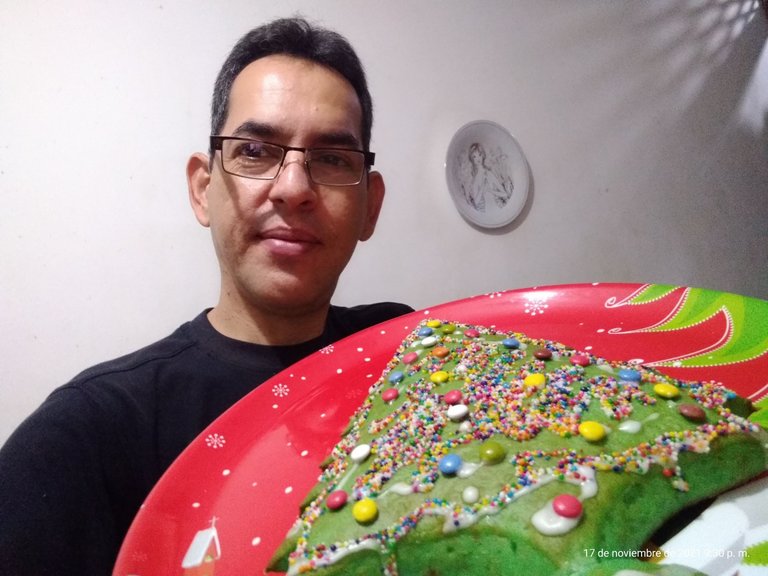 Esta masa te alcanza para elaborar dos panes de textura muy suave, que puedes comer con un vaso de leche o tu café de las tardes 😋
This dough is enough to make two loaves of bread with a very soft texture, which you can eat with a glass of milk or your afternoon coffee 😋.
---

---
Todas las imágenes y textos son de mi autoria. Los separadores y banner personal los realice con Canvas. Fotos : Cámara motoG7 power y un trípode fotográfico
Tradución realizada con https://www.deepl.com/es/translator
---
All images and texts are my own. The separators and personal banner were made with Canvas. Photos : motoG7 power camera and a photo tripod
Translation made with https://www.deepl.com/es/translator
---

---

---
Si te ha gustado la receta de hoy te invito a dejar tus comentarios, como siempre todos son bien recibidos, puedes hacerlo aquí o en cualquiera de mis otras redes, gracias por llegar hasta mi cocina 👨‍🍳
If you liked today's recipe I invite you to leave your comments, as always all are welcome, you can do it here or in any of my other networks, thanks for coming to my kitchen 👨‍🍳
---

---
🎄
---
---