Luck and Risk: The two elements you should acknowledge when it comes to financial freedom
Morgan Housel said, "If you give luck and risk their proper respect, you realize that when judging people's financial success -both your own and others' - it's never as good or bad as it seems."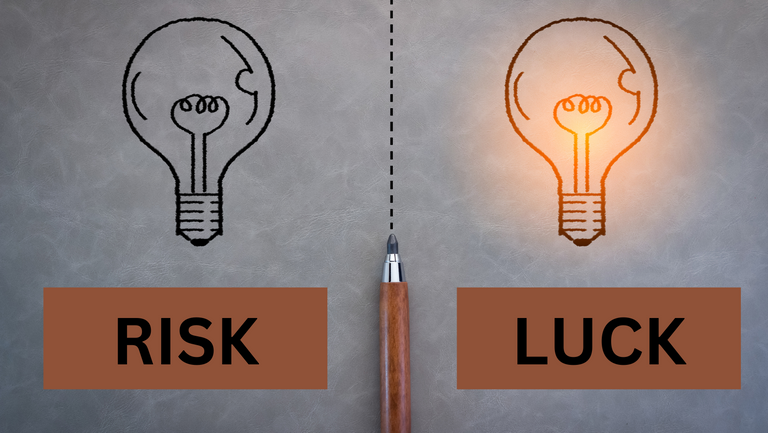 Source
Someone hit me. Yes, go on and do it. I am good at judging people when it comes to their financial enablement. I always feel people who do not do well with their money are not trying enough and most times I get upset on their behalf.
Now that we are reading chapter two of the psychology of money, judging other people's ability to make money will seize. It's already starting because yesterday when I read chapter two (luck and risk) of this book (to prepare for this review), I passed the whole day thinking of all the people I judged and got upset at for seemingly not being able to make ends meet and provide for their family even when they have the same features as the next person.
And when I did this, I felt bad because up until I read this chapter, I didn't recognize the presence of luck and risk when it comes to reaching our financial breakthrough.
In this book, the Author cited three different individuals, Bill Gates, Paul Allen, and Kent Evans. And how luck and risk had everything to do with the outcome of their financial status.
A lot of people would detest you attributing their accomplishment to luck especially when they find they had worked hard to get there. And then some people will rather be blamed for not doing proper research before investing when they lose their money in the stock market instead of attributing these scenarios with risk.
The fact that Gates and Allen both went to a school where computers were made available for them is considered luck by the author and the fact that Kent Evans even though he shared Gate's business mind and endless ambition couldn't live up to it because he died in a mountaineering accident right before he graduated high school is considered a risk.
In this chapter, you are to understand that those whose businesses fold up did try hard enough, and those who ended up investing in a bad portfolio did do their thorough research. This means everything worth pursuing whether it's starting a business or investing in the stock market has a 100% odd of succeeding or failing. Luck is what happens when it succeeds and risk is what happens when it doesn't.
When it comes to how we handle money, identifying what's is luck, skill, and risk is a big problem. But the author suggested two things you can use that will point you in the right direction.
One is understanding the terrains that you trade and another person does. This is because a lot of people are born into circumstances beyond their control so you must be careful who you look down upon. For this point, you should be well aware that not all success is due to hard work, and not all poverty is due to laziness. Luck and risk play a role here.
The next one is to learn to focus less on specific individuals/case studies that dominate the news and rather focus more on broad patterns. The reason is that it's dangerous to study a specific person because there is every tendency that their achievements had been influenced by luck or risk. A broader pattern you can focus on here is how people who have more control over their time tend to be happier than those who don't. This is a good place to start comparisons and judging (lol).
In a nutshell, the author says, ' if you acknowledge that luck brought you success then you have to believe in luck's cousin, risk, which can turn your story around just as quickly'
Aren't there solutions? There are. Understanding the role of luck and risk as you navigate your financial journey will help you make plans for the inevitable. Before making any investment decisions you should be sure you have arranged your life well enough so you don't get wiped out completely if your investment doesn't pay off. By doing this, you give yourself the chance to keep playing the financial game until the odds fall in your favor.
Finally, learn to forgive yourself and make room for understanding when judging failures since you have learned the role of luck and risk in all these things.
Posted Using LeoFinance Beta
---
---