SHARE YOUR BATTLE Weekly Challenge! MOLTEN ASH GOLEM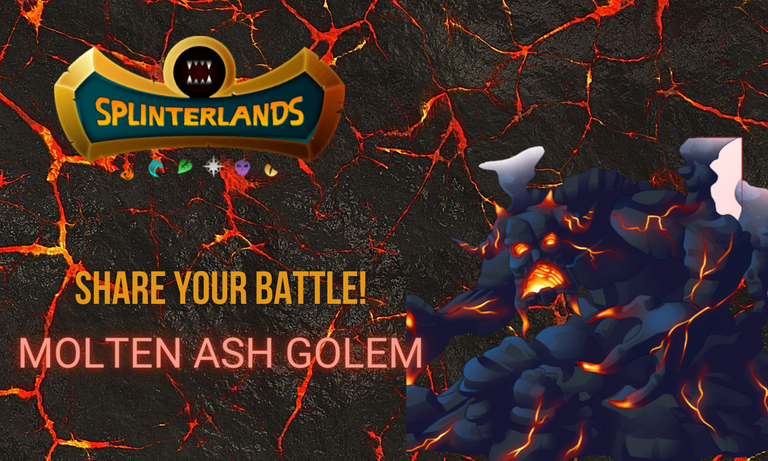 [🇺🇸 - EN - 🇧🇷 - PT/BR]
Hello, everyone! 😄
Let's talk about Molten Ash Golem 🔥 for the Share your Battle ⚔️ Weekly Challenge! I don't use this card all the time, but I consider a good one! As usual, I'll consider him at Gold league level.
---
Olá pessoal! 😄

Vamos falar sobre Golem de Cinzas Derretidas 🔥 para o Desafio Semanal Compartilhe sua Batalha ⚔️! Não uso sempre esse cartão, mas considero uma boa! Como sempre irei considerar a carta no nível Liga Ouro!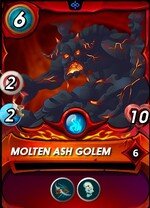 MOLTEN ASH GOLEM
Abilities: Close Range

and Weaken

Usability: this card can be used as a secondary tank or even as the main tank in rule sets like Keep your Distance. It can be a very good option to be used with Yodin + Magnor in the second position!
Best Summoners: Yodin, Conqueror Jacek and Selenia Sky.
Best positions: it is ok to put him in any position, it will depend on your strategy!
Strengths: High HP and good abilities
Weakness: no armor, low speed, but great on Reverse Speed and medium attack power.
Best rule sets: Reverse Speed, Keep your Distance and Unprotected.
Worst rule sets: Equalizer and Equal Opportunity.
---
Habilidades: Queima-Roupa e Enfraquecer.

Usabilidade: esta carta pode ser usada como tanque secundário ou até mesmo como tanque principal em conjuntos de regras como Keep your Distance. Pode ser uma opção muito boa para ser usada com Yodin + Magnor na segunda posição!

Melhores invocadores: Yodin, Conqueror Jacek e Selenia Sky.

Melhores posições: tudo bem colocar ele em qualquer posição, vai depender da sua estratégia!

Pontos fortes: Alto HP e boas habilidades

Fraquezas: sem armadura, baixa velocidade, mas ótimo em velocidade reversa e poder de ataque médio.
Melhores conjuntos de regras: velocidade reversa, mantenha distância e desprotegido.

Piores conjuntos de regras: Equalizador e Igualdade de oportunidades.
---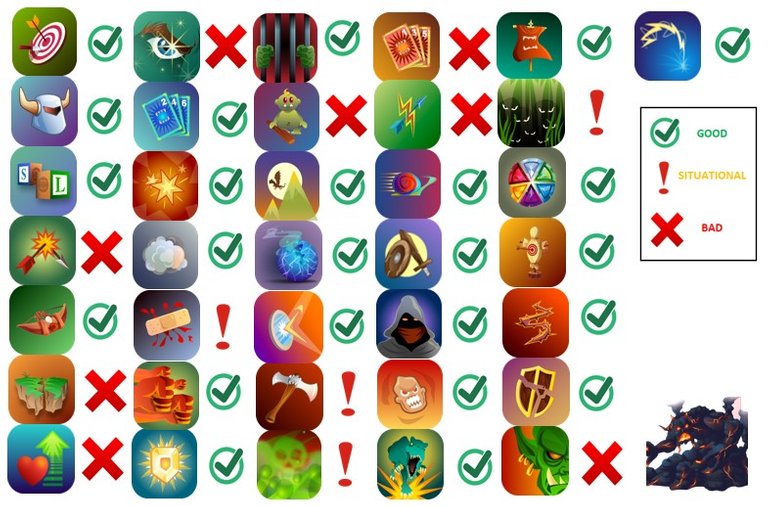 For this challenge I picked a Tournament battle in Gold league + CL + RW only. The rules were: Reverse Speed with 32 Mana Cap. Elements available: Water 🐳 and Fire 🔥.
Para este desafio, escolhi uma batalha de torneio apenas na liga Gold + CL + RW. As regras eram: Reverse Speed ​​with 32 Mana Cap. Elementos disponíveis: Água 🐳 e Fogo 🔥.

General Strategy: pick as many slow monsters as possible with only 1 or 2 points of speed. They are usually mages, for this reason I needed one or two tanks to absorb the damage before they reach the 1st position!
Septic Slime (Main Tank): this monster is perfect for this rule set, he has 1 Speed and common rarity! Therefore he will always hit first, unless the opponent also has a melee monster with 1 speed + common. Not only that, he also has Stun and Heal!
Molten Ash Golem (Secondary tank): as already mentioned, Ash is great in reverse speed with Good HP and weaken!
Magi of Chaos, Djinn Apprentice, Spirit Hoarder: the damage dealers with low speed and also Blind ability to increase the survivability of Septic Slime and Molten Ash!
Scorch Fiend: just a protection against sneak attacks!
---
Estratégia geral: escolha o máximo possível de monstros lentos com apenas 1 ou 2 pontos de velocidade. Eles geralmente são magos, por isso precisei de um ou dois tanques para absorver o dano antes de chegarem à 1ª posição!

Septic Slime (Tanque Principal): este monstro é perfeito para este conjunto de regras, ele tem 1 Velocidade e raridade comum! Portanto ele sempre vai acertar primeiro, a não ser que o oponente também tenha um monstro corpo a corpo com 1 velocidade + comum. Além disso, ele também tem Stun e Heal!

Golem de Cinza Derretida (Tanque Secundário): como já mencionado, Ash é ótimo em velocidade reversa com Bom HP e enfraquece!

Mago do Caos, Djinn Apprentice, Spirit Hoarder: os causadores de dano com baixa velocidade e também habilidade cega para aumentar a capacidade de sobrevivência de Septic Slime e Molten Ash!

Scorch Fiend: apenas uma proteção contra ataques furtivos!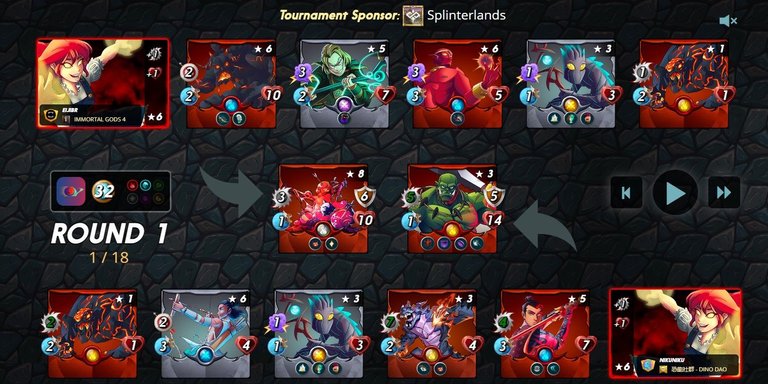 To watch the full battle, click in the images above or below!
Para assistir a batalha na íntegra clique nas imagens acima ou abaixo.

Highlights/Destaques
Septic Slime did a great job as the main tank and survived the whole battle due to his healing ability! Besides that, his stun ability was very valuable making Grum lose a round!

My opponent focused on melee monsters due to the Tarsa buff which really makes more sense, howevever, I think he spent too much mana on Grum!

My low speed was really relevant to attack first and achieve victory!
---
Septic Slime fez um ótimo trabalho como tanque principal e sobreviveu a toda a batalha devido à sua habilidade de cura! Além disso, sua habilidade de atordoamento foi muito valiosa fazendo Grum perder uma rodada!

Meu oponente focou em monstros corpo a corpo devido ao buff Tarsa que realmente faz mais sentido, porém, acho que ele gastou mana demais no Grum!

Minha baixa velocidade foi muito relevante para atacar primeiro e alcançar a vitória!
---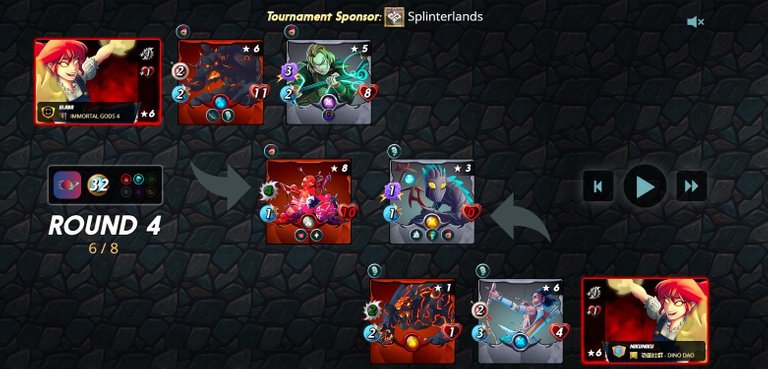 ---
Did I get lucky with the stun and miss? Yes! Splintertools indicates that I should lose more often, although I'm not sure how accurate is splintertools!
Tive sorte com os atordoamentos e esquivas? Sim! Splintertools indica que eu deveria perder com mais frequência, embora não tenha certeza de quão preciso é splintertools!
---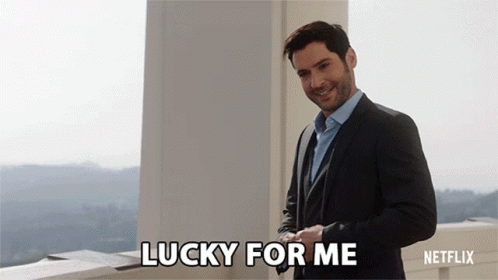 If you want to start playing Splinterlands, please use my referral link by clicking here!
Thanks for reading!
---
Se quiser começar a jogar Splinterlands, por favor use meu link de referência clicando aqui!!

Obrigado por ler!

---
---