🎆¡QUE SORPRESA!🎆. UN REENCUENTRO INESPERADO!// 🎆 WHAT A SURPRISE!🎆. AN UNEXPECTED REUNION!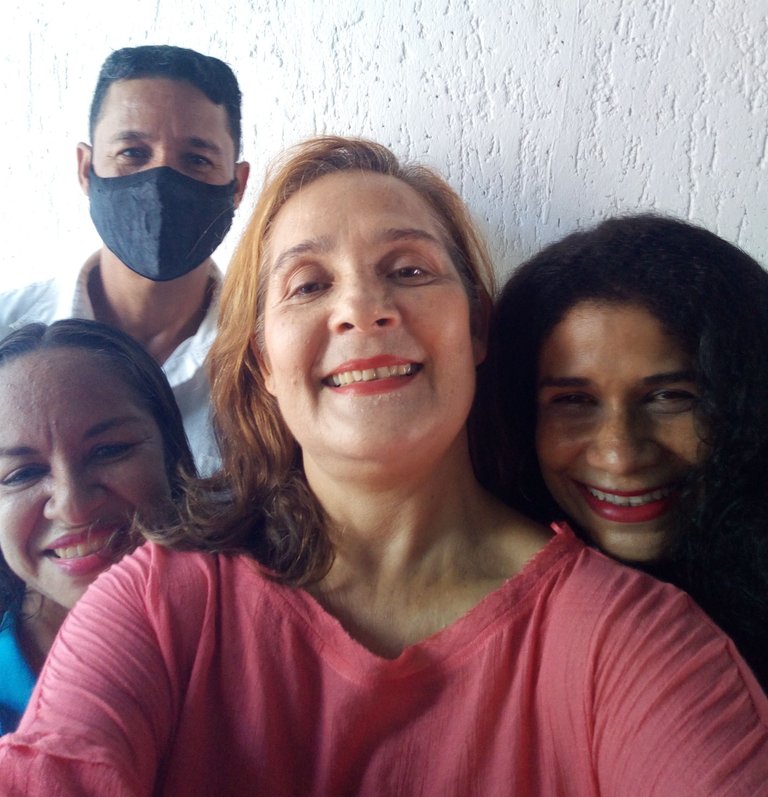 ---
💝!Hola a todos! 💝 en esta muy querida comunidad. Deseando mucha salud y bienestar para todos los que hacen vida en HIVE.
Hoy vengo a contarles lo que para mí fue un momento muy grato y feliz, al ver nuevamente a personas que tienen un significado importante y que marcaron un época inolvidable y significativa en mi vida, haciéndome revivir momentos muy gratos y de gran satisfacción personal y profesional. Gente sencilla luchadora y que con sus esfuerzos y deseos de superación han logrado alcanzar sus metas y objetivos.
Fue un día que asistiendo a un curso de Inglés aquí en mi ciudad Cumaná la Primogénita del Continente, patrocinado por una Institución Pública. Curso que se ofrece gratuitamente para cualquier persona que desee estudiar otro idioma. En este caso el Inglés. Ese día había llegado temprano y me senté en una especie de sala a esperar a mis compañeros y profesora para luego entrar al salón de clases.
Allí sentada manipulando mi teléfono celular📱aprovechando que había conexión gratuita con una red pública allí disponible. Llegaron al recinto varias personas y se sentaron en la sala. Una de las condiciones es llevar colocado el tapaboca. Requisito indispensable para poder entrar y hacer uso de las instalaciones. Estas personas que entraron también se sentaron en la sala y preguntó una de ellas: —¿Profesora?—, Y yo le respondí: —No, la profesora no ha llegado aún—.
---
Hello everyone! 💝 in this very dear community. Wishing a lot of health and wellness for all who make life in HIVE.

Today I come to tell you what for me was a very pleasant and happy moment, to see again people who have an important meaning and who marked an unforgettable and significant time in my life, making me relive very pleasant moments of great personal and professional satisfaction. Simple, hard-working people who, with their efforts and desire to excel, have managed to achieve their goals and objectives.

It was one day that I attended an English course here in my city Cumana, the first born of the continent, a course sponsored by a public institution. A course that is offered free of charge for anyone who wishes to study another language. In this case English. That day I had arrived early and sat in a kind of room to wait for my classmates and teacher and then enter the classroom.

There I sat manipulating my cell phone📱taking advantage that there was free connection with a public network available there. Several people arrived on the premises and sat in the room. One of the conditions is to wear a mouthpiece. This is a prerequisite to be able to enter and make use of the facilities. These people who entered also sat in the room and one of them asked: -Teacher?", And I answered: -No, the teacher has not arrived yet-.
---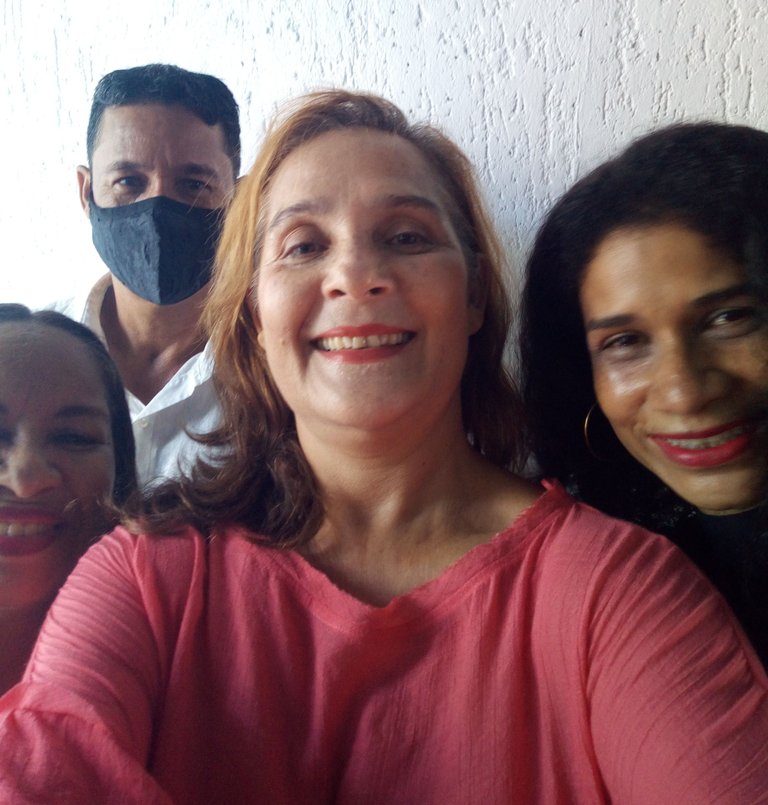 ---
Pero la joven se levantó un poco el tapabocas y me dijo: —Usted fue mi profesora, ¿no se acuerda de mí?—. La miré y wow me sentí muy emocionada por ver qué era una de mis estudiantes de la Universidad, quien hoy en día es una Licenciada que ejerce su profesión en la Institución a donde realizo mi curso de Inglés. Que alegría 😁 y satisfacción me dió que me recordara y me dijera, usted fue mi profesora en la Universidad, ¿No me recuerda?. Claro que sí la recordaba.
Logramos establecer una conversación muy amena antes de la hora de inicio. Mi sorpresa no terminó allí. En pocos minutos entran dos personas y mi gran sorpresa que eran dos estudiantes más a los que había dado clases y también asesorado en la Universidad. ¡Que grata sorpresa! y sobretodo las cosas que me dijeron y que realmente me dan ánimo para seguir adelante.
Yo estaba muy emocionada y ellos querían saber que estaba haciendo y se alegraron de verme. Les dije de mis actividades en ✴️HIVE✴️, los cuales también invité a participar e interactuar en tan espectacular plataforma. Y de las actividades que me hacen muy feliz. Así que nos tomamos unos Selfies para ponerlo en este post.
---
But the young lady lifted up her mask a little and said to me: "You were my teacher, don't you remember me? I looked at her and wow I felt very excited to see that she was one of my students from the university, who today is a graduate who practices her profession in the institution where she took my English course. What a joy 😁 and satisfaction it gave me that she remembered me and told me, you were my teacher at the university, don't you remember me?. Of course I did.

We managed to establish a very pleasant conversation before the start time. My surprise did not end there. In a few minutes two people walked in and my big surprise was that they were two more students that I had taught and also advised in college. **What a pleasant surprise! and above all the things they said to me that really encourage me to keep going.
I was very excited and they wanted to know what I was doing and were glad to see me. I told them about my ✴️HIVE✴️ activities, which I also invited them to participate and interact in such a spectacular platform. And of the activities that make me very happy. So we took some Selfies to put it in this post.
---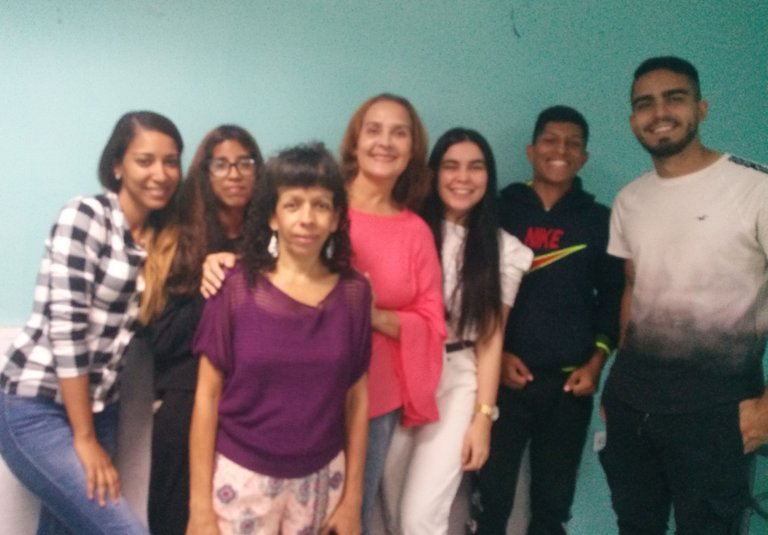 ---
En tan corto momento nos reímos 😁 les mostré los posts, les dije de mis usuarios en Twitter, Instagram, Discord y HIVE ; en verdad disfruté el 🎆reencuentro sorpresa 🎆 con aquellas personas que fueron un día mis estudiantes. Así que les dije que teníamos que grabar ese momento congelar por un rato esa felicidad que sentimos. Ellos se rieron mucho y yo también.
Gracias amigos 🤗 por ofrecerme ese instante donde pudimos concentrar todos los momentos anteriores compartidos en nuestras vidas de estudiante y de profesor.
Existen personas que en la vida se quedan grabadas en tu memoria y que han dejado una huella de hermosos sentimientos, eso es la vida.
Es por ello, que hoy me siento complacida de publicar y narrar tan emotivo momento. Es satisfactorio para una persona que por su pasión y entrega da parte de su vida y que por un momento se sienta feliz por reencontrarse con personas que expresan cariño, agradecimiento , elogios y apoyo.
---
In such a short moment we laughed 😁 I showed them the posts, I told them about my users on Twitter, Instagram, Discord and HIVE ; I really enjoyed the 🎆surprise reunion 🎆 with those people who were one day my students. So I told them that we had to record that moment to freeze for a while that happiness we felt. They laughed a lot and so did I.

Thank you friends 🤗 for offering me that instant where we could concentrate all the previous moments shared in our student and teacher lives.

There are people in life who remain engraved in your memory and who have left an imprint of beautiful feelings, that is life.

That is why today I am pleased to publish and narrate such an emotional moment. It is satisfying for a person who for his passion and dedication gives part of his life and for a moment feel happy to meet again with people who express affection, gratitude, praise and support.
---
---
Entre mis deseos y metas en la vida ha sido aprender el Inglés pero por alguna razón no he logrado cumplír esa meta. Cuando uno es madre tenemos muchas prioridades y entre ellas la educación de nuestros hijos. En mi experiencia siempre quise que mis hijos aprendieran otros idiomas. Eso lo intenté pero llegó un momento que no pude sostener económicamente esta meta. Me propuse emprender y retomar el estudio del Inglés. Confieso que me ha costado un poco. Además que las alternativas de enseñanza son limitantes por el tema de disponibilidad de recursos.
Pero hoy en día estoy haciendo lo propio para materializar esta meta de dominar bien el inglés, utilizando las herramientas y recursos disponibles, entre ellas inscribirme y participar en las clases y opciones gratuitas que se ofrecen; como lo es la Institución mencionada 🏠. Les contaré en otro post todas esas actividades que he estado realizando en el aprendizaje de tan importante Idioma.
Este encuentro tan especial y significativo y con tantas energías positivas y palabras motivadoras, mágicas que alimentan el espíritu que dan la oportunidad de disfrutar cada momento e instante de la vida. Lo disfruté me reí mucho y me sentí alagada por ese gran reencuentro sorpresa.
💖Amé ese momento💖
---
One of my desires and goals in life has been to learn English but for some reason I have not been able to achieve that goal. When you are a mother you have many priorities and among them is the education of your children. In my experience I always wanted my children to learn other languages. I tried to do so, but at a certain point I could not financially sustain this goal. I decided to undertake and resume the study of English. I confess that it has cost me a little. In addition to the fact that the teaching alternatives are limiting due to the availability of resources.

But today I am doing my own thing to materialize this goal of mastering English well, using the tools and resources available, including enrolling and participating in classes and free options that are offered, such as the Institution mentioned above 🏠. I will tell you in another post all those activities that I have been doing in the learning of such an important Language.

This meeting so special and meaningful and with so many positive energies and words of motivating, magical that feed the spirit that give the opportunity to enjoy every moment and instant of life. I enjoyed it I laughed a lot and I felt flattered by this great surprise meeting.

💖I loved that moment 💖
---
---
Compartir con compañeros de clases tan especiales, amigables y serviciales, atentos, educados y respetuosos, estudiantes ahora profesionales que dirigen la institución a dónde estudio y práctico el Inglés, es realmente de gran satisfacción y me siento como pez en el agua. Así que cuando me dirijo a mis clases de Inglés es como que una gran sonrisa se me pone en la cara 😃, sentirme bien conmigo misma y realmente feliz de asistir a tan agradable y placentero lugar.
Además haciendo amigos que también comparten sus pasiones y que son realmente geniales; y en una institución integrada por gente preparada y de gran calidad humana.
Que alegría disfrutar haciendo nuevos amigos realizando lo que me gusta y con una grata sorpresa de reencontrarme con personas que se convirtieron en mis amigos durante mi ejercicio profesional.
¿No les parece genial?
Realmente una experiencia inolvidable y digna de recordar. Gracias 😁 por compartir. 🤗Saludos a todos 🤗
---
Sharing with such special, friendly and helpful, attentive, polite and respectful classmates, students now professionals who run the institution where I study and practice English is really of great satisfaction and I feel like a fish in water. So when I head to my English classes it's like a big smile comes on my face 😃, feeling good about myself and really happy to attend such a nice and pleasant place.

Also making friends who also share your passions and who are really great; and in an institution integrated by prepared people of great human quality.
What a joy to enjoy making new friends doing what I love and with a pleasant surprise to meet again with people who became my friends during my professional practice.

Isn't it great?

Truly an unforgettable experience and worth remembering. Thank you 😁 for sharing. 🤗Greetings to all 🤗.
---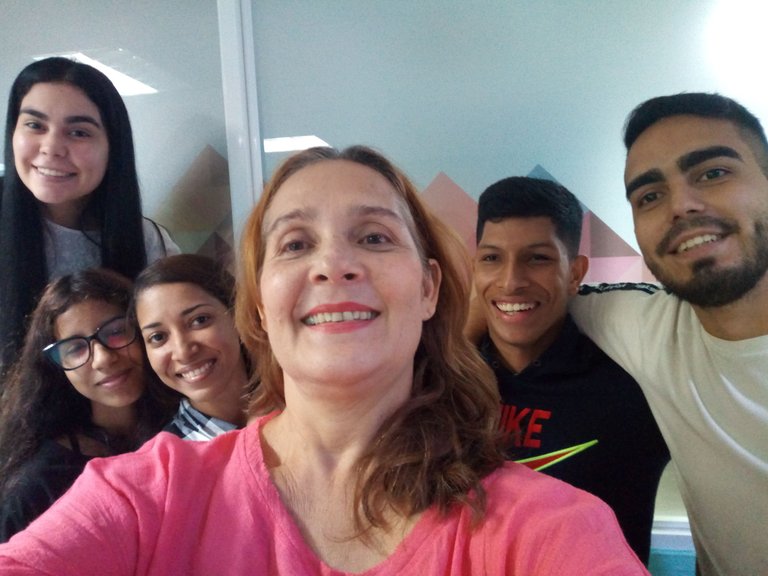 Fotografías editadas en Canva por @elamaria// Photographs edited in Canva by @elamaria
Separadores de Texto hechos en Canva por @elamaria // Text Dividers made in Canva by @elamaria
Gif hechos en editor Gif por @elamaria // Gif made in Gif editor by @elamaria //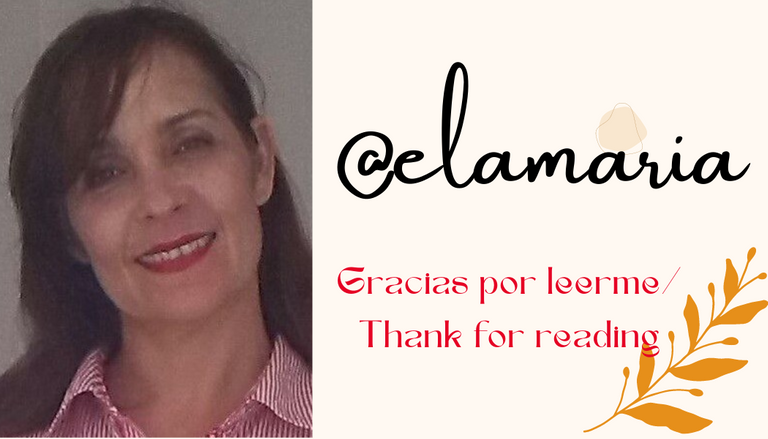 ---
---