[EN/PT] Debuff Show: The Amazing Death Splinter Features, Dhampir Stalker

Hello Splinterlands Family!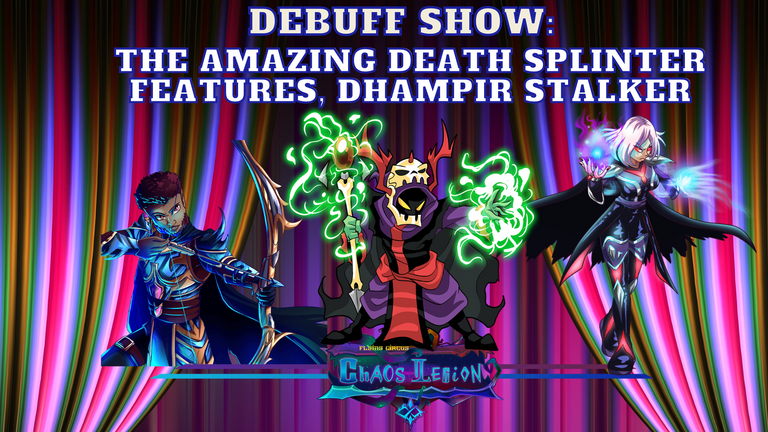 Another week has passed and we are here for another Weekly Challenge, where a specific card is analyzed and shown in battle.
These Challenges are important for Splinterlands players, who learn in depth about a card that is sometimes overlooked, as well as for the community outside of Splinterlands who can learn about the project, through this indirect Marketing.
Today the star of this post will be Dhampir Stalker a card from the Chaos Legion Edition of Death Splinter. Until recently it was a Splinter that I didn't use much because it doesn't have a high-level card to play in my current League, Gold.
But, renting cards from this Splinter today is one of my favorite Splinters, because I love debuff opponents, and the Death Splinter is strong.
Without further ado, let's introduce Dhampir Stalker in detail.

It is a rare Death Splinter card, which according to Lore is a half Vampire that are faster and stronger than normal humans, but are not well regarded among humans and vampires.
They possess the ability to track a target from blood better than a full vampire, their arrows are silent and perfectly positioned from the shadows so they always hit the target.
By their Lore it is possible to measure that they have ranged attack creatures and that they have the True Strike ability, which always hit the target.
In the image below, all the attributes of this Half Vampire are shown, at the initial level it has (3) ranged attack, (2) speed and (5) health, in addition to the True Strike ability already mentioned.
Starting at Level (5) it acquires Deathblow, which doubles the damage of this card if the opponent has only one monster on the field. At max level your attack is (5), your speed is (4) and your health is (7). All this, at the cost of (7) mana which I think is reasonable for these attributes.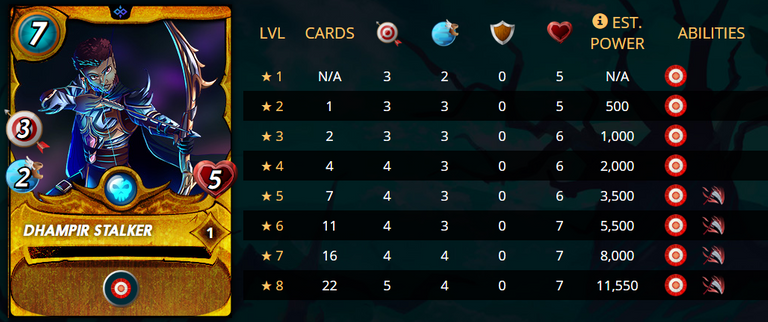 ---

True Strike
This monster's attacks cannot miss.

Deathblow
This Monster does 2x damage if the target is the only Monster left on the enemy team.
---
The main strengths and weaknesses of this card are listed below, in addition to the combat rules and Summoners that best benefit Dhampir Stalker.
Strong Points: It is a card that has high damage and in conjunction with the ability True Strike it never misses its target, despite having an average speed.
Weaknesses: It's a card with average speed and health, which like most archers needs to be protected.
Best Summoner: Most Death Splinter Summoners debuff the opponent, so we look for the Summoner Selenia Sky in Dagger Splinter that gives (+1) ranged attack. However, this summoner can only be used in Wild mode, as it is from the Alpha/Beta edition.
---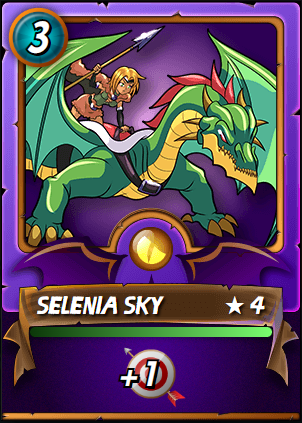 ---
Combat Rule: Below are the combat rules, which benefit or not this card.
---

---
Close Range: This combat rule allows Dhampir Stalker to attack from the first position.

Keep Your Distance: In this rule, only ranged and magic attack cards can be scaled. This is not a rule that benefits the half-vampire, it just means that it can be used in these battles.

Reverse Speed: In this battle rule, monsters with the lowest speed attack first and have the highest chance to avoid attacks. This rule is beneficial for those who have Dhampir Stalker at lower levels and harmful for those who have it at maximum levels.
---

In general, all cards are reasonably priced due to the bearish cryptocurrency market. This is good as we can have a chance to build our deck with cards at cheaper prices.
The charts below show the prices of the last 180 days of the Dhampir Stalker, respectively, in its regular (blue) and gold leaf (yellow) versions.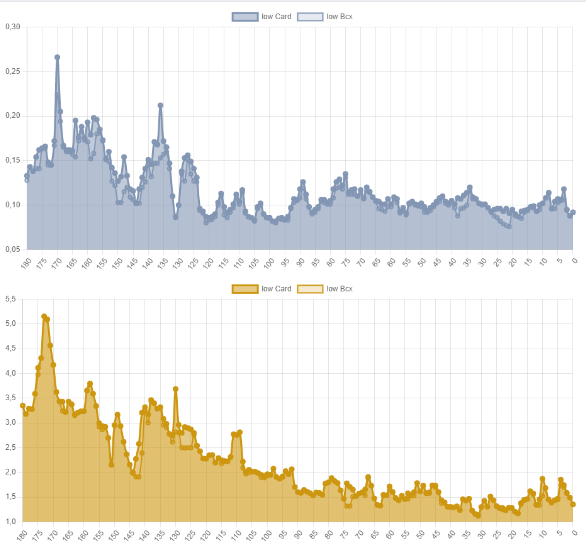 Currently, the regular version of this letter is quoted in the market for 0.09 dollars and the Foil Gold version for having less impressions for 1.35 dollars.
On a scale of 0 to 10 I give 6 to this card, because it is a card with low health and a little slow to attack the opponent, but with great damage and the True Strike ability, this half vampire can be very damaging.
---

Our battle took place in Wild mode in Gold league under the following combat rules listed below.
---

---
The battle has (60) mana cost and the combat rules are Fog of War and Close Range, and the only Splinter available is Death.
As there was no choice for Splinter and the rules favored the use of ranged attack cards. The most obvious choice is the Legendary Summoner Mimosa Nightshade, which grants (-1) ranged attack debuff and Affliction to the opponent and the Void ability to allied monsters. This is without a doubt the summoner that has the greatest synergy with Death Splinter monsters in terms of debuff.
Opponent chose Zintar Mortalis Summoner that debuffs (-1) melee attack to all opponent's monsters. The death splinter is known to have cards with debuff, plague and cut healing characteristics, this battle will be a battle with debuffs show.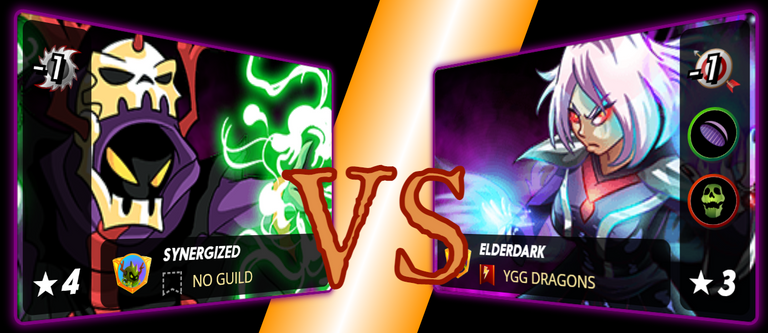 Below is our escalation strategy:
| CARD | STRATEGY |
| --- | --- |
| | In the first position, Harklaw was cast as the main tank, as it has the Shield ability and gains the Void ability from the Summoner Mimosa, that is, it is a perfect tank against all types attack and in addition he has the ability Demolarize which gives (-1) melee attack to the opponent. |
| | Next, we scaled a secondary tank, Djinn Muirat is a legendary monster that has plenty of health and armor. It has (2) magic attack in addition to the Void Armor ability which causes magic damage to hit armor first. |
| | In the third position, Phantom Soldier was cast, an epic card that has magic attack and Silence ability, which debuffs the opponent's magic attacks by (-1). |
| | In the next position, the star of this post is climbed, Dhampir Stalker, with (4) ranged attack and the True Strike and Deathblow abilities. |
| | Then Octopider is scaled a rare card also with ranged attack and the ability Demolarize that gives (-1) melee attack to the opponent. |
| | Finally, a Dark Ha'On card with melee attack and the Taunt ability was cast, to attract all the opponent's attacks to itself. |
---

After the debuffs of the Summoners and monsters on both sides, the battle begins. The scaling of our opponent's opponents also focused on debuffs.
In the first round, all the opponent's attacks are directed at Dark Ha'On, due to his Taunt ability, thus defending our entire team.
His main Tank was Lord Arianthus, which has the abilities Shield, Void and Magic Reflect, it becomes a real headache to defeat him. But our tank also has these abilities, except for Magic Reflect.
Click on the image to watch the full battle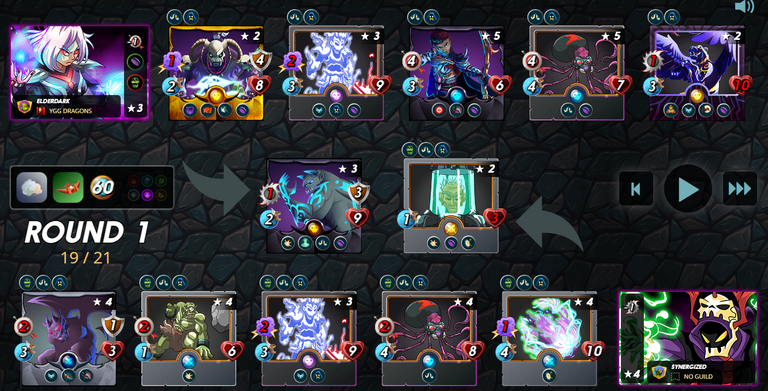 In the second round, we managed to defeat the mighty Lord Arianthus as all our attacks were being directed at him. While the opposing team was debuffed on all monsters, our team was debuffed on melee and magic attack monsters.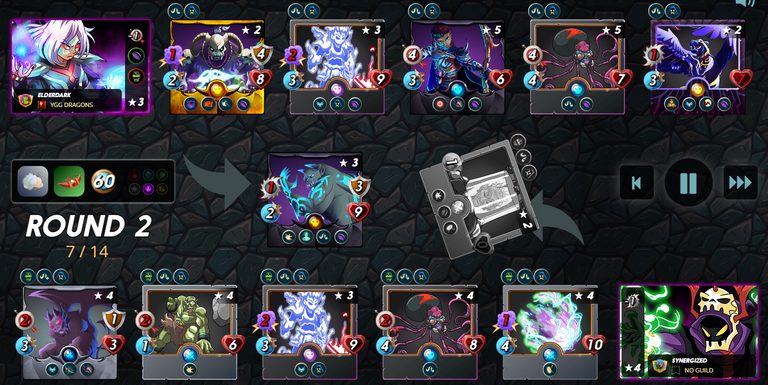 In the third round, our team defeated Prismatic Energy and Octopider while all monsters are alive.
The strategy of putting Dark Ha'On in the last position to receive most enemy attacks worked very well, due to his ability Flying even with average speed he can deflect some attacks and his ability *Scavenger * your amount of life increases, as the monsters are dying on the field.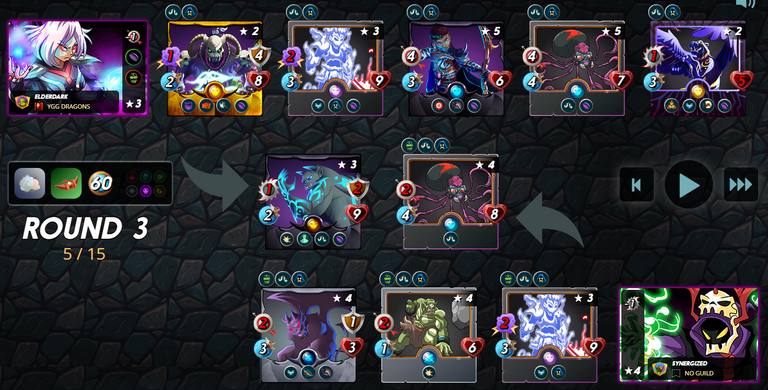 In the next rounds, you can already see that our team's victory is guaranteed, we only lost Dark Ha'On, but our team remains all on the field. Those who contributed the most to our victory were Dhampir Stalker, our star of the post, and Octopider, both with the highest attack power.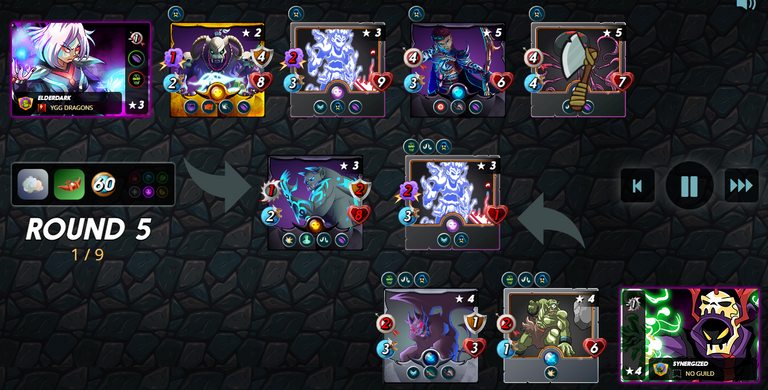 In today's battle, it was possible to observe the debuff show on both sides as it is the Death Splinter's specialty. Whoever managed to give the most debuffs won, as I love debuffs 😅. Dhampir Stalker in conjunction with Octopider, both ranged attackers, were important in this battle due to their high attack power. And what do you think of this half Vampire?
In conclusion, the Recharge skill is a double-edged sword, which if used well can make a difference in battles, but it can also be a disaster. That's why Elemental Master is one of the cards I love and hate, because at the first attack it receives it is defeated. But in this battle he was the key to victory. And what do you think of this letter?

Olá Família Splinterlands!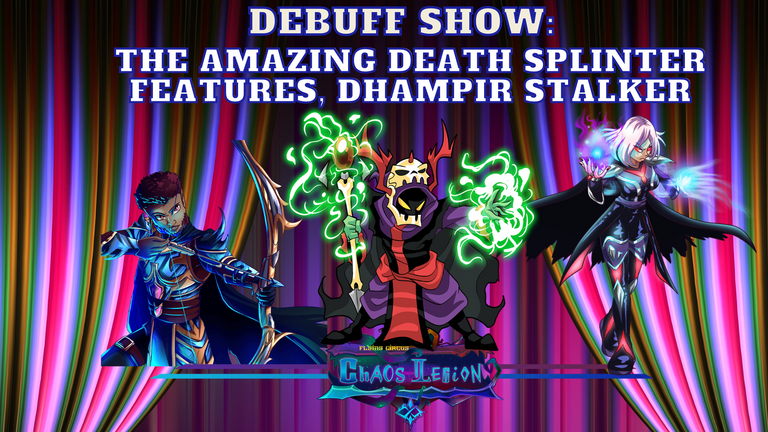 Mais uma semana se passou e estamos aqui para mais um Desafio Semanal, onde são analizado e mostrado em batalha uma carta específica.
Esses Desafios são importantes para os jogadores de Splinterlands, que aprendem de forma aprofunda sobre uma carta que as vez é desprezada, como também para a comunidade fora de Splinterlands que tem a possibilidade de conhecer o projeto, através desse Marketing indireto.
Hoje a estrela deste post será Dhampir Stalker uma carta da Edição Chaos Legion do Splinter de Morte. Até pouco tempo atrás era um Splinter que não utilizava muito, pois não tem carta de nível alto para jogar na minha atual Liga, Gold.
Mas, alugando cartas deste Splinter hoje é uma dos meus Splinter favoritos, pois amo dar debuff nos oponentes e nisso o Splinter de Morte é forte.
Sem mais delongas vamos apresentar Dhampir Stalker, de forma detalhada.

É uma carta rara do Splinter de Morte, que segundo o Lore é um meio Vampiro que são mais rápidos e mais fortes que humanos normais, porém não são bem visto entre os humanos e vampiros.
Eles possuem a habilidade de rastrear um alvo a partir do sangue melhor do que um vampiro completo, suas flechas são silenciosas e perfeitamente posicionada das sombras fazendo com que eles sempre acertem o alvo.
Pelo seu Lore é possível mensurar que eles são criatura de ataque ranged e que possuem a habilidade True Strike, que sempre acertam o alvo.
Na imagem abaixo são mostrados todos os atributos desse Meio Vampiro, no nível inicial possui (3) de ataque ranged, (2) de velocidade e (5) de saúde, além da habilidade True Strike já mencionada.
A partir do nível (5) ele adquiri Deathblow, que dobra o dano desta carta caso o oponente só tenha um monstro em campo. No nível máximo seu ataque chega a (5), sua velocidade a (4) e sua saúde a (7). Tudo isto, a custo de (7) de mana o que acho razoável para esses atributos.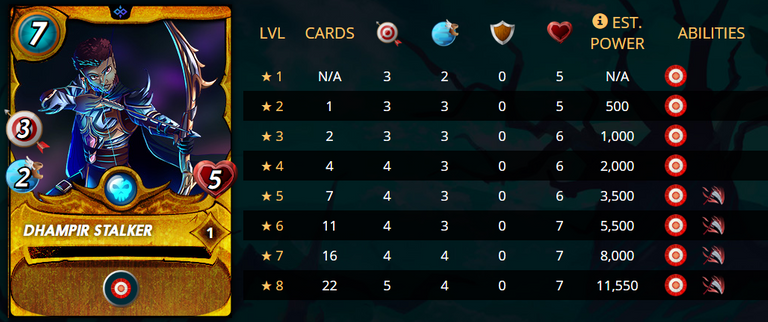 ---

True Strike
Os ataques deste monstro não podem errar.

Deathblow
Este Monstro causa 2x de dano se o alvo for o único Monstro que resta na equipe inimiga
---
Os principais pontos fortes e fracos desta carta são listados a seguir, além das regras de combates e Invocadores que melhor beneficiam Dhampir Stalker.
Pontos Fortes: É uma carta que possui alto dano e em conjunto com a habilidade True Strike nunca erra seu alvo, apesar de ter uma velocidade mediana.
Fraqueza: É uma carta com velocidade e saúde mediana, que como a maioria dos arqueiros precisa ser protegido.
Melhor Invocador: A maioria dos Invocadores do Splinter de Morte dão debuff no oponente, então buscamos no Splinter de Dagrão a Invocadora Selenia Sky que dar (+1) de ataque ranged. Porém, está invocadora só pode ser utilizada no modo Wild, pois é da edição Alpha/Beta.
---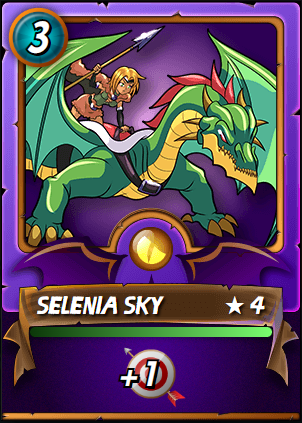 ---
Regra de Combate: A seguir são apresentadas as regras de combate, que beneficiam ou não esta carta.
---

---
Close Range: Está regra de combate permite que Dhampir Stalker ataque da primeira posição.

Keep Your Distance: Nesta regra somente poderão ser escalados cartas de ataque a distância e mágico. Está não é uma regra que beneficiam o meio vampiro só faz com que ele possa ser utilizado nessas batalhas.

Reverse Speed: Nesta regra de batalha, monstros com a menor velocidade atacam primeiro e têm a maior chance de evitar ataques. Está regra é benefica para quem possui Dhampir Stalker em níveis mais baixo e malefica para quem o tem nos níveis máximo.
---

Em geral, as cartas todas as cartas estão com preços acessíveis devido ao mercado de criptomoedas em baixa. Isto é bom, pois podemos ter a chance de construir nosso baralho com cartas a preços mais baratos.
Nos gráficos abaixo são mostrados os preços dos últimos 180 dias do Dhampir Stalker, respectivamente, em sua versão regular (azul) e em folha de ouro (amarelo).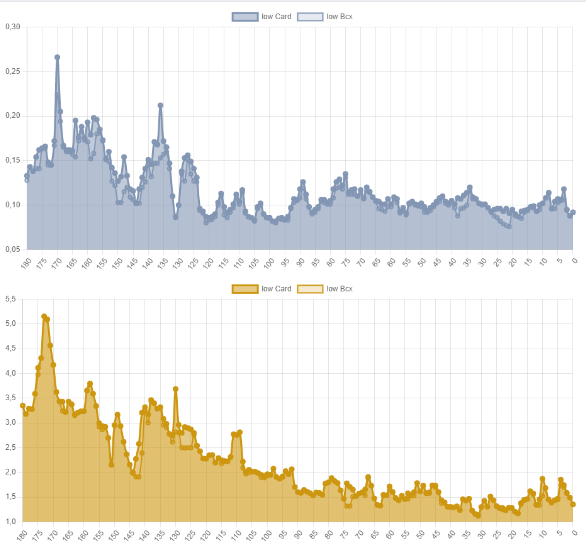 Atualmente, a versão regular desta carta está cotado no market por 0.09 dólares e a versão Foil Gold por ter menos quantidade de impressões por 1.35 dólares.
Em uma escala de 0 a 10 dou 6 para esta carta, por ser uma carta com pouca saúde e um pouco lenta para atacar o oponente, porém com grande dano e a habilidade True Strike esse meio vampiro consegue ser muito danoso.
---

Nossa batalha aconteceu no modo Wild na liga Gold sobre as seguintes regras de combates listada abaixo.
---

---
A batalha possui (60) de custo de mana e as regras de combate são Fog of War e Close Range, e o único Splinter disponível é o de Morte.
Como não havia escolha de Splinter e as regras favoreciam o uso de cartas de ataque a distância. A escolha mais obvios é a Invocadora Lendária Mimosa Nightshade, que concede (-1) de debuff de ataque ranged e Affliction ao oponente e a habilidade Void aos monstros aliados. Essa é sem dúvidas a invocadora que possui a maior sinergia com o monstros do Splinter de Morte no quesito debuff.
O oponente escolheu o Invocador Zintar Mortalis que dar debuff de (-1) de ataque melee todos os monstros do oponente. O splinter de morte é conhecido por ter cartas com caracteristicas de debuff, pragas e corta cura, esta batalha será um batalha com Show de debuffs.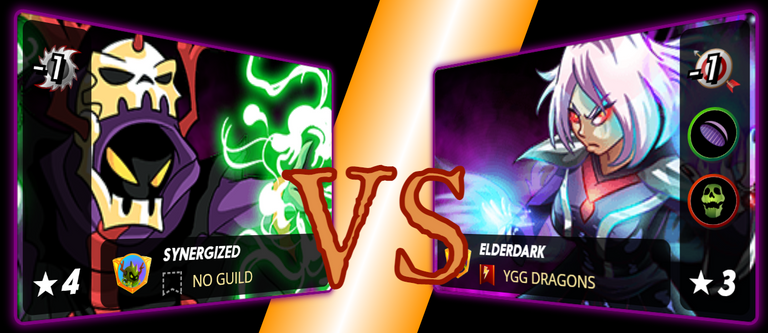 Abaixo segue nossa estratégia de escalação:
| CARD | STRATEGY |
| --- | --- |
| | Na primeira posição foi escalado Harklaw como tanque principal, pois possui a habilidade Shield e ganha a habilidade Void da Invocadora Mimosa, ou seja é um perfeito tanque contra todos os tipos de ataque e além disso ele tem a habilidade Demolarize que dar (-1) de ataque melee ao oponente. |
| | Em seguida, escalamos um tanque secundário, Djinn Muirat é um monstro lendário que tem bastante saúde e armadura. Possui (2) de ataque mágico, além da habilidade Void Armor que faz com que os danos mágico atingim primeiro a armadura. |
| | Na terceira posição, foi escalado Phantom Soldier uma carta épica que possui ataque mágico e habilidade Silente, que debuffa em (-1) os ataques mágico do oponente. |
| | Na próxima posição, a estrela deste post é escalada, Dhampir Stalker, com (4) de ataque ranged e as habilidade True Strike e Deathblow . |
| | Em seguida, Octopider é escalado uma carta rara também de ataque ranged e a habilidade Demolarize que dar (-1) de ataque melee ao oponente. |
| | Por fim, foi escalado Dark Ha'On uma carta com ataque melee e a habilidade Taunt, para atrair todos os ataques do oponente para si. |
---

Após os debuffss dos Invocadores e monstros de ambos os lados, a batalha é iniciada. A escalação dos oponentes do nosso oponente também teve o foco em debuffs.
Na primeira rodada todos os ataques do oponente são direcionados a Dark Ha'On, devido a sua habilidade Taunt, defendendo assim todo nosso time.
Seu Tanque principal foi Lord Arianthus, que possui as habilidades Shield, Void e Magic Reflect, torna-se uma verdadeira dor de cabeça derrotá-lo. Mas o nosso tanque também possui essas habilidade, exceto Magic Reflect.
Clique na imagem para assistir a batalha completa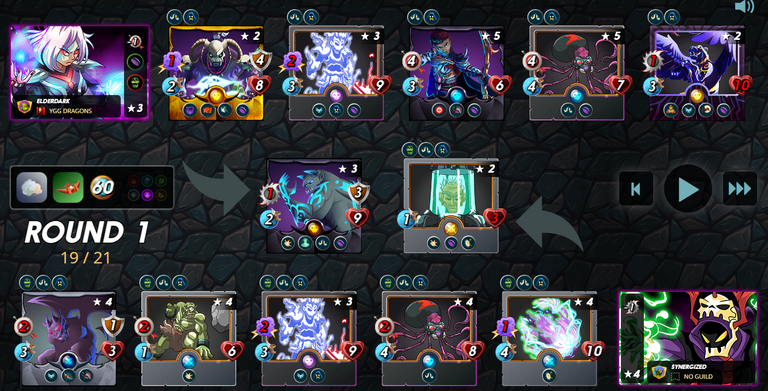 Na segunda rodada, conseguimos derrotar o poderoso Lord Arianthus, pois todos os nossos ataques estavam sendo direcionados a ele. Enquanto, o time advesário sofreu debuff em todos os monstros, nosso time sofreu debuff nos monstros de ataque melee e mágico.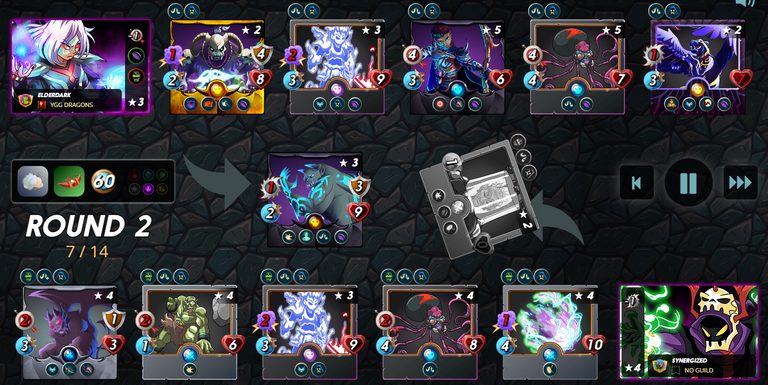 Na terceira rodada, nosso time derrotou Prismatic Energy e Octopider, enquanto todos os monstros estão vivos.
A estrategia de colocar Dark Ha'On na última possição para receber a maioria dos ataques inimigos funcionou muito bem, devido sua habilidade Flying mesmo com velocidade mediana ele consegue desviar alguns ataques e sua habilidade Scavenger vaí aumentando sua quantidade de vida, a medida que os monstros vão morrendo em campo.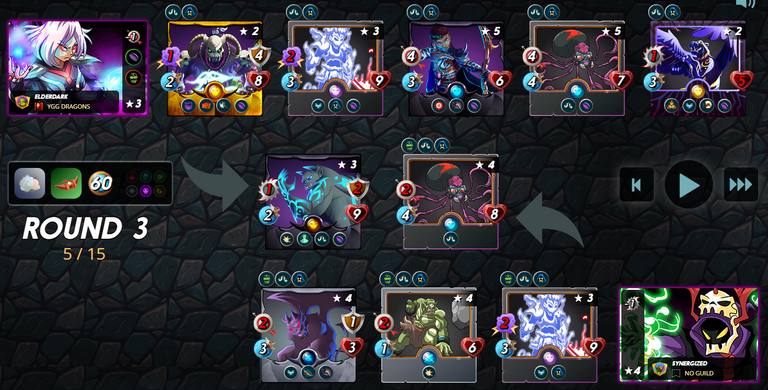 Nas próximas rodadas, já pode-se ver que a vitória do nosso time está garantida, apenas perdemos Dark Ha'On, mas nosso time permance todo em campo. Quem mais contribuiu para nossa vitária foram Dhampir Stalker, nosso estrela do post, e Octopider, ambos com o maior poder de ataque.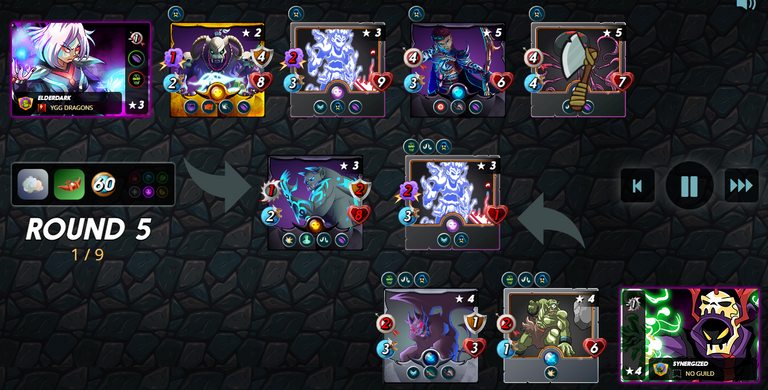 Na batalha de hoje, foi possível observar o show de debuff em ambos os lados, pois é a especialidade do Splinter de Morte. Venceu quem conseguiu dar mais debuffs, como eu amo debuffs 😅. Dhampir Stalker em conjunto com Octopider, ambos de ataque ranged, foram importantes nesta batalha devido seu alto pode de ataque. E você o que acha deste meio Vampiro?
Concluindo, a habilidade Recharge é uma espada de dois gumes, que se bem utilizada pode fazer a diferença nas batalhas, mas também pode ser um desastre. Por isso, Elemental Master é uma das cartas que amo e ódeio, pois ao primeiro ataque recebido ele é derrotado. Mas nesta batalha ele foi o ponto chave para a vitória. E você o que acha desta carta?
---

🎮 Referral Links 🎮
Splinterlands | The best #Play2earn game there is!
Rising Star | The journey of a star in the music world! START FREE!
dCrops | Opportunity simulator, the farm of Hive!
---
Imagens: @splinterlands

---
---