[EN/PT] Abilities That Depend On Abilities: Stun and Knock Out
Hello Splinterlands Community! All right with you? 😍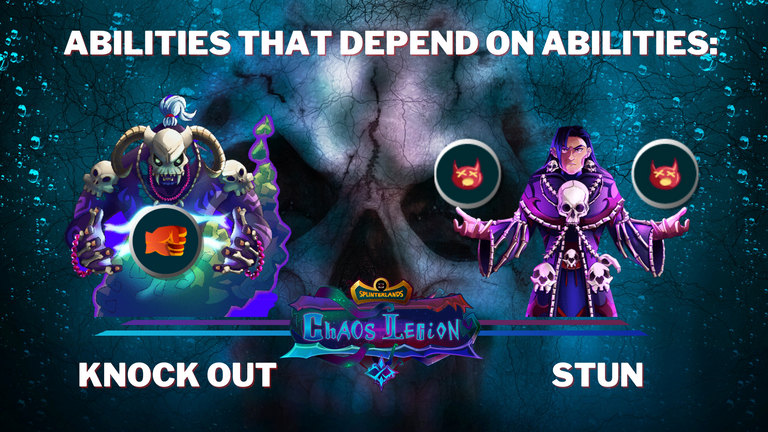 As many of you may be aware, Splinterlands is a game with abilities out of sight. And because of this, certain abilities are unknown or we don't have the opportunity to witness our battles.
A good example is abilities that depend on other abilities to activate. I think the vast majority of players, especially beginners, must have missed the Knock Out abilities

.
---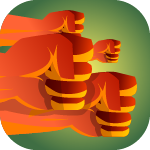 Heavy Hitters Ruleset
All monsters have the ability Knock Out, if there is a stunned monster on the field, it takes double damage.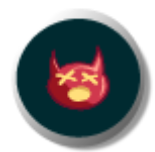 Stun Ability
When a Monster with Stun hits a target, it has a chance to stun the target causing it to skip its next turn.
---
That is, the Knock Out ability directly depends on the Stun ability to be activated. It's what I call a passive ability that depends on a trigger to work. "I don't like it depends on other factors for something to work out" 😤
The problem of this dependency is even greater in the lower leagues, bronze, and silver, as there are few cards with these abilities at these levels.
---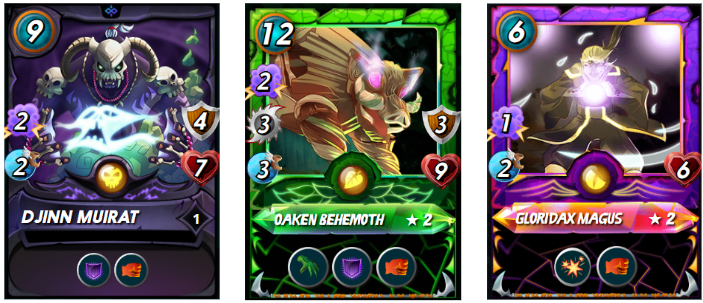 Only three legendary cards have the ability Knock Out, with Djinn Muirat being the only one that has it at level 1 (Bronze League) and the monsters Oaken Behemoth and *Gloridax Magus * acquire this ability at level 2 (Silver League).
To get around this situation there is the wonderful Heavy Hitters combat rule, which the vast majority of players in Splinterlands do not use due to lack of knowledge or lack of cards with the Stun ability in Bronze/Silver Leagues.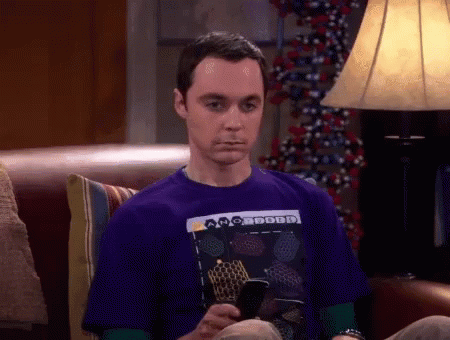 Source: Tenor
---
---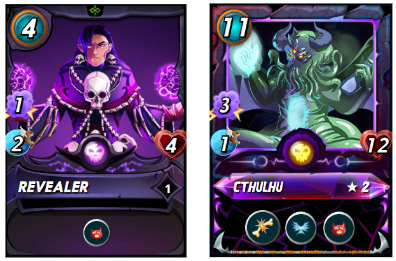 Whereas, in the Morden battle mode there are only two cards with the Stun ability. Revealer card of epic rarity that since level 1 has this ability and can be used since Bronze League; and the legendary card Cthulhu that I acquired this ability at level 2 to be used from the Silver league for this ability combo.
---
In this post we are going to analyze a battle using the cards, Revealer and Djinn Muirat, to try to get the activation of the rare ability Knock Out, MEANS LEGENDARY ABILITY. At least in the Bronze and Silver leagues. 😁

Our battle has the Holy Protection combat rule, where all monsters acquire the Divine Shield ability, and 60 mana cost. As our opponent was playing a lot with Summoner Yodin Zaku and by the combat rule the most sensible option would be him.
As predicted our opponent chose the Summoner Yodin and to try to Counter it we chose the Legendary Summoner of death Mimosa Nightshade.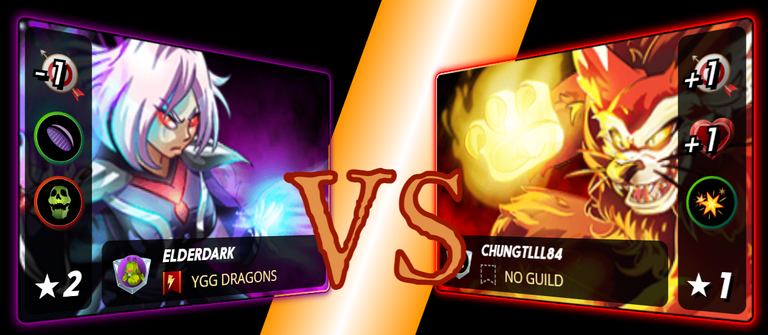 Below is our escalation strategy, to try to nullify Yodin's damage:
| CARD | STRATEGY |
| --- | --- |
| | We scaled to tank, Djinn Muirat, as he has a lot of health, armor, and the abilities Void Armor, Knock Out and Giant Killer. The last two abilities double the attack, but it depends on certain conditions. |
| | Next, we scaled the powerful Cornealus ranged attack card, with plenty of health and ability Heal was placed in the second position to hold the damage done by Blast. |
| | Next, we scaled Sand Worm has (6) melee attacks and the Sneak ability, to attack enemy units from the last position. |
| | Next, we scaled Ancient Lich of magic attack and with the ability Life Leech, which adds health proportional to the damage taken by the enemy. |
| | Revealer also of magic attack with the Stun ability, where the enemy has a chance to be stunned and lose attack during the round. |
| | Finally, we scaled ranged attack Supply Runner with the Swiftness ability, which gives (+1) speed to all allies. |
---

Our strategy was effective in countering Summoner Yodin and his team, as Mimosa Nightshade has a ranged attack debuff for enemy units at (-1). Also, Fire Splinter's archers are generally slow, and we've increased our speed with Supply Runner.
In the first round, the enemy tank, Living Lava, was knocked down and had no chance to attack due to the Stun ability that left it stunned.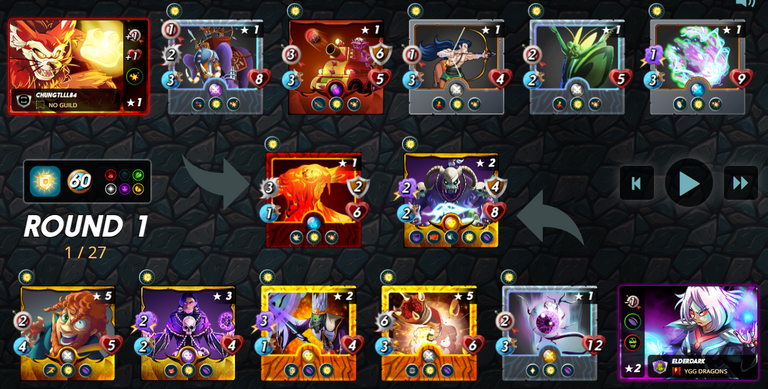 In the second round, I noticed that due to the speed of Djinn Muirat being equal to that of Revealer, in this battle the Stun + Knock Out combo would be impossible to happen because legendary cards have a preference in the attack of the than epic cards of the same speed. 😤
Unfortunately, we didn't have the opportunity to battle with the Heavy Hitters rule, which gives the Knock Out ability. That way, I would only have to worry about using a monster with the Stun ability that the rest of the team takes care of giving Knock Out.
Our tank, Djinn Muirat, handled the opponent's various attacks well, but couldn't resist. And Cornealus in the second position absorbed the damage caused by Blast always healing.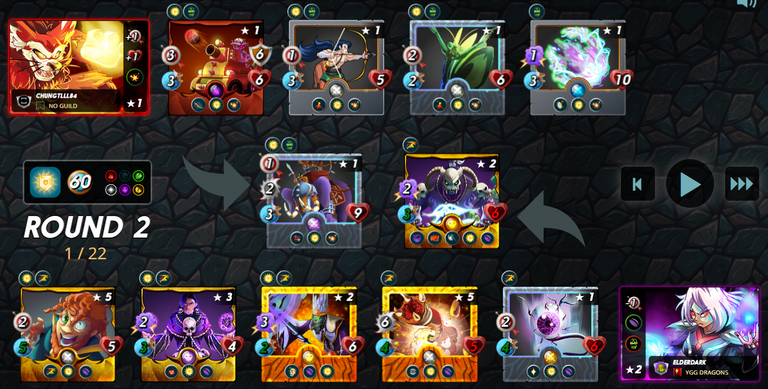 Now Cornealus has taken the first position and as it cannot attack it will only hold enemy attacks. Our opponent still has a lot of firepowers and the enemy tank Lava Launcher can attack from the first position.
In this round, Sand Worm managed to knock down the monster in the last position, Prismatric Energy, which with only (1) magic attack couldn't do any damage to our team thanks to the Void ability received by our Mimosa.
The enemy tank had no chance to attack this round thanks to the Stun ability, which left it stunned.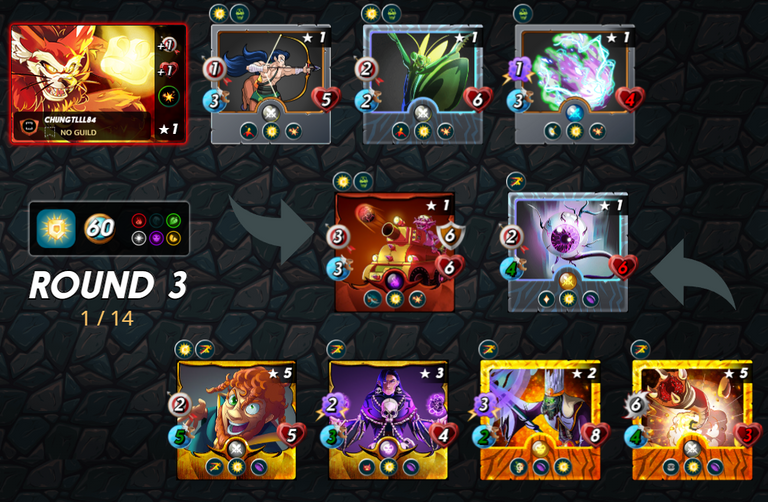 Our team was effective in countering Yodin and his team, his Lava Launcher tank is just a hair away from being knocked down and thus, there will only be two enemy-ranged units left. And to watch this full battle click on the first round battle image!
The Ancient Lich's Life Leech ability caused him to accumulate health and resist archers' attacks with Snipe.
Overall we had an excellent battle, unfortunately for this post, we didn't get an example of a battle in the Silver league where the Stun + Knock Out combo worked and we weren't lucky enough to fall under the battle rule Heavy Hitters.
In Gold League and higher, this combo can even be common, as there is a multitude of card options with these two abilities, Stun + Knock Out. In addition, it being possible to use the Heavy Hitters rule for this purpose.
But, in Bronze/Silver leagues there is the limitation presented in this post, but the Revealer card that since level 1 has the Stun ability, so climbing it in a battle with this rule can be interesting. Here's the tip!
---

🎮 Referral Links 🎮
Splinterlands | The best #Play2earn game there is!
Rising Star | The journey of a star in the music world! START FREE!
dCrops | Opportunity simulator, the farm of Hive!
---
Imagens: @splinterlands


[PT] Habilidades Que Dependem de Habilidades: Stun e Knock Out
Olá Comunidade Splinterlands! Tudo bem com Vocês? 😍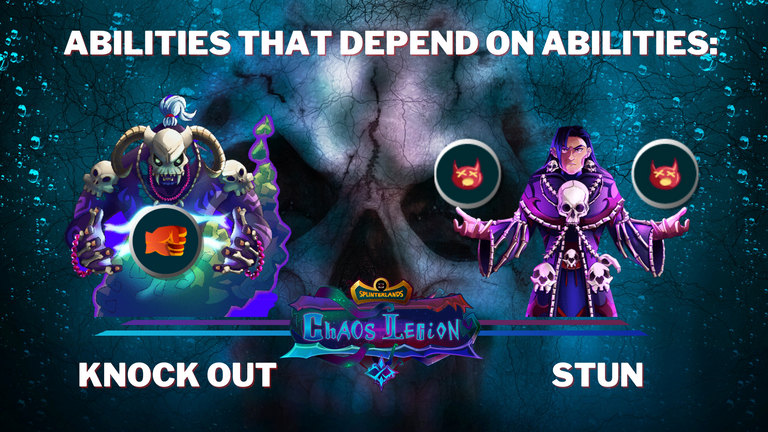 Como muito de vocês devem ter conhecimento, Splinterlands é jogo com habilidades a perde de vista. E devido a isto, existe certas habilidades que são desconhecidas ou não temos oportunidade de presenciar em nossas batalhas.
Um bom exemplo são as habilidades que dependem de outras habilidades para serem ativadas. Acho que a grande maioria dos jogadores, principalmente os iniciantes, já devem ter deixado passar batido a habilidade Knock Out

.
---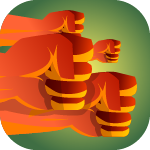 Regra de Combate Heavy Hitters
Todos os monstros têm a habilidade Knock Out, caso exista algum monstro atordoado em campo ele toma o dobro de dano.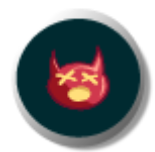 Habilidade Stun
Quando um Monstro com Stun atinge um alvo, ele tem a chance de atordoar o alvo fazendo com que ele pule seu próximo turno.
---
Ou seja, a habilidade Knock Out depende diretamente da habilidade Stun para ser ativada. É o que chamo de habilidade passiva que depende de um gatilho para poder funcionar. " Eu não gosto de depende de outros fatores para algo dar certo" 😤
O problema desta dependencia é ainda maior nas ligas mais baixas, bronze e prata, pois existem poucas cartas com essas habilidades nestes níveis.
---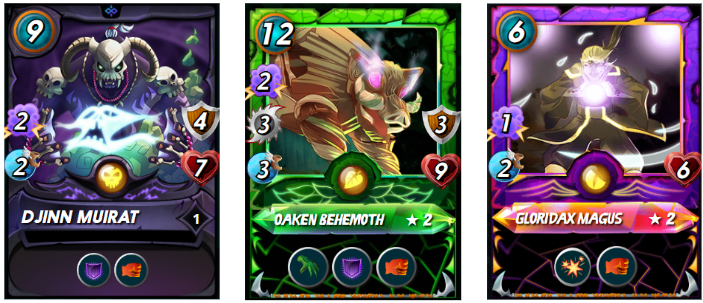 Apenas três cartas lendárias possuem a habilidade Knock Out, sendo que Djinn Muirat é o único que a possui no nível 1 (Liga Bronze) e os monstro Oaken Behemoth e Gloridax Magus adquirem esta habilidade no nível 2 (Liga Prata).
Para contornar esta situação existe a maravilhosa regra de combate Heavy Hitters, que a grande maioria dos jogadores em Splinterlands não utilizam por falta de conhecimento ou falta de cartas com a habilidade Stun nas Ligas Bronze/Prata.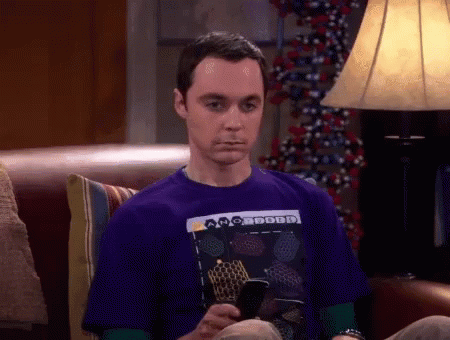 Source: Tenor
---
---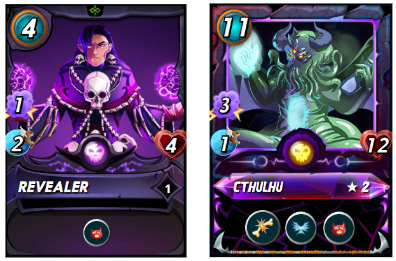 Considerando, o modo de batalha Morden existem apenas duas carta com a habilidade Stun. Revealer carta de raridade épica que desde o nível 1 possui esta habilidade e pode ser usada desde Liga Bronze; e a carta lendária Cthulhu que adquiri esta habilidade no nível 2 para ser usada a partir da liga Prata visando este combo de habilidades.
---
Neste post vamos analisar uma batalha utilizando as cartas, Revealer e Djinn Muirat, a fim de tentar obter a ativação da rara habilidade Knock Out, QUER DIZER LENDÁRIA HABILIDADE. Pelo menos nas ligas Bronze e Prata. 😁

Nossa batalha tem como regra de combate Holy Protection, onde todos os mosntros adquirem a habilidade Divine Shield, e 60 de custo de mana. Como nosso adversário estava jogando bastante com o Summoner Yodin Zaku e pela regra de combate a opção mais sensata seria ele.
Como previsto nosso adversário escolheu o Summoner Yodin e para tentar Counterar escolhemos a Summoner Lendária da morte Mimosa Nightshade.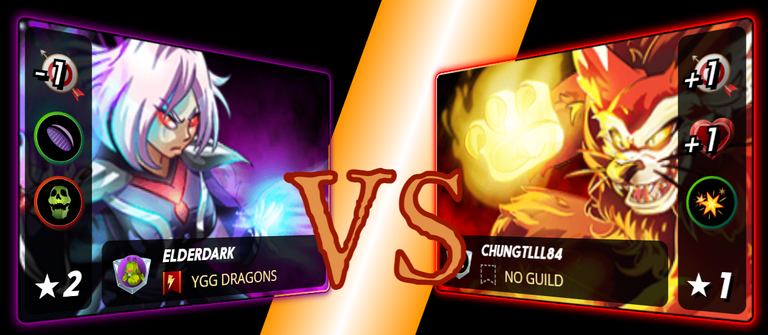 Abaixo segue nossa estratégia de escalação, com o objetivo de tentar anular os danos de Yodin:
| CARD | STRATEGY |
| --- | --- |
| | Escalamos para tanque, Djinn Muirat, pois tem bastante saúde, armadura e as habilidades Void Armor, Knock Out e Giant Killer. As duas últimas habilidades dobram o ataque, mas depende de certas condições. |
| | Em seguida, escalamos o poderoso Cornealus carta de ataque ranged, com bastante saúde e habilidade Heal foi colocada na segunda posição para segurar os danos causados por Blast. |
| | Em seguida, escalamos Sand Worm possui (6) de ataque melee e a habilidade Sneak, para atacar as unidades inimigas da última posição. |
| | Em seguida, escalamos Ancient Lich de ataque mágico e com a habilidade Life Leech, que adciona saúde proporcional ao dano recebido pelo inimigo. |
| | Revealer também de ataque mágico com a habilidade Stun, onde o inimigo tem a chance de ser atordoado e perde o ataque durante a rodada. |
| | Por fim, escalamos Supply Runner de ataque ranged com a habilidade Swiftness, que dar (+1) de velocidade a todos os aliados. |
---

Nossa estratégia foi efetiva em counterar o Summoner Yodin e seu time, pois Mimosa Nightshade possui debuff de ataque ranged para as unidades inimigas em (-1). Além disso, os arqueiros do Splinter de Fogo são lentos, no geral, e aumentamos nossa velocidade com Supply Runner.
Na primeira rodada, o tanque inimigo, Living Lava, foi derrubado e nem chance de atacar teve devido a habilidade Stun que o deixou atodoado.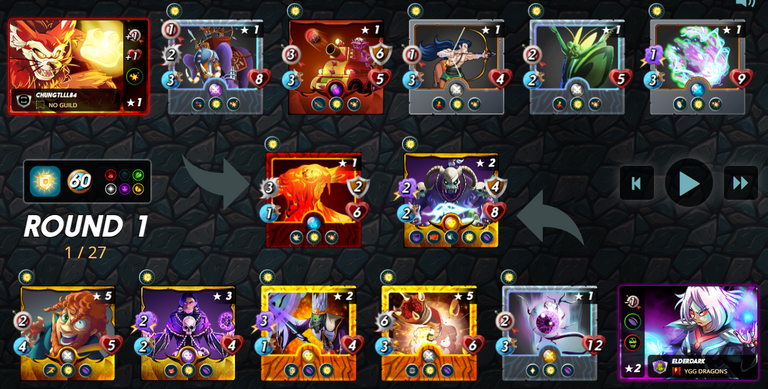 Na segunda rodada observei que devido a velocidade de Djinn Muirat ser igual a de Revealer, nesta batalha o combo Stun + Knock Out seria impossível de acontecer, pois cartas lendárias tem preferência no ataque do que cartas épicas de mesma velocidade. 😤
Infelizmente, não tivemos a oportunidade de batalhar com regra Heavy Hitters, que dar a habilidade Knock Out. Dessa forma, precisaria apenas se preocupar em usar um monstro com a habilidade Stun que o resto do time se encarrega de dar Knock Out.
Nosso tanque, Djinn Muirat, segurou bem os vários ataque do oponente, porém não resistiu. E Cornealus na segunda posição absorveu os danos causados por Blast sempre se curando.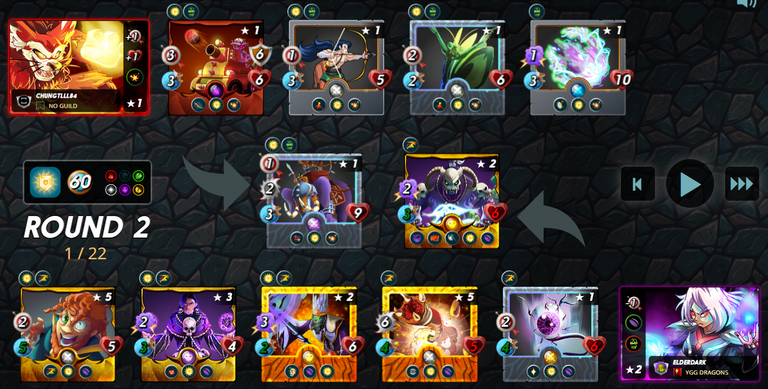 Agora Cornealus assumiu a primeira posição e como não pode atacar vai somente segurar os ataque inimigos. Nosso adversário ainda tem muito poder de fogo e o tanque inimigo Lava Launcher pode atacar da primeira posição.
Nesta rodada, Sand Worm conseguiu derrubar o monstro da última posiçaõ, Prismatric Energy, que com apenas (1) de ataque mágico não coseguiu dar nenhum dano ao nosso time graças a habilidade Void recebida pela nossa Mimosa.
O tanque inimigo não teve chance de atacar nesta rodada graças a habilidade Stun, que o deixou atordoado.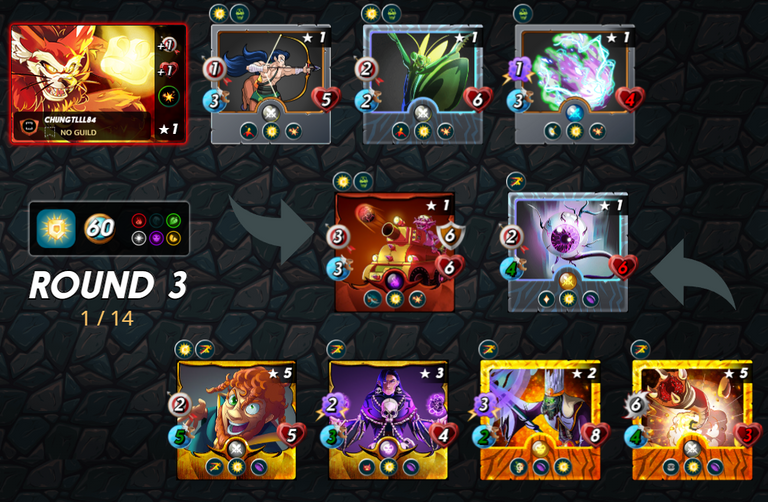 Nosso time foi efetivo em counterar o Yodin e seu time, seu tanque Lava Launcher está a um fio de ser derrubado e assim, restarão apenas duas unidades ranged inimigas. E para assistir a essa batalha completa clica na imagem de batalha da primeira rodada!
A habilidade Life Leech do Ancient Lich fez com que ele acumulasse saúde e resistisse ao ataques dos arqueiros com Snipe.
No geral, tivemos uma excelente batalha, infelizmente para o proposito deste post não conseguimos um exemplo de batalha na liga Prata que o combo Stun + Knock Out funcionasse e não tivemos a sorte de cair na regra de batalha Heavy Hitters.
Na Liga Ouro e superiores esse combo pode ser até comum, pois existe uma infinidade de opções de carta com essas duas habilidades, Stun + Knock Out. Além de ser possível utilizar a regra Heavy Hitters para tal fim.
Mas, nas ligas Bronze/Prata existe a limitação apresentada neste post, mas a carta Revealer que desde o nível 1 tem a habilidade Stun, então escalá-lo em uma batalha com essa regra pode ser interessante. Fica a dica!
---

🎮 Referral Links 🎮
Splinterlands | The best #Play2earn game there is!
Rising Star | The journey of a star in the music world! START FREE!
dCrops | Opportunity simulator, the farm of Hive!
---
Imagens: @splinterlands

---
---