Esp/Eng First first person shooter on Hive/Primer juego de disparo en primera persona en Hive
---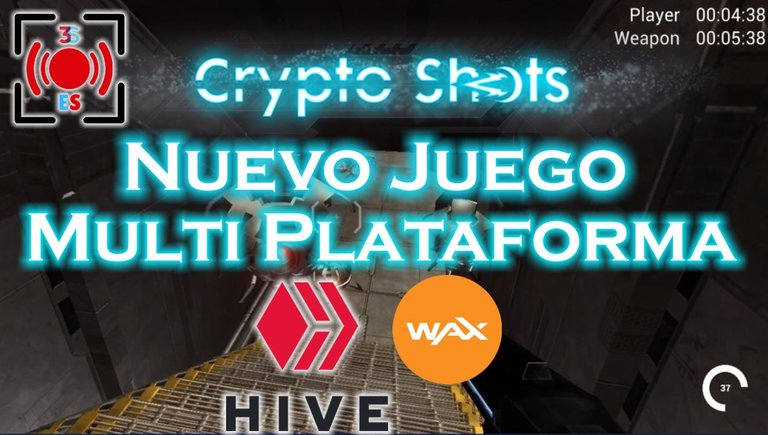 Saludos comunidad me presento poco aquí quien les habla ELFinoNFT, hoy les quiero compartir este nuevo juego que pronto estará haciendo su lanzamiento oficial en nuestra querida
#Blockchain
. Este sería el primer juego de disparos en primera persona que tendríamos en
#Hive
aquí les comparto este video en español para que lo conozcan y les cuento mi primera impresión de este juego.
Greetings community, I will introduce myself here who is speaking to you ELFinoNFT, today I want to share this new game that will soon be making its official launch in our beloved
#Blockchain
. This would be the first-person shooter game that we would have in
#Hive
here I share this video in Spanish so you can get to know it and I will tell you my first impression of this game.

Me parece realmente genial que los juegos NFT estén evolucionando realmente ya se notan un poco más elaborado este tipo de juego aunque aún está en desarrollo le toca pulir algunos aspectos. Lo compartí con otros amigos que no lo pudieron jugar, por la capacidad de su equipo y es que aunque no se ven unos gráficos demasiado alto si requiere de un buen computador almenas de 4gb de RAM y un procesado gama media-alta. Como puedes ver en el video no necesitas de ningún instalador el juego corre directamente desde el navegador. Yo probé la versión gratuita aun no tengo NFT, debo investigar un poco más sobre esto para ver cuál es la mejor opción de NFTs en el mercado para comenzar.
I think it's really great that NFT games are really evolving and you can see that this type of game is a little more elaborate, although it is still in development and it has to polish some aspects. I shared it with other friends who couldn't play it, because of the capacity of their equipment, and although the graphics aren't too high, it does require a good computer with 4GB of RAM and a mid-high-end processor. As you can see in the video you do not need any installer, the game runs directly from the browser. I tried the free version I still don't have NFTs, I need to do some more research on this to see what is the best NFT option on the market to start with.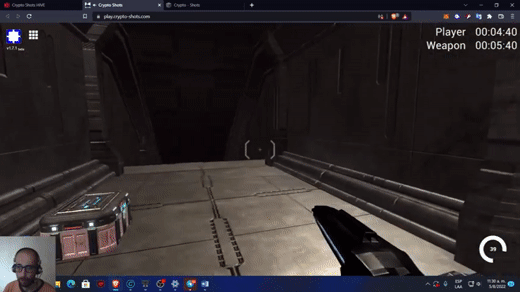 No sé si notan en el video pero desde mi punto de vista, el personaje que tenemos en el juego se mueve como muy rápido, sé que el ambiente del juego es como a bordo de una nave espacial quizás por eso los saltos y el movimiento no se ven tan naturales esto a mí me da una leve sensación de mareo cuando lo estoy jugando, quizás los creadores puedan corregir un poco eso más adelante, o también puede ser cuestión de adaptarse como jugador pero es algo que espero tomen en consideración.
I don't know if you notice in the video but from my point of view, the character that we have in the game moves very fast, I know that the environment of the game is like on board a spaceship, maybe that's why the jumps and movement don't they look so natural this gives me a slight feeling of dizziness when I'm playing it, maybe the creators can correct that a bit later, or it could also be a matter of adapting as a player but it's something I hope you take into consideration.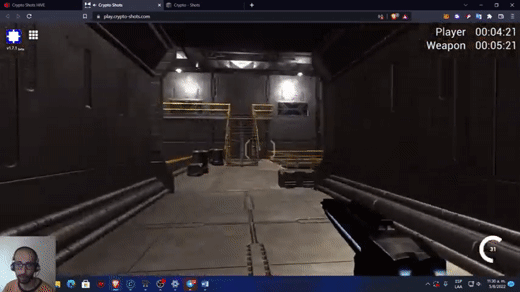 Al momento de iniciar la partida comienzas directamente con los bot enzima es algo a mi parecer un poco abrupto, deberían de colocar un tiempo de enfriamiento de unos 5 segundos para iniciar el combate ese sería bueno para evitar un poco ese choque con el juego. Por ultimo note que le hace falta como un pequeño mapa que se muestre a un lado de la pantalla para podernos ubicar mejor, esto sería algo genial porque la verdad, sentí que muchas veces estuve como dando vueltas en círculo quizás por eso el mareo, pero es que trataba de ubicar a los enemigos y no era tan fácil ubicarte en el juego. Desde mi punto de vista como jugador le hacer falta ese mapa que te ayude a determinar tu ubicación y un contador para saber cuántos bot has eliminado y cuantos te faltan por eliminar.
At the time of starting the game you start directly with the enzyme bots, it seems to me a bit abrupt, they should put a cooling time of about 5 seconds to start the combat, that would be good to avoid that clash with the game a bit. Finally, note that it needs a small map that is displayed on the side of the screen to be able to locate us better, this would be something great because the truth is, I felt that many times I was like going around in a circle, perhaps because of the dizziness, but is that I was trying to locate the enemies and it was not so easy to locate you in the game. From my point of view as a player, you will need that map to help you determine your location and a counter to know how many bots you have eliminated and how many you have left to eliminate.

La verdad que es un juego que te invito a investigar un poco más sobre el en su pagina oficial
https://www.crypto-shots.com/
My social networks
Hive: @elfino28
https://twitter.com/ElFinoNFT
https://www.instagram.com/ElFinoNFT
https://www.youtube.com/user/KBI93X
telegram https://t.me/ElFinoNFT


---
▶️ 3Speak
---
---