The VVVIP (yes I added the V's on purpose)!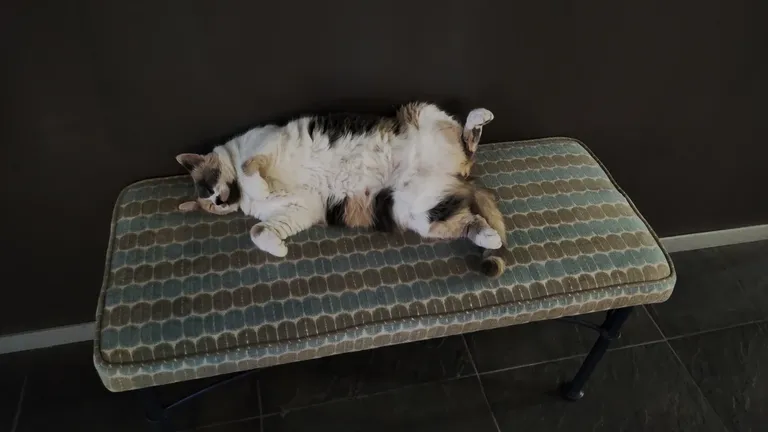 This is Joana!
Sometimes I share a picture of her on my ActiReports but I think she deserves a little space here on Liketu!
Joana is the hotel mascot!
Yes, she lives in the hotel where I work!
Her owner works for the hotel as one of the administrators and both share their own hotel room.
This picture was taken months ago before Summer kicked in full force in the hotel. She's been on some "adventures" and mostly locked in her room.
She's about 13 years, a very old "duchess" with a strong personality, and she hates children and loud noises so of course she was locked during the Summer.
Another thing that happened during this season is she had a serious problem with her pancreas and she spent a few days in the vet hospital.
You see, she actually has a little corner on the ground floor near the Spa with a bed and plates with food and water and any now and then the guests would give her treats. Some would leave the packages for us to pick, and others would give them to her directly, which is very kind but the problem is that the little missy is a sweet tooth and she never refuses treats...We believe that one of the guests gave her too many sweets, which gave her a pancreas failure.
So the owner decided to keep her safe in the room not only to recover but until the high season ended.
Me and my co-workers missed her a lot, she would always visit us at the Spa, even if was just to ask for treats lol but it was for her well-being.
Fortunately, things are more peaceful at the hotel so she's slowly coming out more often.
Might take more pictures and add here in the future :)
"I came in peace @shebatherottie! Meow for you!" - Joana 😋
---
For the best experience view this post on Liketu
---
---