Thyroidism and Parathyroidism (Hyper Vs Hypo)

Hello friends, I welcome you all to my blog and I hope you are having a beautiful day. Today, let's both look at the Thyroid Gland, Hypothyroidism, and Hyperthyroidism, hypoparathyroidism and Hyperparathyroidism. Let's quickly talk about how the thyroid gland secretes its hormones.
This entire step starts in the brain, specifically the hypothalamus. Do not forget at any time that the hypothalamus is responsible for homeostasis. The hypothalamus releases thyrotropin-releasing hormone (TRH or thyroliberin) which stimulates the anterior pituitary to release Thyroid Stimulating Hormone. This hormone trigers the thyroid gland to release T3 and T4 thyroid hormones, and Calcitonin. When a person has hypothyroidism, there is low production of the Thyroid T3 and T4 hormones, and when a person has hyperthyroidism, then there is a high amount of Thyroid T3 and T4 hormone. Iodine deficiency is usually a major cause for hypothyroidism, but it can also be caused by autoimune diseases such as Hashimoto's disease, pituitary tumor can also cause hypothyroidism, and anti-thyroid treatment (thyroidectomy) can also lead to hypothyroidism. For Hyperthyroidism, it can be caused by autoimune diseases such as Graves disease, excessive iodine, and excessive administration of thyroid medications such as levothyroxine can lead to hyperthyroidism. When diagonising for Hyperthyroidism, then checking for high T3 and T4 thyroid hormone is a good diagnostic evaluation. Also checking the level of Thyroid Stimulating Hormone is another way to comfirm diagnostic and a high TSH level shows that the person has low thyroid hormone being produced (hypothyroidism) while a low TSH level indicates a high thyroid hormone in the body.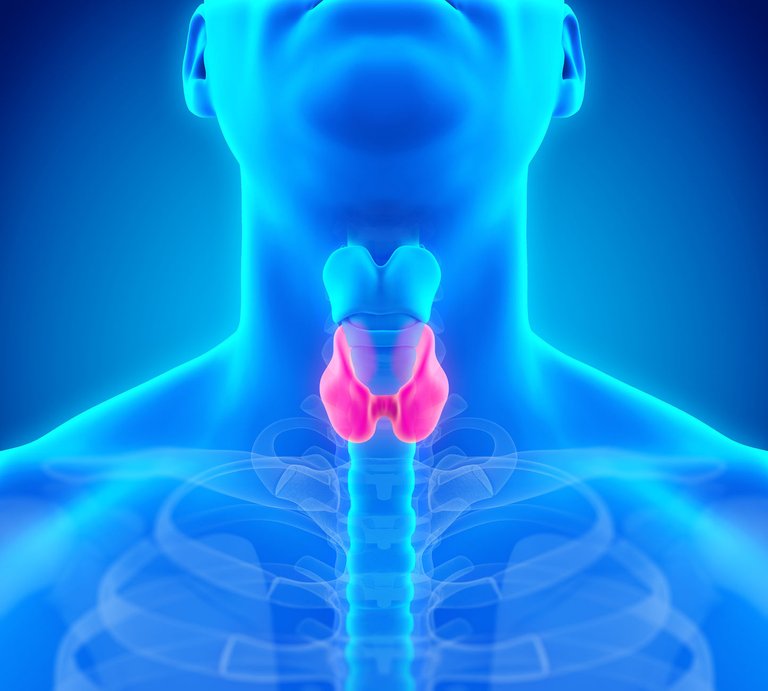 https://commons.wikimedia.org
People with hyperthyroidism will have extreme energy burning leading to agitation, confusion, restlessness, extreme temperature, high blood pressure (hypertension), high heart rate (tachycardia), Atrial Fibrillation, weight loss, hot and sweaty skin (diaphoresis), Diarrhea, Goiter in the throat, exophthalmos and patient might suffer from thyrotoxicosis which is fatal. it is important to give people with hyperthyroidism diets with high calories, no caffeine, no high fiber and spicy food. With hypothyroidism, the patient is depressed, having the exact opposite of hyperthyroidism which are low blood pressure, myxedema coma (low breathing rate), low temperature, low heart rate, low digestion, weight gain, alopecia (hair loss), apathy, low sexdrive, skin turgor, and irregular menstruation for females.
Hypothyrodism can be treeated with medications such as Levothyroxine, these patients take this drugs on a life long basis. The drugs are taken once a day before meal and never at night, the drugs can cause hyper activities (thyroid storm), and it is pregnancy safe. These medications do not cure the hypothyroidism, they are hormone replacement drugs, and they are not to be stopped abruptly.Patients with hypothyroidism are to avoid Narcotics (painkillers), and sedatives.
Hyperthyroidism can be treated using drugs that stops the production of T3 and T4 thyroid hormones such as Methimazole (which cannot be used by pregnant women), Propylthiouracil (which can be used by pregnant women), SSKI Potassium Iodide Oral Solution can be used, and the use of beta blockers such as propranolol would be used to lower blood pressure and blood rate, one very active drug to test and monitor the iodine uptake by the thyroid gland the Radioactive Iodine uptake (RAIU) where radioactive iodine (I-123 or I-131) are required to be ingested through the mouth. The drug is radioactive, so it not recommended for pregnant and breastfeeding mothers, also Thyroidectomy can be done.
The parathyroid gland are button looking glands behind the thyroid gland and it is responsible for blood clacium. When the parathyroid hormone is high, then the calcium in he blood is high, and when the parathyroid hormone is low, then there will be low calcium in the blood. Hyperparathyroidism means excessive calsium in the blood (hypercalcimia), while hypoparathyroidism means very low amount of calcium in the blood known as hypocalcimia. When Calcium is high, the parathyroid hormone is shut off, and when it is low, the parathyroid hormone is turned on. Calcium is present in the blood through renal reabsorbsion, Gastrointestinal Absorption from food, and in the bone. With Parathyroid hormone, the body releases calcium into the blood. Hyperparathyroidism can lead to defficiency in the organs including Kidney stone, Fractured Bones, and Constipation, as a reslt of excessive calcium.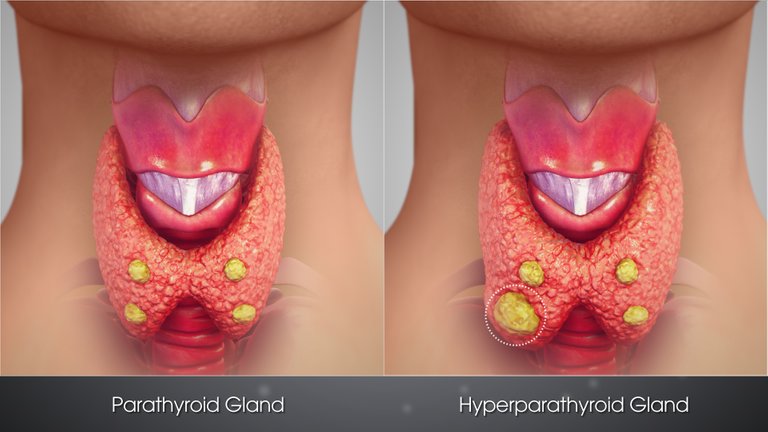 https://commons.wikimedia.org
Hyperparathyroidism can occur as a result of decreased calcium absorption, Diuretics, Renal failure causing low absorption of calcium, and Tumor in the parathyroid gland. These causes allow for the production of the Parathyroid hormone into the blood so as to get more calcium into the blood. Hypoparathyroid can be caused by low magnesium (hypomagesemia), Thyroidectomy, and Autoimmune attack on the parathyroid gland.
Remember that Calcium functions to keep the bones strong, clotting in blood, and for heartbeats. partients with hyperparathyroidism (hypercalcimia), will have constipation as a result of a slow Gastrointestinala Tract, Bones pains and fracture as a result of excessive calcium leaving the bone, Slow deep tendon reflexes, muscle weakness, and kidney stones. With Hypoparathyroidism (hypocalcemia), the patient presents with Trousseau's signs, Chvostek's signs, Circumoral tingling, and Diarrhea. Treatment for hyperparathyroidism can involve surgery in the cases of tumors in the parathyroid (parathyroidectomy), and with hypoparathyroidism, treating the low calcium is important.
---
---
Citation
---
---
---