New Brawlers and Experience in Brawl Star by Ammy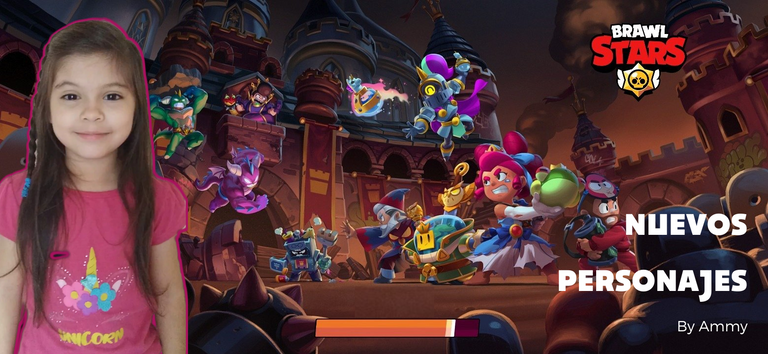 ---
¡Hola, chicos!
Hoy vinimos emocionadas Ammy y yo, ya que después de su incidente y al estar ella bien gracias a Dios, debemos seguir adelante.
Como ya saben, uno de los juegos favoritos de Ammy es Brawl Star y ya tenía un tiempo jugando sin ganar ningún personaje, lo cual la hacía sentir mal o frustrada, debido a que le ponía ganas pero las cajas brawl no traían ninguno.
Hi guys!
Today Ammy and I came here excited, because after her incident and her being well thank God we have to move on.
As you know, one of Ammy's favourite games is Brawl Star and she had been playing for a while now without winning any characters, which made her feel bad or frustrated, because she was trying so hard but the brawl boxes didn't have any.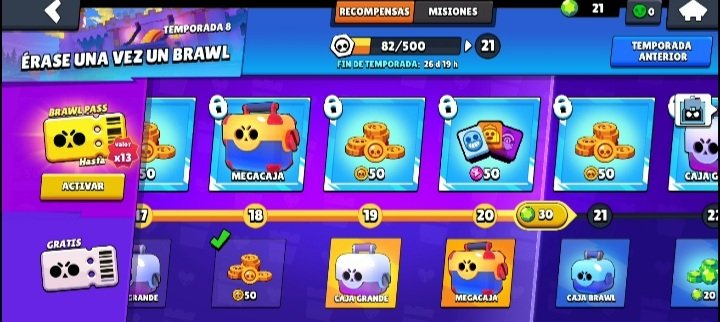 La temporada pasada jugó, cumplió varias misiones sin lograr conseguir ni un solo brawler, aunque si subía de nivel y a los personajes que ya tenía pudo mejorarlos. Pero ella se emociona cada vez que esta cerca de llegar a una caja, por la esperanza de obtener un nuevo brawler.
Hace 2 semanas la mala racha terminó para Ammy y no solo logró conseguir uno, si no que logró obtener tres y pues venimos a hablarles de ellos y mostrárselos, están muy lindos y además de eso Ammy está muy feliz por tenerlos.
Last season she played, completed several missions without managing to get a single brawler, although she did level up and the characters she already had she was able to upgrade. But she gets excited every time she gets close to a box, in the hope of getting a new brawler.
Two weeks ago the bad streak ended for Ammy and not only she managed to get one, but she managed to get three and we are here to tell you about them and show them to you, they are very nice and besides that Ammy is very happy to have them.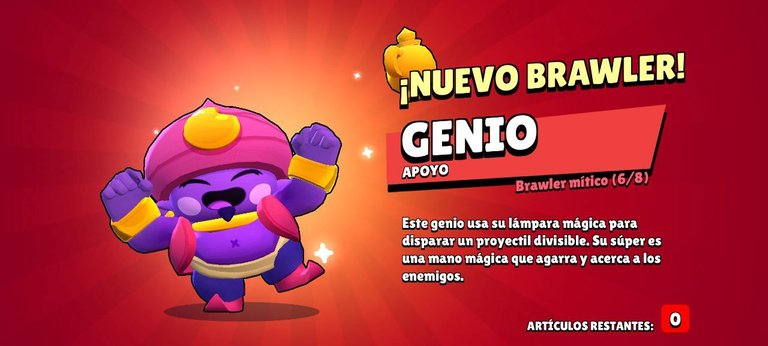 Como pueden ver en la imagen, este es GENIO, es un personaje mítico, Ammy tiene 6 de 8. El súper de este es que puede atraer con su mano a sus enemigos para así atacarlos más de cerca, el tiene una lámpara mágica. No es lento , comparado con otros brawles y se desenvuelve bien en mapas como el de futbol y el de supervivencia. En cuanto a su ataque y defensa, ambos son medianas, pero es de bastante utilidad, lo cual lo hace servir como apoyo. Además es muy colorido y bonito, como dice Ammy.
As you can see in the picture, this is GENIUS, he is a mythical character, Ammy has 6 out of 8. The super of this one is that he can lure his enemies with his hand to attack them closer, he has a magic lamp. He is not slow compared to other brawlers and does well on maps like football and survival. As for his attack and defence, both are average, but he is quite useful, which makes him useful as a support. It's also very colourful and pretty, as Ammy says.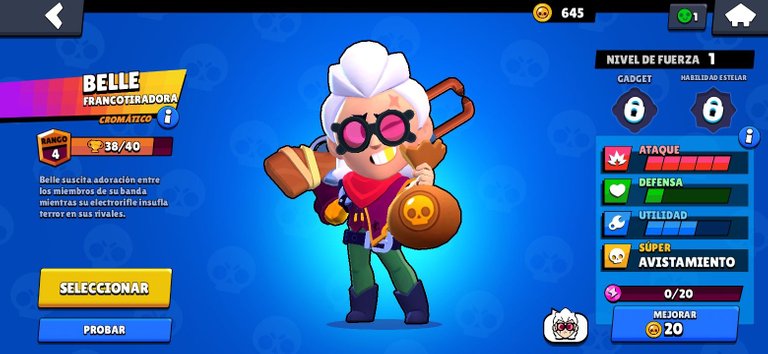 Ahora hablemos de esta bella francotiradora, BELLE, ella es un brawler cromática como se muestra en la imagen, en la primera partida que tuvo Ammy con ella demostró que verdaderamente es buena atacando, ya que Ammy obtuvo el primer lugar, en la primera partida con este personaje y aunque no tiene mucha defensa, su ataque la vuelve el terror de muchos.
Now let's talk about this beautiful sniper, BELLE, she is a chromatic brawler as shown in the picture, in the first game that Ammy had with her she showed that she is really good at attacking, because Ammy got the first place in the first game with this character and although she doesn't have much defence, her attack makes her the terror of many.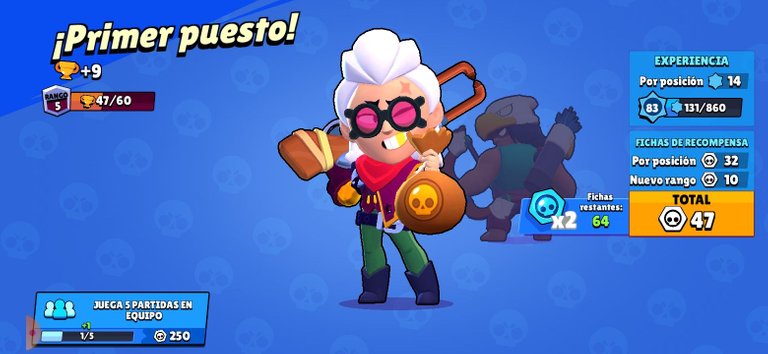 A Ammy le gusta ganar y ¿a quién no? Asi que de inmediato amo a este personaje jeje.
Ammy likes to win and who doesn't? So I immediately love this character hehe.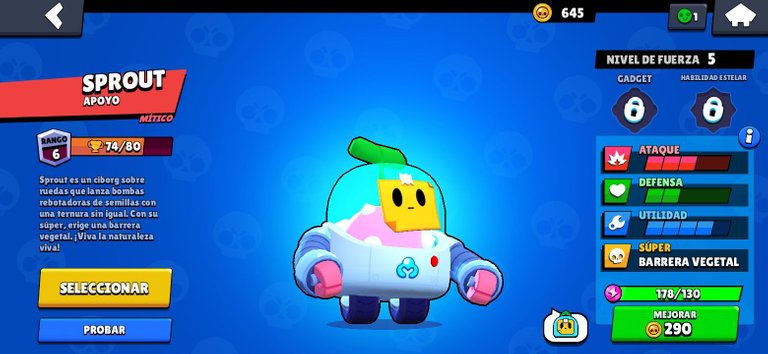 Este brawler ella se lo ganó en una caja brawl, primero que los otros dos ya mencionados, solo que no lo había probado, por eso no habíamos hablado de el antes y quisimos incluirlo aquí para mostrarles 3 x 1, de los últimos personajes obtenidos.
SPROUT, es un robot algo gracioso, su cara es un papel que se pega en la cara, valga la redundancia jajaja. El también es mítico y sirve más que todo de apoyo, aunque tiene mejor ataque que Genio, los robot en sí no suelen ser tan rápido pero sí de gran ayuda cuando se juega en equipo.
This brawler she won it in a brawl box, first than the other two already mentioned, she just hadn't tried it, that's why we hadn't talked about it before and we wanted to include it here to show you 3 x 1, of the last characters obtained.
SPROUT, is a somewhat funny robot, his face is a piece of paper that sticks to your face. He is also mythical and serves mostly as support, although he has a better attack than Genius, the robots themselves are not usually so fast but they are a great help when playing in a team.

Actualmente, Ammy está en clases, las recibe de manera on-line, por lo cual no está muy activa jugando, pero fue bastante gráficamente para ella poder obtener 3 personajes en casi una semana, más aún luego de una larga espera.
Este fue uno de los primeros videojuegos que la consquitó y el cual no deja de jugar, aunque a veces le dedique un poco más de tiempo a otros Videojuegos. Esperamos pronto poder compartir con ustedes más de las aventuras de Ammy y sus brawlers.
Como siempre siempre y para finalizar les comparto los logros que ella ha obtenido hasta el momento en Brawl Star.
Currently, Ammy is in classes, she receives them on-line, so she is not very active playing, but it was quite graphic for her to be able to get 3 characters in almost a week, even more after a long wait.
This was one of the first videogames that got her and she never stops playing it, although sometimes she spends a bit more time playing other videogames. We hope soon to be able to share with you more of Ammy's adventures and her brawlers.
As always and to finish I will share with you the achievements she has obtained so far in Brawl Star.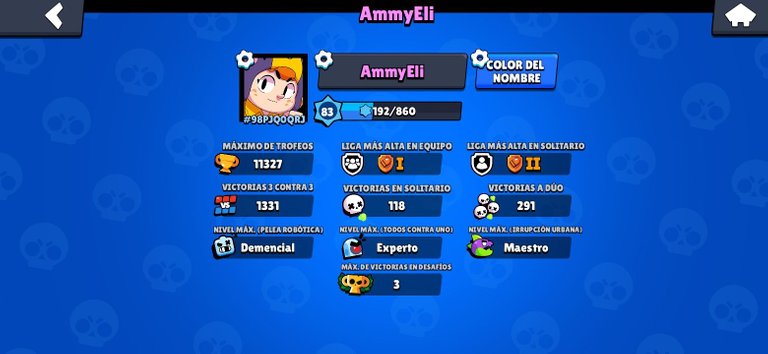 Actualmente se encuentra activa una nueva temporada, basada en Halloween con algunas opciones diferentes, como siempre digo lo que más nos gusta de Brawl Star, es que siempre está innovando y además tiene excelentes gráficos y sonido.
A new season is currently active, based on Halloween with some different options, as I always say what we like most about Brawl Star, is that it is always innovating and also has excellent graphics and sound.
---

Imágenes y GIF 2 capturados desde mi teléfono Samsung Galaxy A20s directamente del Videojuego. GIF 1 capturado desde un Realme 7 pro, directamente del Videojuego.
Images and GIF 2 captured from my Samsung Galaxy A20s phone directly from the Video Game. GIF 1 captured from a Realme 7 pro, directly from the Video Game.

---
---