THE SWEARING IN CEREMONY TO MARK THE COMMENCEMENT OF A NEW POLITICAL ADMINISTRATION IN NIGERIA'S GOVERNMENT: with Mixed Reactions from NIGERIANS
It's may 29th, this was the very day in Nigeria's history when the military rule finally handed power over to an elected civilian government and so it is Nigeria's Democracy Day, but the out going Administration led by President Muhammad Buhari changed it to be celebrated June 12th of every year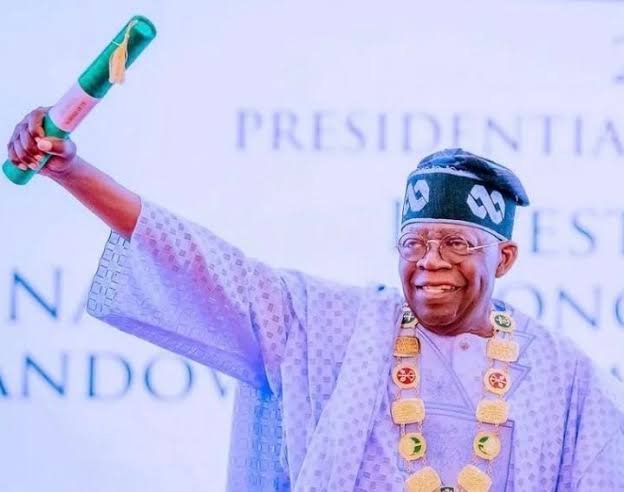 Source
It's a special day in the history of Nigeria political scene as it was set aside as a public holiday to commemorate the inauguration ceremony marking the commencement of a new Administration,
it's the official handing over ceremony usually held at the eagle square Abuja, Nigeria's Capital city, it's usually attended by dignitaries all over the world to witness the great and spectacular event seeing thee official reception and acknowledgement of the new government coming into office and to begin the official duty.
If you've followed the trend in NIGERIA'S politics I'm sure you recall that around February the elections started with the presidential and house of Assembly elections, then the Governorship and house of reps and others as well when that was over a special day such as today may 29th is set aside as a swearing in ceremony, were the respective candidate who won the race for their respective offices will take the official oat of office in front of thousands to carry out their assignment in full and to perform their duty as required by the law.
Furthermore in today's agenda 28 governors will be seeing in across the countries six geo-political zones in their various states across the federation, as such today's is declared a public holiday to celebrate this great event, securities are heightened at the event ground and also across every location in the country.
NIGERIANS MIXED REACTIONS
Before the elections there was an uproar cut across all social media space even before the official date for CAMPAIGN began Nigeria's were already all over the space canvassing support for a popular candidate Mr Peter Obi of the Labour party, however Mr. Obi's popularity began when he was featured on a live broadcast on tv and he discloses a lot of things going on in government we never knew all along,
The former Anambra State Governor gained a wide spread popularity that began a MOVEMENT CALLED OBIDIENTS MOVEMENT made up of loyal well meaning citizens of our great country and it was obvious he would be the next president of Nigeria seeing how influenctial he already was before the elections,
Great number of youth, men and women troop out voluntarily to campaign for Mr. Peter, as you must know Nigeria is made up of 80-85% of a youthful population and almost all this numbers were running for Mr Peter Obi to be the best president also he's a little bit young and vibrant compared to other candidates that are far into their 80's.
I personally was skeptical about all of this cause, to me it was history repeating itself recall that the same vaste popularity was what made MKO ABIOLA altho after he won in the pools was denied as the winner of the election and was later killed by tea poisoning
Be it as it may during the elections it was obvious Mr.Peter Obi winning the poll but the figures shows something totally different and the short comings of the electoral body Called INEC (Independent National Electoral Commission) with the BVAS MACHINE, IRF PORTAL malfunctioning which was meant to make the electoral process easy, transparent and convinient was rather the opposite.
THERE WAS AN UPROAR
The whole country went silent cause the hope of many was dashed after which there was a no no peaceful protest court proceedings and hearings that proved Mr. Peter Obi won by certain merging, to the point some were professing an interim government to hold off the swearing in ceremony today but I guess that didn't work,
Well we are yet to find out the full out come of the court hearing or rather this is politics in Africa, all this can be swept under the carpet as if nothing really happens.
Thanks for Reading through and not missing a comma or full stop ...
Appreciated ...
---
---