Out Of My Comfort Zone For Good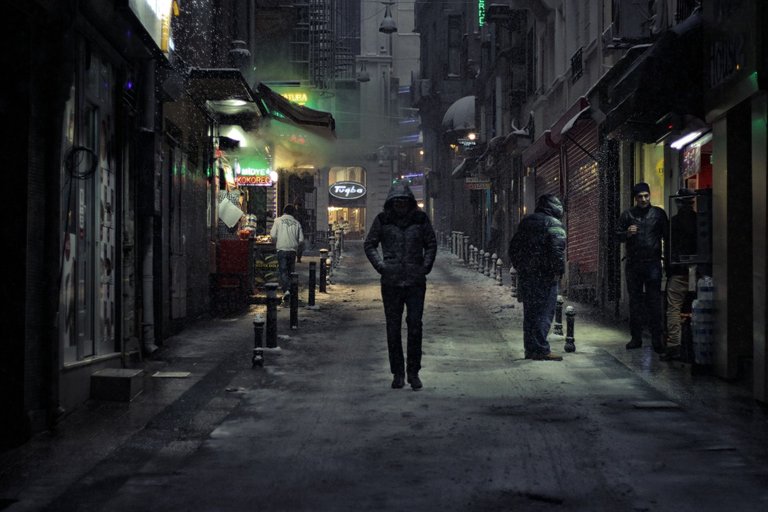 ᴾⁱˣᵃᵇᵃʸ. ᶜᵒᵐ
Life is not a bed of roses as they said, no one can deny the fact that it's takes a fight to survive daily. Things are really difficult, except one leaves his/her comfort zone, him/her may never be exposed to certain possibilities.
A friend of mine who is serving as a security guard in Abuja, in the house of one rich man narrated a story of how the man's son doesn't know what Garri is and when given some to taste spat it out, asking what the hell was that. My friend said he was even moneyed that day so milk and other stuffs were included but it was something strange to the kid. What I am saying, some people are just lucky.
---
---
Proverbs will say born with silver spoon, while others are not that privileged, like my friend. Some of us need to work hard to labor for our silver spoon. That is how life is, We can't blame it.
Life is very hard, full of responsibilities. I have seen a lot of people leave their comfort zones into places they don't know in search of greener pastures, some end up becoming some thing great, others become worst. life is a game of uncertainty, we only try but we truly don't know what tomorrow holds. Yet it is wise we keep striving. Like the farmer who throws his seed in the farm blindly.
---
---
He has no guarantee that it will rain, he also has not assurance that it will yield yet he still sow, he shows in hope and most times ends up winning.
Life is not just about riches alone, it's also about ourselves we labor for material things but we often forget to labour on ourselves. We care about riches yet we let ourselves decay. I believe it's lack of paying proper attention to ourselves that makes people go into ritualism inorder to make money. Let me not go there today, that's topic for another day.
---
My Experience
Being the first male of the house, sometime around late 2020 I was forced by the pressures of life to move out of my home in search for money. Except one came from a well to do family else you would understand what I mean by forced by the pressures of life.
It was as if all those while I was blind to problems, as soon as I was done with college, everything changed, it was as though the hardship multiplied, doors to responsibilities open and I knew if I didn't take a bold step I might not survive the pressure.
---
---
So I moved into Jos plateau State, Nigeria and lucky enough, I got a job as a sales boy in a shoe shop. Well a lot of questions would been popping up in your mind like, where would I sleep and what will I eat, right? That was an easy one, my elder sister resides there, I lived with her throughout my stay there.
In life one must have challenges inorder to become strong, working in that shop gave me a very terrible experience but I am so grateful for every nail I stepped on made me stronger.
---
---
My boss was a very young man full of vigor, he's kind too i must confess but very hot tempered. I am not criticizing him, everyone has flaws. Those days I don't know whether it was because I was serving as his boy that made things like that or not but every single thing I did in that shop doesn't please him.
At one moment he would be praising me, at another, he is already overreacting over everything. I am a kind of person that doesn't joke with people's properties or resources. I and him never had issues about missing money or goods hehe, so let you mind not go there.
---
---
Ask me why he was harsh towards me then, I would tell you I don't know. Every neighbor there commends my hard work, punctuality and the rest but my boss is never satisfied. Amongst all of us working for him I was the only one coming from afar. Those of you that know plateau very well, I live around bukuru experience (fwagul) and my work place is at terminus (Yan taya).
I spend three hundred naira each day on transportation alone as at then, I don't want to talk about feeding because that is another thing entirely, my salary was twenty thousand, it's from it I take transportation and feeding. My boss gives me four hundred naira from my salary each day for transportation and feeding.
---
---
But as a hustler, most times, I starve myself so that I could save some money. I really had no problem with the work and the pay even though most of it go into transportation and feeding but my boss's attitude became so unbearable that I had to quit the job after some time.
Well I won't say I regreetted traveling out because it didn't go so well for me, I had a lot of experience there. I learnt punctuality, loyalty, hardwork and some business strategies. My eyes got opened to so much about life.
---
---
You know what I learnt how to respect who would work for me, I know what they are going through having tested it before.
I had fun there too, I met a couple of friends who often make my day, I really miss them. One of my happiest moment there was the day my boss gave me five hundred thousand naira cash to take to the bank. that was the first time I held that kind of money in my life. Well, life goes on anyways.
---
---
In conclusion, we may not be sure of what tomorrow holds, but we would cheat ourselves if we remain in our comfort zone hoping for manna to fall from the sky. we must never forget to build ourselves along side. Who knows when and where an opportunity would come?
Thank You For Reading
---
---