Innominatus II -Surreal photography- [ENG/ESP]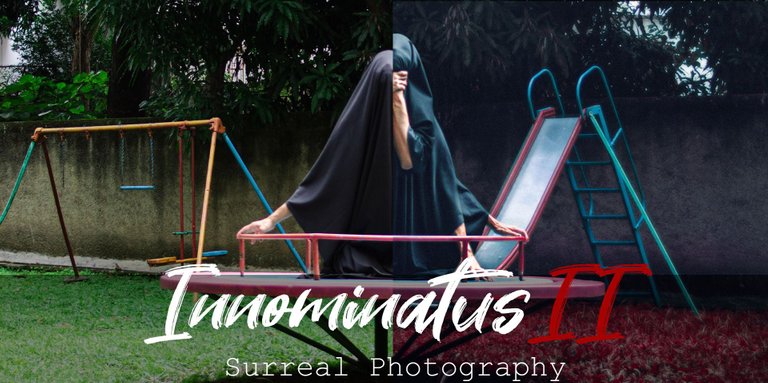 Hello Alien Art!
Today I bring you my most recent photo manipulation: Innominatus II.
¡Hola Alien Art!
Hoy les traigo mi más reciente fotomanipulación: Innominatus II

This photo manipulation is composed of 3 different photos my dear @nioberojas helped me take: I'm the model under the fabric, so it wasn't easy for me to take the shots.
The idea of this shot was to make the second part of my Innominatus series, in which I create a surreal being who is under a piece of black fabric.
First, we took the photos:
Esta fotomanipulación se compone de 3 fotos diferentes que mi querida @nioberojas me ayudó a hacer: yo soy el modelo que está debajo de la tela, así que no me fue fácil hacer las tomas.
La idea de esta foto era hacer la segunda parte de mi serie Innominatus, en la que creo un ser surrealista que está debajo de un trozo de tela negra.
Primero, hicimos las fotos: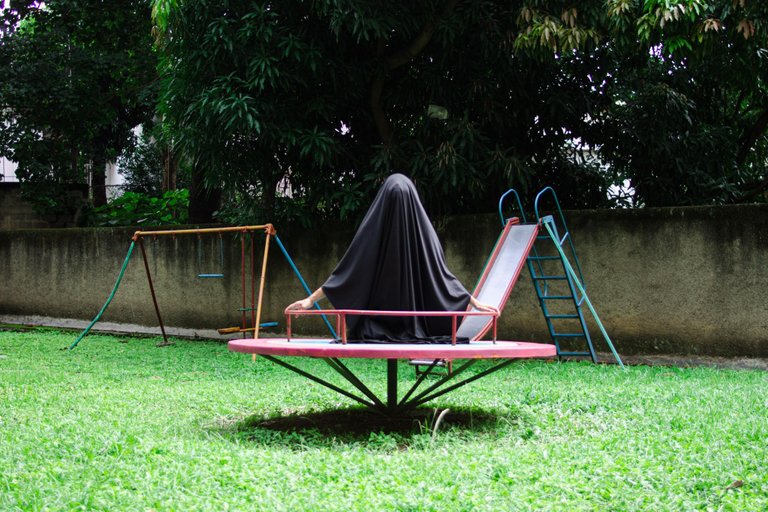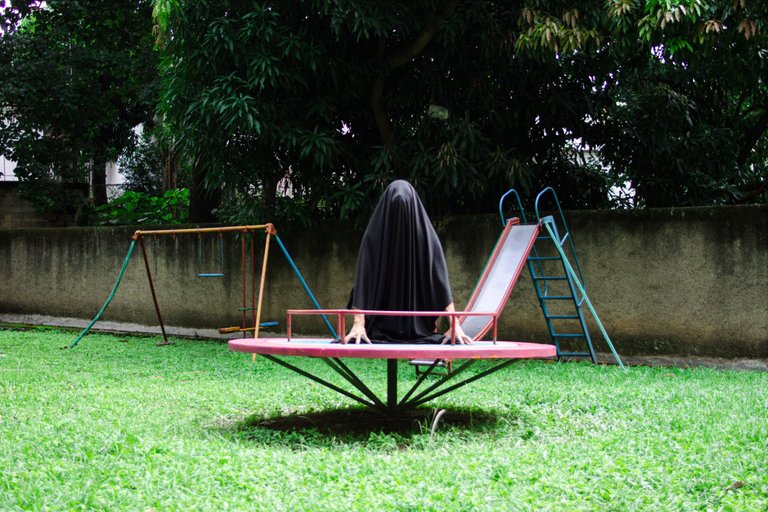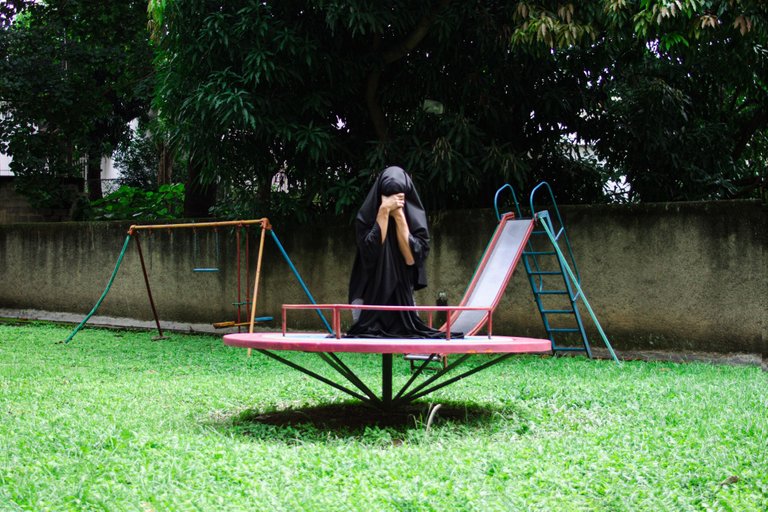 Then I merged all the images into one using Photoshop. I used one shot as the background and added a few parts of the others using masks. The result was this:
A continuación, fusioné todas las imágenes en una sola con Photoshop. Utilicé una de las tomas como fondo y añadí algunas partes de las otras utilizando máscaras. El resultado fue este: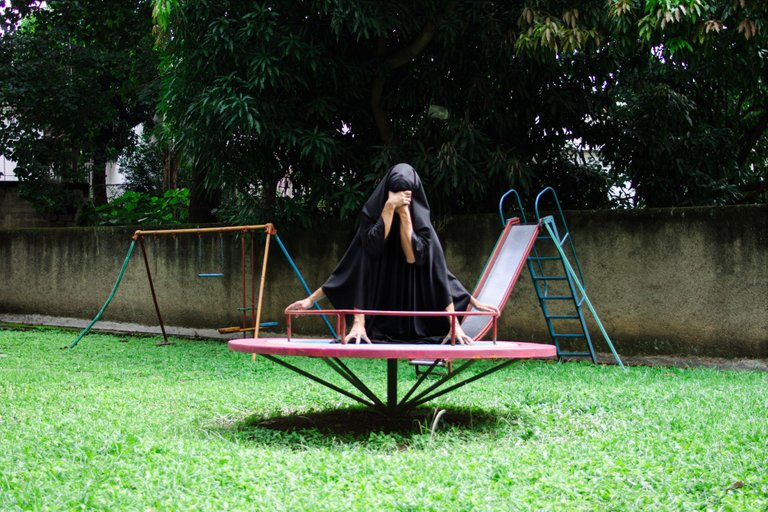 After that, I did a light correction to the grass and the middle part of the image. I wanted it to be darker.
Después, hice una corrección de luz al césped y a la parte central de la imagen. Quería que fuera más oscura.
I started doing the color correction with adjustment layers. I wanted a surreal look, so I used reds instead of green for the grass.
Empecé a hacer la corrección de color con capas de ajuste. Quería un aspecto surrealista, así que utilicé rojos en lugar de verdes para el césped.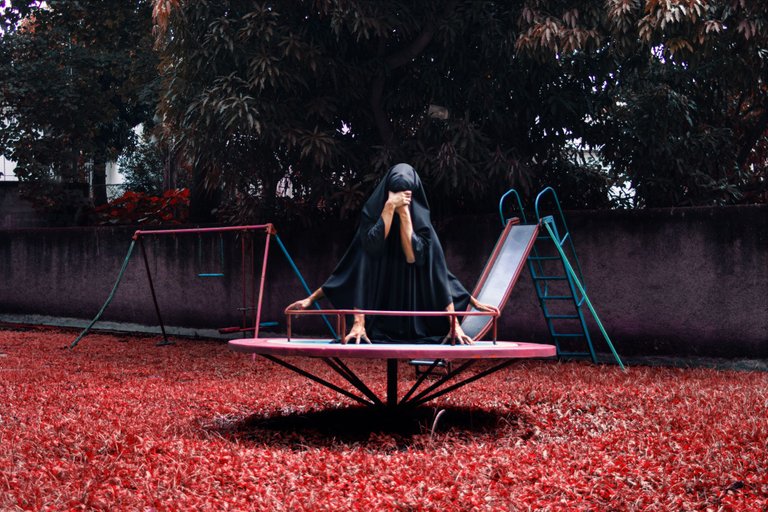 I was happy with the direction I was heading with the image, so I used a camera raw filter to add more contrast, a vignette, and modify even more the colors.
Estaba contento con la dirección que llevaba la imagen, así que utilicé un filtro de Camera Raw para añadir más contraste, una viñeta y modificar aún más los colores.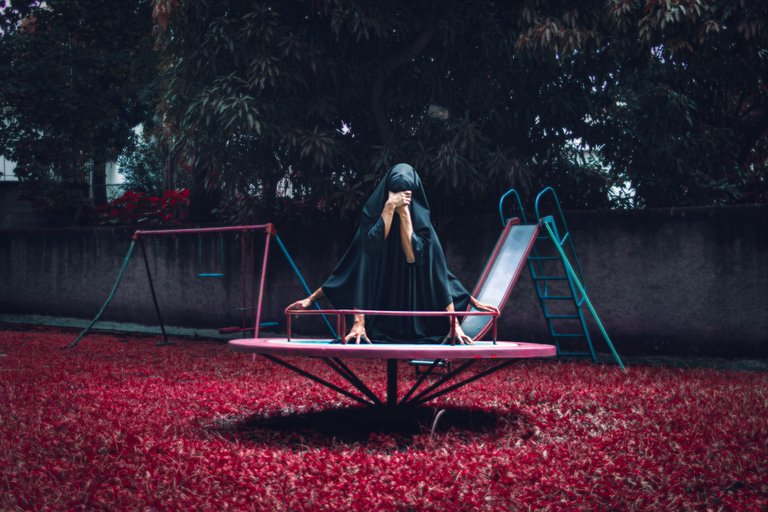 I added a little bit of fog for a mysterious look. At that point, I was happy with the overall image, so I exported it.
The final result:
Añadí un poco de niebla para darle un aspecto misterioso. Llegado a este punto, estaba contento con la imagen en general, así que la exporté.

El resultado final:

What do you think?
I want to expand this series, so I'll be taking more photos soon.
If you have any thoughts or critiques, leave me a comment, I'd appreciate that.
See you in the next post!
---
---