A sea of red is the best time to sail
         I, for one, love the bear market. There is a saying that goes: The bull market makes you money. The bear market makes you rich. I first heard that from Benjamin Cowen.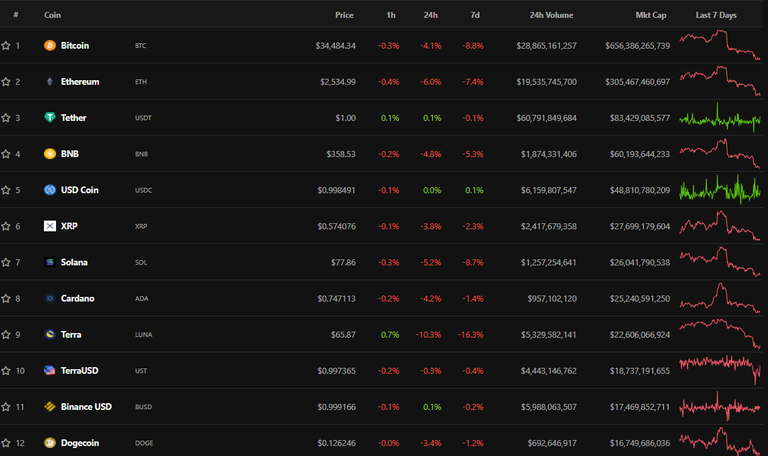 From @coingecko, you could see the market has been plunging. Does it remind you of 2018? Perhaps the "extended cycle" argument doesn't hold water this time. I was disappointed that we didn't have the blow-off top like many anticipated in 2021.
         Fortunately, I still managed to liquidate 80% of my shitcoins and got most of the capital I have invested over the last four years back. That includes not only money I put into crypto, but also stocks, precious metals, etc.
         Now, my biggest positions in crypto are ADA, VET, CET, and HIVE. Of course, I've already started accumulating projects I feel are golden. They are SOL, LUNA, FTT, AVAX, MANA, and GALA. I also have a contingent DOGE buy in case it goes below $0.05. You know that meme is gonna pump again. Finally, one can never forget the regular BTC purchases.
         You might think to yourself, that's too diversified! It is, but it is the strategy I'm going for. The biggest weakness in my approach is not building a bigger cash position for opportune buys. However, it's important to remember that no one can predict the future. How many of you managed to pick up 100x gains in ADA, LUNA, SOL, etc. this past cycle?
         While I won't dismiss the possibility of a different cycle playing out this time around, I won't pretend it's still bull season. For me, it's safer to DCA slowly as the market drops and then goes in with the dried powder I've saved up for the occasion. This is not financial advice, but we all need a strategy for accumulating and building during a downtrend.
         Buckle up and tighten your belts! It's gonna be another wild ride. Don't sell at the bottom.
Posted Using LeoFinance Beta
---
---