The Hoops Today
         Let's change gears for a bit and talk about men's college basketball. I know the football season is still going, but there aren't that many games of interest for me. That is, if you count the upcoming Ohio State vs. Michigan State and Oregon vs. Utah games. Other than that, nothing too special.
         Anyways, when it comes to basketball, I am a Villanova and BYU fan. Villanova because that was how the teachers socialized us back in school days. Most of my peers cheered either Penn State or a Big East basketball team where I lived.
         Since basketball isn't weekly like football, I do find the writing about it challenging. There are way more games than it is possible to follow. For the most part, I will focus on the two teams I root for, and a bit into the respective conferences they are in.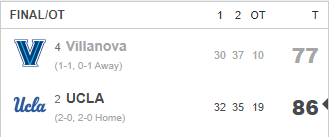 It's uncommon for basketball games to drag into overtime. While it was disappointing that the Wildcats fell to the Bruins, it was a good game. It's a good thing ranks don't mean much in basketball as long as you win your conference and go deep in the Tournament.
         If anything, this game was more of a "clash of titans". From the stats, you could tell both team did very well. Although, Villanova could work on those free throws. Sometimes, those free throws mean all the difference. There should be no reason why the team couldn't get that closer to 80%.
         Here's the funny thing, I am much more at ease when Villanova has a few losses as opposed to winning all season. As far as I know, there has only been 7 teams that won the Tournament with a perfect season. So, odds are against the "undefeated" team.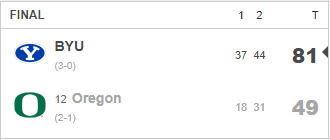 I'm glad BYU was able to beat Oregon at the so-called neutral location. Let's be honest, Portland is not that neutral given the relative locations of each team.
         This game showed that Oregon didn't deserve their ranking. Getting blown out is definitely not a good way to start the season. The stats tell the tale pretty well. You can't expect to win a game when you can't even clear 1/3 of your field goals.
         As with Villanova, I hope the Cougars work on those free throws. A sub-60% rate is not gonna go very far, especially when facing Gonzaga later. Even then, I doubt BYU can outdo the Bulldogs. They might be able to swipe one game from them, but will be outdone in the other and again in the WCC tournament.
Outclassed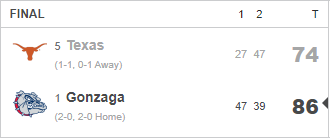 This was a good trouncing. Gonzaga was better all around despite Texas performed very well too on paper. I wouldn't snub the Longhorns, but the Bulldogs are at another level.
         I feel bad for Gonzaga. They have been so dominant this past decade and came close to winning the Tournament a few times, but they always fell short. Could this year be different? For once, I hope so. It would feel so bad to be so close several times and still not get that first championship.
Gavitt Tipoff Games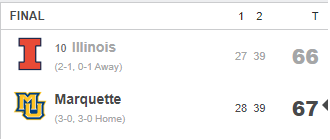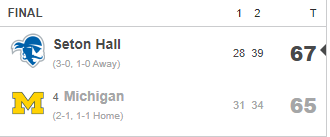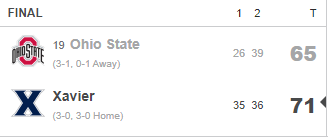 As part of the Gavitt Tipoff Games series, Big East teams play against those from the Big Ten. Big East went 6-2 and beat all of Big Ten's ranked teams. Big East is the only non-P5 conference that receives more than 1-2 bids for the Tournament each year. In fact, Big East's all-time bids rival that of the lower 3 of the P5 conferences. That should tell you to not underestimate them.
---
         The season has only started. There is plenty of room to grow and refine.
---
---