The Penultimate Game
         If you look at the upcoming games today on ESPN, it's a scenario that's as rare as it could get...for me anyhow.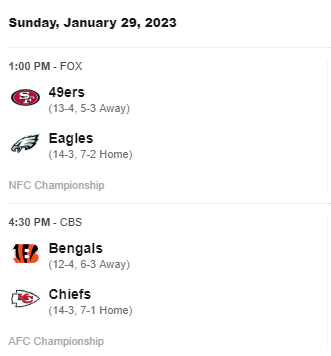 The Eagles and the Chiefs are playing for their conference championship! As some of you may know, I am a fan of both teams. Philadelphia is my home team since that's where I grew up. Kansas City was a product of my university days.
         When I was in college, my besties were from Missouri (Liberty, to be exact). When I visited the Kansas City area, they treated me to live games of the Royals and the Chiefs. They were able to recruit me as a fan. It worked out well since the Eagles and Chiefs were in different conferences in the NFL.
         Today, we are one game away from a Superbowl between these teams. You can't find a more exciting scenario than that. It would be a game where my team would win no matter what! I may have a slight bias for the Eagles, but it doesn't take away from the fact I like the Chiefs too.
         Of course, it's too early to celebrate. There are only four outcomes for today's games:
Both of my teams win.
Eagles win. Chiefs lose.
Chiefs win. Eagles lose.
Both of my teams lose.
         At a glance, I would say the odds are in my favor. It would be unfortunate to have the fourth outcome, but that is not outside the realm of realistic expectations.
         It's been a while since I cared about the NFL. I shall indulge in it.
Posted using SportsTalkSocial
---
---