Diagram of my Crypto Ecosystem - Monthly report - April 2022
Some months ago, I published diagrams showing how I move around between the DeFi space, CEX and FIAT. Since my ecosystem is moving quite fast, especially with the addition of new Dapps, bridges and blockchain solutions, I just decided to update the diagram on a montly basis, and explain all the new components (and the ones that disappeared), as compared to the previous versions.
---
Here is the V3 of my diagram with a list of bullet points explaining all the new things.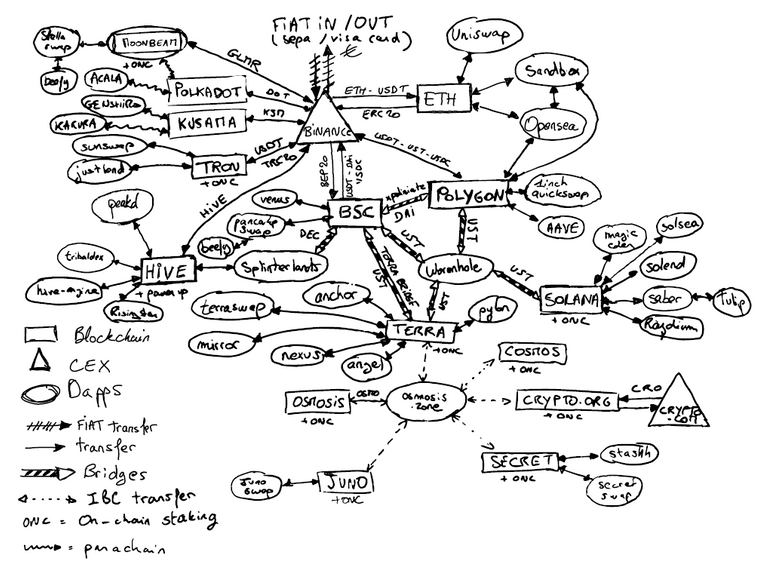 New Dapps/blockchains and bridges:
In addtion to Ethereum, The sandbox is now connected to the Polygon network as well
To move Fiat in, SEPA is now once again available in Binance. As a result, I removed most of the CEX from my ecosystem except Binance, and crypto.com, which is well connected to the COSMOS SDK ecosystem of blockchains.
Speaking of the COSMOS SDK ecosystem of blockchains, I added the JUNO and the SECRET network to the blockchains I was already using (OSMOSIS, COSMOS and CRYPTO.ORG). I removed emeris from the Dapps I use, since all SDK based blockchains are now connected to osmosis.zone, which is the main DEX I use to centralize everything on COSMOS.
I added new dapps to TERRA, namely nexus, which I use to farm ETH, the angel protocol, which I use to make donations, and the pylon launchpad protocol.
I participated in the KSM and DOT parachain auctions, but I didn't had time to check upon that up until recently, when I connected to my ecosystem the projects I participated in, namely KARURA, GENSHIRO, ACALA and MOONBEAM. So far, I have only connected those to Binance, but I will soon try the Moonbeam decentralized bridges in order to reduce my dependancy to Binance.
I invested more into NFT on the SOLANA blockchain, hence the addition of several NFT marketplaces for this network.
Dapps/blockchains and bridges that have been removed:
The decentralized Binance bridge is no more, thus forcing me to use Binance when I what to move out of the TRON network.
I am not farming as much as I used to do on Polygon, with adamant (project is dead) and beefy out of my system.
If you need more information not explained here, please have a look to the first post.
---
Thank you for reading me, I will keep you updated on a montly basis about the evolution of my ecosystem. Next step will be moving some sleeping ADA I have on the BSC network to the Cardano blockchain, as well as move into the NEAR blockchain.
If you want to follow the evolution of my crypto ecosystem, here are the previous versions :
V2-December-2021
V1-October-2021
---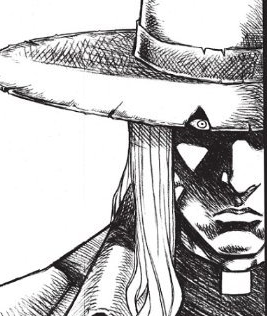 About Myself
I am a geographer in my thirty something, based in France and I do publish mostly about DeFi and Urban planning. Sometimes, I also post about gamefi, travel and food. If you like my content, don't hesitate to follow me, comment and interact with me in my posts.
My avatar is from the comic strip priest.
---
---