Rice flowers with high sticks / Flores de arrocitos con palitos de altura (ENG/ESP)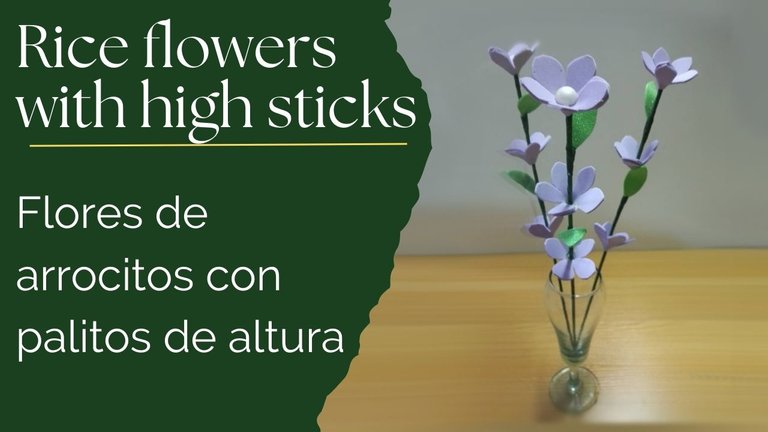 Greetings community! Best wishes and good vibes to all!.
An idea, a decoration, an excuse to relax by making crafts. Making many of these flowers and populating the glass will make your space beautifully decorated.
*¡Saludos comunidad! Mis mejores deseos y buenas vibras para todos
Una idea, una decoración, una excusa para relajarme haciendo manualidades. Haciendo muchas de estas flores y poblando la copa, hará que tu espacio quede bellamente decorado.
Rice flowers with high sticks
They are easy to make, they do not require many materials, but to make them look more beautiful and showy I recommend populating the cup, you can repeat the steps as many times as you need, I only made three, I plan to make more to fill all the spaces of the cup with flowers, I guess I will need to make about ten more little rice.
It looks nice as a table centerpiece, or in the corner of a bedside table, you can choose the colors of the materials you like, I chose this lilac because it transmits calm and serenity to me.
Join me in the step by step.
Flores de arrocitos con palitos de altura
Son fáciles de hacer, no requieren muchos materiales, pero para que se vean más lindas y vistosas recomiendo poblar la copa, los pasos los repetirás cuantas veces necesites, yo solo elaboré tres, tengo pensado hacer más para llenar de flores todos los espacios de la copa, supongo que necesitaré elaborar unos diez arrocitos más.
Queda lindo como centro de mesa, o en la esquina de una mesita de noche, podrás elegir los colores de los materiales que te gusten, yo elegí este lila porque me trasmite calma y serenidad.
Acompáñame al paso a paso.

Step by step / Paso a paso

Materials / Materiales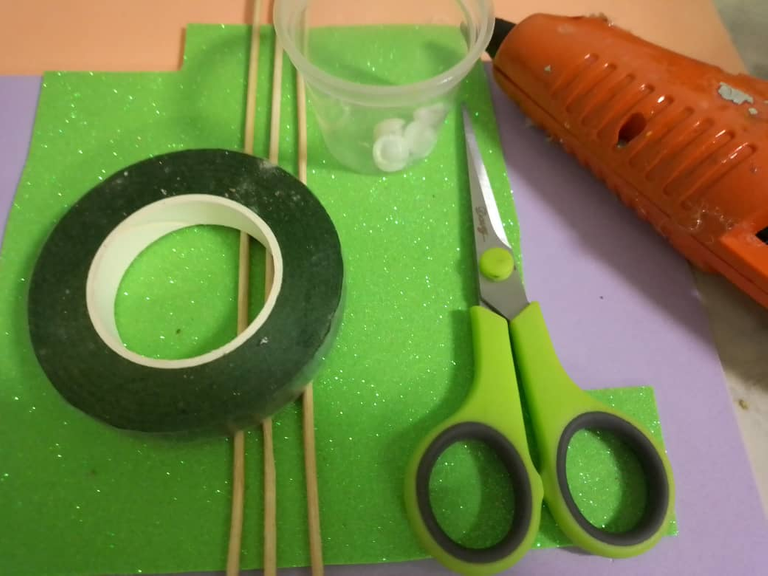 | ENG | ESP |
| --- | --- |
| - Fomi in the color of your choice | - Fomi del color de tu agrado |
| - High sticks | - Palitos de altura |
| - Hot silicone, scissors | - Silicón caliente |
| - Buttons | - Botones |
| - Floratex | - Floratex |

Step 1️⃣ / Paso 1️⃣
| | |
| --- | --- |
| | |
| --- | --- |
Line each height stick you will use with the floratex.
Draw circles of 4 centimeters in diameter and cut out.
Make some cuts without reaching the center, as shown in the image, then cut out the shape of the petals, it is necessary to cut two petals of these and then join them together.
With the hot silicone now glue two petals and with this the small flower is assembled.
Forra cada palito de altura que utilizarás con el floratex.
Dibuja círculos de 4 Centímetros de diámetro y recorta.
Realiza unos cortes sin llegar al centro, como indica la imagen, luego recorta la forma de los pétalos, es necesario cortar dos pétalos de estos para luego unirlos.
Con el silicón caliente ahora pega dos pétalos y con ello se arma la pequeña flor.

Step 2️⃣ / Paso 2️⃣
As the height sticks have a sharp look, going through the fomi should not be a problem, however, if you need help, you can cut a little bit the center with the scissors opening a small hole, carefully, otherwise the flower will fall apart.
Pierce the flower with the previously lined height stick, place a dot of glue to fix.
Repeat the previous step again.
Place another flower to make three on a single twig (height stick).
Como los palitos de altura tienen una pinta filosa, atravesar el fomi no debe ser problema, sin embargo, si necesitas una ayuda, puedes recortar un poquito el centro con la tijera abriendo un huequito, con cuidado sino se desarmará la flor.
Atraviesa la flor con el palito de altura previamente forrado, coloca un punto de pegamento para fijar.
Repite el paso anterior nuevamente.
Coloca otra florecita para que conformen tres en una sola ramita (palito de altura).

Step 3️⃣ / Paso 3️⃣
Cut out two rectangles of green fomi, cut out the shape of a leaf.
With the hot glue, glue it to the height stick.
Cover with the floratex the junction of the leaf.
Place a dot of glue on the button and glue it in the center of the first flower, that's it.
Repeat these steps as many flowers as you need.
Recorta dos rectángulos de fomi verde, recorta la forma de una hojita.
Con el pegamento caliente, pégalo al palito de altura.
Cubre con el floratex la unión de la hoja.
Coloca un punto de pegamento en el botón y pégalo en el centro de la primera flor, con ello hemos terminado.
Repite estos pasos cuantas flores necesites.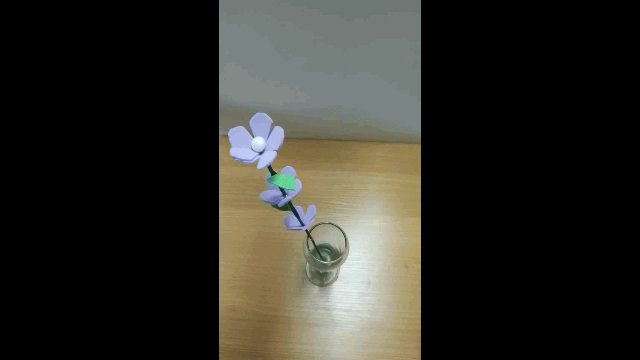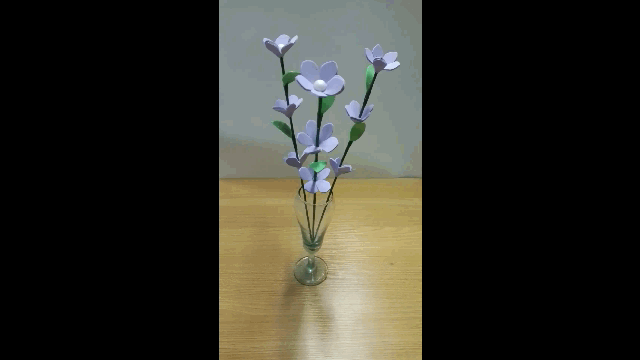 Decorate your spaces
Decora tus espacios

Credits / Créditos.



Vote la-colmena for witness
By @ylich



Hacks, DIY, Crafts, handmade arts Community


---
---