River Nymph SPLINTERLANDS (Fan art) (ENG/ESP)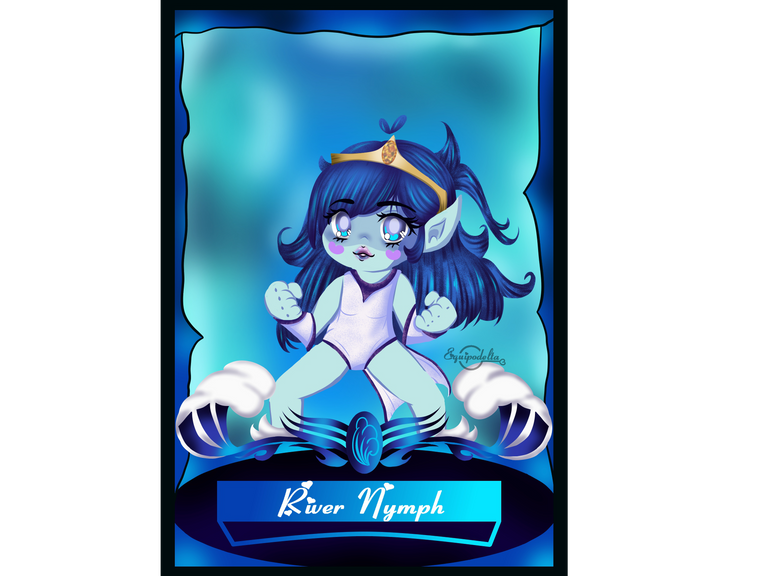 Hello dear ones, how are you? I hope you are having a great time. Here I am participating in the Art Contest Week 207 of @Splinterlands.
Hola queridos ¿Cómo están? Espero lo estén pasando muy bien. Por aquí estoy participando en el Art Contest Week 207 de @Splinterlands.

River Nymph
It is one of the cards I own, I have used it a couple of times, with this card you can remove all the negative effects of your first card or first monster. It belongs to the water element and if you improve it to its last level, you can also increase the speed of your entire team.
Es una de las cartas que poseo, la he usado un par de veces, con esta carta puedes eliminar todos los efectos negativos de tu primera carta o primer monstruo, Pertenece al elemento agua y si la mejoras hasta su último nivel, puedes incrementar además  la velocidad de todo tu equipo.

I was inspired by this card because I love the colors it has, the elven look of it and I thought I could recreate it in my chibi-kawaii style. It is a powerful healer of the negative effects that has left us the enemy monster in our first card - So to speak, given this I visualized it with hands placed in attack mode to heal my main card, as it is of water element, I recreated some waves at the bottom and that will make as a kind of emblem.
Me he inspirado en esta carta porque me encanta los colores que tiene, el aspecto de elfa de la misma y me pareció que podría recrearla a mi estilo chibi-kawaii. Es una potente sanadora de los efectos negativos que nos ha dejado el monstruo enemigo en nuestra primera carta - Por decirlo así, dado a esto la visualicé con las manos puestas en modo ataque para sanar a mi carta principal, como es de elemento de agua, recreé unas olas en la parte baja y que harán como especie de emblema.

I hope you like it, I'm getting very excited with this practice, besides the curiosity takes me beyond seeing them recreated in my style, among other things to participate in the community with great artists, whose works are exceptional.
Espero que les guste, me estoy entusiasmando mucho con esta práctica, además la curiosidad me lleva más allá de verlas recreadas a mi estilo, entre otras cosas participar en la comunidad junto a grandes dibujantes, cuyos trabajos son excepcionales.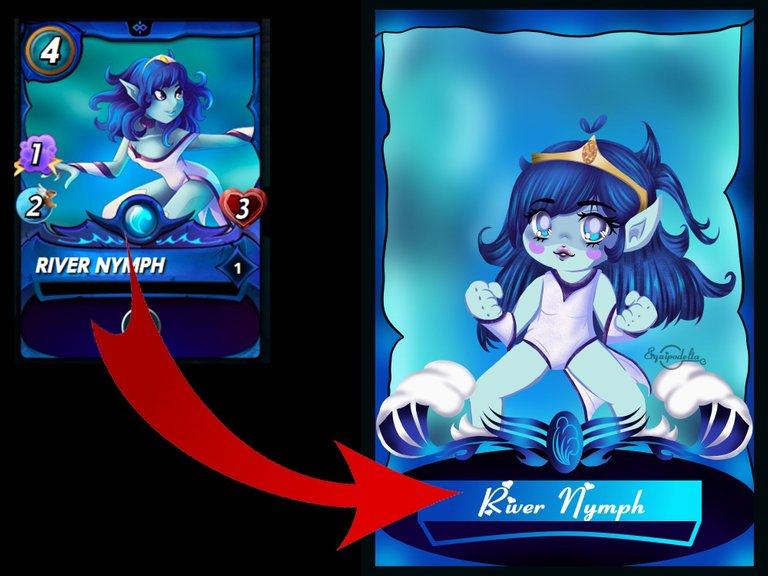 Step by step / Paso a paso

| | |
| --- | --- |
Step 1️⃣ / Paso 1️⃣
I have spent the day drawing this character, in the sketch was where I spent more time, achieving the position of the body and hands, looking for the way to give looseness to the hair, remembering its movement under the water. Once I have the idea more marked, I'm eliminating some layers that show many stripes, and I only leave the lines that will serve as a guide for the color fill.
He pasado el día dibujando este personaje, en el boceto fue donde pasé más tiempo, lograr la posición del cuerpo y las manos, buscando la forma de darle soltura al cabello, recordando su movimiento bajo el agua. Una vez que tengo ya la idea más marcada, voy eliminando algunas capas que notan muchas rayas, y solo dejo las líneas que servirán de guía para el relleno de color.

Next I edit the opacity of the sketch layer and start opening folders and inside it canvases where each color goes separately, the color filling procedure is completely freehand. For the hair, it is divided into several sections to give depth, these are also in different layers.
Seguidamente edito la opacidad de la capa del boceto y comienzo abrir carpetas y dentro de ella lienzos donde cada color va por separado, el procedimiento de relleno de color es a mano alzada completamente. Para el cabello, está dividido en varias secciones para dar profundidad, las mismas también están en lienzos diferentes.

In many cases, such as waves, it is enough to recreate one, copy it, paste it and invert it, then adjust it to the corresponding place and join the layers.
En muchos casos como por ejemplo las olas, basta con recrear una, copiarla, pegarla e invertirla, luego se ajusta al lugar correspondiente y se unen los lienzos.


Step 2️⃣ / Paso 2️⃣
In this step I work on the background of the chart, inspired by the reference image.
En este paso trabajo lo que es el fondo de la carta, inspirado en la imagen de referencia.

I added more details on the chest to resemble a crocodile, the little cubs and colored the green eyes to give it more of a frog look, but even at this point there were things I wasn't liking.
Agrego más detalles en el pecho para semejar un cocodrilo, los cachitos y coloreo los ojos verdes para darle más aspecto de sapito, pero ya en este punto habían cosas que no me estaban gustando.

The following image corresponds to the work done in the background, this was done with airbrushing and blurring.
La siguiente imagen corresponde al trabajo hecho en el fondo, este fue realizado con aerografía y difuminado.

For the following image corresponds the application of the details of the clothing, as well as the details of the shading, made with airbrush and the spray brush to give it a school crayon look.
Para la siguiente imagen corresponde la aplicación de los detalles de la vestimenta, así como los detalles de sombreado, hecho con aerografía y el pincel pulverización para darle aspecto de creyón escolar.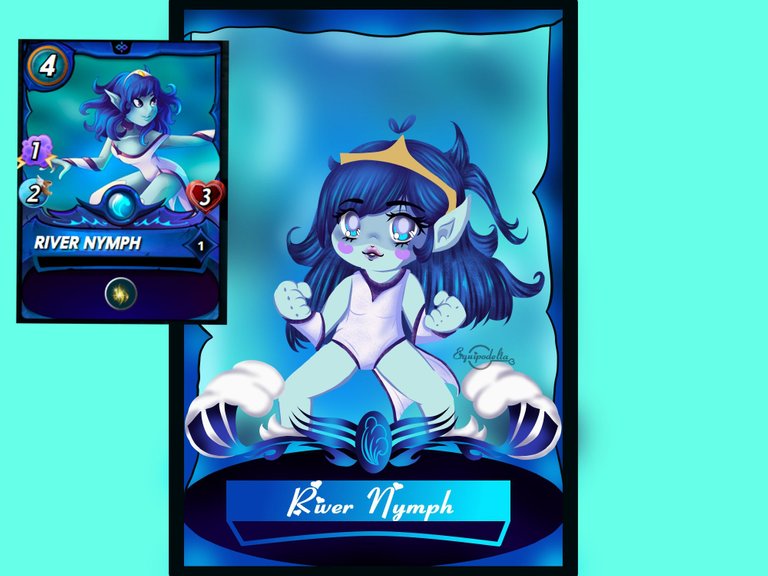 Step 3️⃣ / Paso 3️⃣
I open a new folder above the rest, in it I open a canvas and begin to draw the eyes, in this part I had my doubts many times if I should place the eyes in a normal way under the hair or if I should leave them cartoon style, I tried both ways and I won that they are seen out of the hair.
Abro una carpeta nueva por encima del resto, en ella abro un lienzo y comienzo a dibujar los ojos, en esta parte tuve mis dudas muchas veces si colocar los ojos de forma normal debajo de la pollina o si dejarlos estilo caricatura, probé ambas formas y ganó que se vean fuera del cabello.

The next image I work on the skin shading, in separate layers, is the same color tone, only each one I manipulate the opacity.
La siguiente imagen trabajo el sombreado de piel, en capas separadas, es la misma tonalidad de color, solo que cad auna manipulo la opacidad.

Making the hair of this character is something I enjoyed a lot and the result pleases me a lot, because I consider it is well done, made with a lot of love. Details in spraying, airbrushing and brushstrokes recreate the semi-realistic look.
Hacer el cabello de este personaje es algo que disfruté mucho y el resultado me complace bastante, pues considero esta bien logrado, hecho con mucho amor. Detalles en pulverización, aerografía y pinceladas recrean el aspecto semi realista.

The chibi - Kawaii eyes, maybe they are not very neat, but given the time I have without drawing, it was acceptable. I had to erase several times as there was disproportion, remembering that the character is sideways.
Los ojos chibi - Kawaii, quizá no estén muy prolijos, pero dado el tiempo que tengo sin dibujar, quedó aceptable. Tuve que borrar varias veces ya que había desproporción, recordando que el personaje está de lado.

In the last image I show the airbrush effect achieved in the waves and the rest of the image. To finish I only work in a simple way on the tiara.
En la última imagen muestro el efecto de aerografía logrado en las olas y el resto de la imagen. Para finalizar solo trabajo de forma sencilla en la tiara.

That's all for today my dears, I hope you like it, see you in my next post. Blessings to all. Thanks for your visit.
Ha sido todo por hoy mis queridos, espero les guste, nos vemos en mi siguiente post. Bendiciones a todos. Gracias por tu visita.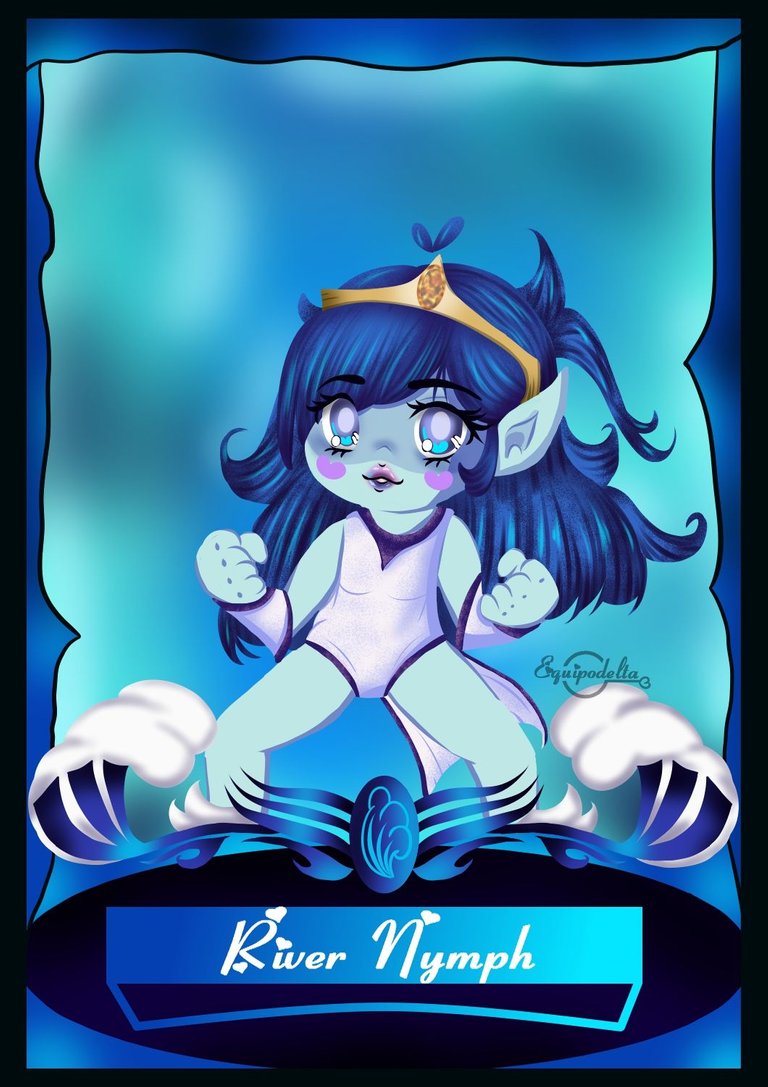 Credits / Créditos.

Time lapse: 9 Hours
Program: MediBang Paint Pro.
Graphics tablet: Huion (Usb Pen Tablet). Model 420.
Pinceles: Lápiz, pulverización, acuarela, aerografía, Pluma (gruesa)
Herramientas: Carpetas, recorte, ajuste paralelo, línea curva (elipse), borrador, texto.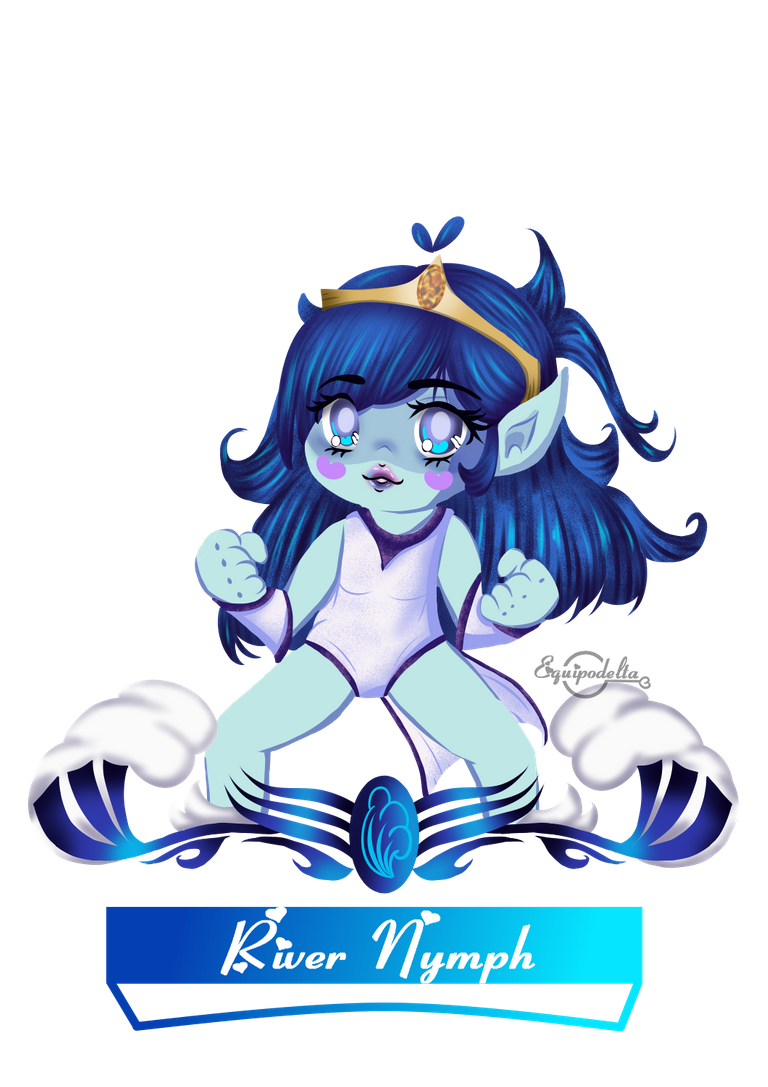 Hacks, DIY, Crafts, handmade arts Community


---
---