The lady with sunflowers (ENG/ESP)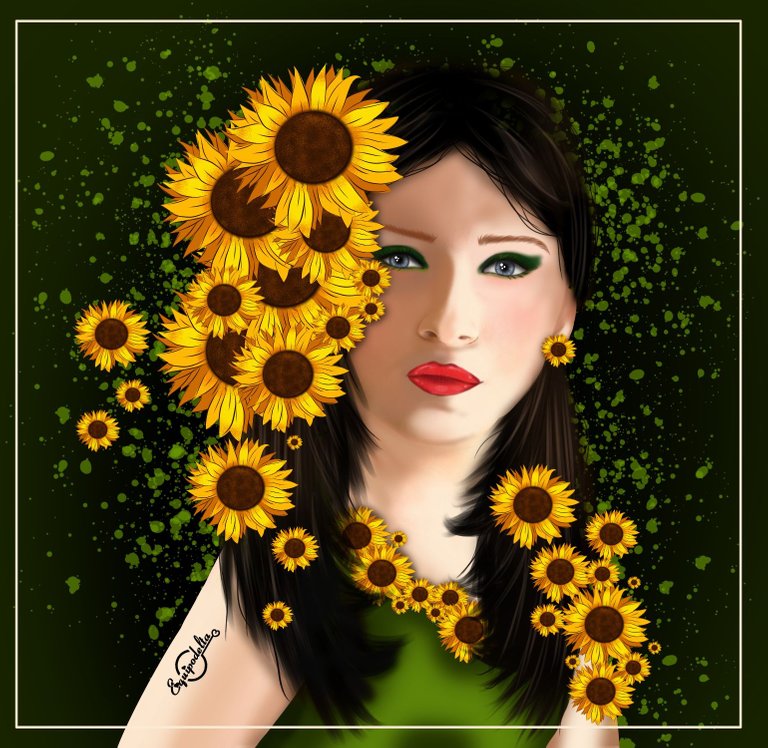 Hello dear ones, I hope you are feeling well. At the weekend I was practicing semi-realistic art again, it's been a long time since I did it, I would like to return to the practice.
Hola queridos, espero se encuentren muy bien. El fin de semana estuve practicando nuevamente arte semirealista, hace mucho que no lo hacía, quisiera volver a la práctica.

The lady with sunflowers
I am a flower lover, according to my zodiac sign my flower is the sunflower and I think it is not wrong because it is my second favorite flower after the calla flower.
Soy amante de las flores, según mi signo zodiacal mi flor es el girasol y creo que no se equivoca pues es mi segunda flor favorita después de la flor cala.

I was inspired by this flower, although the design took me only 15 minutes to make one and then reproduce it, the one who ended up taking the limelight was perhaps the woman. It's been so long since I drew flowers, that I thought I would not be able to achieve it, but I was impressed with the result, when you know a brush well and you have practiced its use, it makes the whole process easier. I think this will encourage me to draw more flowers, since my intention was to recreate a sunflower.
En base a esta flor me inspiro, aunque en el diseño me llevó solo 15 minutos hacer una y luego reproducirla, quien terminó llevándose el protagonismo quizá fue la mujer. Hace tanto tiempo que no dibujo flores, que pensé no iba a poder lograrla, pero me impresionó el resultado, cuando conoces bien un pincel y su uso lo has practicado, te facilita todo el proceso. Creo que esto me animará a dibujar más flores, ya que mi intención era recrear un girasol.

Every day I learn something new about the program I use to draw, even though I practiced with it about 4 years ago, I always discover a new feature that I didn't know. Now I leave you with the step by step of how I did it, I hope you like my practice today.
Todos los días aprendo algo nuevo sobre el programa que uso para dibujar, a pesar que practicó con él hace 4 años aproximadamente, siempre descubro una nueva característica que no conocía. Ahora los dejo con el paso a paso de cómo lo hice, espero les guste mi práctica de hoy.


Step by step / Paso a paso

| | |
| --- | --- |
Step 1️⃣ / Paso 1️⃣
In a sketch, I always start with the roundness of the face, then I draw the guide lines, I had the intention of drawing the character looking forwards For the flowers I only drew one in a sketch, then I reproduced it many times and placed them in places where I think they would look better.
En un boceto, siempre empiezo por la redondez del rostro, luego trazo las líneas guía, tenía la intención de dibujar el personaje mirando al frente pero con el cuerpo de lado, como si estuviera posando, era un poco dificultoso. Para las flores solo elaboré una en un boceto, luego la reproduje muchas veces y las coloqué en lugares donde pienso quedarían mejor.


I begin to empty the color, just like in my caricatures, this one I work on, each color has its specific folder and canvas.
Comienzo a vaciar el color, igual que en mis caricaturas, ésta la trabajo cada color lleva su carpeta específica y su lienzo.


Step 2️⃣ / Paso 2️⃣
It is difficult to work in airbrushing and that the drawing does not look dirty, I tried to unify it as best as possible, in this section I apply the skin shading lu the light.
Es difícil trabajar en aerografía y que el dibujo no se vea sucio, lo traté de unificar lo mejor posible, en esta sección aplico el sombreado de piel lu la luz. 

In the next step, I try to recreate the guide lines of the eyes and the eyebrows, I work more on the blurring and the edges of the face.
En el siguiente paso, trato  recrear las líneas guías de los ojos y las cejas, trabajo más el difuminado y los bordes del rostro.

The following image corresponds to the work done in the background, this was done with airbrushing and blurring.
En esta parte me divierto un poco aplicando maquillaje en los ojos, esto es con aerografía y pulverización para darle brillo. Acentúo más los ojos y relleno el fondo.


Step 3️⃣ / Paso 3️⃣
At this point, I had no idea what color I would paint the eyes, I was hesitant with the olive green, but the drawing already had too much of that color, they were lost, so I put them gray, but I drew them in a cartoon mode, I don't know how to make realistic eyes, nor semi-realistic, but I will practice.
En este punto, no tenía idea del color que pintaría los ojos, tenía indecisión con el verde aceituna, pero ya el dibujo llevaba mucho de ese color, se perdían, así que los coloqué grises, pero, los dibujé modo caricatura, no sé hacer ojos realistas, ni semi realistas, pero practicaré.

The hair color was not to my liking, so in this step I darkened it, continued working with the shading of the face, covering the flaws, then I drew the lips.
El color del cabello no era de mi agrado, en este paso lo oscurecí, seguí trabajando con el sombreado del rostro, cubriendo las fallas, luego le dibujé los labios.

I made the details in the hair with airbrush, all light and black, then I drew the strands. It's the same way I apply to my chibi-kawaii designs.
Realicé los detalles en el cabello con aerografía, todos claros y negro, luego dibujé las hebras. Es de la misma forma con la que aplico a mis diseños chibi-kawaii.

I draw a circle, then in lower layers I draw each petal with light and dark tones, each one in different canvases, this way I give it depth. If there is one of the things I liked the most about this drawing is definitely the sunflower. As I told you at the beginning of the post, every day I learn something new, just by copying the folder, the image I left on it sticks as one.
Dibujo un círculo, luego en capas inferiores dibujo cada pétalo con tonos claros y oscuros, cada uno en lienzos distintos, de esta manera le doy profundidad. Si hay una de las cosas que más me gustaron de este dibujo es definitivamente el girasol. Como les dije en el principio del post, todos los días aprendo algo nuevo, con tan sólo copiar la carpeta, la imagen que dejé en él se pega como una sola. 


Step 4️⃣ / Paso 4️⃣
A little blush on the cheeks, I'm still working on every detail.
Un poco de rubor en las mejillas, sigo trabajando en cada detalle.

As I said before I copy the complete folder where I worked on the flower and then when I paste it, it is pasted in a single canvas, which allows me to copy it again and reproduce it several times.
Como dije anteriormente copio la carpeta completa donde trabajé la flor y luego al pegarla, se pega en un solo lienzo, lo cual me permite volver a copiarla e irla reproduciendo varias veces.

I manipulate the size of each flower that I glue, placing them in the places I want.
Manipulo el tamaño de cada flor que voy pegando, las voy colocando en los lugares que deseo. 

To finish I work on a simple background so as not to overload it, it consists of airbrushing and spraying. With this, I have finished my design and practice today, I hope you like it, I had fun and learned a little more about my design program, it was a pleasure to share it.
Para finalizar trabajo en un fondo sencillo para no sobrecargarlo, consta de aerografía y pulverización. Con esto, he terminado mi diseño y práctica de hoy, espero sea de su agrado, me divertí y aprendí un poco más sobre mi programa de diseño, fue un placer compartirlo.


Credits / Créditos.

Time lapse: 10 Hours
Program: MediBang Paint Pro.
Graphics tablet: Huion (Usb Pen Tablet). Model 420.
Pinceles: Lápiz, pulverización, acuarela, aerografía, Pluma (gruesa)
Herramientas: Carpetas, recorte, ajuste paralelo, línea curva (elipse), borrador, texto.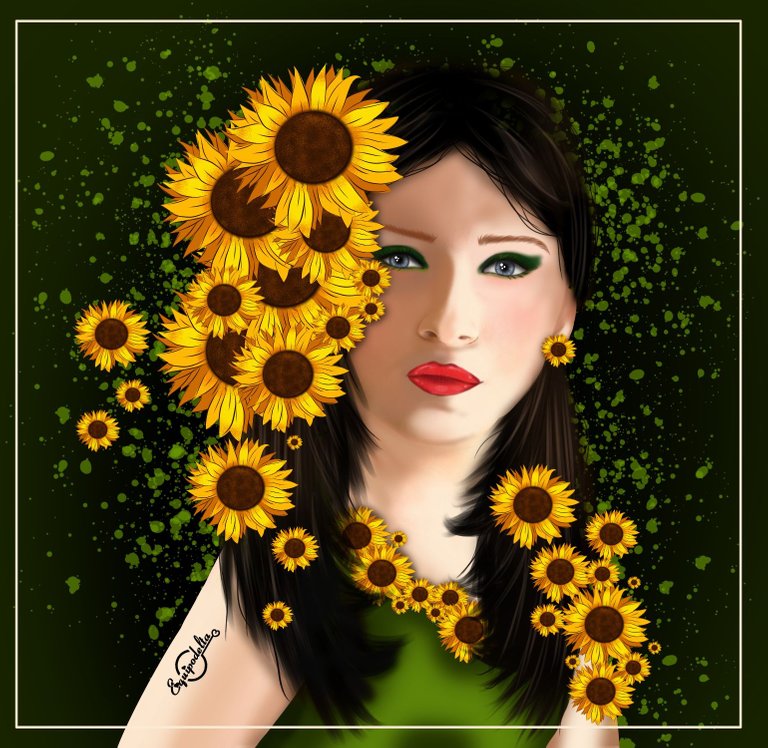 Hacks, DIY, Crafts, handmade arts Community


---
---