White, virgin and immaculate / Blanca, virgen e inmaculada (Esp/Eng)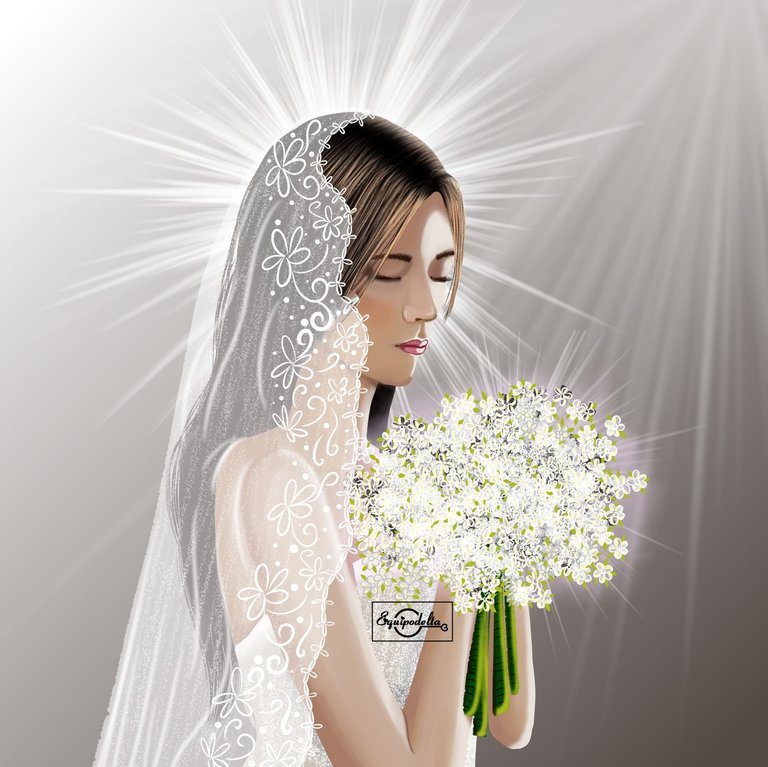 💜💜💜
[Esp]
Saludos amados, he aquí un dibujo inspirado. Espero les guste, así como mis experiencias y reflexiones.
Hablemos, compartamos experiencias de vida...
Miren la novia... Es su momento... Debería estar feliz y alegre, dejará de ser "niña" para formar un hogar junto a otra persona supone que ambos se aman, tiene muchas ilusiones, ofrece su pureza a su amado con la fe de que este cumplirá su rol en el hogar...
Con el tiempo las relaciones cambian y dejan de ser color de rosa, la vida es un desafío continuo y las relaciones están sujetas a cambios, pruebas y el destino juega y juega. Así ha sido el mío, pero no puedo pluralizar.
Una vez fui novia y me casé con ilusión con la promesa de la fidelidad y amor eterno, pero ni en el juramento fue verdadero. Luego me separé y me volví a casar, con la mente más realista de formar un hogar, la vida siempre nos lleva por caminos, senderos, encrucijadas que no sabemos en dónde vamos a parar por mucho que nos proyectemos. Nos desilusionamos pero volvemos a creer.
No todas las novias se casan con amor y por amor, algunas tienen la peor suerte de ser obligadas. Se atarán a un ser, dejarán de ser prioridad, dejarán a un lado sus sueños y metas por enfocarse en la familia que están formando y la crianza de los hijos, atender a un hombre que podría terminar siendo un patán.
Los senderos que elegí solo me dejaron amargas experiencias. Al final aprendí que con quien debo casarme es conmigo misma y ser fiel a mí misma y la felicidad está dentro de mí misma la prioridad soy yo y soy la única responsable de mí y nadie (después de mi madre) es capaz de amarme tanto como debo amarme yo. Duele, pero no todos en esta vida estamos hechos para amar y sobre todo ser amados en la misma magnitud o verdaderamente. Quien corre con esa suerte debe cuidar mucho de su bendición.
No puedo decir que no existe, porque mis ojos han visto relaciones longevas, duraderas y donde ambos siguen amándose y estando juntos contra viento y marea, a toda prueba, donde se respetan y se apoyan el uno al otro como una verdadera pareja.
Ahora... Debo atender todas y cada una de las piezas rotas que han quedado de mi corazón, pegarlas y abrazarlas con mucho amor.
He aprendido mucho en esta vida... Lo bueno es que sigo adelante.
Abrazo para todos, los dejo con mi paso a paso.
! [English version]
[Eng]

**Greetings beloved ones, here is an inspired drawing. I hope you like it, as well as my experiences and reflections **.


Let's talk, let's share life experiences...


Look at the bride... it's her moment... She should be happy and joyful, she will stop being a "child" to form a home together with another person, she assumes that both love each other, she has many illusions, she offers her purity to her beloved with the faith that he will fulfill his role in the home...


With time relationships change and stop being rosy, life is a continuous challenge and relationships are subject to changes, tests and destiny plays and plays. So has mine been, but I can't pluralize.


Once I was a bride and I married with illusion with the promise of fidelity and eternal love, but not even in the oath was true. Then I separated and remarried, with the more realistic mind of forming a home, life always takes us down roads, paths, crossroads that we do not know where we are going to end up no matter how much we project ourselves. We get disillusioned but we believe again.


Not all brides marry with love and for love, some have the worst luck of being forced. They will tie themselves to a being, stop being a priority, put aside their dreams and goals to focus on the family they are forming and raising children, attend to a man who could end up being a lout.


The paths I chose only left me with bitter experiences. In the end I learned that the one I should marry is myself and be true to myself and happiness is within myself the priority is me and I am the only one responsible for me and no one (after my mother) is capable of loving me as much as I should love myself. It hurts, but not everyone in this life is made to love and above all to be loved in the same magnitude or truly. Whoever runs with that luck must take great care of his blessing.


I can't say it doesn't exist, because my eyes have seen long-lasting, lasting relationships where both continue to love and be together against all odds, no matter what, where they respect and support each other like a true couple.


Now... I must tend to each and every broken piece that has been left of my heart, glue them together and embrace them with much love.


I have learned a lot in this life.... The good thing is that I am moving on.


Hugs to all, I leave you with my step by step.

Step by Step / Paso a Paso

Step 1️⃣/ Paso 1️⃣
| | |
| --- | --- |
| | |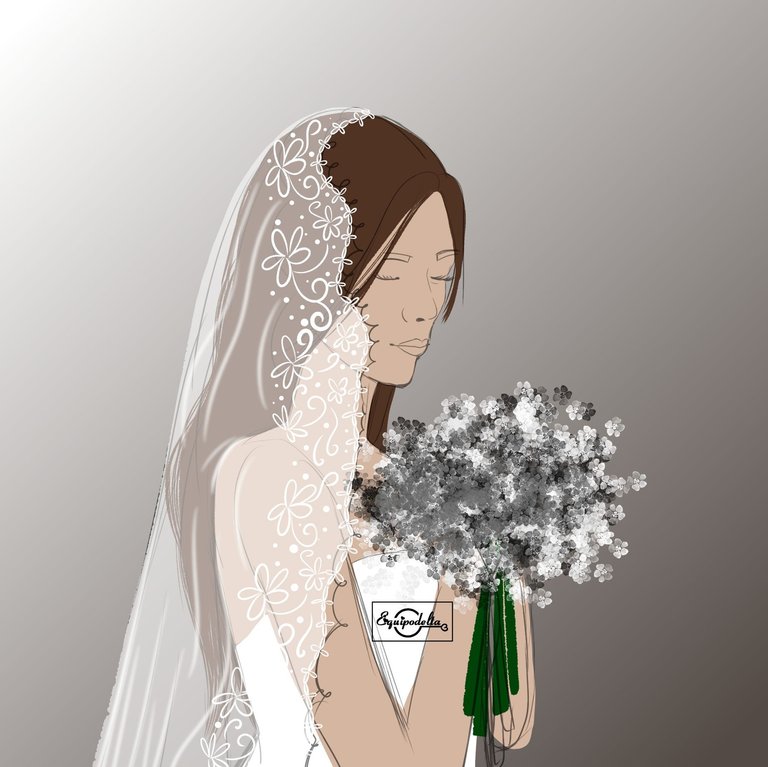 [Esp]
Vi un diseño que me gustó y quise recrear a mi estilo, me quedó la satisfacción de la otra novia que dibujé hace un par de semanas. Hay cosas que no quería fueran típicas de una novia, como por ejemplo un ramo de calas, solo hice flores muy desordenadas en blanco y escala de grises.
Realizo el color base, todo en capas y carpetas separadas en orden.
Aplico degradado de color en el fondo y procedo a decorar el velo, un color blanco al que luego modifico la opacidad de la capa para lograr la transparencia, en una capa superior realizo la decoración y líneas de movimiento.
! [English version]
[Eng]

I saw a design that I liked and I wanted to recreate it in my style, I was left with the satisfaction of the other bride I drew a couple of weeks ago. There are things that I didn't want to be typical of a bride, such as a bouquet of calla lilies, I just made very messy flowers in white and grayscale.


I do the base color, all in layers and separate folders in order.


I apply color gradient in the background and proceed to decorate the veil, a white color to which I then modify the opacity of the layer to achieve transparency, in a top layer I make the decoration and movement lines.
Step 2️⃣/ paso 2️⃣
| | |
| --- | --- |
| | |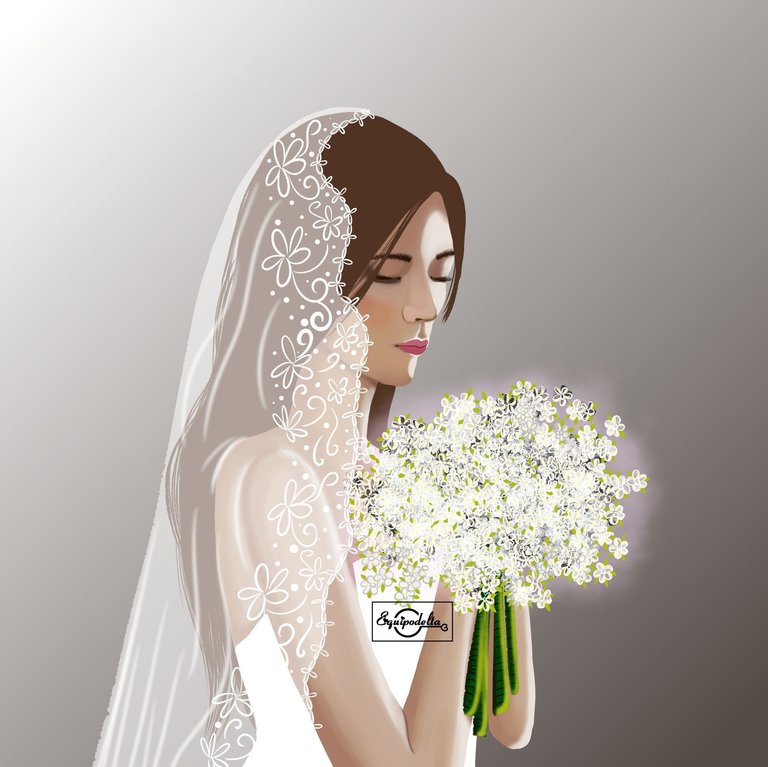 [Esp]
No voy a negar que mientras dibujaba rumeaba los pensamientos por la suerte que he tenido en las elecciones que he hecho de las parejas sentimentales, ha sido un viacrucis y ha sido muy amarga la experiencia, sin embargo con mucho gusto ahora voy camino a mi sanación y pienso que a pesar de todo, no me cohíbo de vivir y sentir, solo que deseo mi tiempo de soledad conmigo misma.
Una de las cosas que más nos socavan es que mirándonos a los ojos nos digan que nos aman mientras nos clavan una puñalada en la espalda con la traición y el interés.
En la vida nos pasan situaciones que nos enseñan a ser pacientes.
Como perdí la paciencia con las flores, eran demasiadas y decorar una a una fue agotador, me arrepentí, pero al final yo así las elegí, así que debía terminar. Difícilmente dejo algo a medias, debo terminarlo y si no tiene remedio pues aprendí a soltarlo, así que consideré y evalué si podría terminar con ellas.
Pasé por el sombreado de piel, realizo la primera capa con el pincel aerógrafo fuerte, un sombreado bastante rústico, donde el siguiente paso será mezclar el color y difuminar.
¿Será que he pasado mi vida maquillando todo? No lo sé. Pero puedo decir con propiedad que... De ilusiones no se vive ni se es feliz.
! [English version]
[Eng]

I will not deny that while I was drawing I was thinking about the luck I have had in the choices I have made with sentimental partners, it has been a ordeal and the experience has been very bitter, however, I am now on my way to healing and I think that despite everything, I do not shy away from living and feeling, I just want my time alone with myself.


One of the things that undermine us the most is to be looked in the eyes and told that we are loved while we are stabbed in the back with betrayal and interest.


In life situations happen to us that teach us to be patient.


As I lost patience with the flowers, there were too many and decorating one by one was exhausting, I regretted it, but in the end I chose them, so I had to finish. I hardly leave something half done, I must finish it and if it is hopeless I learned to let it go, so I considered and evaluated if I could finish them.


I went through the skin shading, I do the first layer with the strong airbrush, a rather rustic shading, where the next step will be to blend the color and smudge.


Could it be that I've spent my life doing all the makeup? I don't know. But I can say with propriety that... You can't live on illusions and you can't be happy.
Step 3️⃣/ paso 3️⃣
| | |
| --- | --- |
| | |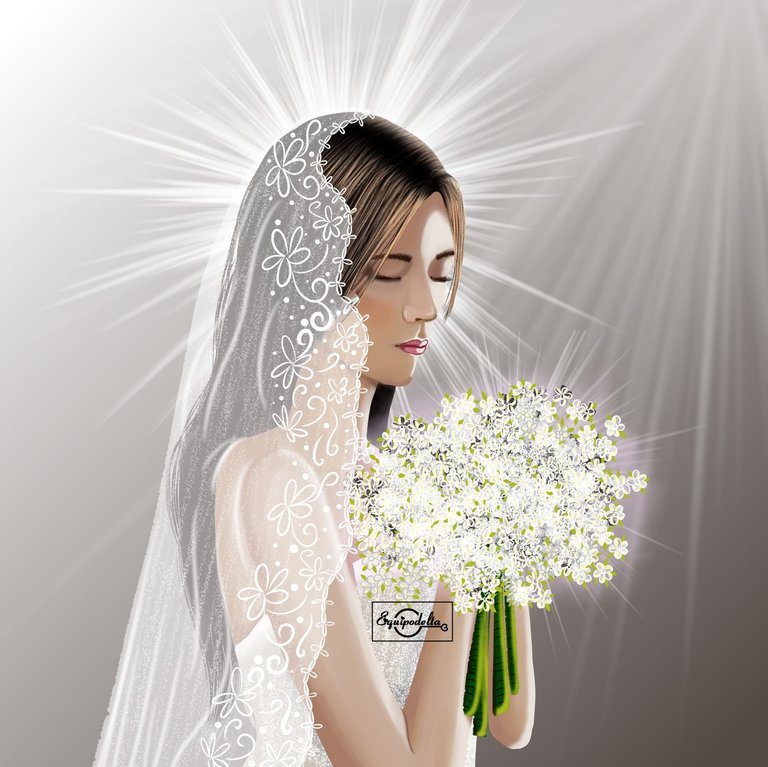 [Esp]
La mujer tiene los ojos cerrados, me gustó porque denota inocencia y está pensativa, como si estuviese orando. le doy los toques al traje, pequeñas estrellas como escarcha y repito en el velo de novia. En el siguiente paso realizo el cabello para finalizar con unos destellos aludiendo a la virginidad y divinidad.
Espero les guste, junto a mis historias, es lo que me inspiró, pues tengo que continuar mi mundo y mi camino está bifurcado me siento parada en medio observando los dos caminos sea cual sea el que elija, me dolerá ¿Cuál duele más? Duelen por igual. En uno me espera el hombre que amo, pero no estará conmigo, me esperan días de tristeza por la ausencia y falta de atención, en el otro camino, aunque es más fácil para mí y más económico, ni siquiera podría esperar que él siquiera apareciera. Mi razón me dice que debo ser realista y elegir el camino sin él porque el amor acaba y si me amara tanto, él dejara las excusas de su trabajo, yo soy capaz de soltar todo por él, pero él no es capaz de hacer un sacrificio por mí y en base a eso, mi razón me dice que debo ir por el camino que me aleja de su destino.
El corazón chiquito, roto y arrugadito. Pues ya tengo las respuestas y tengo un luto que duele y quema.
! [English version]
[Eng]

The woman has her eyes closed, I liked it because it denotes innocence and she is pensive, as if she were praying. I add the touches to the dress, small stars like frost and repeat on the bridal veil. In the next step I make the hair to finish with some sparkles alluding to virginity and divinity.


I hope you like it, along with my stories, is what inspired me, because I have to continue my world and my path is bifurcated I sit standing in the middle watching the two paths whichever one I choose, it will hurt which one hurts more? They hurt equally. On one the man I love awaits me, but he won't be with me, days of sadness await me for the absence and lack of attention, on the other path, although it's easier for me and cheaper, I couldn't even expect him to even show up. My reason tells me that I must be realistic and choose the path without him because love ends and if he loved me so much, he would leave the excuses of his work, I am capable of letting go of everything for him, but he is not capable of making a sacrifice for me and based on that, my reason tells me that I must go the path that takes me away from his destiny.


My heart is small, broken and wrinkled. Well, I already have the answers and I have a mourning that hurts and burns.

Credits / Créditos.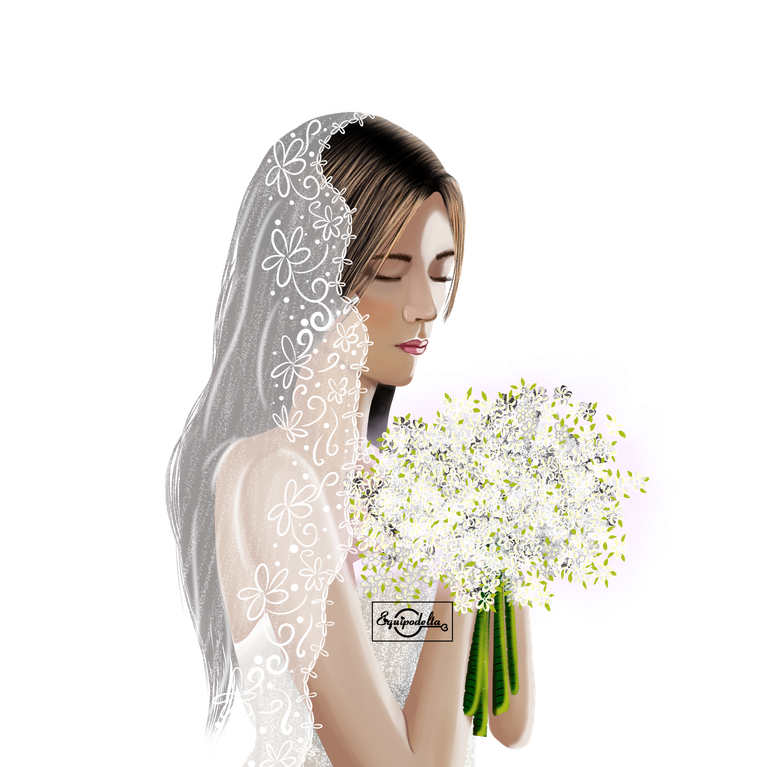 💜💜💜


💜💜💜
👉

👉

👉


Here / Bríndame un café

---
---