Art In The Medieval Fortress
Over the years I've attended many art exhibitions, one more interesting than the other. Besides the exhibited pieces, there's something I like to pay attention to and that is the location, I mean the building where the artworks are exhibited. So far, besides luxury art galleries, I've been to churches, bastions, towers, basements and medieval castles, just to name a few.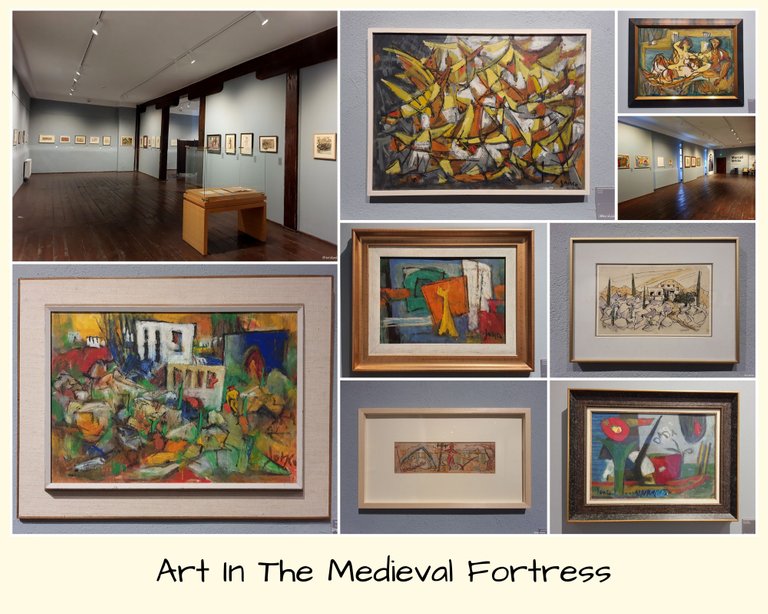 Today I'm going to show you an exhibition hall made in a medieval structure, that is part of the fortress of Targu Mures.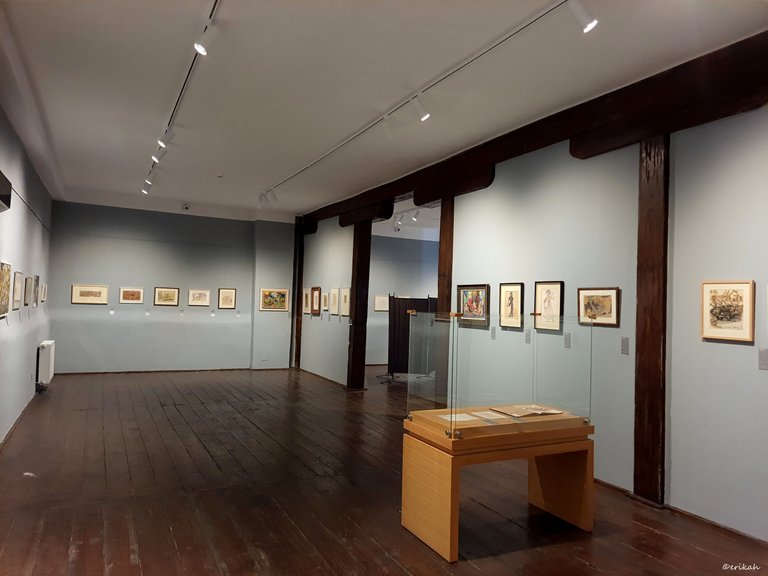 There are two rooms like this, identical I could say and you can go round from one room to the other. If you have a close look at the supporting beams, you can see those are old and so is the floor. When you step on it, it crackles. I don't know if I can find the right words to express how it feels but it's kind of like harmony between the old artworks and the old exhibition hall.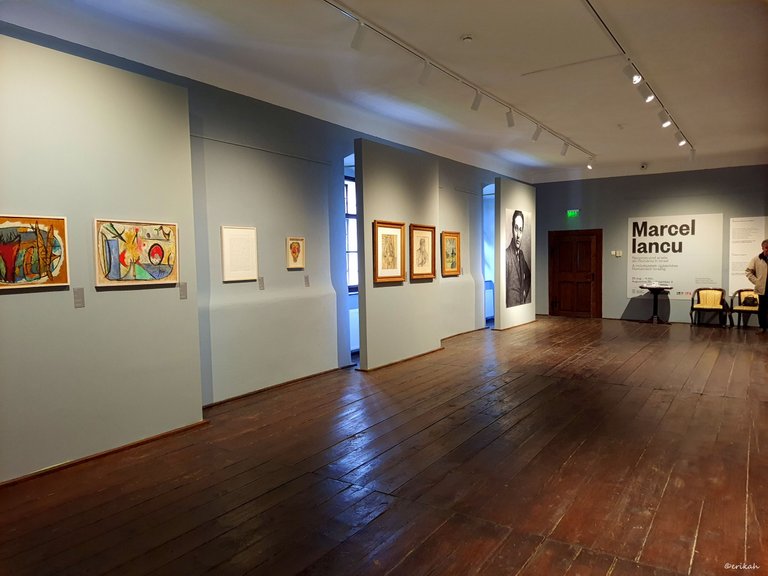 This is the first room you enter, when visiting the exhibition. As you can see, natural light has been excluded here, all the windows have been covered and only artificial light has been used. There were a few artworks under glass, but compared to other exhibitions, I had no major problems with reflection this time.
As I mentioned in my previous posts, here and here (this is NSFW), the artist had explored painting, drawing, and other style during his life, which made the exhibition more colorful.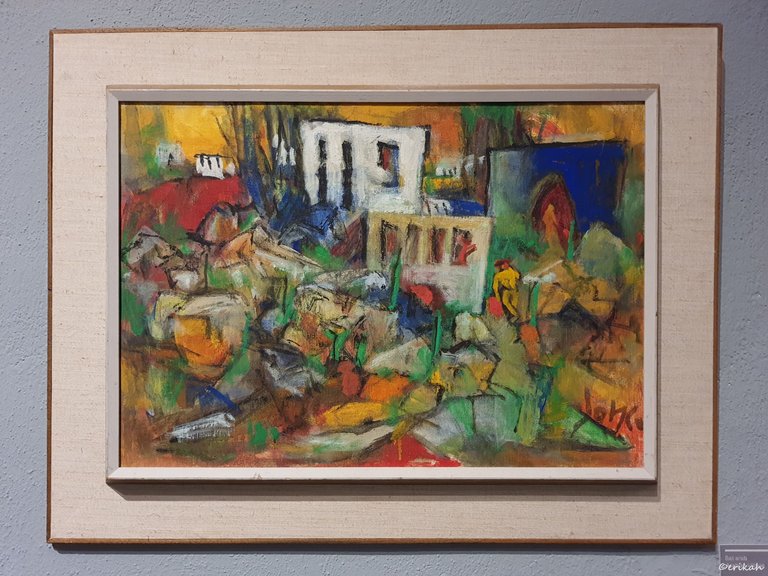 What comes now was the part I liked the most. These paintings were pretty colorful and maybe that was what I liked about them. This is oil on canvas glued to cardboard, was made in the 1970's and it is called Arabian Village. There's something else that has contributed to me liking so much these paintings and that is the framing. In this case it's not pure wood, but canvas surrounding the painting and the texture and the color of the canvas is a nice addition to the painting. I suppose framing has a huge role too.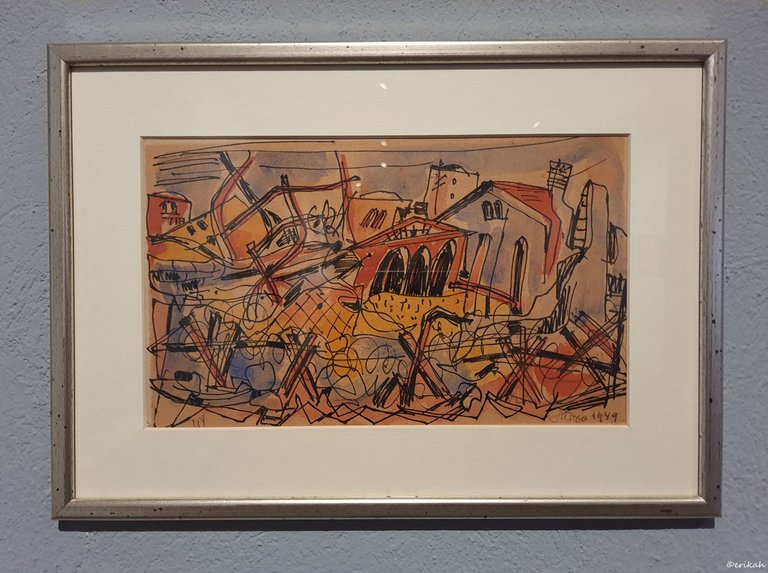 Landscape, watercolor on paper, painted in 1949.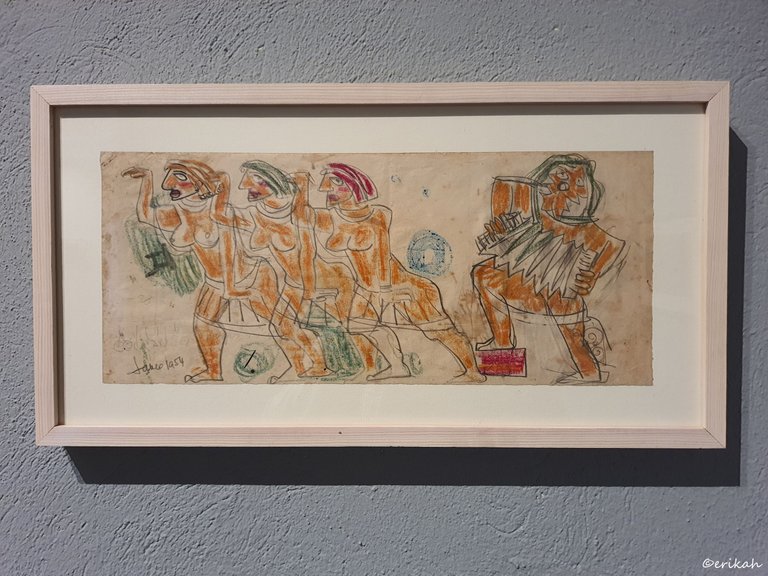 Ball, from 1954, simple but still cool.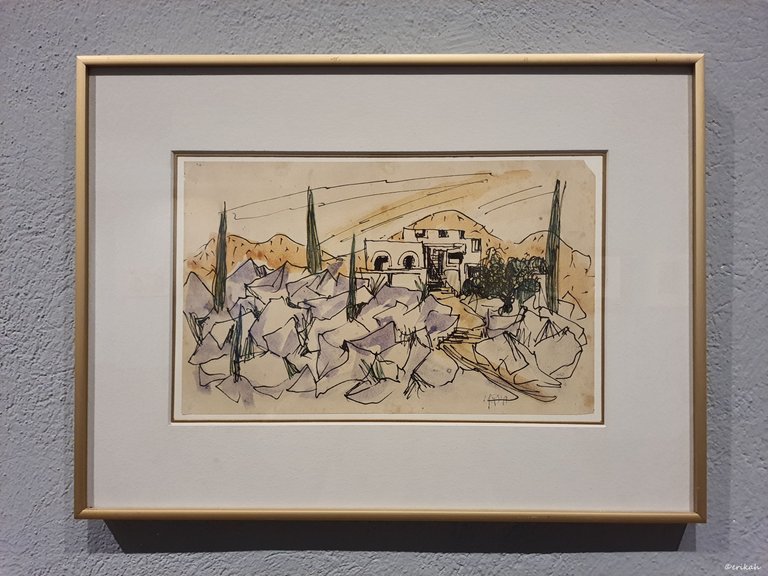 Arabian Village again, created in the 1940's.
Marcel Janco began his main Israeli project in May 1953, after he had been mandated by the Israeli government to prospect the mountainous regions and delimit a new national park south of Mount Carmel. In his own account (since disputed by others), he came across the deserted village of Ein Hod, which the Palestinian Arabs had largely discarded during the 1948 exodus. Janco felt that the place should not be demolished, obtaining a lease on it from the authorities, and rebuilt the place with other Israeli artists who worked there on weekends; Janco's main residence continued to be in the neighborhood of Ramat Aviv. His plot of land in Ein Hod was previously owned by the Arab Abu Faruq, who died in 1991 at the Jenin refugee camp. Janco became the site's first mayor, reorganizing it into a utopian society, art colony and tourist attraction, and instituted the strict code of requirements for one's settlement in Ein Hod. source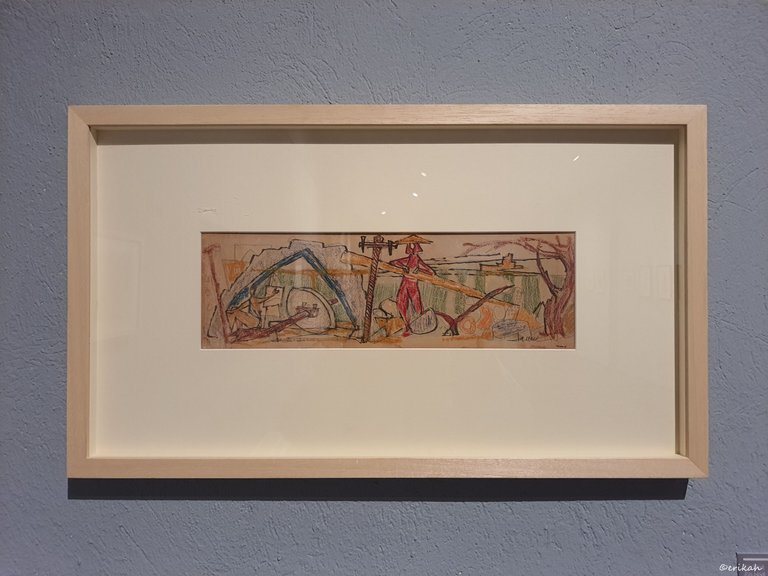 The other thing that I liked was the size and for of the artworks, like this one for example. It's not an usual size and again, the framing adds to the beauty as the white edge is definitely a plus here. This is Ein Hod, crayon on paper.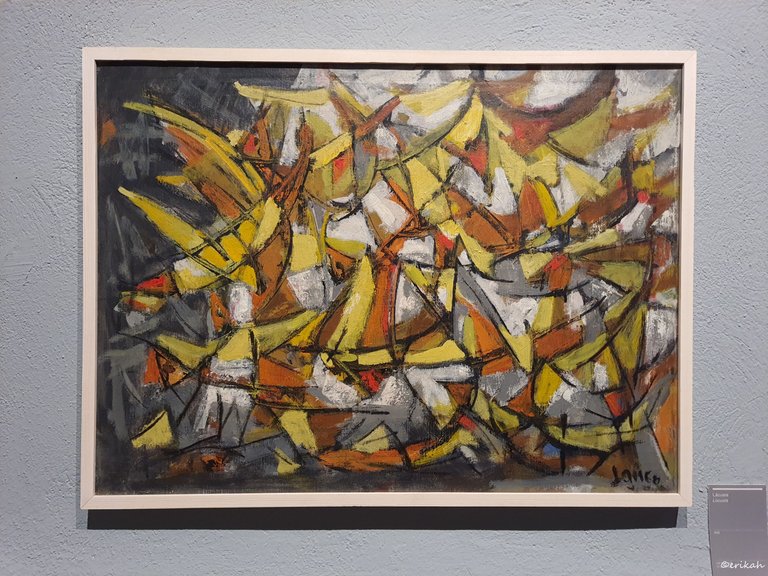 Locusts, 1959. I would have never guessed what this painting is about, but even not knowing, looks nice.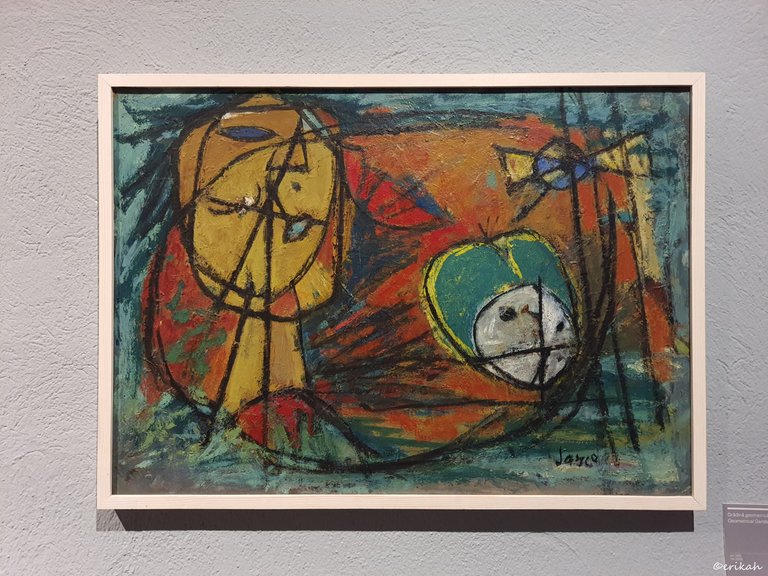 Geometrical Garden, from the 1950's.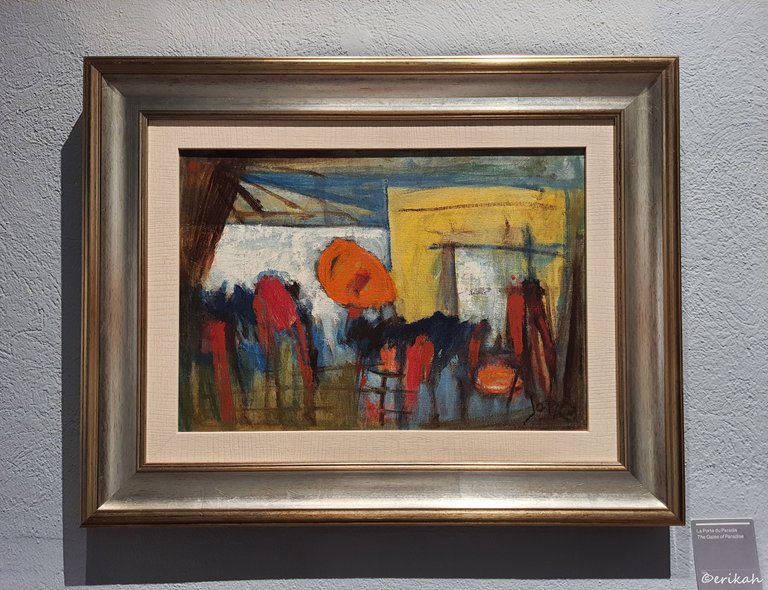 The Gate Of Paradise from 1964. I don't know about you but I've never thought about how the gate or paradise would look like, but according to the artist, it's yellow. It's a nice work but I suppose a thinner frame would have been more appropriate here.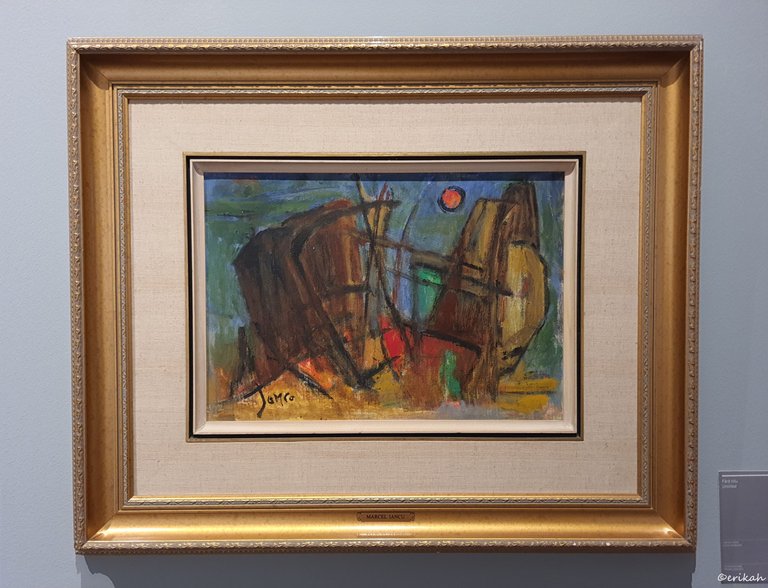 Untitled painting.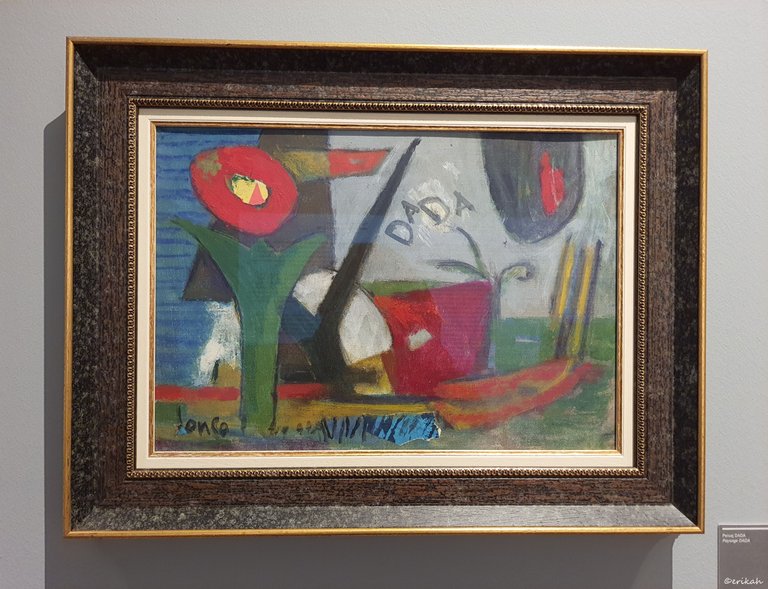 DADA Landscape
He was the co-inventor of Dadaism and a leading exponent of Constructivism in Eastern Europe. In the 1910s, he co-edited, with Ion Vinea and Tristan Tzara, the Romanian art magazine Simbolul. Janco was a practitioner of Art Nouveau, Futurism and Expressionism before contributing his painting and stage design to Tzara's literary Dadaism. He parted with Dada in 1919, when he and painter Hans Arp founded a Constructivist circle, Das Neue Leben. source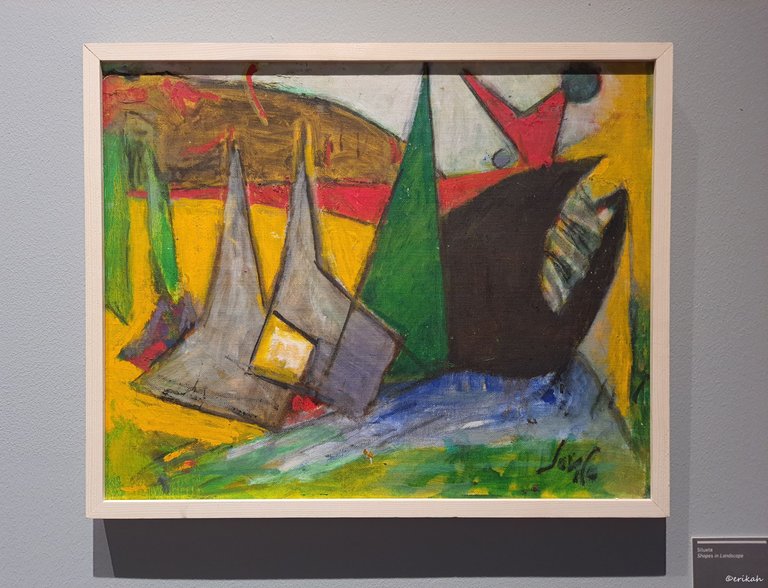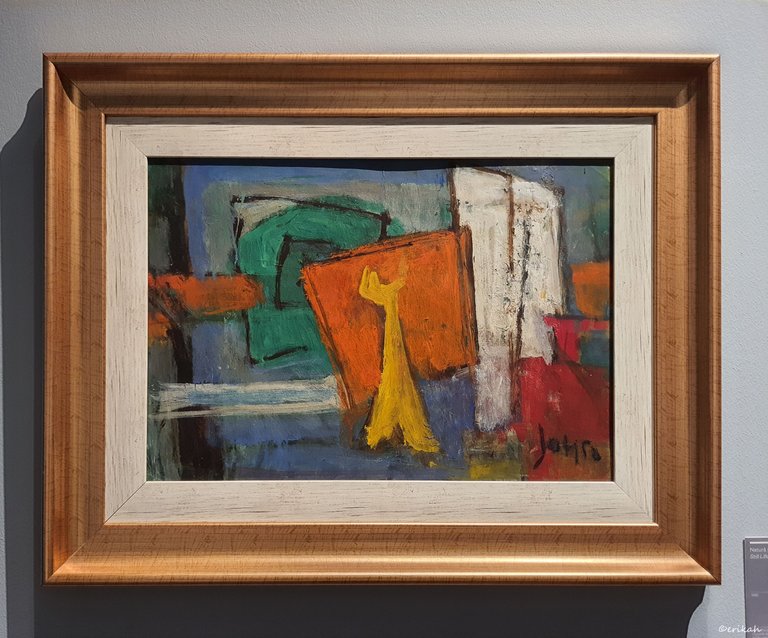 Although this Still Life doesn't say much, I still like it and that is due to the color combination used by the artist.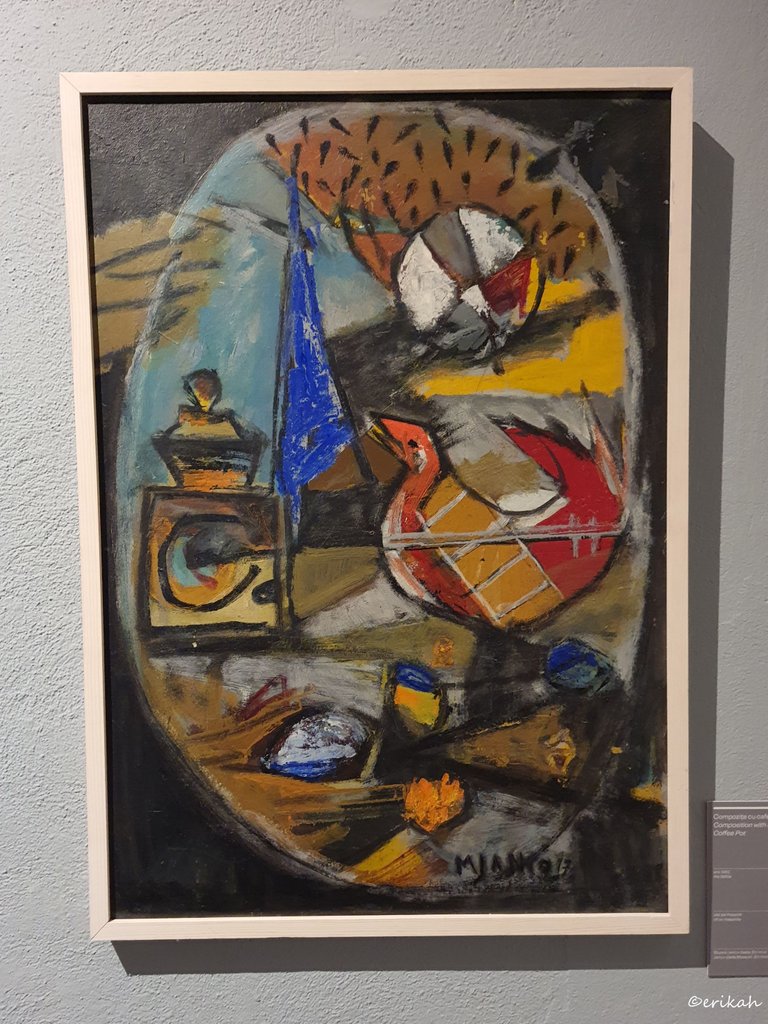 Last, but not least, here's a strange one, that is called Composition With A Coffee Pot. To tell you the truth, I can't even see the coffee pot. There's that box on the left, that could be a grinder, but that's all I can recognize.
Anyway, while walking in the gallery, admiring the paintings, I had the feeling that I could choose one or two to hang them on my wall, which does not happen often. This is a good sign and I know I will remember this exhibition for a long time.

If you're a newbie, you may want to check out these guides:

---
---