Art, Inspiration, Learning Experience
One of the things I like about art exhibition, apart from the surprise that is waiting for me, is the opportunity to see something I've never seen before and the opportunity of learning something new. Inspiration can come from different places and it is always welcome. For me, learning about art is not only important, but a lot of fun as well.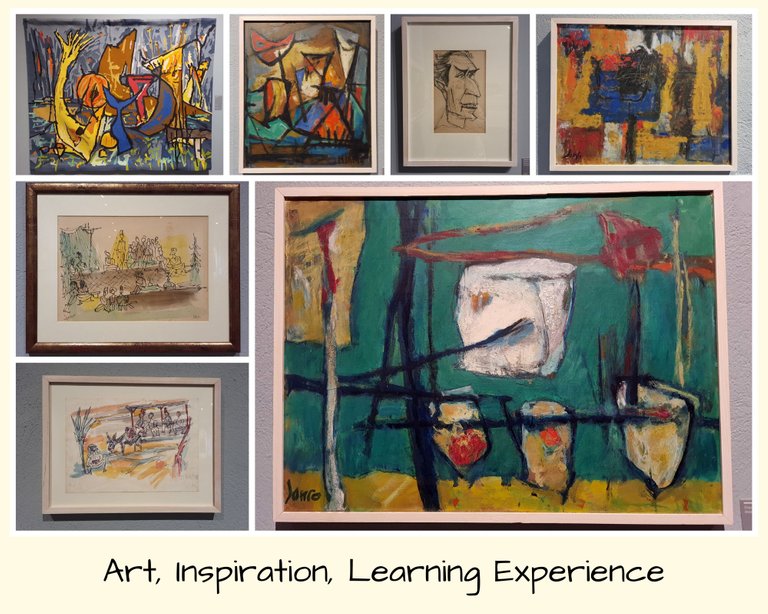 The fun is intensified when I get to see different type of art in one place and that's what's happened at the art exhibition I visited last. Marcel Iancu, is a Romanian - Israeli artist who's no longer with us, thus organizers got to exhibit the work of a lifetime, even if it's not complete.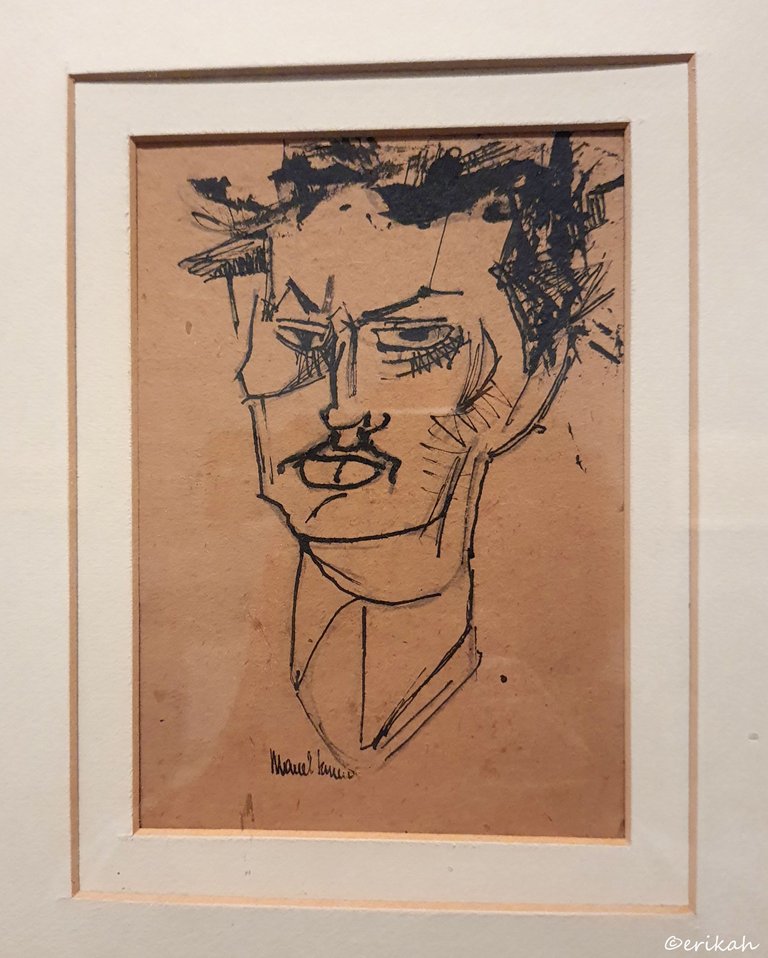 This is a self portrait, ink on paper, made in 1930. It looks like caricature to me but the label does not mention caricature. Drawing a portrait for those who don't have any talent (like me) is not easy or should I be brutally honest and say it's impossible. However, this kind of portrait doesn't seem so difficult. (Then when I try to create something similar, comes the slap on the face 😂)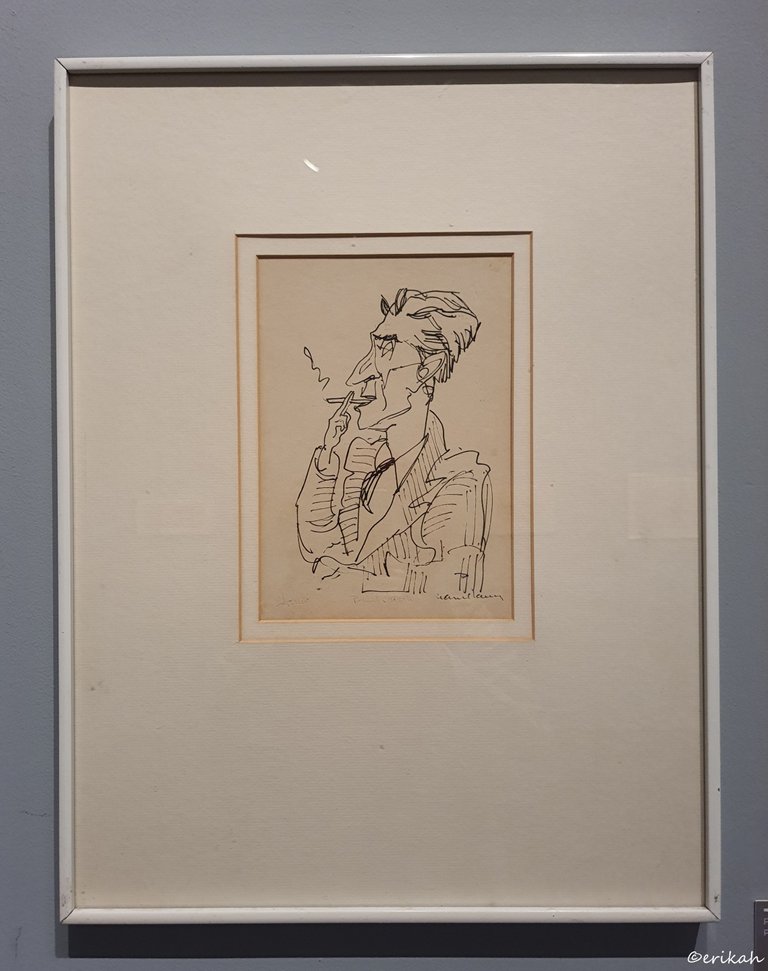 This is a portrait of Panait Istrati, a well known Romanian writer. Just look at the simplicity of the drawing (ink on paper). A few lines and that's all.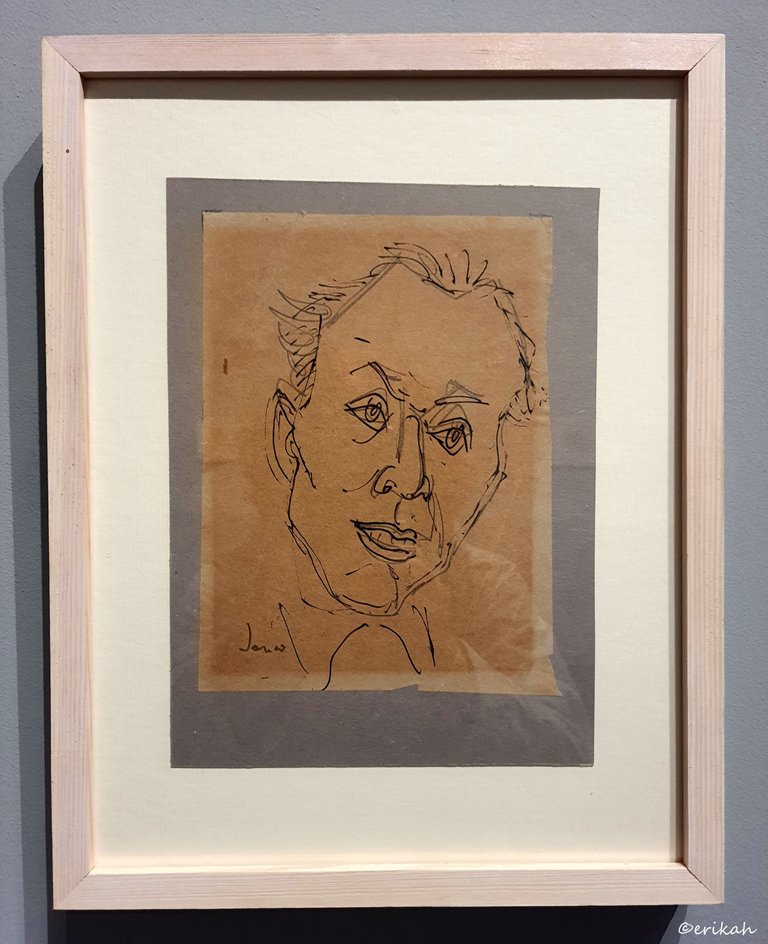 Portrait of Arie Navon, made in the 1960's. Ink on paper.
Israeli painter, one of the first cartoonists in Israel, a set designer, comic book artist and book illustrator. Israel Prize laureate for 1996. source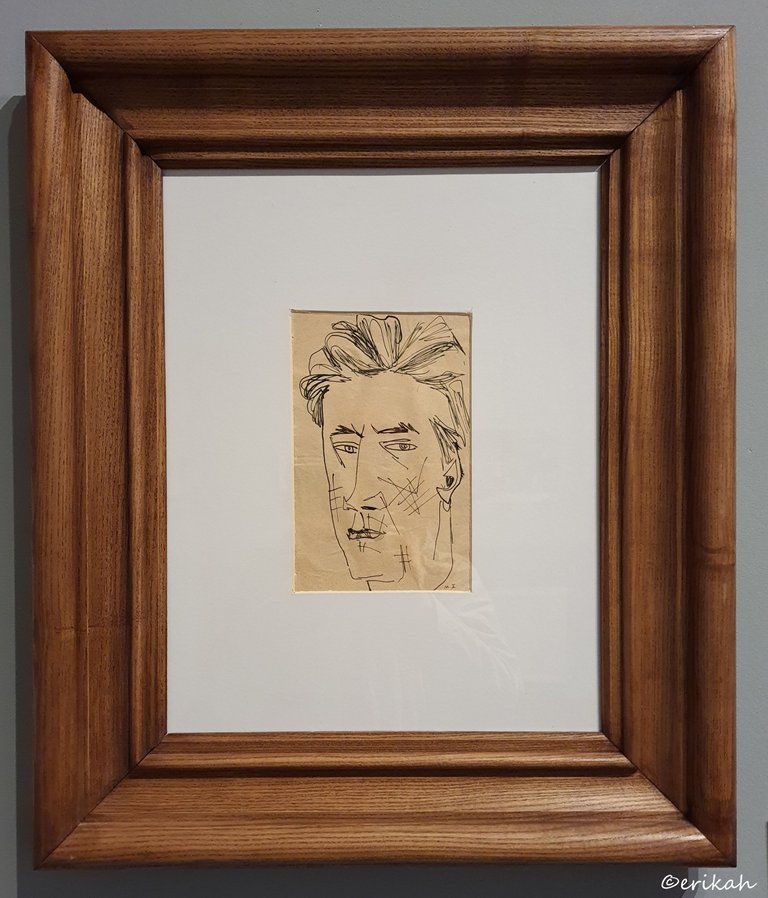 This is a bitter sweet one. This is a portrait of Ion Vinea.
Ion Vinea (born Ioan Eugen Iovanaki, sometimes Iovanache; April 17, 1895 – July 6, 1964) was a Romanian poet, novelist, journalist, literary theorist, and political figure. source
So let's start with this one. I said in my previous posts that I love this frame, because of the design, the texture of the wood and the color as well. the artwork is just a tiny part in the frame, the rest is the white paper frame, which would be nice if cut right. But it isn't. I don't know who did this, but did a crappy job. Shame.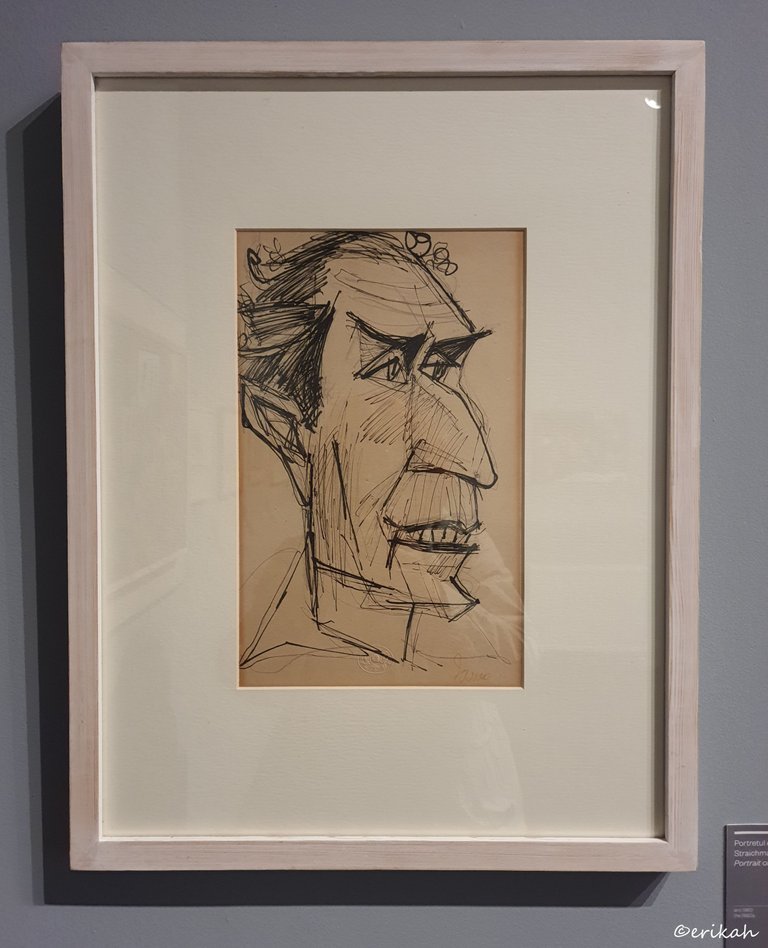 Portrait of Mr. Straichman, made in the 1960's, ink on paper. Again, look at the simplicity. I don't know who Mr. Straichman was or if it resembles to him, but it looks great.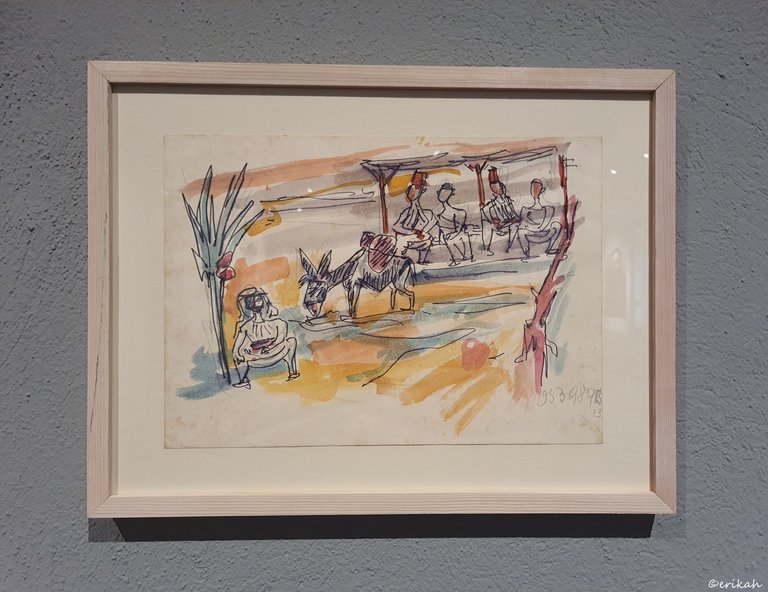 Moving on to another artistic style, here's this watercolor on paper, that features an Arabian Café. A very simple drawing made special by adding some colors.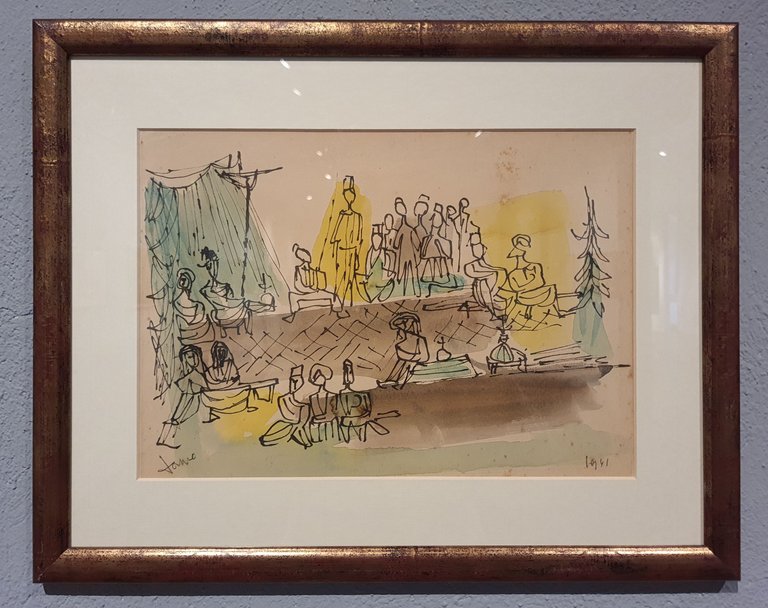 Although interesting, this is definitely not the one I would hang on my wall. Created in 1941, it is also called Arabian Café.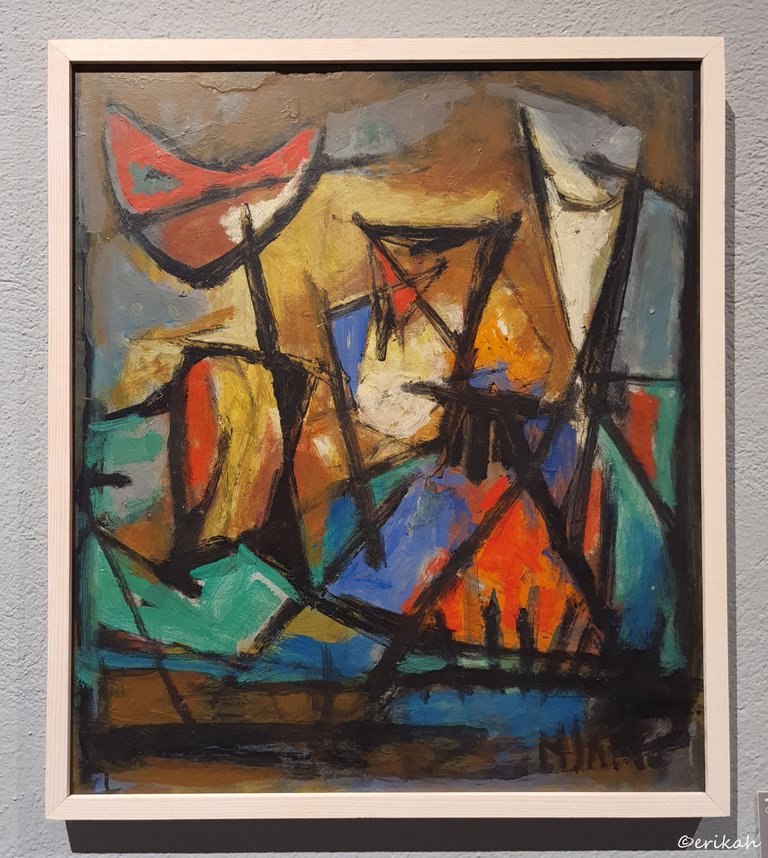 DADA composition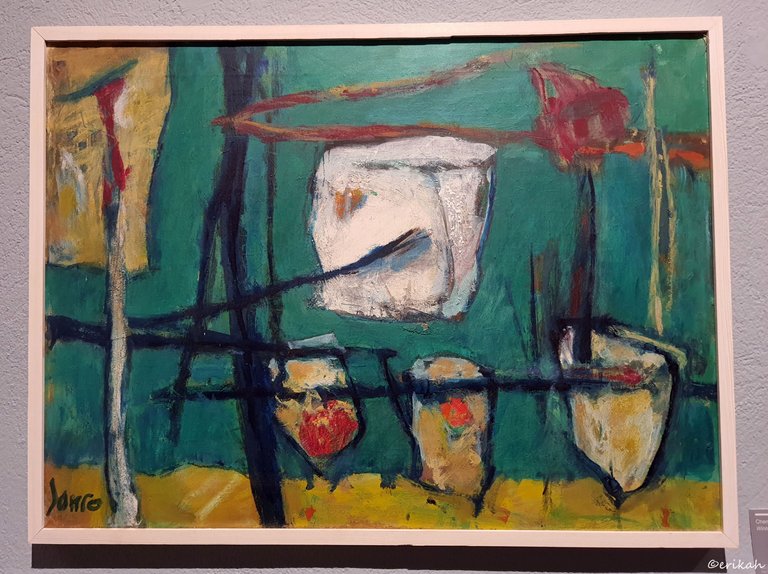 This painting is called Winter Call, although I don't see why. This is another puzzle like the coffee pot in my other post. 😳 Then again, who said I have to understand art or every artwork.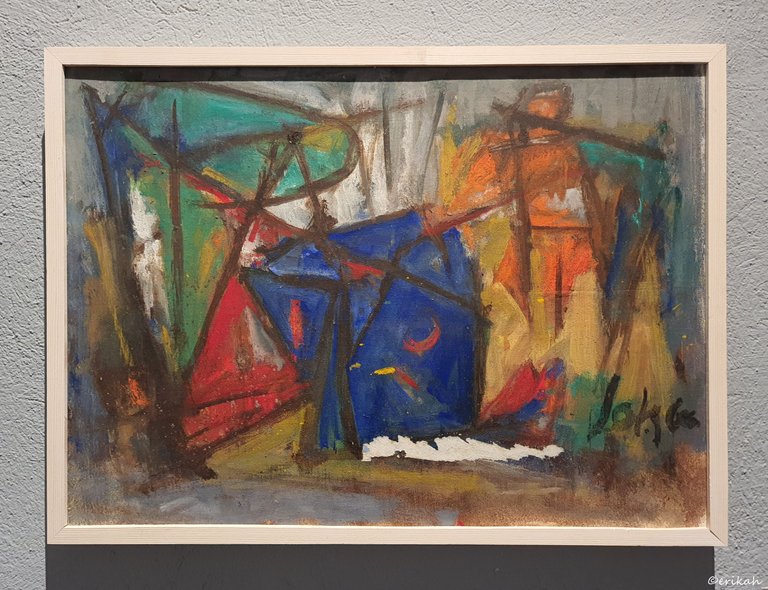 Collage, created in 1977, it's oil on canvas glued to masonite.
I must admit, I've never heard of masonite, so this was a good occasion to look it up and learn what it is for next time to know.
Masonite is a type of hardboard, a kind of engineered wood, which is made of steam-cooked and pressure-molded wood fibers in a process patented by William H. Mason. It is also called Quartrboard, Isorel, hernit, karlit, torex, treetex, and pressboard. source
This is the type of artwork that confuses me a lot as I can't figure out what the artist wanted to express. Apart from the colorful spots, I can't see much. Then I look at the label, that says Composition, which leaves me with more questions. Well, I suppose you just look at it and enjoy it.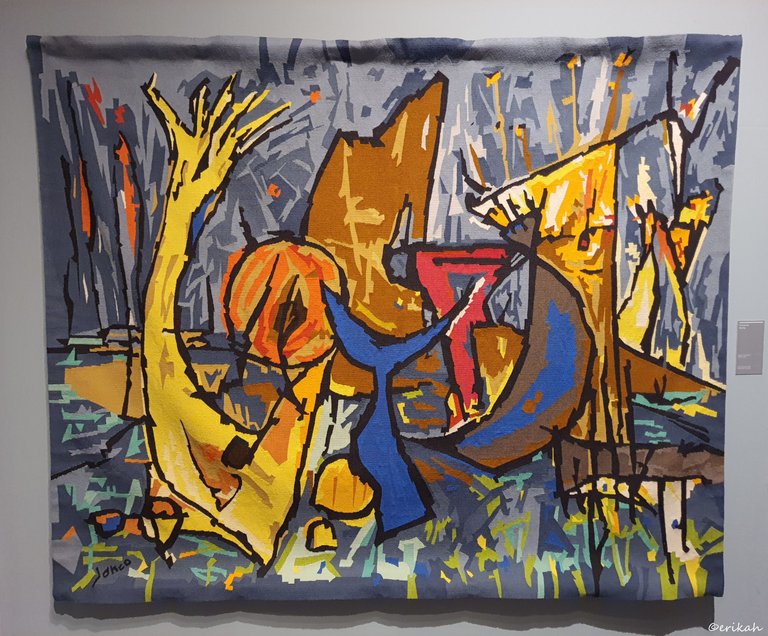 And here's another surprise. After all the drawings, watercolors, paintings, ink on paper and other stuff, this is tapestry and it is called Spring. Do I like it? Yes, I do. Would I hang it on my wall? Definitely not :) but it's cool.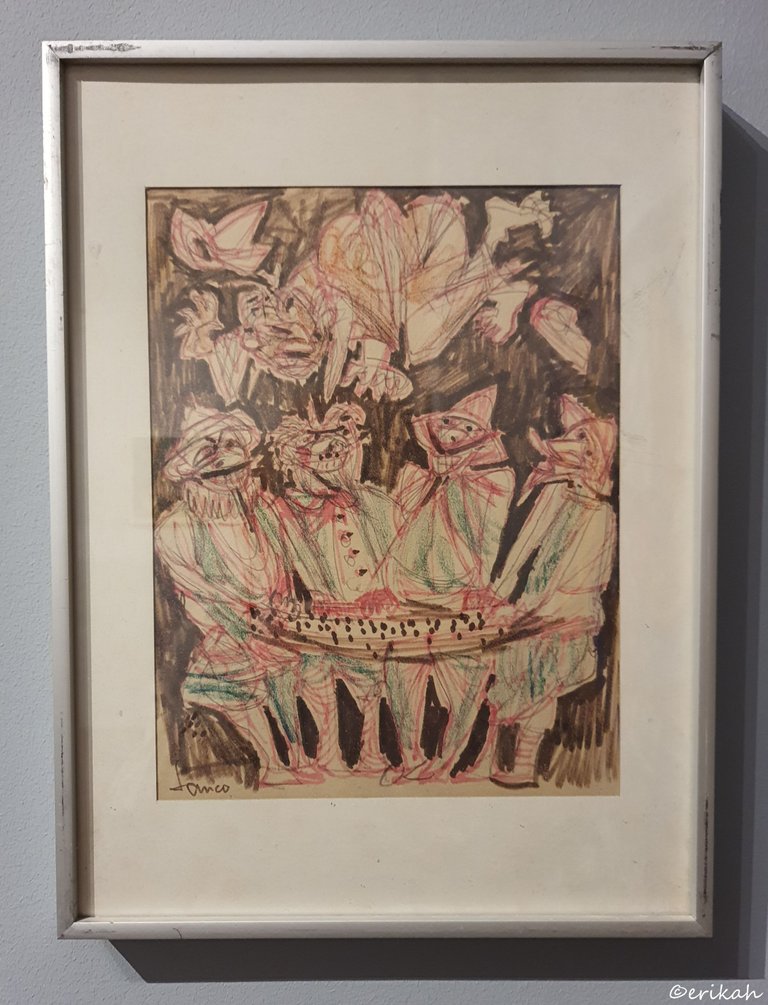 If you thought there are no more weird artworks left, here is one. It's a collection actually called Don Quixote and it is watercolor on paper.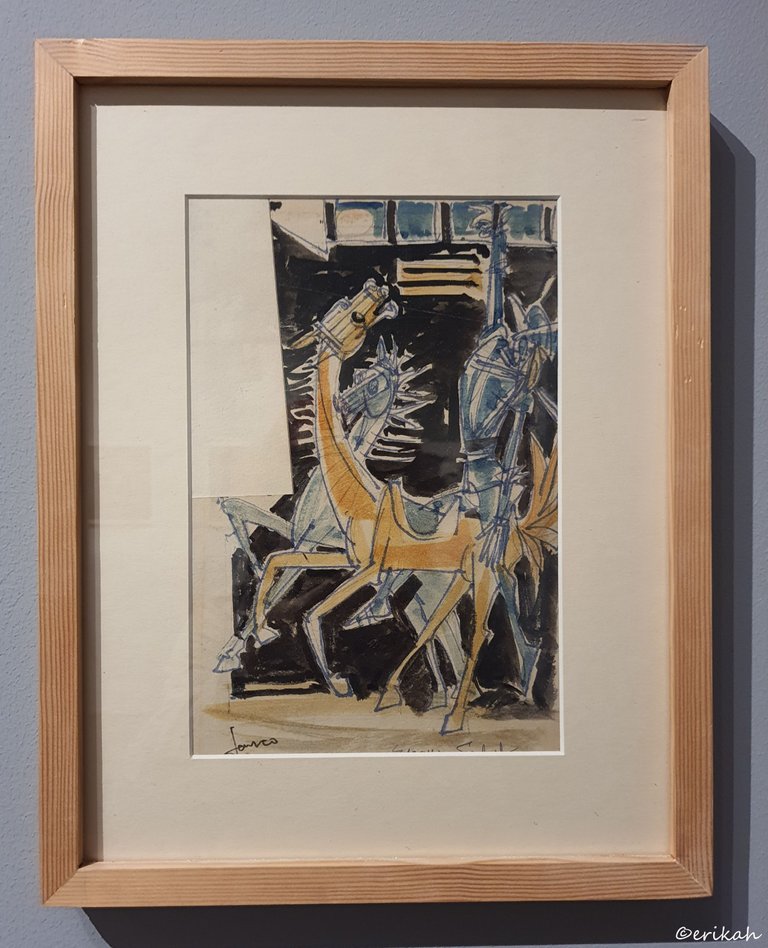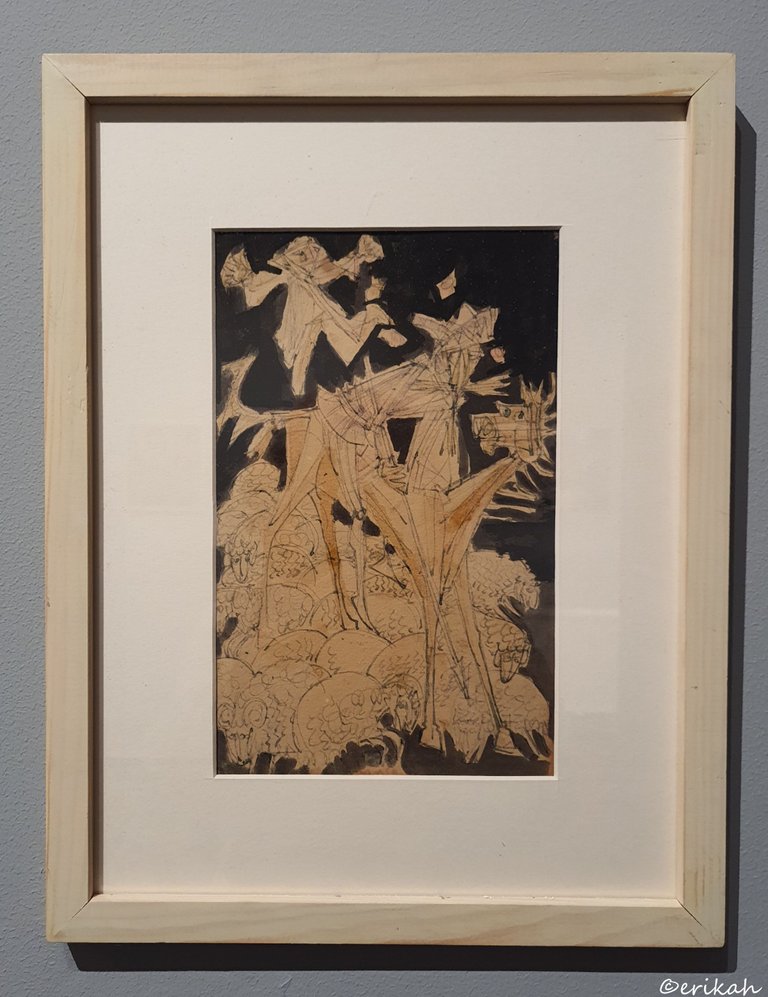 These are different scenes from Don Quixote and each artwork is called Don Quixote.
Today I showed you a bunch of different artworks, so different that if you don't know these were created by the same artist, I suppose you would believe there are artworks from several artist.
Before asking you what's your favorite, I was thinking which one is my favorite and I have to go with the first Arabian Café and the Winter Call even though i don't really understand it.
Soooo, which one is your favorite today?

If you're a newbie, you may want to check out these guides:

---
---