Art Or Damage Control?
The whole thing started at the end of last year, sometime in December, when I saw a video on YouTube and could not get it out of my head. The final work was not exactly my style as those golden leaves seemed kitschy, but the pattern beneath looked great.
I've never worked with acrylic paint on canvas, so the whole thing was new to me, that's why I did not want to jump in both feet, without learning the basics. The first thing I did was contacted an artist friend for some guidance. It was a big help as at least I knew what to pay attention to. I also watched some videos to know what I'm getting myself into, but the truth is, you can never be prepared for what's coming in art, especially if it's the first time.
So after the new year's craze was over, I started to buy the necessary supplies and today I took a deep breath and started working on my masterpiece.
After some thinking I decided to go with these colors, which for me represent autumn. Ok, that light green is more like spring, but I did not like the other options available.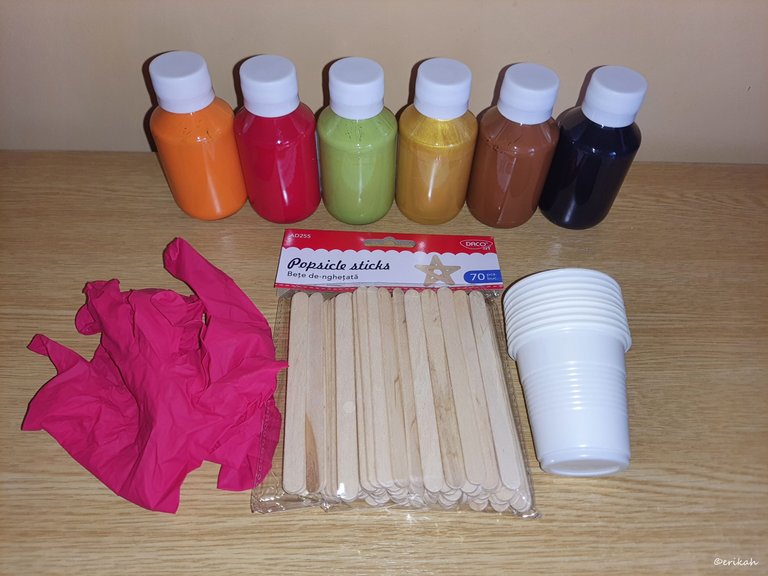 Bought some popsicle sticks as well, to be able to mix the paint. Plastic cups I had a few at home and also decided to use gloves, which was the smartest decision and you'll see why.
The video mentions the use of Floetrol, which I did not buy as they didn't have small tubes. After watching some videos, I decided to go with my argan oil, which I saw it is commonly used. So my initial attempt was paint, white glue and argan oil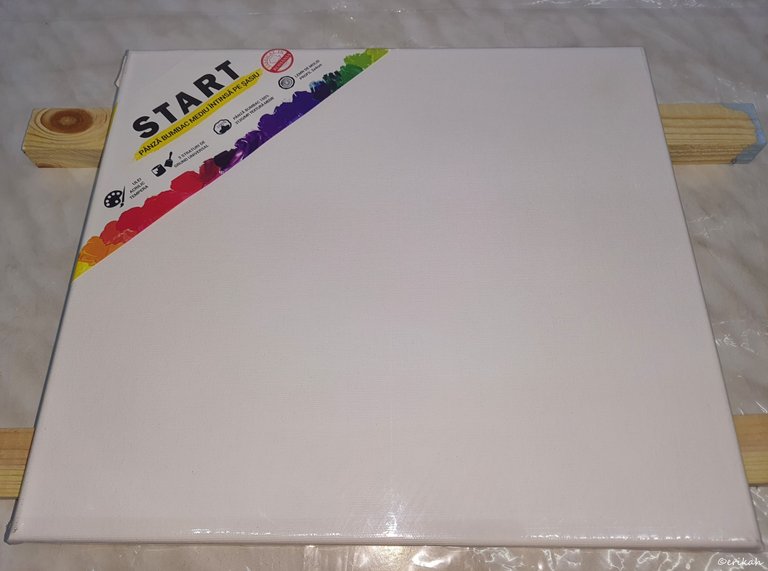 The size of the canvas was a bit bigger than on what people are practicing, but as I planned to do one painting, so I bought the size I wanted to put on my wall, in case I get something decent, which was a 35cm x 40cm size.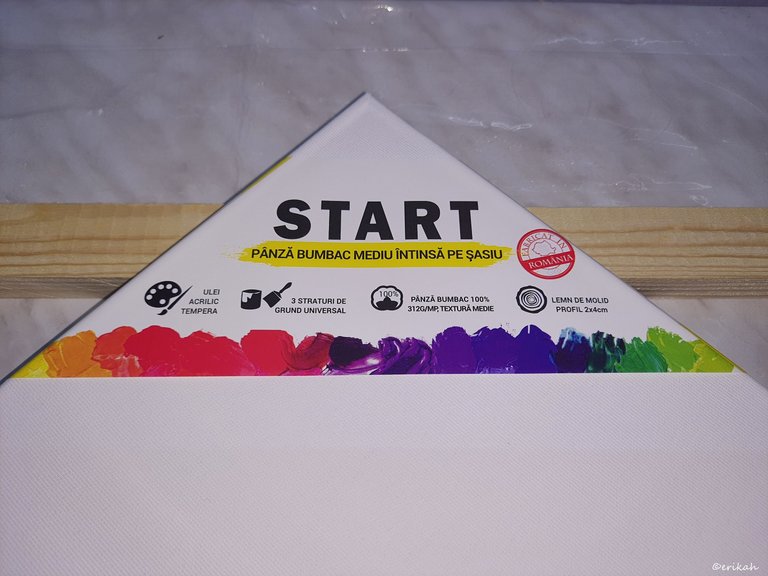 Good thing it was primed already, had 3 coats applied, so I did not have to deal with priming it myself.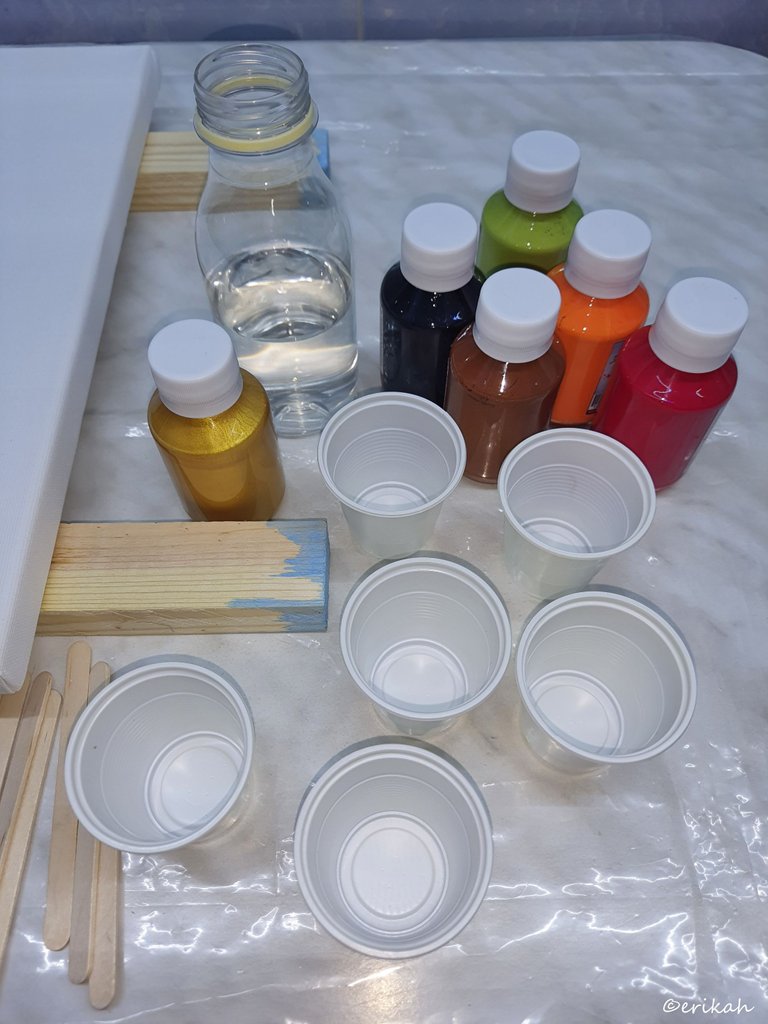 This was when I started to get nervous. You know the feeling, just like in school. You know the lesson, but when you have to answer the questions, you can't remember anything. For me, the biggest fear was wasting supplies and time. Although I know even the biggest artists also failed a hundred times till they did it right.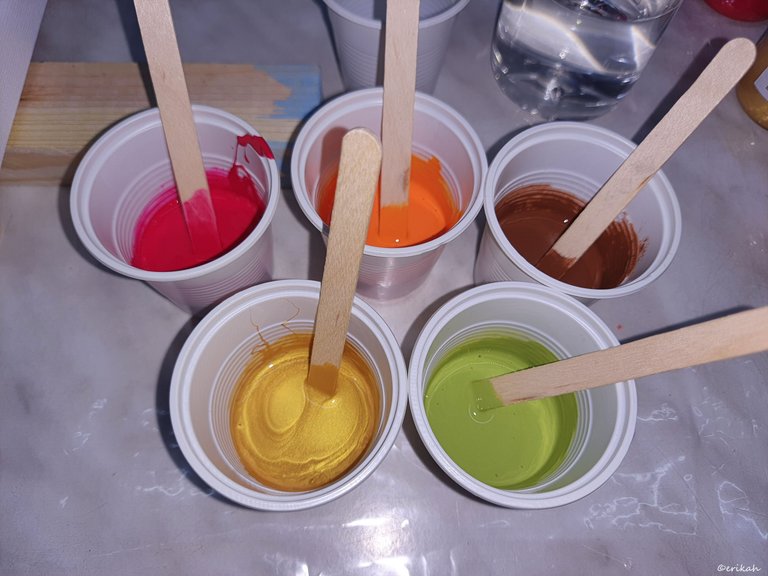 These were the colors I decided to use. At some point I thought it would be good a darker green and a lighter brown, but after some thought I decided not to complicate things. My knowledge of paint mixing consists of some vague recollection of elementary school art classes, so I did not want to risk much.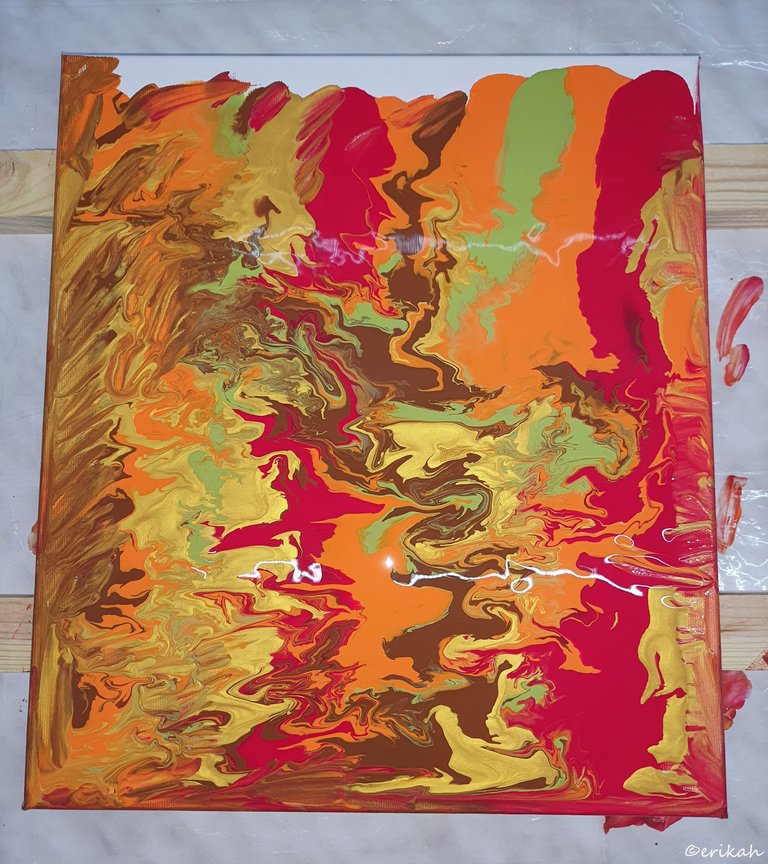 This was where I started not to like the outcome, but was still confident the end result will be something I wanted.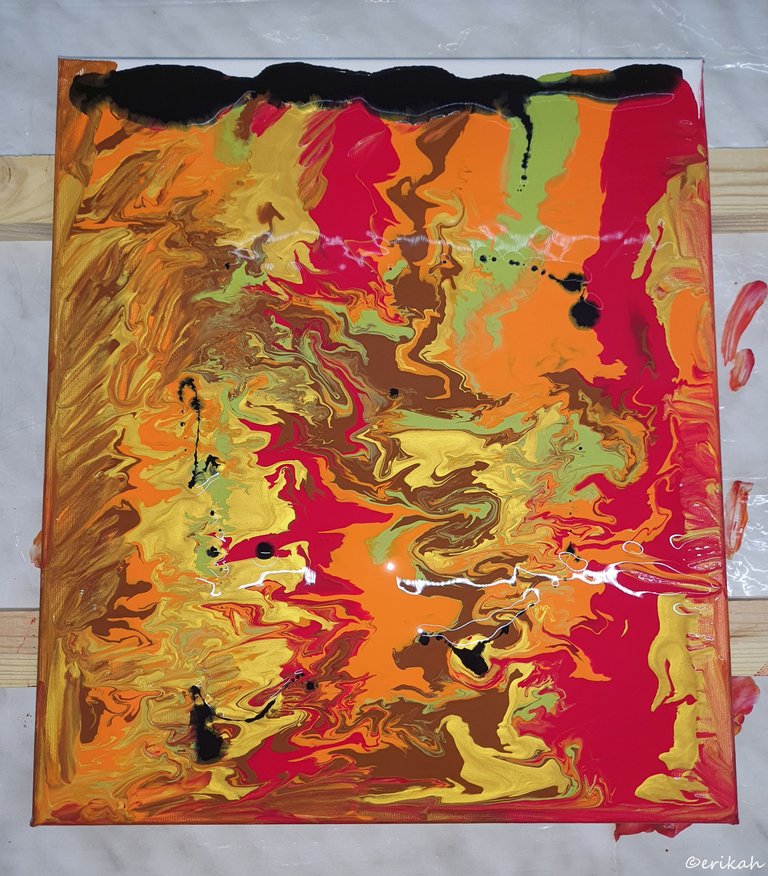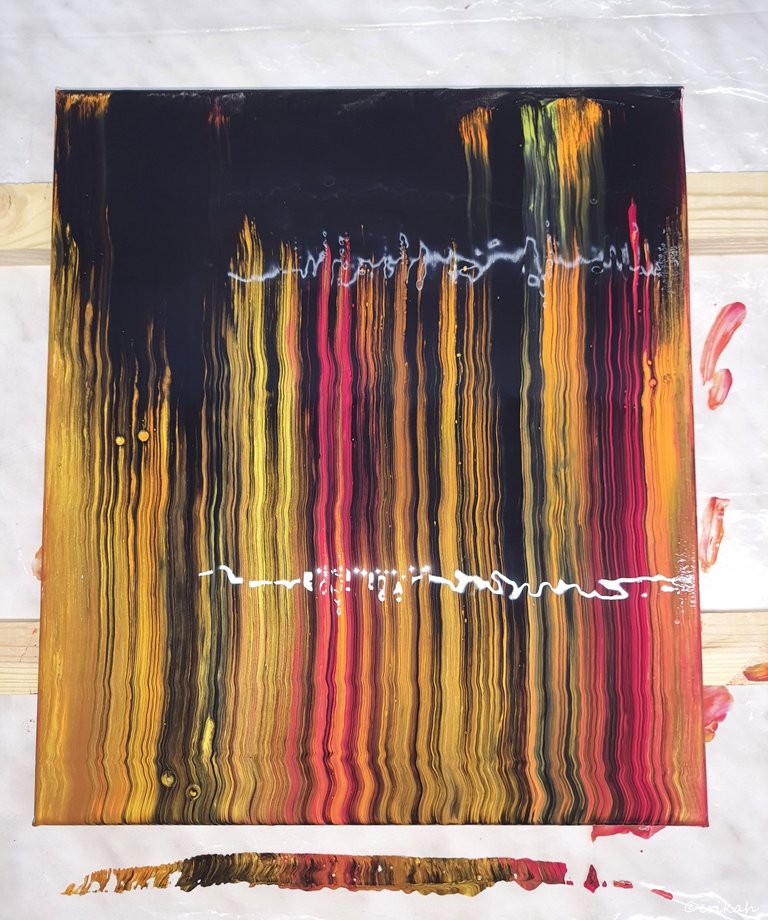 After applying the black paint (those sports were intentional, not accidental), I prepared the wet paper and dragged it over the paint. Please disregard those white lines and that is the reflection of the light above my head.
At that point the whole thing was like watching water boil. I was waiting for the cells to form, but they didn't want to.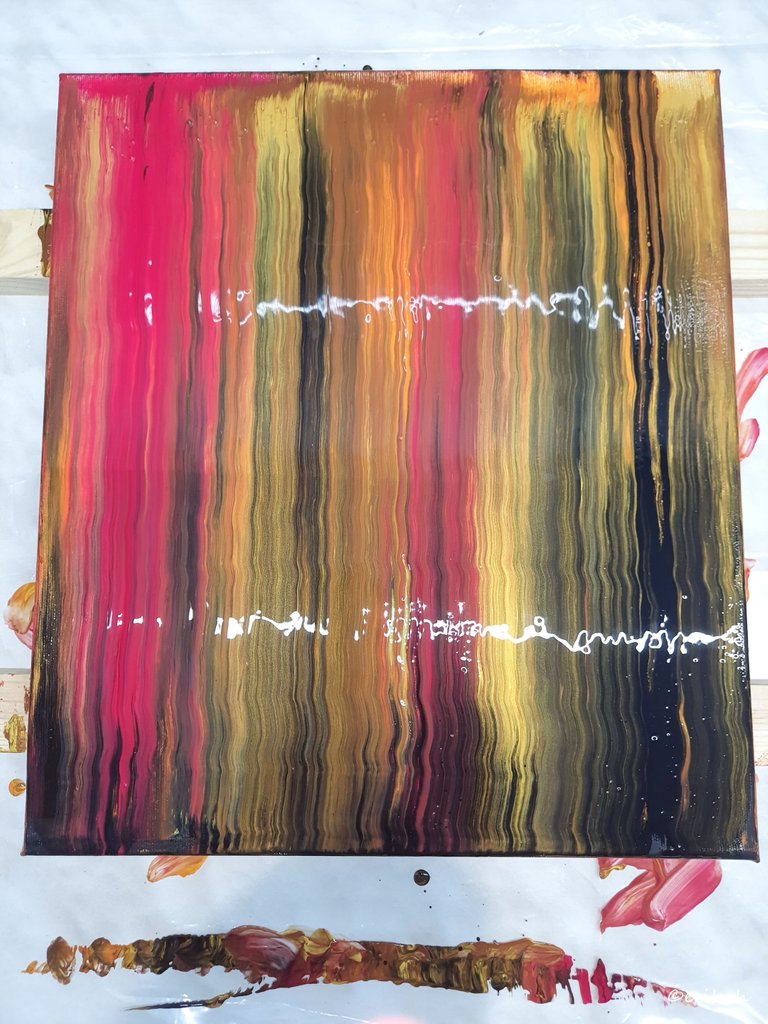 So after like 15 minutes, when I saw nothing happened, I decided to repeat the last phase in the opposite direction, to avoid getting too much black. This was when I started to realize I made a terrible mistake and I'm not going to get anywhere with it.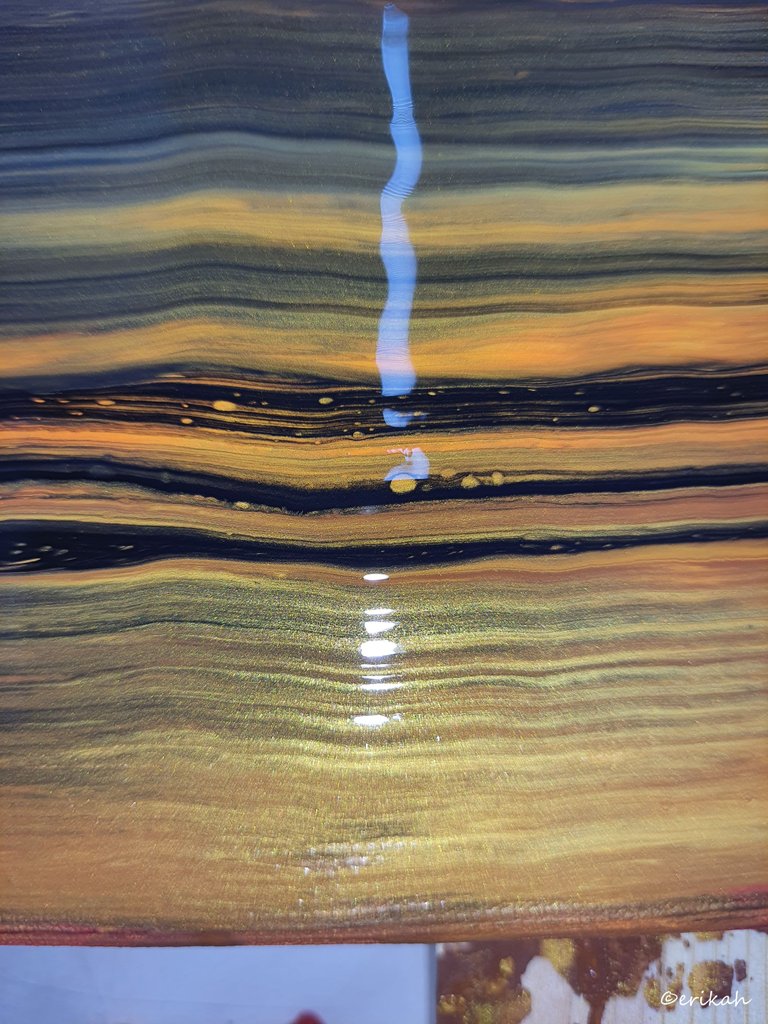 There were a few cells, but so tiny, barely visible.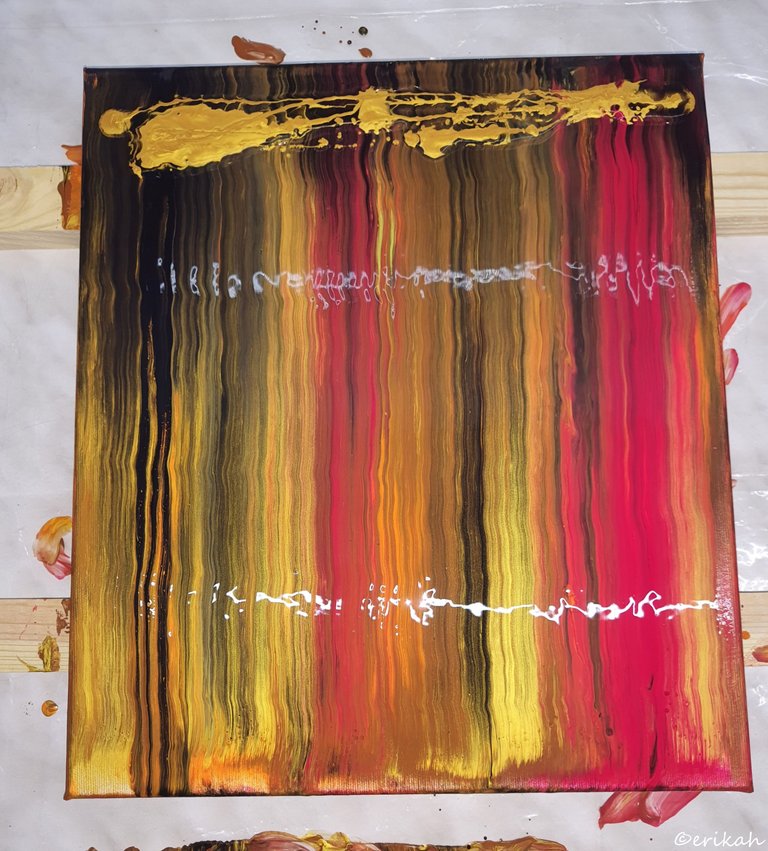 I have to laugh here, when I see how many stupid things I did today. So after seeing I don't the result I wanted, I thought I'd try with another layer of golden paint. Yeah, walking the same path and expecting different outcome. 😂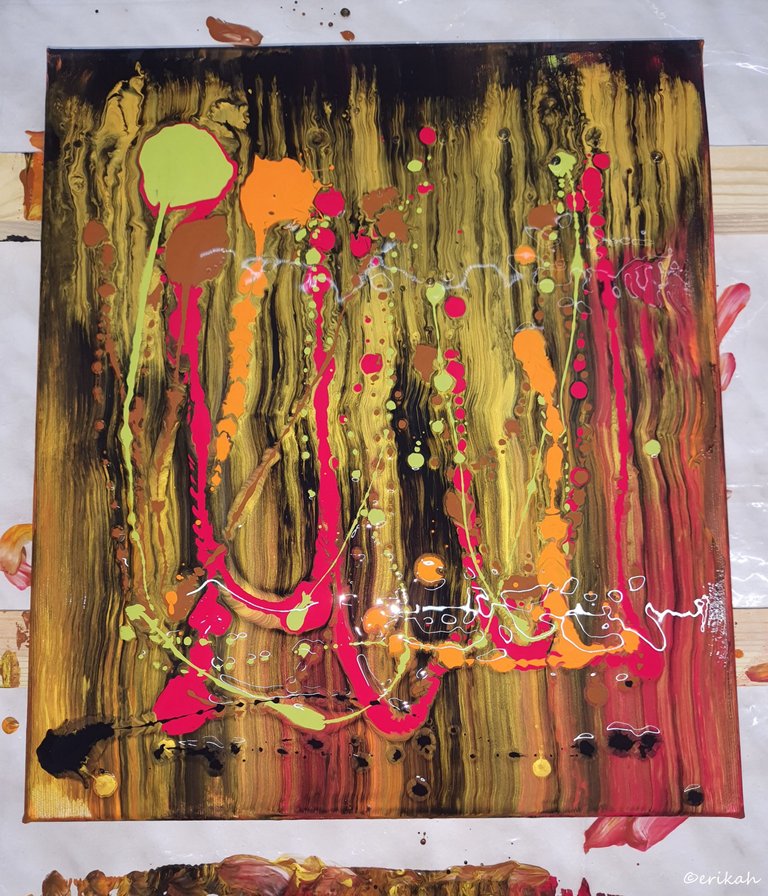 What did you think happened? Nothing! Of course! So at that point I knew I won't get anything out of it, so I decided to go rogue an do some stupid things, like pouring paint on the canvas and repeating the wet paper phase.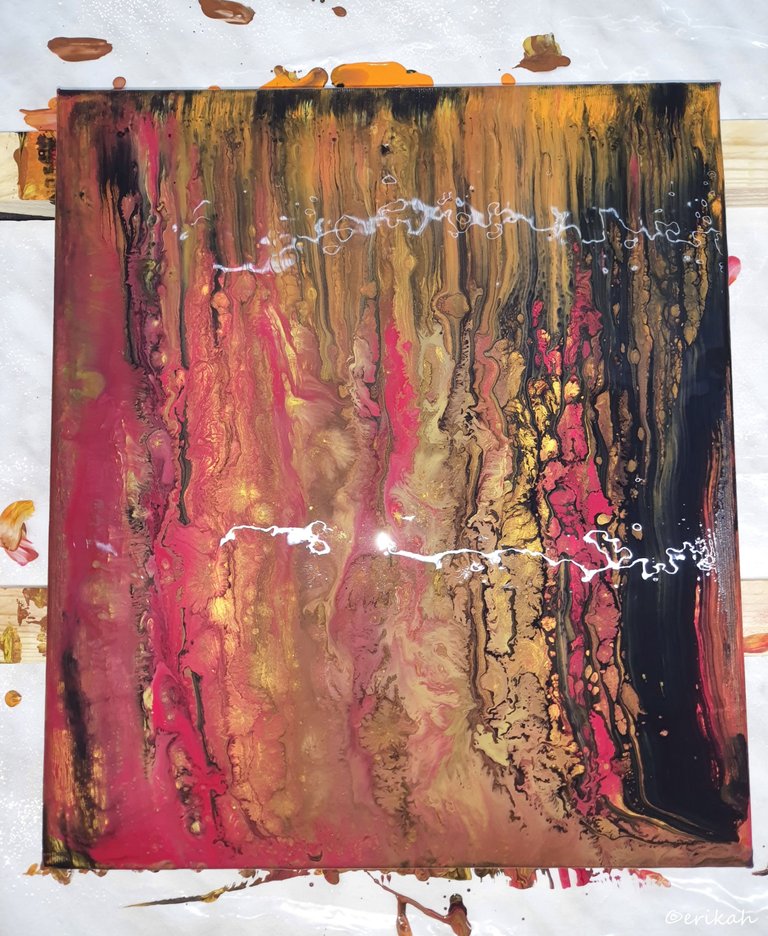 This time I got something different, which was still far from what I wanted. I mean the right part looked interesting, but the rest was terrible.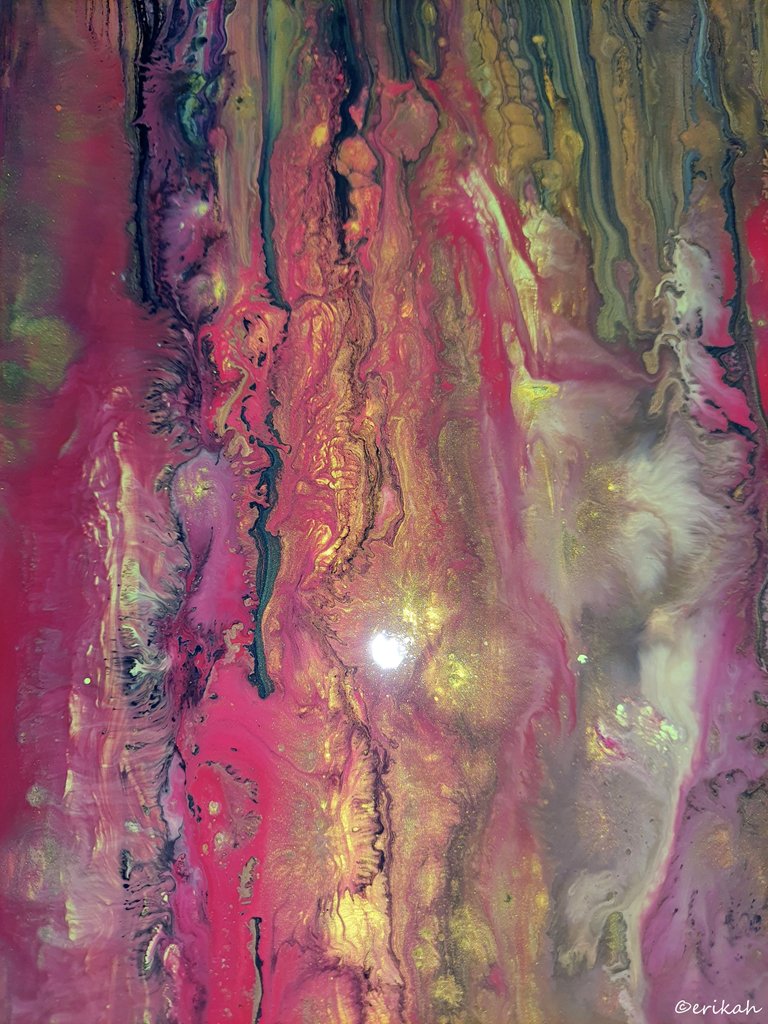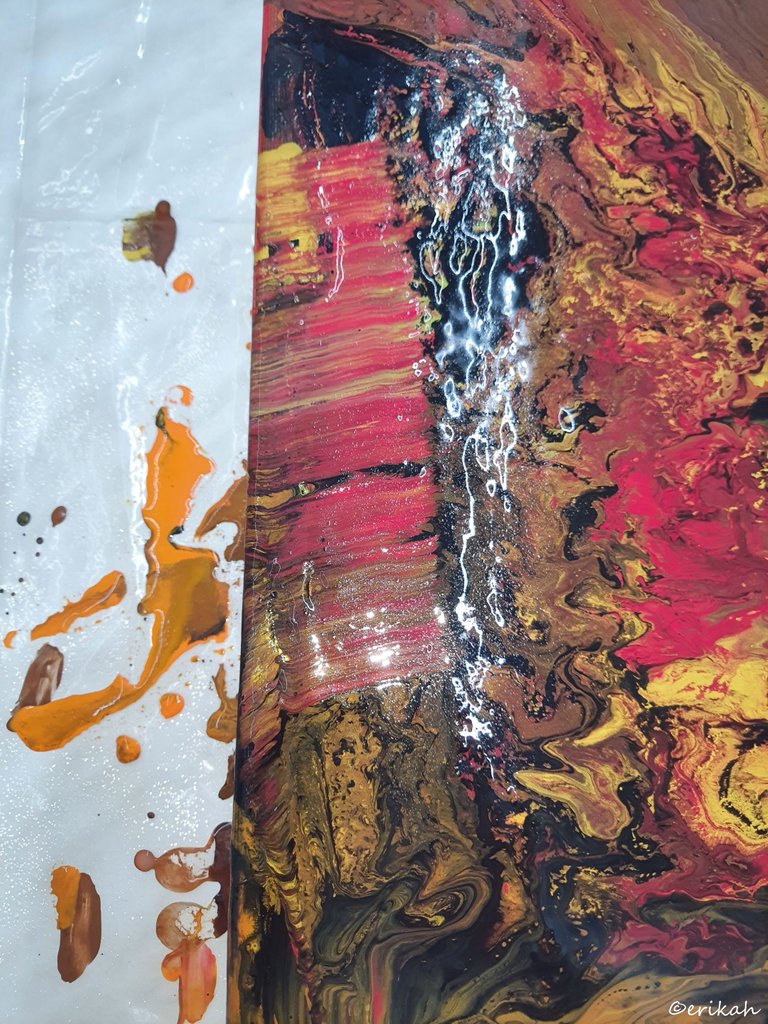 Then I thought why not try to repair one side that did not like and this happened 😳
At that point I had to make a decision and I did. What was it? I can't tell you as it's a long story, so I'm going to show you tomorrow.
Today I'd like to apologize to every artist. I didn't want to mock painting, but with my attempt I brought shame to the industry 😂 I hope @castleberry won't see it as he's going to mute me and put me on his shitlist 😂
So tomorrow I'm going to show you the damage control I did and tell you the lesson I learned. Yes, there's a lesson to be learnt as otherwise all this was in vain.
---
---