At The Medieval Festival Of Sighișoara
This famous and very interesting festival it's called Medieval Sighișoara and this year was held the 28th edition. The festival took place between July 29-31, 2022, under the High Patronage of Her Majesty Margareta, Custodian of the Romanian Crown.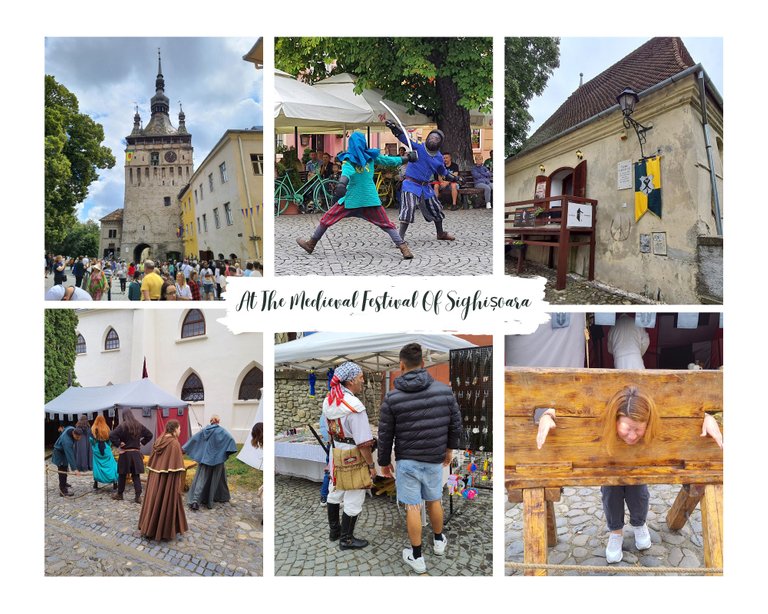 This is the time, when the citadel goes back to its original state so to speak and it is not only populated with people dressed in medieval clothes, but there are also a lot of medieval activities for every age group. Attending the festival is like going back in time. I had my eyes on it for a long time, but somehow life always had another assignment for me. This year I finally could attend and I'm here to share the event with you.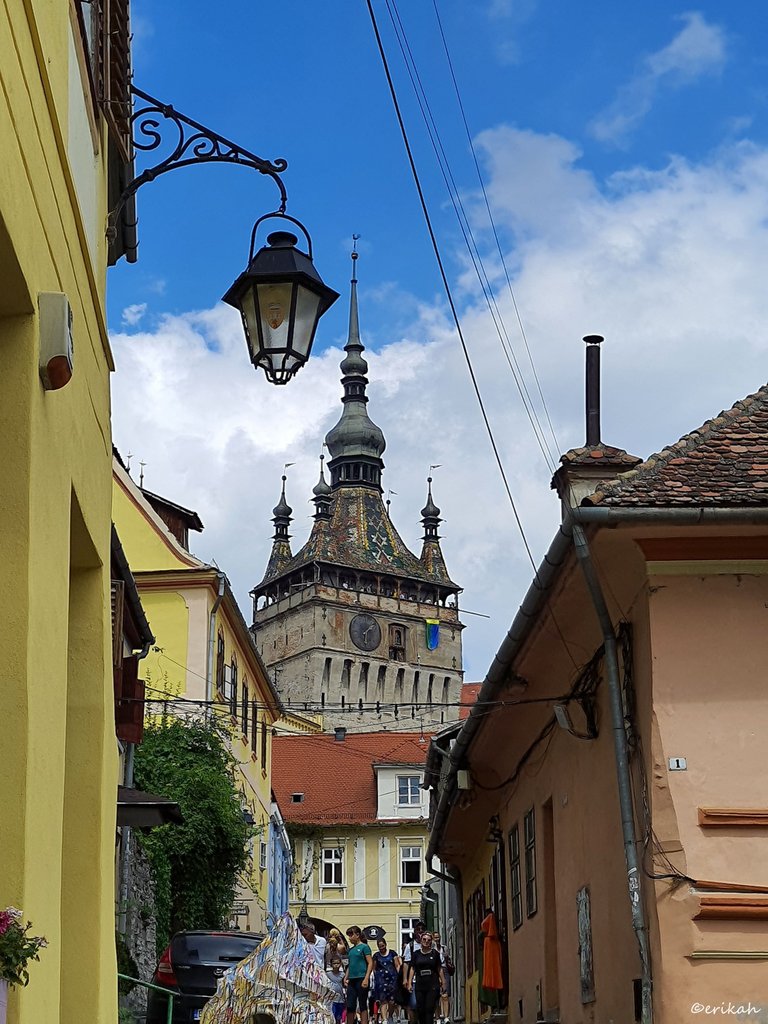 The event is held in the citadel, which is on a hill above the city, therefore it's visible from every corner of the city. You can go there on foot as vehicles are not allowed in, so take your walking shoes as walking on cobblestones with 10 cm heels is everything but fun. There's no entrance fee by the way, it's free for everyone.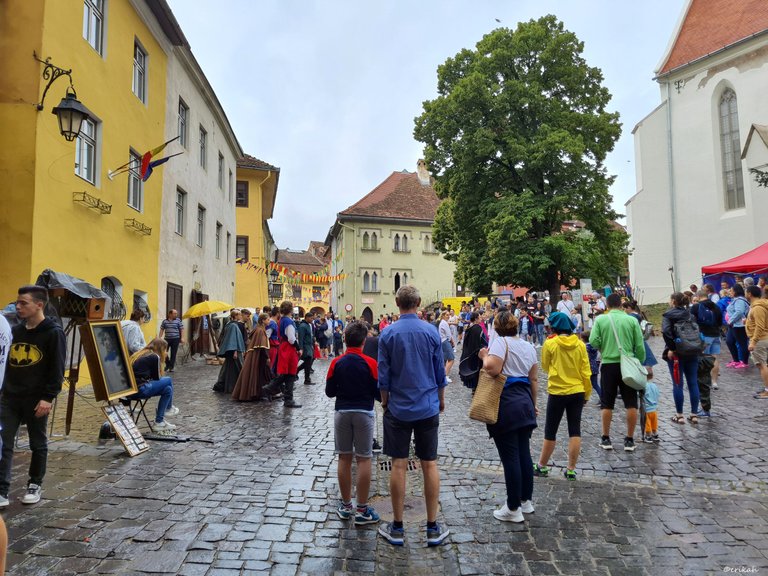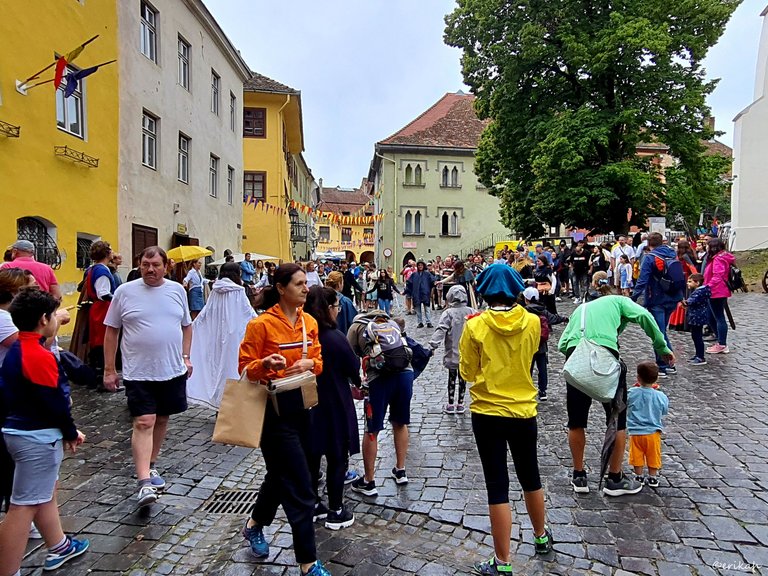 As soon as we entered, the medieval feeling started to take over as there were people dressed in medieval clothes, rehearsing for a dance, which was interactive as anyone could join.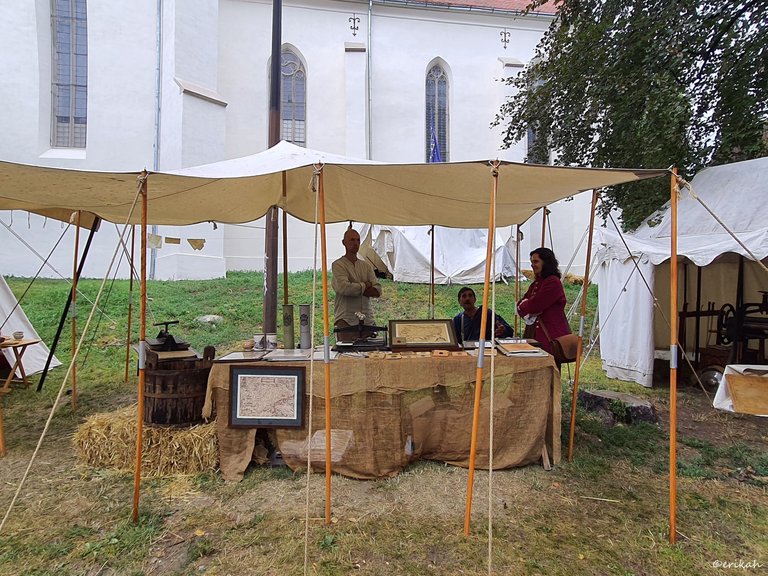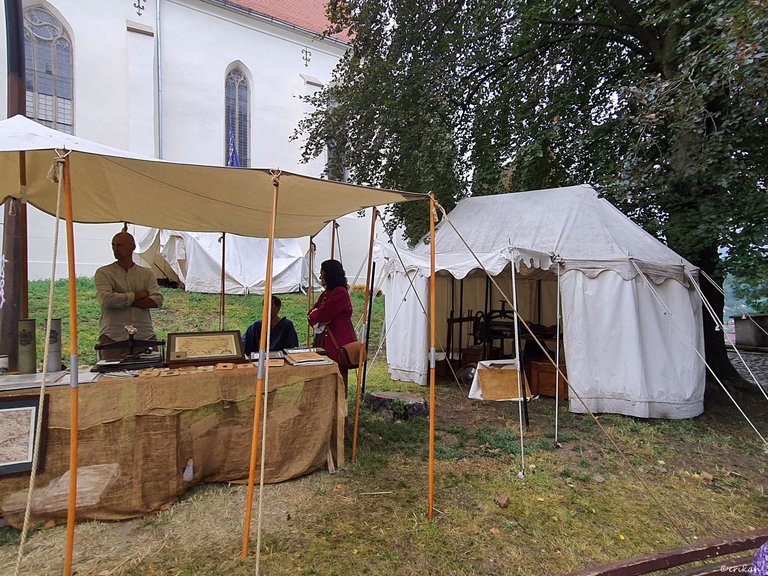 There were tents set up with all kinds of tools used in those times and maps of the old city.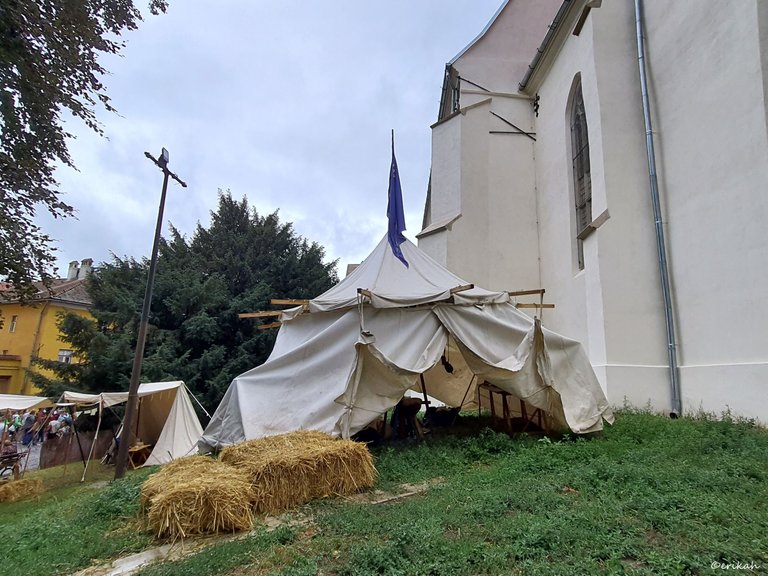 Here's a tent, a replica of those that were used in medieval times.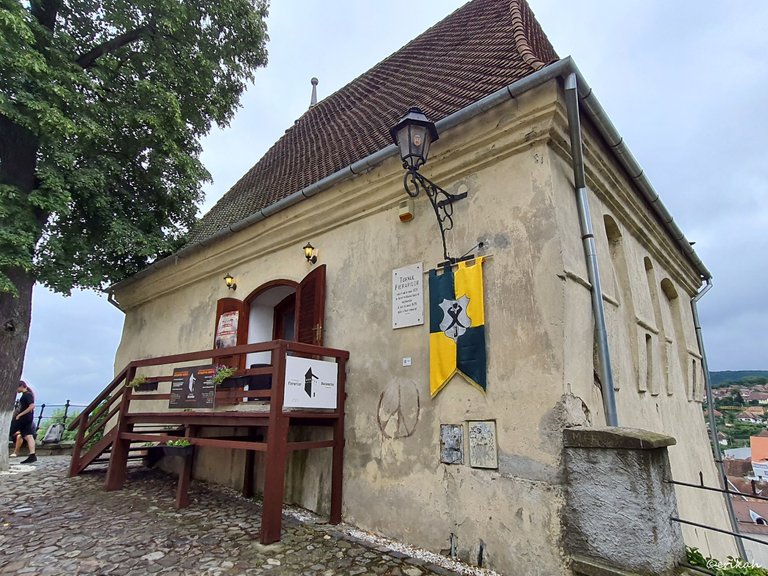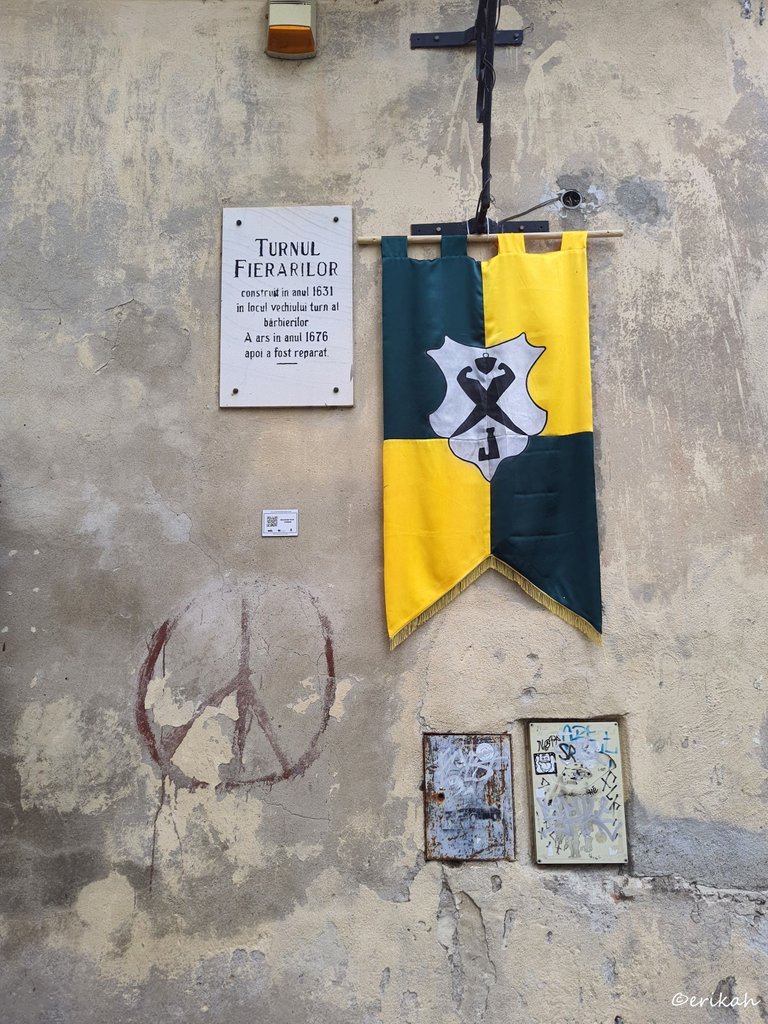 Going up towards the top of the hill, on the right, you can see the blacksmiths' tower.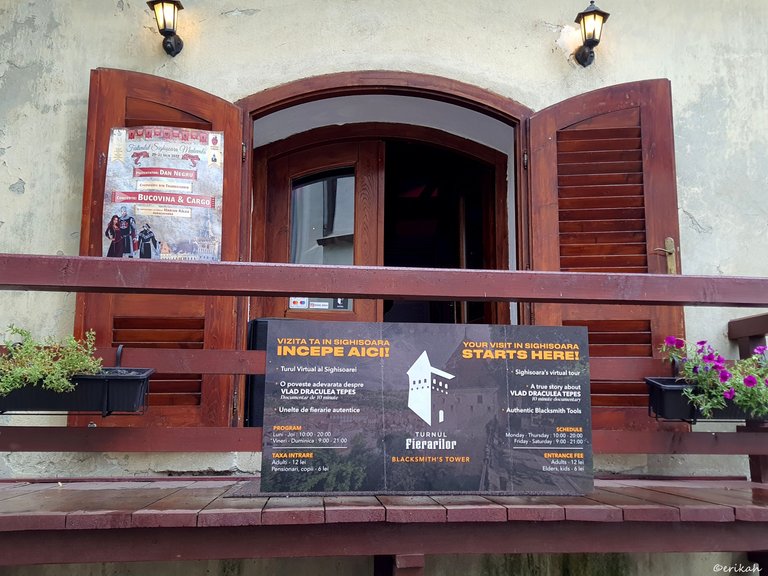 Today the tower is hosting a museum, where you can see blacksmiths tools and a 10 minute documentary about Vlad Draculea Țepeș, according to the poster. The entrance is 10 lei, which is the equivalent of 2 euro.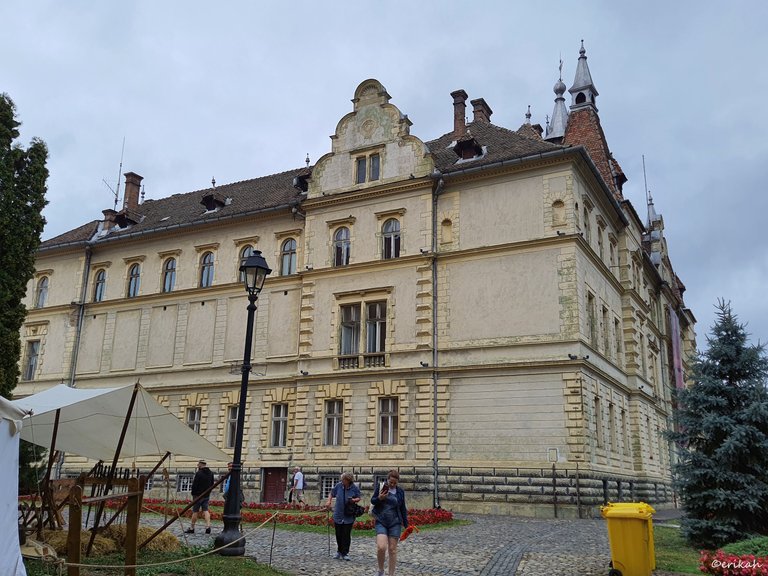 Next there's the city hall, which is a wonderful building and old too.
This is the entrance of the building, with this wonderful fountain. At the time of our visit, there were two cavaliers (made of plastic, of course), posing like they were guarding the building.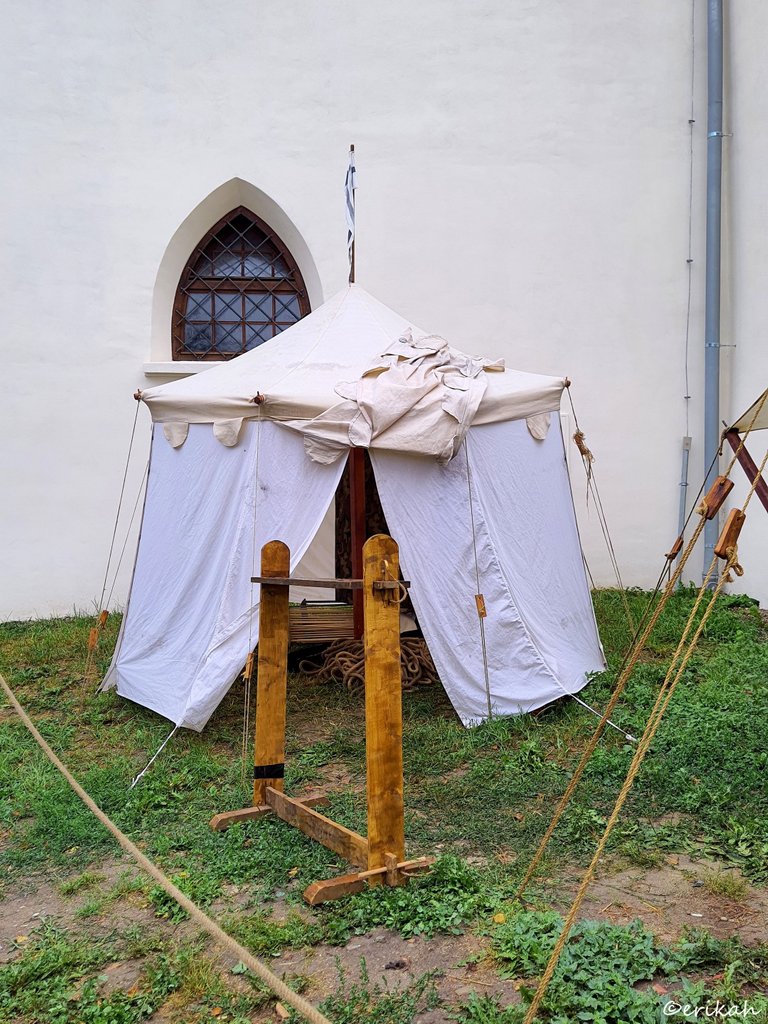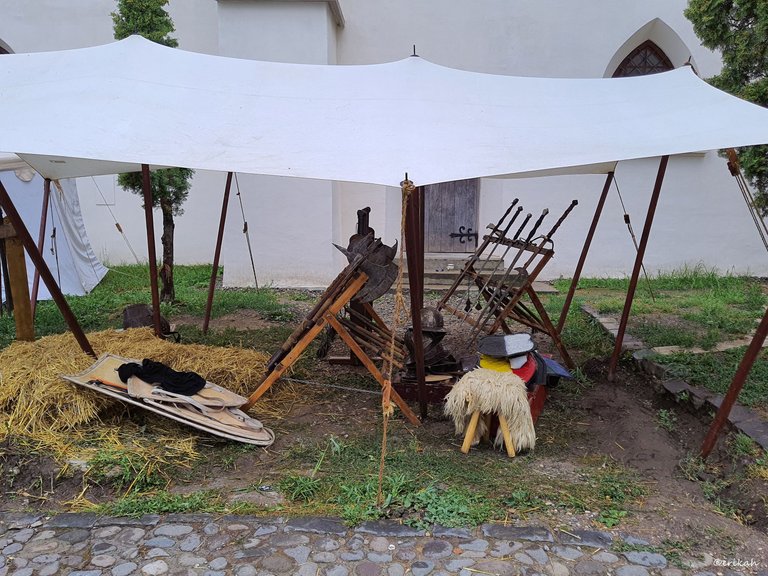 And this is where the real fin began. These tens were set up for interactive activities. We were still early as they were just setting up things, but I was still lucky, to capture some funny moments.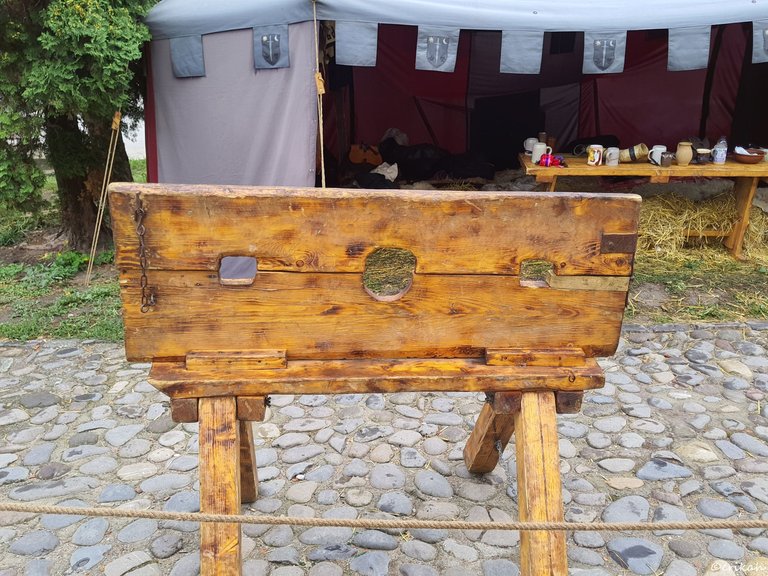 Just as at any decent medieval festival, there was a stocks or cangue (I suppose that's the name of this torturing device), that was used to punish people, especially thieves.
And look, there was a young lady already locked in the cangue. I was wondering what she has done to be locked :)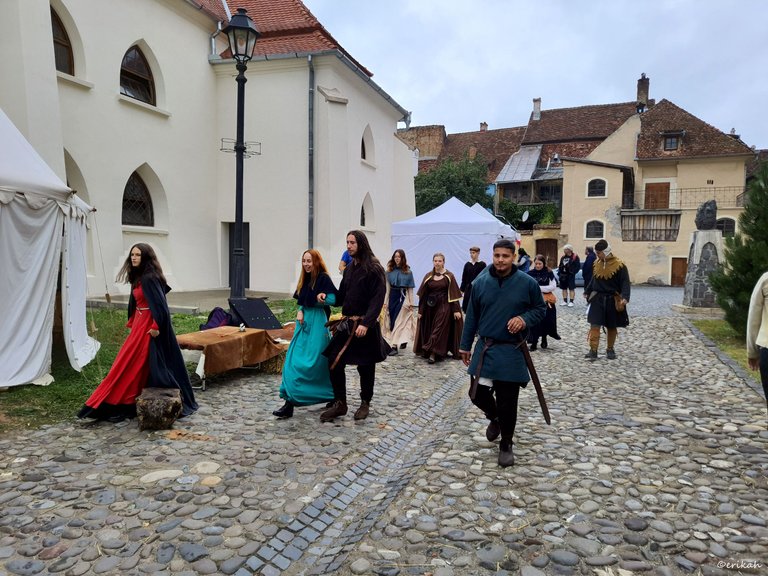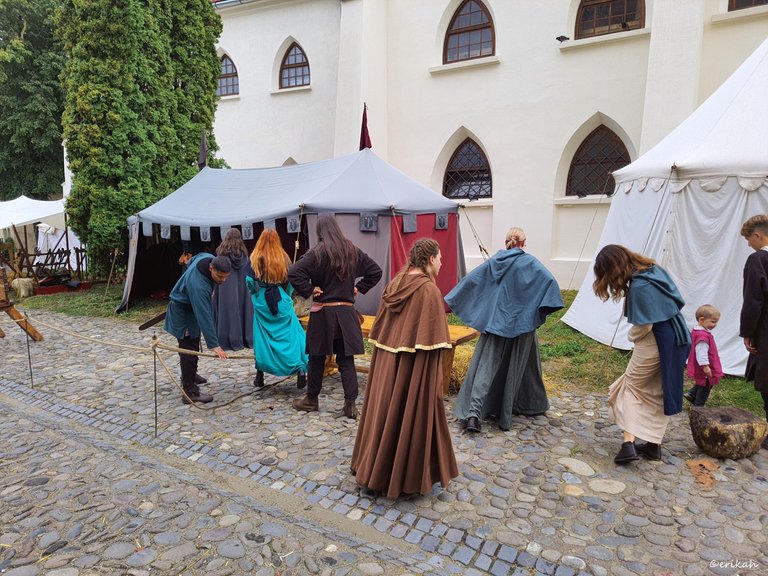 Just as we were passing by, the medieval people started to arrive.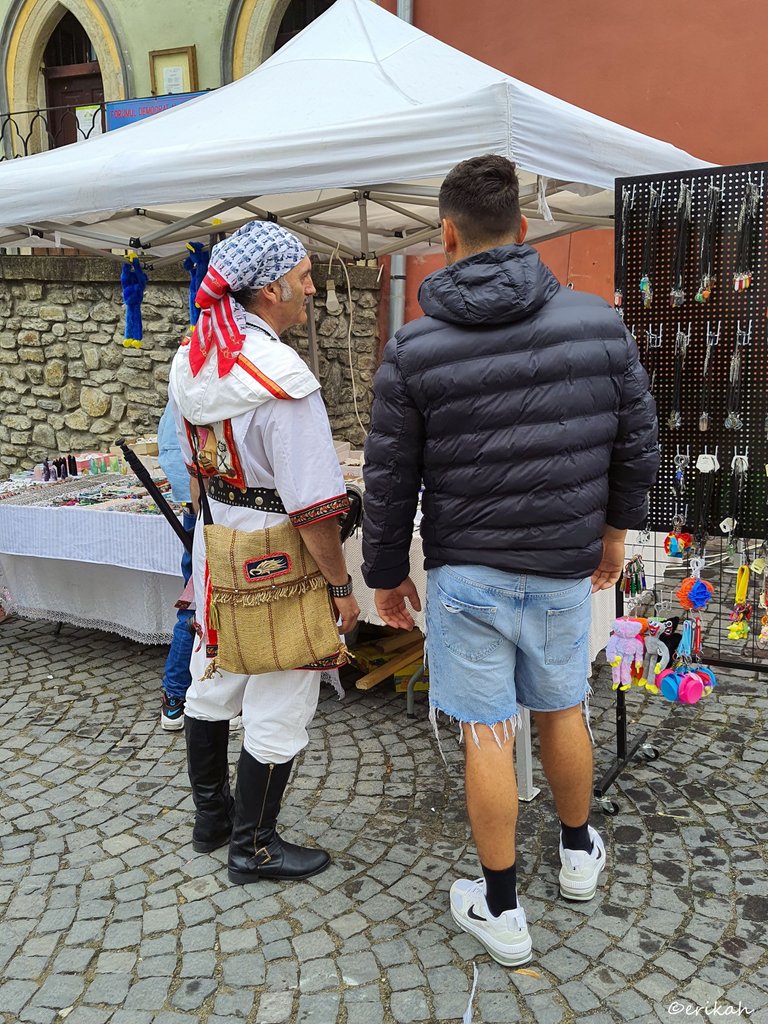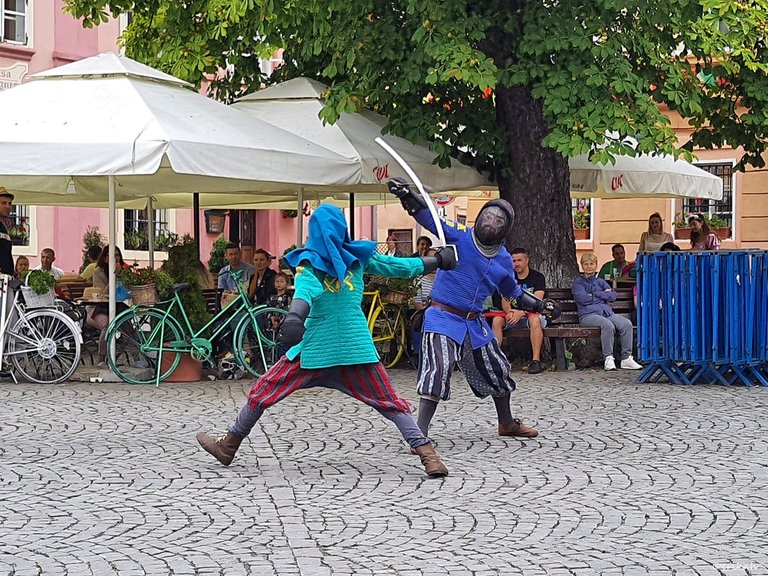 Sword was the most common weapon those days and firearms were invented only later. There's always a demonstration and these guys were showing visitors what sword fighting looked like in those times.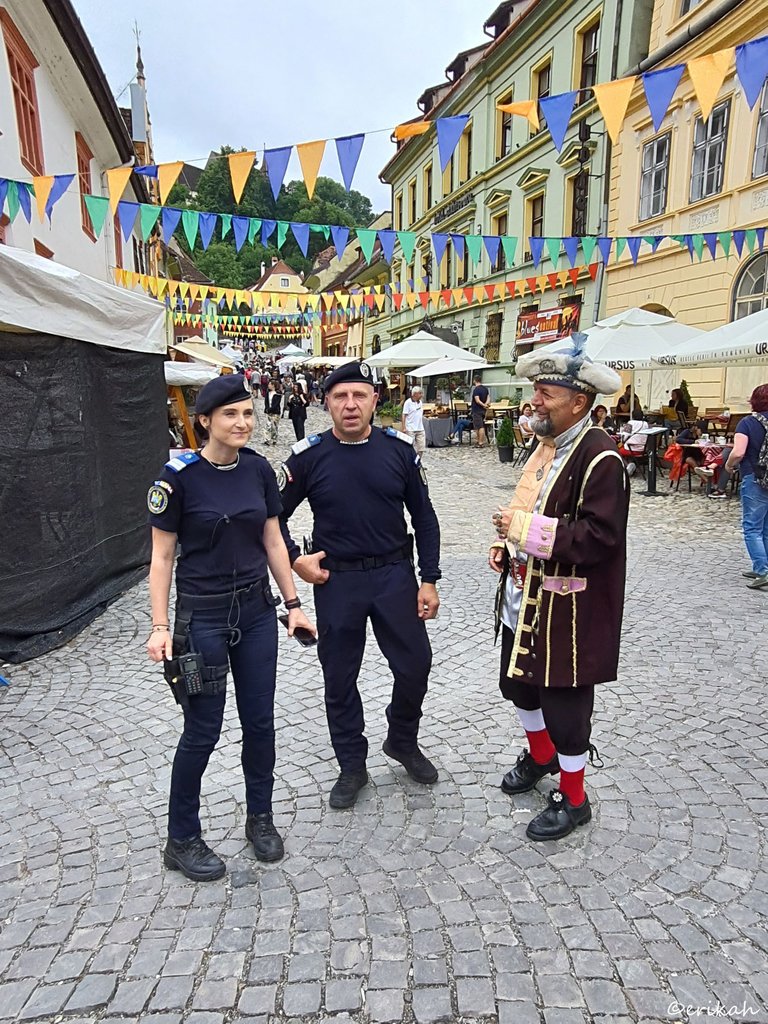 And here there was a funny moment. I wanted to capture as many medieval costumes as possible, so I took a few photos of this gentleman, who was talking to the jandarms. The male jandarm was watching me and at some point it was obvious he's going to have something to say to me (not always good as they don't like to be photographed) and he did ask me if I'm taking photos of them or the medieval guy. I said both as they add something extra to the photo. Lucky me, he did not say anything and he smiled, so I got to keep the photos.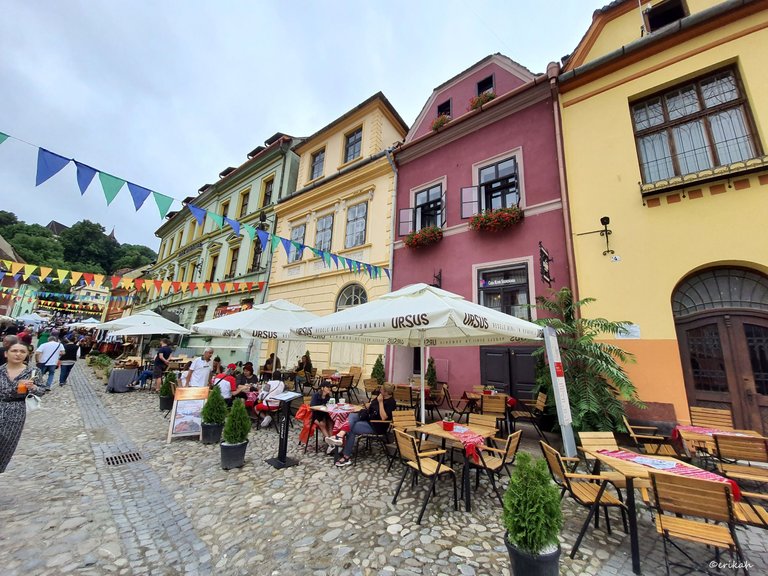 Most of the buildings in the citadel are rented by businesses, related to the tourism industry, like restaurants, bars, cafes and souvenir shops. Wen we arrived was still early, but towards the evening, these terraces were full of clients, people enjoying the festival.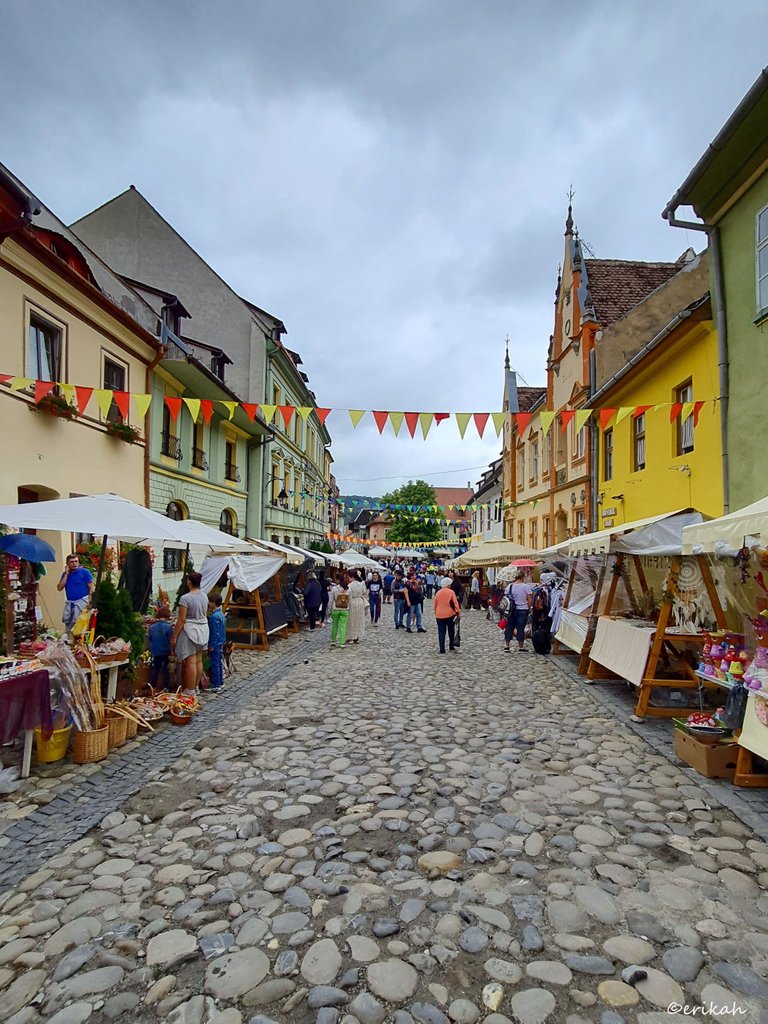 This street was full of souvenir vendors on both sides and the offer was amazing. I'm going to show you in an upcoming post, so stay tuned.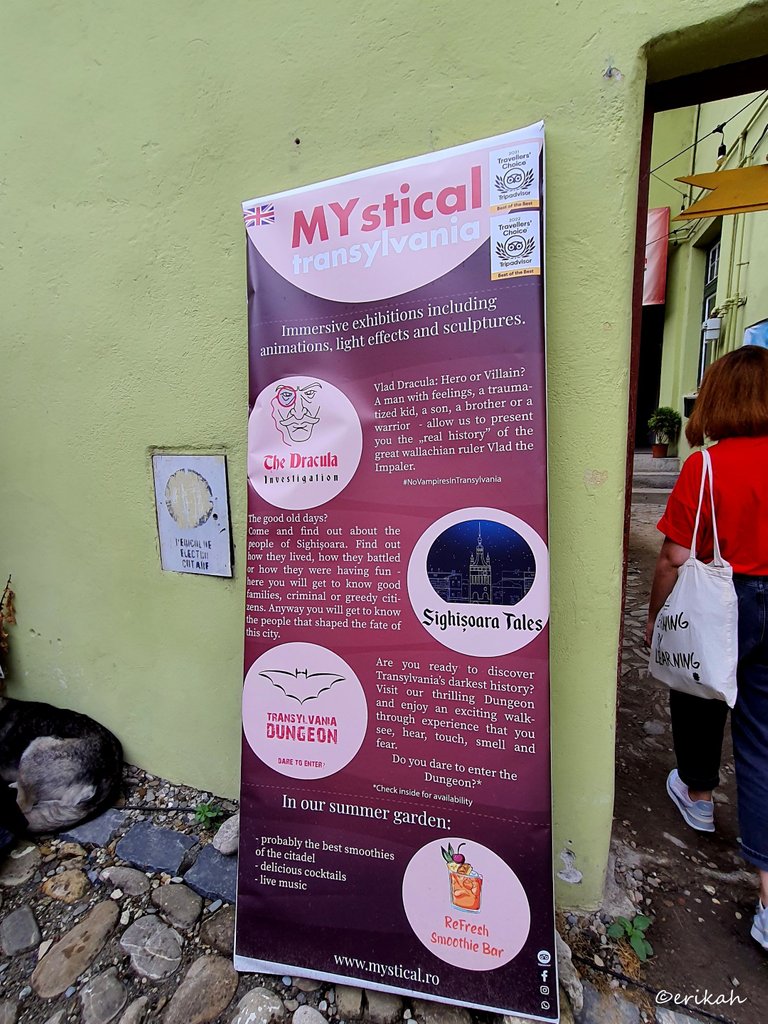 There was another place, exploiting the Dracula myth, offering an immersive exhibition, including animation, light effects and sculptures. This is good for tourists, especially from abroad, but they won't buy me :)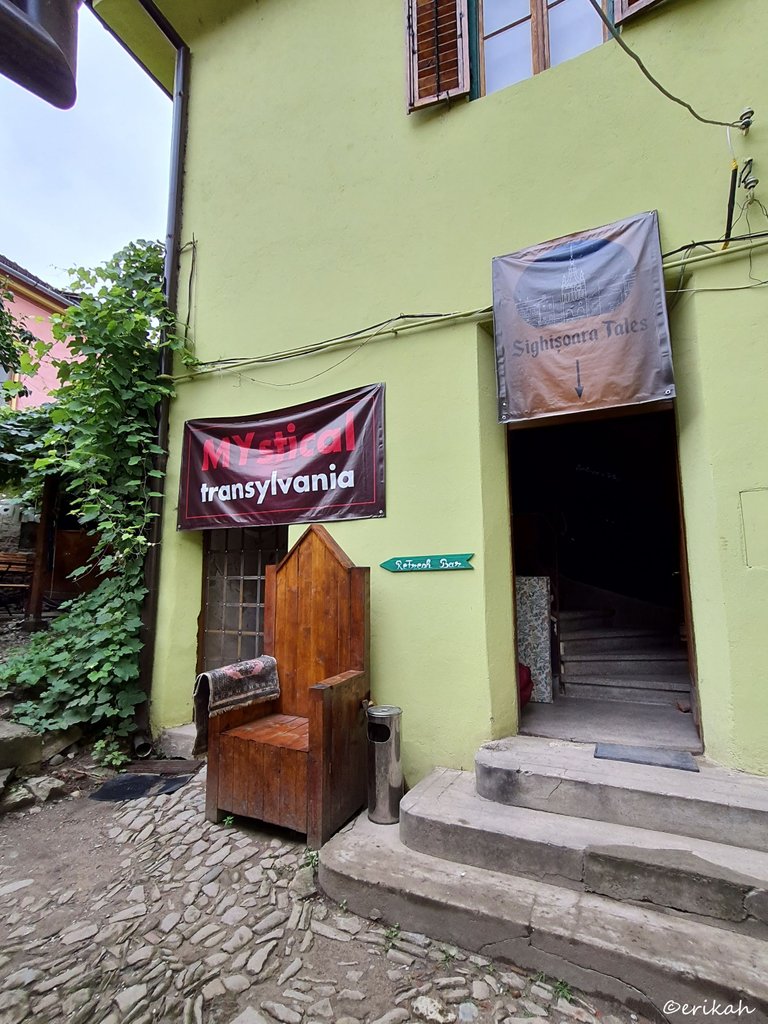 You could sit in this wooden tron and smoke a cigarette. Obviously it would have been very uncomfortable, but medieval times were never about comfort :)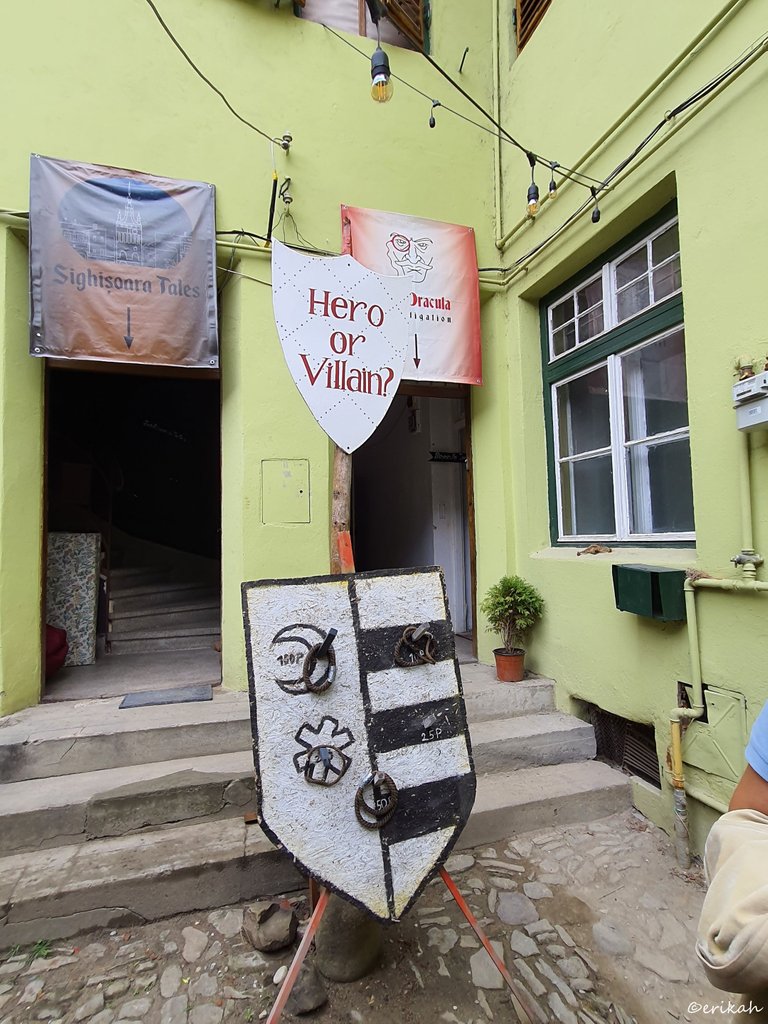 This was an interesting one. Hero or villain? I'm just judging by what I see, but I suppose that was a game you could play, to show how skilled you were. Back in those days there were these arcade games, where you had to throw those hooks to hang them on those metal holders. These were not only games as knights and soldiers had to know these things to use them in fights.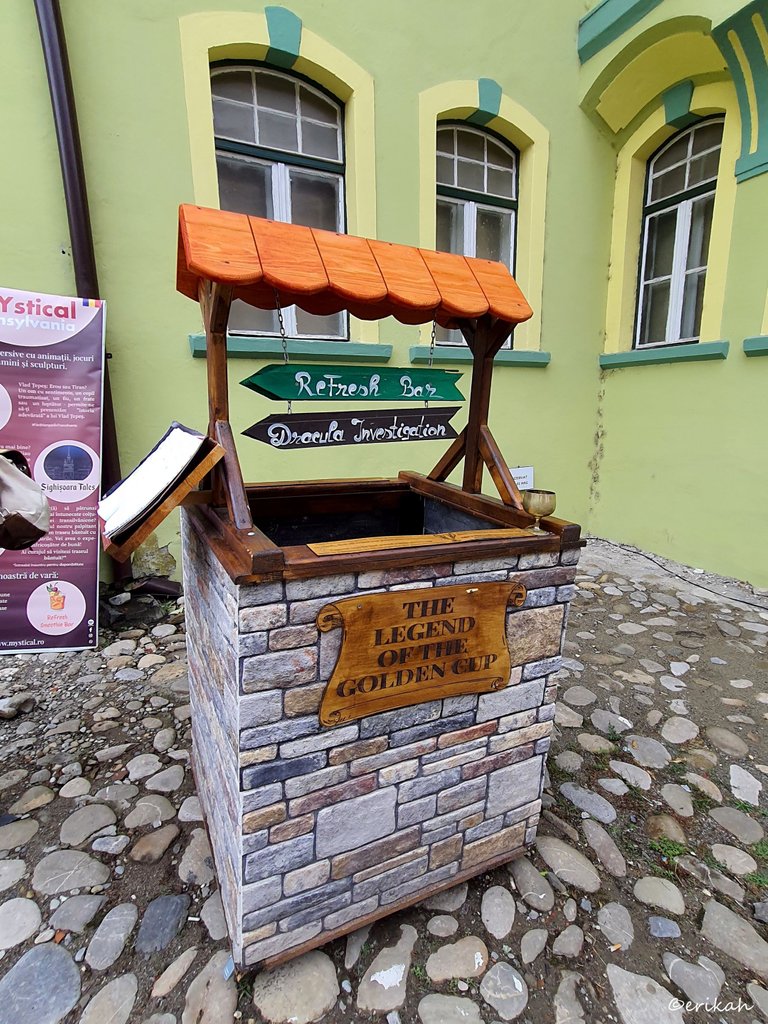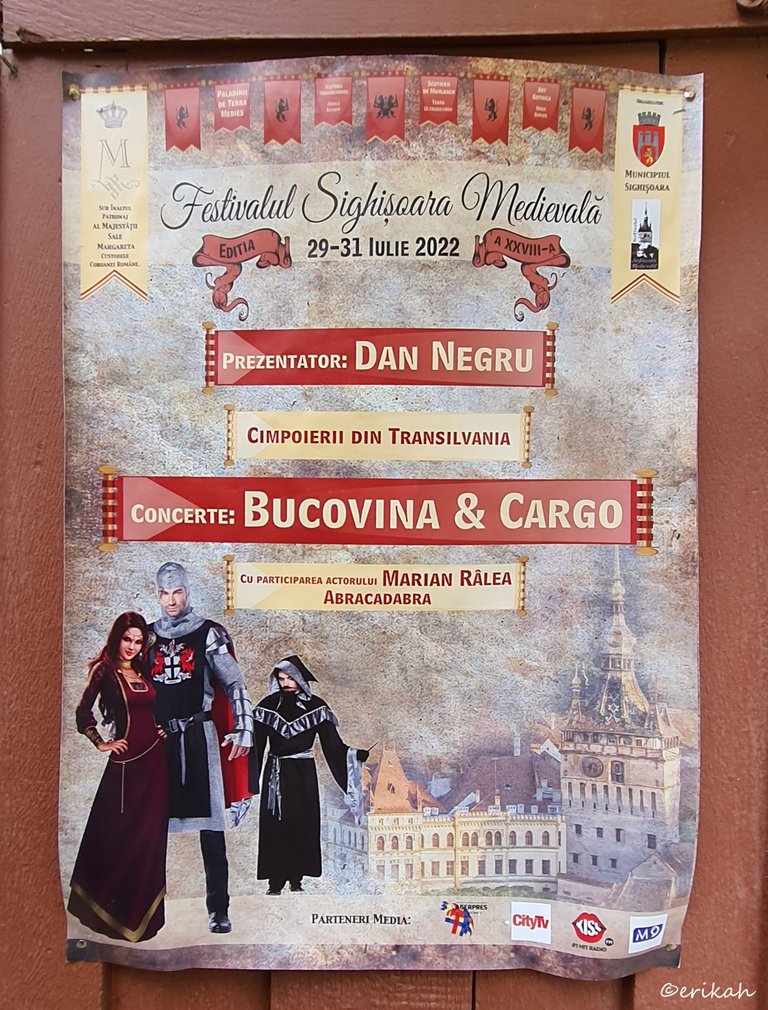 I was able to find a poster of the festival, pinned to a wooden door :)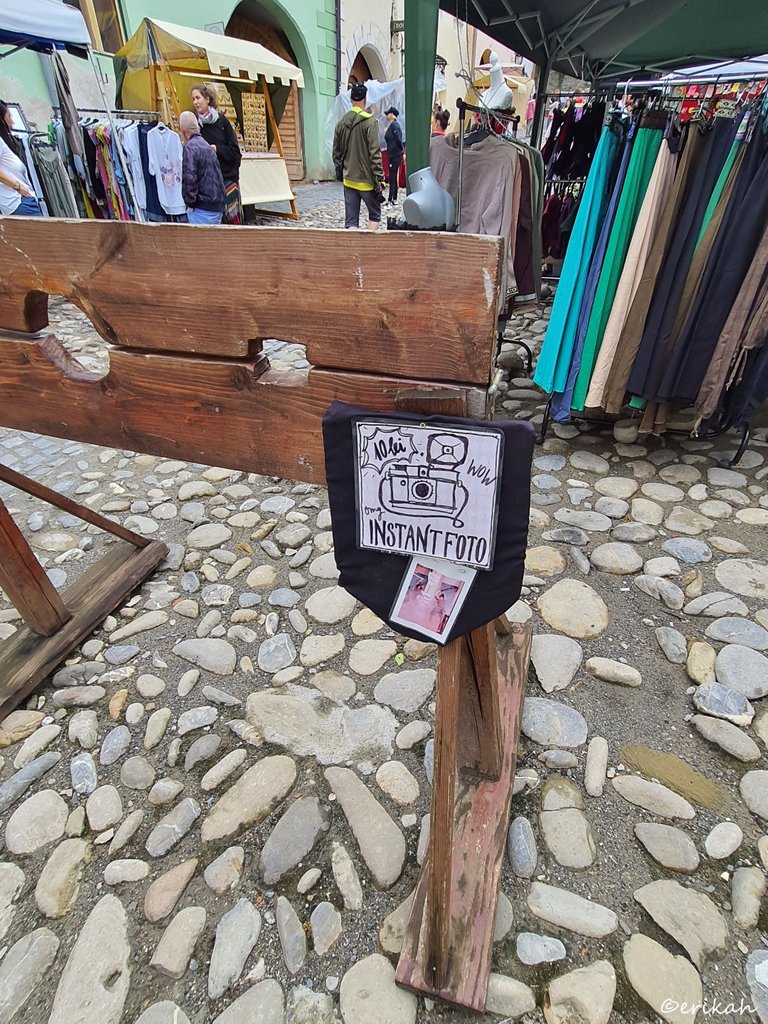 Here's an example of how to make some money, although I'd say it's a shameless ripoff. This is a similar torturing device I have shown you at the beginning of my post. It's just that here you need to pay 10 lei, approximately 2 euro to take a photo. For a foreigner, this could be a very cool thing to do as 2 euro is nothing for them (it's not a fortune for Romanians either I must note), and then they can upload the photo to their social media platform, as you don't find these torturing tools on every corner. And this is what these people who own this device is counting on. In any case, there was no one eager to pay for an instant photo. Maybe it was too early.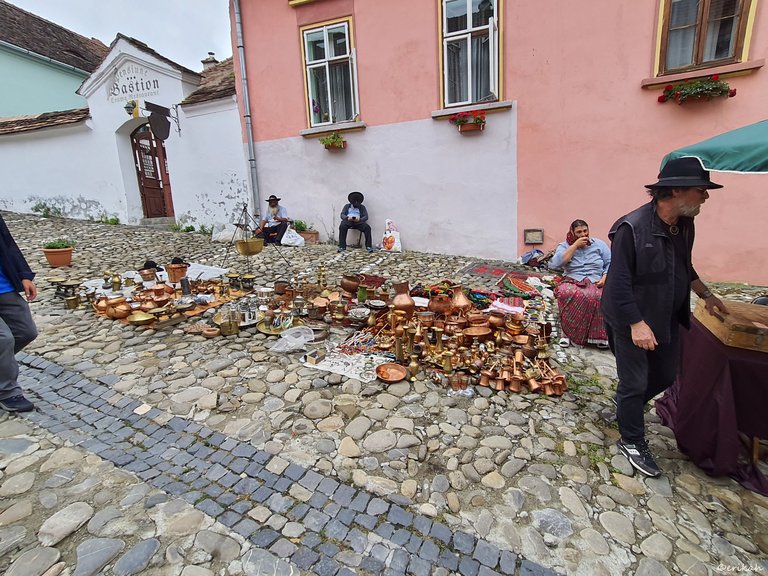 This is again something foreigners would like. Copper pots, vessels, made by the romani people living nearby.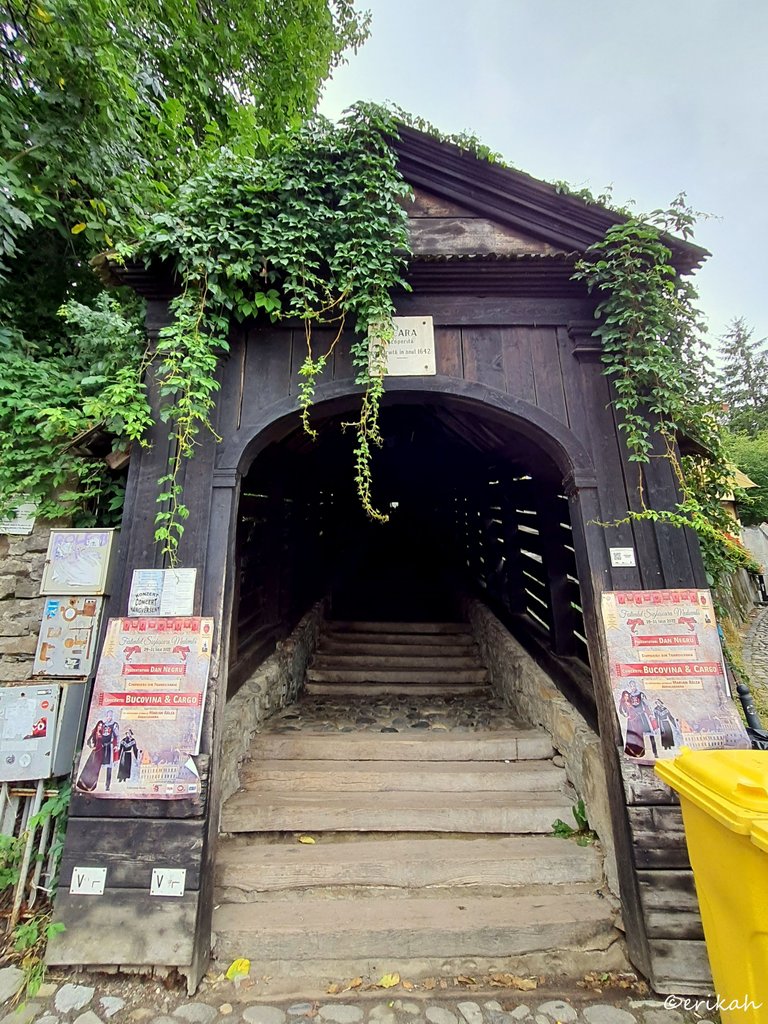 This is the covered wooden stairway, which is also called Scholars' Stairs.
Scholar's Stairs is an historic site in Sighişoara, Romania.
The Stairs were built in 1642 to connect the lower and upper parts of the citadel in Sighişoara. The main purpose was to allow people to reach the church and the school easily in winter time, obviating the problems caused by the snow.
When the Stairs were constructed, they had 300 steps. Only 176 steps remain. source
We were not eager to climb the stairs though 😁 Lazy bunch!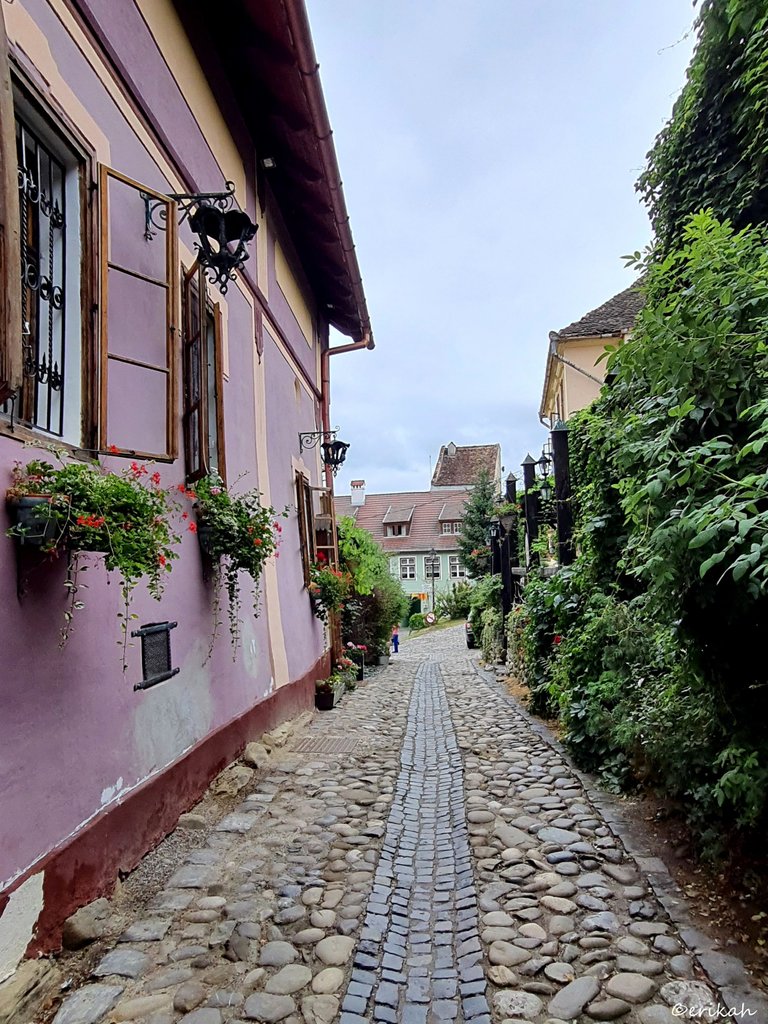 Roaming around the citadel you see a lot of narrow streets and cute little houses. This one was a very cute restaurant, but unfortunately it was full already, so there was no free places for us.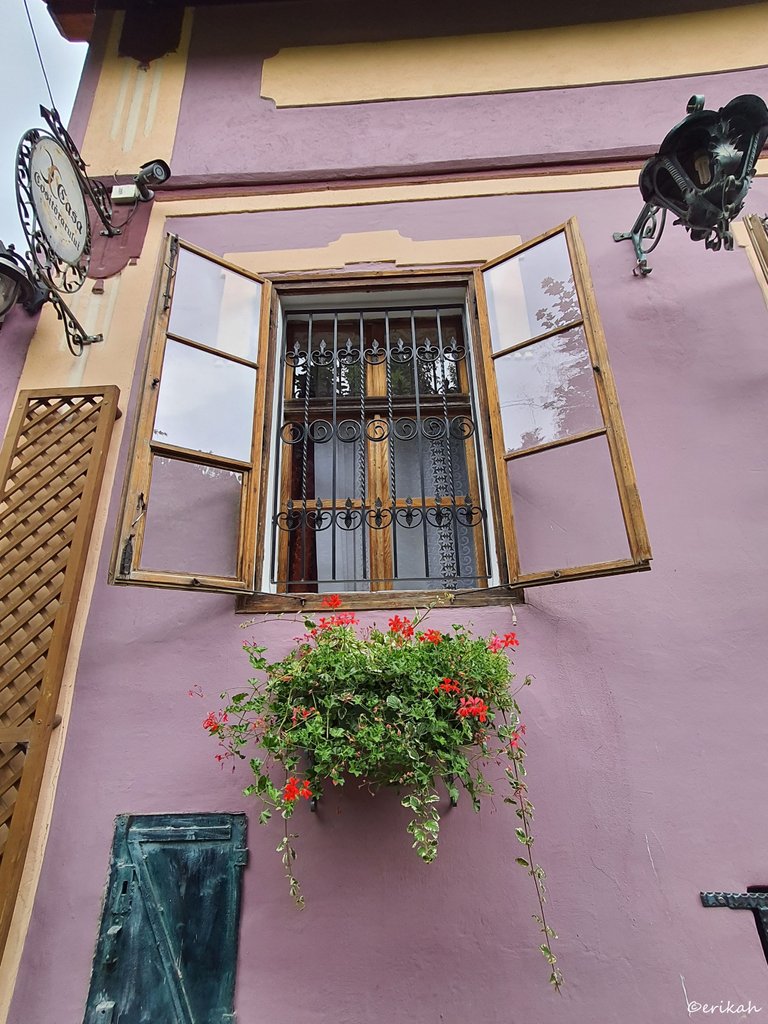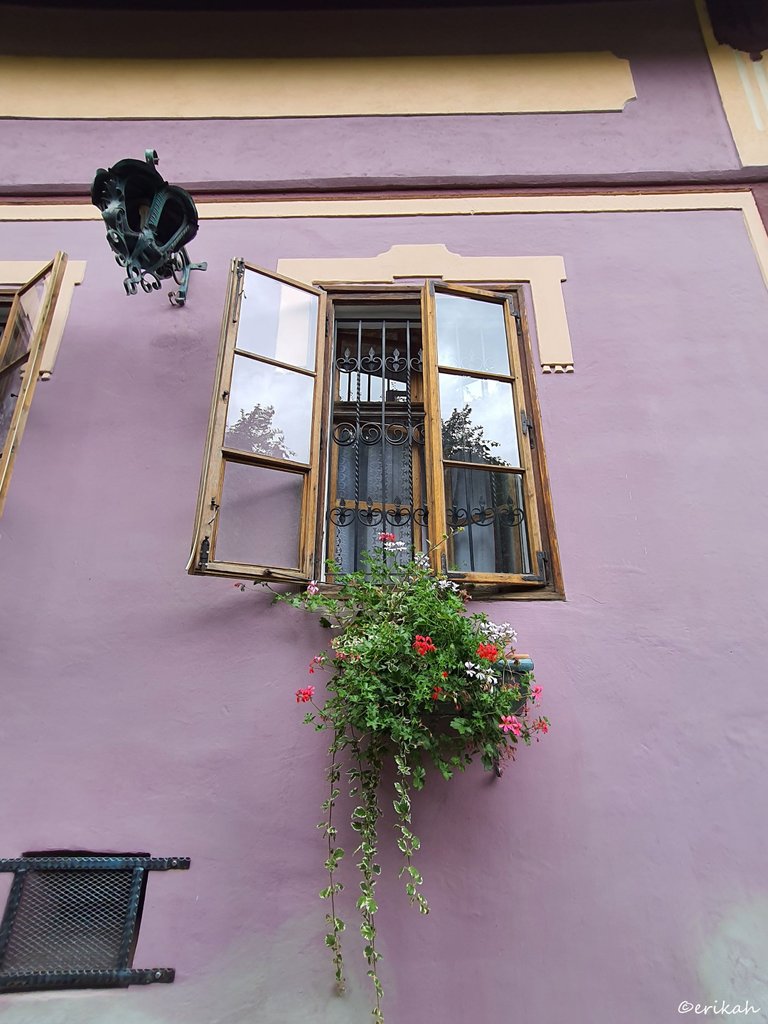 Regardless, I took some cool photos about the place.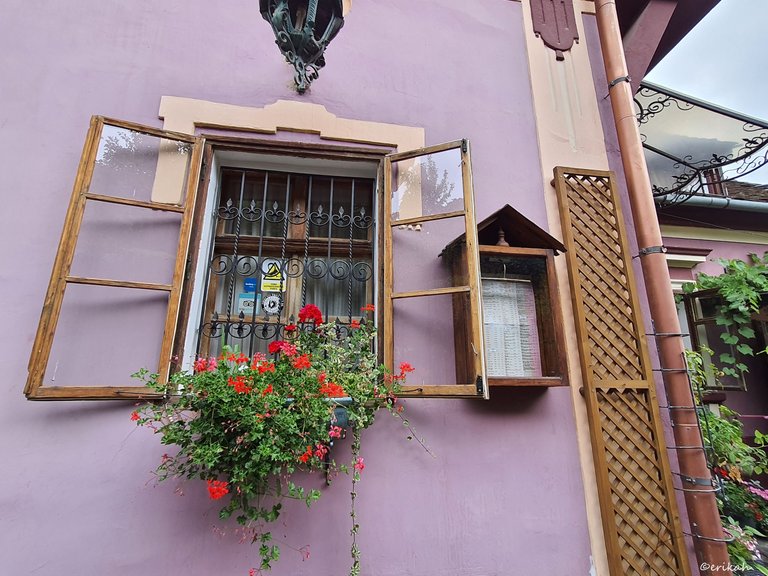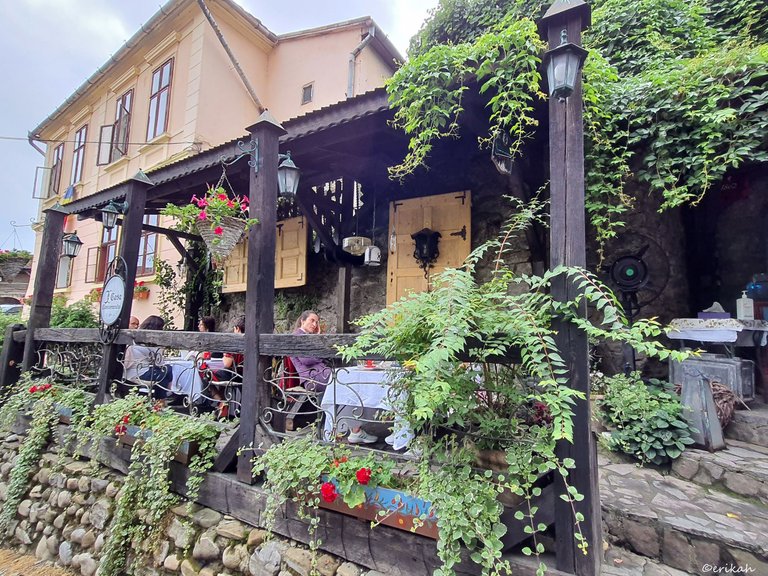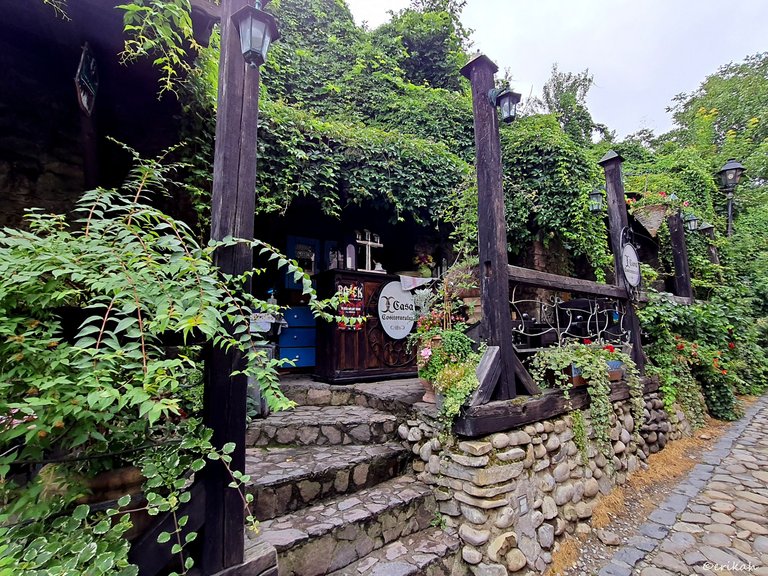 I think a place can't get more medieval than this :)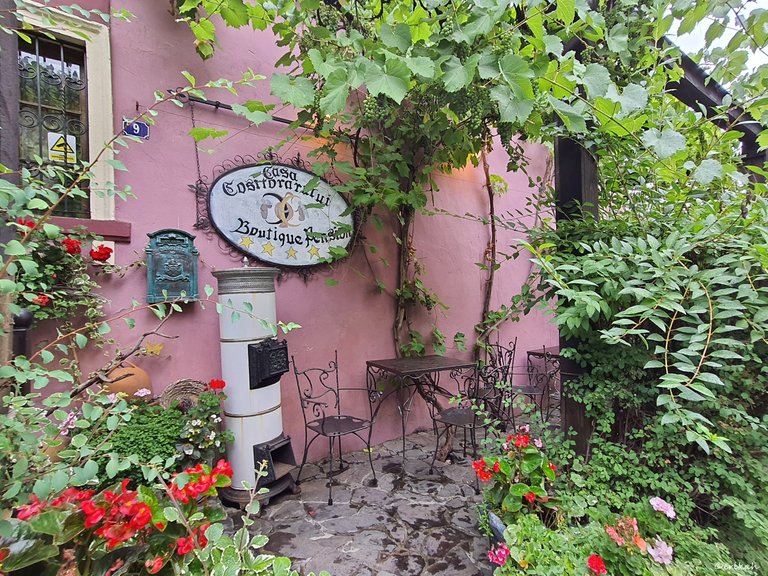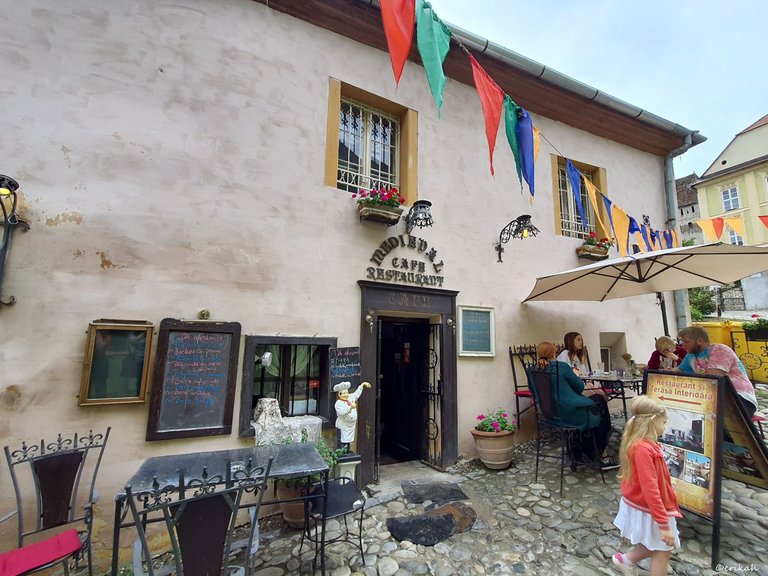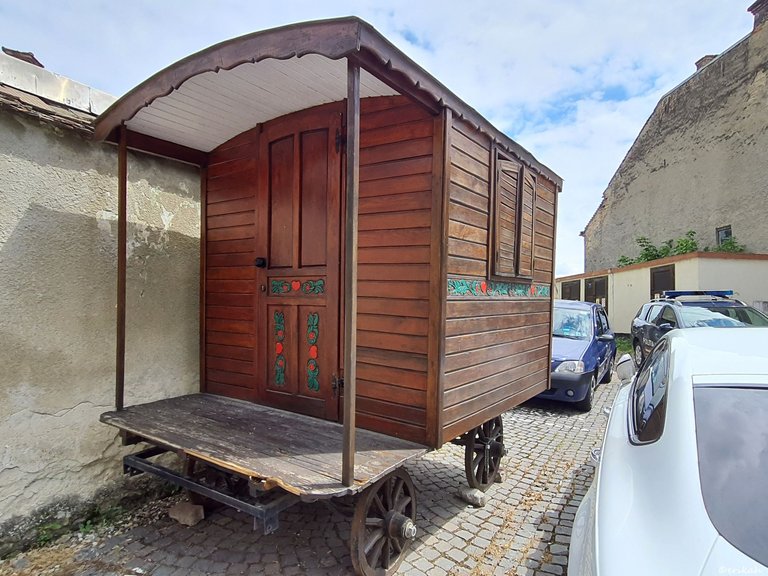 This is again something you don't see every day. It's a wooden carriage, with wooden wheels, it's kind of a caravan or trailer.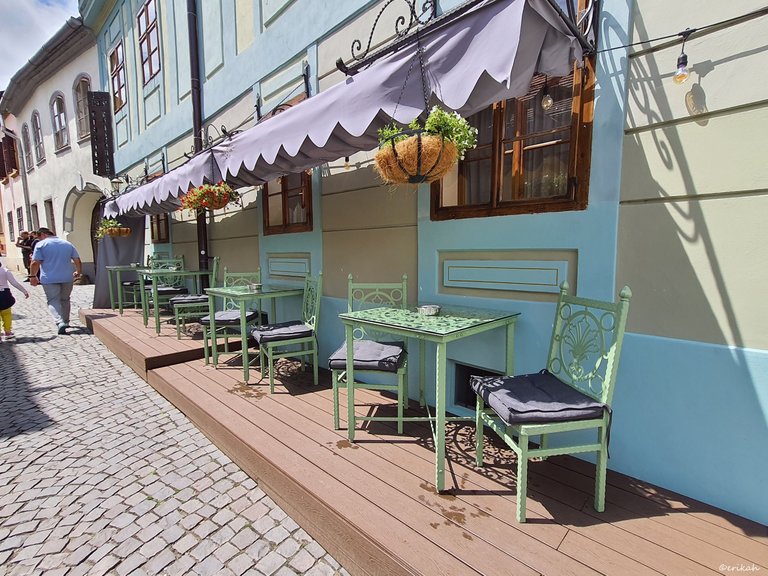 This was another cafe or restaurant I'd have loved to try out, but the thing is, one has one stomach and the size of the stomach is the same every day. So I can't eat endlessly or drink :)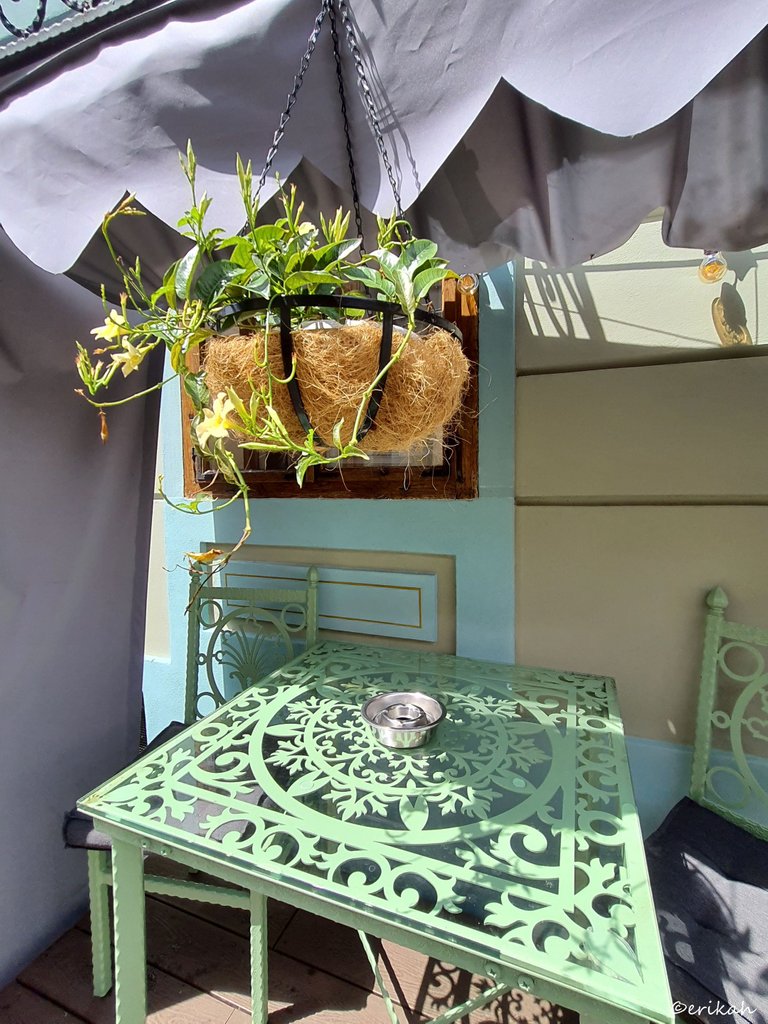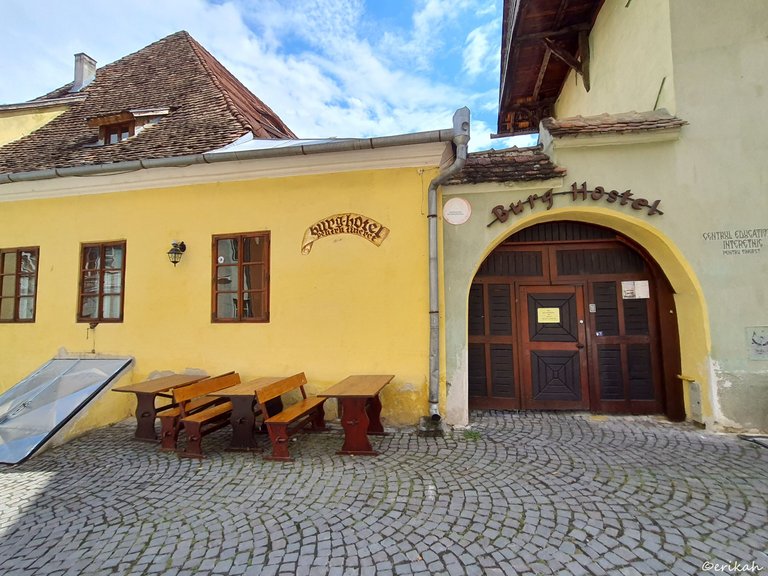 Other places were already packed.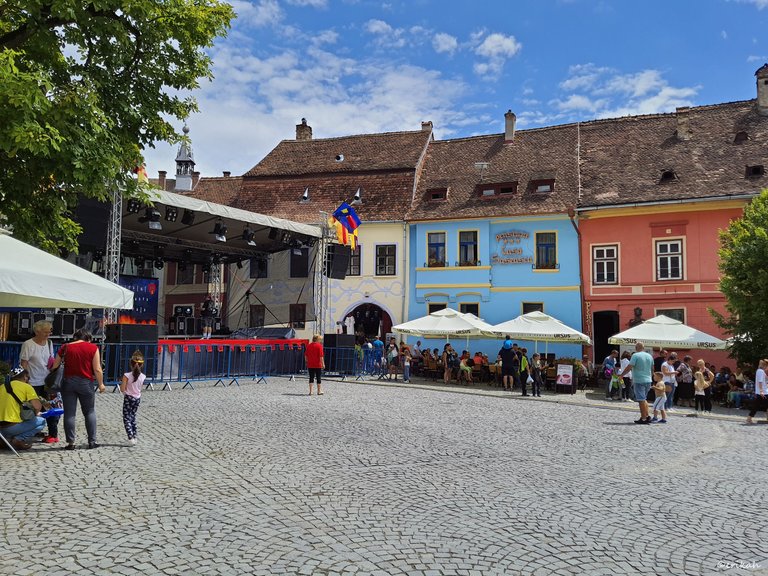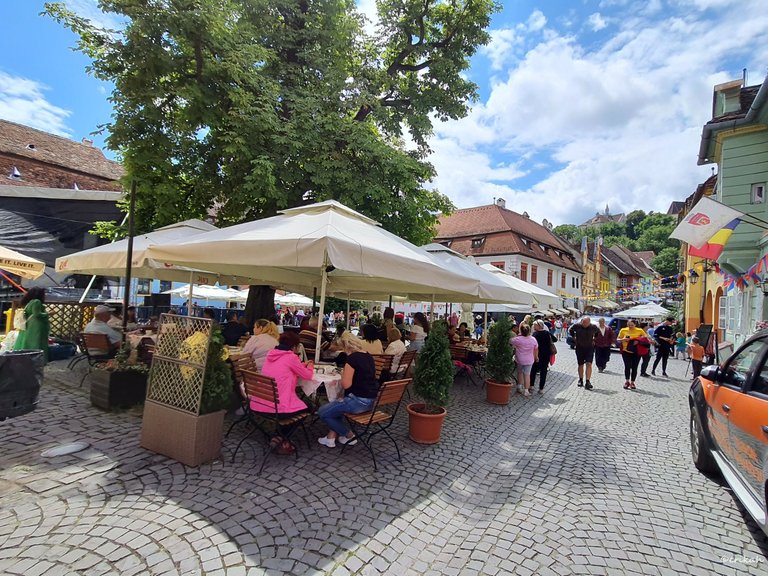 Last, but not least, the stage. When we arrived, there were artists entertaining kids as it was still early. Later in the evening there were concerts planned.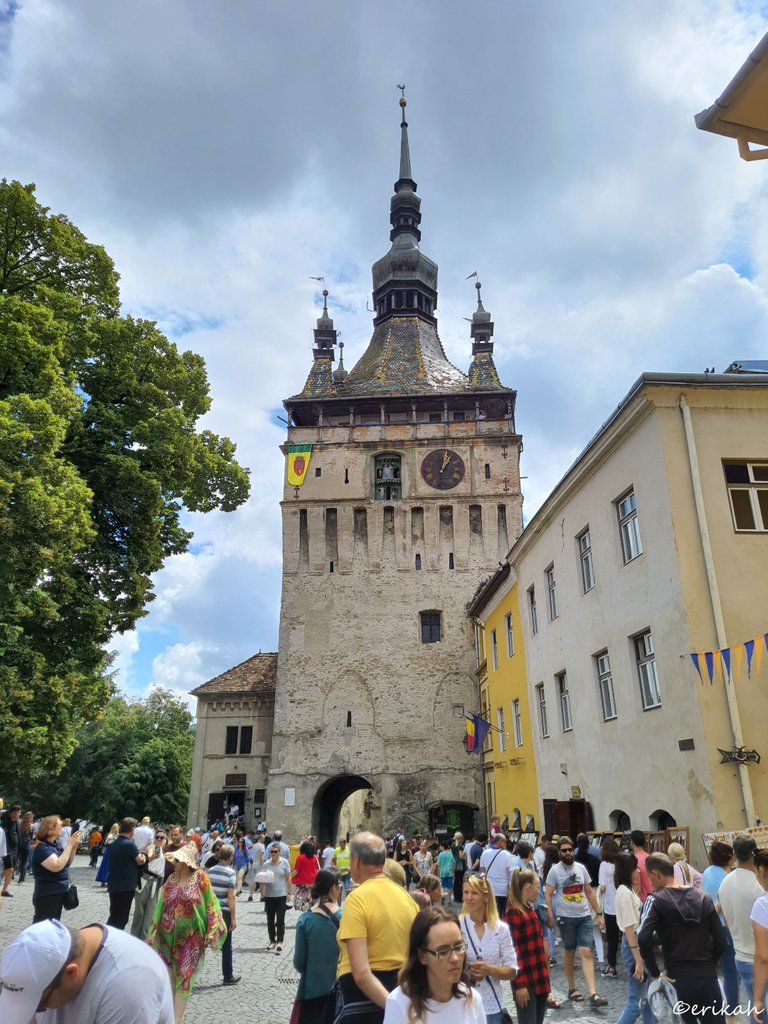 Maybe on nice day I'll have all day to document properly the festival and take as many costume photos as possible. Till then, this is what I can offer you :)

---
---