Autumn Colors And Decorations
Today I'd like to show you a few funny photos, as well as a few serious ones. It's going to be a mix of everything, things I have seen lately.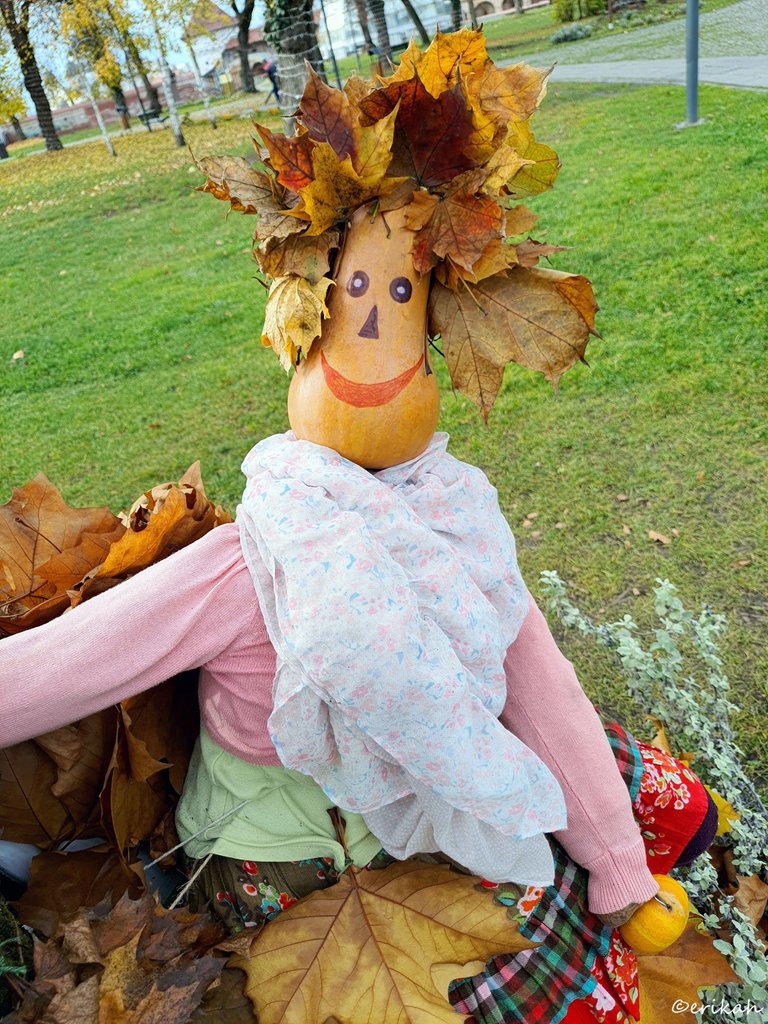 Let's start with this lovely lady, who I want to call Miss Pumpkin. I met her approximately two weeks ago. She was sitting on a bench, enjoying the nice autumn weather. As you can see on the photo, she has a very stylish hair, she's dressed elegantly and also wearing make-up.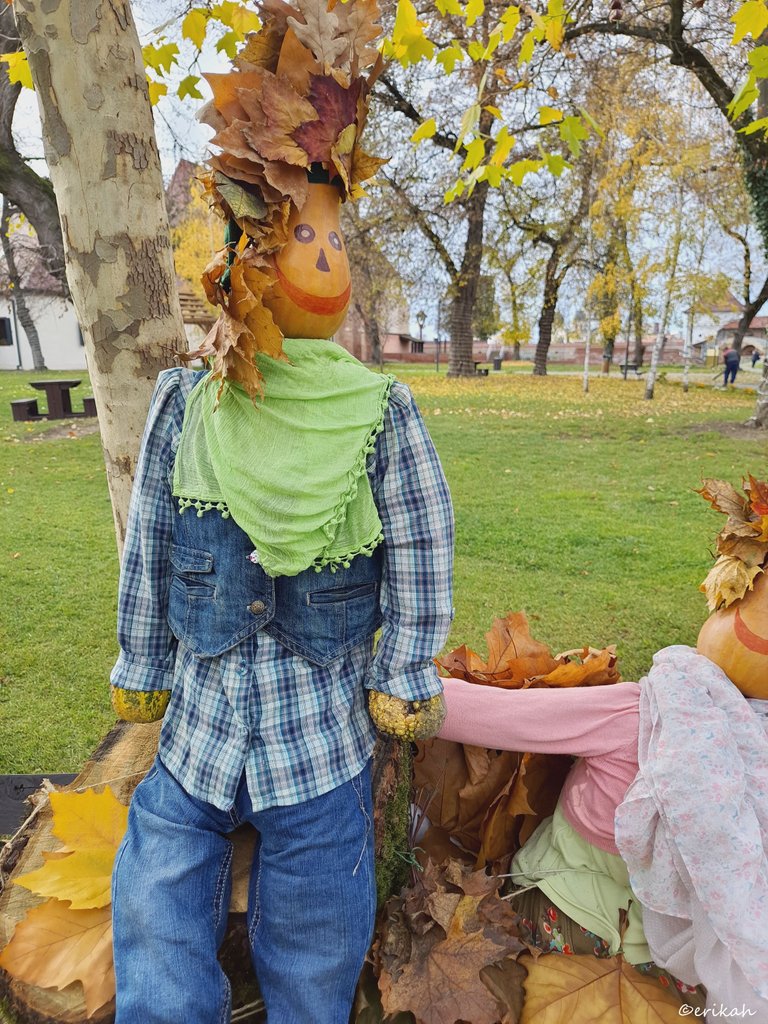 With him was Mr. Pumpkin, also elegantly dressed in denim, with a nice green scarf around his neck.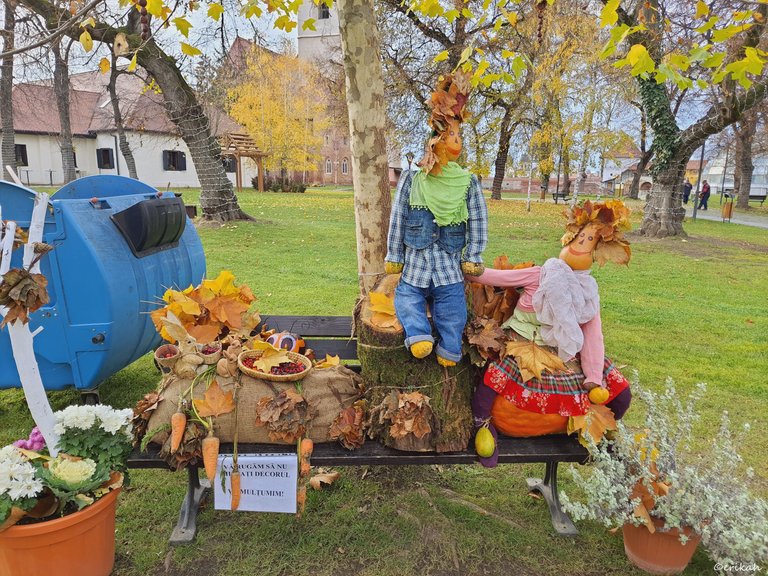 I'm not sure who's stupid idea was to place the bin so close to this idyllic decoration, it ruined the whole scene, but what can you do? I could not move it out of there as you never know who's watching. The whole place is full of cameras and the last thing I need is to be called into the principle's office. The other annoying detail that can't be ignored is the paper asking people to not touch the decoration. In the 21st century, we need a paper to remind people not to touch what is not yours.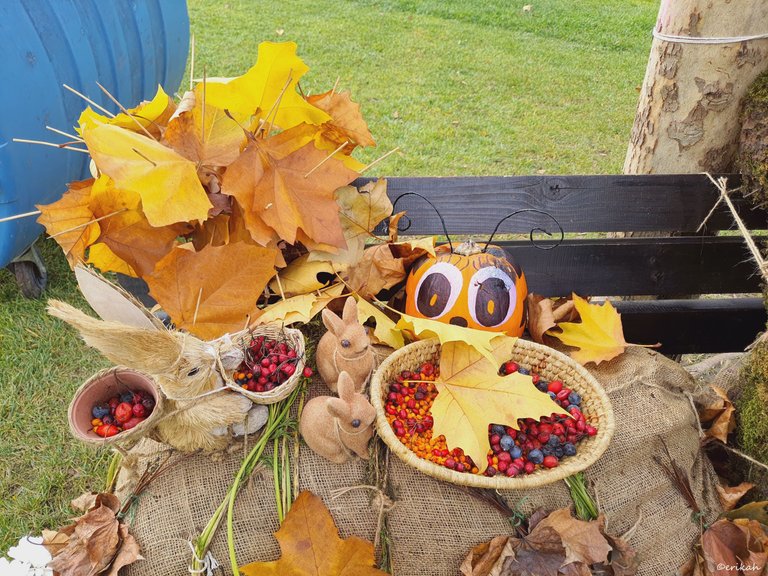 Otherwise I loved the idea to decorate the bench, dress up these cute pumpkins and add some of the fruits and veggies of the season, along with some leaves. I wish I could have such a decoration in front of my house, but in order to make that happen, first I need to buy a house. We're in a bear market, just saying.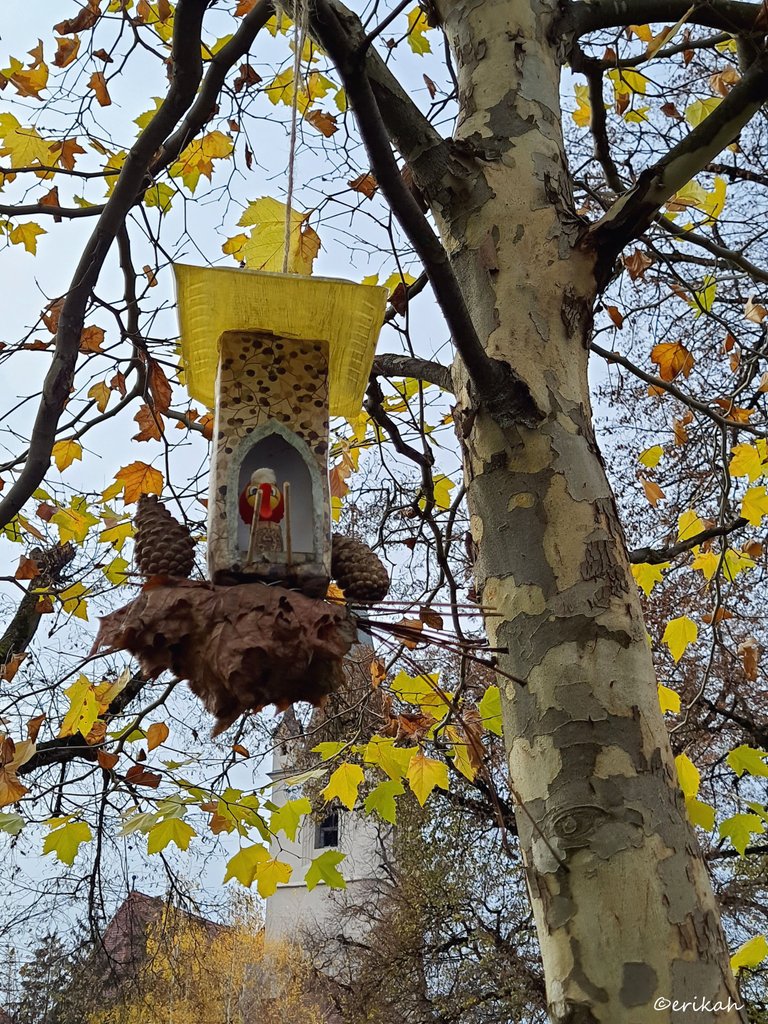 Those who are keeping their eyes open could see that above there were a few nice decorations as well, like this one for example.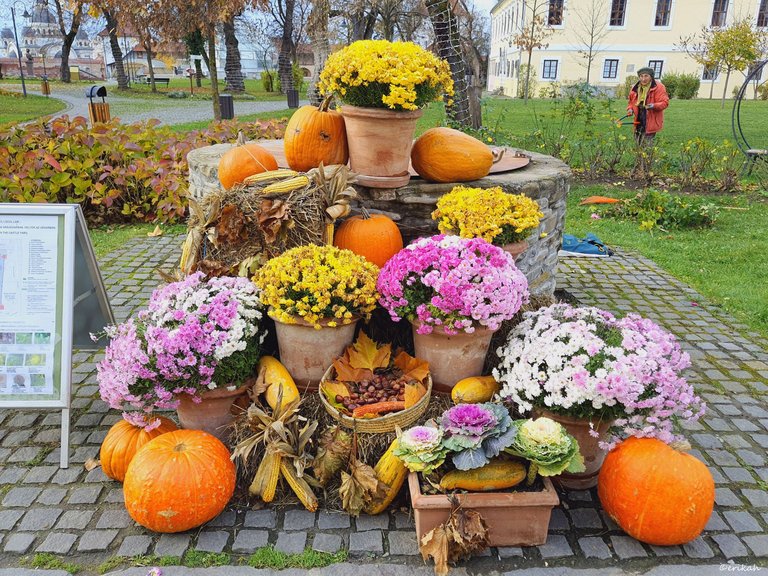 A few meters away there was another amazing autumn decoration, which would have been perfect, if that notice board would have not been there/ The old lady in the back was cutting down the roses, but she would have been forgiven anyway.
This decoration has almost everything autumn has to offer, from pumpkins, corn and chestnut to flowers specific to this wonderful season.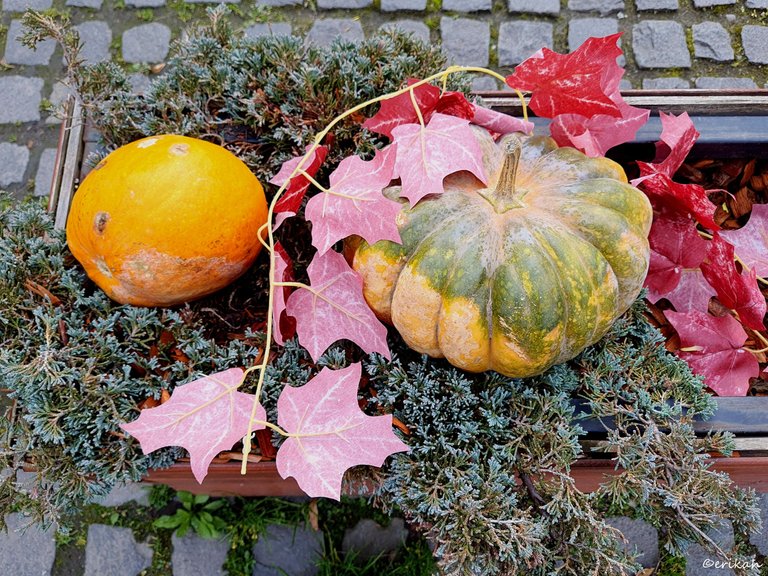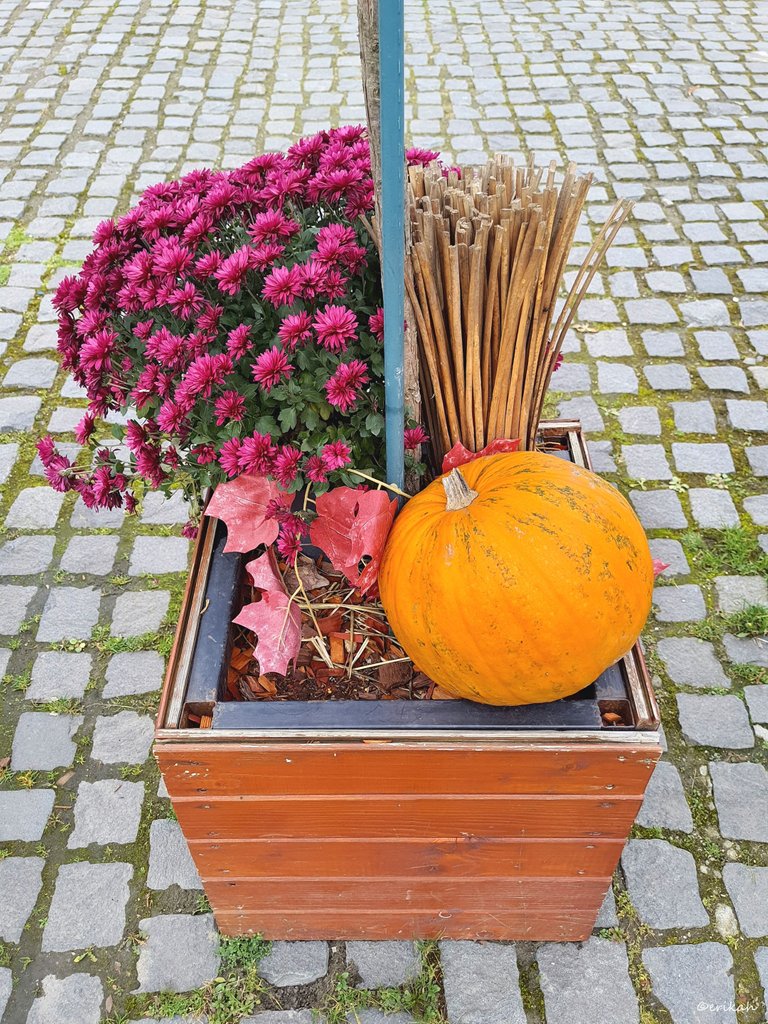 There was a pub nearby, with a terrace that is full of people most of the time. They always have nice flowers surrounding the terrace, but as the flower season is over, these are the decorations you can admire, while enjoying a hot tea, or a coffee.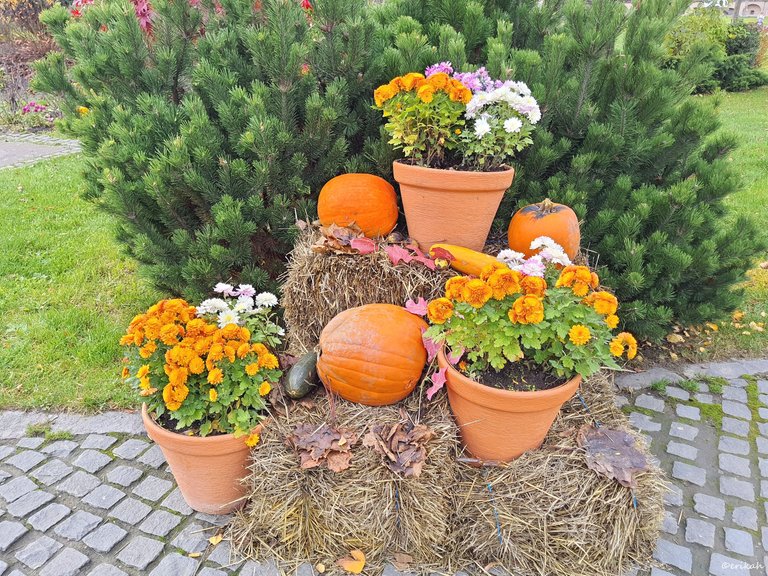 Would be nice to see this scene covered by snow. I don't know for how long they are going to leave these outside, or when the first snow is going to come, but I need to keep in mind to go back and try to take some photos. The cabbage flower is lovely, when has ice on the edges.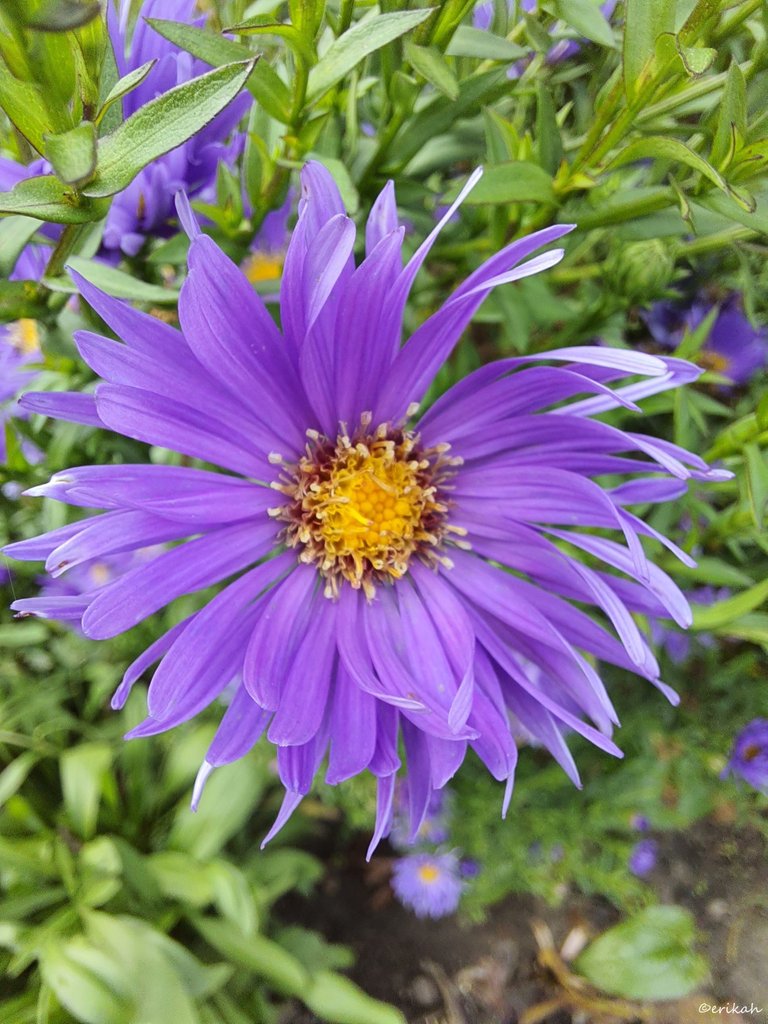 This lovely purple flower was still looking like a million bucks. I bet there's nothing left of it till now, with the cold nights we've been having.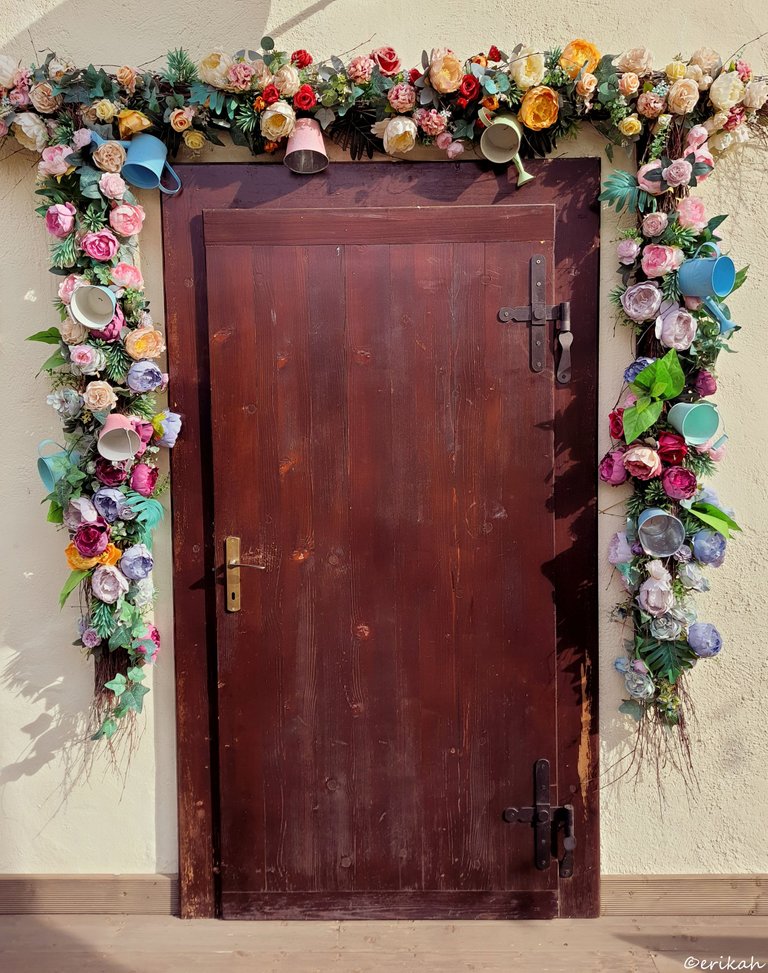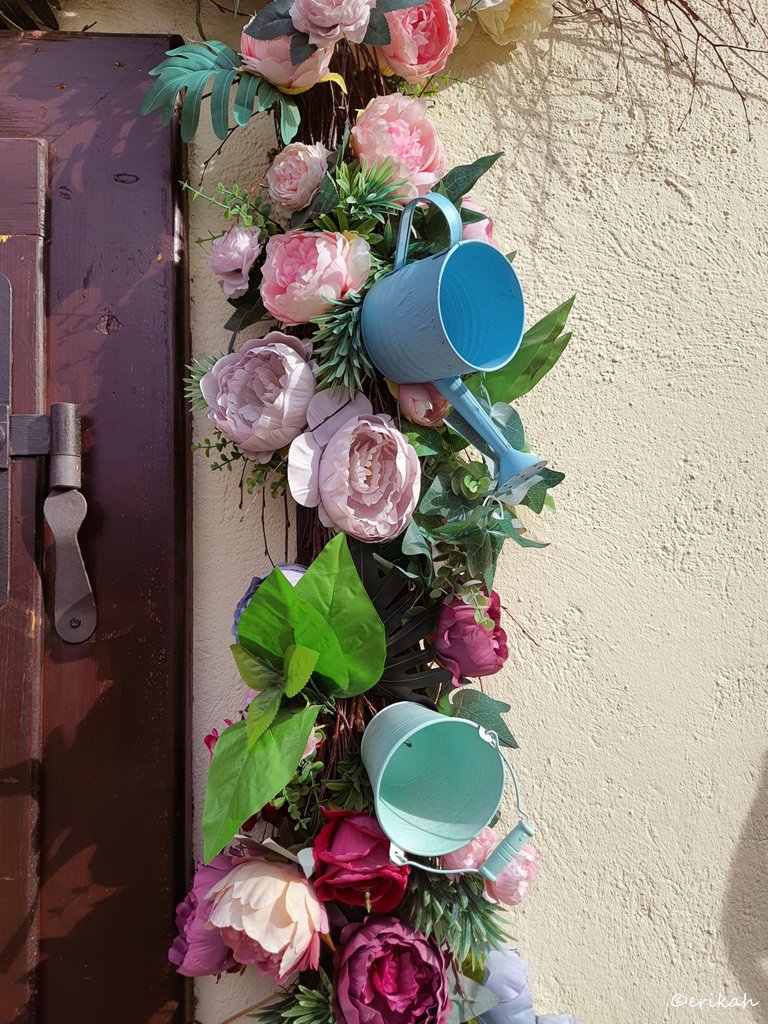 Another pub decided to decorate the side door with this flower garland. Even though it's plastic, it still looks nice from a fair distance.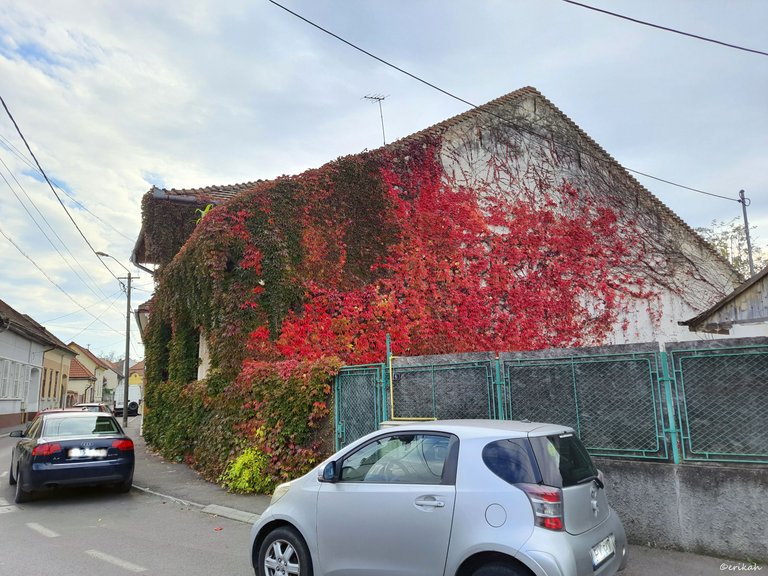 And finally, the house. This is da house as there's no other house like this.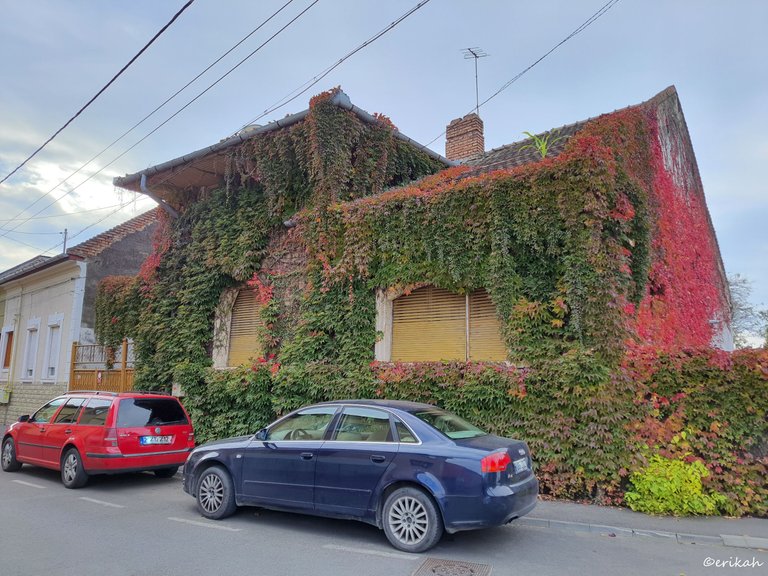 This house is covered by a running plant, which most likely is ivy (but I'm not sure). Even if you're half blind, you can't pass by without stopping for a minute to admire it. The most beautiful period for this beauty is October, November depending on the weather. That is when the leaves turn red. What comes after, you can see on the photo below.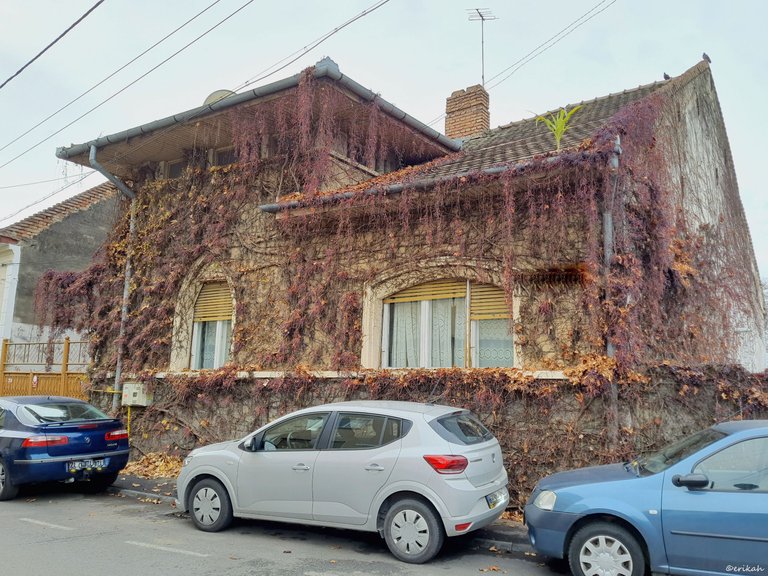 There's exactly one month difference between the two photos. The laves are all dry and most of it on the ground. The only green is the corn on the rooftop.
It's always nice to look at this house but living in it is a different story. Imagine all the insects and rodents running up an down the ivy, not to mention the shade and humidity the ivy can provide. However, I don't think I would have the heart to cut it out.
So ladies and gentlemen, which one is your favorite today?

If you're a newbie, you may want to check out these guides:

---
---