Communities Explained - Newbie Guide

Roaming around different communities for the past few weeks made me realize an explicit guide on how to use communities would be helpful for newbies. There are so many new things for a newbie to learn on Hive as our blockchain is not like any other social media platform out there, so today I'd like to explain you, why we need communities and how to use them.

The Purpose Of Communities
The purpose of communities is to organize topics on our blockchain. Having dedicated communities for each topic can help you find what you're looking for, without being forced to scroll through posts you're not interested in. We have general communities as well, where you can post about any topic you want.

Where To Post?
You have two options:
You can post on your blog, which means your post wont appear in any community and will be visible to your followers only and by searching for tags.
You can post in a community.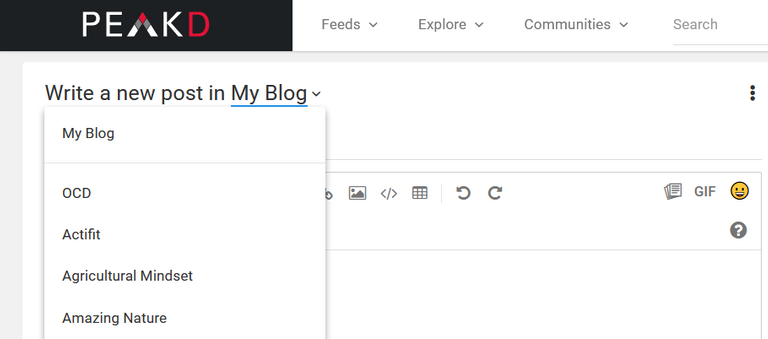 Getting followers is a process and takes time, so as a newbie, it is in your best interest to post in the appropriate community in order to get exposure and get followers as well.

How To Decide In Which Community To Post
This is not an easy task at first, but you'll get the hang of it in time. First you need to decide what your post is about and try to find the appropriate community, based on the community rules, but more about this later. Many times a post is not just about one topic. In that case try to see which topic takes up the majority of your post. This will help you avoid breaking community rules.
Let me give you an example. Let's say you go to the market and photograph what farmers are offering that day. In which community you think that post would fit? Well, let's see. You have photographs, product descriptions, so you can post in MarketFriday, which is a community dedicated to markets, as well as in photography communities if there are no specific requirements, like "black and white" or "macro" for example. Please note, just because your photographs have some tags, doesn't make it finance related, so please focus on the main story and not some tiny details.

How To Find Communities
We have several frontends on Hive, among which I can mention PeakD, Ecency and Hive.blog for example. Each frontent has a different layout.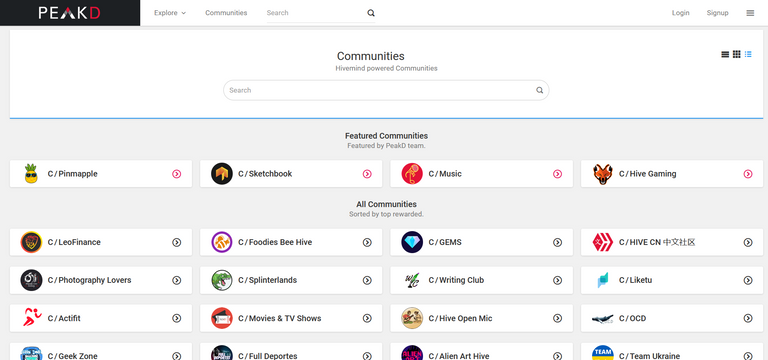 screenshot of PakD frontend
---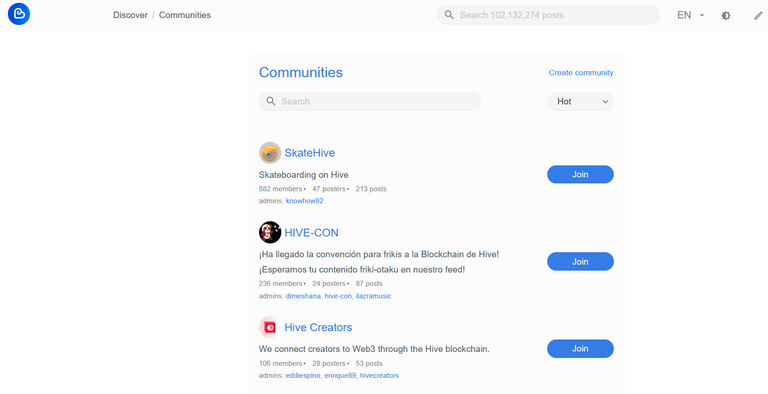 screenshot of Ecency frontend
---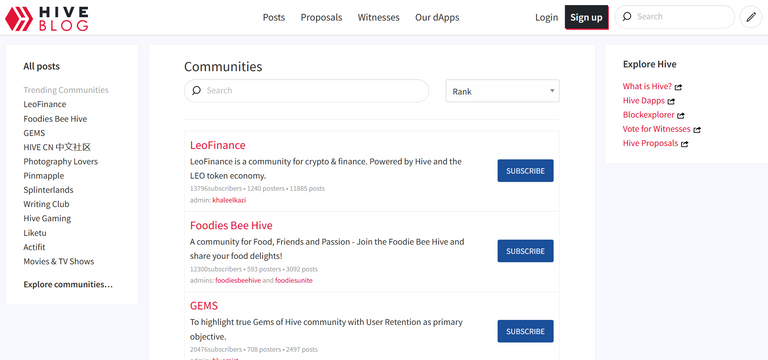 screenshot of Hive.blog frontend
As you can see, each frontend has a search box and that search box will be your best friend in the near future, trust me. So let's say you want to post your music performance and don't know which community to choose.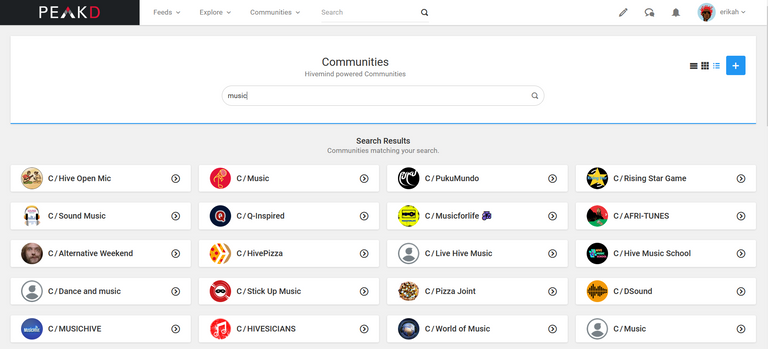 Just type "music" in the search box or any keyword you think describes the topic of your post and you get a list as long as my arm. From here, you're on your own as you need to select which music community is the one that fits your topic.

How To Decide Which One Is The Best Community?
Each community has its own rules, so it's recommended you read the rules and act accordingly. However, apart from community rules, general blockchain rules apply too, like no plagiarism, no identity theft etc.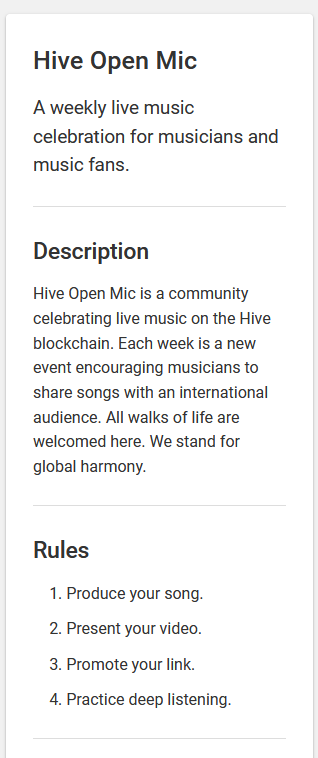 You may also want to check pinned posts in a community as in most cases you will find community rules and guidelines there.

Crossposting
Because we have so many communities on Hive and sometimes one topic would fit in more than one community, devs have implemented the crossposting option.
What does crossposting mean? This option makes it possible for users to (cross)post their post in another community, without doing two or more posts with the same content. You post your post in the first community, then crosspost to another community. Although there's no limit to how many communities you crosspost, please don't abuse the option. Your followers will see your post in their feed as many times as you are crossposting it. Seeing the same post three or four times in your feed can become annoying.
Also please note, rewards on crossposted posts are denied, you will only be rewarded for your original post but not for the crosspost. Last, but not least, you need to respect the rules of the communities you are crossposting to.
Cross posting from the other communities to get visibility from OCDs subscribers is okay as long as the original is posted in the appropriate community. OCD community rules
This means, regardless of the topic of your post, you can crosspost to the OCD Community to get more visibility, but only if the original post is in the appropriate community.
Read more about cross posting here -> Cross Posting And Reposting Explained, Using PeakD

Tags
Tags can have an influence on how many communities your post shows up. This means even if you post in one community, but use another community's tag, your post may show up in the community of which tag you used.
This is why tags should be relevant to the topic of your post and should not be abused. Please don't use tags that have nothing to do with the topic of your post.
The number of tags is limited to 10, but there are dapps, frontends that allow more. Regardless, it is recommended to stick to 10 and not abuse tags.

Community Frontends
Some communities have their own frontends, like:
https://leofinance.io/
https://www.proofofbrain.io/
just to name a couple. In these cases, instead of posting from PeakD, Ecency or Hive.blog, it's best to go to their frontend and post from there as they have their own community tokens as well and you may get better rewards using their frontend. Some communities are penalizing post that are not posted from their frontend, meaning you get less community tokens if you post from another frontend.

Details To Pay Attention To
Once you posted in a community, you can't move your post to another community! Don't try to edit your post and choose another community as it doesn't work that way. If you posted in the wrong community, leave it, you'll get it right next time. The most elegant way to handle the situation is to leave a comment on your post, explain what's happened and pay more attention next time.
Please don't delete any post with the purpose of reposting it to another community as that can be considered abuse! Unfortunately there are users who are doing this regularly, to get better rewards. As I said earlier, If you posted in the wrong community, leave it, you'll get it right next time.
Constant abuse of community rules and ignoring warnings from moderators can get you muted by the community admins.
Communities should be chosen based on the topic of your post and not based on the possibility of getting voted by whales or curator groups.
Most communities have a Discord server as well, joining them can help you get answers to your questions, if you have any.
I hope I covered everything you need to know about communities. If not, please leave a comment so I can answer your questions.
Happy blogging!
---
---