Expressing The Same Idea Through Art

Today I'm back with more artworks that worth writing about. One week ago I went to visit an art exhibition that had as theme celebrating 200 years from the birth of a well known Hungarian poet and revolutionary, Sándor Petőfi. As I mentioned in my first post, you need to know a bit of history in order to understand these artworks better, so that is why I'm going to explain what you see, to make it easier for you.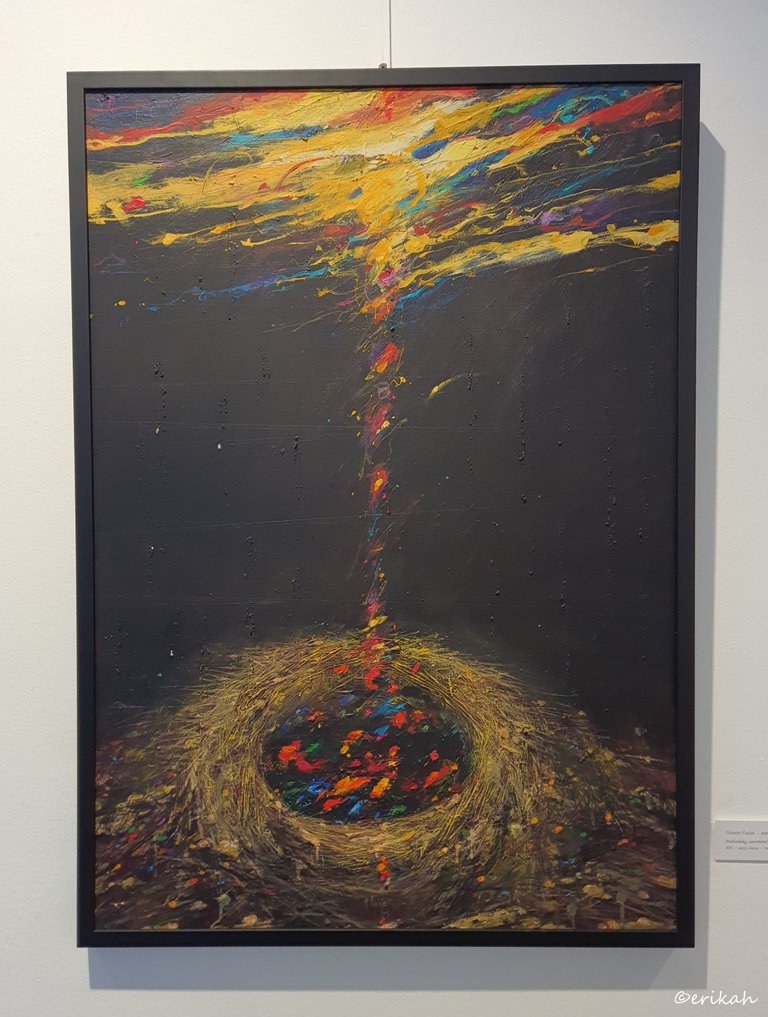 This acrylic painting is called Freedom, Love, which is the title of one of his poems.
Freedom, love!
I need these two.
I will sacrifice my life
For my love,
I will sacrifice my love
For freedom. source
And he did, literally. He was one of the key figures of the Hungarian Revolution of 1848. He disappeared (presumably died) during the battle of Segesvár by the Imperial Russian Army most likely 31 July 1849 . The interesting thing is many poets are writing revolutionary poems, but most likely he was one of the few who literally died as he said he would.
Now back to the painting, can you see freedom and love in this painting?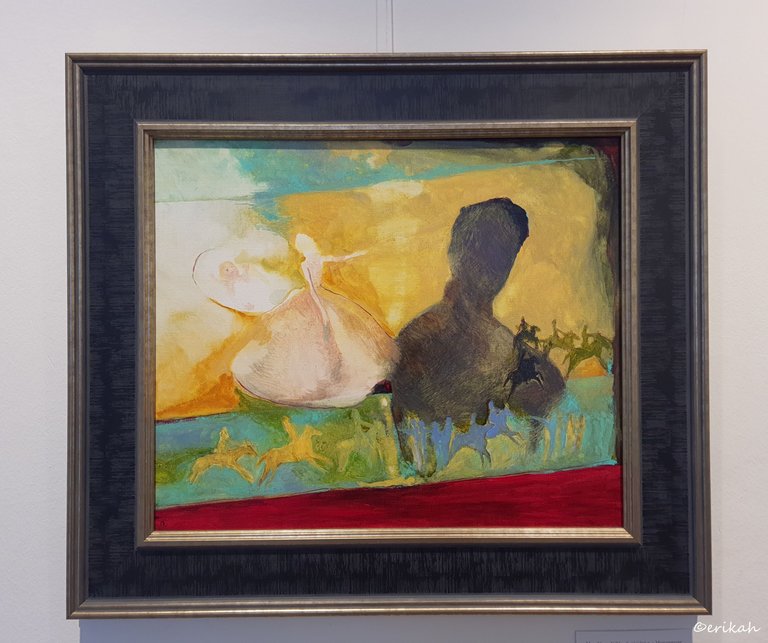 After seeing a few artworks, I could see the common, repetitive elements, which was the poet's either portrait or silhouette, mounted warriors and the flag. The flag is not visible here, but the rest is present. The lady in the background I suppose it is his wife, Júlia Szendrey.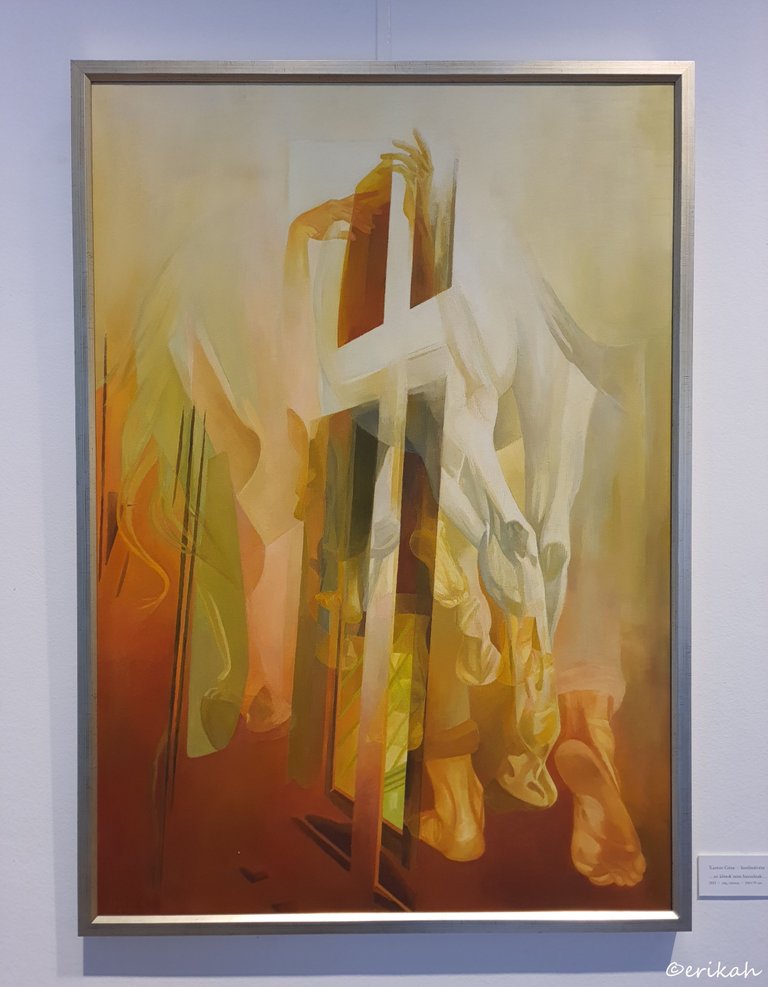 ... dreams don't lie ...
I stood in front of this painting for a few minutes, trying to figure out what I'm seeing. I saw a man's feet, another set of feet, smaller or maybe it seems like it's smaller due to being a bit far, horse legs, a cross and hands that seem to be of a woman. I suppose dreams appear like this, a bit disorganized.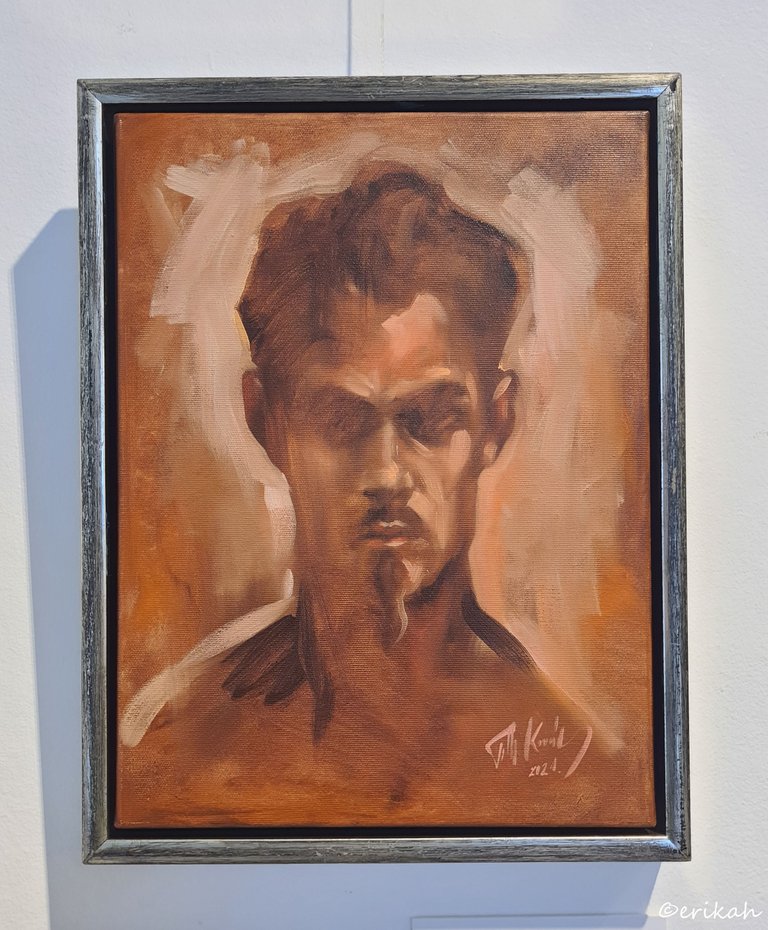 Of all the artworks I posted here, this was the one I liked the most, It's a rough oil portrait of the poet> What I like here is the tone of the painting and that it's not so detailed.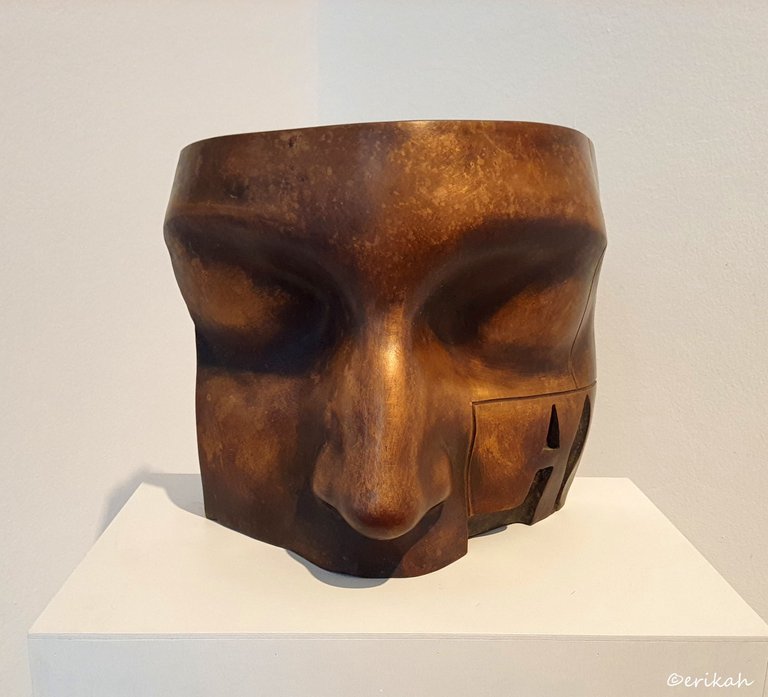 Dusk
Unusual, but very interesting. I like the shut eyes.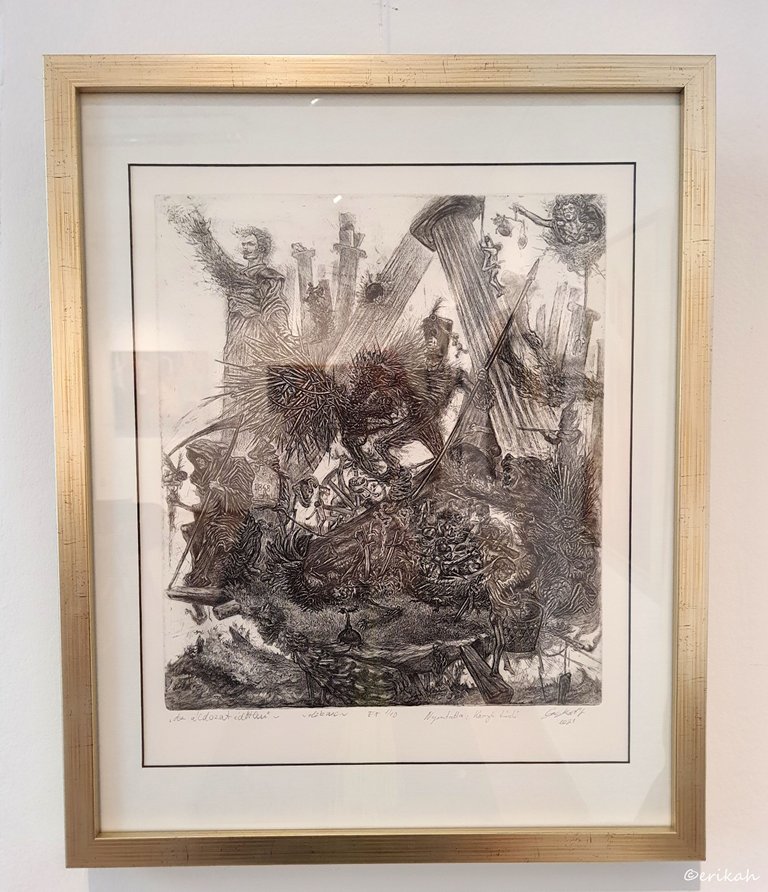 You know how exhibitions are. You see an artwork, you say you like it. Then you move on to the next one, you say you like that too and that's the best and your favorite. Then you move on and say about the next one that it's the best.
Sacrifice Is Timeless
Copper etching and paper.
Etching is traditionally the process of using strong acid or mordant to cut into the unprotected parts of a metal surface to create a design in intaglio (incised) in the metal. In modern manufacturing, other chemicals may be used on other types of material. As a method of printmaking, it is, along with engraving, the most important technique for old master prints, and remains in wide use today. In a number of modern variants such as microfabrication etching and photochemical milling it is a crucial technique in much modern technology, including circuit boards. source
I love this technique and I'm always fascinated about the details. My big problem is always the light and reflections and this is the reason you may not see that this artwork looks like.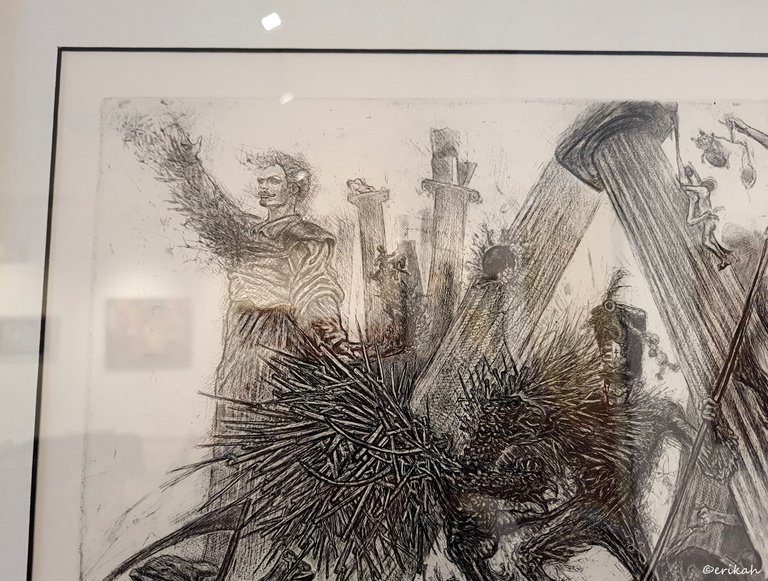 I took some partial photos to show you the details.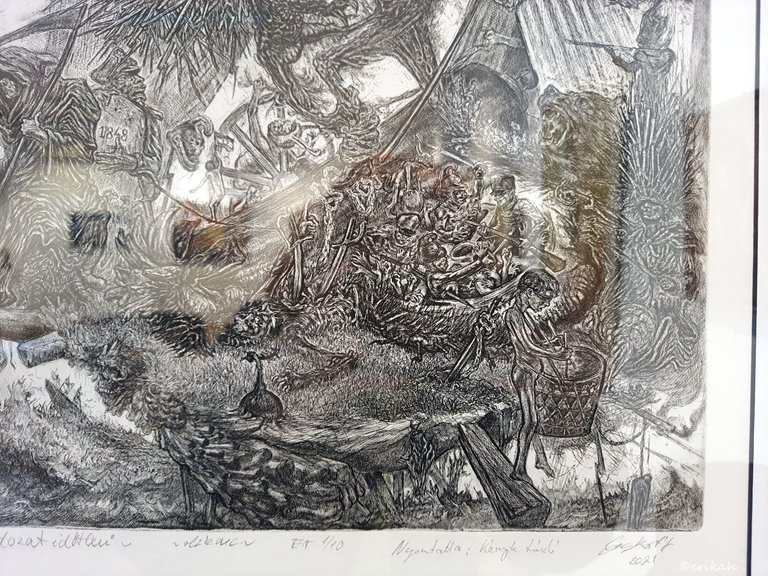 If you could no already figure out, the theme is the 1848's revolution.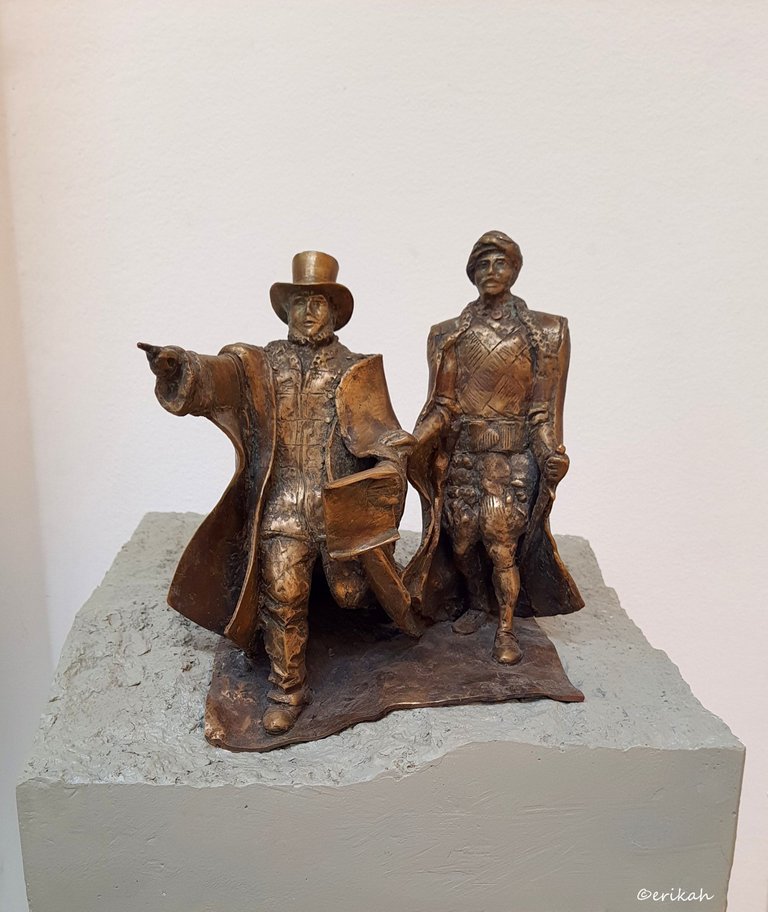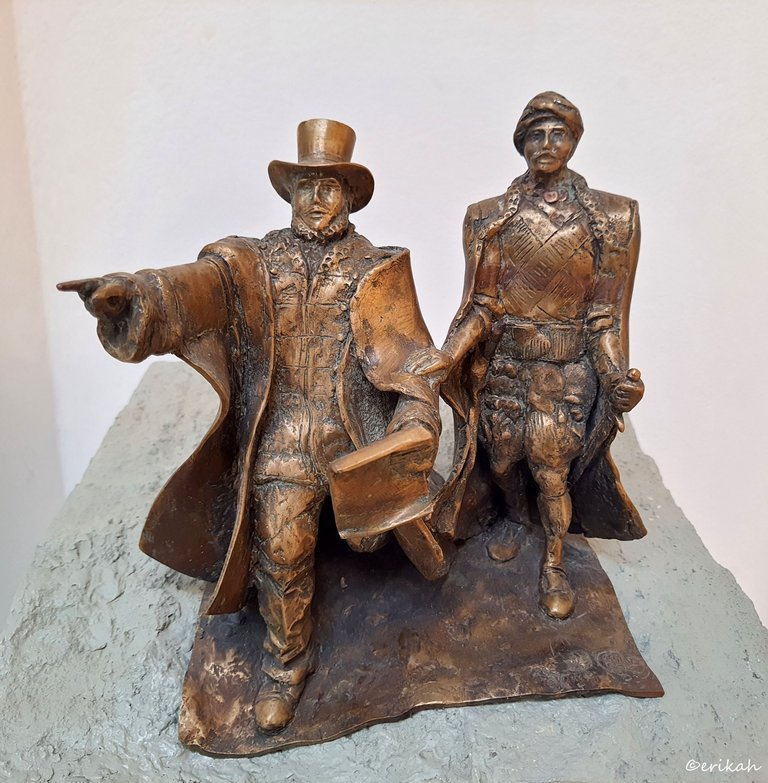 Another lovely bronze sculpture, that is featuring István Széchenyi, most likely holding the declaration of independence in his hand. It's a lovely sculpture. I was wondering how much this may cost.
Count István Széchenyi de Sárvár-Felsővidék, archaically English: Stephen Széchenyi; 21 September 1791 – 8 April 1860) was a Hungarian politician, political theorist, and writer. Widely considered one of the greatest statesmen in his nation's history, within Hungary he is still known to many as "the Greatest Hungarian". source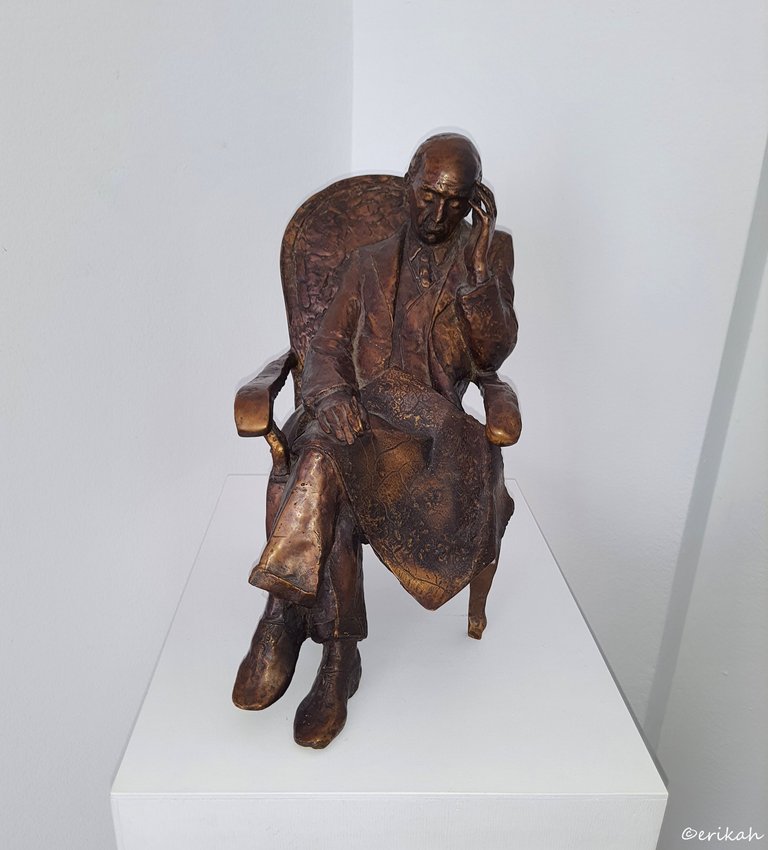 I must admit, I love these bronze sculptures. I'm not sure how difficult it is to create such a detailed work, but sure it is not easy. This gentleman looks so lifelike. The gentleman is Pál Teleki.
Count Pál János Ede Teleki de Szék (1 November 1879 – 3 April 1941) was a Hungarian politician who served as Prime Minister of the Kingdom of Hungary from 1920 to 1921 and from 1939 to 1941. He was also an expert in geography, a university professor, a member of the Hungarian Academy of Sciences, and chief scout of the Hungarian Scout Association. He descended from an aristocratic family from Transylvania. source
I'm a bit confused about this person as he was born after the poet disappeared, but the sculpture resembles and this gentleman is the only one Google gives me. The Teleki family is famous family in Transylvania's history, he's a count, so I suppose it's him.
I really enjoyed this exhibition, there were several pieces I liked.

If you're a newbie, you may want to check out these guides:

---
---