Gardening Report And A Few Tips
After a long and cold winter and a cold spring, we're at the end of May and it's time to do another gardening report to show you where we are at with things.
I'm going to start with the most beautiful piece of the garden, which is this huge pepper. My dad is always restless and is sawing seeds too early.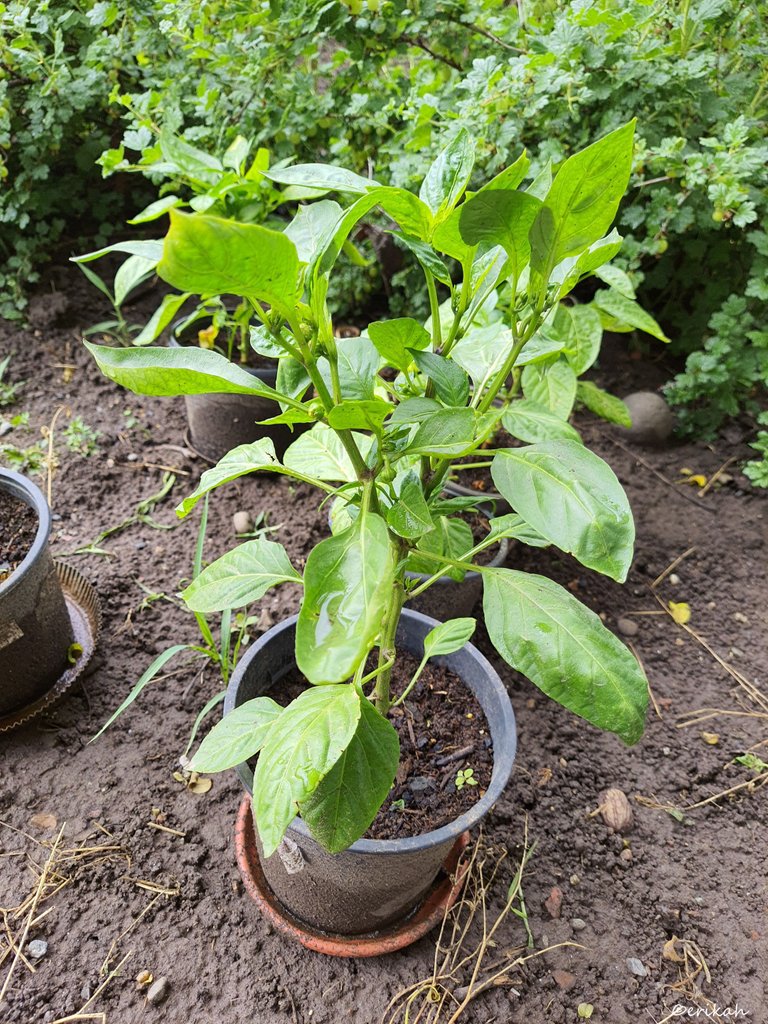 These pepper seeds were sowed in mid January, which is too early in this area as winter sometimes can last till end of March, even mid April. He doesn't care, he always wants to be first to have big seedlings, which is a double edge sward as snow and frost can kill them.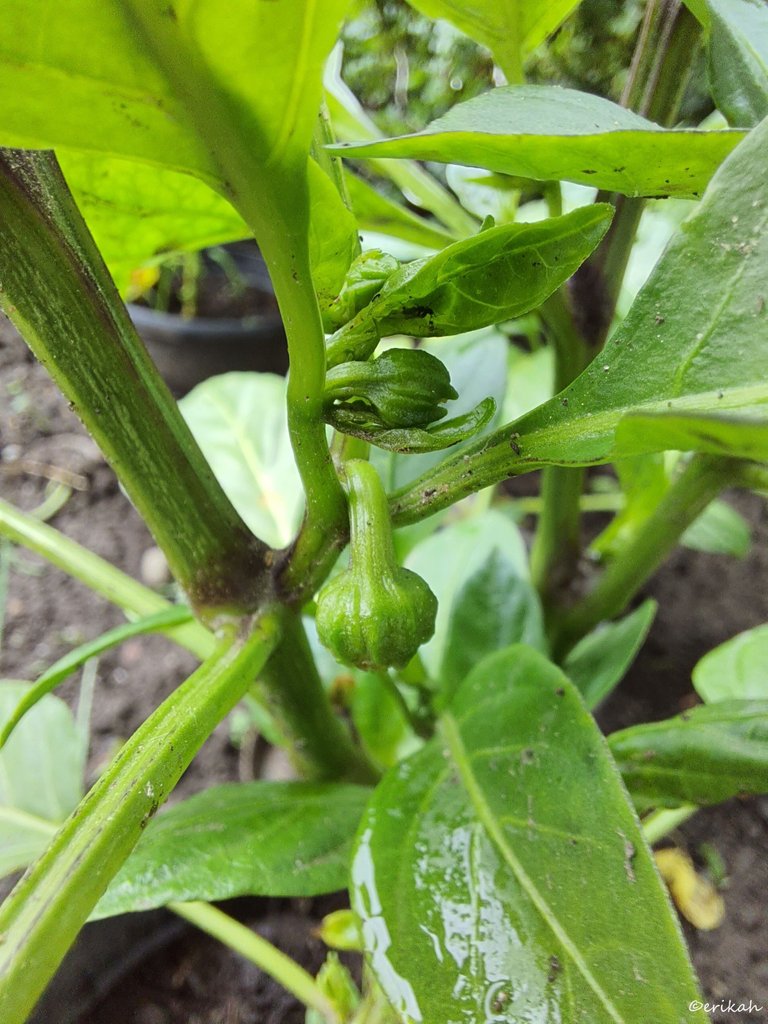 He was lucky this year as the seedlings are thriving, there was no frost, hail or snow to destroy them. What you see on the photo above is the flower. Still needs time to grow and open, but it's going to be the flower of the pepper.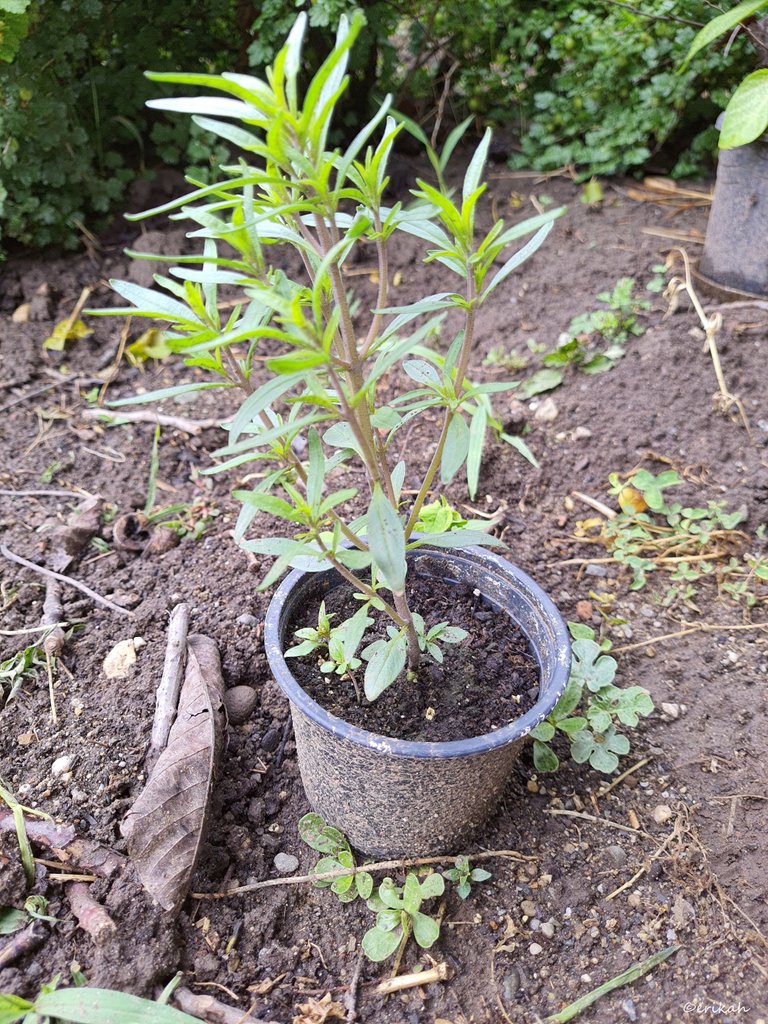 This is savory and also has an interesting story. My dad has bought some seeds, which were glued to a piece of paper. Seeds like these have to be sowed together, then repotted when tall enough. So my dad has put the piece of paper with the seeds into this pot, and this is what he has gotten, one seedling, out of ten seeds, or more.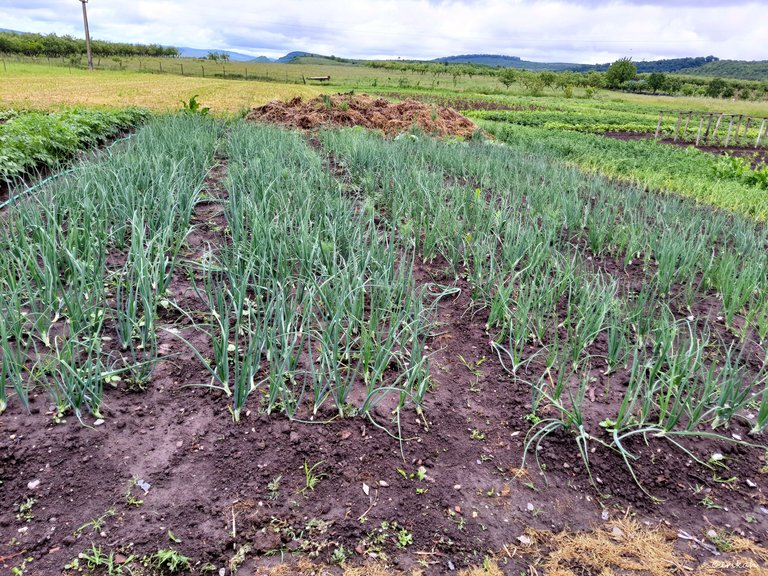 And this is the onion. There are three types of onions here, yellow, white and red. We always have at least three types as each tasted differently and combined all three can give you an extra flavor. This is for the whole family, to last till spring but it never does.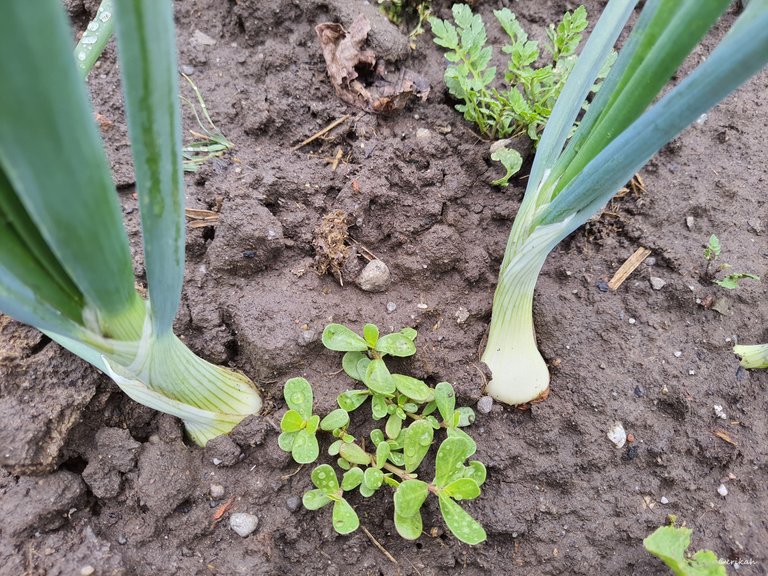 The onions are still small, I mean you can eat them but still need to grow and ripe to last throughout the year. Harvest time is in August usually.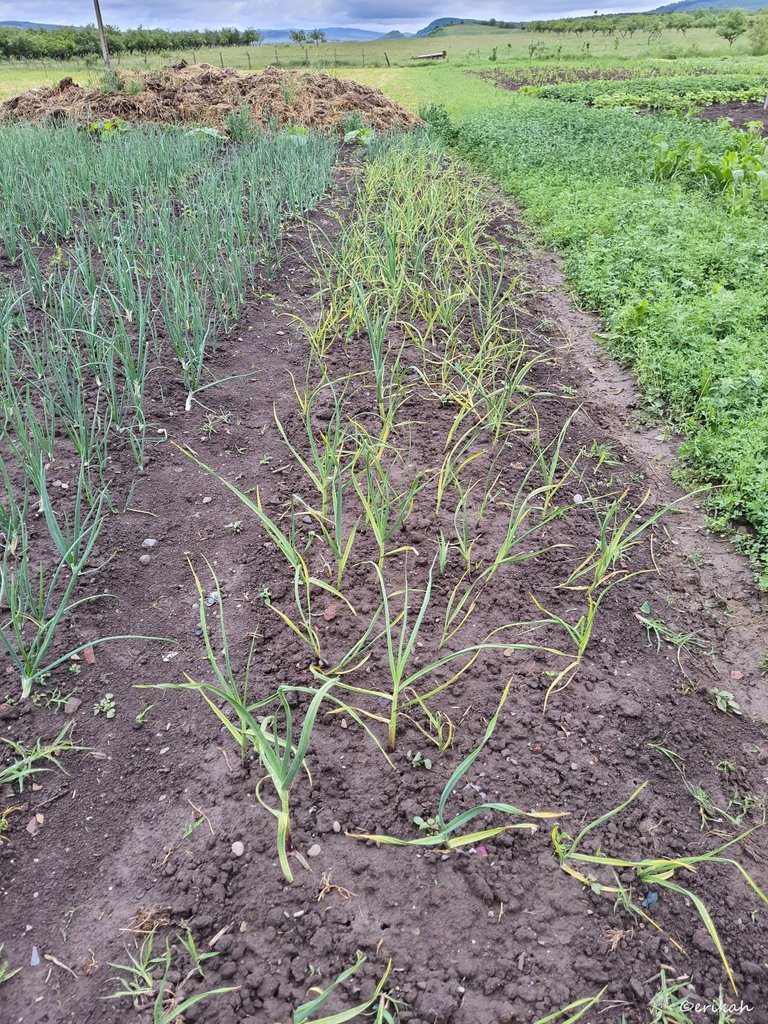 This is the garlic, which doesn't look good. It's yellow, which is not a good sign. We don't know what causing it but it's not a good sigh.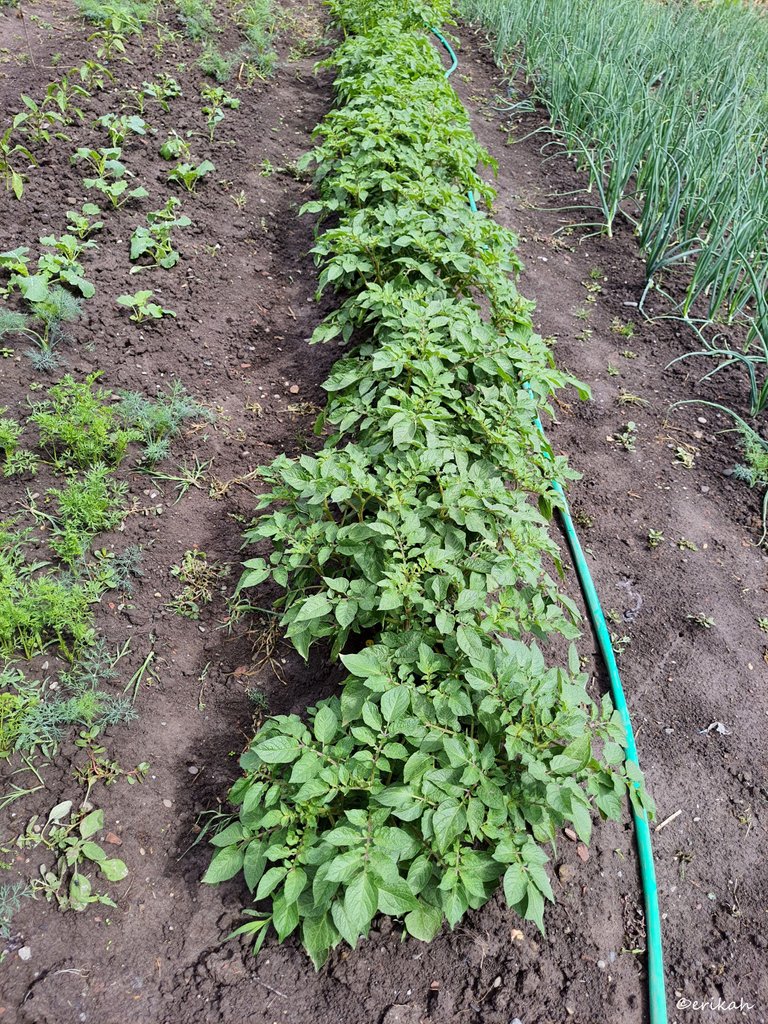 There i two type of potato here, yellow and red and looking really good as my dad has used a trick he has seen on YouTube. The hole for these potatoes has to be deeper than usual. Then you have to use one layer of natural fertilizer, after which comes one layer of ashes (from burning wood), which has to be covered with soil, then throw the potato in. This is a natural boost for them all, organic and healthy. It's the first time he is using this method, but so far it looks promising.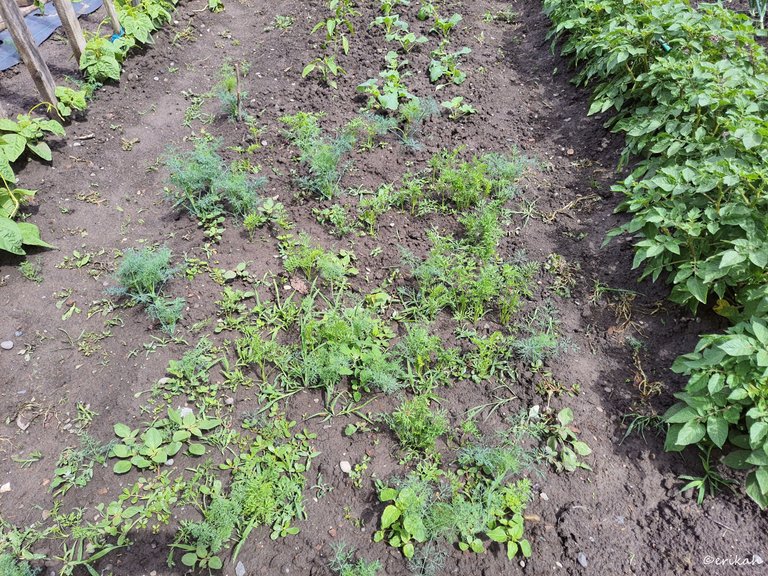 There should be carrots here, but it's mostly just weeds. We've been struggling with carrots and parsley for years and our neighbors too, but it looks like the soil is not suitable for it. Carrots need a sandy soil and this is not like that.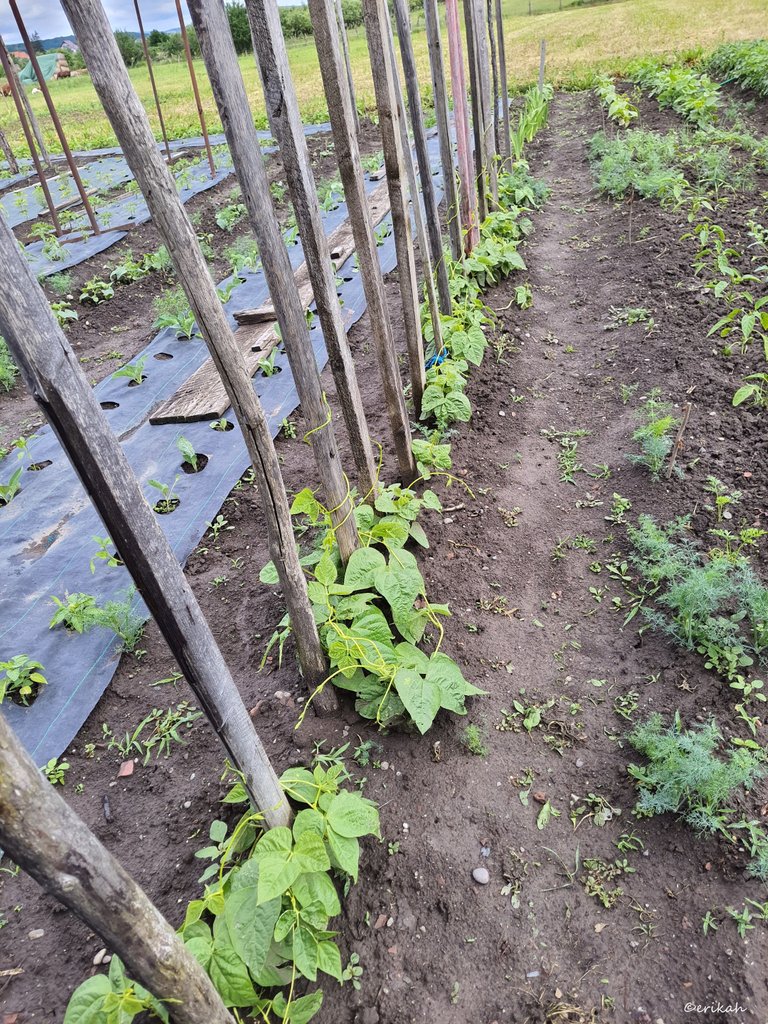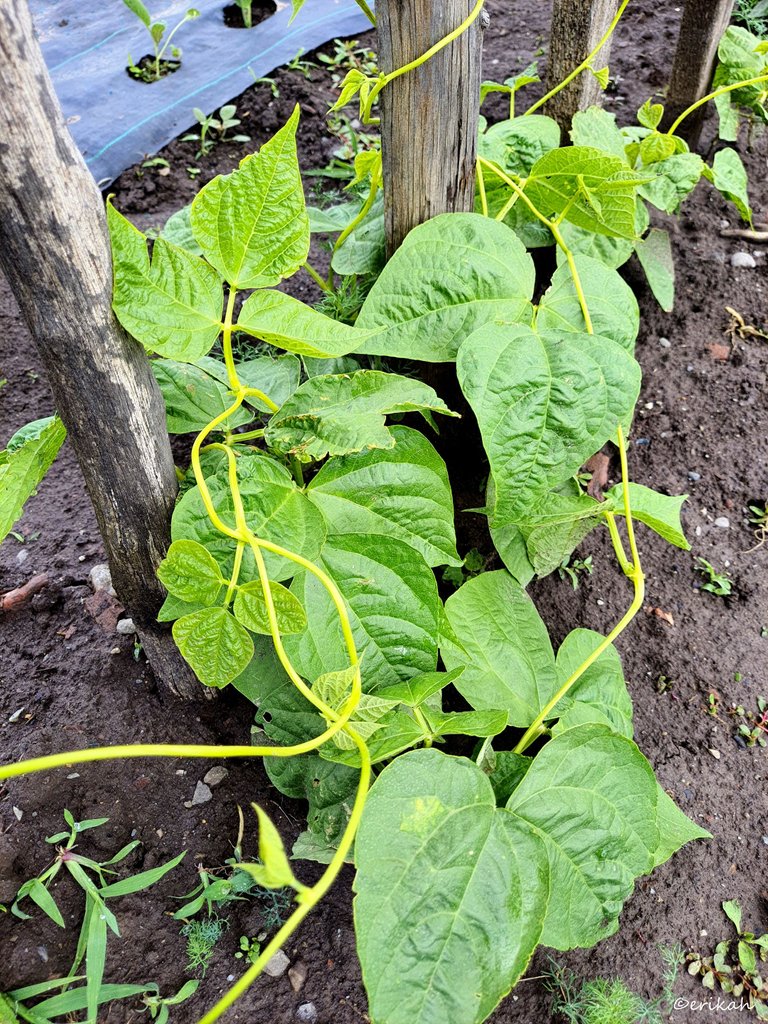 Running beans are looking fabulous. It's time to climb the poles and flower now.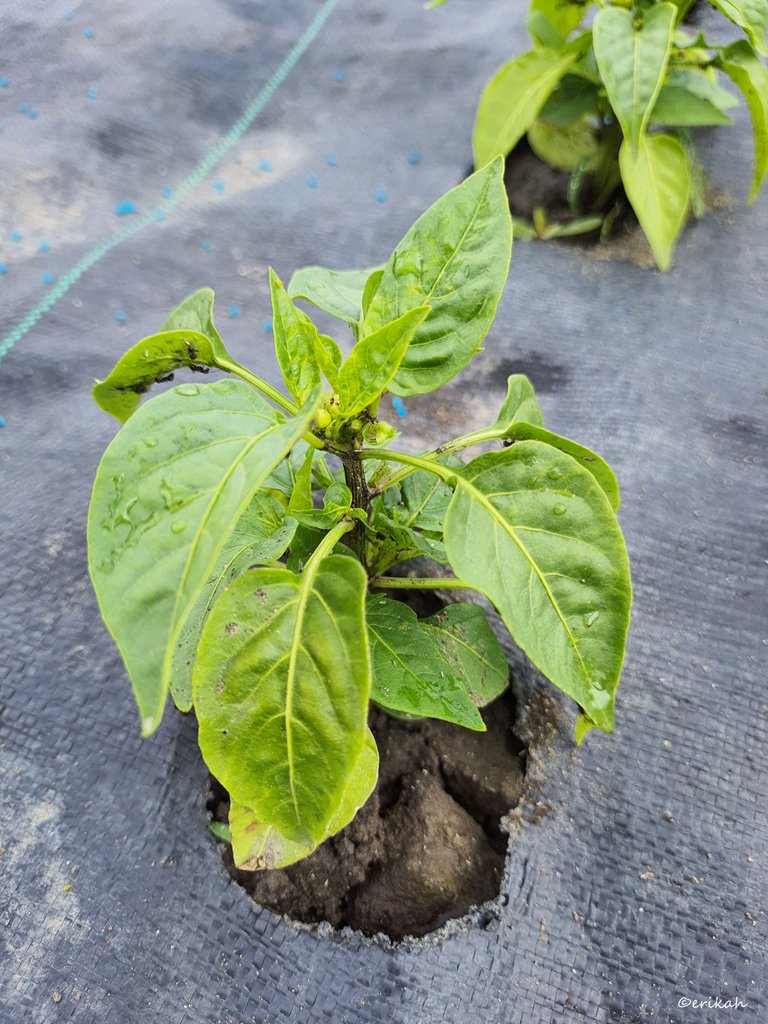 More pepper, this time properly planted in the garden, with weeds protection.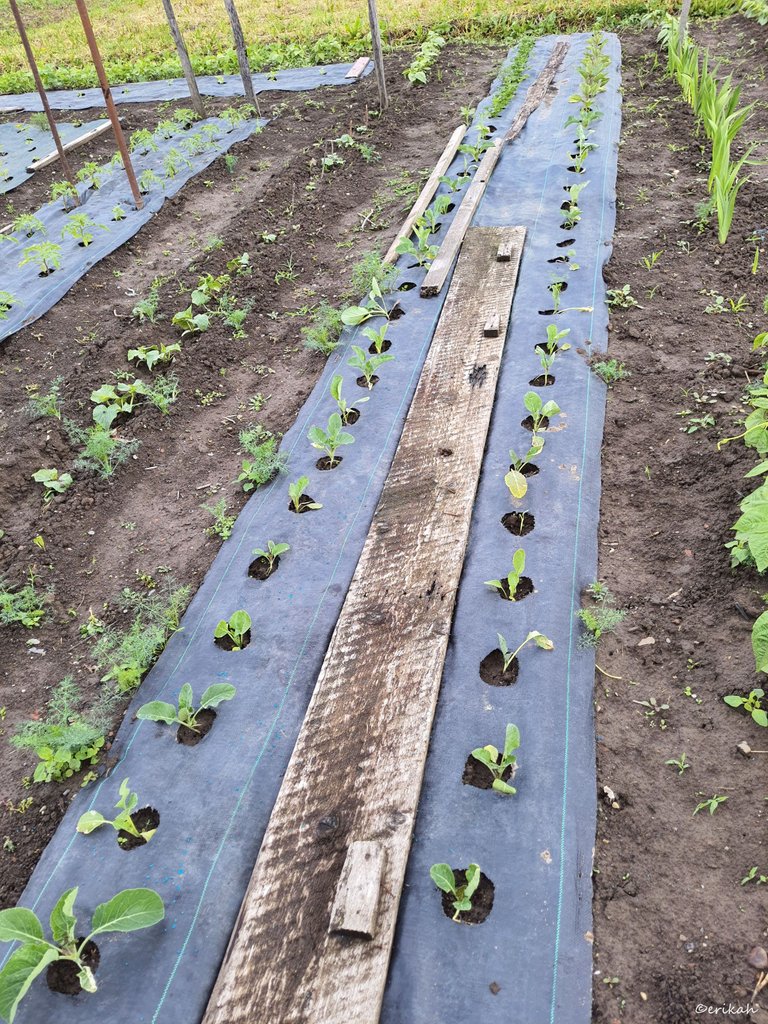 This is a mix of cauliflower, kohlrabi, celery and peppers, because space is limited and the sheet is long. Basically beauty is not essential here and we try to keep an organized garden, but mixing seedlings happen.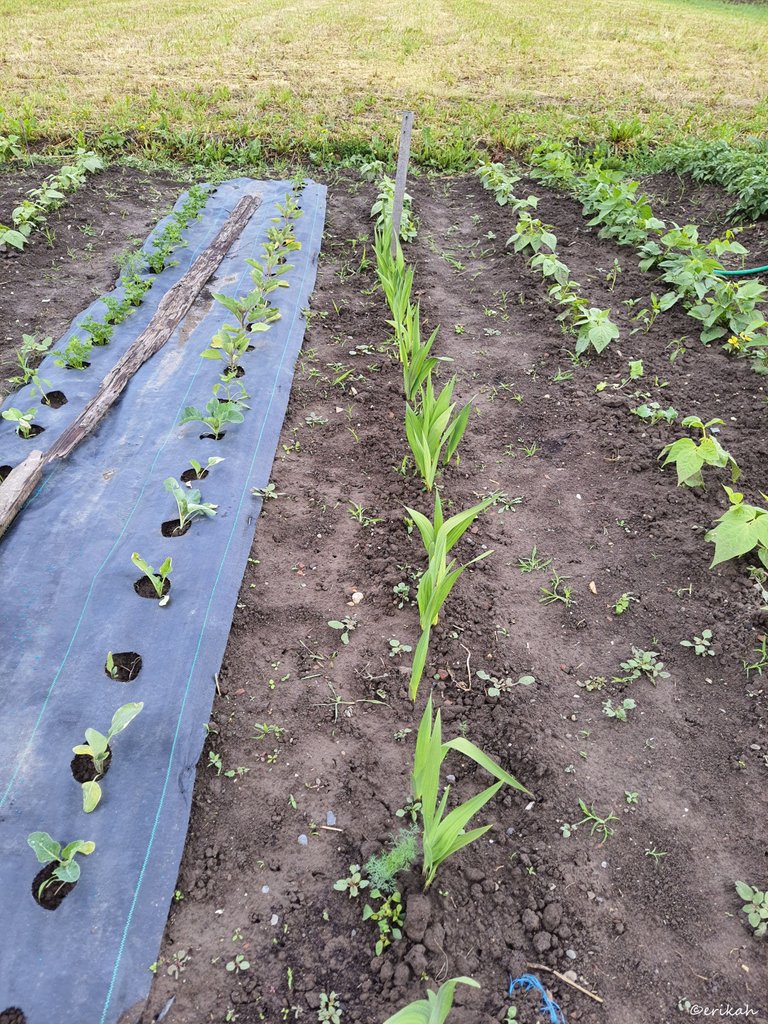 In case you're wondering, these are not fruits or veggies, these are gladiolus flowers, We have a few every year. Can't wait to see them open.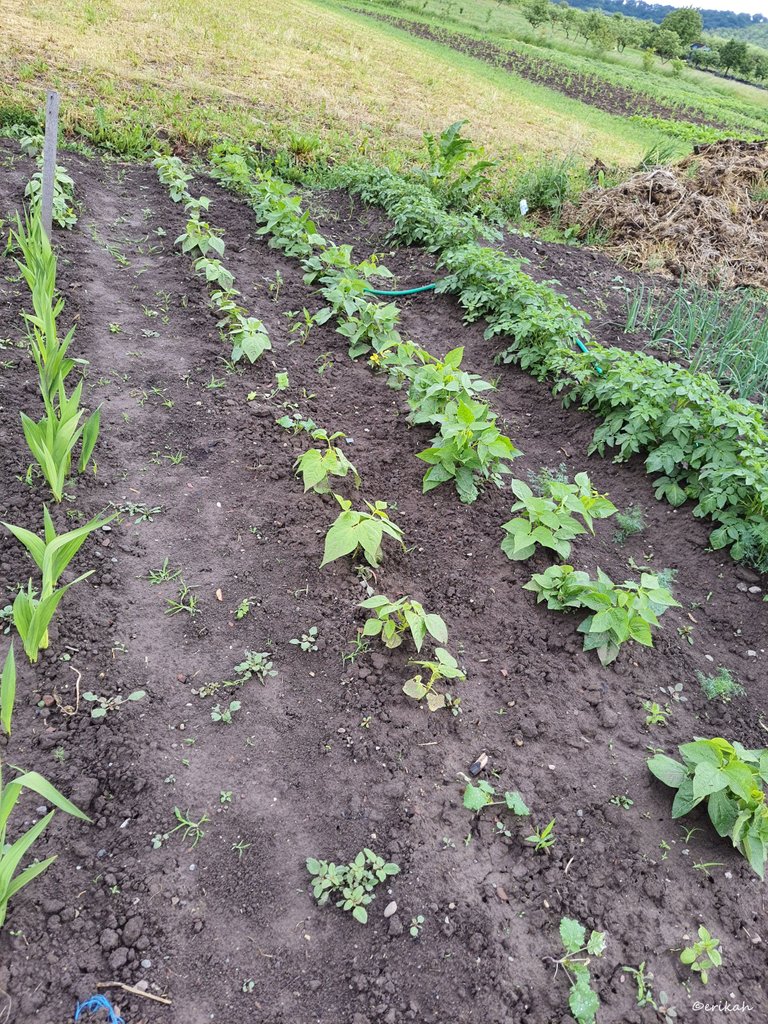 This is a different type of beans, not running beans. We always have at least two types each year.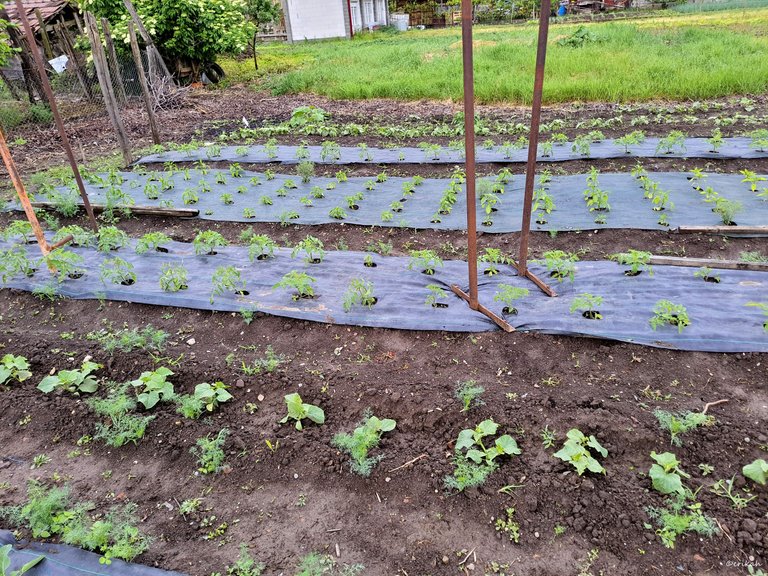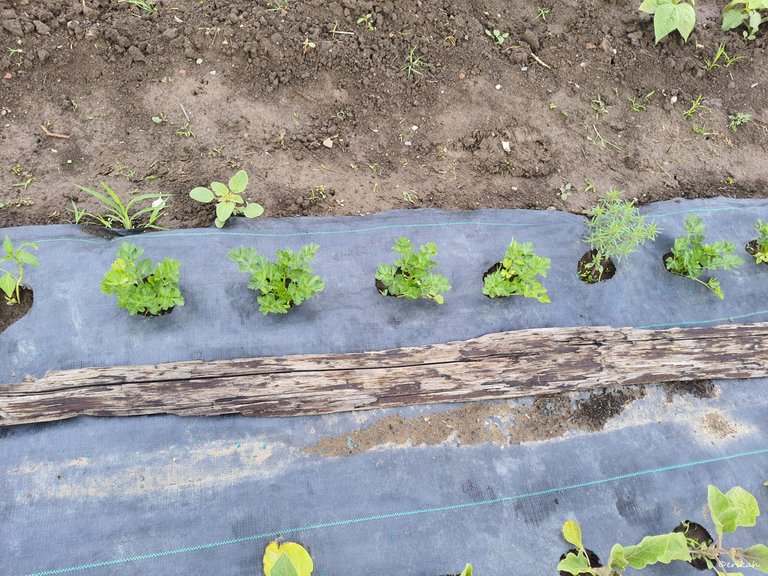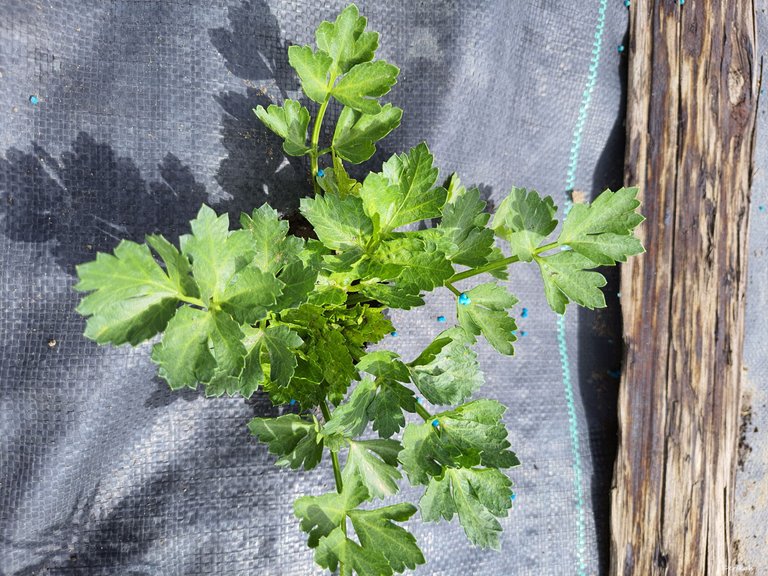 Celery but not that celery you put in your salad. This is for cooking, both the root and the green part. It is very aromatic, it's strong, so use it with caution.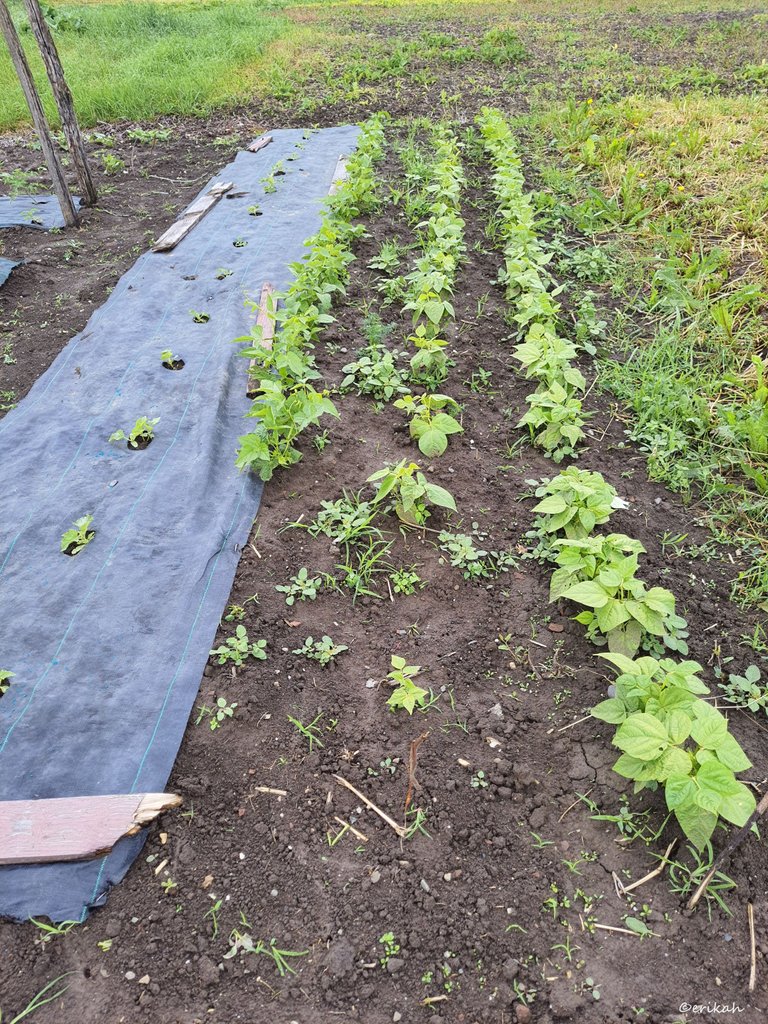 And more beans. God knows how many types of beans we have 🤷‍♀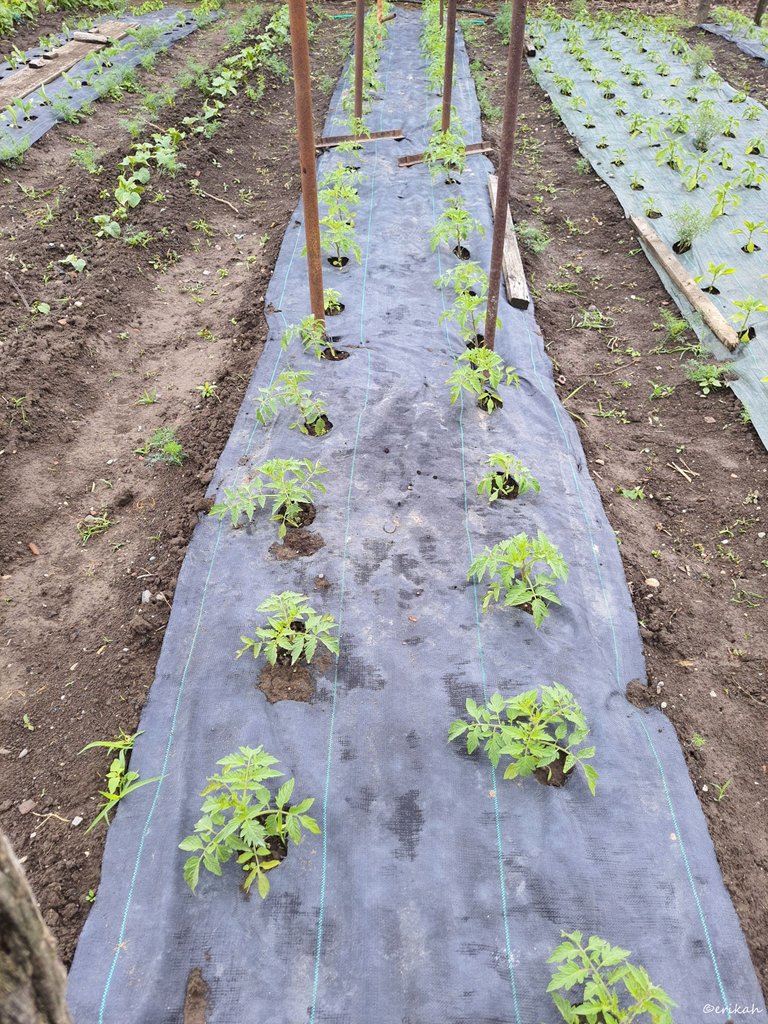 Finally, the queen of the garden, tomatoes!!! 🍅
There are at least five types of tomatoes here, mixed, unfortunately. Tomato seedlings did not happen as it should, there were problems and not all are mixed, which is not a problem, but it may look strange once the fruits appear.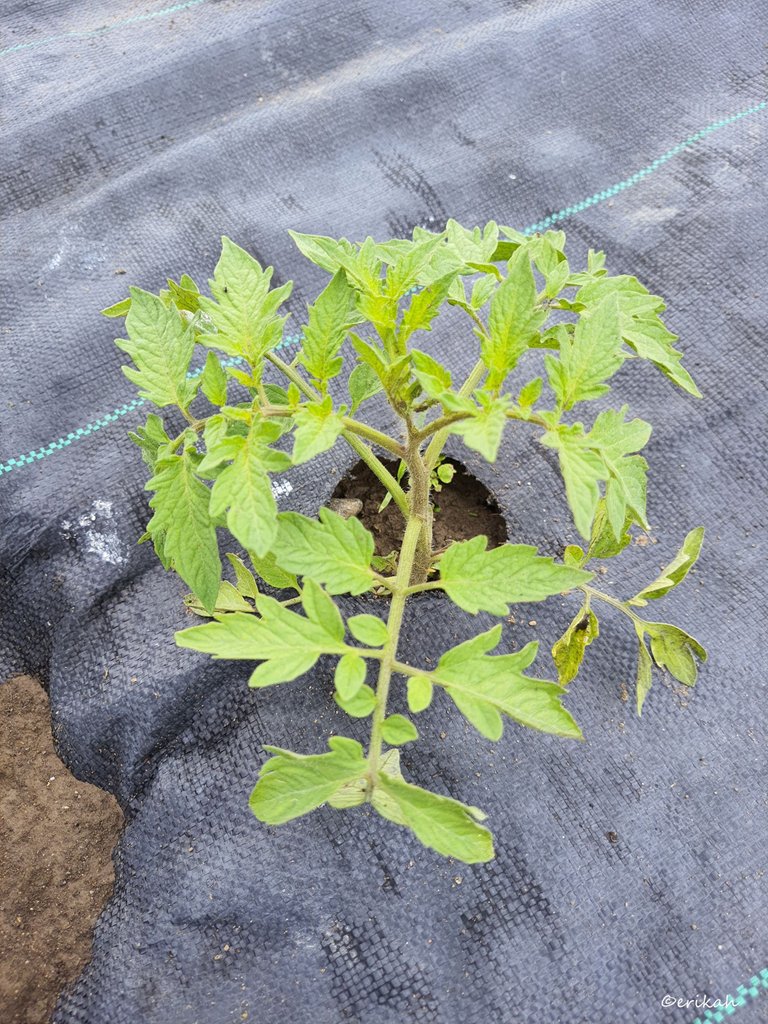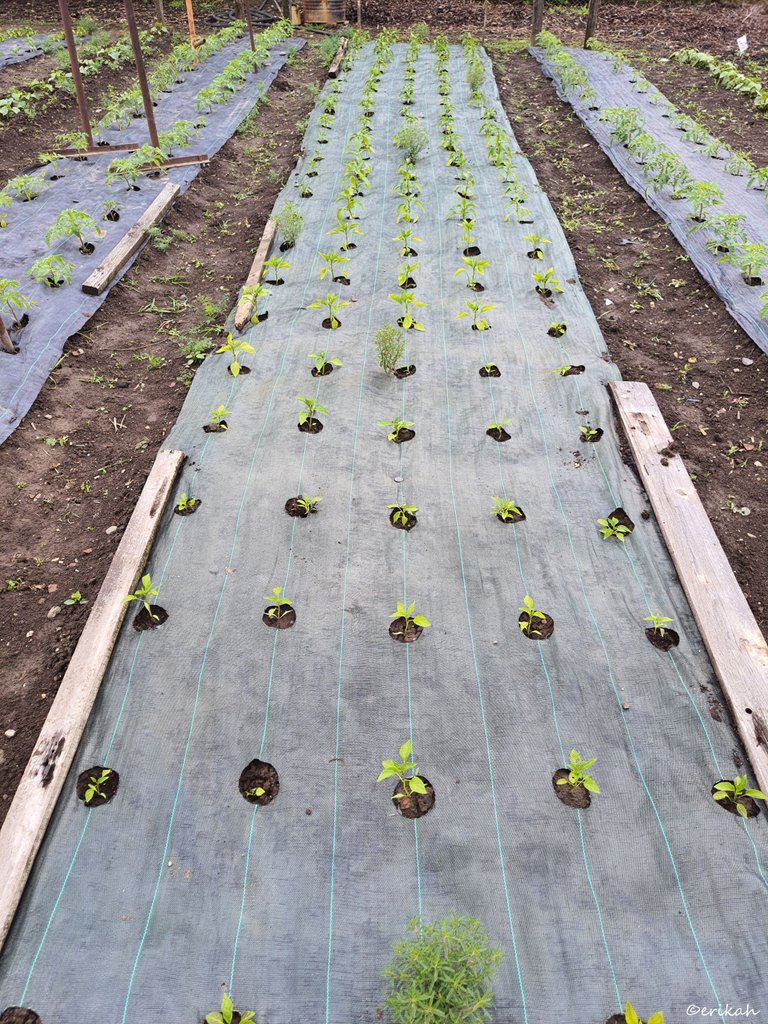 This is all pepper, with a few exceptions, like savory. Those savories got their place there because some of the pepper seedlings did not make it, so why waste a spot.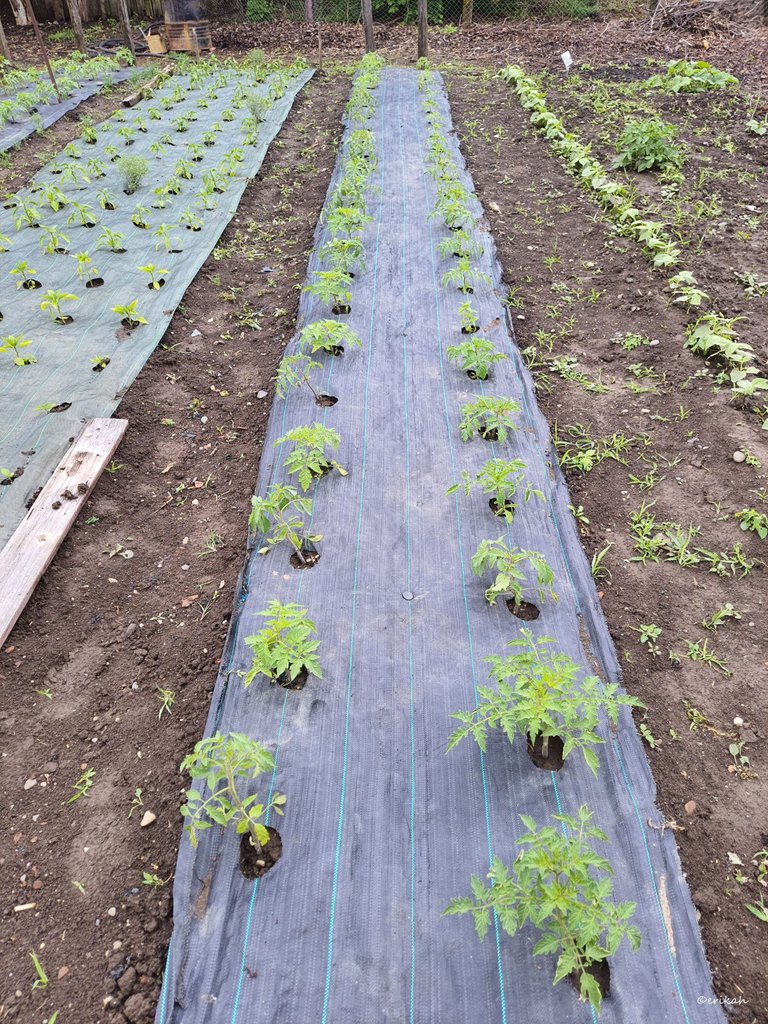 And another raw of tomatoes. I wish I could tell you how good these tomatoes are, compared to what you buy at the supermarket.
I guess this is it for today, soon I'm going to show you the fruits as well and other things from the garden.
Overall we're satisfied with how things are going so far. Except for the carrots and parsley, which is a problem every year, the rest is growing according to plan and there were no major problems so far.
One thing we usually do to help growth is to use an organic fertilizer, which is accepted by organic gardeners. It contains macro and micro elements which stimulate growth. There was one round already and soon there will be another round.
Growing your organic food is important.
---
---