Marble Sponge Cake With Walnuts

Today being Sunday, I'd like to share a very simple cake recipe with you. It is my usual sponge cake, but this time I made it a bit more interesting by adding some new ingredients and made a funny design.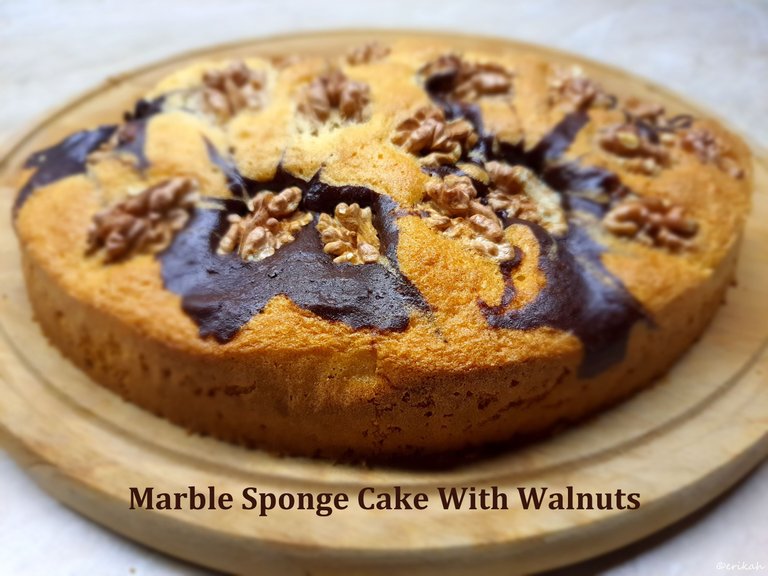 This sponge cake recipe is most likely as old as I am, have inherited it from my mom and I have no idea where she got it from, so I'm going to quote it, without a source.
Ingredients for the base
250g all purpose flour,
250g sugar,
4 eggs,
1 packet vanilla sugar,
0.5 packet baking powder,
1 tbs unsalted butter,
100 ml milk,
pinch of salt.
This is the base recipe, to which I usually add either dried fruits, like raisins, or fresh fruits, depending on the season, or walnuts as we have plenty.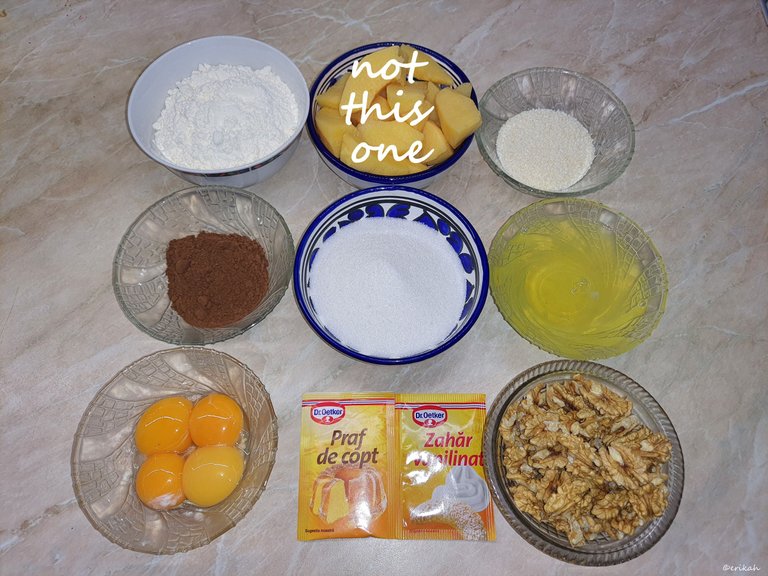 Today I thought I would make it more interesting by adding a few new ingredients, like shredded coconut, coca powder and quince. There was a reason behind all this. There was some shredded coconut left since God knows when and I thought it would be good to use it finally. My favorite fruit for this sponge cake is cherry, but did not have any, so I thought I'd use some homemade quince compote.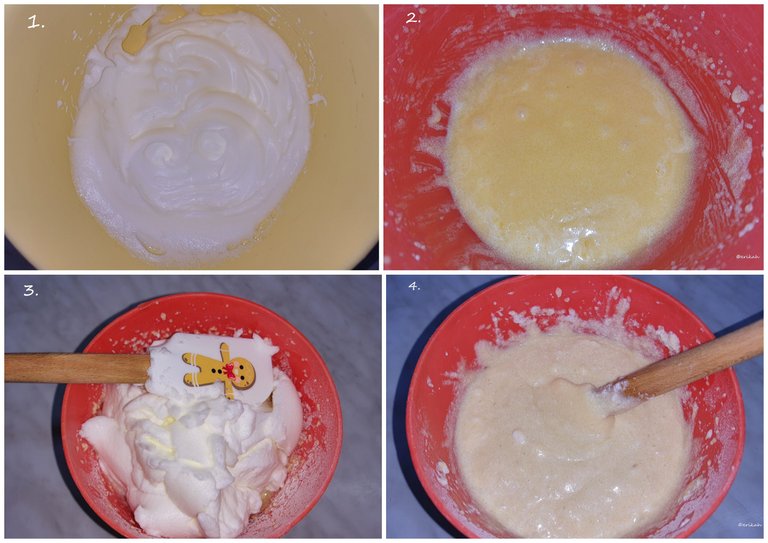 The method is very simple. Beat the egg whites with a mixer and put it aside. Next, mix the egg yolks with sugar and vanilla sugar for about 4 - 5 minutes. Add the butter and mix well. Mix the flour with the baking powder and shredded cocos and slowly incorporate it into the egg mix. Then add the egg whites and mix gently with a spatula to avoid crushing it.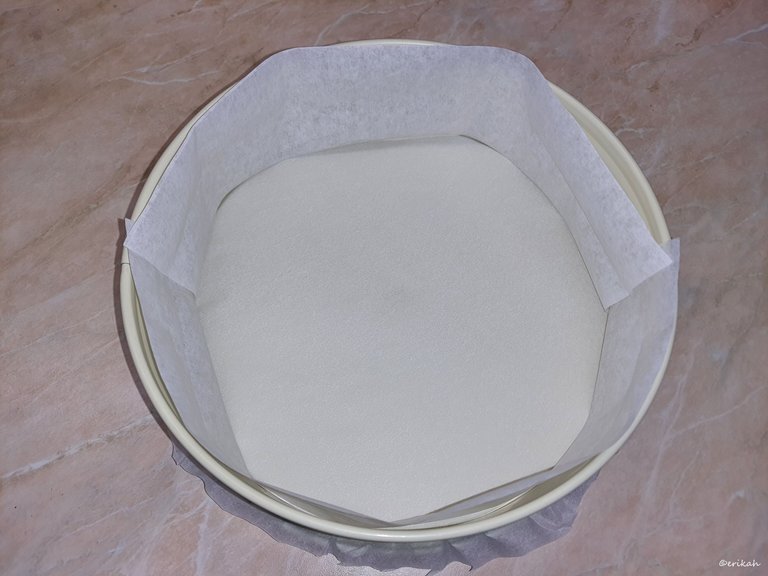 This recipe is for a rectangle baking tray, but I thought I'd use my cake pan, obviously lined with baking paper as there's no baking without it.
Now comes the magic. As added ingredients, I thought about cocoa powder, walnuts and quince but at the end gave up on quince for a good reason.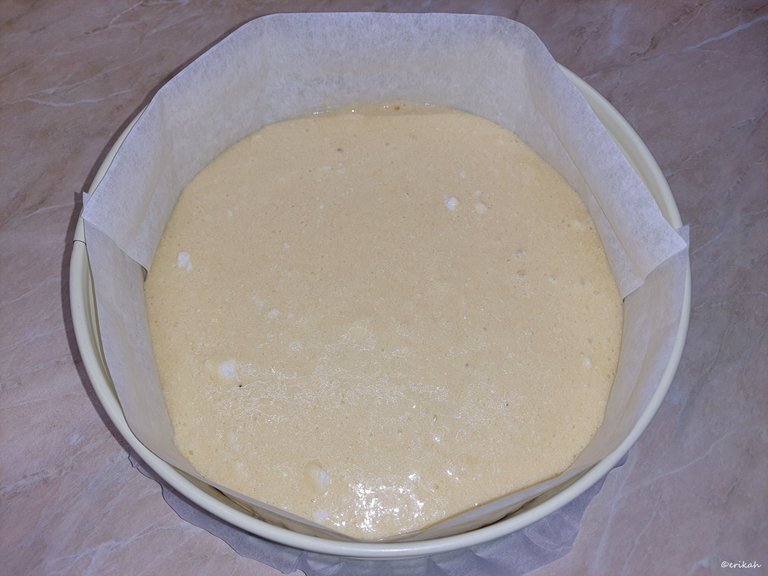 So I poured approximately 70% of the mix into the cake pan and added cocoa powder to the remaining mix. If you're using cocoa powder with sugar added, it is a good idea to reduce the quantity of sugar as otherwise it will be too sweet.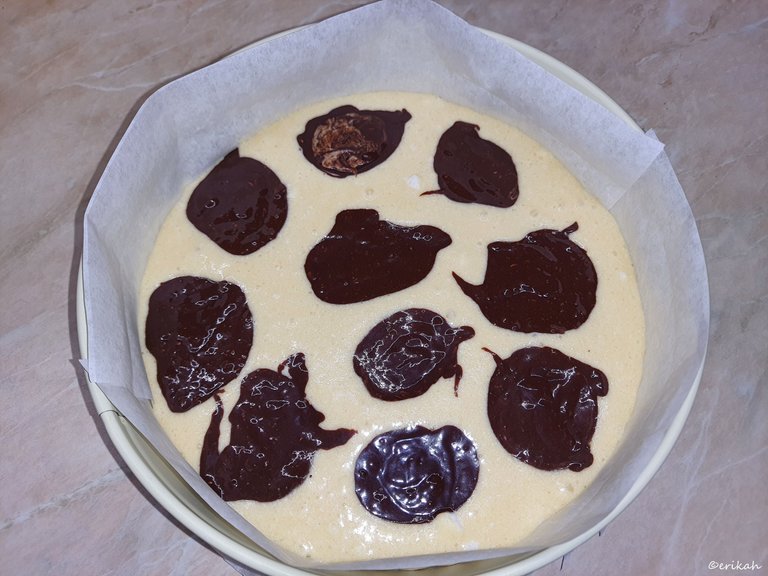 Then I added the cocoa mix to the cake, by making 10 spots. Don't look for artistic setup here as there's none. Yeah, I should have been more creative, but wasn't.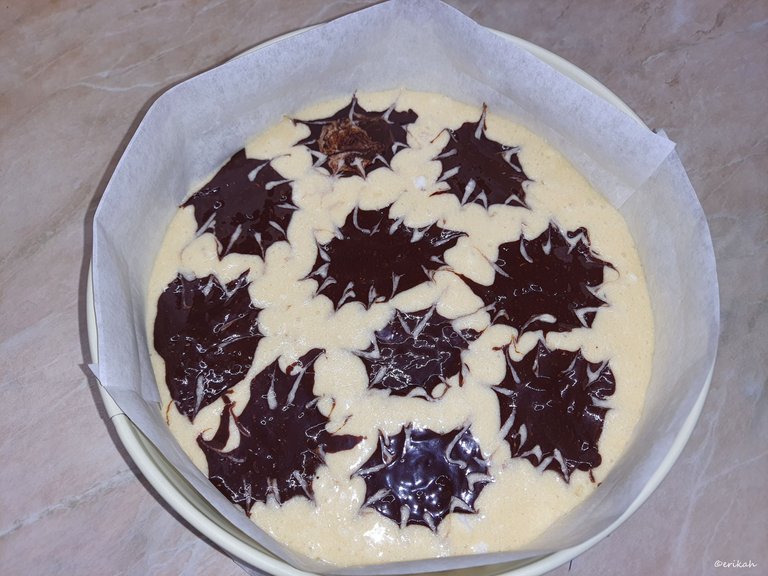 Then I thought if my cake has no artistic look at all, why not play a bit with those dots, so I took a toothpick and made those lines.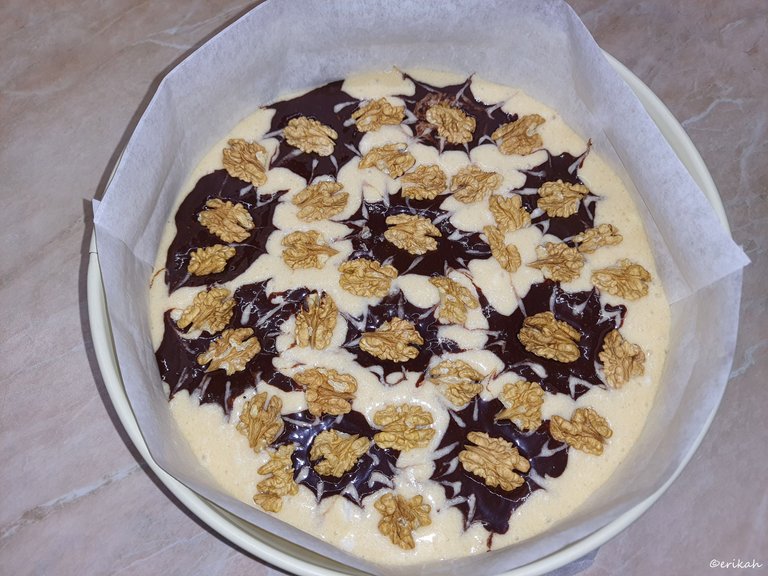 After adding the walnuts, I was pretty satisfied with my work of art and that was the moment when I realized the quince was left out. At that point I had two options: add the quince and ruin my art, or leave it out. I chose the second option, to keep my design intact and don't regret it at all. The quince would have made my cake a bit wet anyway.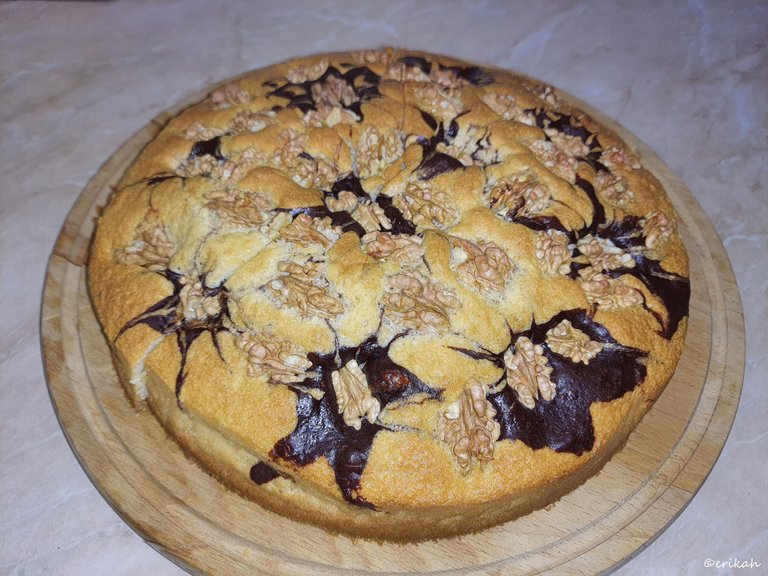 In a preheated oven, I baked it for 45 minutes, at 180C.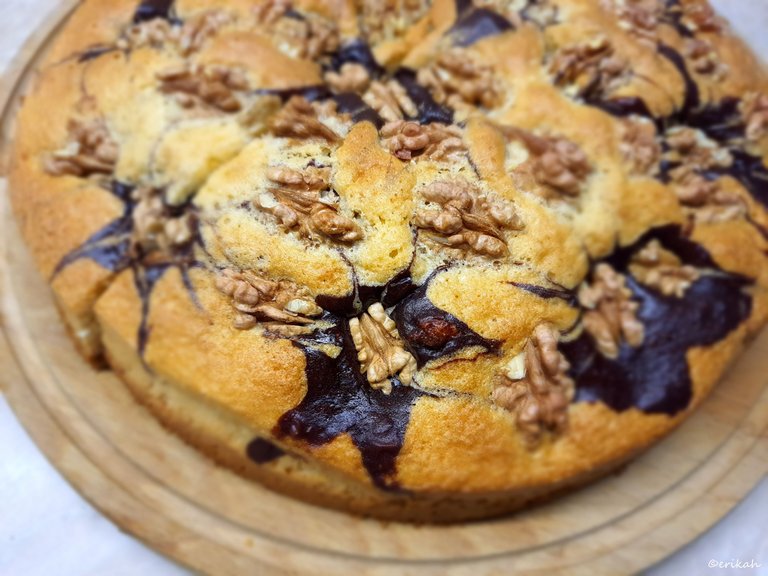 This cake was pretty much fake it till you make it again, or decide on the go.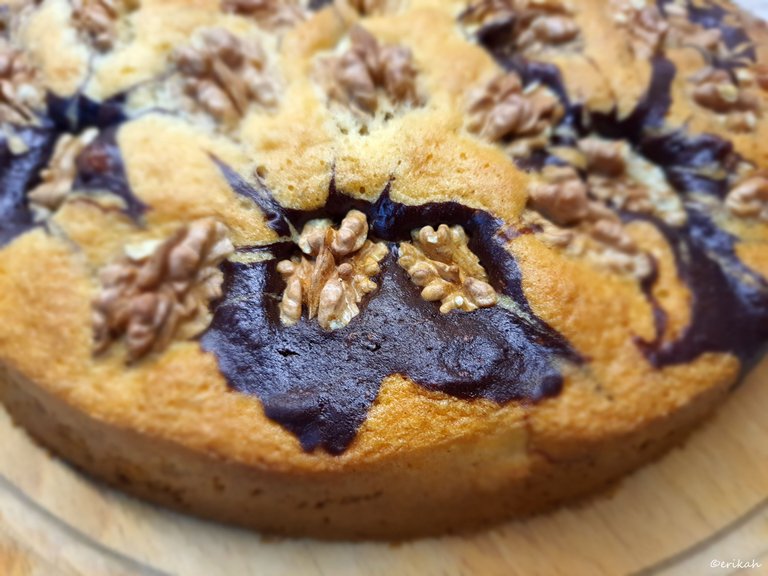 When the time was up, I took the cake out of the oven, put it on a cooling rack and let it cool for 20 - 30 minutes. Because I was in a hurry, forgot to take a photo of it and remembered only when the cake was cut and on the plate already. So I quickly put the slices back, adjusted the cake as if it was brand new and took some photos.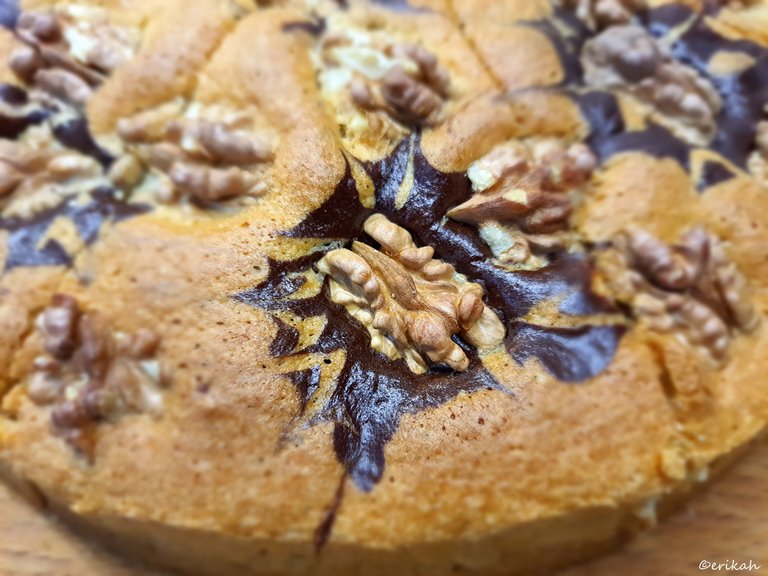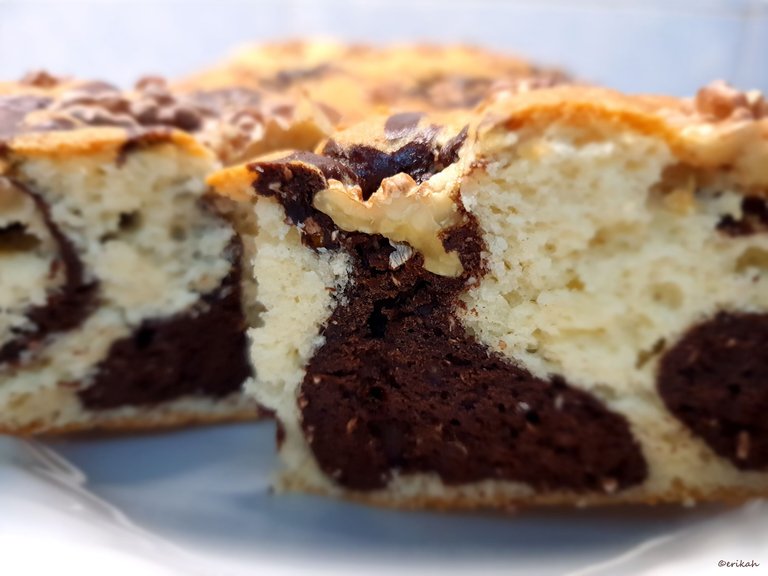 The beauty of this cake is that once it's cut, it looks like this.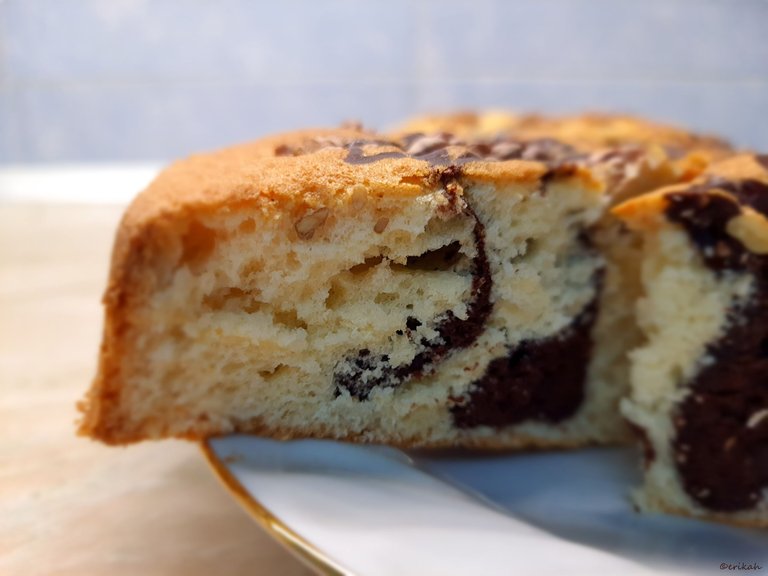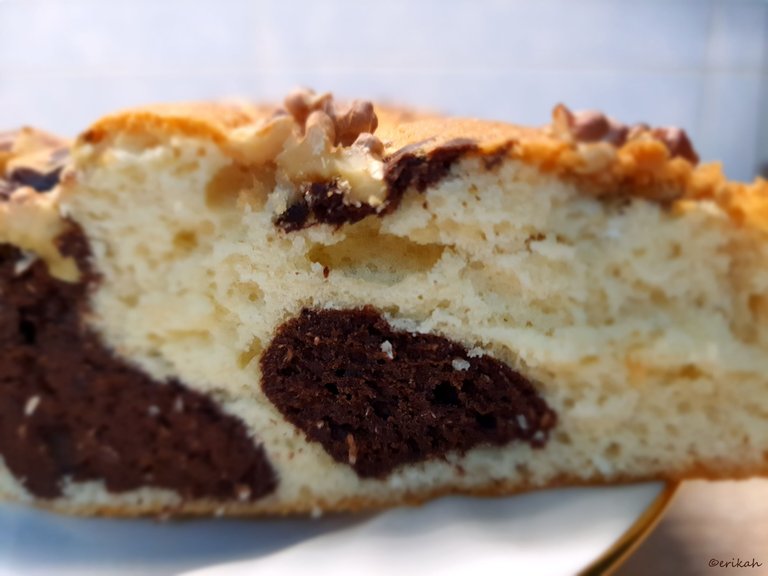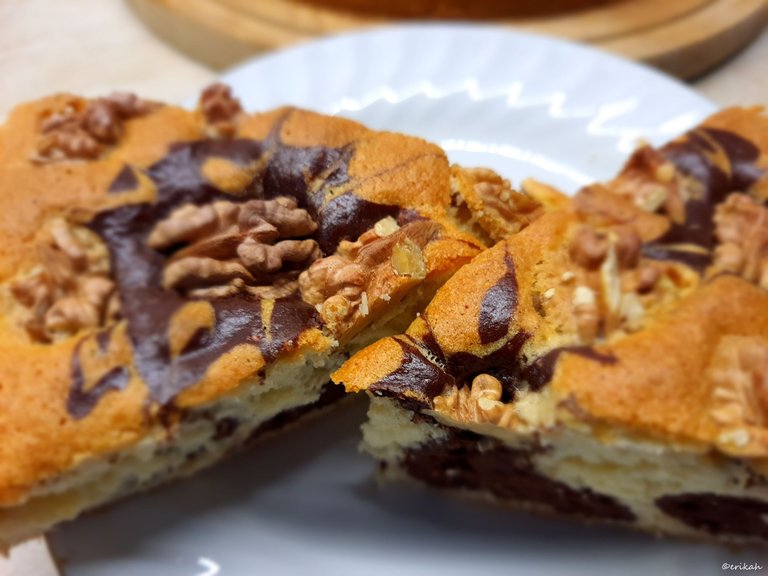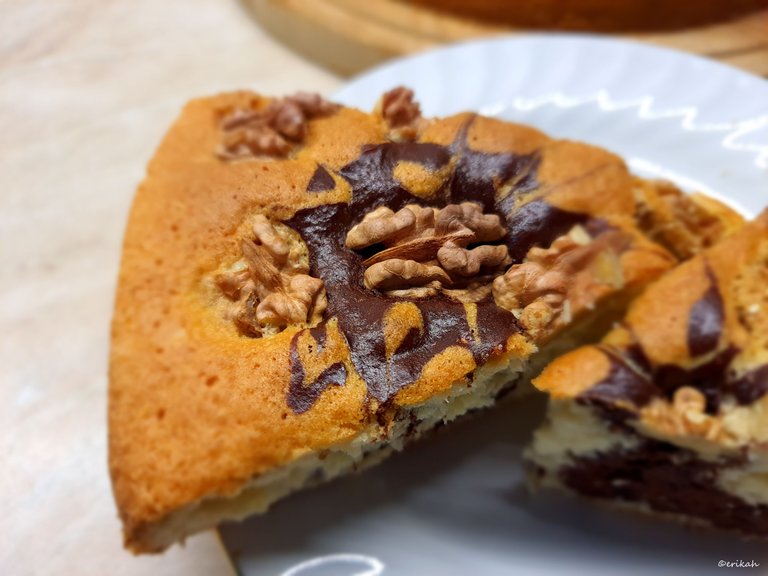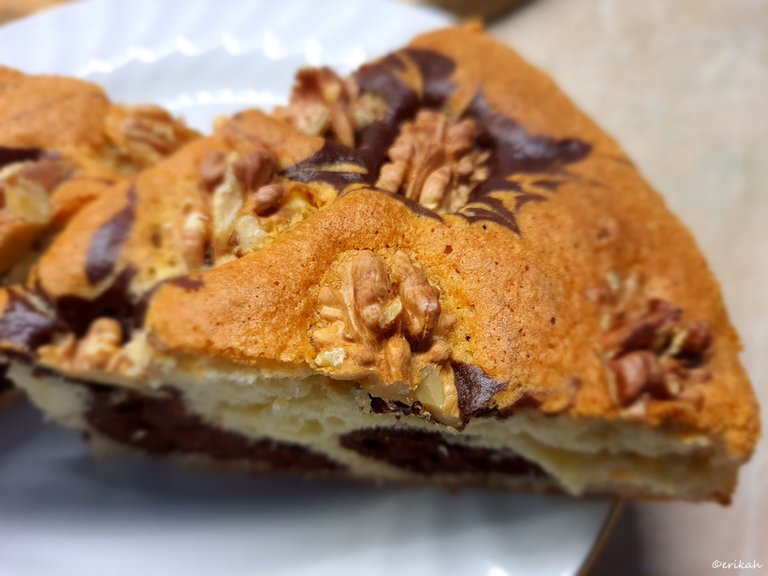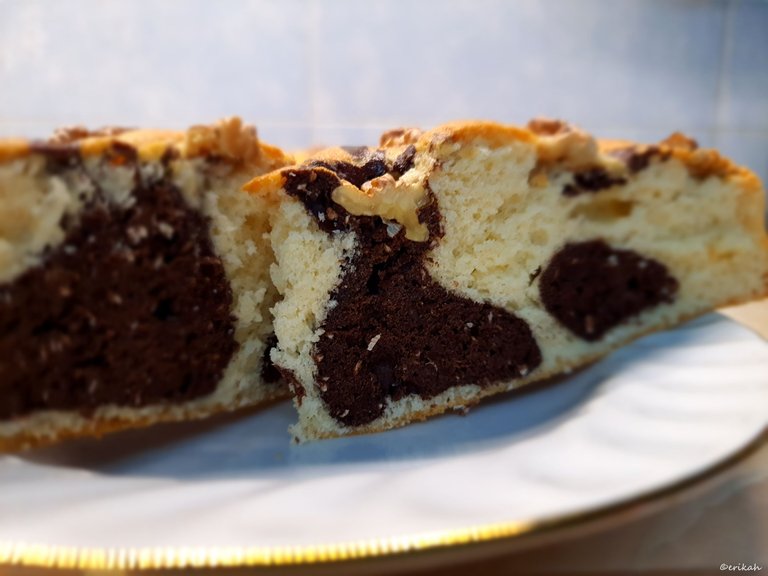 The reason I love this recipe is that it's easy to make, has only a few ingredients and the combinations available is endless. You can add any fruit or seeds you like, to make it more interesting.
Soooo, who wants a slice of cake? G-dog has one put aside only for him. Let's see if he notices it 😏😂 (Later Edit: Looks like I neet to tag him as he's not hungry @galenkp)

If you're a newbie, you may want to check out these guides:

---
---