My Experience At The Hunters Inn
Sunday was a trip day for me and among other things I was invited to have lunch at a restaurant I've never been to before. The place where we went is called the Hanul Vanatorilor, Hunters Inn in English and it can be found in a very small village called Botorca (Őrhegy in Hungarian). The village has 315 inhabitants (14% of Hungarian nationality) so you can guess this inn is the only tourist attraction, or possibly the second, after the churches.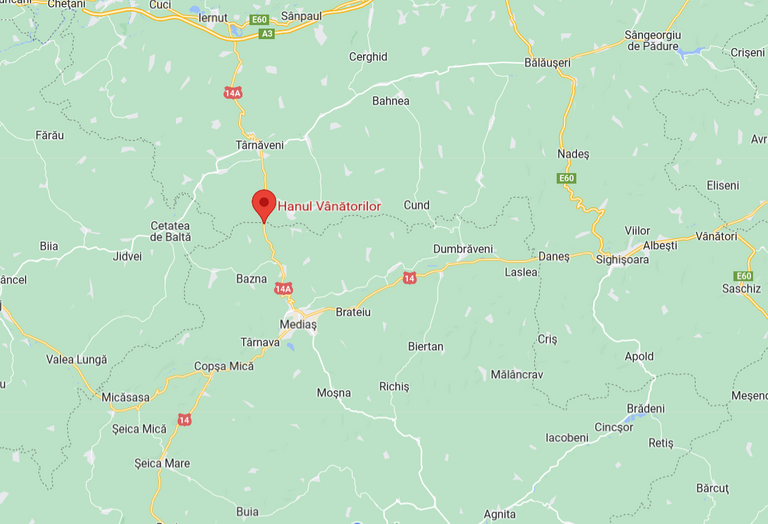 source
The inn is situated along the national road DN14A, right at the border of Mures and Sibiu county, but it is in Mures county. It is not a real inn as there's no lodging possibility there, so it's only the name.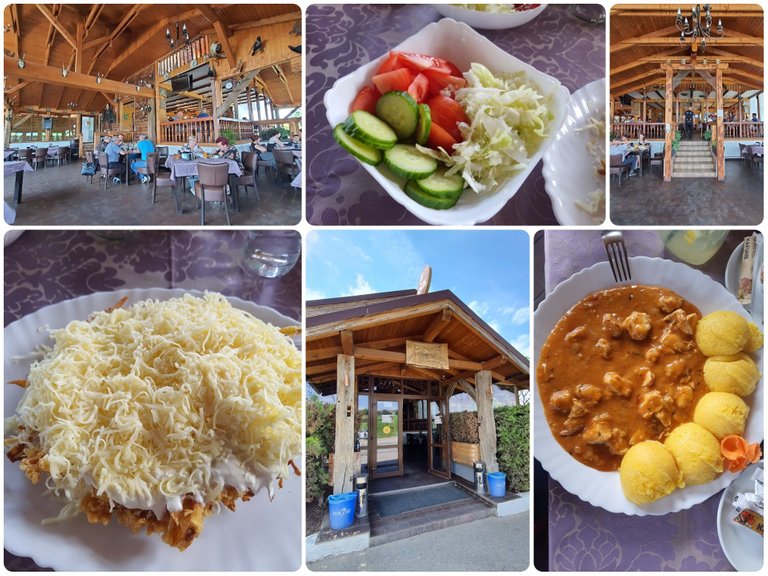 It is right next the road, so you can't miss it and it is quite big as well, suitable for any occasion, like weddings, anniversaries, birthday parties and so on.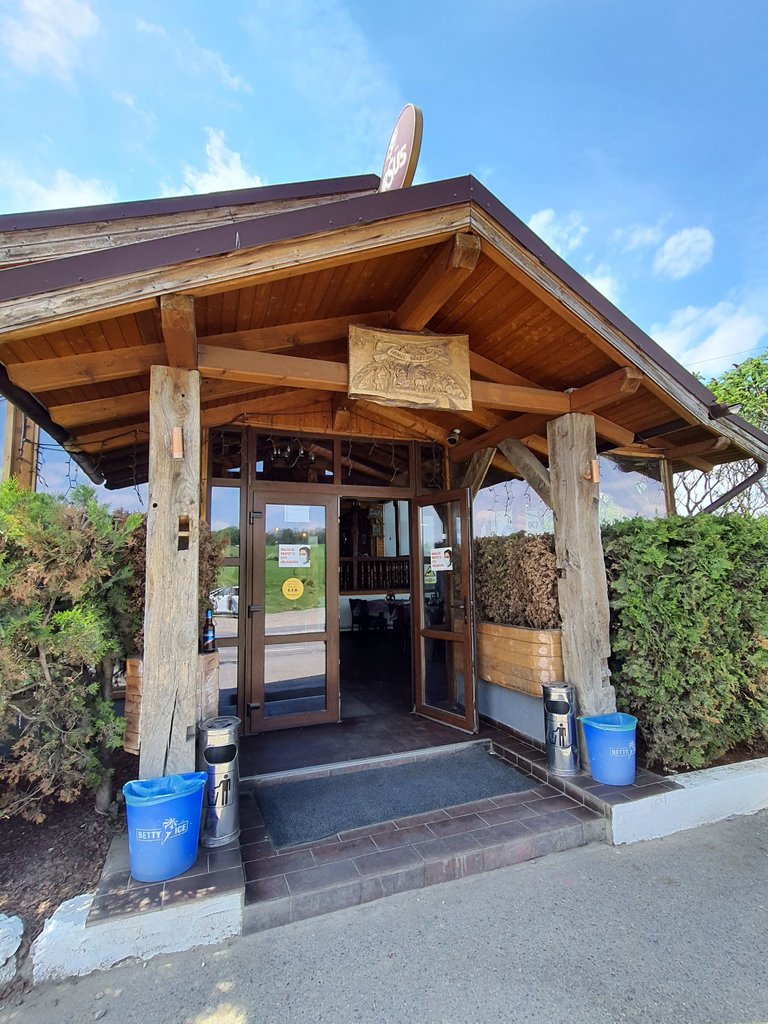 The rustic style is what attracts the most and the food, obviously. Their specialty is called "Borzaska", which is a Hungarian dish. Translated in English means "unkempt", or like someone who has not done her hair in the morning, like on a "bad hair day". You're going to see the photo later in this post and understand where the name comes from.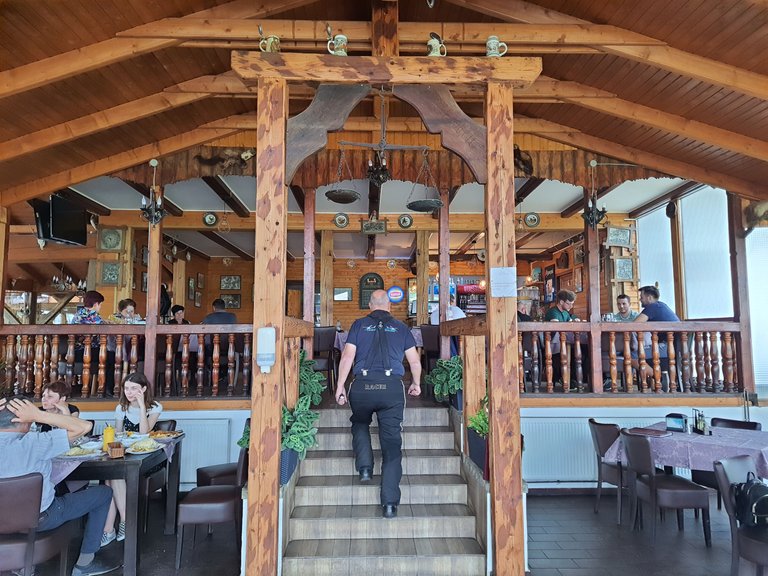 We arrived at around half past one and there were plenty of free tables still. Truth to be told, we phoned in advance to be sure there's no event organized for the day to avoid driving there in vain.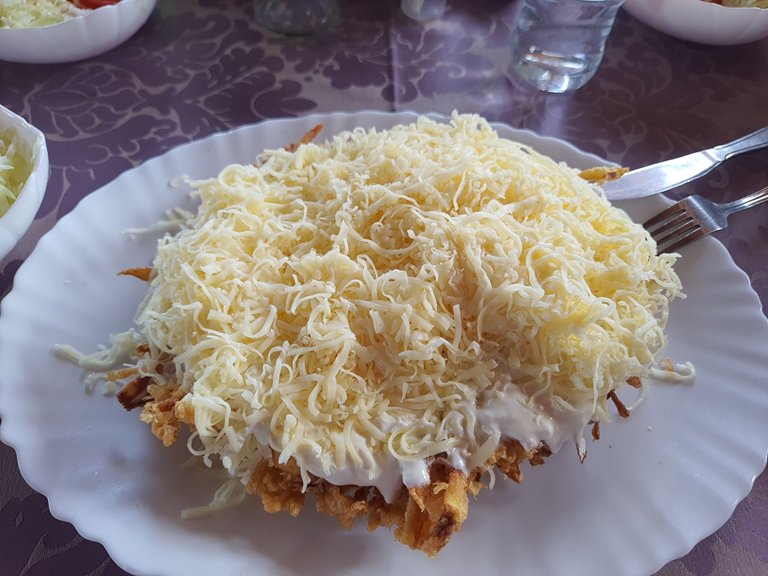 This is the Borzaska, a famous Hungarian schnitzel-like dish, that most visitors are ordering.
A schnitzel is a thin slice of meat. The meat is usually thinned by pounding with a meat tenderizer. Most commonly, the meat is breaded before frying. Breaded schnitzel is popular in many countries and is made using veal, pork, chicken, mutton, beef, or turkey. Schnitzel is very similar to the dish escalope in France, tonkatsu in Japan, cotoletta in Italy, kotlet schabowy in Poland, milanesa in Argentina, chuleta valluna in Colombia, and chicken-fried steak and pork tenderloin of the United States. source
Borzoska is not just a schnitzel though. There's potato chips at the base, over which there's the schnitzel (chicken or pork), which is topped with sour cream with garlic and then sprinkled abundantly with grated cheese. The reason it's called borzoska is the grated cheese on the top.
In Romania a full course means soup, main course and dessert. Obviously the dessert is optional, but you find it on every menu. We knew what we're getting ourselves into, so we only ordered the main course and even so the waitress recommended us to order only a half portion of borzoska per person and she was right. The full dish weighs 420g, which is almost half a kilo. What you see on the photo is only half. The plates are huge as well and to be honest, those can't even be called plates as look more like serving trays.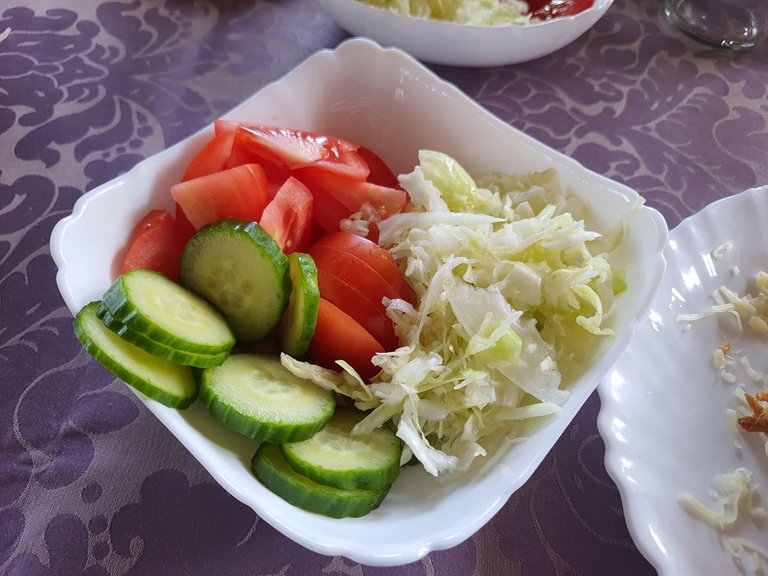 We opted for a mixed vegetable salad, made of grated cabbage, sliced cucumber and and tomatoes, which was very delicious. It came without anything, which is the best option, as you can then use what you want, vinegar, oil, salt, pepper etc.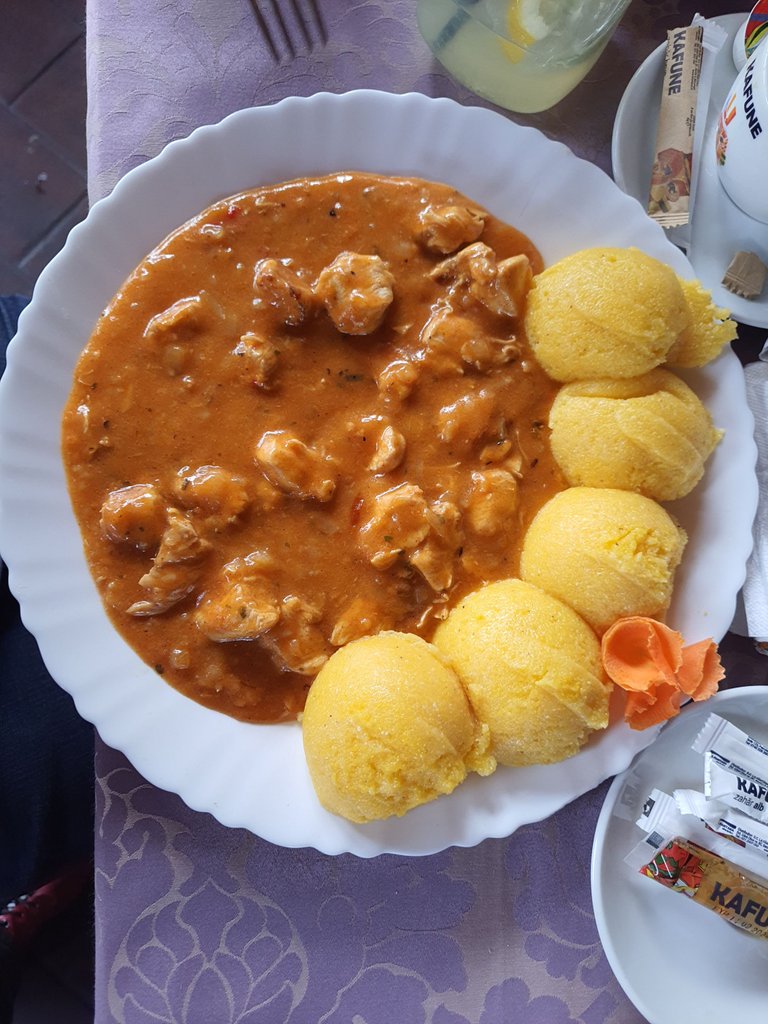 One person did not want borzoska and opted for chicken paprikás, another famous Hungarian dish, that came with polenta, or puliszka in Hungarian. I was told it was very delicious.
The downside of the whole adventure was that we had to wait 45 minutes for the food to be served, even though the inn was only half full. Others got served before us, which is kind of rude and always hard to accept. The other thing that is even more damaging was that one of the dish came out cold. Serving a greasy dish like this cold is suicide to any restaurant.
Needless to say we could not eat the whole portion, which was basically only half, so we took home the leftovers as that's what most people do there. Wasting food is not an option for me. Imagine if we would have ordered one whole portion each. I guess we would have been eating borzoska for a whole week, or give it to the none existent dog. As about prices, the food is not so expensive, but everything else is.
Overall it was nice and most likely I'm going to visit again if I'll be in the area and taste other dishes they have on the menu.

---
---