Old Paper, Fineliner And Glue - Drawing Practice
Today I can say that one of my dreams come true. For a few years I wanted to try out something and have never done it till today. It's not a difficult task, but needed a few free hours and some imagination. Yesterday I started to prepare things and today I finally did it.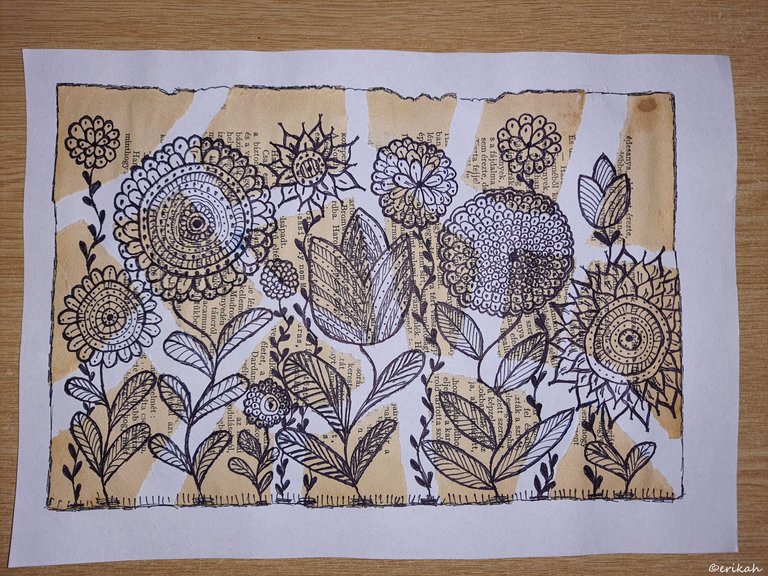 The thing I wanted to try out so badly is using old paper in a drawing or painting. I've seen my artist friend barbara-orenya using it in her paintings and loved it a lot. This was in 2018 and maybe 2019 and since then I kept thinking of it. The I've seen others drawing on newspaper or book pages, that has also motivated me.
I got an old book from my grandparents' house recently, an old one that had no cover and a good part of it was missing. This is why I had no bad feelings tearing it apart. Otherwise it would have been difficult. I respect books too much. Two years ago I bought one with brownish pages for this purpose and could not reap it apart. Yeah, that's me.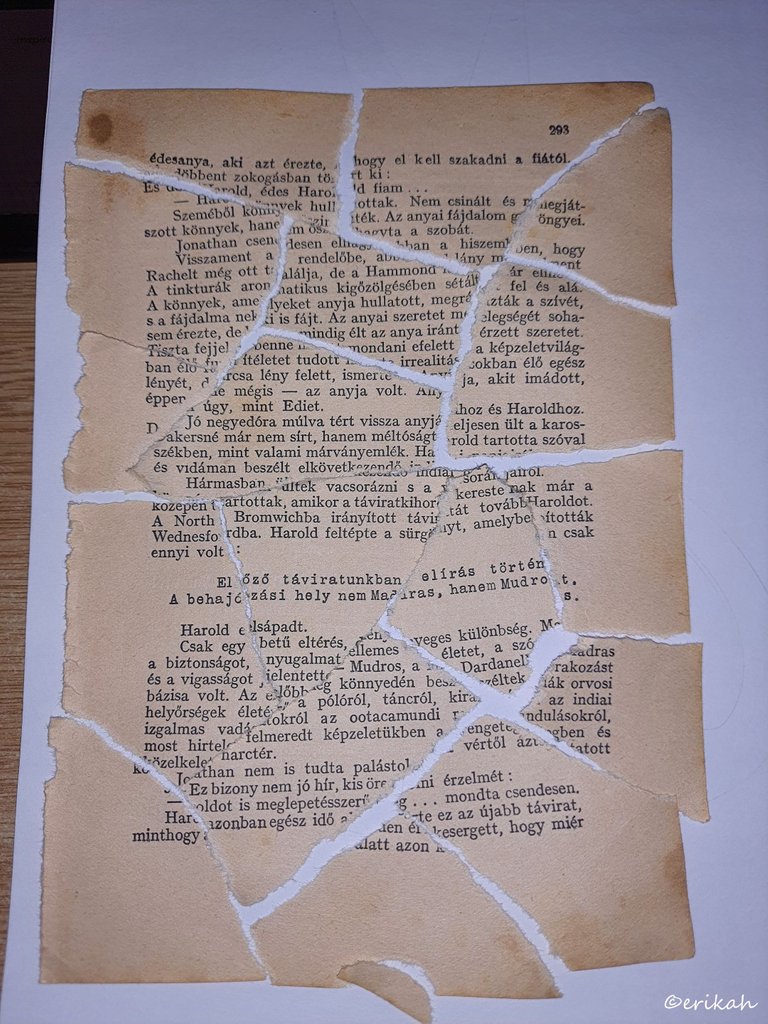 Initially I wanted to use the pieces in no order and spread the pieces randomly on the paper, but it looked awful. Silly me, I did not take any photos.
So I thought I needed a new setup and leaving some space between the pieces seemed the best idea. But for that, I had to put the pieces together, which seemed like a good puzzle and took me a few minutes.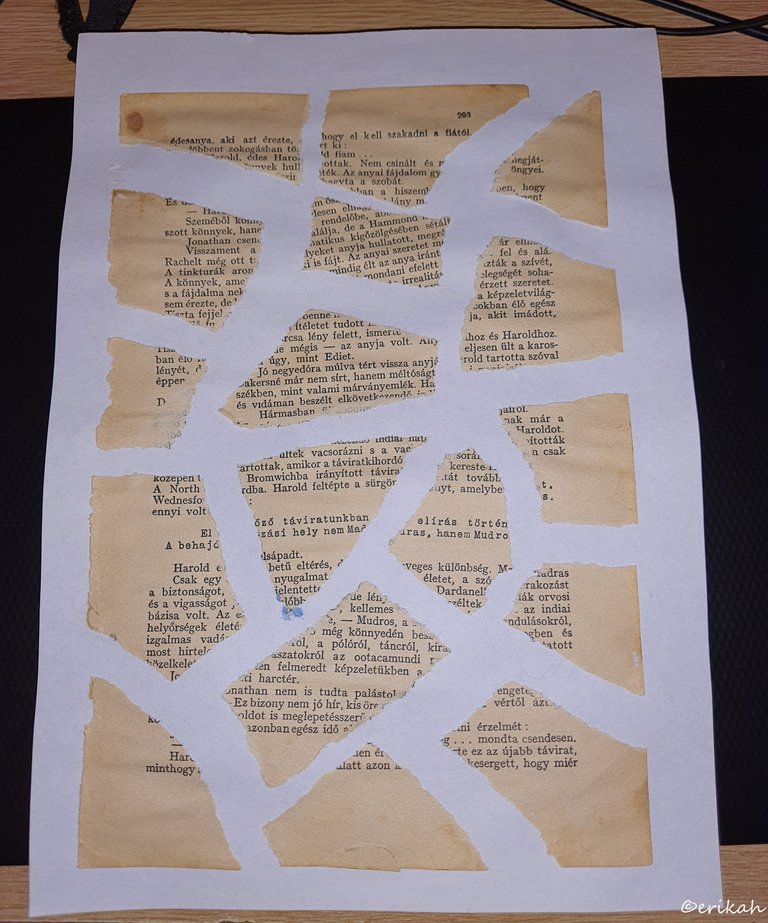 This is how the paper looked after gluing the pieces on it. Stupid me, I put it under some books, to help straightening it out, put a magazine on it and there's a small spot of blue paper transferred from the magazine. It wasn't a big deal as I knew it won't be so obvious once the drawing is done.
So initially I had another plan in my mind, something interesting but after some thinking I decided to go with the easy choice, draw some flowers as a practice to see how the paper is behaving with the fine liner. It is common knowledge that old paper sometimes acts like blotting paper but I hoped it will not be the case. This paper is more thicker than the ones they are printing books on nowadays.
Next I needed to decide if I want to use it as portrait orientation or landscape. Portrait would have been nice but more difficult, so I decided to go with landscape, which allowed me to draw more flowers with shorter stems.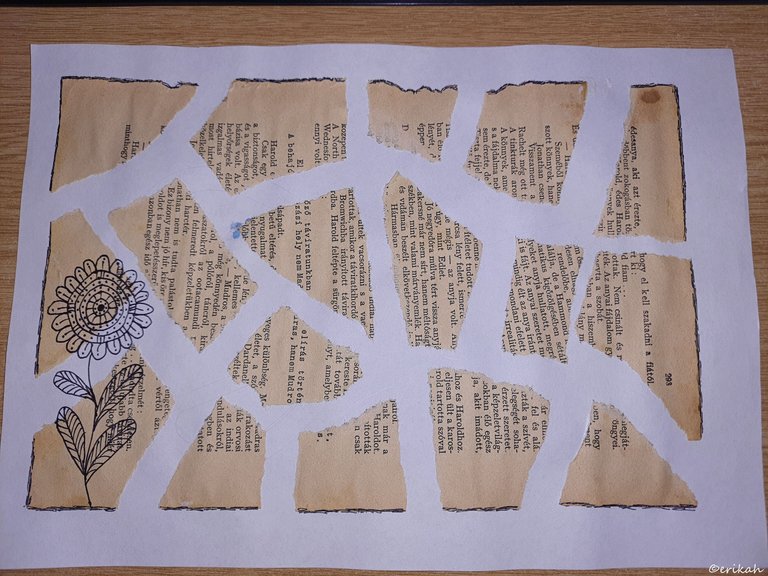 Then I started drawing.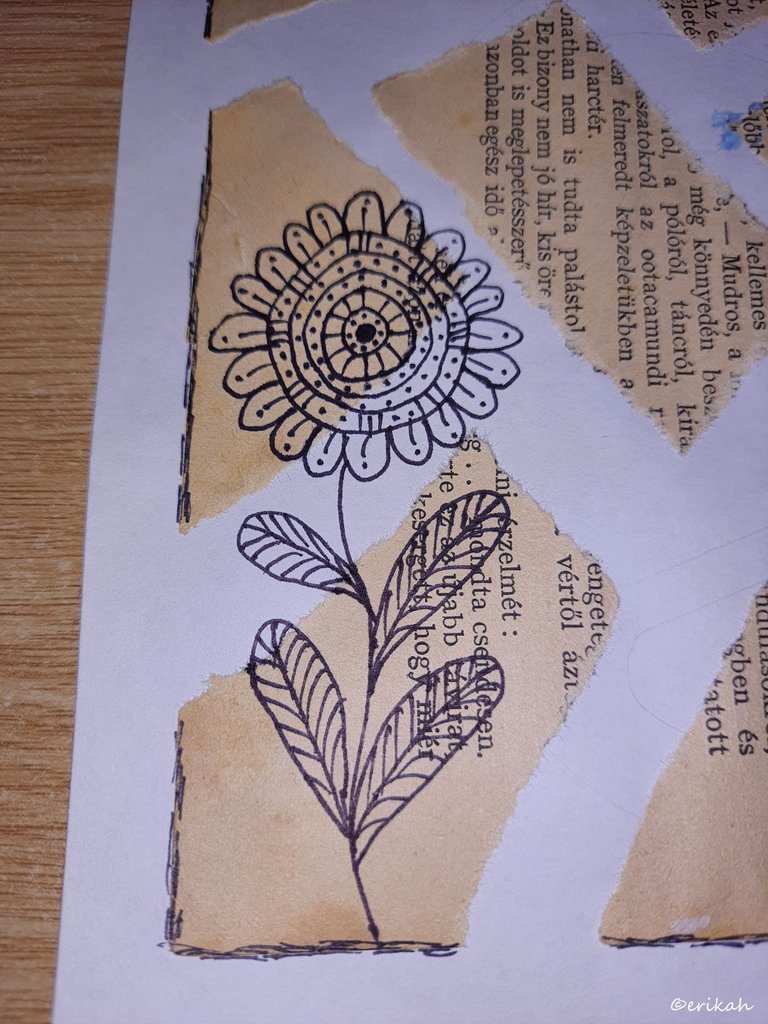 I wanted nothing fancy and remembered we had a painter lady on Hive, who unfortunately is not active anymore. She used to have a similar style, but she was working with oil on canvas. I remember I always admired her flowers and I thought I'd draw something similar (without looking at her paintings).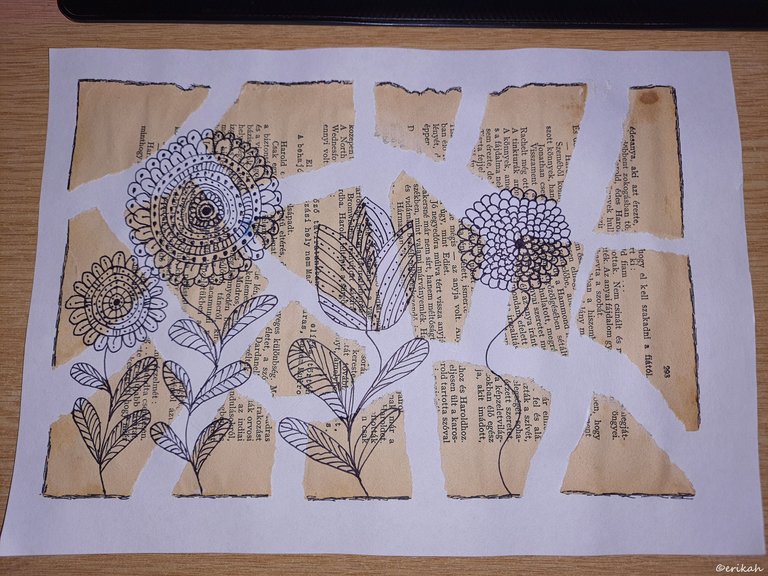 Slowly, my masterpiece started to take shape 😂
My biggest challenge was to ignore the shape of the old paper, focus on the white paper and avoid any symmetry.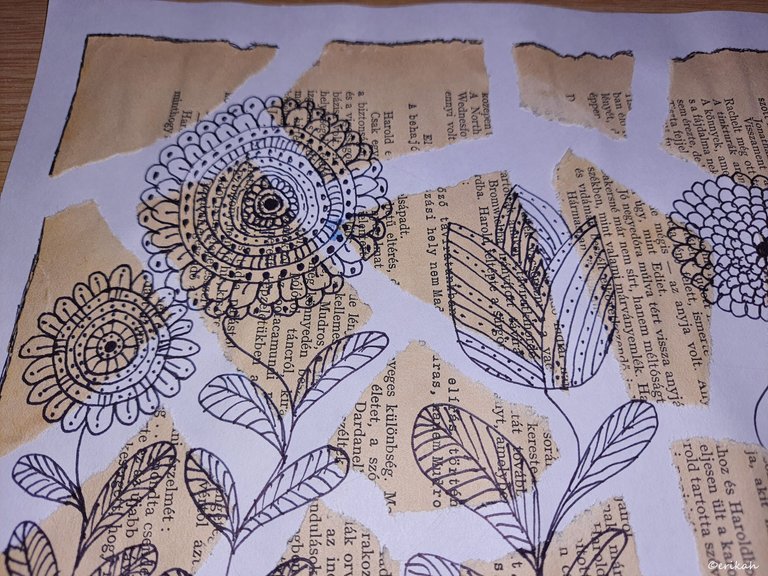 The other challenging task was to try to draw something (almost) normal, without turning the paper around. Again, I did not want perfect flowers, leaves, petals as this is not fine art, but as a practice, I needed to focus on (some) quality.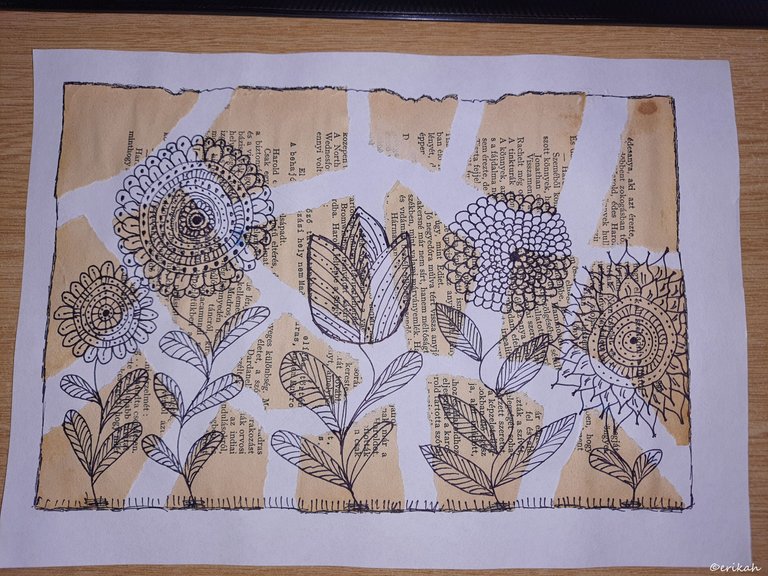 The only time I allowed myself to turn the paper was when I drew the last flower's petals.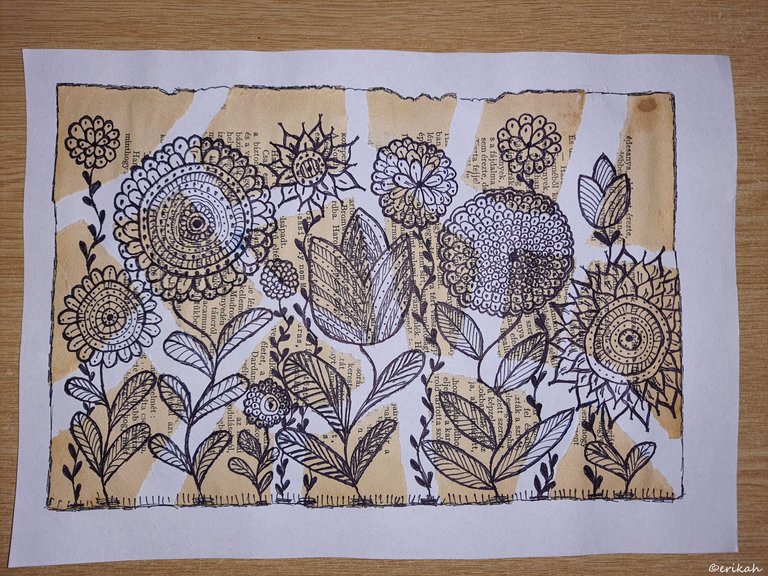 And here it is, my masterpiece!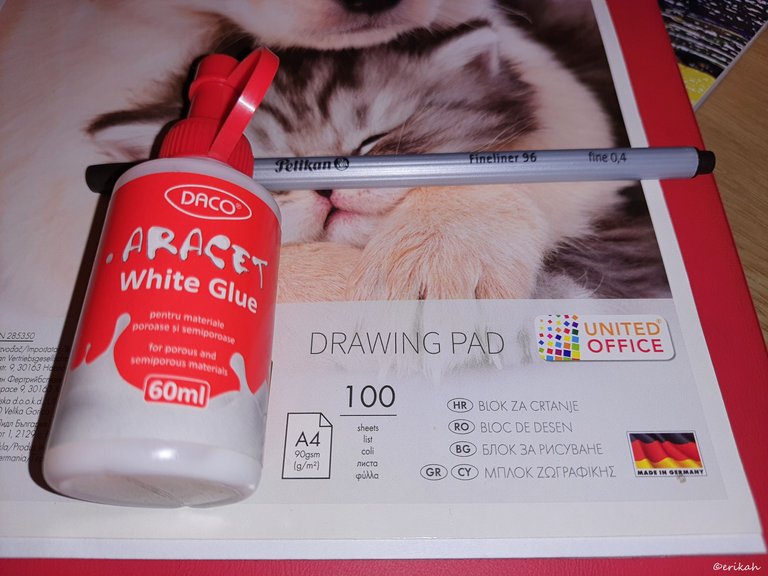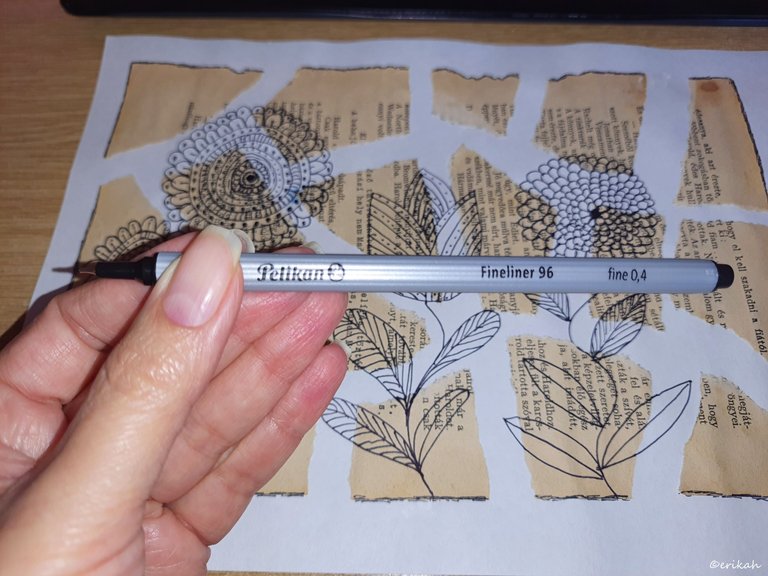 Materials used:
A4 size drawing paper 90gsm (g/m2),
0.4 Pelikan fineliner,
old book page,
white glue.
So this was my fun for today. I lived it, it was a good practice and am planning to do it again with a different theme and maybe a different setup.

If you're a newbie, you may want to check out these guides:

---
---