The Market Is Proving Me Right

We're at a crucial point with BTC, which is trying to reach its ATH. This is the last resistance, there's no more after this one. If it gets rejected, we're going to revisit lower levels, like 52k for example. Many were hoping the breakthrough would happen last night but it didn't. What's going to happen next is not up to me, but protecting my assets the best way I can is my job.
Retirement Funds Are For Old People
When you mention the word pension or retirement funds many are frowning upon it as they think why block funds for something that will happen in decades? Spending now on fancy things is more favored. Buy whatever you like, spend your crypto on luxury things as that's visible. Lambo and Rolex is a must! Post photos of your car, your watch, this is a trend many are following.
Not many care about retirement, that is a waste, all that matters is the present. Well, I do! I do care about securing my future and I truly believe you can't take anything for granted. Just because governments think you have to work till you're 65 or whatever the age of retirement is in your country, I don't have to obey it. I can retire at what age I think I can afford to. It is that simple, but this is another discussion.
In The Right Place At The Right Time
Many say those who joined the crypto market this year were already too late. Truth to be told, 2021 is a fantastic year but so far it's had ups and downs and many got hurt already, depending on when they have joined the market.
I didn't join crypto in 2021, but my decision to set up a crypto retirement fund was born in July 2021, so I guess in that regard I can call my retirement wallet a crypto newbie.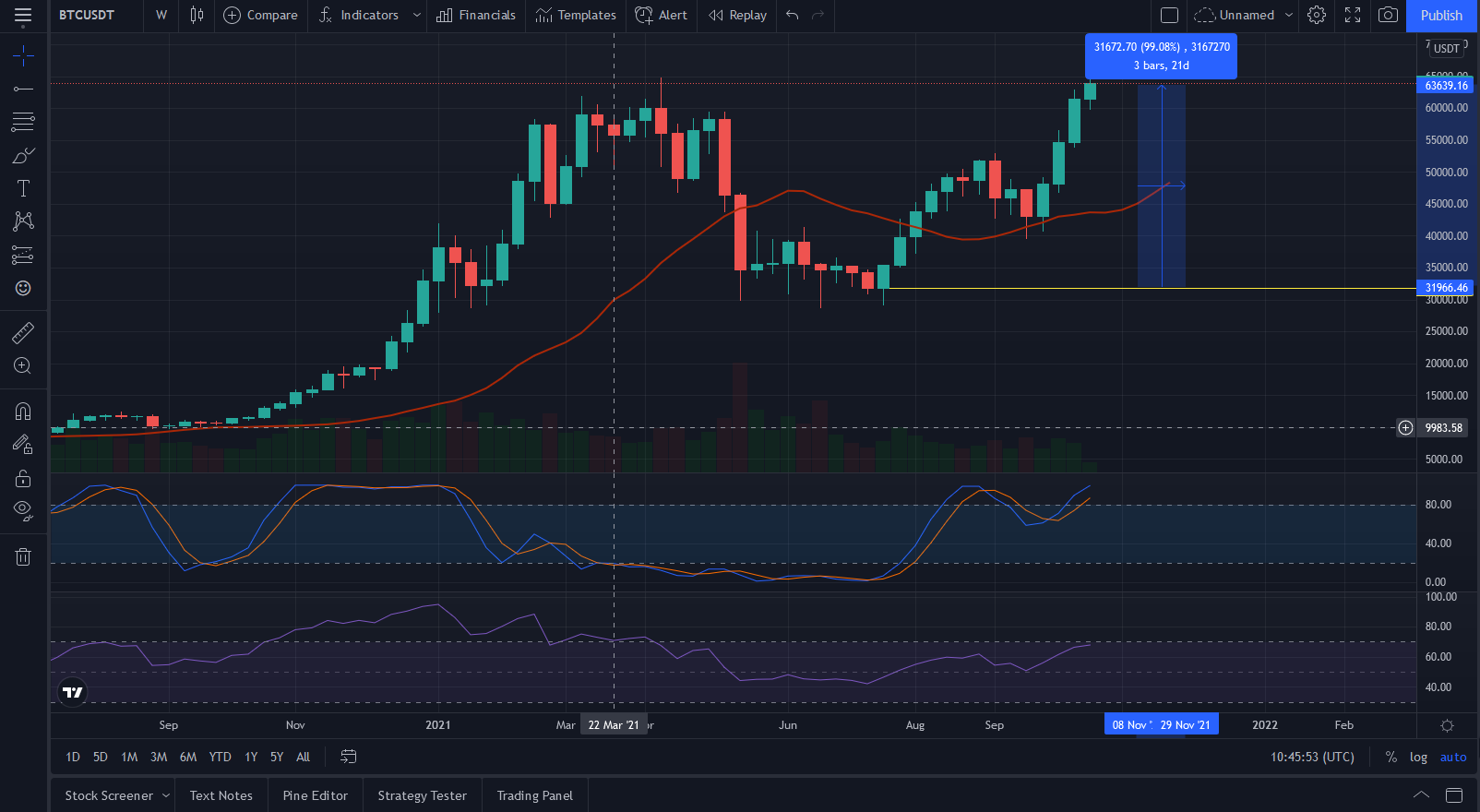 source
I made my first investment in July 2021 and got my first BTC batch at $31,877. Taking into consideration that we're almost at BTC's ATH ($64346 at the moment of writing this), that is roughly 99% grows.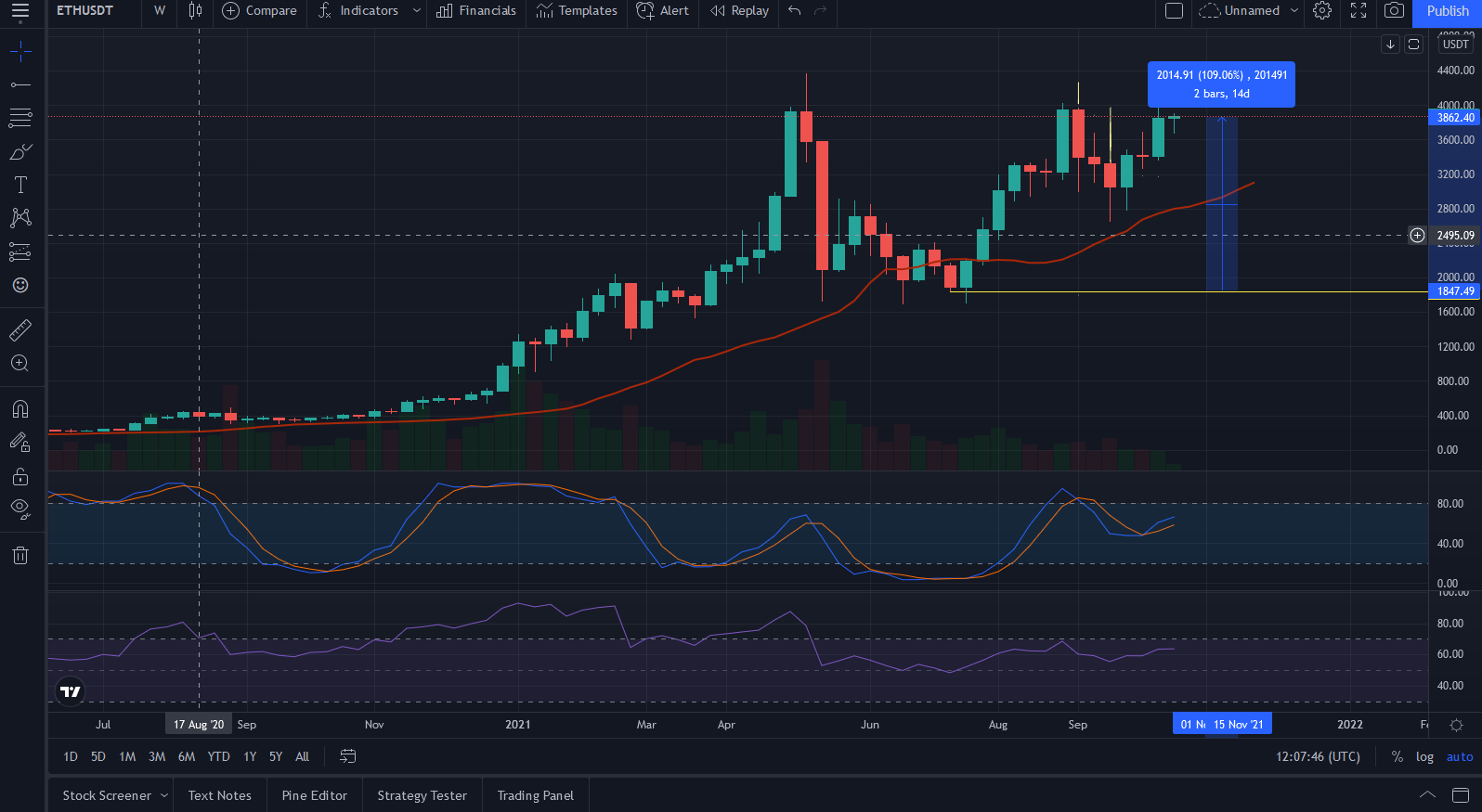 source
The situation with ETH looks very similar. My first investment made in July this year is sitting at 110% profit at the moment as ETH is at $3940.
Obviously the market is progressing, the last months have not been so profitable as July, but still, overall I'm in a very good position.
My investment in BTC is sitting at 67.37% profit, while ETH is at 53.08% profit. All this in 4 months. I don't know about you, but I'm happy with it, very happy actually. The market says I made the right choice.
Adapting Plans To The Situation
Things are getting complicated from here though. At the beginning I said I'm going to invest $40 in BTC and/or ETH each month, regardless of where the market is at the moment of investment, as this is for long term. However, easier said then done as buying BTC at ATH in a bull market is not exactly smart, especially when you know there's a smarter solution and I'm going to use it.
Because BTC usually runs first, then ETH, then alts follow suit (rough description), the best solution for the remaining period of the year for me is to invest in alts now and sell into BTC and/or ETH when the time is right. I don't see why pay more than I have to, when I can make a nice profit this way. Doing 5x or more gives me the possibility of getting more BTC and/or ETH.
What Would You Do?
There's an unwritten rule in investment, that says Don't trade your retirement funds! I have said before, how tempted I was at the beginning, to sell and (hopefully) buy back at a lower price. Lucky me, I have been able to resist temptation and have never sold a penny that is in this retirement wallet. However, we're entering the last phase of the bull run and things change here, or can change as I'm not decided yet.
I have the possibility to sell near the top, with the hope of buying it back when the bull run is over, then never do this again. The other possibility is to forget about it and stick to the rules. What would you do?

Posted Using LeoFinance Beta
---
---