The Perfect Wedding
Those 3 words are the dream of every woman I suppose. Everyone wants a perfect wedding and would do anything to get one. Then the universe decides. You either get the perfect wedding, or not.
From a young age, every girl is dreaming of becoming a princess as plenty of fairy tales are about princesses and princes. Dolls are dressed in a way that can be considered princesses. It's a dream world that will never be reality, except maybe one day, at the wedding day.
That's the day when you can dress up as a princess, you can have any dress you want, if you have the funds to afford it. You can have the love of your life on a white horse if you like and you can even have a castle. In other words, everything is possible, if you know how to do it.
This is why medieval structures are sought after and even though in reality you can't have a castle, you can do a medieval photo shoot on your wedding day, to remember for the rest of your life.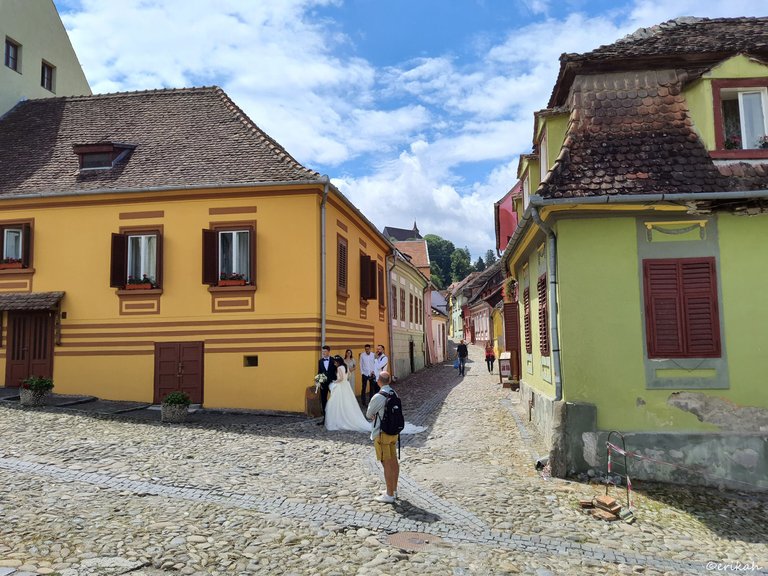 Sighișoara is one of the medieval cities that can offer you the place of your life, if you opt to have a medieval wedding. I'm not sure if the wedding hall is in the citadel, but the mayor's office is, which suggests the wedding hall is too. There are two churches inside the citadel as well but none of them seemed to getting ready for hosting the wedding.
One week ago I witnessed a pre-wedding walk, that was pretty interesting. It's possible it was a post-wedding walk, but it doesn't really matter.
Initially I did not see them, but at some point I heard a man wish them stone house, which may sound funny in English, but that's what Romanians say. Then I saw them coming from that narrow street.
Obviously everyone was looking at them as that's what people do when they see a bride and a groom. You may not see it now as the couple is far on the photo, but the they were very young and cute. What came next caused pain just to watch.
They were heading somewhere on foot and the bride did not have bridesmaids with her, therefore she was dragging her dress on the ground. Without being an expert, I know how much these wedding dresses cost, even to rent.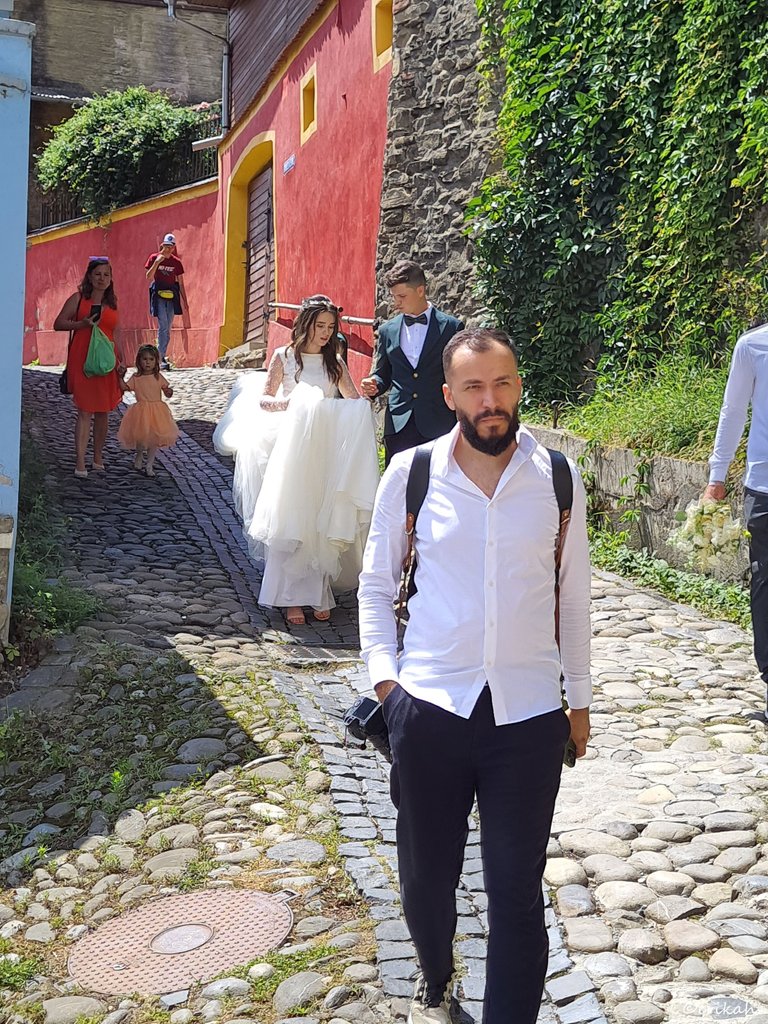 After that we went on our way and they did too. Then we met them again and I was able to take some closer photos of them.
We were walking up and down on these narrow and sometimes steep medieval streets, covered with cobblestones and were tired already, but when we saw the poor bride, realized we have no reason to complain.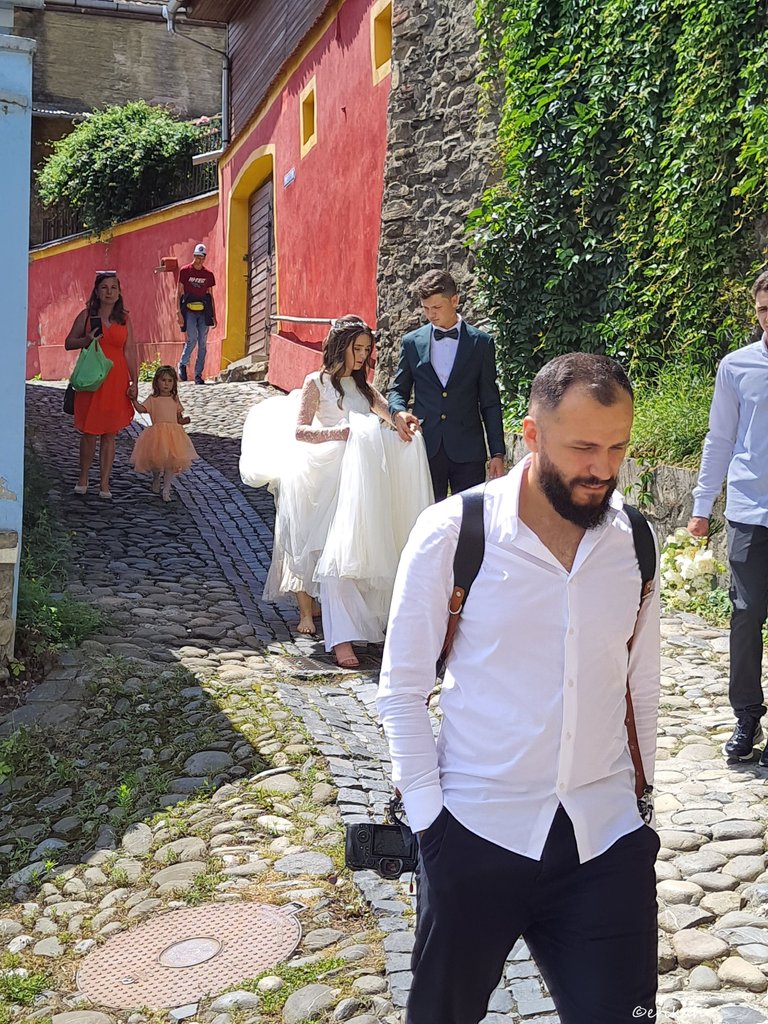 Brides are usually wearing high hills at their wedding day and at the photo shoot especially, so imagine walking up and done those cobblestones on 10cm hills.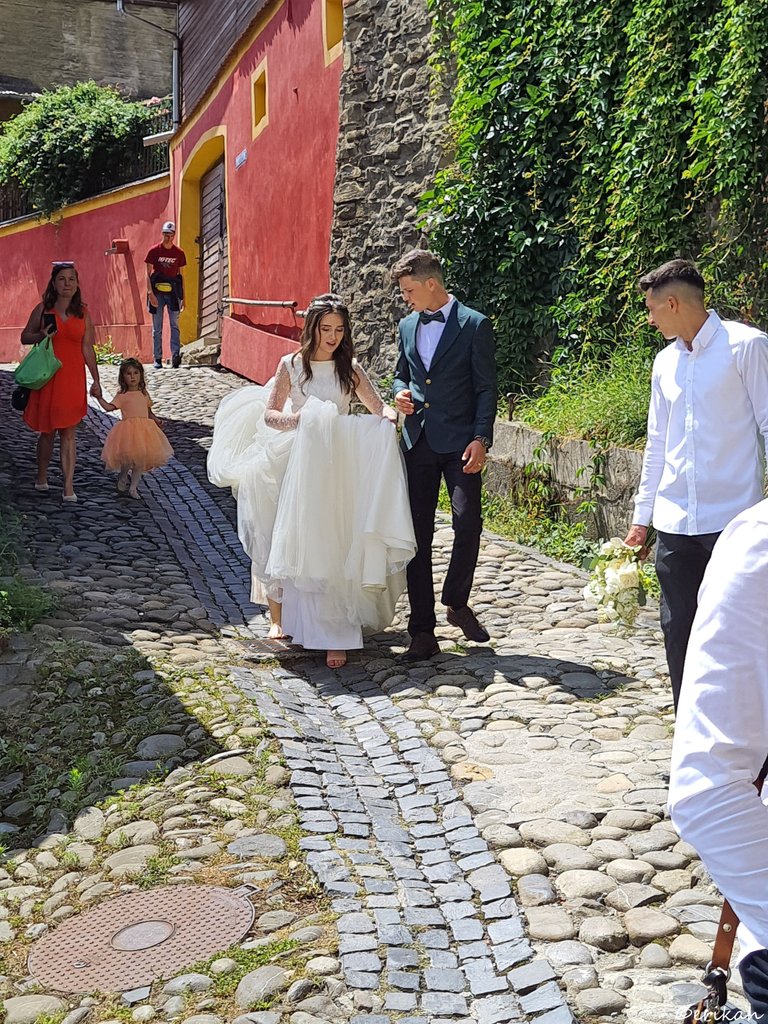 This photo reveals more though, if you have an eye for details.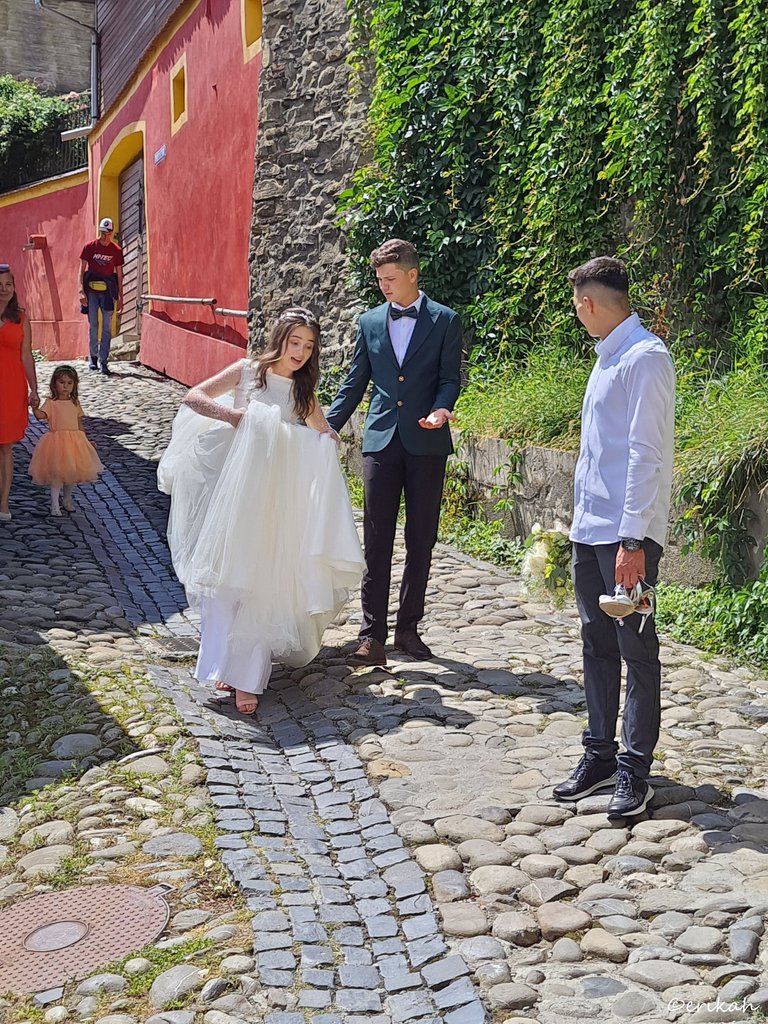 And you have all the answer on this photo. Look at the bride's sandals in the guy's hand. I'm not sure if the hills are of 10cm, but it's close.
The other detail that you may have missed is the bride's nude sandals. No bride would choose nude sandals for a white dress, ever. So what's happened you may ask? Go back to the previous two photos and look at the feet of the young lady behind the bride, possibly the bridesmaid. She's barefoot 😀
Lesson: choose your bridesmaid wisely as they can save your life if needed.
The truth is, I didn't realize these things back then as I was busy taking as many photos of them as possible and I;m glad I did as looking back, I can see how funny the whole walk looked like, even if she had to suffer a lot. But then again, a wedding day is not like a walk in the park, where everything is easy and beautiful. I bet she will remember this walk for the rest of her life and the bridesmaid as well, as walking barefoot on those stones must have been awful.
So even though some say they had the perfect wedding, there are always sacrifices to be made 🙂 However, a scene like that worth the sacrifice, in my opinion.

---
---