Thoughts At The Art Gallery
Today I was planning to visit a photo exhibition, but due to some complications in the morning, I ran out of time. The exhibition is hosted by a foundation and it's open until 1pm. I know, it's definitely not for 9 to 5 workers. So I had to reschedule the visit for next week. To compensate my loss, I visited another gallery, that is for amateur artists and hosts a different exhibition every second week, with sales.
This gallery is always a double edge sward. As I said yesterday, most of the times I go in without expectations as otherwise there's a huge chance I come out disappointed. But even so, sometimes feeling disappointed can't be avoided. Now don't get me wrong, I don't disrespect anyone, how could I as these artists know a whole lot more than me. However, we all have different taste, I have mine and don't like everything.
Today I entered the gallery and was pleased to see that there was not a single artist's exhibition, but there were plenty. After reading the poster on the door I found out that these artists were the newest to join the amateur artists association.
While looking at the artworks, a lady came in to have a discussion with the curator of the association. I was minding my own business, but could still hear the discussion and honestly, it made me think of a lot of things and also felt sorry for the artist lady. What I was able to figure out was that she (most likely) has presented her work previously and was told that she's lacking some skills. Shame on me for forgetting the exact words, but at the end of the day, it doesn't matter. What matters is that she got rejected, unfortunately.
Every start is difficult. Even those who we admire so much today, had to face a lot of difficulties and some of them only gained recognition post mortem. I was thinking how would I handle all the rejections and failure if I were in their shoes. I honestly don't know, but I'm glad I'm not in their shoes and all I do is for entertainment purposes. Anyway, let's see what saw today. Let's see if you have any favorites today.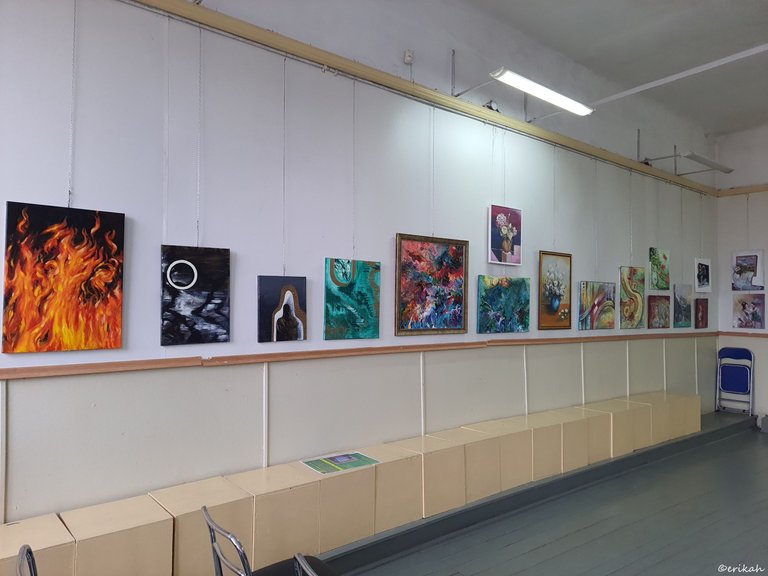 At the first glance the offer looked promising, from entertainment point of view.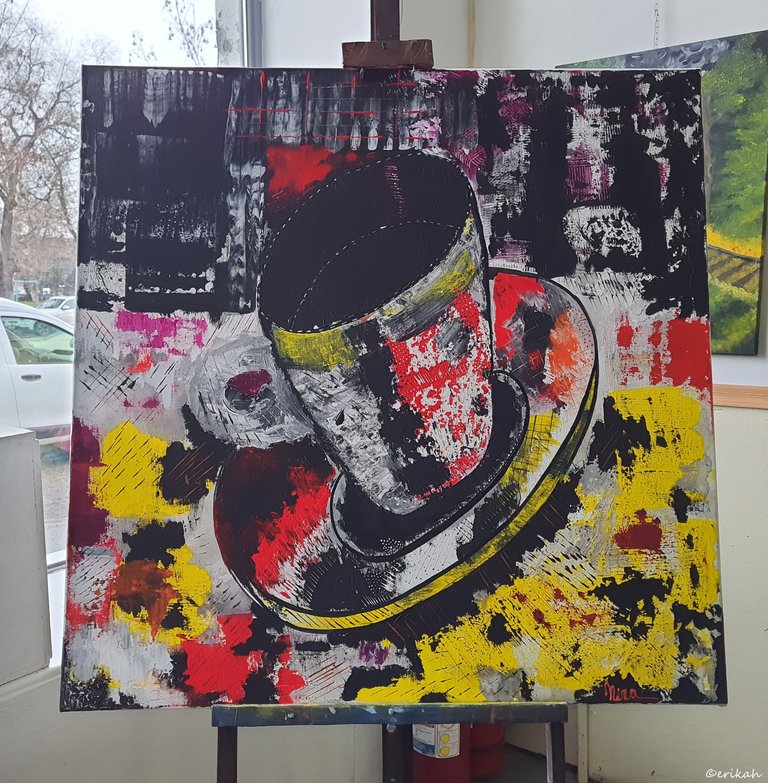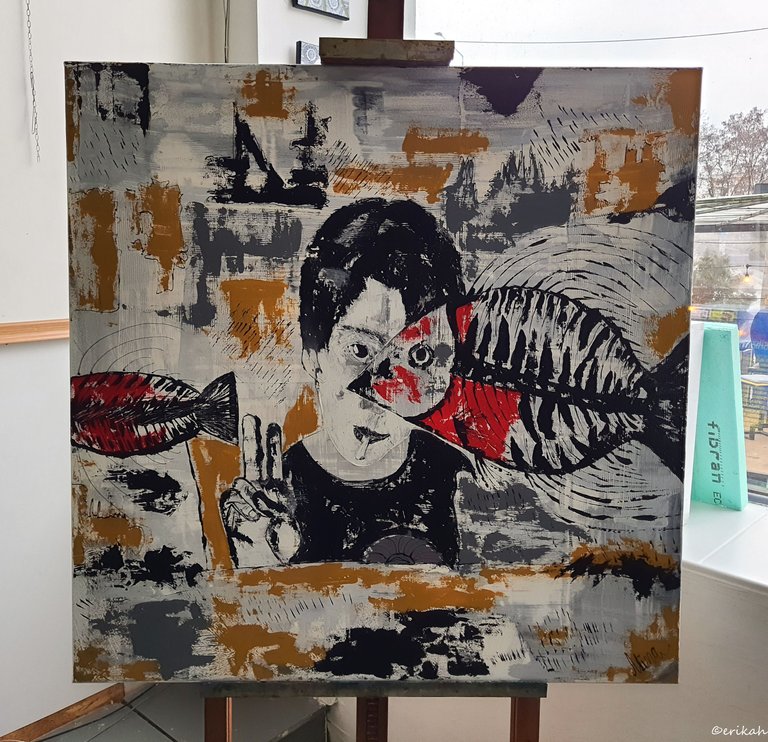 These two were the biggest artworks displayed. Interesting concept.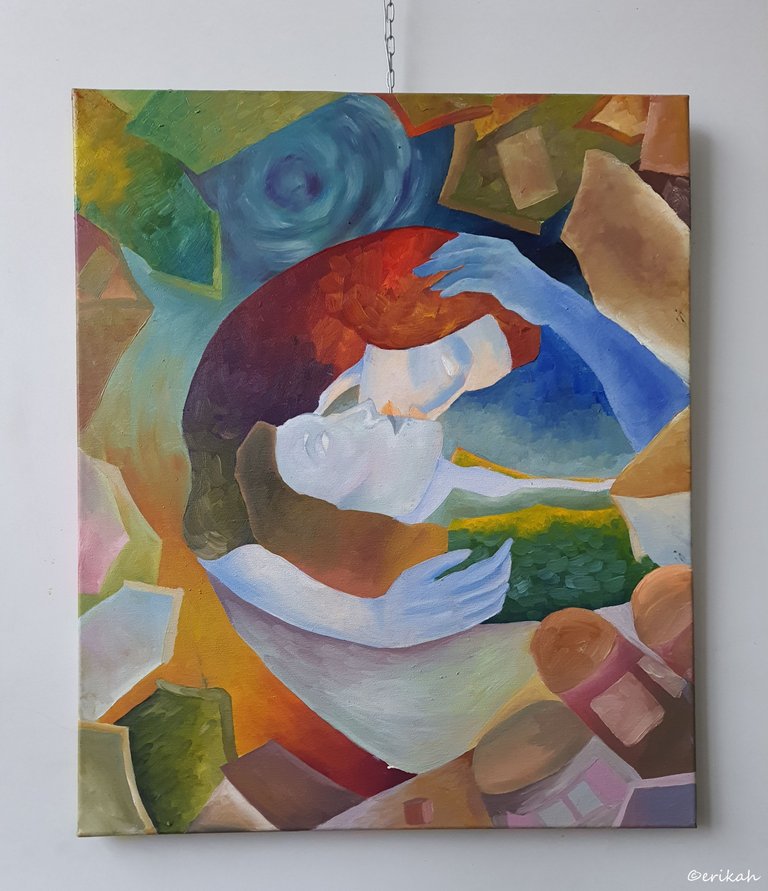 From thematic point of view, there was everything you could imagine.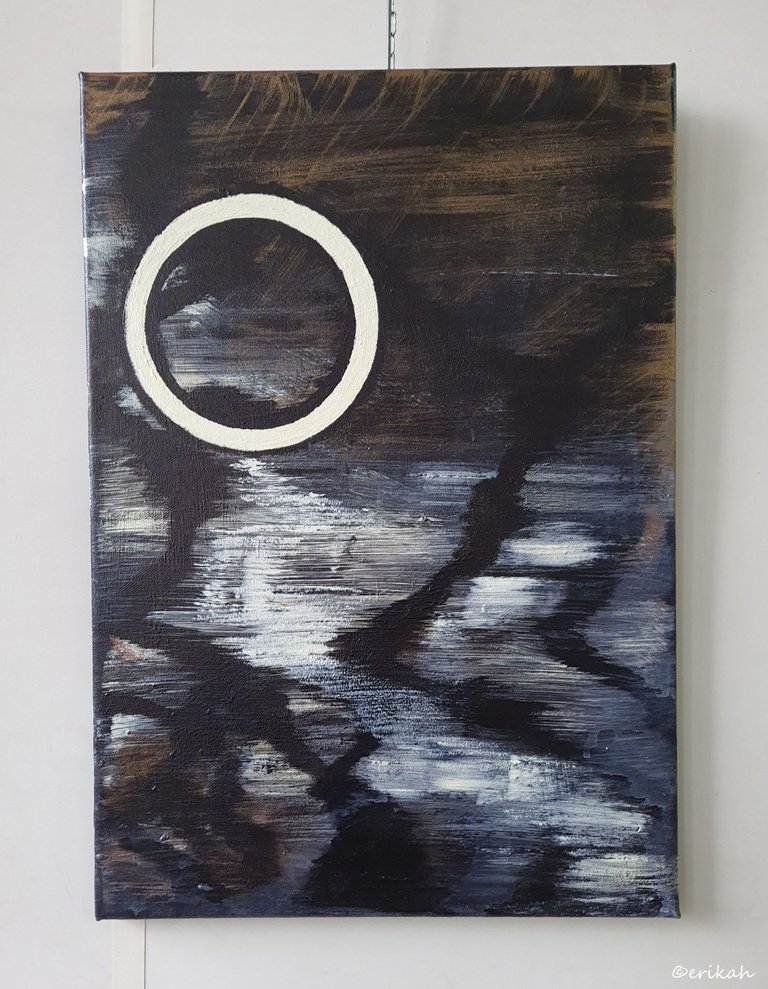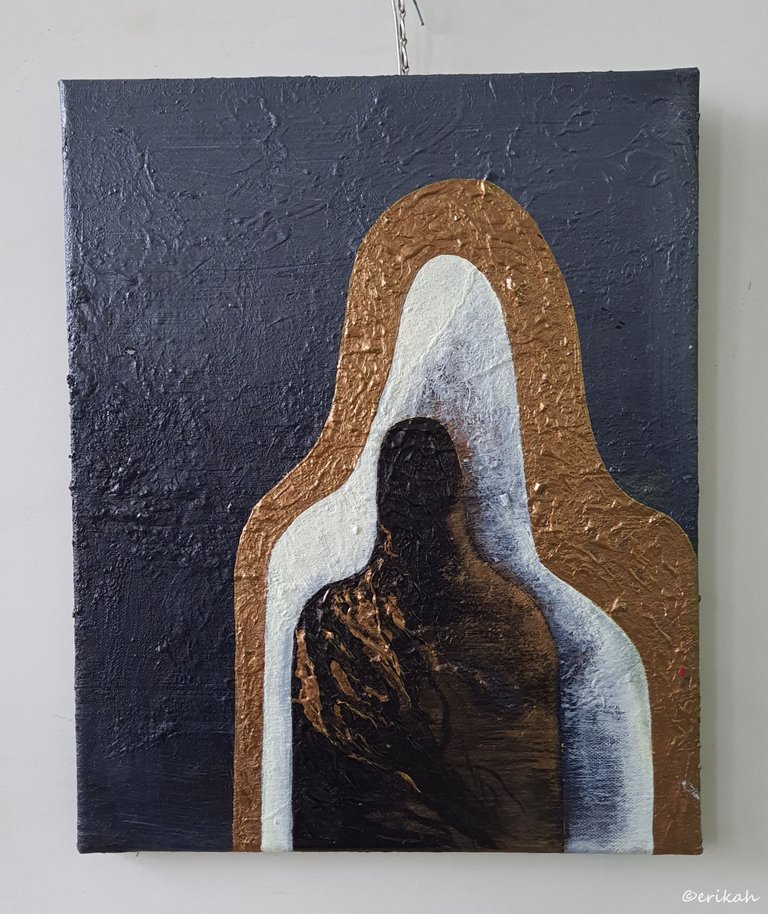 I was standing in front of the two paintings above and was wondering how these were done. Would have liked to watch the artist working.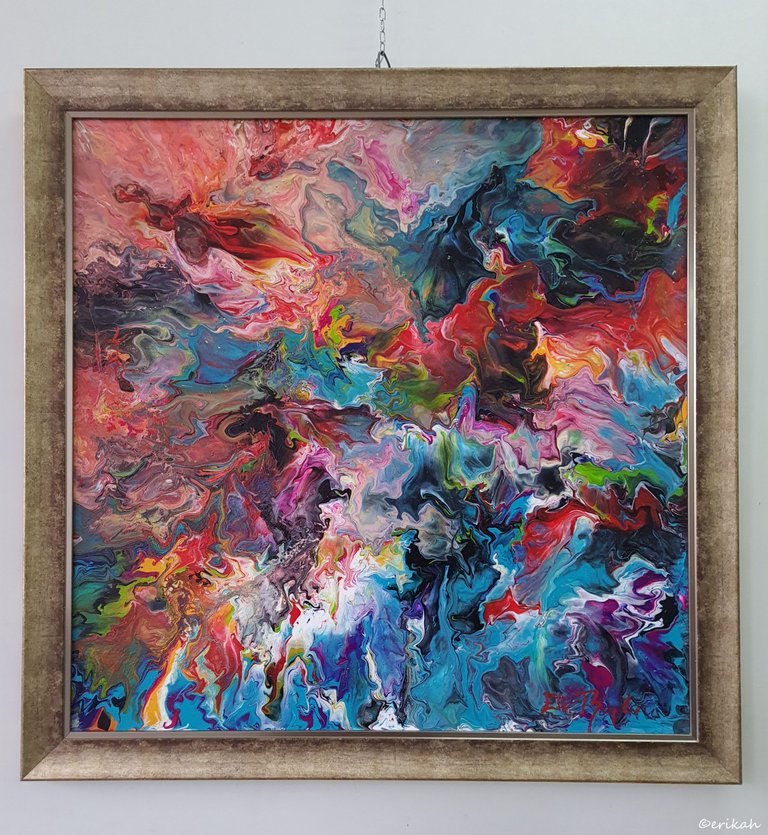 When I saw this work, the first thing it came to my mind was the pouring technique. I've been watching a lot of YouTube videos lately, so it's understandable, however, I'm not sure if this was made with pouting technique.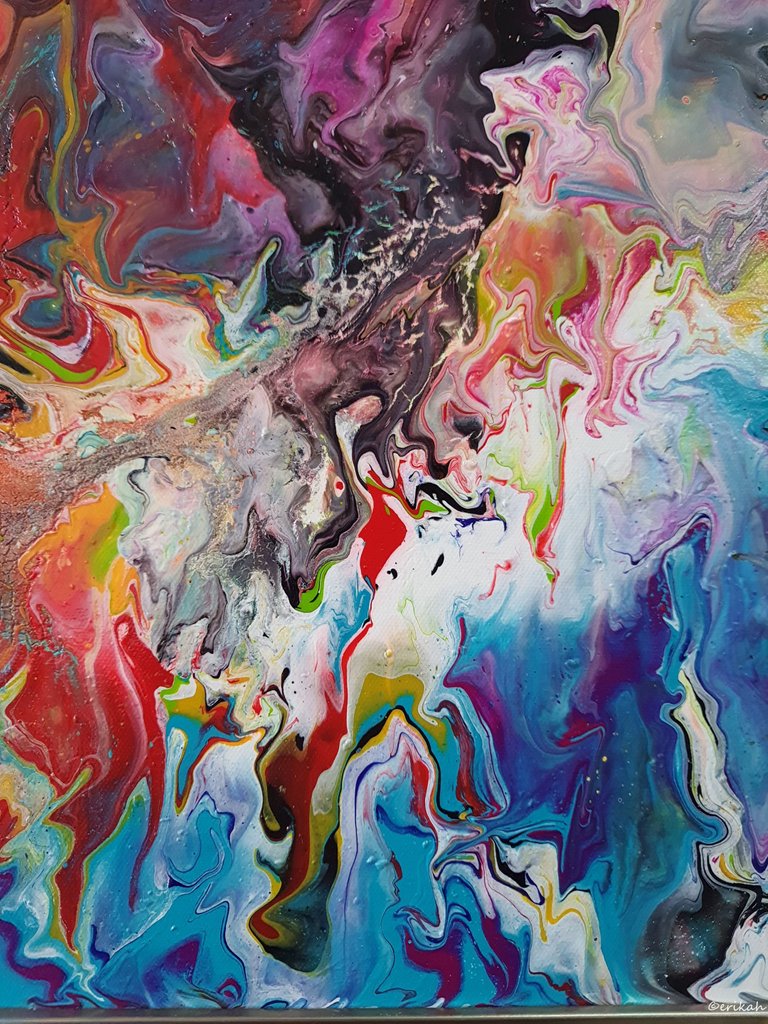 This is a close-up photo. Be my guest, tell me how this was made :)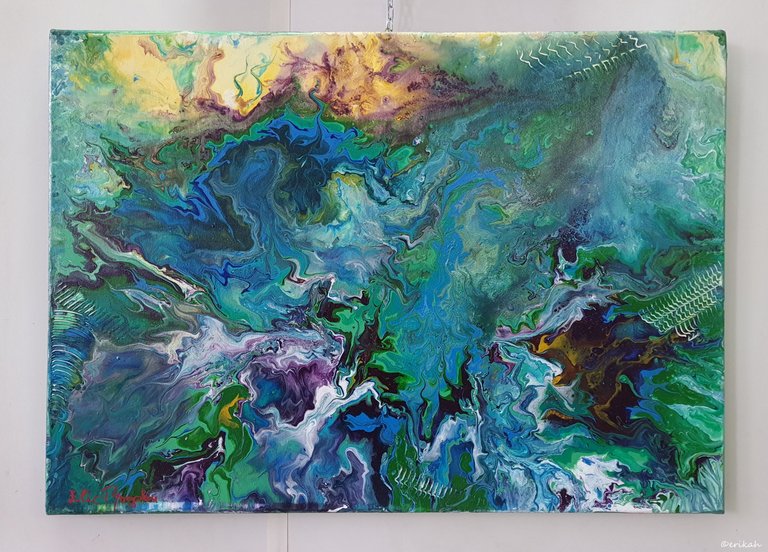 This was one of my favorites, or maybe the only one, with a few exceptions. I didn't like those white repetitive patterns at the edges. Otherwise the color combination was perfect for my taste.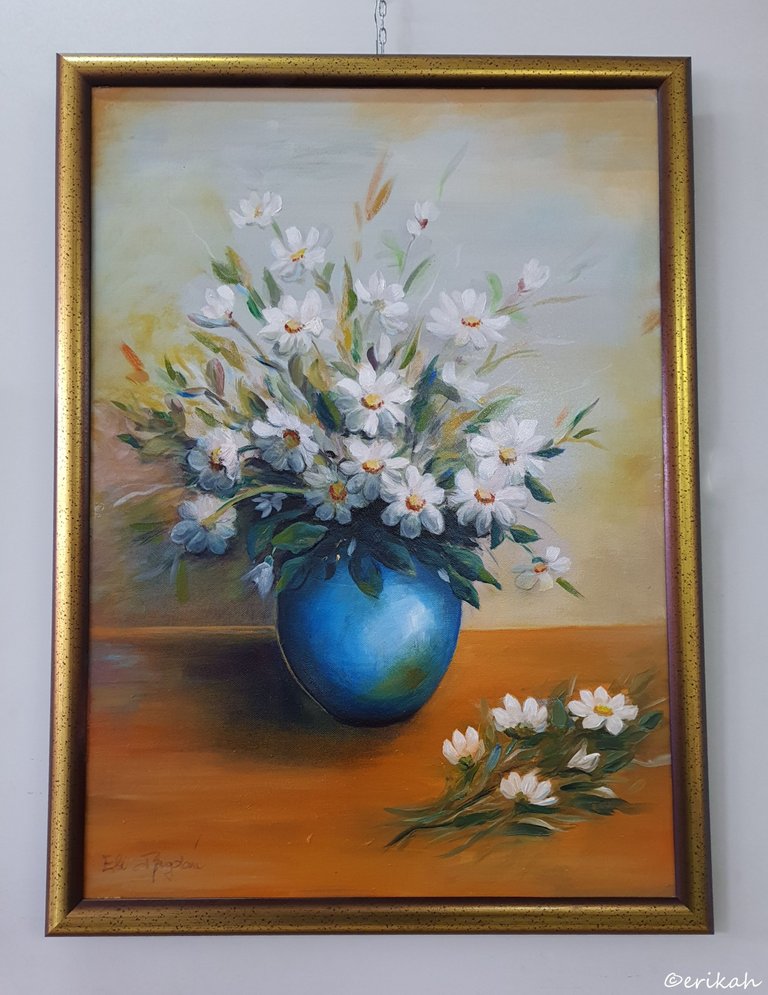 I haven't seen still life for ages.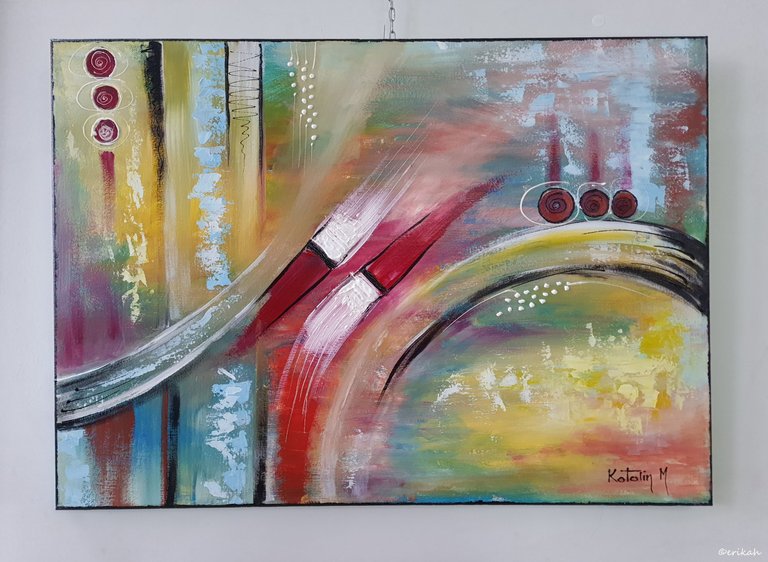 This one caught my eye as at first glance it seemed interesting, but the two arrow like thing in the middle made me change my mind.
This was another favorite of mine. I liked the colors.
The funny thing was, when I entered the gallery, I had a bag in my hand, with a canvas in it. I put it on a chair and was glad no one paid attention to it. I was hoping they don't see it and I can avoid answering the question if i am an artist or not. I'm not an artist, I just bought my first canvas to have fun.
So this is it for today people. Let's see which one is your favorite today?

If you're a newbie, you may want to check out these guides:

---
---